If you're looking for a simple, elegant and timeless tattoo, a rose tattoos is the perfect choice. Roses have been used as symbols for many years, they represent love and passion, but they can also mean secrecy and silence – depending on the colour of the rose.
The beauty of a rose tattoo is that they can be as simple or as complicated as you want them to be.So whether you want a traditional old-school style rose, a tiny delicate band tattoo or something more meaningful like a black rose – we've rounded up some beautiful ideas that everyone will love.
The rose tattoo can be as simple or as intricate as you like, and is a classic choice for those who want a more traditional design. The rose tattoo has been popular for hundreds of years, and there's no sign of that changing any time soon.
Best Rose Tattoo Designs
Sleeve Rose Tattoo
Rose tattoos are usually quite small, with the ink often extending out to other flowers and leaves. They work on any part of the body, but look particularly great on the ankle, wrist, neck and behind the ear. Rose tattoos can also be used in larger designs – a perfect example is this back piece by Emma Kerr which brings together roses, skulls and details from Mexican art.
Arm Rose Tattoo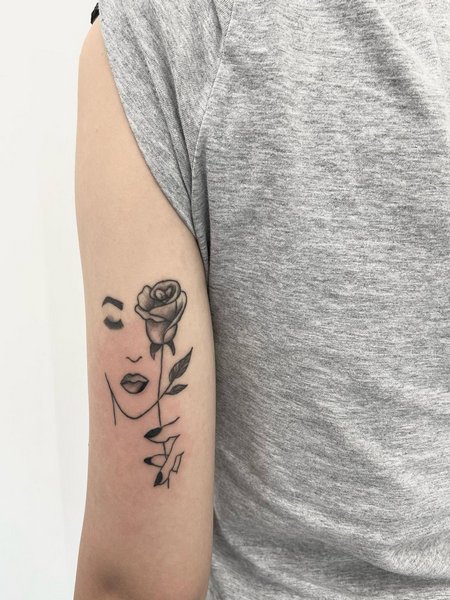 Hand Rose Tattoo
Forearm Rose Tattoo
Neck Rose Tattoo
Finger Rose Tattoo
Back Rose Tattoo
Roses can be worn by both men and women, although each gender tends to wear them in different ways. Men typically choose a single rose to ink on their body, usually on the arm, shoulder, back or chest. Women tend to get larger tattoos that incorporate other elements like vines or branches.
Leg Rose Tattoo
Thigh Rose Tattoo
Ankle Rose Tattoo
Chest Rose Tattoo
Belly Rose Tattoo
Shoulder Rose Tattoo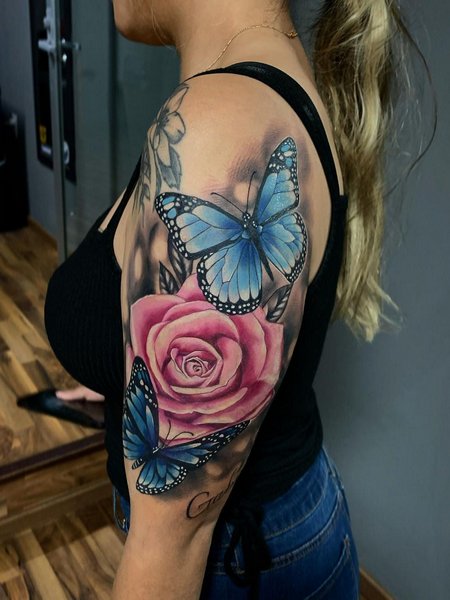 Collarbone Rose Tattoo
A rose tattoo is a classic, feminine design. Roses have been a symbol of beauty, love, and tragedy. Different colors have different meanings and also include the person's name or initials who owns it. In this article, we will discuss the meaning behind colored rose tattoos and also some popular designs that people get.
Black Rose Tattoo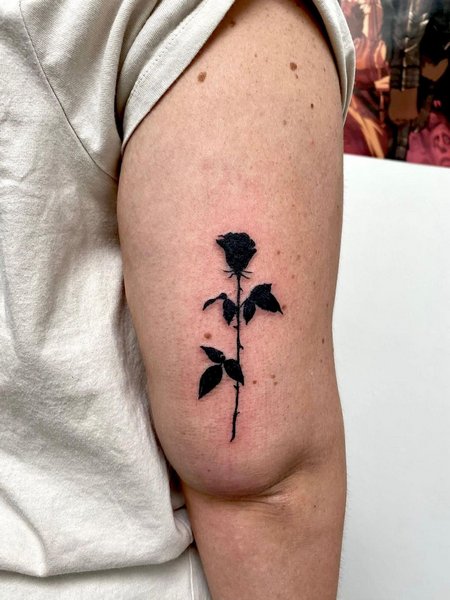 Small Rose Tattoo
Underboob Rose Tattoo
Traditional Rose Tattoo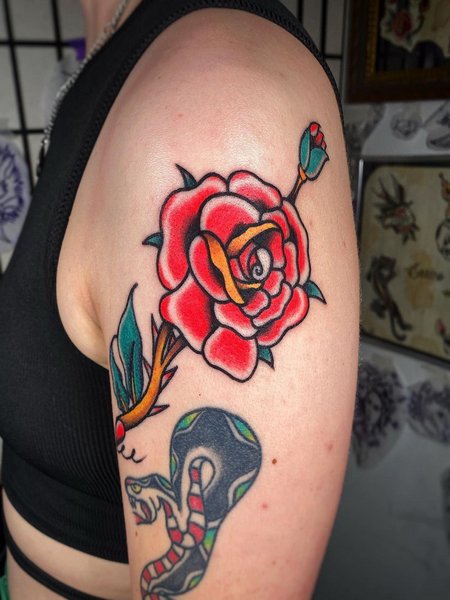 Blue Rose Tattoo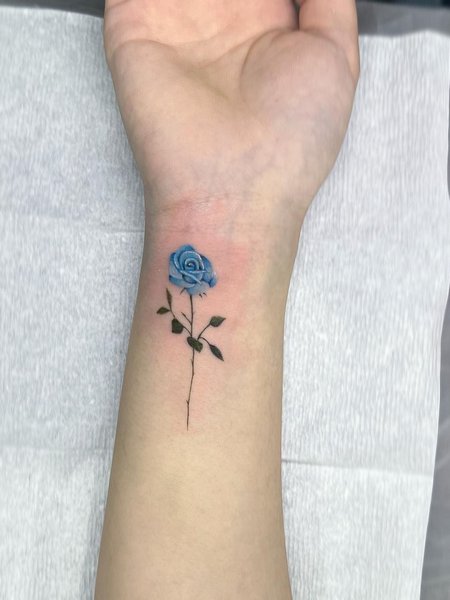 Red Rose Tattoo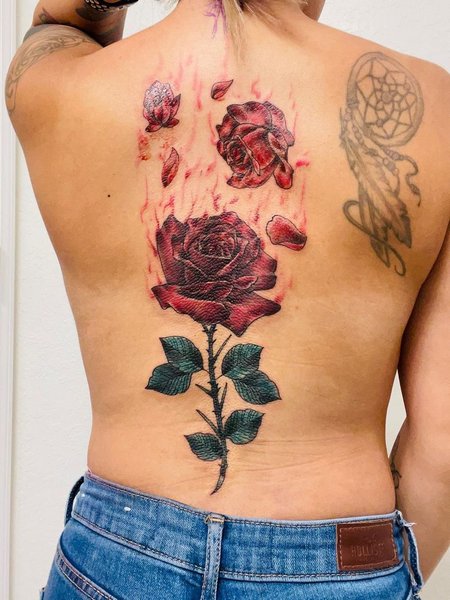 Yellow Rose Tattoo
The yellow rose tattoo is symbolic of friendship, joy and caring. The color yellow symbolizes joy and happiness. This makes the image of a yellow rose a perfect expression of friendship. Many people also get this tattoo as a promise to themselves that they will always have joy in their lives.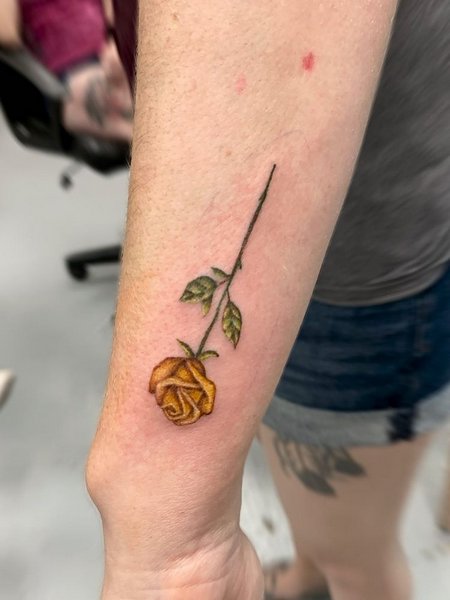 Roses are one of the most beautiful flowers in existence and they can be found in a variety of different colors. There are actually over 100 species of rose, each with their own unique color and meaning. Many people, especially women, get rose tattoos for their beauty, but over the years different colored roses have been given different meaning as well. Here is what some of these colors mean:
Red Roses: Love, beauty, courage and respect. They are a sign of true love and passion.
Yellow Roses: Joy, friendship and caring for someone in need.
Pink Roses: Gratitude and admiration (also known as gratitude). They are also known as "thank you" roses because they show appreciation towards someone special in your life who has done something nice for you.
Orange Roses: Desire or enthusiasm (also known as desire). Orange roses are symbolic of your enthusiasm towards something or someone new you may have just met in.
Rose Tattoo Symbol
The rose is the quintessential symbol of love, beauty, and passion.
Roses are red and violets are blue, but this flower's symbolism runs much deeper. From ancient times to today, the rose has been a universal symbol for love, sympathy, and beauty.
The meaning of a rose depends on its color. Red roses symbolize true love and romance; white roses represent innocence and purity; yellow roses stand for friendship; orange roses are for desire; pink roses evoke gratitude; burgundy (dark red) roses show beauty that's worth admiring; blue roses stand for mystery or attaining the impossible; black roses represent death or farewell. There are also many other colors of rose that can be meaningful!
Rose Tattoo Meanings
While the rose has been a symbol of love, beauty and purity for centuries, this doesn't mean it's not also a symbol of other things! Here are the main meanings associated with rose tattoos.
Love. The rose is the ultimate symbol of love and romance. Dating back to Greek mythology, roses were intertwined with Aphrodite, the goddess of love. In modern times, a bouquet of red roses is traditionally presented to a loved one at Valentine's Day or on an anniversary or birthday. If you choose to have a rose tattoo that includes thorns, these can represent the struggles that come with being in love.
Beauty. Roses are often seen as symbols of beauty (especially as they are often associated with Aphrodite). They are also known as flowers that grow in abundance and bloom throughout their lifetime, which makes them very beautiful in their own right.
Honour and respect. Roses have been used for centuries to honour those who have passed away and even today they are used to decorate graves. They are also given as gifts when someone is retiring from work or leaving a position to show respect for their time there.