30 Beautiful Daisy Tattoo Ideas For Women
Daisy tattoos are highly flexible. In the language of flowers, the daisy symbolizes innocence, loyal love and purity. This makes daisy tattoos perfect for both men and women.
Daisy tattoos have a special place in the heart of tattoo lovers all around the world. They are not just pretty and cute but also have symbolic significance. These flowers are known to symbolize innocence, love, beauty and purity. In fact, these flowers can impart a sense of calmness and relaxation to any individual who is looking at it. And when you add the element of color to it, they look even more gorgeous.
Daisy tattoos come in so many different styles and sizes. Their size can range from tiny to a giant daisy tattoo, which can cover the entire back, chest or even your leg. Some daisies are done in black, some in color and some look like they just popped out from a watercolor painting. Some people even choose to tattoo a bunch of daisies all over their body for a fun effect. No matter what you decide on, you're sure to find something that you'll love!
1. Ankle Daisy Tattoo
Ankle daisy tattoos are very popular among women, who usually get them inked on their calves or feet. The ankle is an ideal spot for a flower tattoo because of its feminine shape and soft skin texture. Since this area is exposed much of the time, it's a great way to show off your new body art.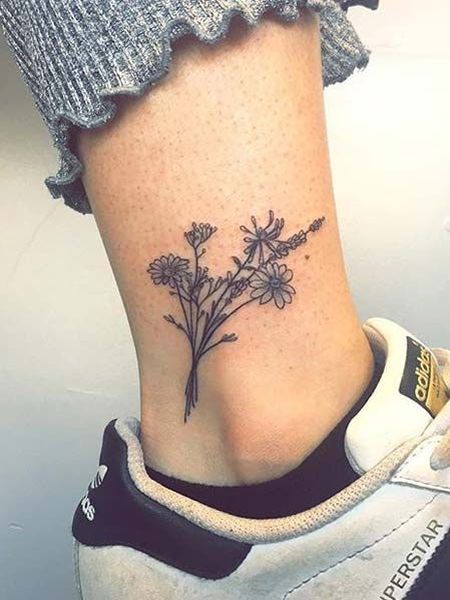 2. Arm Daisy Tattoo
Arm daisy tattoos usually cover a large part of the arm. They are very bold and eye-catching. Men generally get their arm daisies inked on their upper arms or shoulders because these areas provide more space for larger designs. Women tend to get them inked on their forearms or biceps because they have thinner arms than men do.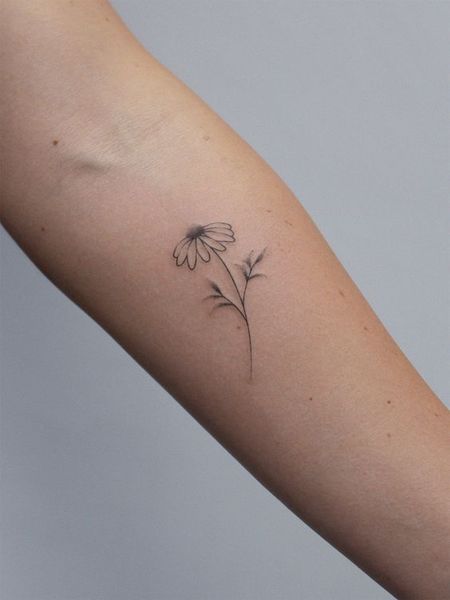 3. Back Daisy Tattoo
The back is one of the best places for large daisy tattoos because it gives you plenty of space to spread out. You can have one large daisy or have an entire bouquet going from your shoulders down to your hips.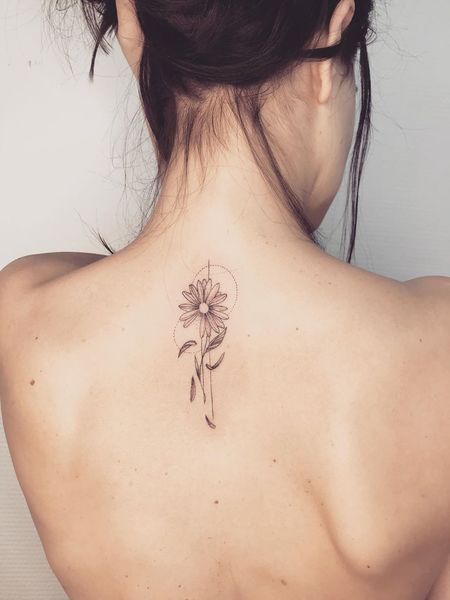 4. Chest Daisy Tattoo
The chest is a great place for a daisy tattoo because it allows you to show off your feminine side, while still being able to easily hide it when you want to be more conservative. A small cluster of daisies or just one daisy looks beautiful on the chest, especially if you have a smaller bust size and don't have much cleavage.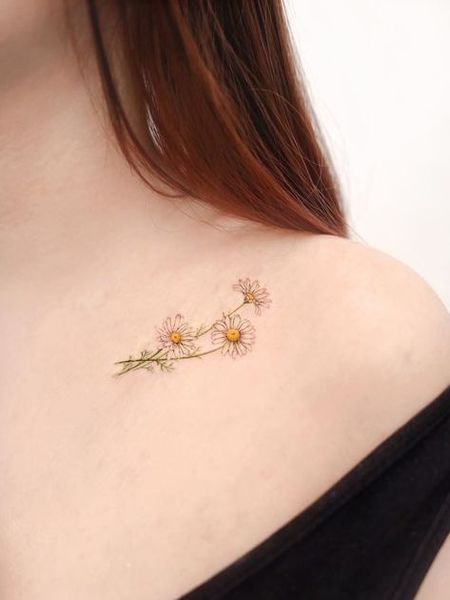 5. Collarbone Daisy Tattoo
The collarbone is one of the best places for a daisy tattoo. Not only is it easy to hide when needed, but it's also one of the most sensitive areas on the body, making it a great place for those who like pain during the tattooing process. Daisies are naturally small thanks to their petals, so they are perfect for this area. If you want something a bit bolder, consider adding small flowers and vines leading down your neck or shoulder blade.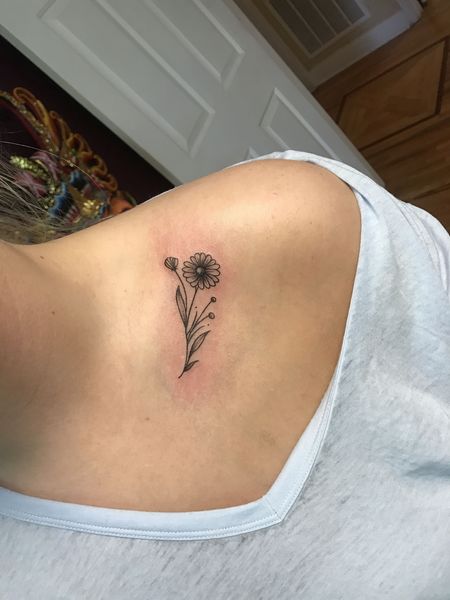 6. Cute Daisy Tattoo
If you want to get a cute tattoo of a daisy, then you can go for it. Just make sure that you are aware of the fact that there are so many different types of daisies that you can choose from. Also, you need to keep in mind that they come in various sizes, so if you have a small area that you would like to be tattooed, then this is the right choice for you.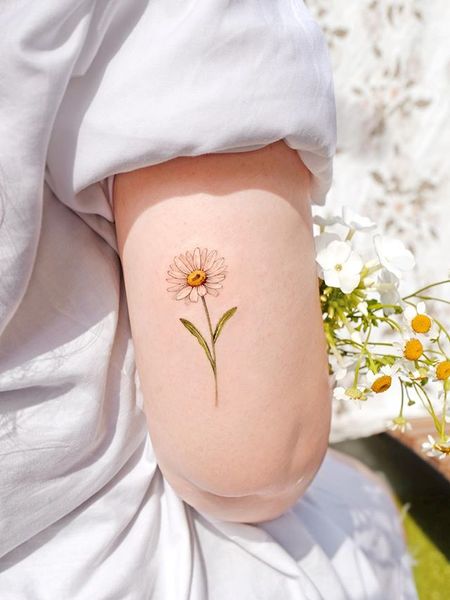 7. Finger Daisy Tattoo
The finger is a great spot for small tattoos, and daisies are no exception. These pretty petals can be inked anywhere on your fingers to add a touch of color, or you can go bold with a ring finger design.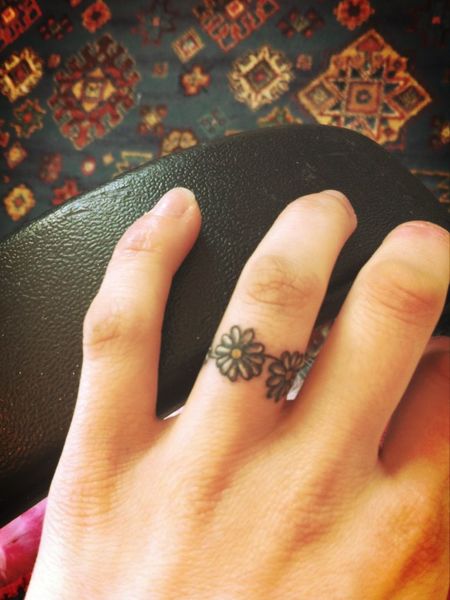 8. Foot Daisy Tattoo
Tattoos that wrap around the ankle do wonders for slimming the leg, and daisies are no exception. This daisy tattoo wraps around in a large circle, creating a bold look that makes the ankle appear thinner.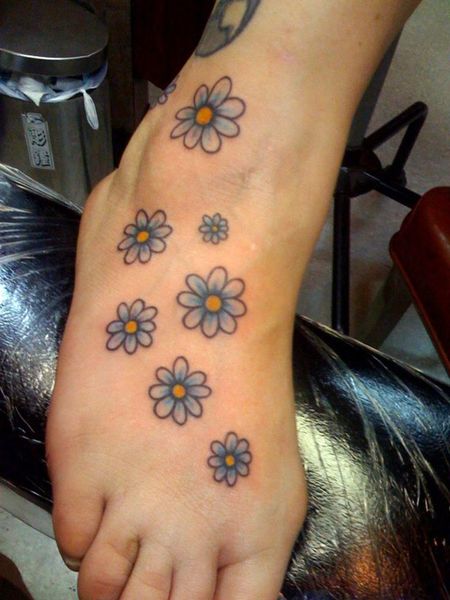 9. Forearm Daisy Tattoo
Daisies work well on the forearm because they're so small and dainty. This tattoo is inked in black and grey, which adds to its mystery. It's perfect for women who want a tattoo that doesn't make too big of a statement.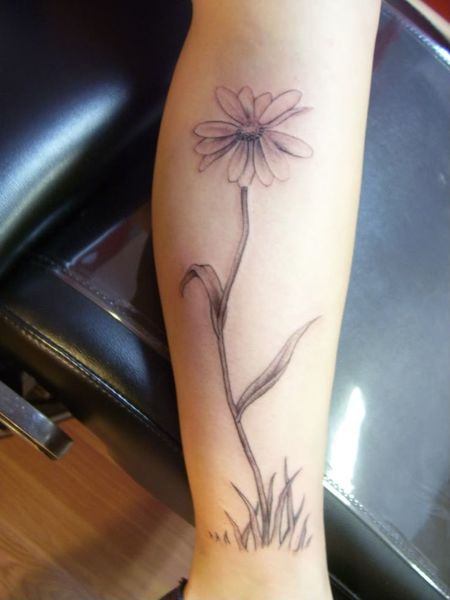 10. Hand Daisy Tattoo
The hand is a great spot to place a daisy tattoo. Hand tattoos are eye-catching and unique, but they're not for the faint of heart. Hand placement can make the pain more intense due to the lack of fat and muscle on this part of the body. Simple daisy designs are best for hand tattoos.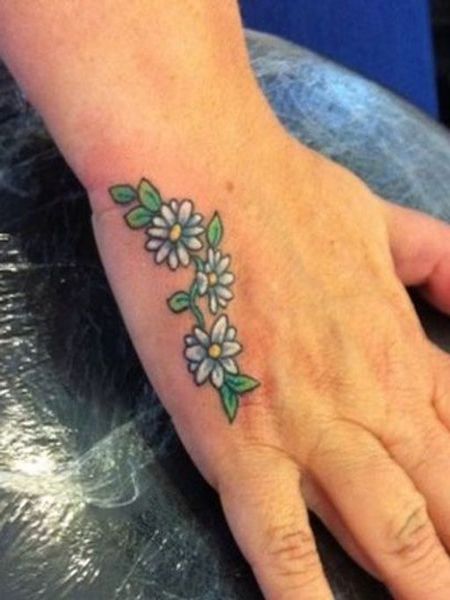 11. Leg Daisy Tattoo
The leg is an ideal spot for large daisy tattoos that feature intricate details and bright colors. If you're looking for a design that will stand out, try placing your daisy tattoo on your upper or lower leg. Keep in mind that this is another painful spot for a tattoo!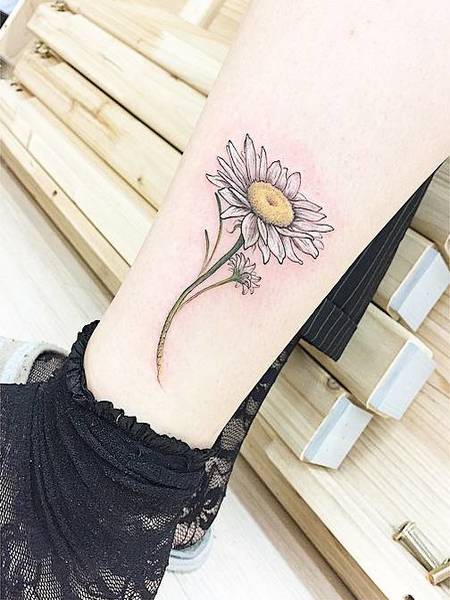 12. Neck Daisy Tattoo
A neck tattoo can be an intriguing addition to your tattoo collection if you want something subtle yet sexy. A very small daisy design looks great on the side of the neck or behind the ear — just make sure you're prepared for some discomfort while getting inked here!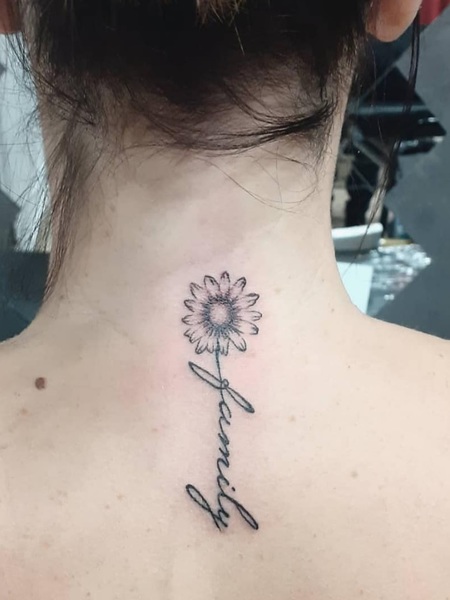 13. Realistic Daisy Tattoo
A realistic style of daisy tattoos are usually larger than life and really stand out. They tend to be more on the feminine side and look great when done in color. This type of tattoo design is ideal for women who want a larger tattoo.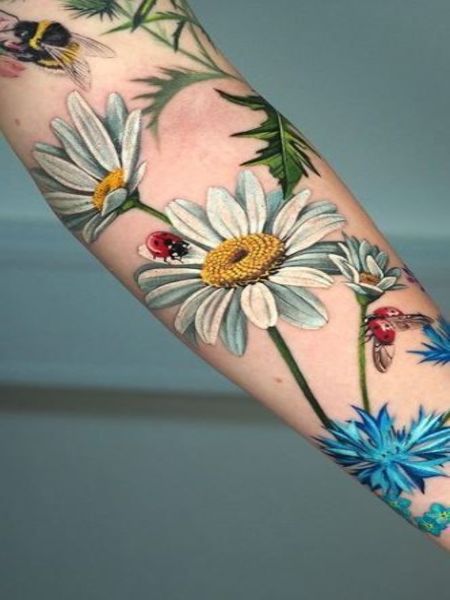 14. Rib Daisy Tattoo
Rib daisy tattoos are also done in a realistic style, but they can also be done in a cartoon style. These types of tattoos are very cute and fit well on the rib area because they can be stretched out to fit that area nicely. These are generally very tiny designs that fit well on women's rib areas.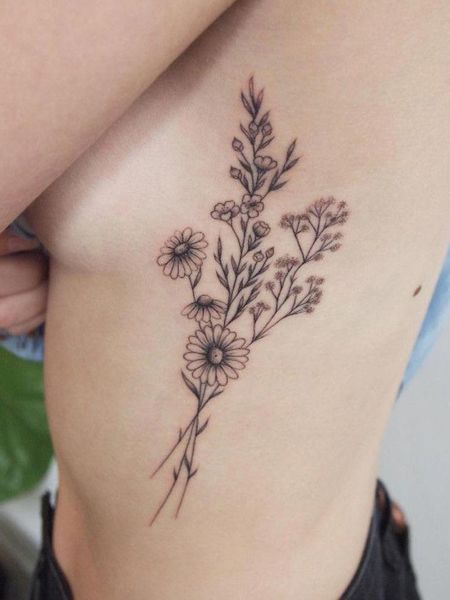 15. Behind The Ear Daisy Tattoo
Behind the ear is another great place to get a small daisy tattoo. These are generally very small in size, but they still look great and can be done in any style or color.
16. Shoulder Daisy Tattoo
If you want to make your tattoo look bigger and more detailed without taking up too much space on your body you should opt for a shoulder piece. It looks amazing with a realistic style daisy, especially when there are several flowers on the stem or leaves around them.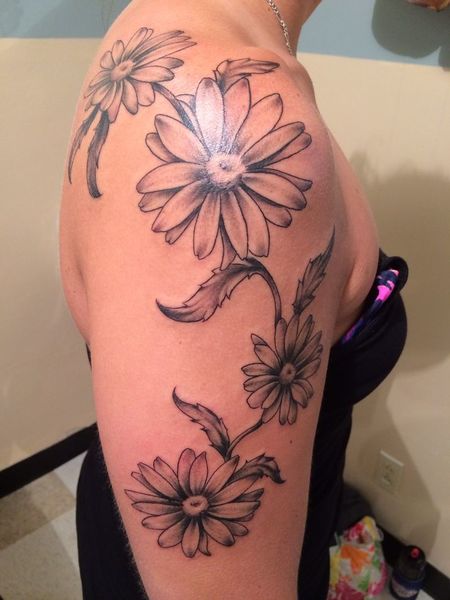 17. Simple Daisy Tattoo
The most common and simplest way to get the daisy tattoo is to get the whole flower tattooed on its own. The flower itself is dainty, making it ideal for the wrist, shoulder, foot and ankle.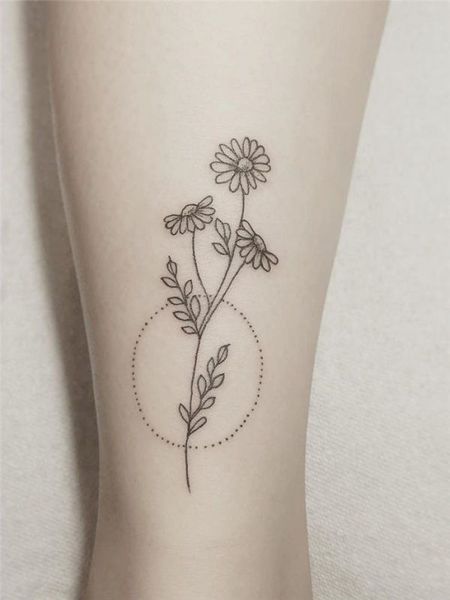 18. Gerbera Daisy Tattoo
A Gerbera Daisy Tattoo usually represents innocence and purity. It is a beautiful flower that offers a wide variety of colors and shades. The Gerbera Daisy is very popular because it offers a lot of colors and sizes. Gerbera daisies can express many different emotions and feelings of individuals or couples.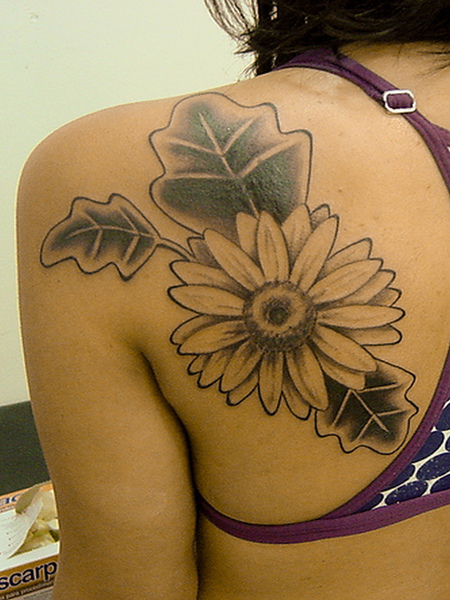 19. Minimalist Daisy Tattoo
If you want to add a little more to your daisy tattoo, then consider a minimalist design. More often than not, this entails adding leaves and stems to your tattoo design.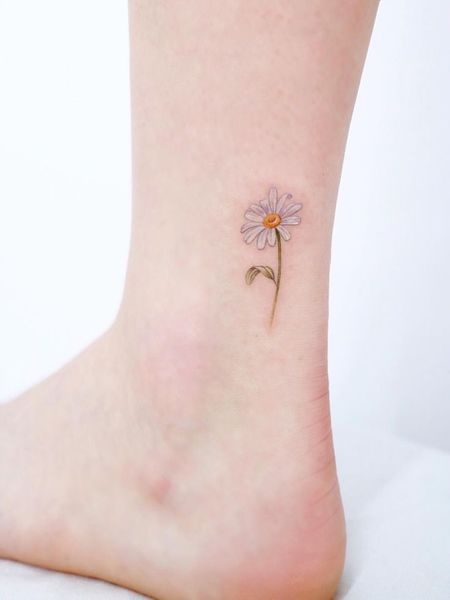 20. Small Daisy Tattoo
Small tattoos are great because they are easy to hide if need be and don't hurt as much during the inking process. The daisy can easily fit into small tattoos and look good due to the small size of the flower. Small daisy tattoos are usually inked on the wrist or behind the ear.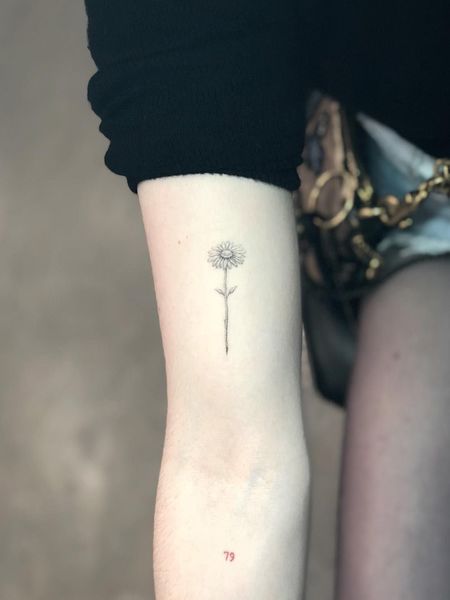 21. Thigh Daisy Tattoo
Looking for a larger tattoo? Thigh tattoos are gorgeous because they allow you to use different colors and designs without worrying about being too conservative with your ink choice.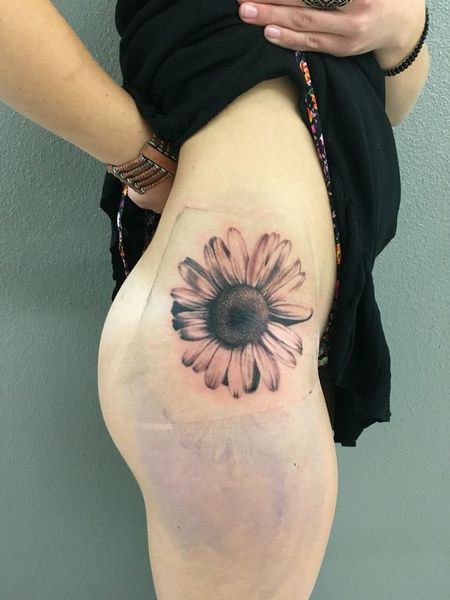 22. Tiny Daisy Tattoo
A small daisy tattoo on an ankle or wrist looks delicate and feminine. They're a good option if you're looking for something subtle but still want to make a statement. These tattoos can symbolize purity, femininity, beauty or innocence.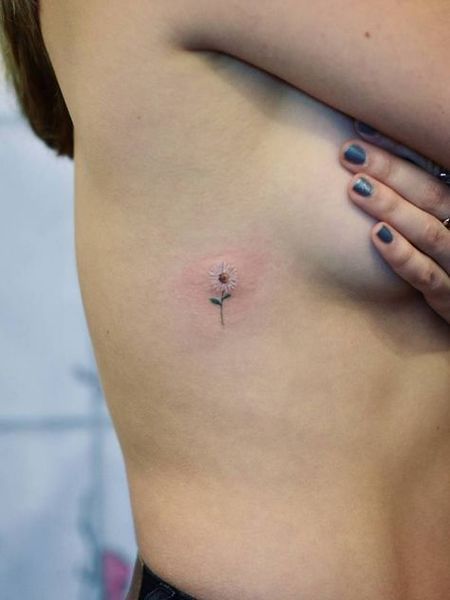 23. Watercolor Daisy Tattoo
The watercolor technique has become popular in recent years, especially for floral designs like daisies. Watercolor tattoos tend to look very artistic and abstract, making them perfect for those who want something colorful but not necessarily realistic-looking.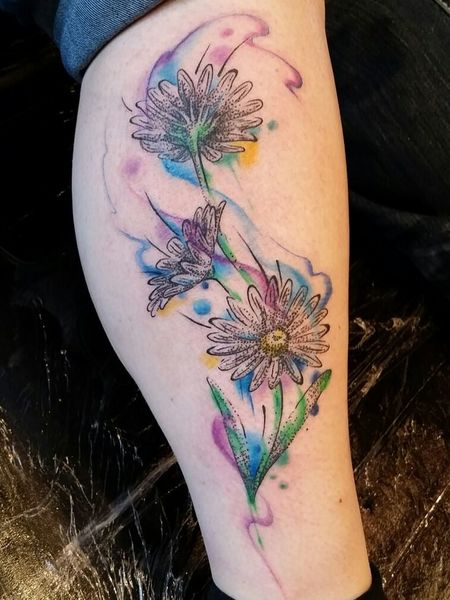 24. Wrist Daisy Tattoo
The wrist is a very popular place for women to get inked, as it is an easy place to hide and show off a tattoo as you choose. Tiny daisy tattoos are a popular choice for the wrist as they fit easily on this small area of skin and look incredibly cute.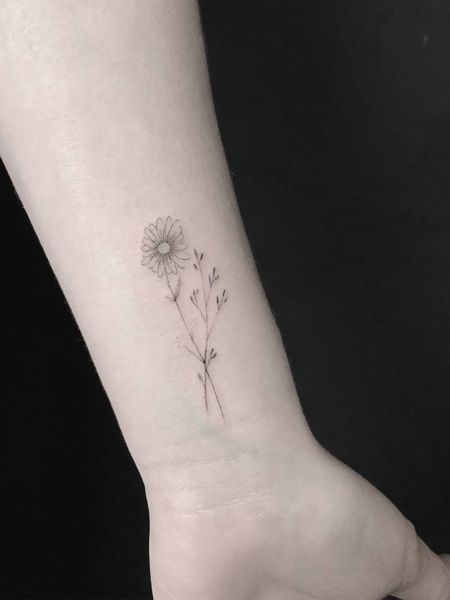 25. Colorful Daisy Tattoo
The colorful daisy tattoos are the most popular of the daisy tattoos. These tattoos can be seen in different shapes and sizes. The daisy is known for their bright colored petals which include yellow, purple, pink, white and more. The bright colors of these flowers made them famous to be used as tattoos. Some are even mixed with other flowers such as roses and sunflowers.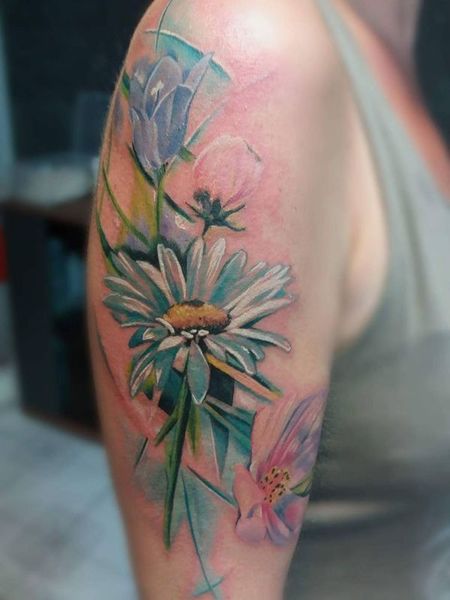 26. Black And White Daisy Tattoo
The black and white daisy tattoos are also popular among others. Unlike the colorful ones, it has no color but still looks attractive to others. It is also used by many people as a tattoo design because it will not look bad as it ages.
27. Line Daisy Tattoo
The line daisy tattoos are unique from the other types of daisy tattoos. It does not have a color or is not drawn in a detailed manner but it still looks good on some parts of your body. This type of tattoo is usually used by men who want to show their masculinity by having a simple yet attractive tattoo design.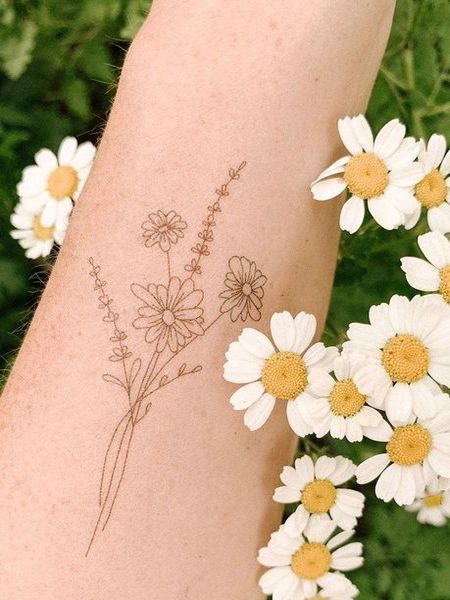 28. White Daisy Tattoo
The white daisy tattoos are also one of the most preferred flower tattoo designs in the market today. These flowers are known to bring good fortune because they represent innocence and purity.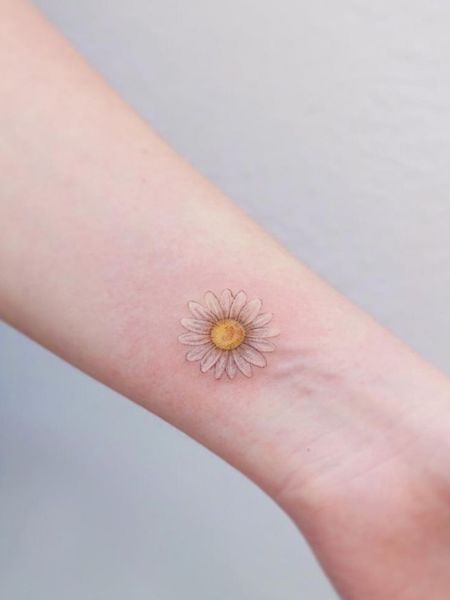 29. Sunflower And Daisy Tattoo
Many people like to pair their daisy design with another flower, such as sunflowers. This combination looks great because the two flowers really complement each other. Sunflowers are much larger than daisies, so they make a good background or border for the smaller flowers. The combination of yellow and blue is also visually striking.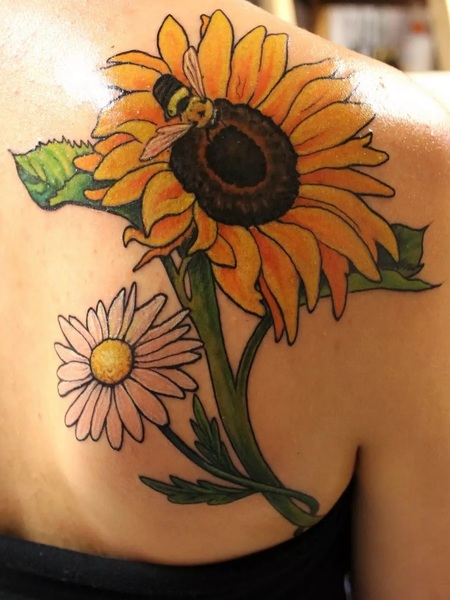 30. Butterfly And Daisy Tattoo
The butterfly and daisy tattoo is a symbol of the freedom that you have in life. It also represents new beginnings and happiness. This tattoo can be done in many different colors. The butterfly and daisy tattoo is a symbol of the freedom that you have in life. It also represents new beginnings and happiness. This tattoo can be done in many different colors.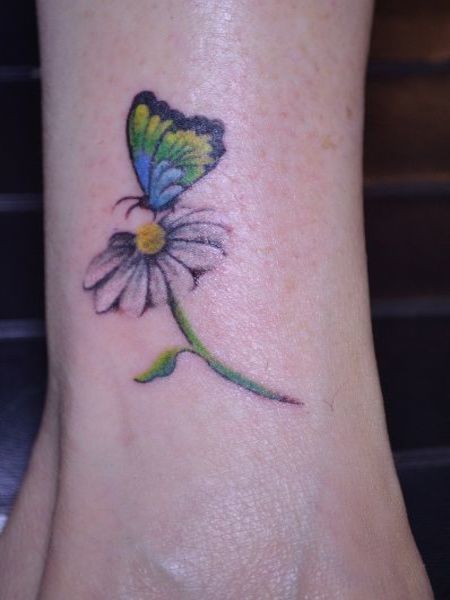 FAQ
Daisy Tattoo Meaning
The daisy is a flower of great importance in heraldry, and it is often associated with innocence and purity. This can be one of the reasons why this flower is so popular among tattoo lovers. Depending on their symbolic meaning, daisies can be worn by both men and women.
What does a daisy tattoo symbolize?
Daisies take on different meanings based on their color and the way they are portrayed in the tattoo. White daisies are associated with innocence, purity and loyal love that never fades away. Pink daisies symbolize gratitude for small things in life as well as happiness and playfulness. Purple daisies represent royalty and power while yellow ones convey wealth and prosperity. The blue daisy is associated with peace and tranquility while red ones symbolize fiery passion.