70 Awesome Leg Tattoos for Women
Leg tattoos for women can be stylish and elegant. The wonderful thing about tattooing on leg is that you can place it anywhere you want. You can wear your favorite shorts, skirt or capris to flaunt your tattoos. There are variety of tattoo designs that petite women can choose from.
Leg tattoos for women are so cute and charming that you just can't resist staring at your feet, it's absolutely true. Leg tattoos have been popular among girls for years and continue to be a trend in the fashion industry.
Tattoos are getting more and more popular these days and one of the most common places where people get them is on their leg. Leg tattoos are a big commitment, they take many hours over several sessions and they hurt. The legs are a great place to get a tattoo if you want it to be visible all the time. On the other hand, if you want something discrete, then go for the back of your leg or the inside of your ankle.
They could be big or small, colorful or black and white, simple or complicated; there are thousands of leg tattoo ideas for gals, and we will help you find the right one. To make it easier for you to choose the tattoo design that suits you best, we've picked up some of the most popular leg tattoo designs in this gallery.
3D Leg Tattoo
3D tattoos are one of the most realistic tattoos that you can ever have. They are not just real but they are also unique. This means that they will stand out from other tattoos. There is more than one type of 3D tattoos that you can have on your leg.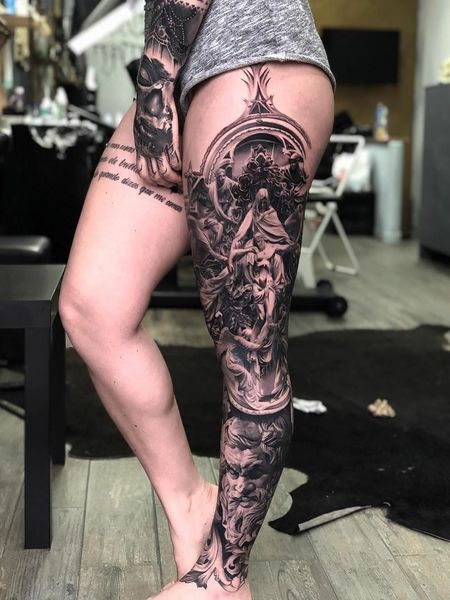 American Traditional Leg Tattoo
American traditional tattoos are widely recognized and are some of the most popular leg tattoos for women. They are also referred to as old school or traditional Western tattooing. They feature bold outlines, solid colors, and defined curves. Common motifs in American traditional tattoos include nautical themes, military emblems, flowers, and animals.
Anchor Leg Tattoo
Anchor tattoos are one of the most popular nautical designs out there, and they look great on the legs. This tattoo design is versatile; you can get a small anchor tattoo on the ankle or wrist, or you can go big and get an anchor tattoo covering your whole leg.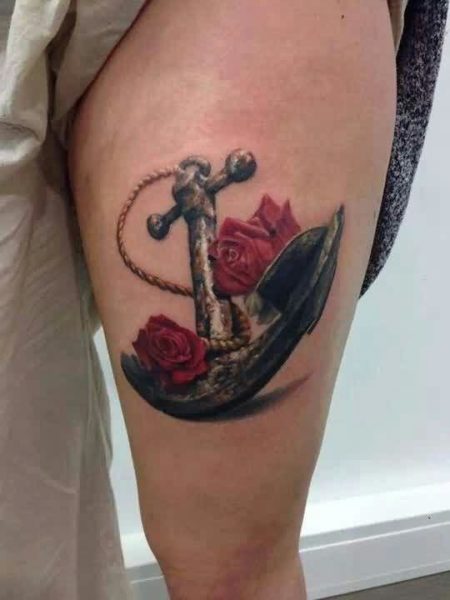 Angel Wings Leg Tattoo
Angel wings make for a beautiful tattoo design, especially when they cover the whole back of the leg. It's also possible to get angel wing tattoos on other parts of your body.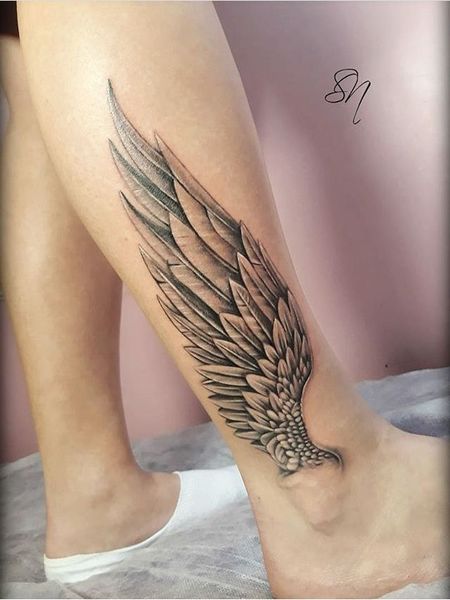 Back Of Leg Tattoo
This is one of the most popular places to get a tattoo for both men and women. It's easy to show off your tattoo with shorts or a skirt and it's also easy to conceal your tattoo if needed. The back of the leg tends to be less painful than other areas, but it all depends on your pain tolerance.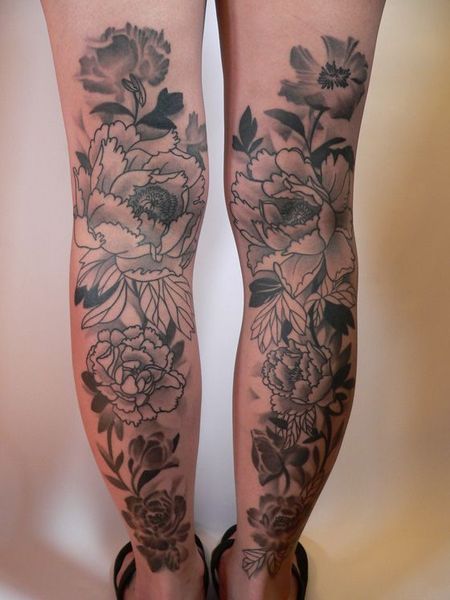 Bird Leg Tattoo
Bird tattoos and eagle tattoos have been immensely popular and we're seeing more bird tattoos on legs than ever before! Bird legs are commonly paired with a foot tattoo or ankle tattoo, however they can also be placed anywhere on the leg. These birds are commonly tattooed as watercolor or dotwork designs.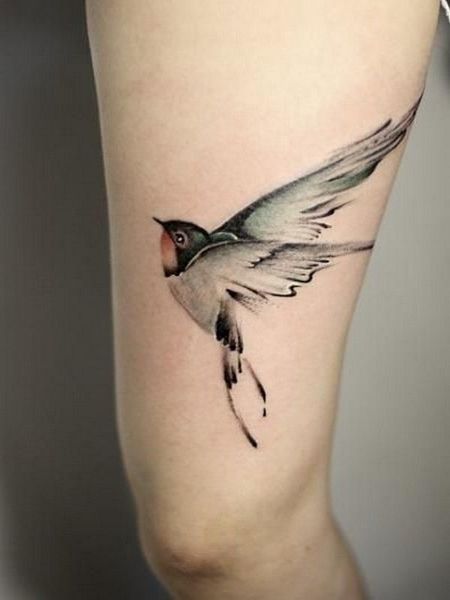 Blackwork Leg Tattoo
Blackwork is becoming increasingly popular as more people become interested in alternative ways to express their creativity through body art. This style involves inking large swaths of black ink over an area.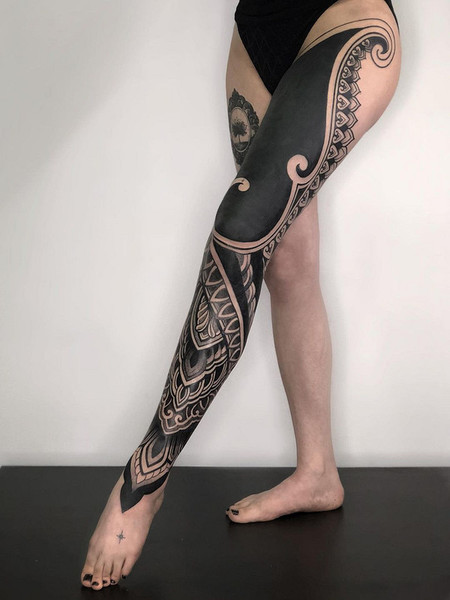 Bold Leg Tattoo
Bold leg tattoos are great for those looking for a statement-making piece of art. Bold tattoos are typically done in large size and in black ink only. Lettering, tribal designs, mandalas, and geometric patterns are some of the most popular bold leg tattoo designs for women.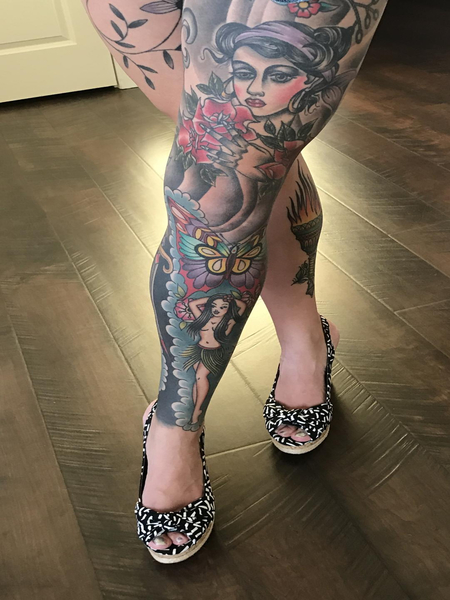 Botanical Leg Tattoo
If you're looking for feminine and elegant designs, then botanical leg tattoos are the way to go. Botanical tattoos often use realistic flowers such as roses and lilies as well as leaves to create stunning designs that look like actual plants growing on your legs.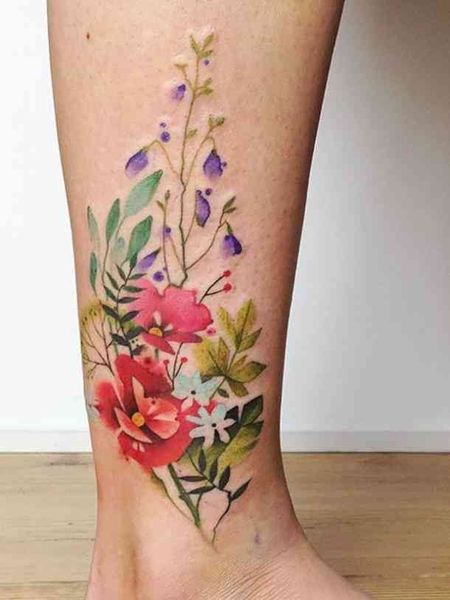 Bow Leg Tattoo
If bows are your thing and you want to add them as a tattoo, then there are some really cool ways that you can do this. You can have a small bow added anywhere on your leg or if you want something bigger, then consider a bow design on your thigh. You can even add bows to a design that already has words or other designs in it if that is what you prefer.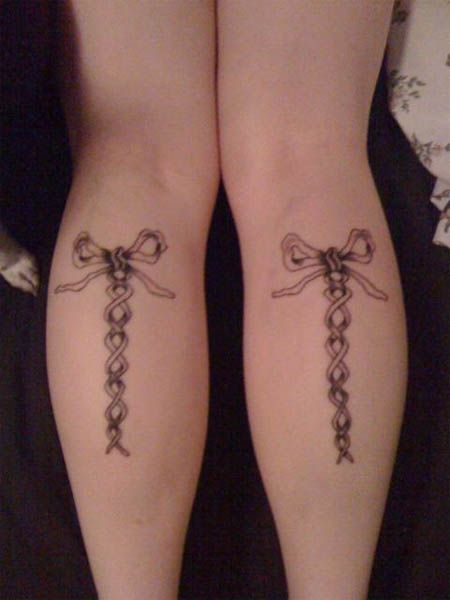 Butterfly Leg Tattoo
Butterfly Leg Tattoos are pretty and colorful. They can be made up of one butterfly or several. Some popular places for butterfly tattoos are back, shoulders and ankles.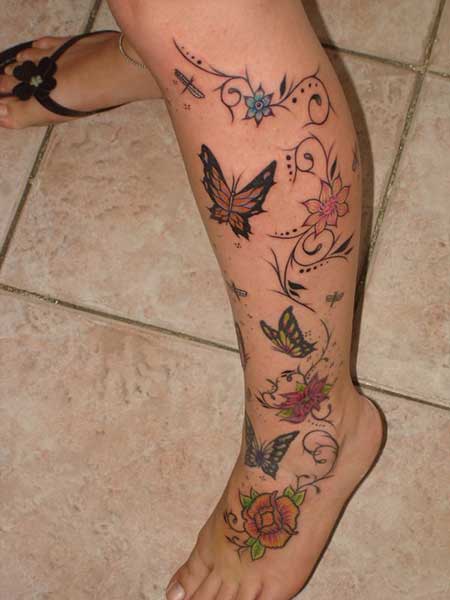 Cat Leg Tattoo
Cat Leg Tattoos can be cute or fierce. One popular design of cat tattoos is the Egyptian cat tattoo which has more detail than other cat tattoos. Cats can also be drawn as simple outlines with just a few whiskers. Some popular places for cat tattoos are the side, back and arms.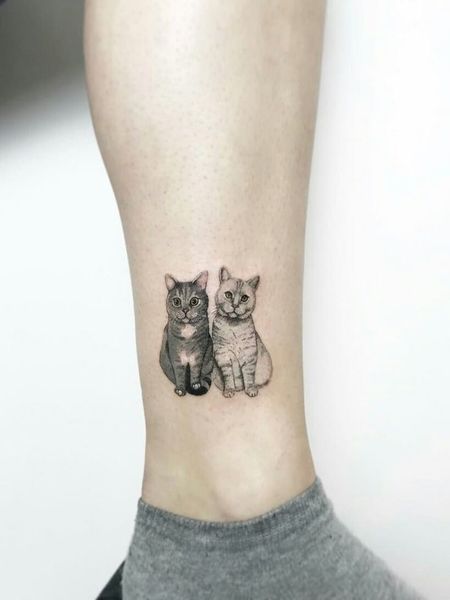 Colorful Leg Tattoo
You don't just have to go with dark or grey colored ink when you get a tattoo on your leg. You can opt for bright colors or even rainbow colored tattoos that really stand out. Getting flowers or butterflies inked on your leg will make them look gorgeous and eye catching.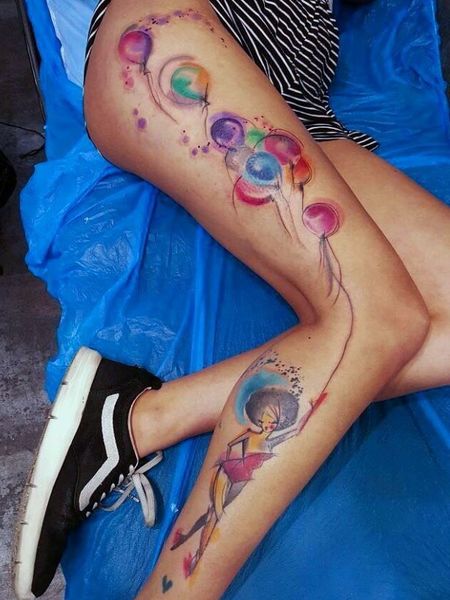 Compass Leg Tattoo
Compasses were used in the past centuries to help sailors navigate through the seas without getting lost. Today, they are often used as a symbol of exploration and direction. Having a compass tattoo on your leg is a great way to remind yourself that you're never lost if you know where you want to go.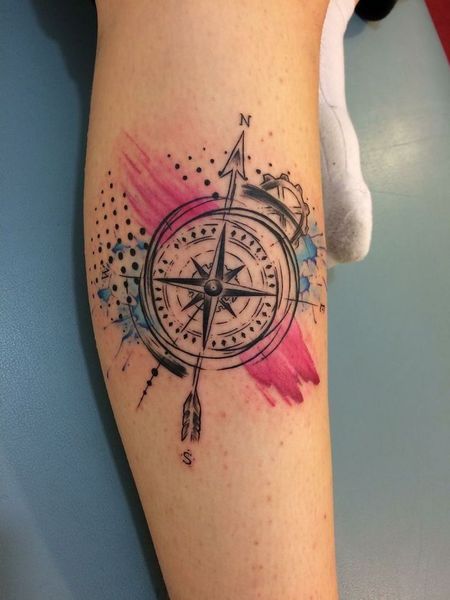 Cross Leg Tattoo
A cross is one of the most popular types of leg tattoos for women. It can be as big or small as you'd like, and it can go anywhere on the leg. You can choose to have a full cross or just some lines and angles.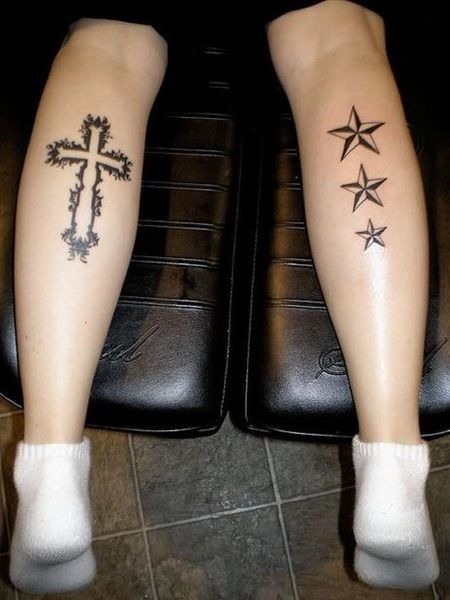 Crown Leg Tattoo
A crown is one of the most common symbols of royalty. It can also signify wisdom, authority and strength for those who wear it. A crown tattoo is a great choice for a woman who wants to show off her regal side.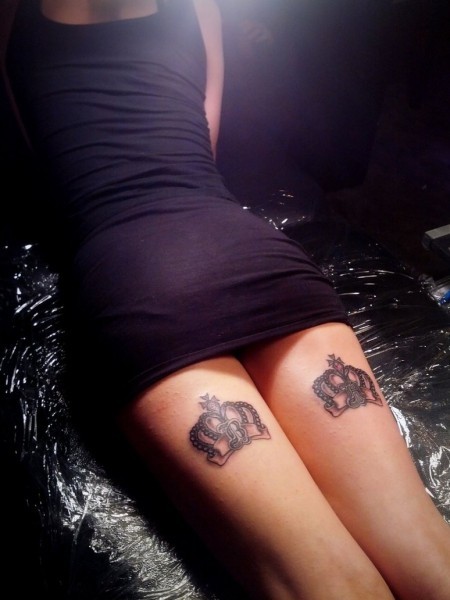 Cute Leg Tattoo
Some women get small, cute tattoos on their legs. This type of tattoo is often a favorite among younger women who want to display a little bit of ink without going overboard. These tattoos are usually feminine and show things like flowers, quotes, or animals.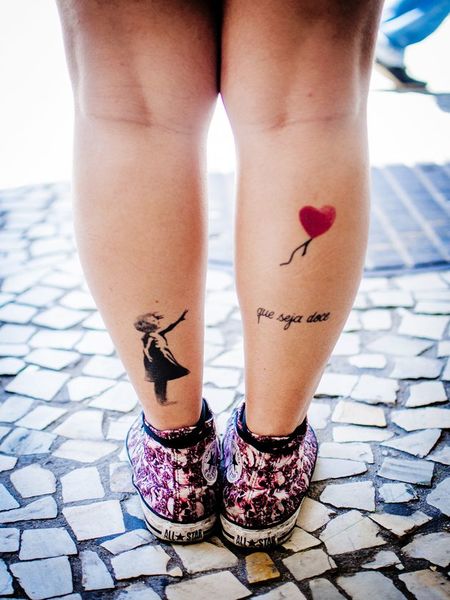 Dragon Leg Tattoo
Dragons are mythical creatures that have been around since the dawn of time and have a strong cultural significance in many Asian countries. One of the most popular designs for leg tattoos is a dragon tattoo that begins at the ankle and winds up the lower leg towards the knee. Dragons are seen as symbols of power and wisdom, and they are often thought to bring good luck.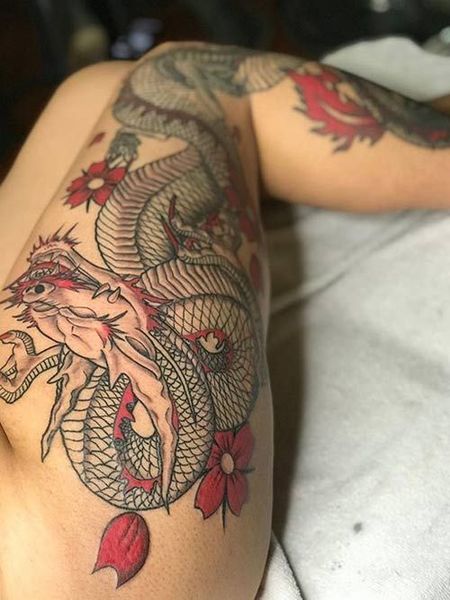 Dreamcatcher Leg Tattoo
Dreamcatchers, which were created by Native Americans, represent protection and serenity. Dreamcatchers symbolize protection against bad dreams, although they also may protect against negative energy in one's life. They can be placed anywhere on one's body but are often seen as an arm or leg tattoo.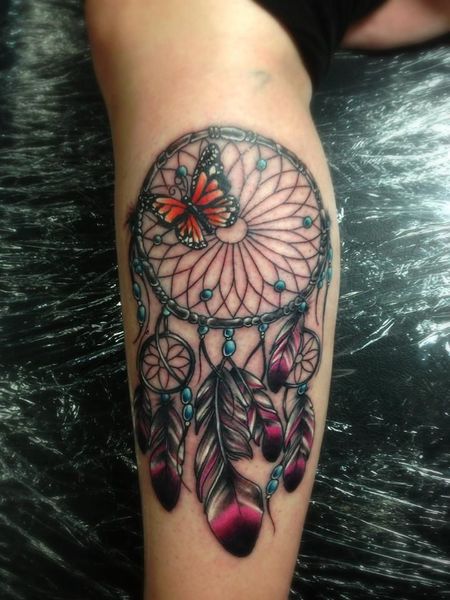 Elephant Leg Tattoo
The elephant is one of the most popular animal choices for leg tattoos. This is because elephants represent strength, power, intelligence and stability. For this reason elephants are a great animal choice when thinking about getting a leg tattoo. Elephant leg tattoos come in many sizes and can be placed anywhere on the leg. There is no limit to how big or small you want the elephant tattoo to be.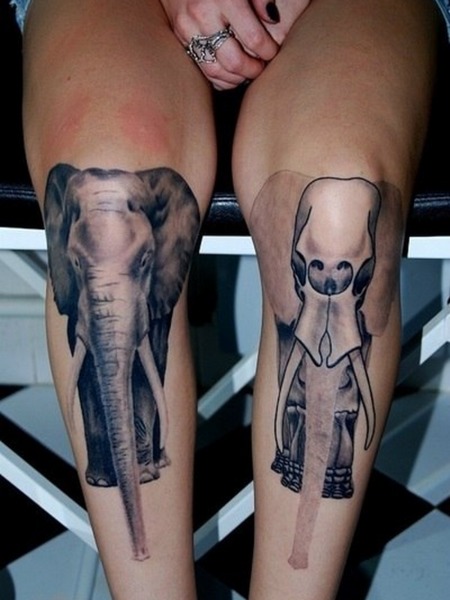 Feather Leg Tattoo
Feather tattoos are popular among women for their symbolic as well as aesthetic value. They represent freedom and enlightenment, which makes them a great choice for leg tattoos. Moreover, feather tattoos look good on legs and can be used to create beautiful artworks.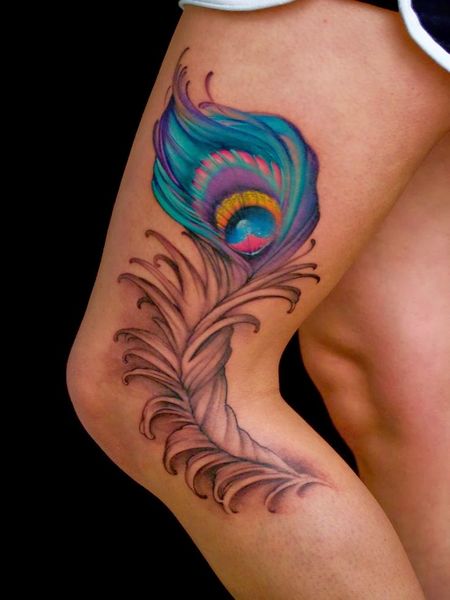 Feminine Leg Tattoo
Feminine leg tattoos are not just restricted to flowers. You can use any feminine element that strikes your fancy to come up with original leg tattoo design. For example, you may mix a bow with an anchor or doves to create a unique leg tattoo design. Similarly, you may use the sacred heart symbol to make your leg tattoo more meaningful and interesting.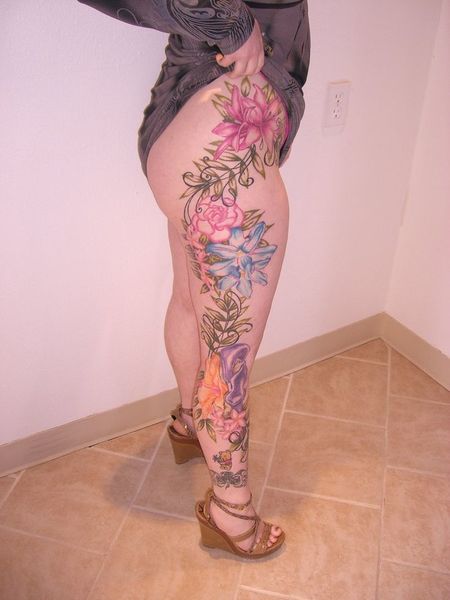 Flower Leg Tattoo
Flower tattoos are one of the most popular choices of women when it comes to leg designs. However, today's tattoo designs have left behind the simple floral motifs that were common earlier in favor of more complex designs that incorporate other elements like skulls, butterflies, and leaves.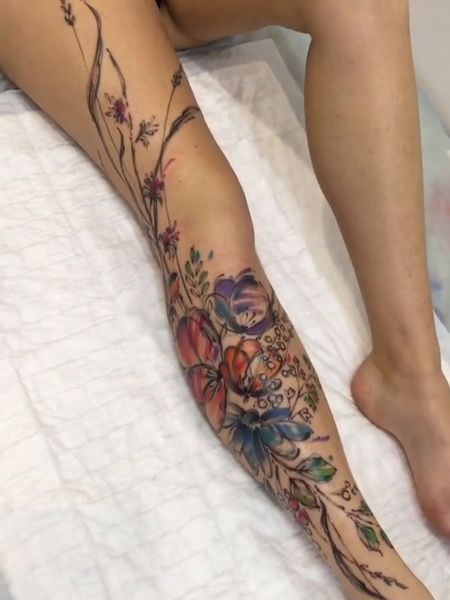 Front Leg Tattoo
Front leg tattoos have become more popular in recent years and have no signs of slowing down. The front leg is a great spot for smaller pieces that you want to show off while still being able to cover up when needed. Your ankle is also another great spot for a tattoo on your leg as well, especially since it's easier to cover up if you're not looking for something permanent all day long.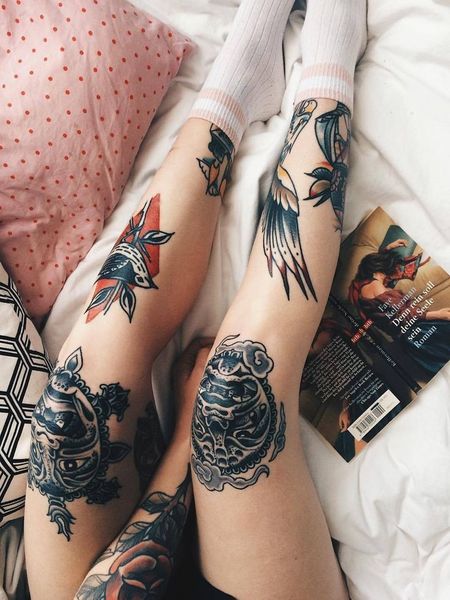 Full Leg Tattoo
A full leg tattoo is a serious commitment but it allows you to be more creative with your design selection since there's more space to work with. You can either do a partial leg tattoo or cover it all up depending on your preference. This type of tattoo is usually done in black ink so make sure that you will really like your design.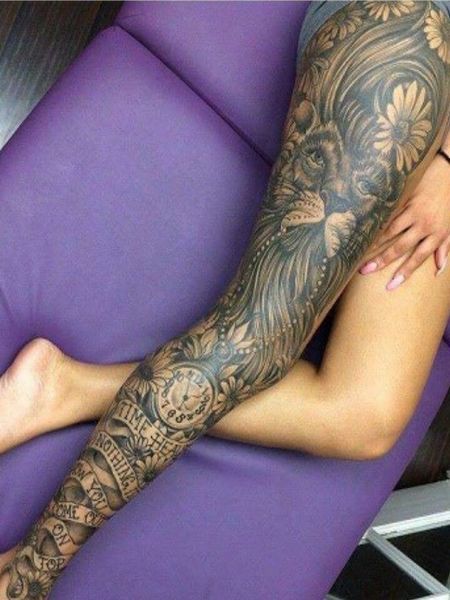 Geometric Leg Tattoo
A design made of geometric shapes can look very unique. Geometric tattoos are typically done in black and white, although they can also be colorful too. This geometric leg tattoo has a variety of shapes and a subtle color scheme that makes it look very stylish.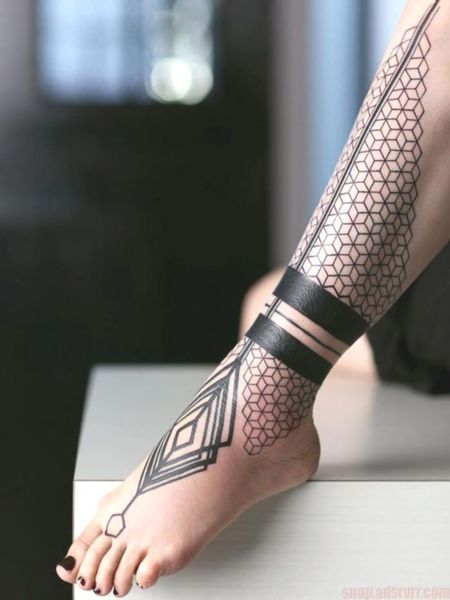 Half Leg Sleeve Tattoo
For those who want large leg tattoos, then a half leg sleeve might be the perfect option! Half sleeve leg tattoos cover the upper part of your leg and are ideal for showing off in shorts or skirts. This beautiful nature-inspired half sleeve is full of detail and features an amazing color scheme.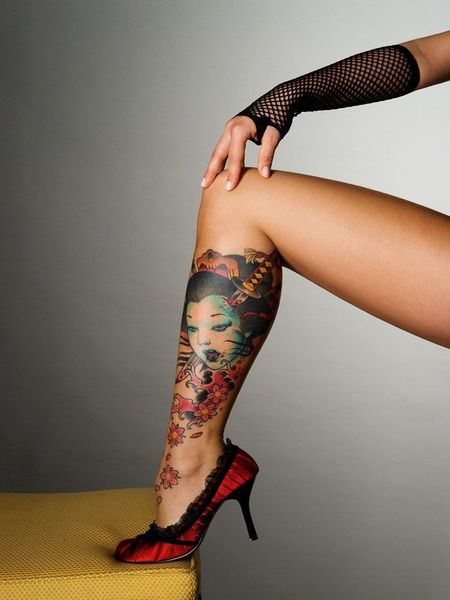 Harley Quinn Leg Tattoo
If you love Harley Quinn from Suicide Squad, then you will love these Harley Quinn leg tattoos! These designs feature her iconic hairstyle. These tattoos are so detailed and look great together!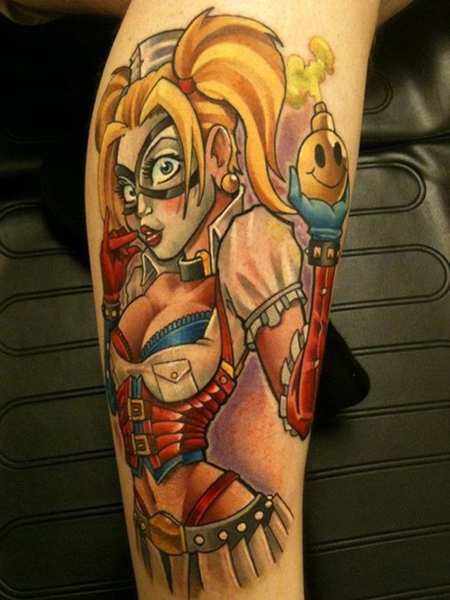 Heart Leg Tattoo
A heart tattoo is a great choice for women who want to add some symbolism and meaning to their leg tattoo. From simple outlines to ornate, detailed depictions, a heart design is versatile enough for any style of ink. A heart tattoo can symbolize love, life and family; it can also represent eternal romance or that you're always in someone's heart.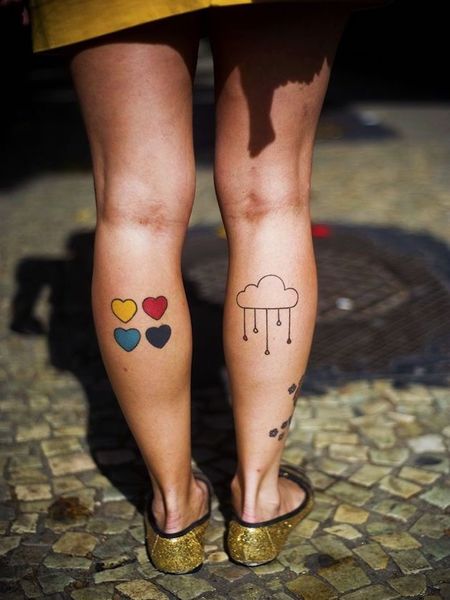 Henna Leg Tattoo
Henna is traditionally used for various celebrations, including weddings and other ceremonies. A henna tattoo can be as simple as a small pattern on the foot or ankle, or it could cover the entire leg like a sleeve tattoo. A henna design takes anywhere from one week to six months to fade off naturally, so think carefully before you go under the needle with this type of ink.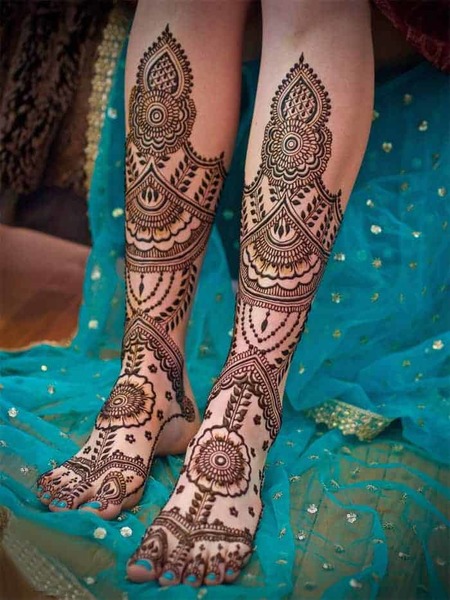 Hibiscus Leg Tattoo
The hibiscus flower is very important in Polynesian culture because it is believed to represent femininity and fertility. This is why a hibiscus flower makes a popular choice for leg tattoos among Polynesian women.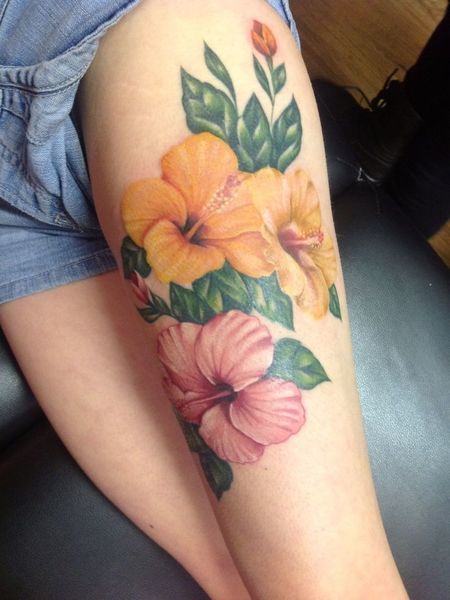 Japanese Leg Tattoo
Japanese tattoos are very popular among women. These tattoos are typically very colorful and have great detail in them. It is common to see Japanese letters written in the tattoo, while other women will combine different types of images such as flowers and animals. There are many different options when it comes to these tattoos, which could be why they are so popular.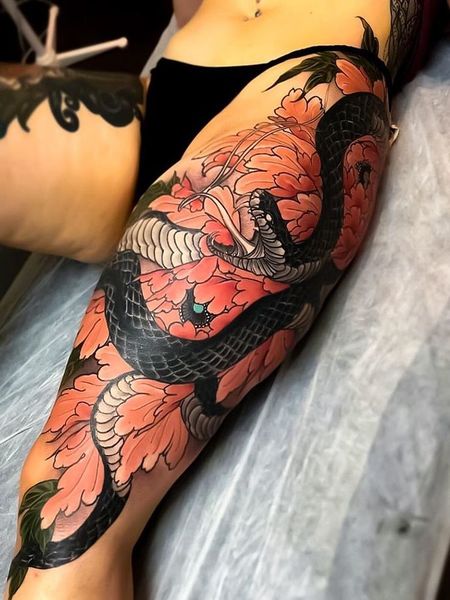 Koi Fish Tattoo Leg
Koi fish tattoos are also very popular among women, especially those that enjoy water sports such as surfing or swimming. These fish bring good luck and good fortune to those that wear them. The colors of koi fish are usually very vibrant and can be seen from a distance away. There is not a meaning behind each color, but the brightness and colors makes these tattoos stand out from other styles of leg tattoos for women.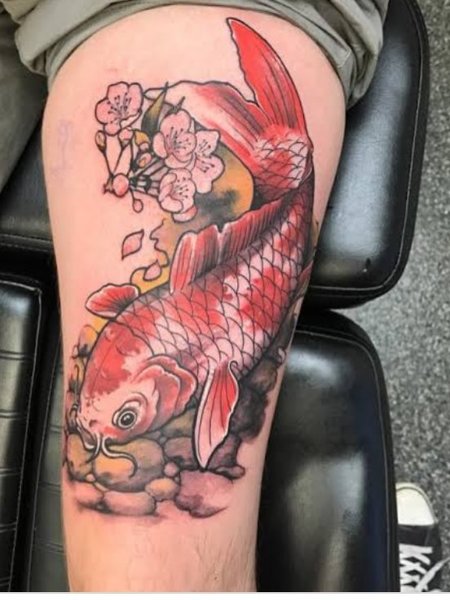 Leg Quote Tattoo
Quote tattoos are very popular among both men and women. They can be placed anywhere on the body, but one place they look great is on the leg. You can choose to get a quote tattoo with or without an image or other design elements added to it.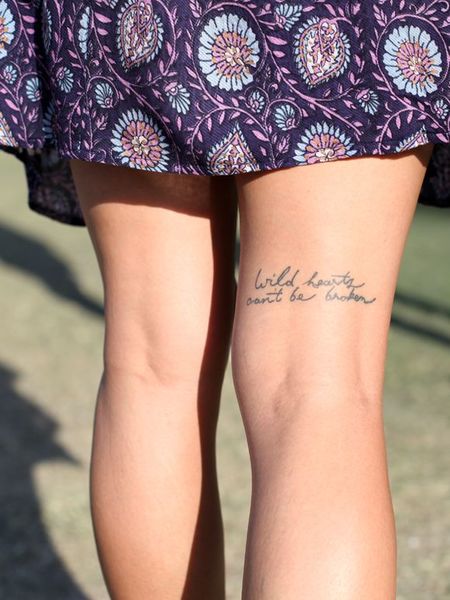 Leg Sleeve Tattoo
Leg Sleeve Tattoos have become super popular. These designs can be done in any color as well as black ink. You can add one design or multiple onto your legs to create a larger piece of art. Some of these tattoos are even being called leg jackets and span from your knee to your ankle.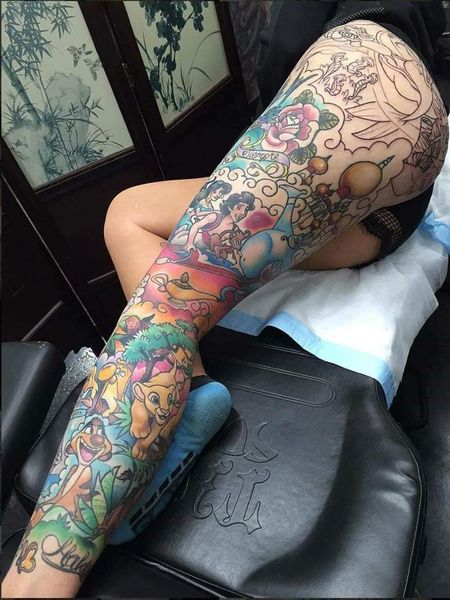 Leg Vine Tattoo
If you love flowers, vines and other plant life, you will love these vine tattoos that wrap around the leg. These are usually done in black ink, but you can also choose to do them in whatever color you want – like red roses!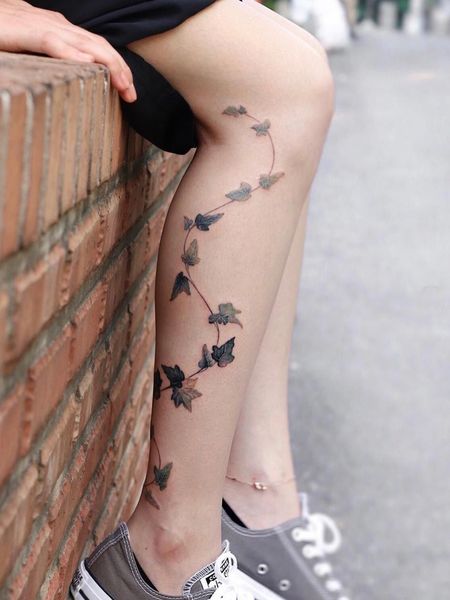 Line Leg Tattoo
A line tattoo is one of the most popular leg tattoo design ideas for women. The style is simple yet very trendy. It can be extended across the entire leg which can look very classy and stylish at the same time. The best thing about getting a line tattoo done is that you can make it into any other design as well.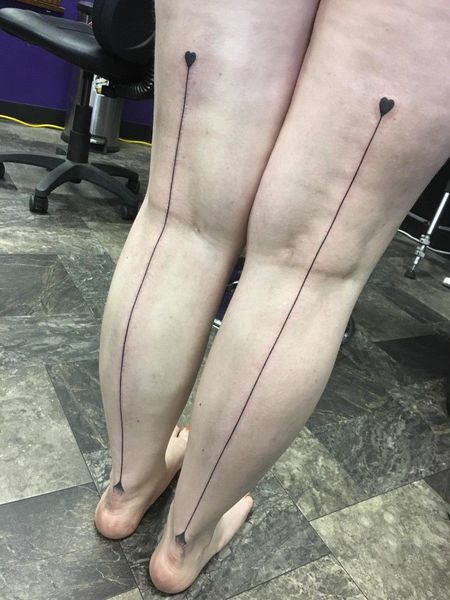 Lion Leg Tattoo
Lion tattoos are chosen because they represent strength, bravery and courage. These characteristics are what every woman desires to have. A lion tattoo is also a symbol of royalty and authority which is another important trait most women may want to have for themselves. You can get a lion tattoo done in various ways, such as realistic portraits or cartoon characters, whichever suits you the best!
Lotus Flower Leg Tattoo
Lotus flower leg tattoos are very pretty and this flower is more than just a beautiful design; it represents purity, spirituality and devotion. The lotus flower has its roots in dirt but grows up through the water to blossom into something beautiful so it's easy to see how this design has become so popular among women who want to show their spiritual side as well as their love of all things beautiful.
Mandala Leg Tattoo
Mandala tattoo designs are one of the most popular tattoos for women. They offer a beautiful design that can be worn on any part of the body. The intricate details and symbolism make them ideal for leg tattoos. Mandala art, in general, is used to promote spiritual and emotional growth. They are also known to keep evil spirits away.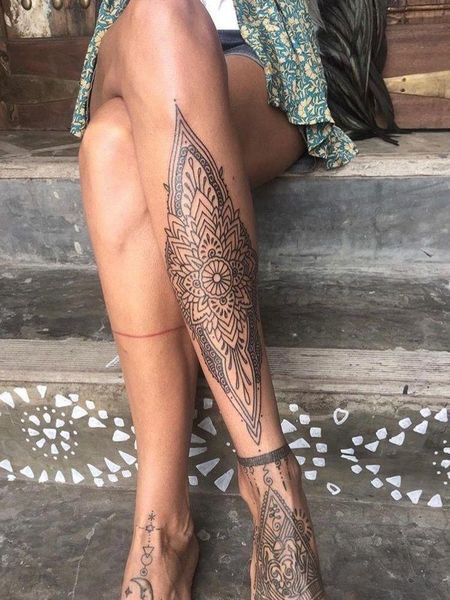 Meaningful Leg Tattoo
Leg tattoos are an amazing way to show off your personality. If you want something meaningful, consider a phrase, word or name that holds a special meaning to you. You can even get the tattoo in another language like Latin or Chinese. This makes it more unique and mysterious to others who don't know what it means.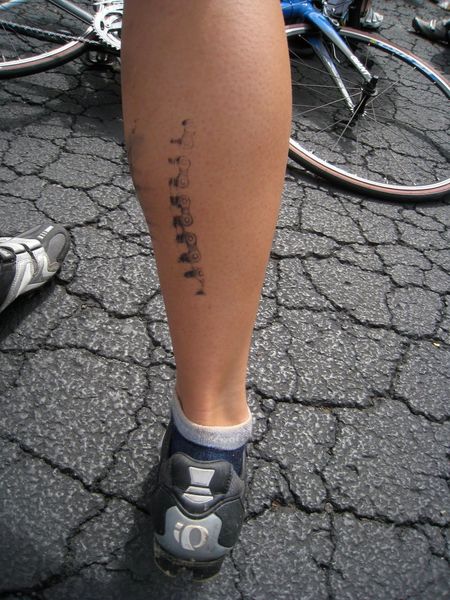 Medusa Leg Tattoo
This is one of the most popular leg tattoos because of their unique look. Medusa is known in ancient Greek mythology as the snake haired woman who turned anyone who laid eyes on her into stone. She's also known as one of the three Gorgons, who were sisters with snakes instead of hair on their heads.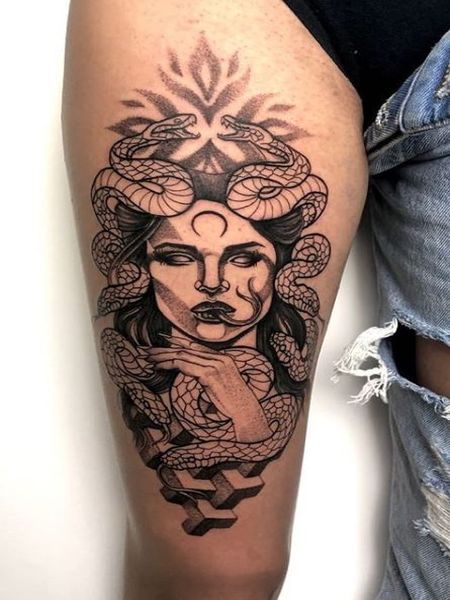 Minimalist Leg Tattoo
Minimalist tattoos are not just for the arms or back; they can be placed anywhere on your body. One of the most popular places for a minimalist tattoo is on the leg, as they provide more space than other areas of the body.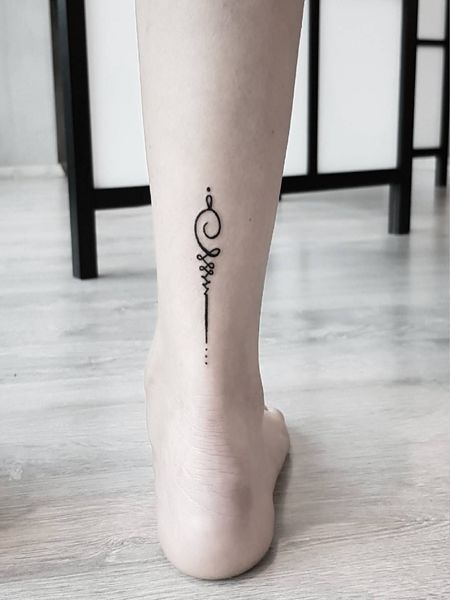 Moon Leg Tattoo
Moon tattoos are a popular choice among women who want to express their love for the moon and its phases. If you're looking for a unique design that's easy to hide, look no further than a moon tattoo.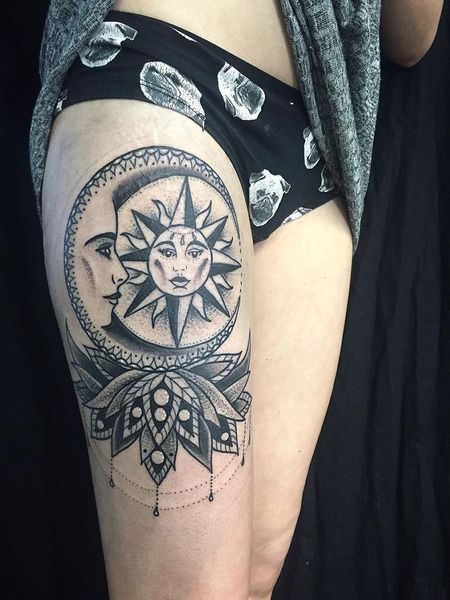 Mountain Leg Tattoo
Mountain tattoos are great for people who love nature and adventure. They're also a good choice if you don't want something too large or intricate on your leg since these designs tend to be simple yet elegant.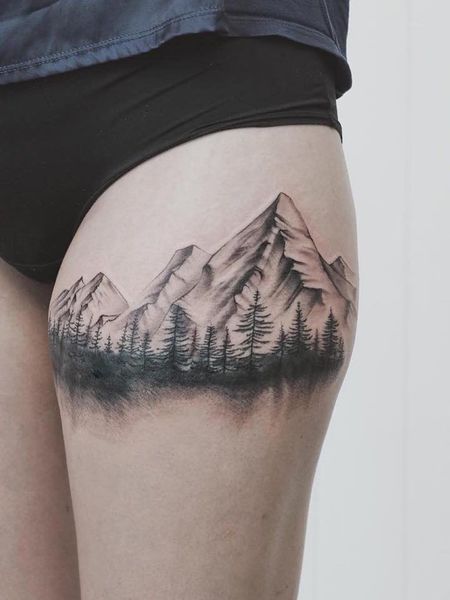 Music Notes Leg Tattoo
Music notes are a classic tattoo design, and they look great on the leg. As with an ankle tattoo, your music note design can be as small or large as you like. This is a fabulous design that is easy to conceal when necessary.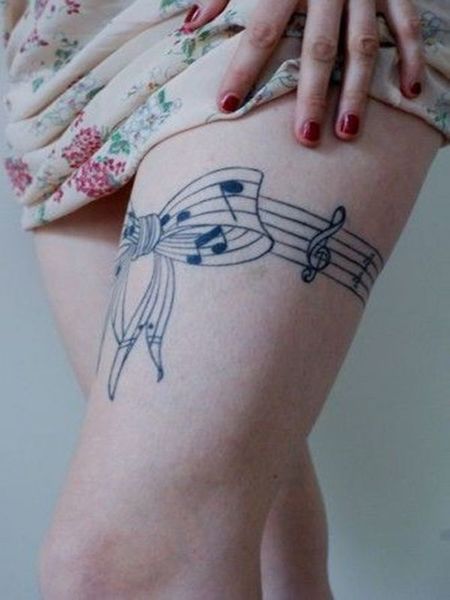 Nature Leg Tattoo
Nature leg tattoos are a beautiful way to express your love of the natural world. Feathers, birds and flowers are a few of the most popular nature designs for women. You can also work with an experienced tattoo artist to create a custom design that incorporates all of your favorite elements into one piece of art.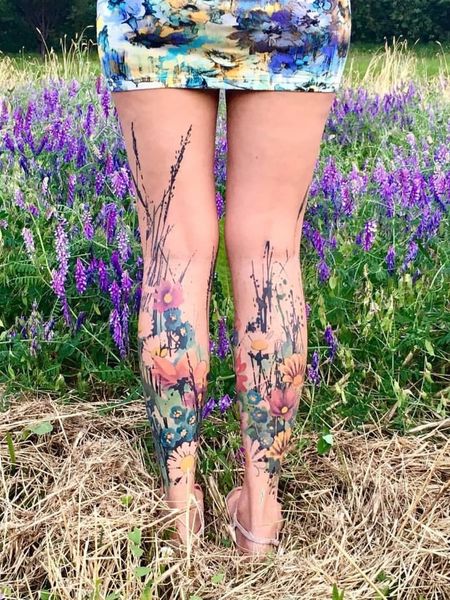 Owl Leg Tattoo
Owls are lovely creatures that make a beautiful design for the leg. Owls can be drawn in many different ways, depending on your personal taste. If you want a more feminine look, try adding flowers or other elements to the owl's wings. For a bolder look, play with patterns and vibrant colors.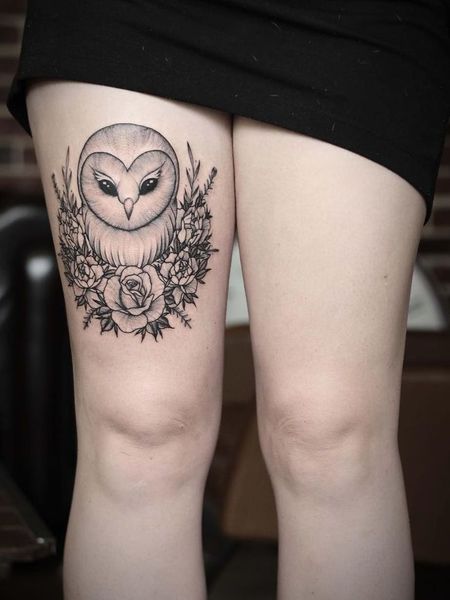 Phoenix Leg Tattoo
Phoenix tattoos represent rebirth, death and resurrection. A phoenix is a mythological bird that has the ability to rise from its ashes after it dies.Phoenix leg tattoos come in different colors, shapes, sizes and designs. You can have your phoenix tattooed on your thigh or calf.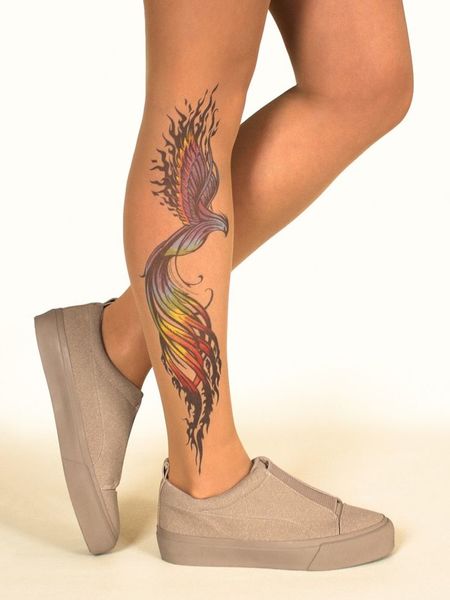 Rose Leg Tattoo
Rose tattoos come in different colors and sizes. You can have rose tattoos anywhere on your body like on your neck, shoulder, arm, wrist, foot, back and other body parts but the most common place for rose tattoos is on legs especially on calf and thigh areas. Rose leg tattoos are very attractive and they always look stunning on women legs.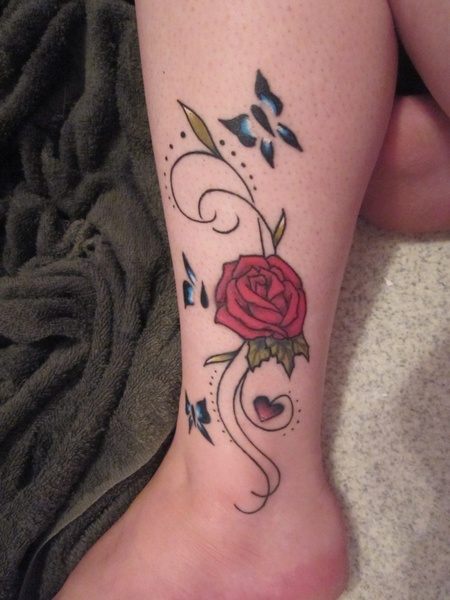 Side Leg Tattoo
Legs provide a perfect canvas for tattoo designs and placement since they are long and narrow spaces in which artists can work their magic. Side leg tattoos give you a wide variety of options for placement of your tattoo design since you can place them in many different spots along your leg from the hip down to the ankle.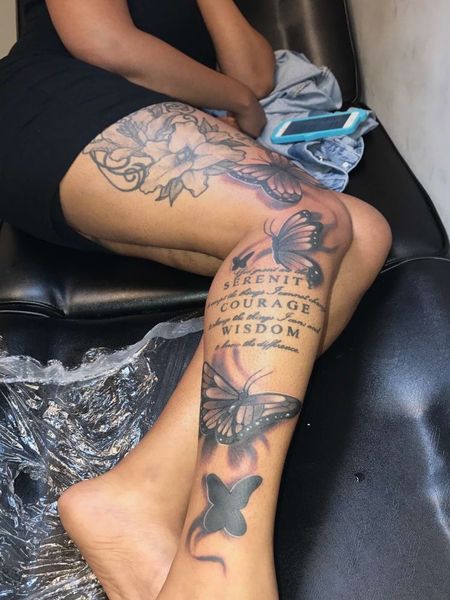 Simple Leg Tattoo
A leg tattoo can be of any size and shape. The tattoos in this category can be quite small and simple, but they still look very interesting. You may choose to cover your entire leg with tattoos or simply go for the calf. The choice is yours!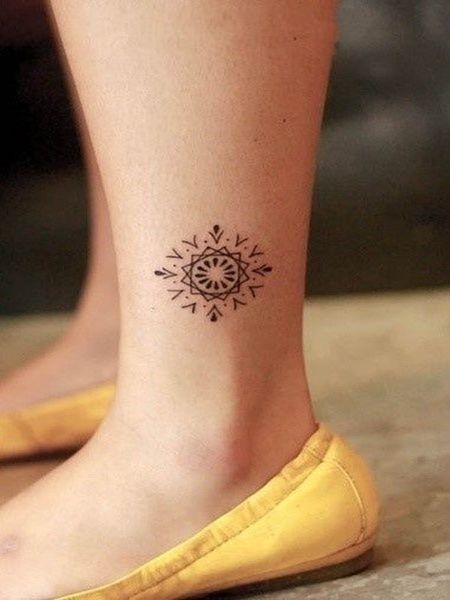 Skull Leg Tattoo
Skull tattoos are believed to be one of the most popular tattoo designs of all times. Skulls are used for a variety of reasons which include being a symbol of death, power, and strength. Skull tattoos for women can also be used as a symbol of change and rebirth. Skull tattoos are very popular among women because they are very versatile and can be placed on almost any part of the body.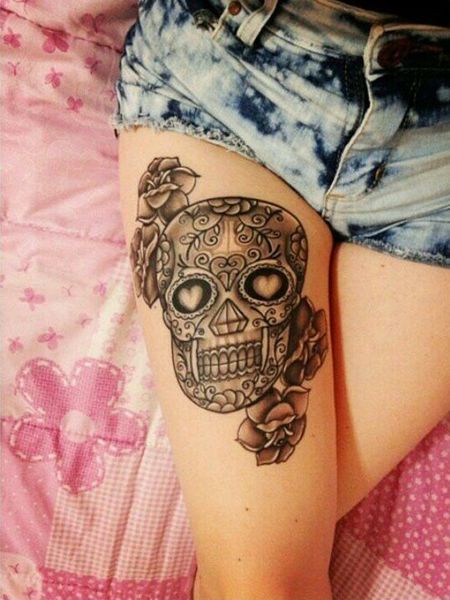 Small Leg Tattoo
Small leg tattoos are often overlooked, but they are becoming more popular as people begin to realize that there is more than just the traditional tattoo on their legs. You may want to consider getting a small leg tattoo if you want something that you can hide from your friends, family and coworkers.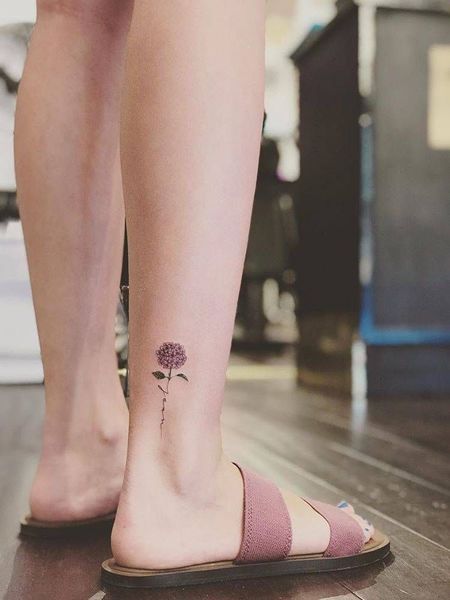 Snake Leg Tattoo
Snake tattoos have been in existence for centuries. The snake tattoo is often associated with rebirth, transformation, immortality, and healing. Snake tattoo designs can be designed in many different ways to portray all kinds of different things such as love, passion, rebirth and even religion. Snakes can also be designed with flowers or other symbols to add meaning to your snake leg tattoo design.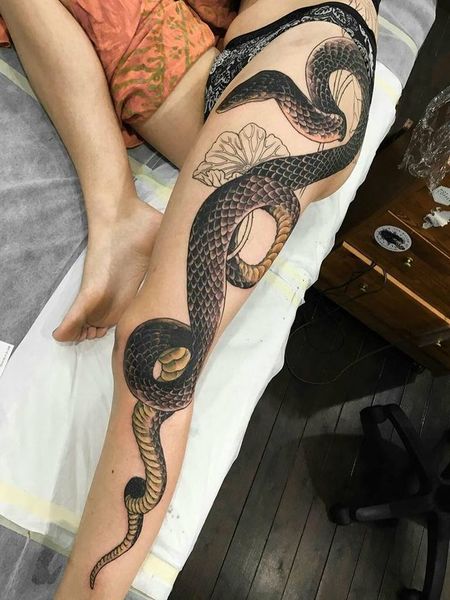 Spider Leg Tattoo
Spider tattoos are also known as spider web leg tattoos or spider web tattoos. Spider leg tattoos have been around since the beginning of time. There have always been people who would wear spider leg tattoo designs because they think it looks cool and sexy on their legs. Women have been wearing spider leg tattoo designs since ancient times because they believe that spiders bring good luck.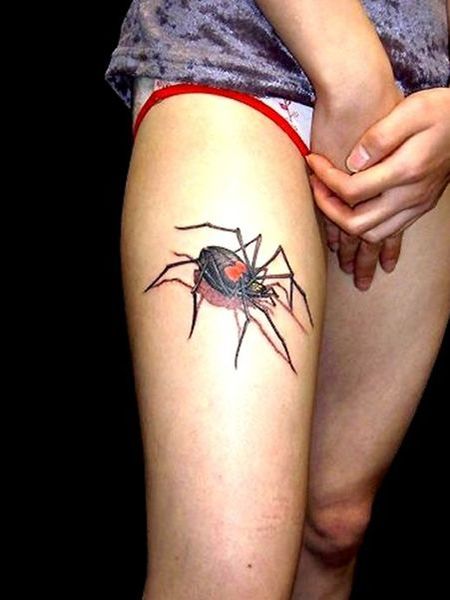 Star Leg Tattoo
Stars are very popular for leg tattoos because of their bright colors and shape. Generally, stars represent your hopes, dreams and aspirations. These types of tattoos can be hidden if you have a job where tattoos are not allowed. If you want to show off your tattoo, wear a short skirt or shorts with no stockings.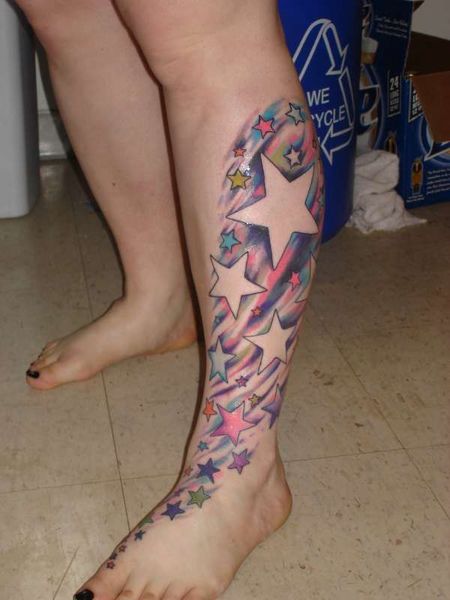 Sun And Moon Leg Tattoo
The sun and moon together represent balance in life and nature. They also signify the feminine side of life, which is naturally more emotional than men. Most women who get sun and moon tattoos place them on their legs because they are easy to conceal in the workplace but also easy to bring out when needed. The best part about these types of leg tattoos is that they don't take up much space so they can fit on any part of your leg from your ankle to your knee.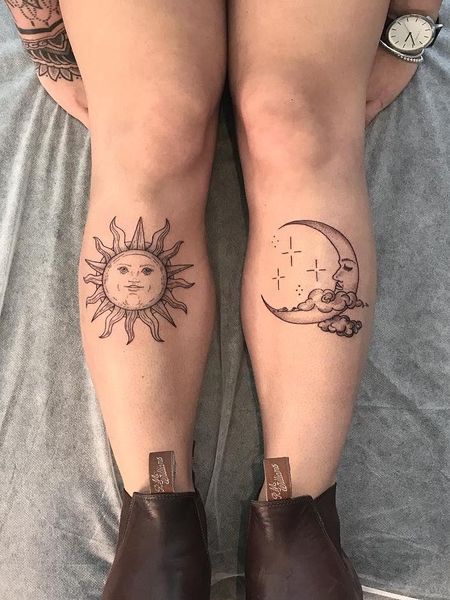 Sun Leg Tattoo
The sun tattoo is a popular tattoo design since time immemorial. Sun is considered as God by many cultures and getting a sun tattoo inked on their back or leg is considered as a devotion to their god. The sun tattoo gives a feeling of warmth and happiness as it reflects the personality of the sun.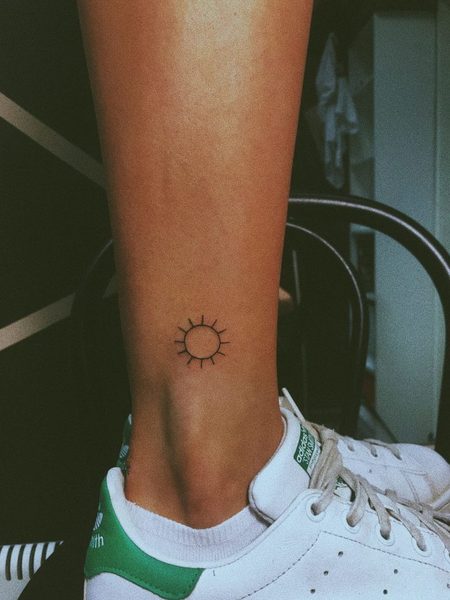 Sunflower Leg Tattoo
Wear the sun on your leg to feel the warm rays on you throughout the day. The bright yellow petals of a sunflower instantly brighten up any mood. You can choose a lifelike portrait of this flower or go in for a more abstract design, using the petals as accents.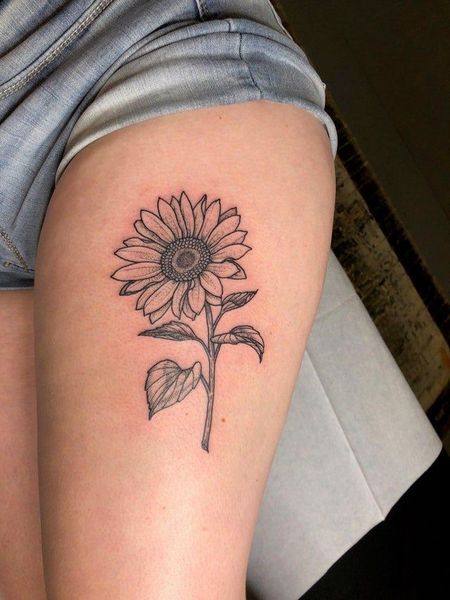 Text Leg Tattoo
Text tattoos are also one of the most popular designs for women, but most people tend to get text tattoos on their wrists or arms. Text tattoos on your legs will add more style to your overall look. You can go for any text font that you like whether it is cursive or bold or even.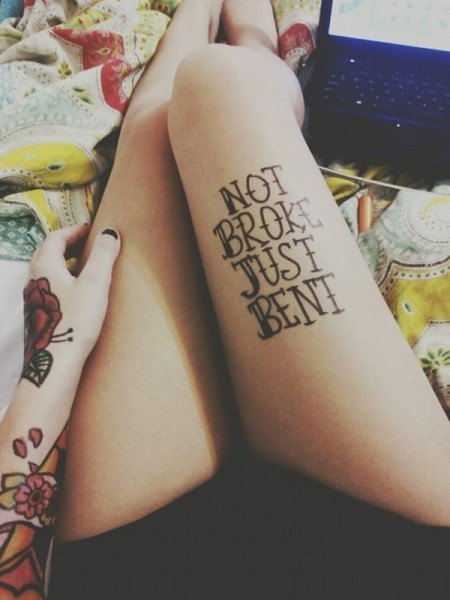 Thigh Leg Tattoo
If you're looking for a sexy leg tattoo design then consider getting one on your thigh. The best part about getting a tattoo on your thigh is that it can only be seen if you want it to be seen.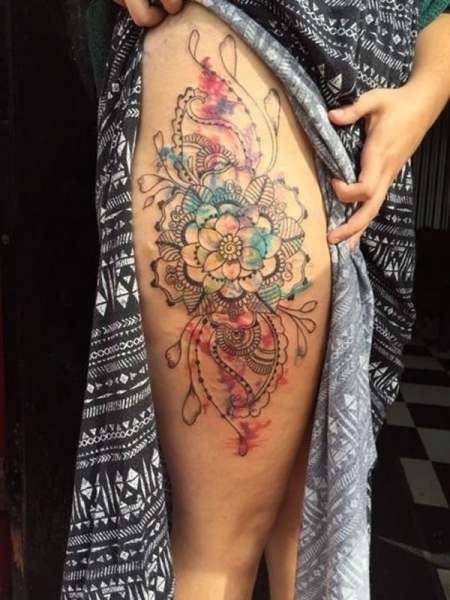 Tree Leg Tattoo
Tree tattoos come in all shapes and sizes. The branches of this tree tattoo wrap around the ankle for a beautiful look that would be hard to miss. The trunk continues down the leg for a truly stunning design that is perfect for women who love nature.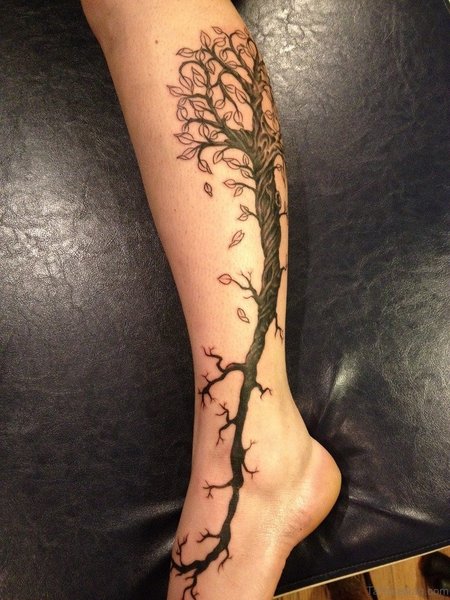 Tribal Leg Tattoo
Tribal tattoos are timeless designs that have been around for centuries and are still popular today. In fact, tribal designs can be used anywhere on the body as they are versatile and easy to work with. When it comes down to a sexy tattoo for women, tribal leg tattoos would definitely fit the bill!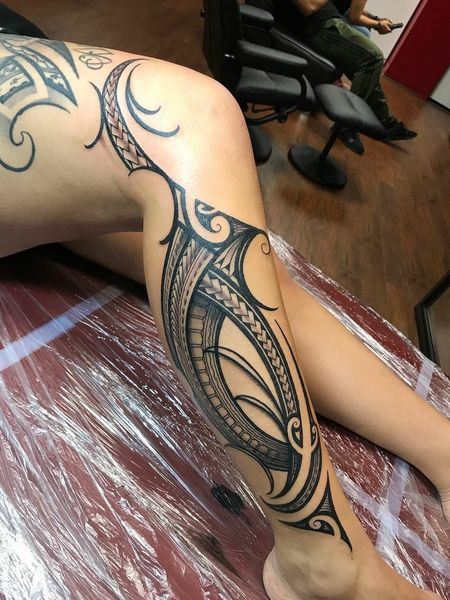 Upper Leg Tattoo
The upper leg, more specifically the thigh, is a great place for a woman to get a tattoo. This area is both private and covered for those who need to be careful about where they place their ink. Women who want a tattoo in an area that can be easily hidden will often choose the upper leg as their location of choice. The thigh is also one of the most popular places to get tattoos on women because it allows you to be creative with placement.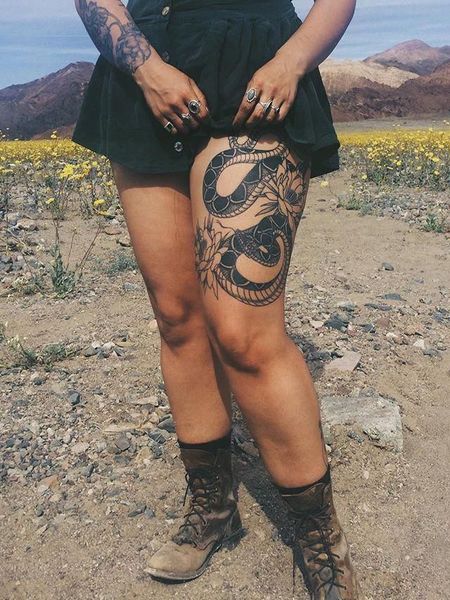 Watercolor Leg Tattoo
Watercolor tattoos are among the hottest tattoo trends right now, and they're especially popular on women's legs. A watercolor tattoo makes a beautiful statement on the thigh. It's also a great option if you're looking for something relatively small that won't overwhelm your leg or leg tattoo ideas. You can easily add a bit of color to your leg with this type of tattoo design, but keep in mind that it will take quite a bit of upkeep over time.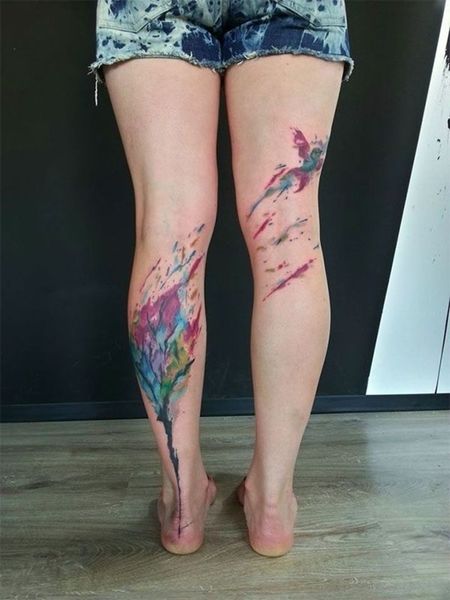 Wolf Leg Tattoo
Tattoos are often used as expressions of our inner selves, and what better way to express your wild side than with a wolf tattoo? Wolf tattoos are incredibly popular among women because they're powerful symbols of loyalty, independence and family values.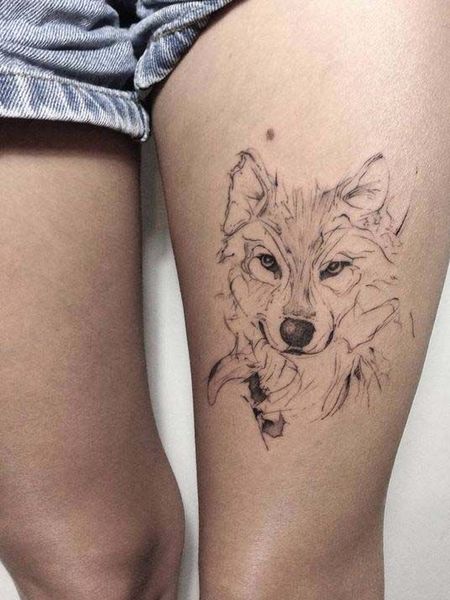 FAQ
Do Leg Tattoos hurt?
Leg tattoos are cool and stunning, but they hurt a lot. This is because the leg has very few nerve endings, so the pain may be intense. However, they look really cool, and they can still be worth the pain if you can handle it.
Which Leg is Better for a Tattoo?
If you're getting a leg tattoo, you have to decide whether it will be on your right leg or your left. Choosing which leg is better for a tattoo can depend on many factors, including your daily activities, pain tolerance and personal comfort.