30 Meaningful Faith Cross Tattoo ideas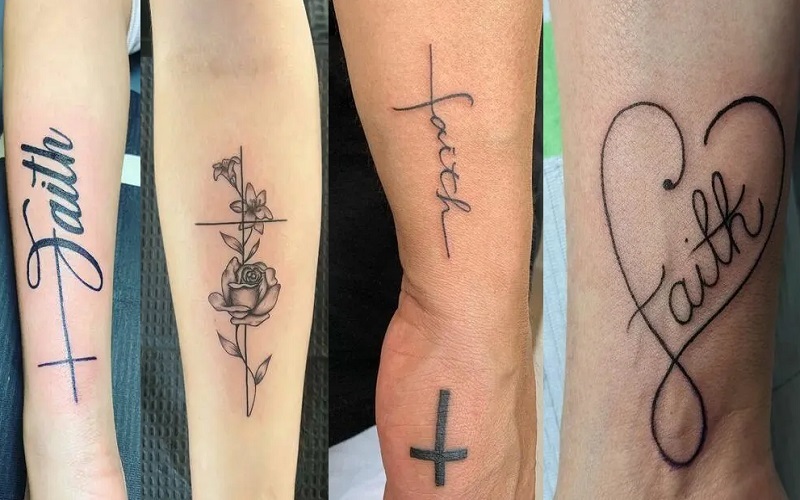 Faith cross tattoos are an ideal choice for many people because the design is simple and does not have to be elaborate. They can also be easily hidden or displayed depending on your circumstances.
Some people like to have their faith cross tattoo done in color while others prefer it in a more traditional black and white design. Either way, it's important that the tattoo artist has a good understanding of what you want so they can properly place everything together without any mistakes. When choosing an artist, make sure they have experience with cross tattoos as well as other types of religious tattoos.
A faith tattoo can be a great way to show your beliefs or religious feelings. Faith tattoos can be worn anywhere on the body, as long as they are small and simple. The designs may be small, but they are still meaningful, especially with the placement of the tattoo.
1. Cursive Faith Tattoo
If you have a favorite scripture or passage that relates to your faith, consider getting it inked onto your skin, in cursive font. This type of tattoo is usually small and located near the wrist or hip. These tattoos are popular for both men and women, but are more common for women because of their size and location.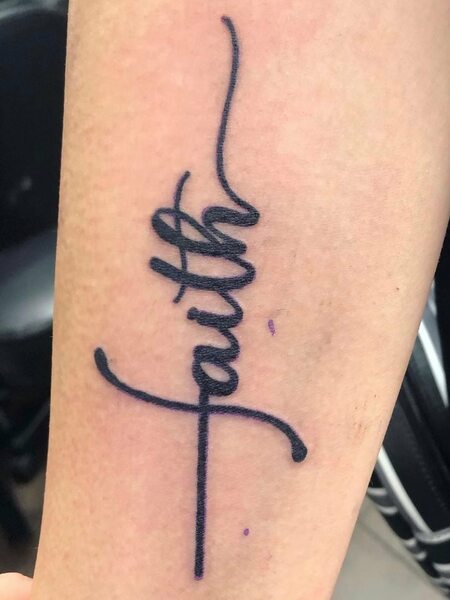 2. Faith Cross Tattoo
A simple way to design a faith cross tattoo is with a small cross. You can place the cross tattoo on your wrist, foot, behind your ear or any other place you like. A small faith cross tattoo is the perfect way to express your religious beliefs while still keeping it simple and elegant.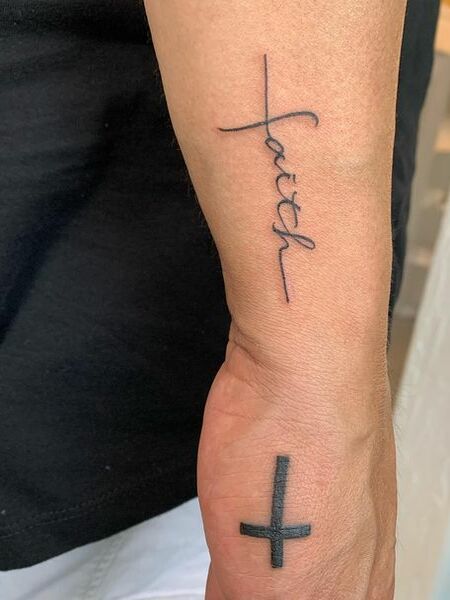 3. Behind Ear Faith Tattoo
The behind ear area is a popular place for faith tattoos as well. If you're looking for a discreet and small tattoo, then this may be an option for you. The word "faith" can be written vertically behind the ear or horizontally across the back of the neck. Both placements are easily covered up by hair in case you need to hide your new ink.
4. Faith Tattoo For Men
In many religions, the cross has always been considered as a symbol of faith, fidelity and honesty. At the same time there are many variations of its meaning. Also, this sign means the sacrifice made by Jesus Christ for the sake of people's salvation and redemption of their sins.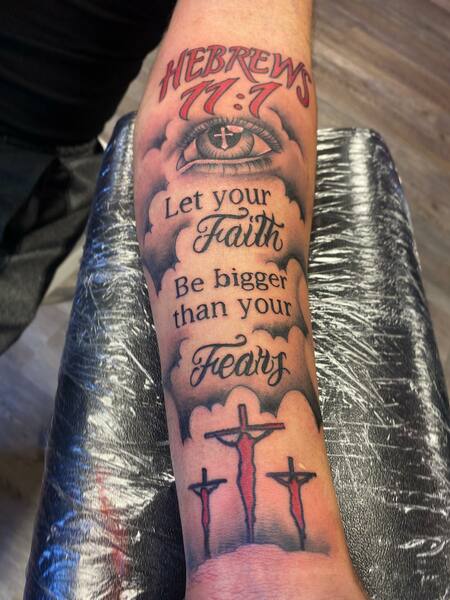 5. Faith Tattoo On Arm
Tattoos on the arm are in demand among men and women, especially where the tattoo pattern is either small or large. A tattoo on your arm can be done in different styles and techniques, depending on your preferences. Cross tattoos are perfect for any part of the body.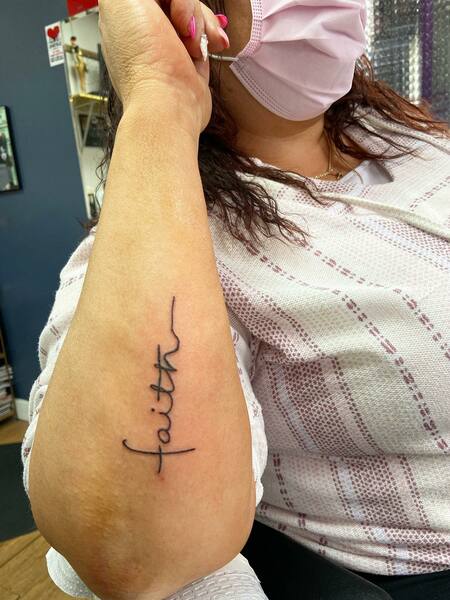 6. Faith Tattoo On Back
A beautiful cross tattoo is one of the best ways to express your faith in one religion or another. You can easily find a huge amount of amazing and unique design options that will help you show your beliefs to everyone around you.
7. Faith Tattoo On Collarbone
This is a beautiful tattoo that shows a cross on the collarbone with the word "faith" written underneath. This tattoo can be done in black and white or color. If you are interested in this type of tattoo, then you will want to ensure that you find an experienced artist who specializes in doing religious tattoos. You will also want to make sure that you choose a design that is perfect for you.
8. Faith Tattoo On Foot
If you are looking for a small faith tattoo, then you might want to consider getting a cross on your foot. It can be as large or small as you want, and it can be done in any color or style that you want. Getting this type of tattoo is also very easy since it can be done without having to use much ink. You should always make sure that you find an experienced artist who has experience with this type of design, however.
9. Faith Tattoo On Forearm
The upper forearm is a great place to get a faith tattoo if you want to make sure that it's seen. It's also placed in such a way that it can easily be covered up by clothing if necessary. This is one of the most popular areas on the body for tattoos because of how easy it is to cover up or show off as needed.
10. Faith Tattoo On Hand
If you want to get a tattoo on your hand but don't necessarily want it to be seen, then you can consider getting the tattoo on either your pinky or ring finger. The tattoo won't be seen unless you're shaking someone's hand. This is a fantastic option for anyone who works in a professional environment.
11. Faith Tattoo On Leg
If you have some extra space on the back of your leg and want a larger tattoo, then this is an excellent option. It can also be an excellent place to add a quote or something else that adds meaning to the tattoo. If you have full-sleeves, then this is also a nice alternative.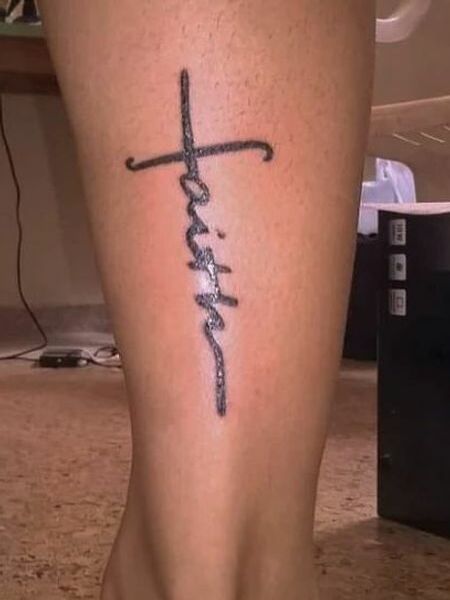 12. Faith Tattoo On Neck
Faith tattoos are often inked on different parts of the body, but the neck is one of the best placements because it shows confidence and love for one's religion. A neck faith tattoo can be simple or detailed, depending on your personal preference. You can have a small cross tattooed on your neck or something more elaborate like a cross with flowers.
13. Faith Tattoo On Rib
Rib faith tattoos are trendy nowadays, especially among men with an affinity for religious symbols. There are a lot of rib faith tattoo ideas to choose from, including crosses, praying hands, and angels. 3D rib faith tattoos look cool and edgy since they seem to pop out from the skin.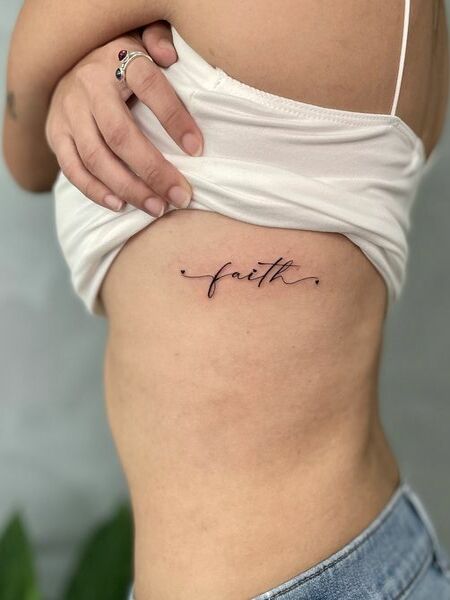 14. Faith Tattoo On Shoulder
If you're looking for a subtle yet meaningful tattoo idea, then you should consider having a shoulder faith tattoo. A shoulder faith tattoo can be as simple as a cross inked on the shoulder blade or as elaborate as an artistic design that tells a story about your spiritual journey.
15. Faith Tattoo On Wrist
The wrist is a popular spot for getting a tattoo. It's easy to cover up if you need to hide it from your boss or your parents, plus there are two sides of the wrist you can use for a tattoo design. The picture below shows how you can get a faith tattoo on each side of the wrist.
16. Faith Tattoo With Birds
The bird tattoo has a ton of meanings, but all can be attached to faith. A bird represents freedom, hope, and the ability to soar to new heights. This is extremely similar to having faith in yourself and your beliefs.
17. Faith Tattoo With Cross
A cross is one of the most common religious symbols. The tattoo can have a quote or a Bible verse to signify your religious beliefs. Faith and cross tattoos are usually done in black ink but you can also use colorful ink to give it an artistic look.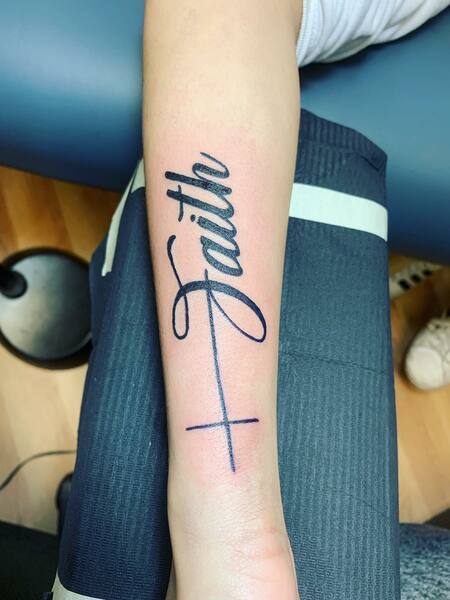 18. Faith Tattoo With Flower
Flowers represent love, faith and hope. Therefore, they are combined with crosses to show the love that you have for your Christian faith. You can choose to place the cross behind a rose flower or place both of them on your wrist or arm to show your love for Christianity.
19. Fine Line Faith Tattoo
There is a very fine line between becoming so obsessed with the perfect tattoo and just deciding to get inked. This minimalist cross design is simple, but not too basic. The use of a fine-line tattoo gun creates an elegant piece of art rather than a stamp or childhood artwork.
20. Heart And Faith Tattoo
Tattoos are a great way to express your feelings and thoughts. They are also a wonderful way to express love. In fact, many people choose heart tattoos because of their love for someone. If you want to get such a tattoo, you should consider getting the heart and cross tattoo. It is a perfect combination of two symbols that convey the same message.
21. Hope And Faith Tattoo
Hope and faith cross tattoos are the most popular form of religious tattoos. They are also one of the most stylish tattoos that you can have on your body and they look really beautiful too. You will be able to find all kinds of designs online, but you have to make sure that they are not too over the top and they do not look cheap at all. You can even go for a simple cross tattoo design that shows just hope, faith or both.
22. Infinity Faith Tattoo
This infinity cross tattoo is beautiful in its delicate design. The cross is small, but it is offset nicely by the infinity symbol to make it more noticeable. It's the perfect example of a small cross tattoo that still has a big impact.
23. Love Hope Faith Tattoo
This tattoo is a simple looking cross with the words love, hope, and faith written on the arm. This is an example of a tattoo that can be very personal to anyone who has it done. It can remind them of something significant in their life that they would like to remember every day.
24. Matching Faith Tattoo
These tattoos are one of a kind together. They are both crosses but are different colors and have different designs. Each one of these symbols means something important to the individual who receives them. The tattoos can be very personal to whomever receives them because they can be done in different colors and sizes.
25. Red Faith Tattoos
The use of red ink in this cross tattoo makes what's normally a very simple design really pop. This is a unique and beautiful example of faith cross tattoos.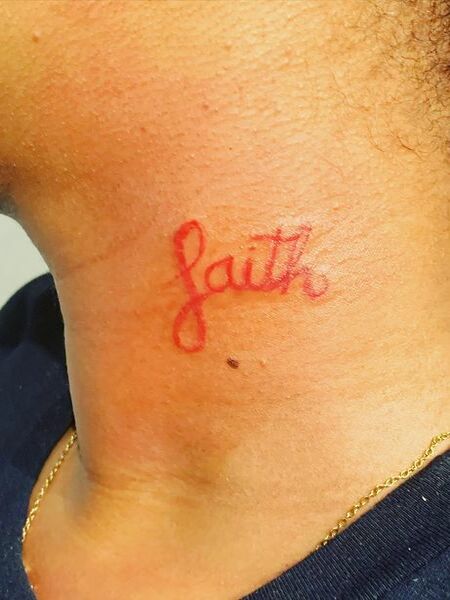 26. Rose And Faith Tattoos
It's not often that you see a rose incorporated into a cross tattoo design, but the combination works particularly well here. The artist who did this piece did an amazing job with shading and color choice.
27. Small Faith Tattoos
A small faith cross tattoo like this is perfect for people who want to express their faith but don't necessarily want the world to be able to see it. You can have a meaningful symbol like this tattooed almost anywhere on your body and keep it discreet if you so choose.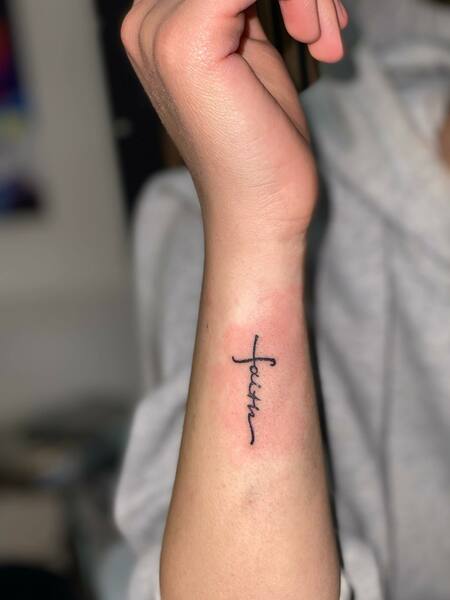 28. Spine Faith Tattoos
This is a great idea for anyone who wants to get a tattoo, especially if you have an existing tattoo on the spine. Here we have a very simple design with someone's name written under the cross in one line. This is a great idea for anyone who has lost someone close to them, such as someone in their family or their partner. It's also a nice way to honor those who have passed away and be proud of them at the same time.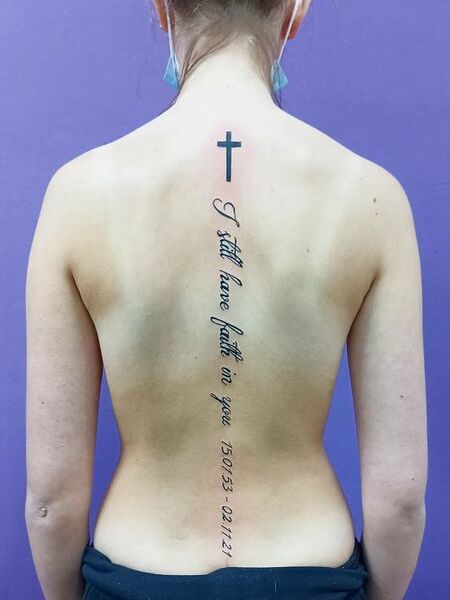 29. Sunflower Faith Tattoos
This tattoo is done in black ink on an individual's sleeve. It is a combination of a sunflower and a cross which looks very good together. The sunflower stands for adoration, loyalty and longevity while the cross stands for faith and Christianity. This tattoo has a beautiful design that really brings out its meaning.
30. Written Faith Tattoos
The meaning behind a Faith cross tattoo will depend on the person and the design of the tattoo. Some people may get this tattoo simply because it is a cool design and it appeals to them. Others may have experienced a traumatic or life-changing event that has caused them to have faith in God.
FAQ
Meaning of Faith Cross Tattoos
The meaning of faith cross tattoos is to remind us that even in our darkest hours, God is always with us. We can turn to Him for strength and guidance when life gets hard. A cross tattoo represents hope and love for those who believe in Him, as well as those who don't.
Types of Faith Tattoos
There are several types of crosses: The three most common ones are the Latin Cross, Greek Orthodox Cross and the Celtic Cross. The Christian cross has been used since ancient times and is still used today by many people around the world as a symbol of their faith in Jesus Christ's sacrifice on behalf of mankind; an act that was done so that we could have eternal life through His death on Calvary's hill.