40 Beautiful Feminine Tattoos For Women in 2023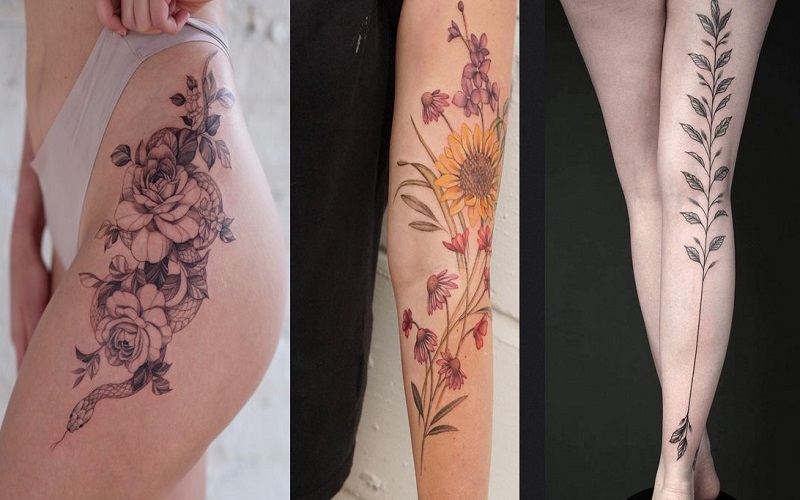 Feminine tattoos can be anything from flowers to pictures of stars to quotes and more. For those who want to make a statement about the world around them but don't want to be too loud about it, minimalist tattoos are the perfect solution. They allow women to express themselves without feeling like they have been forced into doing so by others.
Feminine tattoos are a popular choice for women. They can be as simple as a small butterfly on the ankle to more elaborate designs on the back, neck, or even full body. They can be done in a variety of colors and styles to suit one's individual taste and personality. When considering getting a tattoo, it is important to choose something that not only represents you now, but will continue to do so as you grow older.
Women are becoming more and more interested in getting tattoos. Some women get tattoos purely for style, others use them as a way to express themselves. Many women get tattoos because they want to show their feminine side. Feminine tattoos aren't just flowers or butterflies anymore. The design options for feminine tattoos are endless. Here are some popular feminine tattoo designs:
1. Colorful Feminine Tattoo
If you want your new tattoo to be unique, then you should consider getting a colorful one. These designs can be anything from flowers to animals or birds, butterflies and anchors. You can also try a feminine mandala design or a dreamcatcher. They all look amazing and they're perfect for women who don't want just black ink on their body.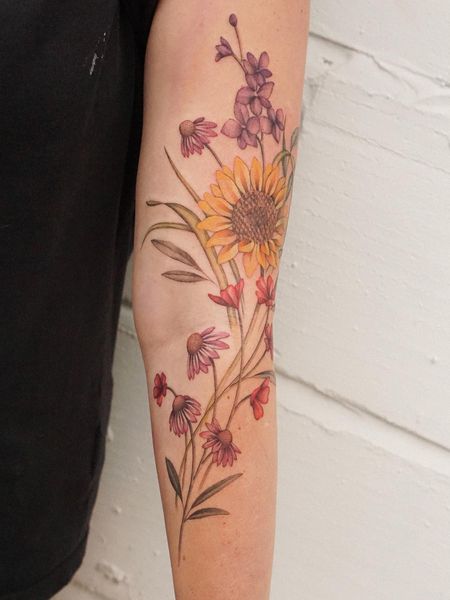 2. Feminine Anchor Tattoo
Anchors have long been associated with stability, which is why they make such great tattoos. These anchors represent strength, stability and safety, while their hearts and bows add a touch of femininity. This is an awesome example of how you can combine elements to create something totally new and unique.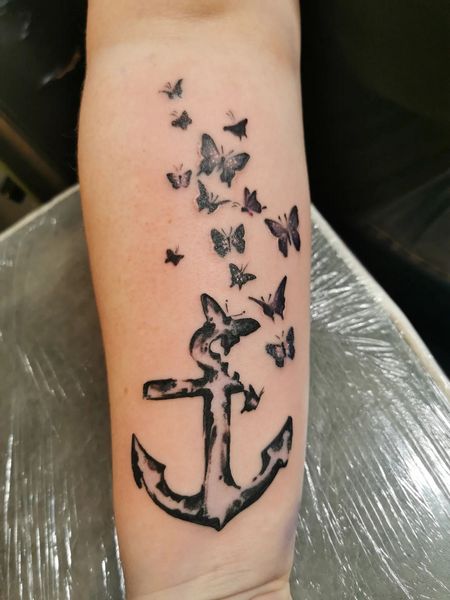 3. Feminine Angel Wings Tattoo
Angels have always been powerful symbols of feminine beauty and a tattoo is no different. Angel wing tattoos are popular with both men and women. If you are like most people, you probably want to get a tattoo that represents your own personality and individuality, angel wing tattoos can be a great way to show off your own personal style. The best thing about these types of tattoos is that they are easy to get done and can be done in a variety of colors, shapes and styles.
4. Feminine Ankle Tattoo
Ankle tattoos are becoming very popular these days and they are usually chosen by women because they have more flexibility than men's ankles do. There are many different types of ankle tattoos for women, ranging from simple designs to more intricate ones that can take months or even years to complete. Some designs include butterflies, dragons and other creatures as well as tribal patterns, which can make your ankles look very unique and beautiful.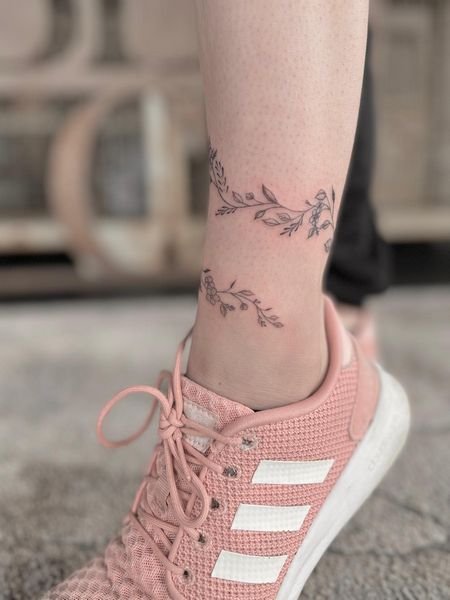 5. Feminine Arm Tattoo
Women love to get inked on their arms. There is a wide variety of tattoo designs that can be etched onto your arm, and this is the reason why there are so many women who want to get a tattoo on this body part. The most popular types of feminine arm tattoos include floral tattoos, butterfly tattoos, tribal tattoos, and bird tattoos.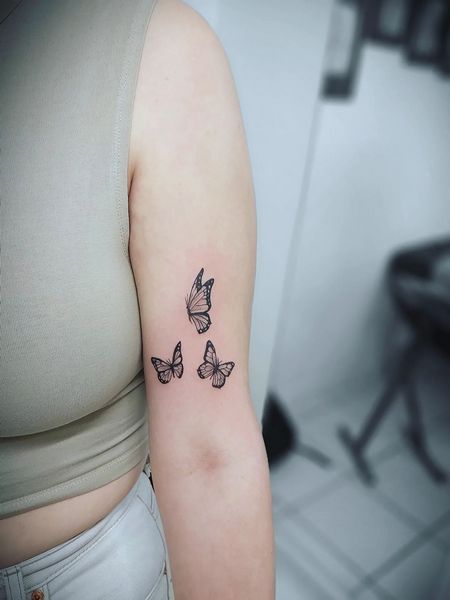 6. Feminine Back Tattoo
The back is the largest canvas of the body, and this is why so many women love to have a tattoo on their back. There are numerous options when it comes to feminine back tattoos, but you should keep in mind that having a large tattoo requires time and money.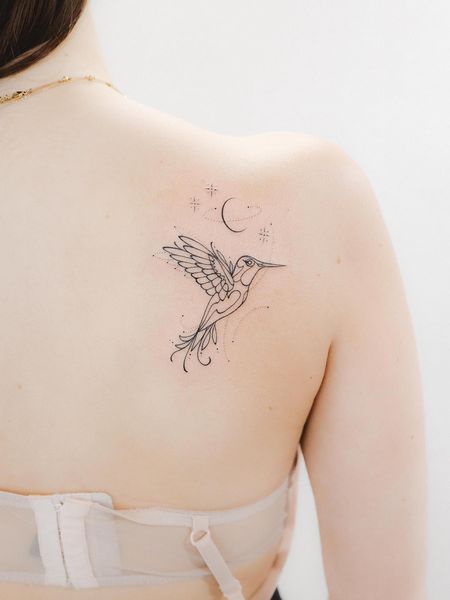 7. Feminine Belly Tattoo
The belly has become a popular place for women to get a tattoo. This can be a very sexy spot for a woman to adorn with ink and can accentuate curves in all the right places. Most tattoos found on the belly tend to be very feminine in nature. The most popular are flowers, butterflies and vines. The belly button is also a popular spot for placement of the tattoo.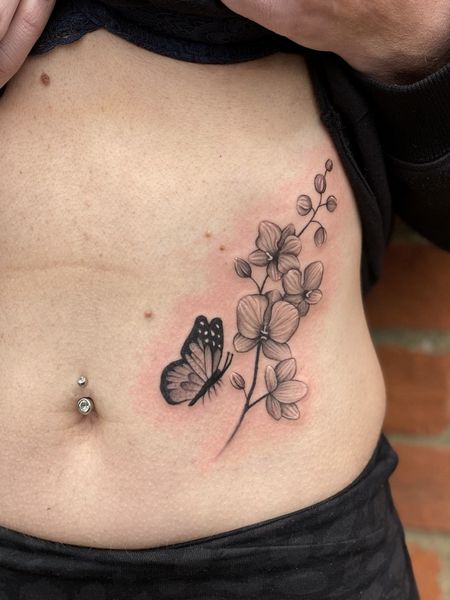 8. Feminine Bouquet Tattoo
If you are looking for an elegant tattoo that represents femininity, then consider getting a bouquet of flowers or vines tattooed on your body. Flowers and vines are extremely popular when it comes to feminine tattoos, but the bouquet makes it unique in that you have multiple flowers together rather than one or two placed sporadically on your body.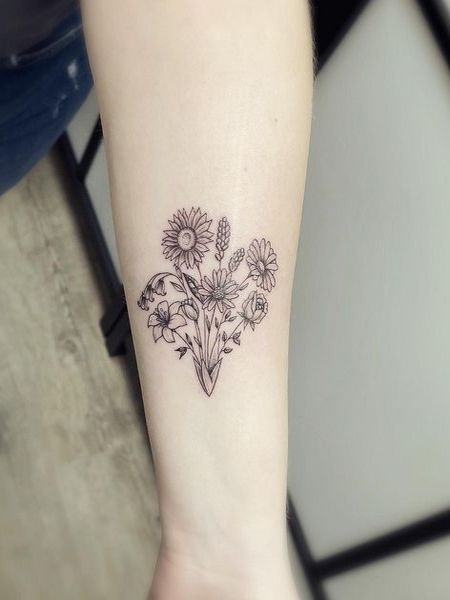 9. Feminine Butterfly Tattoo
Butterfly tattoos are a popular tattoo choice for women since the butterfly is a symbol of beauty and grace, and is often seen as a symbol of femininity. A butterfly tattoo can be small or large, and can follow a simple design or be intricately detailed. They can also be inked in many different colors, which may make them even more beautiful.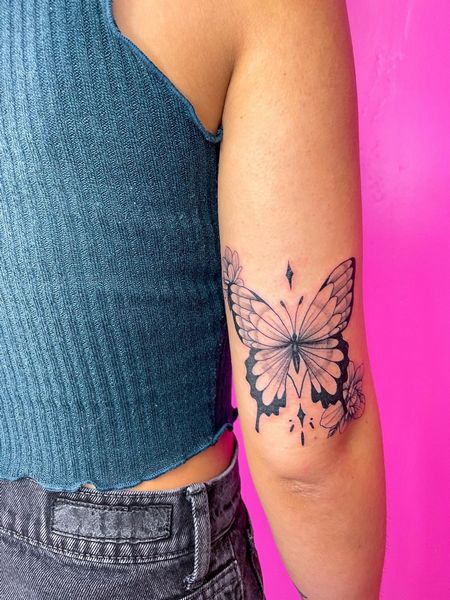 10. Feminine Chest Tattoo
Chest tattoos are popular among both men and women, but women tend to get smaller chest tattoos that are feminine in nature. Chest tattoos usually focus on the upper chest, near the collarbone and shoulder area. These tattoos may include flowers, birds and other feminine elements.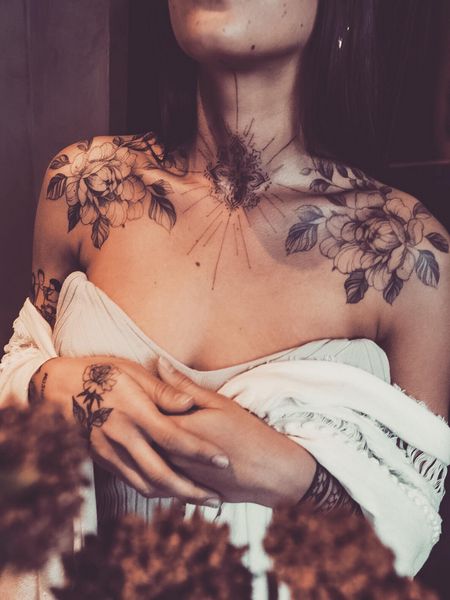 11. Feminine Cross Tattoo
Cross tattoos are some of the most popular types of female tattoo designs. Crosses can be worn on the arm, the wrist, the back, or anywhere you want to wear it. Crosses can be portrayed with flowers, butterflies, or anything else that represents your personality.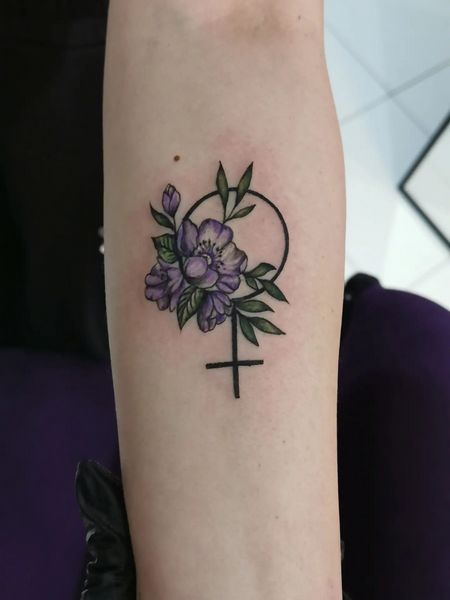 12. Feminine Daisy Tattoo
Daisy tattoo designs are very popular among women because they symbolize innocence and purity. Daisy flower designs can be combined with other tattoo designs like butterflies or crosses to create a beautiful floral tattoo design that represents your femininity.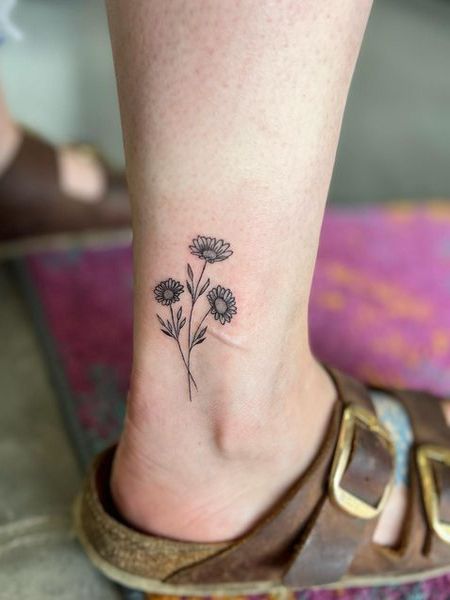 13. Feminine Dragon Tattoo
A dragon tattoo is a popular choice for women, since they can be designed in a variety of sizes and shapes. These mystical creatures are often depicted with elegant curves and flowing lines, making them an excellent choice for women who want a more feminine design. Some women choose a dragon design that is less detailed, such as a basic outline with minimal color and no shading. Other women opt for more intricate designs that can take up much of their back or shoulder area, with elaborate color schemes and shading techniques.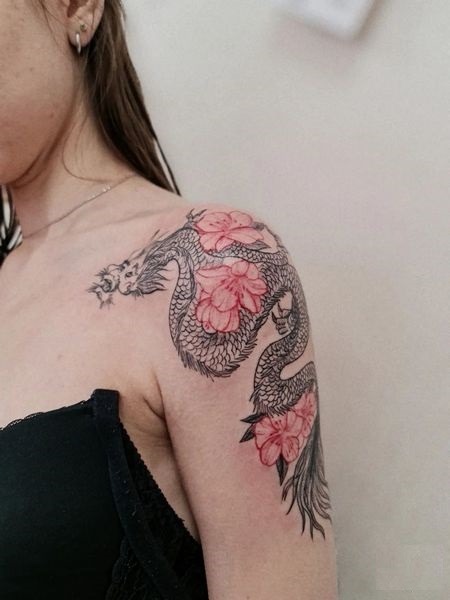 14. Feminine Ear Tattoo
Women have been getting tattoos on their ears for years now. Whether it's a small design on one side or an elaborate piece that covers both ears, the results can be absolutely stunning. Some people choose to get their ears pierced as part of the overall design instead of getting each hole individually pierced, which adds an extra dimension to the overall look.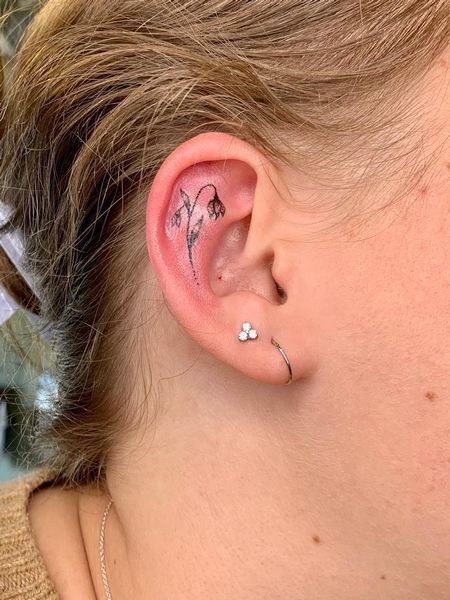 15. Feminine Finger Tattoo
Finger tattoos are getting popularity in current days, as they look cute and beautiful on female fingers. You can get any shape or design on your finger as per your choice. Also you can show off your fingers with stylish nail arts and rings, which makes your finger tattoo more attractive.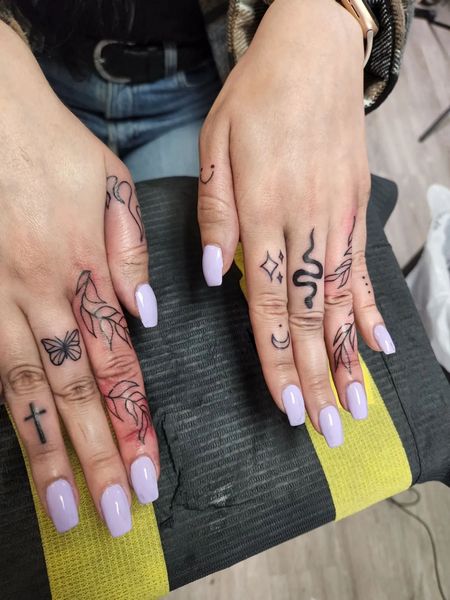 16. Feminine Flower Tattoo
Flower tattoo designs have always been popular among women as these designs are very feminine in nature. Flowers are considered to be one of the most popular feminine tattoos. They have always been in fashion since centuries. In fact, flower tattoos are so common that they are probably the most common type of design chosen by women to get their first tattoo.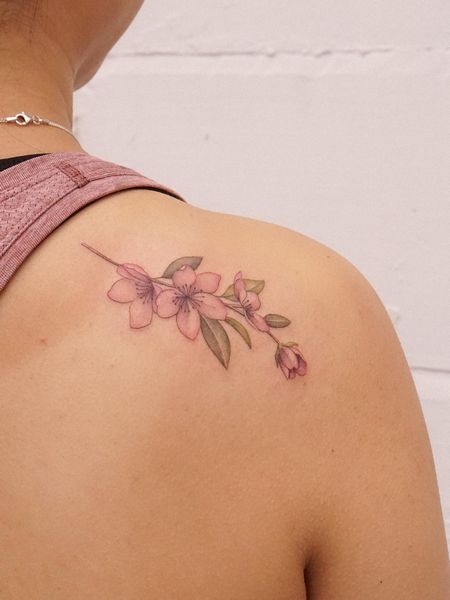 17. Feminine Foot Tattoo
Foot tattoos are seen as very feminine. You can have a tattoo of a flower or a butterfly on the top of your foot, and it will look very feminine. You can also have your ankle adorned with something that represents you. A small heart or star is great for this area.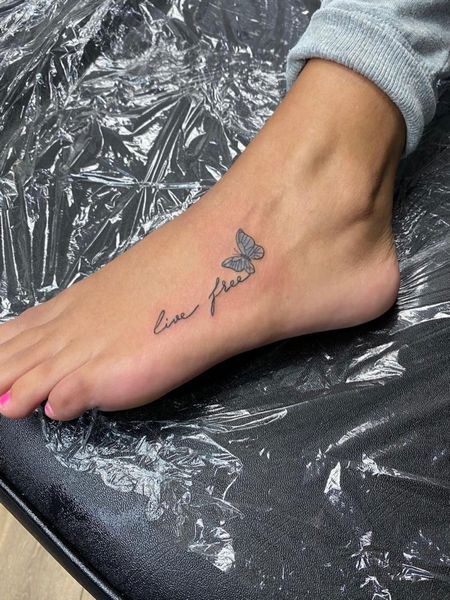 18. Feminine Forearm Tattoo
One of the most popular feminine tattoos is the inner forearm tattoo. These tattoos look great on either arm, and they have a greater range of options than other areas on the body. One of the most common forearm tattoos is a series of lines, dots or small shapes creating a pattern. This is often accompanied by cute flowers and birds. Some people like to get their initials in this area as well, while others prefer to have it say something entirely different.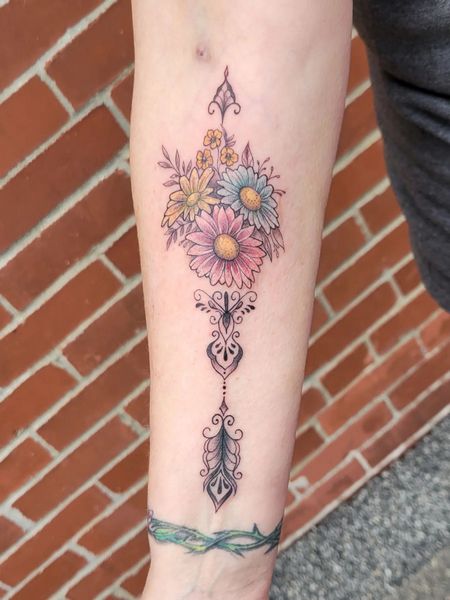 19. Feminine Hand Tattoo
Another popular spot for feminine tattoos is on the hand or fingers. Options here include heart tattoos, flower tattoos, butterfly tattoos and very small words or phrases. You can also find a lot of good ideas for ring finger tattoos if you want something special for your wedding day.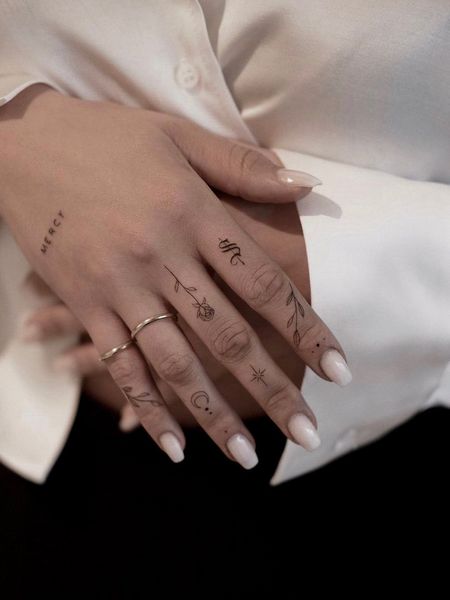 20. Feminine Hip Tattoo
Feminine hip tattoos have been a popular choice for females of all ages. The hips and the lower back are considered very sensual areas, and women can really be creative with a tattoo on this part of the body. These areas are also great because they can be easily hidden or shown off depending on what the woman is wearing. That makes these tattoos perfect for women who like to keep things sexy yet mysterious at the same time.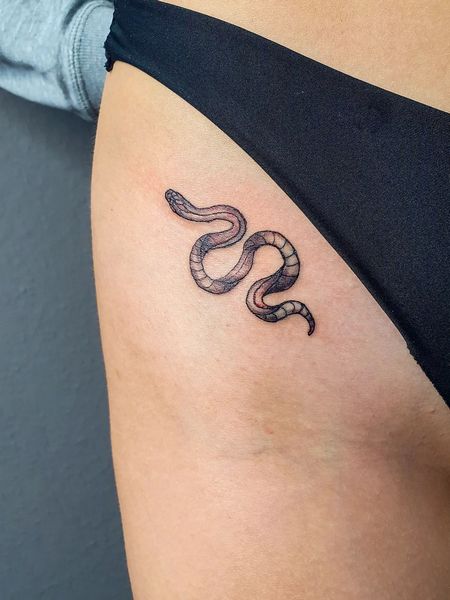 21. Feminine Leg Tattoo
Feminine leg tattoos can be inked anywhere from upper thighs to ankles. Leg tattoos are very feminine and sexy as they accentuate a woman's leg. Many women love to show off their beautiful legs with high heels, shorts and miniskirts, so leg tattoos are an excellent way to add some extra style to your legs. These tattoos work great for women who love to wear skirts and dresses, especially during summertime.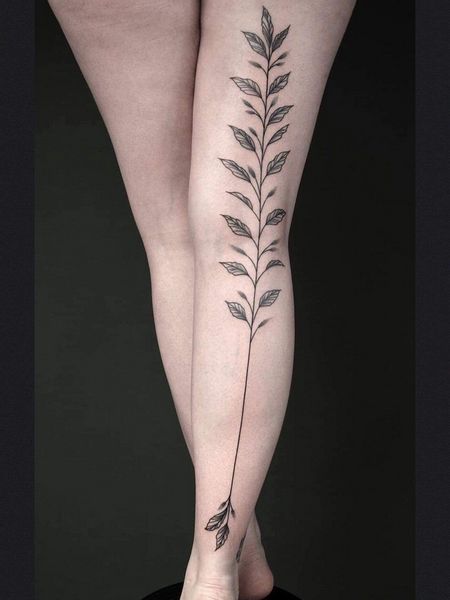 22. Feminine Lion Tattoo
Feminine Lion Tattoos are so popular because of the lion's unique and fierce characteristics. The lion is a symbol of bravery, strength, and royalty. It is a great image to tattoo on your body if you want to express these traits about yourself. If you are thinking about getting a lion tattoo for yourself, it is important to take the time to view all the different lion tattoo designs in this article.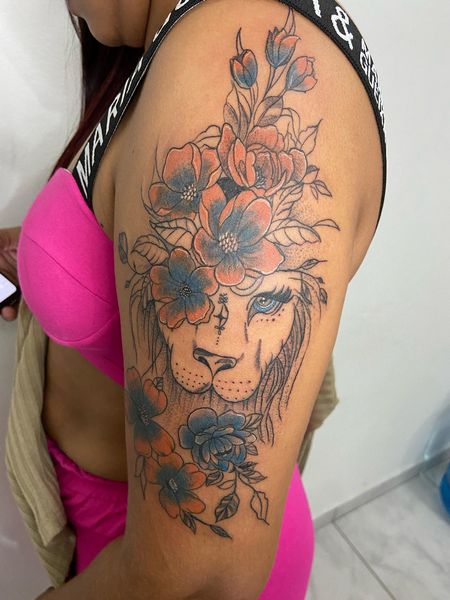 23. Feminine Mandala Tattoo
Mandala tattoos can be designed in various patterns and sizes. They can be designed to suit your individual style and personality. You can also add some other symbols and elements that are associated with mandala tattoos for a more attractive design.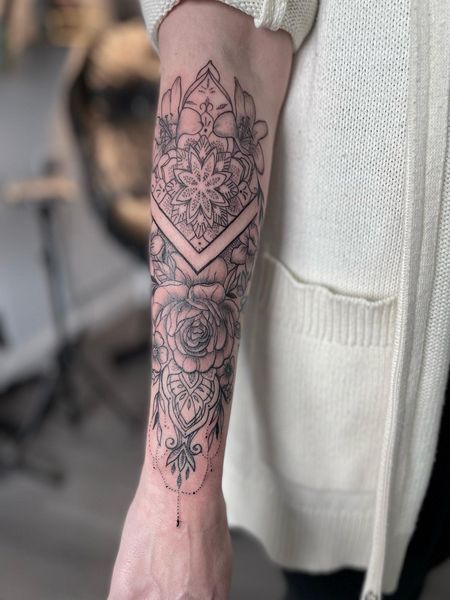 24. Feminine Neck Tattoo
One popular choice when it comes to feminine tattoos is getting a design on your neck. This can be a very daring choice as it is not easy to cover up, but it can also be a very beautiful choice. You have the option of getting just one small tattoo or something much bigger and more elaborate. Whatever you choose, it will be sure to draw attention!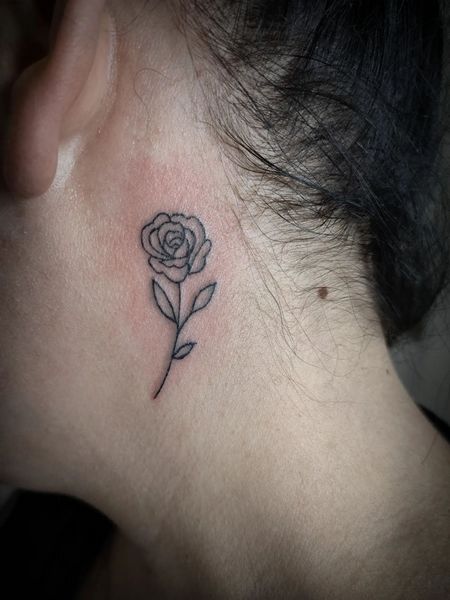 25. Feminine Quote Tattoo
Another popular choice when it comes to feminine tattoos is getting a quote on your body. This could be something meaningful or inspirational that has meaning for you, or maybe something silly or funny that makes you laugh every time you look at it. Regardless of what type of quote you choose, make sure it is something that represents who you are as a person!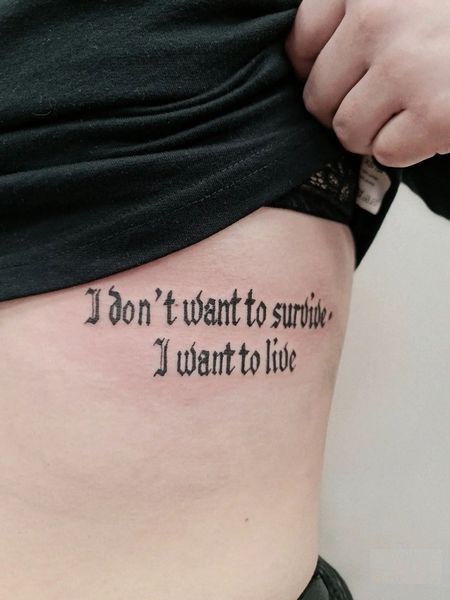 26. Feminine Rib Tattoo
Feminine rib tattoos are a great way to show off your beauty to the world. They imprint beauty on your body and make you look very attractive. You can choose from a variety of feminine tattoo designs like flowers, hearts, stars, butterflies etc. The most popular feminine rib tattoos are roses and flower designs. Roses are known for their beauty and colorfulness.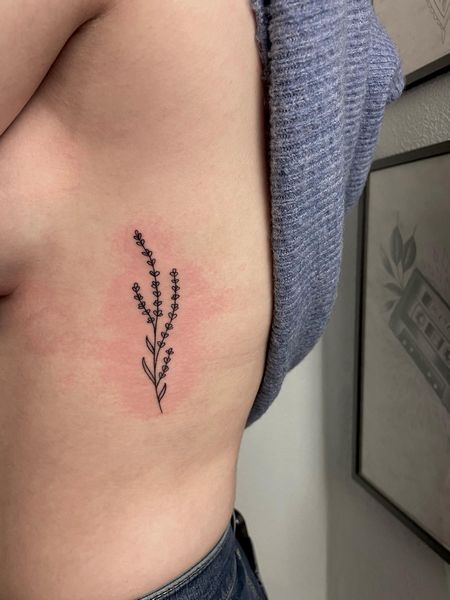 27. Feminine Rose Tattoo
Rose tattoos have been a staple among women since the beginning of time due to their beautiful and feminine appearance. Roses come in many different colors and styles, meaning they can be incorporated into any design you choose. Roses are often included in other types of designs such as tribal designs or flower bouquets.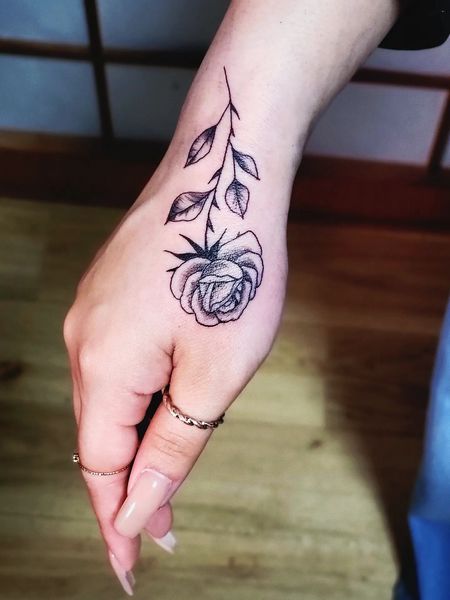 28. Feminine Shoulder Tattoo
If you're looking for something that's both feminine and discreet, then shoulder tattoos are your best bet. These tattoos can be subtle or bold depending on how much detail you want in them. You could even just get your name tattooed with an intricate design around it. The possibilities are endless when it comes to shoulder tattoos!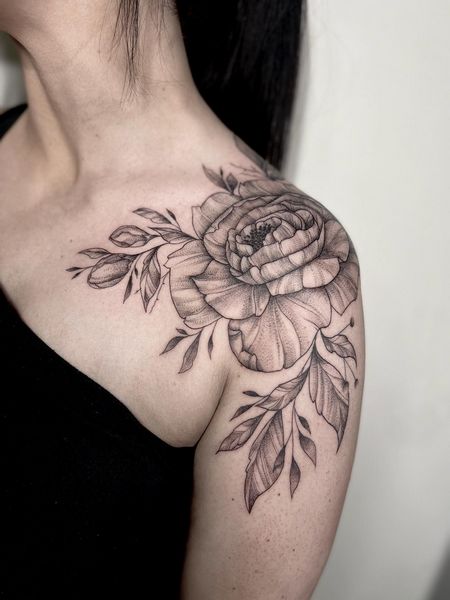 29. Feminine Spine Tattoo
Spine tattoos are another popular choice among women because they offer so much room for creativity and self-expression. A woman with a spine tattoo can show off her personality while keeping it looking classy at the same time! We recommend choosing one large piece or several smaller ones to accentuate your curves in just the right way.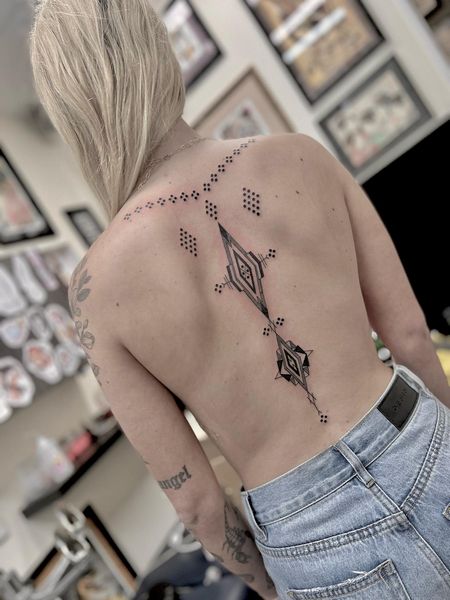 30. Feminine Thigh Tattoo
Thigh tattoos are quite popular among women because they can be easily covered if necessary. Thighs come in different sizes so there's plenty of room for any design you may want. It also allows for some sexy skin exposure when you want it. Some of the best thigh tattoo designs include pin-up girls, tribal designs and just about anything that would make a man's head turn.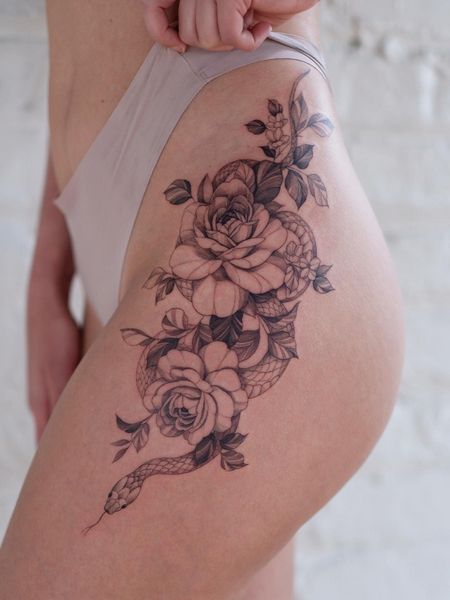 31. Feminine Tribal Tattoo
Tribal tattoos are popular among men as well as women but they look especially good on women. Women generally have smaller bodies than men so tribal designs tend to look much better on them. They can be very elegant and sexy or they can be very aggressive and intimidating depending on how you design them.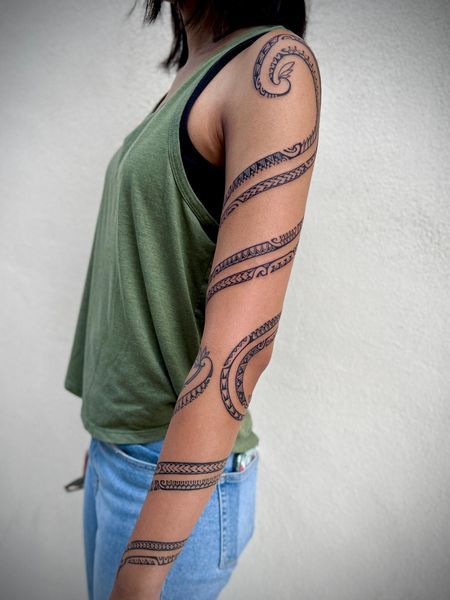 32. Feminine Wrist Tattoo
Feminine wrist tattoos are a great way to show your strength and be able to hide it when you need to. These designs can be small yet still make a statement. Due to their versatility, feminine wrist tattoos are some of the most popular choices for women. You may want a design that is smaller, or one that can be hidden easily by a watch or bracelet. No matter what you choose, you will see that there are plenty of options when it comes to choosing feminine wrist tattoos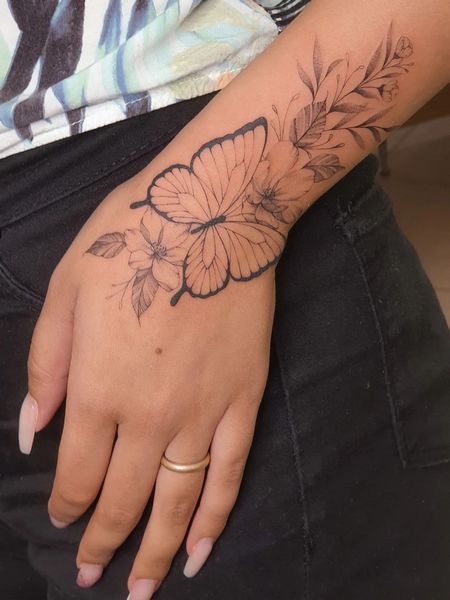 33. Fine Line Feminine Tattoo
Fine line feminine tattoos are absolutely stunning. The delicate lines mean that they look very elegant and beautiful on the skin. They aren't too big and they don't take up too much space on the body either which makes them perfect for those who don't want something too large. This type of feminine tattoo is very popular as it is simple and looks stunning on the skin.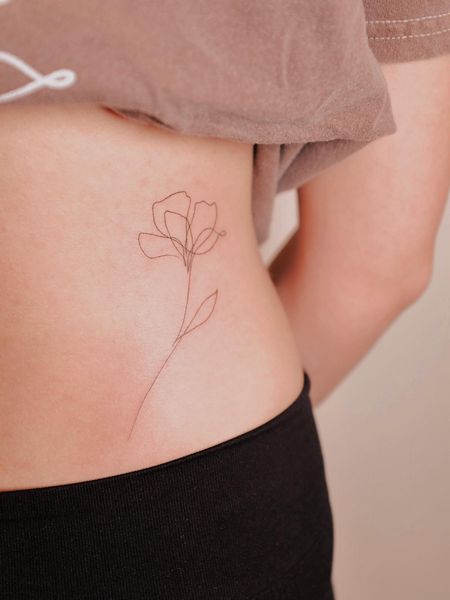 34. Half Sleeve Feminine Tattoo
A half-sleeve can be made from many different kinds of designs. Some people prefer small, delicate designs such as flowers or butterflies while others like large, bold images like lions or tigers. Whatever your preference is there is sure to be an option that fits!
35. Minimalist Feminine Tattoo
These minimalist tattoos are perfect for girls who don't want to go overboard with ink. Instead of having a massive, colorful tattoo that covers your whole arm, you can get a small and simple design that's dainty enough to be feminine. Whether you want a small flower on your finger, or a cute quote on the back of your neck, one of these tattoos is sure to be the perfect pick for you.
36. Simple Feminine Tattoo
Simple tattoos are becoming increasingly more popular, especially among women. There's just something about a simple tattoo that stands out and looks so clean that makes it a great choice for many people. Whether you're looking for an ankle tattoo or a wrist tattoo, there are so many creative and unique designs to choose from.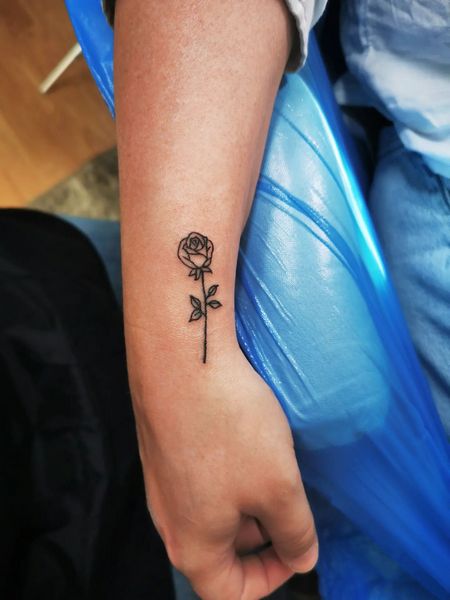 37. Small Feminine Tattoo
Small tattoos also happen to be very easy to hide, which is great if you have a job where you can't show off your ink. If you're looking for a beautiful and feminine tattoo without all the bells and whistles of full-color designs, then these simple tattoos might be perfect for you!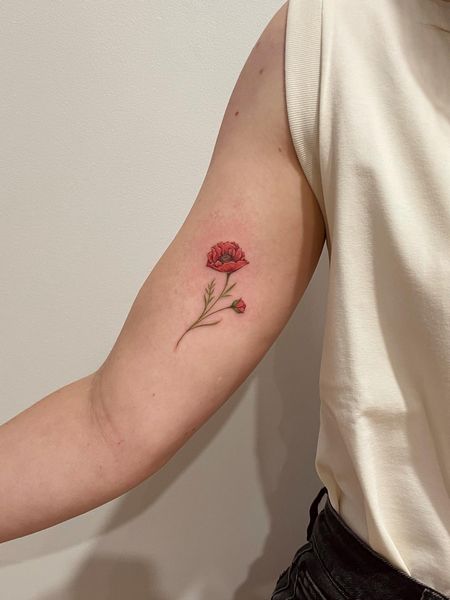 38. Sun and Moon Feminine Tattoo
The sun and moon are two of the most important things in our world. Our planet revolves around them. The moon is the ruler of the night, a light in the darkness. These celestial bodies have been used as symbols for thousands of years. The feminine tattoo designs featuring these two important figures can be large or small and are often inked on the back, ankles or arms.
39. Tiny Feminine Tattoo
Tiny tattoos are so popular that there's even a term for them: micro tattoos. These miniature works of body art can be placed practically anywhere on your body and add a subtle touch to any outfit. They're also super easy to hide if you need to cover up at work or out with family. Some popular spots for tiny feminine tattoos include behind the ear, on the wrists, or ankle.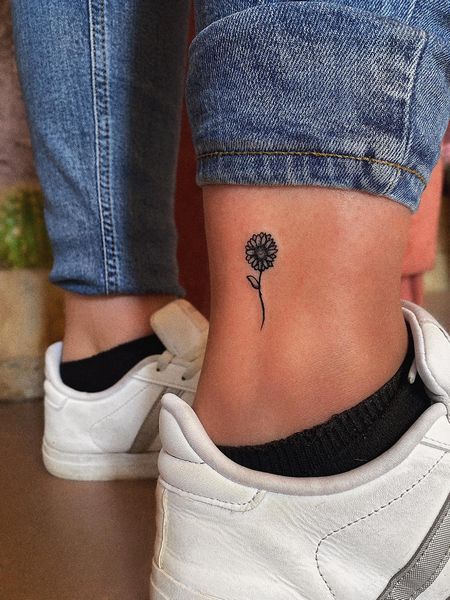 40. Watercolor Feminine Tattoo
Watercolor tattoos were originally used by traditional tattoo to give their art a more realistic look. They have recently gained popularity with modern tattoo artists who use watercolor techniques to achieve a softer, more painterly look. These delicate designs are usually bright and colorful, making them perfect for those who want to make a statement.
FAQ
Can you be feminine with tattoos?
You can be feminine with tattoos, but it is a personal choice. Some people think that tattoos make someone less feminine and some don't care about that at all,they just like the design.
Are tattoos attractive on females?
Some women look absolutely stunning with a tattoo of some sort, while others don't. It is important to keep in mind that not everyone has the same taste in fashion, so the way you feel about tattoos may not be the same as how other people feel about them.