40 Best Cute Foot Tattoos for Women in 2023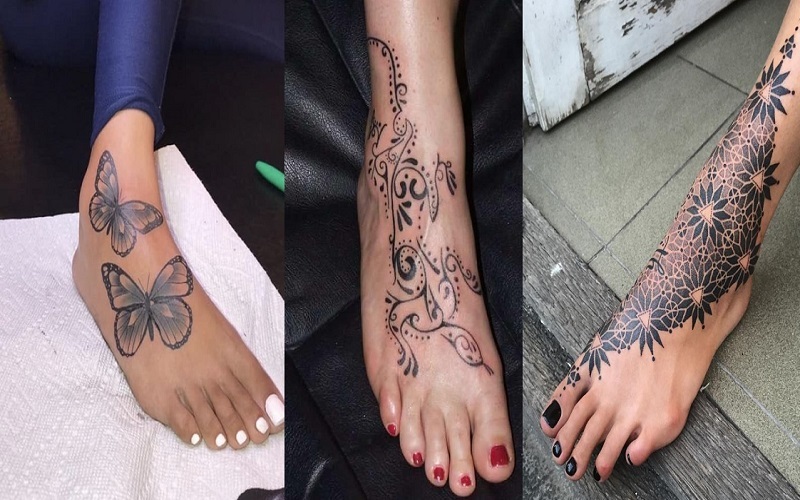 Foot tattoos for women are the perfect way to adorn your feet. There are many different kinds of designs and themes to choose from, depending on your personal taste and preference. Some women prefer more feminine designs like flowers, stars, and butterflies. These are best suited for those who have small feet.
When you are thinking about getting a tattoo, there are many different design ideas that you can consider. One of the most popular trends in tattoos for women is the foot tattoo. Foot tattoos have become more and more popular over the last few years as women are looking to express themselves and display their individuality through body art.
Foot tattoos have been a popular choice for women for several reasons. For one thing, they are often much less painful than other parts of the body. They are also easily covered up by shoes or stockings if need be, so it is easy to show them off or keep them hidden depending on your preference or the situation. Many people like foot tattoos because they are unique and not as common as many other types of tattoos for women.
1. Anchor Foot Tattoo
Although anchor tattoos are no longer as popular as they once were, they still remain a trendy option for girls who want to have something inked on their feet. The best thing about anchor tattoos is that depending on the design, they can hold a lot of meaning. Anchors represent stability, security, and strength. It also symbolizes hope and steadfastness, which is why you'll often see anchors inked on sailors or those who love spending time by the sea.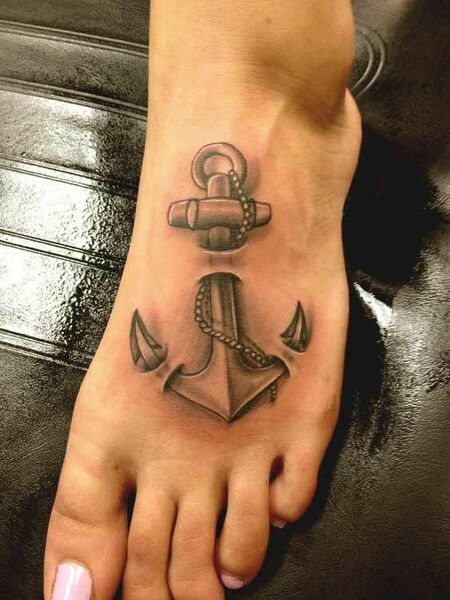 2. Foot And Ankle Tattoo
Foot and ankle tattoos can be a great way to add a personal touch to your body art collection. These tattoos are often small and intricate and can include a variety of designs, from simple symbols and letters to more complex images such as flowers, animals, or portraits.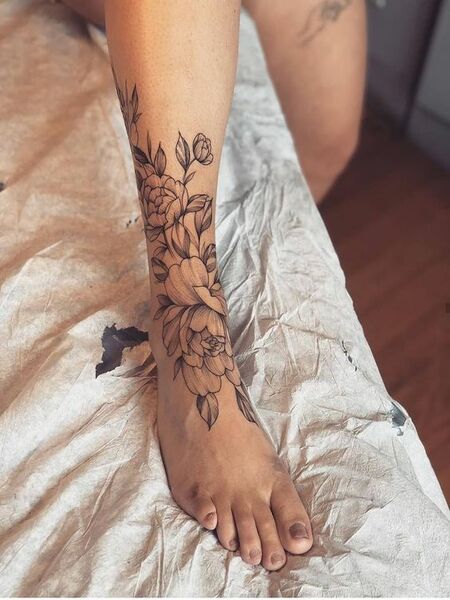 3. Bird Foot Tattoo
A bird tattoo on the foot can be a beautiful and meaningful design. Birds are often associated with freedom, flight, and a connection to the sky and nature, making them a popular choice for tattoos.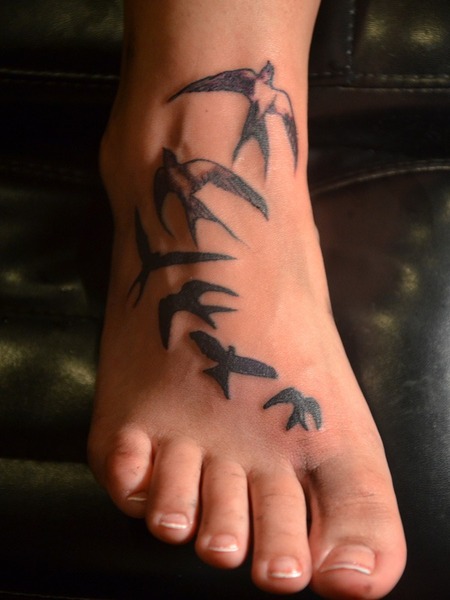 4. Butterfly Foot Tattoo
Butterfly tattoos are very popular among women because they symbolize transformation and beauty. Butterfly foot tattoos look great if you want to display your tattoo in the summer when wearing sandals. You can choose to have colorful butterfly designs or simply go with a black ink design that looks very elegant and feminine.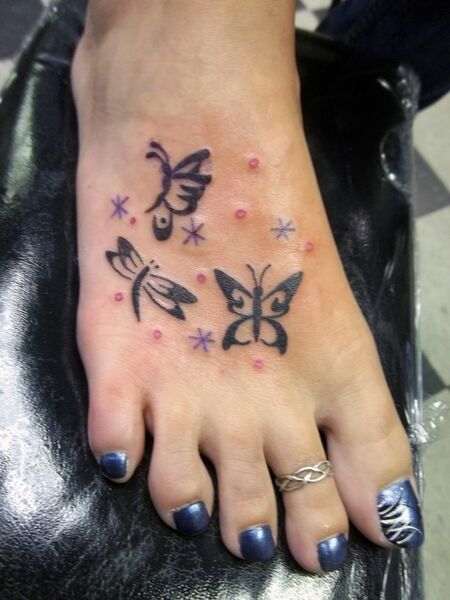 5. Cherry Blossom Foot Tattoo
Cherry blossom tattoos are very popular among women, and for good reason too! These flowers bloom in spring and summer and look great on the foot as well as other body parts such as the shoulder, ankle, or back.
6. Compass Foot Tattoo
A compass tattoo on the foot can be a meaningful and stylish design choice. Compasses are often associated with adventure, direction, and finding one's way in life, making them a popular choice for tattoos. A compass can also be used as a symbol of love and friendship. Thus, if you need to do something meaningful, Compass will be a great choice!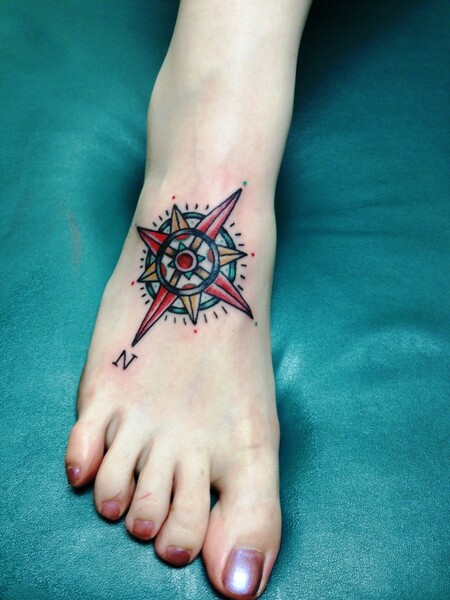 7. Cross Foot Tattoo
Cross tattoos are also perfect for women who think that having a full-body tattoo is too much for them. The cross is an ideal symbol for women because it represents peace, love, and tranquility.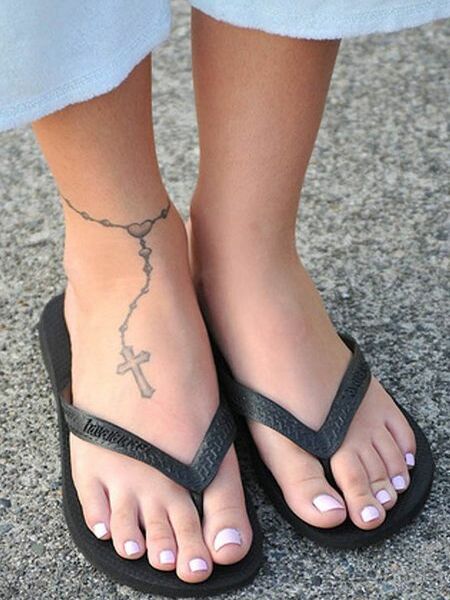 8. Cute Foot Tattoo
If you want something simple yet cute, then you can have symbols like stars and hearts inked on your feet. If you're looking to have one big tattoo on your foot, then a butterfly would look good. A smaller design would be Chinese or Japanese characters, fairies, flowers, or even dolphins and fishes.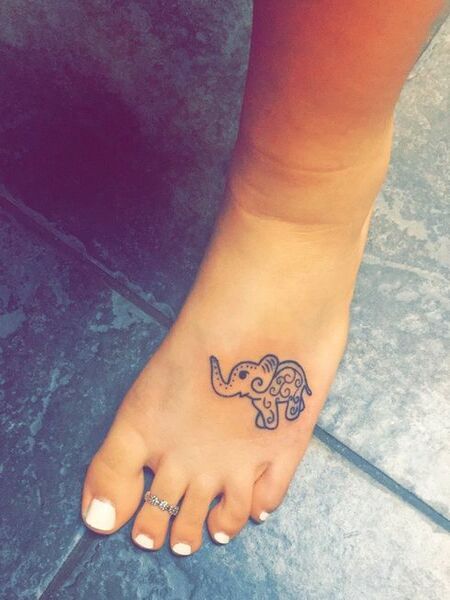 9. Dragonfly Foot Tattoo
A dragonfly tattoo on the foot can be a beautiful and delicate design. Dragonflies are often associated with transformation, change, and the journey between light and dark, making them a popular choice for tattoos. Dragonflies are amazing creatures, and they will make excellent tattoos for your feet. You can get a dragonfly alone or together with other elements like flowers and butterflies.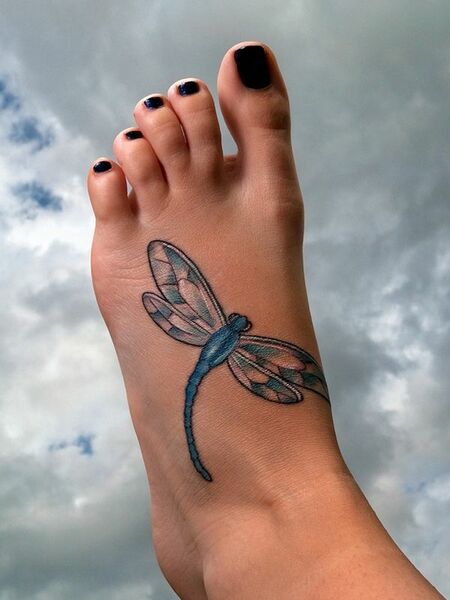 10. Dreamcatcher Foot Tattoo
A dreamcatcher tattoo is the best if you want a tattoo that has a deeper meaning. Dreamcatchers are believed to protect the wearer from bad dreams. The dreamcatcher will look beautiful, especially if you combine it with other elements like feathers, flowers, and stars.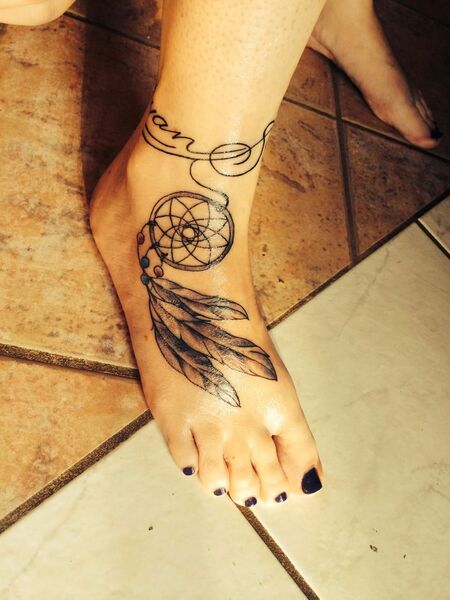 11. Elephant Foot Tattoo
Elephants are very beautiful creatures, and they symbolize strength, wisdom, intelligence, and prosperity. Even though they look tough, they also have a gentle side to them. For this reason, many women choose elephant tattoos for their feet because they look elegant yet tough at the same time.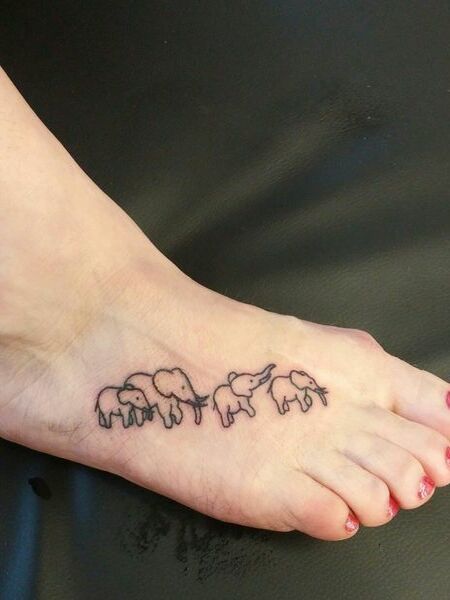 12. Feather Foot Tattoo
Another design that many women choose for their foot tattoos is the feather design. Feathers are symbols of spirituality and freedom because birds represent these things. Women who have feather tattoos on their feet often like to think about these things as well as other positive attributes, such as gracefulness and beauty.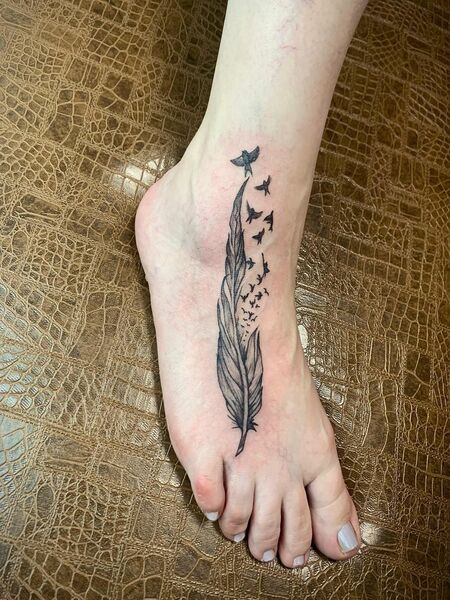 13. Floral Foot Tattoo
Flowers are the most romantic, feminine, and graceful tattoo designs. They are a popular choice among women who want to get small tattoos. Flower foot tattoos look sweet and beautiful. Roses, lotus flowers, cherry blossoms, and lilies will all look stunning on your feet!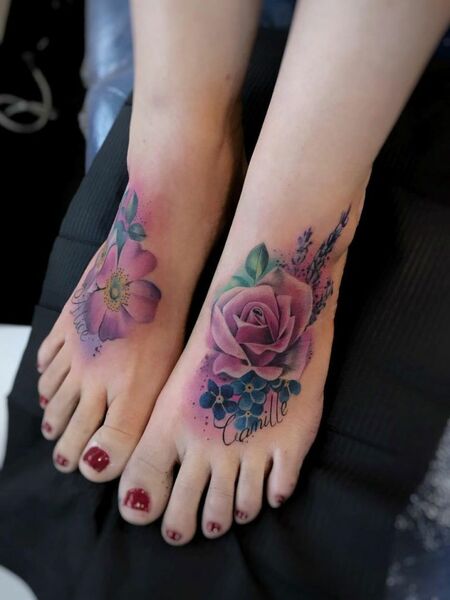 14. Geometric Foot Tattoo
Geometric tattoos are more popular than ever nowadays. Geometric foot tattoos will look elegant and sophisticated on your feet. If you love minimalistic art, an abstract geometric design is for you!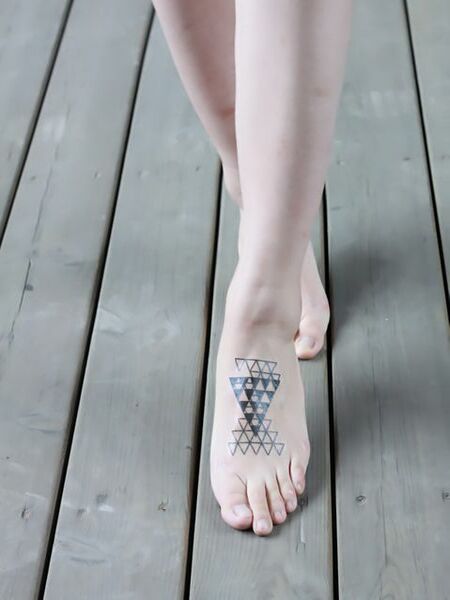 15. Heart Tattoo On Foot
Heart tattoos are considered to be one of the most common tattoo designs. These types of tattoos are very common among women, who often choose to have a heart inked on their feet. You can also have your initials inked in the shape of a heart. It is a great way to express your love for someone special in your life—either a friend, lover, or family member.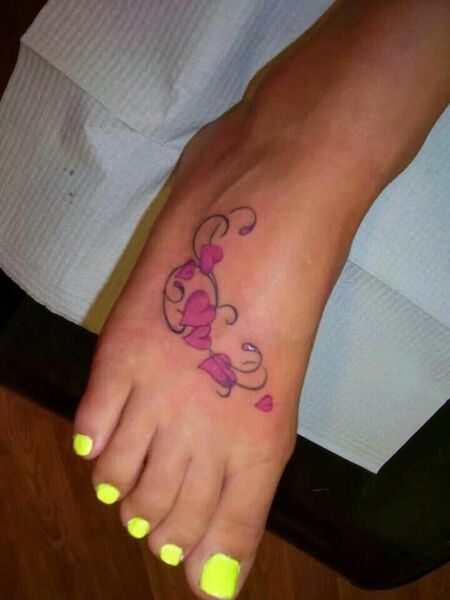 16. Henna Foot Tattoo
Henna tattoos are also known as mehndi tattoos and look very beautiful on the feet. Henna tattoos are temporary tattoos that use henna ink to draw intricate designs on your body. Henna tattoo designs differ from person to person, and they can be really small and simple or big and elaborate.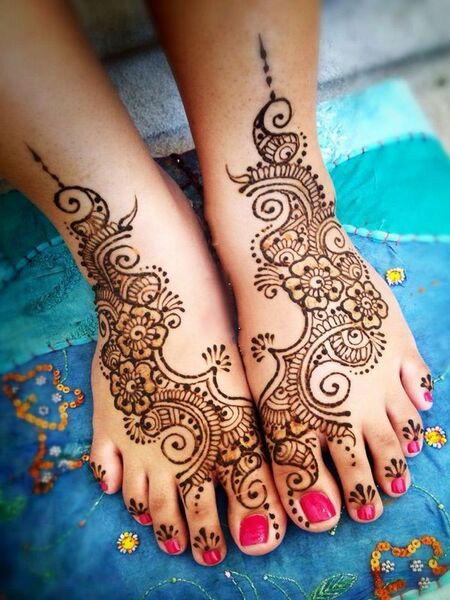 17. Lion Foot Tattoo
If you're looking for a bold and stylish tattoo, then getting a lion tattoo is the perfect choice for you. The lion is known as the king of the jungle, making it an excellent animal to represent strength and courage. You can also use this design as a reminder that you have the power to do anything you set your mind to.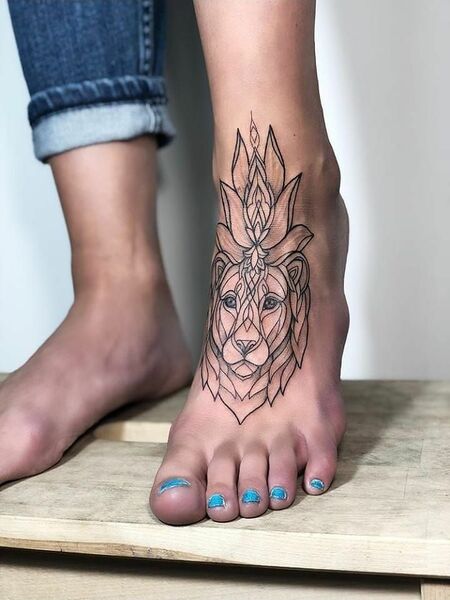 18. Lotus Foot Tattoo
Flower tattoos are incredibly popular with women due to their soft and feminine nature. If you're looking for an extra-special design, then look no further than these lotus flower tattoos.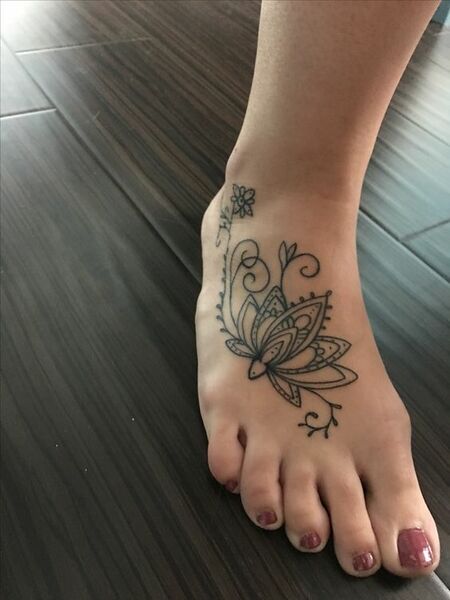 19. Mandala Foot Tattoo
Mandala tattoos are highly popular for their intricate designs, symbolic value, and spiritual significance. You can have a mandala tattooed anywhere on your foot, from the top or side of your foot to your ankle or even your toes. However, if you want a small tattoo that is simple and dainty, you can get one on your ankle or wrist as well. Mandala tattoos look great in black, but they can be done in other colors as well.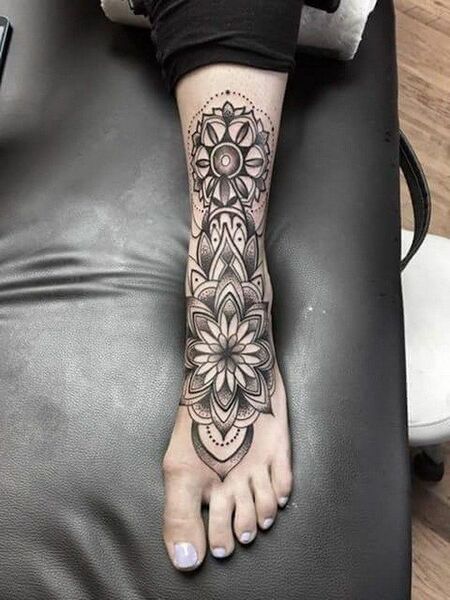 20. Matching Foot Tattoo
These matching foot tattoos use simple shapes and patterns to create beautiful, colorful designs. This type of matching tattoo idea is a great way to show off your uniqueness while still being connected to someone else in your family or group of friends. If you're looking for matching tattoo ideas, consider using patterns and colors like these to create something unique!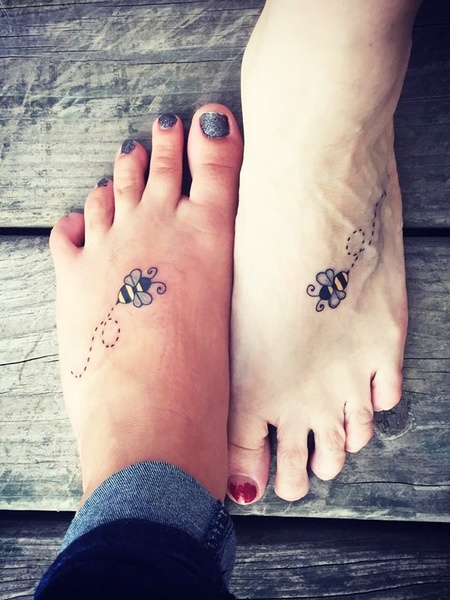 21. Mermaid Foot Tattoo
This mermaid tattoo design is perfect for an ankle tattoo. It looks great as a standalone piece, but it could also be combined with other aquatic life like fish or dolphins. The placement is also super important because it's going to be one of the first things people see when they look at your feet!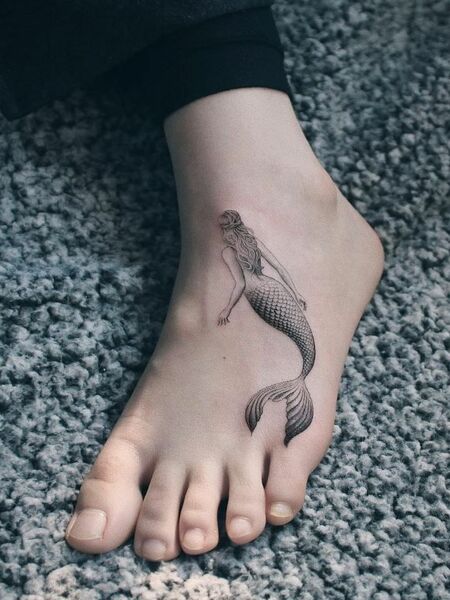 22. Mountain Foot Tattoo
There are a variety of mountain tattoos that you can choose from, including snow-capped mountains, mountains with trees, mountains with suns, etc. Many people get these tattoos because they love the beauty of nature and want to feel closer to it. The beauty of these tattoos is that you can make them as simple or intricate as you would like. They look great in black ink, but if you want to add some color, mountain foot tattoos can be stunning too.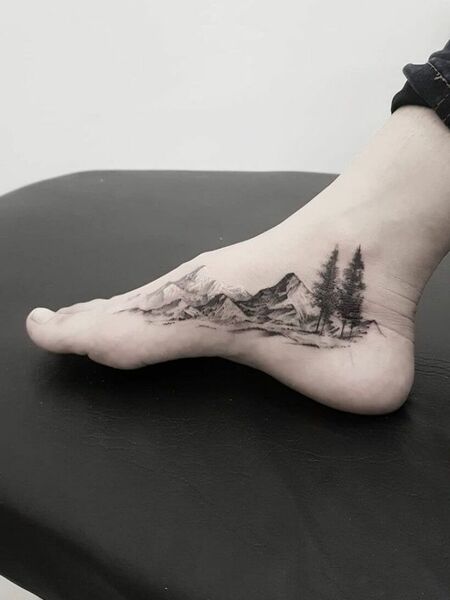 23. Octopus Foot Tattoo
If you look through Instagram and other social media websites, you will see that octopus tattoos are one of the most popular styles among women today. These types of foot tattoos have a very unique style because they're so different from other tattoos that people get for their feet.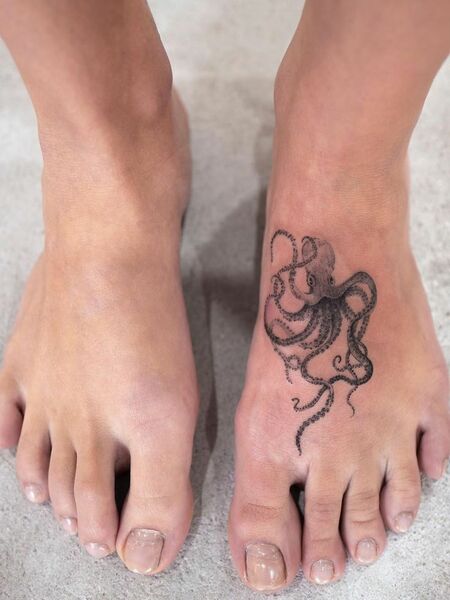 24. Palm Tree Foot Tattoo
The type of tattoo that you choose to ink on your foot will say a lot about you. In this case, the palm tree tattoos on the sides of the ankles say that this girl is a free spirit who loves to travel and visit tropical locations.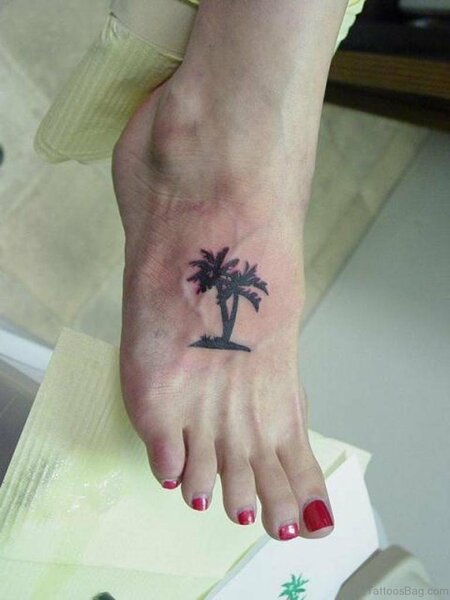 25. Paw Print Tattoo On Foot
If you're a dog lover, then there's no better way to show your love than with these two cute paw print tattoos on the side of each foot. You can get your own pet's footprints inked or use generic paw prints if you want something more unique.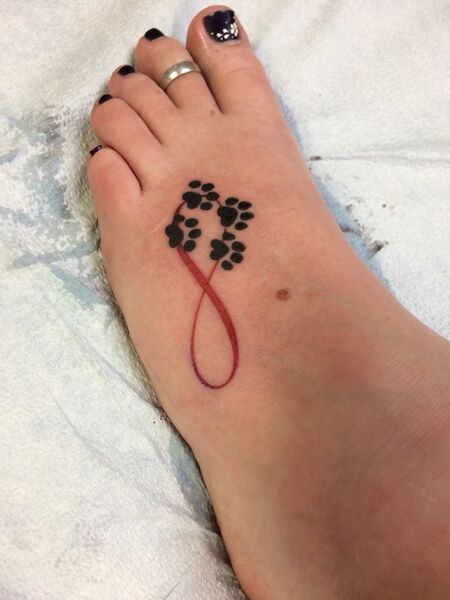 26. Quote Foot Tattoo
When it comes to quote tattoos, most people ink them onto their arms, back, or legs. However, some people like to switch things up by adding text to the sides or bottom of their feet instead.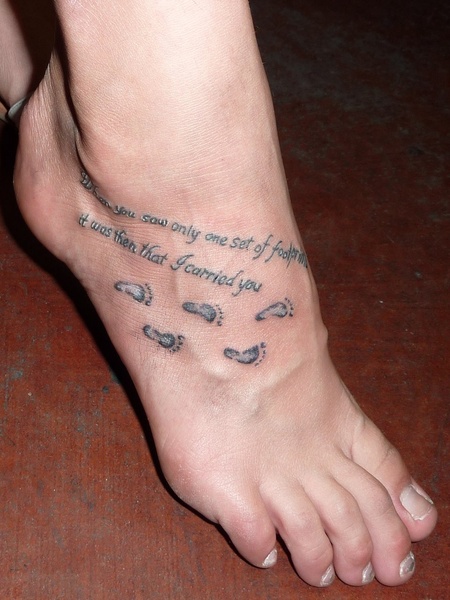 27. Rose Foot Tattoo
A rose on your foot can make it look attractive, especially if combined with a vine to form a trail up your leg towards your ankle. Pink rose tattoos are preferred by many women, but you can choose other colors as well.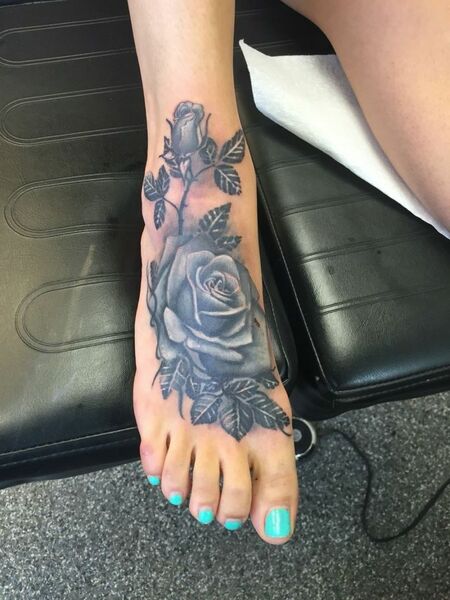 28. Scorpion Foot Tattoo
Scorpion tattoos have become popular among women. Some scorpion foot tattoos feature just the scorpion, while others feature tribal patterns or other symbols as well. The scorpion is a symbol that is associated with strength and power due to its ability to sting and kill its prey with its venomous tail. Scorpion foot tattoos represent a strong woman who can take care of herself in any situation and will not back down when faced with adversity.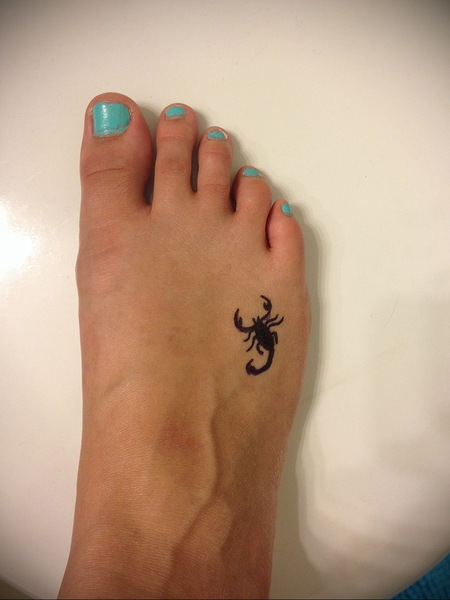 29. Simple Foot Tattoo
These are small and easy to carry off, even if you have no prior experience with tattoos. Some examples include stars, hearts, angels, and flowers, among others.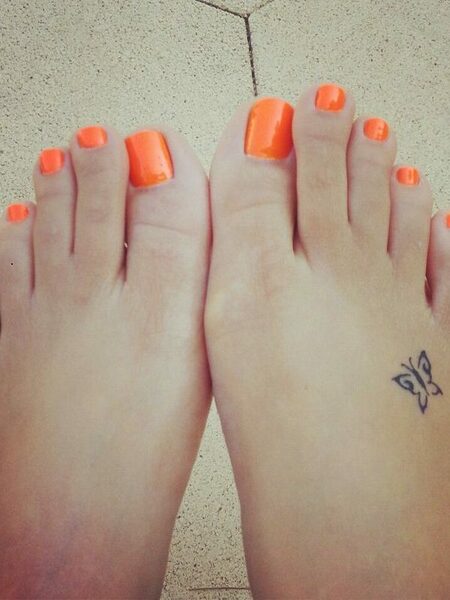 30. Skull Foot Tattoo
If you are looking for a tattoo that is totally badass, then you should consider getting a skull foot tattoo. These tattoos can be very detailed and creative, depending on how much time and money you would like to spend. You could even get a tribal skull tattoo if you are feeling particularly artsy!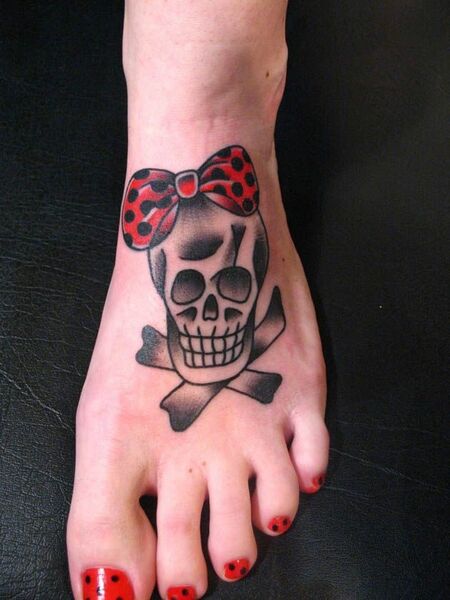 31. Small Foot Tattoo
If you have always been interested in getting your first tattoo but are afraid of the pain or the commitment of a big one,  you may want to consider getting just a small one on your foot. These are fantastic because they can look cute and feminine regardless of the design! Plus, this is an easy way to get used to having a tattoo before going for something bigger.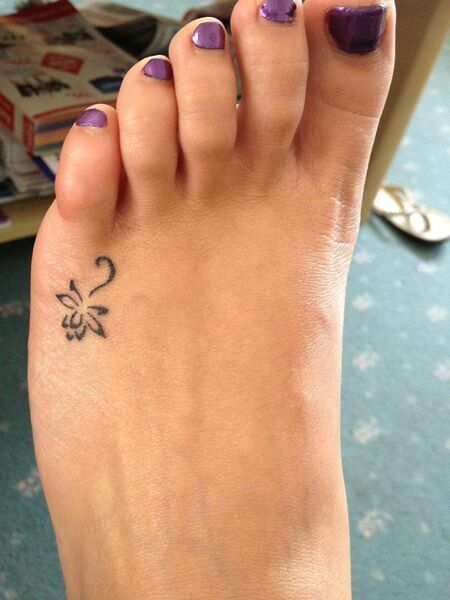 32. Snake Foot Tattoo
There are many different kinds of snake tattoos that can be done on your foot. For example, there is the garter snake, which is typically seen as being good luck. Or there is the cobra, which actually symbolizes protection.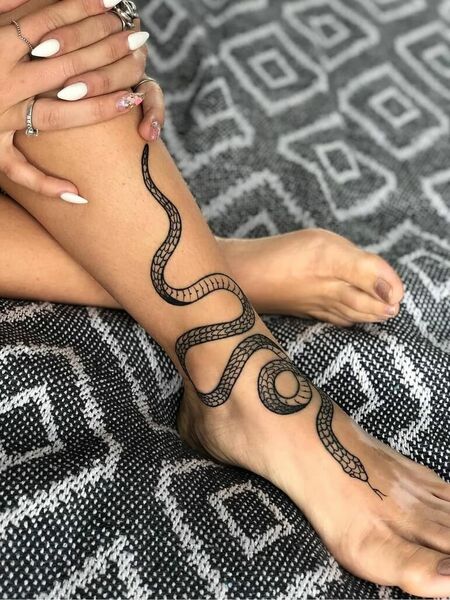 33. Star Foot Tattoo
With the many different types of star tattoos you can choose from, the possibilities are endless. You can get it as a small tattoo or a large one. The best thing about star foot tattoos is that they are so versatile. You can have them done in different colors and sizes.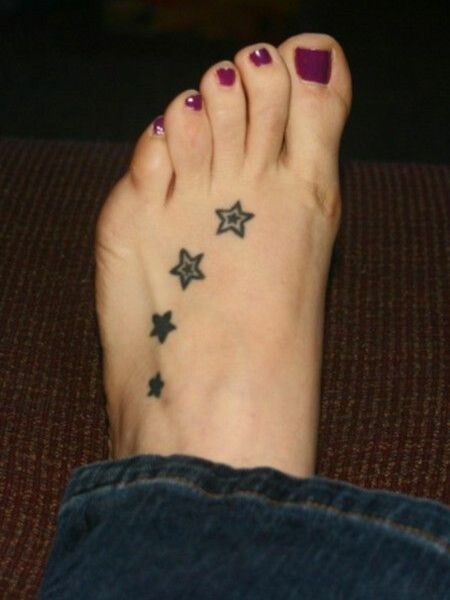 34. Sun And Moon Foot Tattoo
Sun and moon tattoos are very popular because they can be placed in several different places on your body. The most popular spot for these types of tattoos is around the ankle, on the foot, or on the leg. This type of tattoo is usually done in black ink but can also be done in gray ink to give it a more feminine look.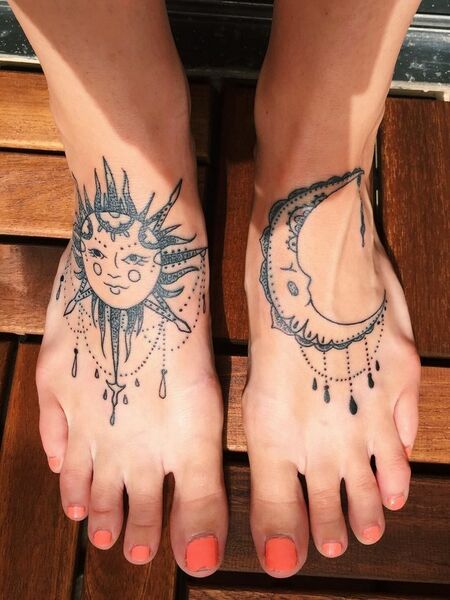 35. Sunflower Foot Tattoo
A sunflower tattoo design is a great way to show your love and appreciation for nature. These beautiful flowers are symbolic of new beginnings and new life, as well as life after death. Sunflower tattoos are often used by women as well as men because they represent both a feminine and masculine aspect.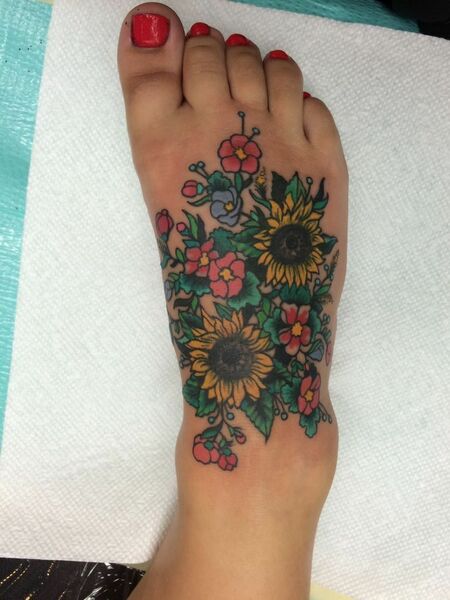 36. Traditional Foot Tattoo
The traditional style of tattoo is usually the most popular. Whether it's a butterfly, eagle, dolphin, or anything else, you can turn almost any design into a traditional tattoo. A lot of people prefer the simplicity of black and white, while others like the idea of adding color. This can be an excellent way to show off your personality and creativity.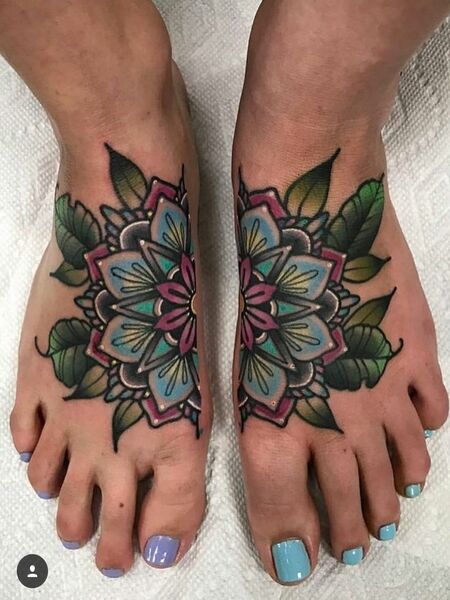 37. Tribal Foot Tattoo
Tribal foot tattoos are extremely popular and look great on women. These designs are full of tribal lines, which can be wrapped around the ankle in a variety of ways. You can also add symbols or other elements to make them more unique. The possibilities are endless when it comes to tribal tattoos for your feet!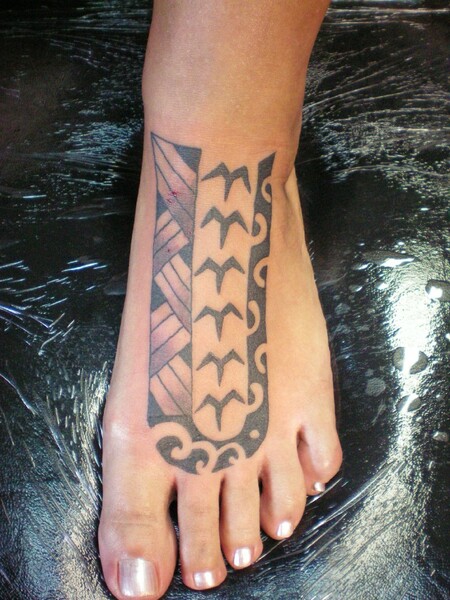 38. Vine Foot Tattoo
A vine tattoo is a design that is often favored by both men and women. It can be designed quite small, but it also looks good in a large size. Even in small sizes, the intricate designs of vines look stunning when worn as a foot tattoo. This tattoo is ideal for women who want to flaunt their feet without people noticing them at first glance.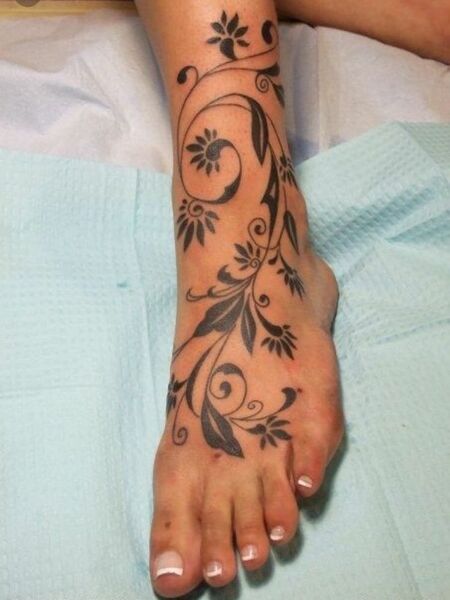 39. Watercolor Foot Tattoo
Watercolor tattoos are a great way to showcase your creativity in a slightly less permanent way than traditional styles of body art. These designs usually include bright colors and softer shapes, which makes them ideal for women who want something feminine.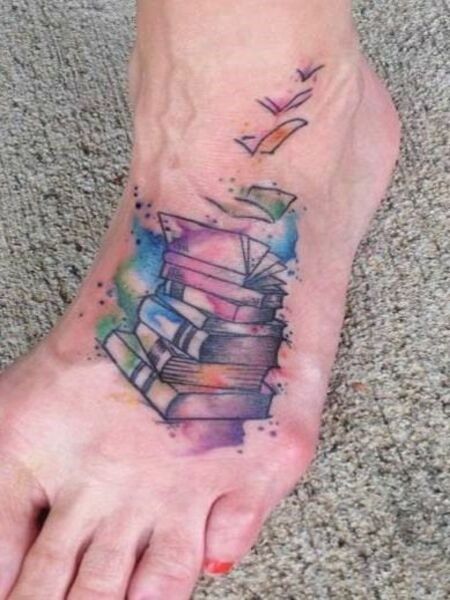 40. Wave Foot Tattoo
Wave tattoo designs are not just popular among men; women too love to have them. The foot is a perfect place for small and intricate tattoo ideas. And waves are one of those gorgeous designs that can look amazing no matter how small or big they are. Waves symbolize the strength and power of the ocean, which has been deeply rooted in our culture since ancient times.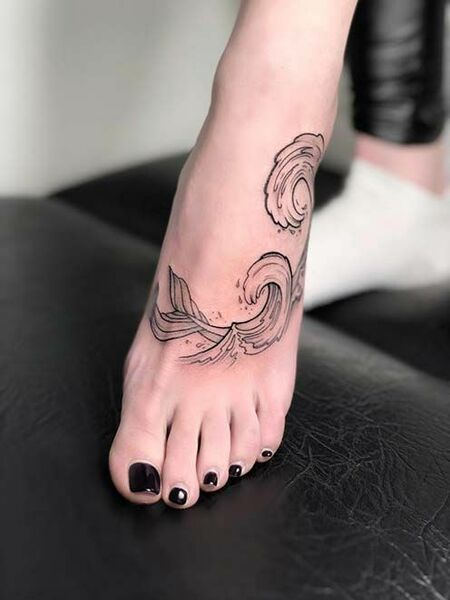 Foot Tattoos For Men
Foot tattoos are not only worn by women but also by men. They look cool on both genders and make a style statement. It is because the foot is considered to be the most sensitive part of the body, so it hurts a lot when it is inked. But still, people go for it because of the beauty that it adds to their personalities.
FAQ
Do tattoos on feet hurt?
Feet are known for being one of the most painful places to get a tattoo because there are many nerve endings in the foot. There is not a whole lot of flesh in this area, meaning it will likely hurt quite a bit more than other areas.
Do tattoos on feet wear off?
Tattoos fade naturally over time, especially if they are frequently exposed to direct sunlight. Foot tattoos tend to fade faster than other types of tattoos because they are constantly rubbed by shoes and socks and exposed to direct sunlight when you walk barefoot.