15 Beautiful Yellow Rose Tattoos for Women in 2023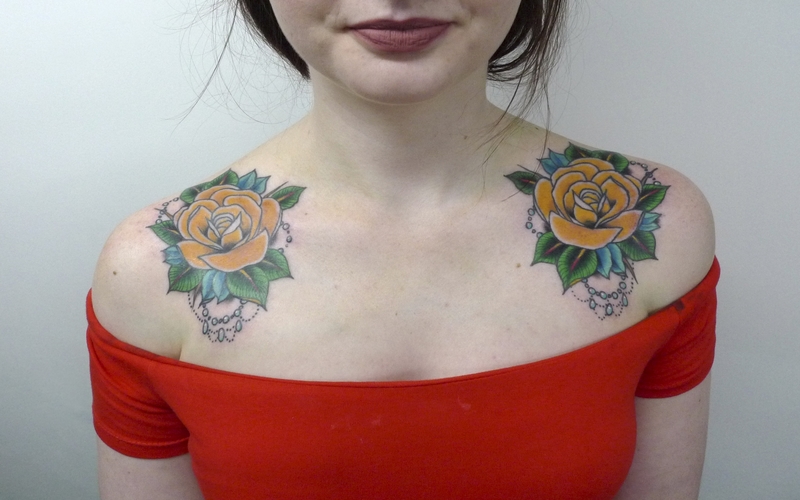 Yellow rose tattoos are a popular choice for rose tattoo lovers. Yellow roses are often associated with joy, friendship and caring thoughts. Often people get a yellow rose tattoo because of their love for the color yellow or because they want to remind themselves of these qualities in their own life.
The yellow rose is beautiful and elegant. It has a way of bringing out the glory in others, and this is why it is a popular choice for tattoos. They are very versatile, too, and can be used as a standalone tattoo or combined with other flowers to create a unique flowery design.
Yellow is the color of joy and happiness. It is a symbol of friendship as well as a promise of new beginnings. Yellow roses are symbolic of friendship, joy, and caring. According to Aurora, they can also be used to convey messages of appreciation, delight, gladness, and warmth.
Yellow rose tattoos are ideal for those who have a positive outlook on life and want to spread the cheer to everyone around them. They are often worn by people who are in love or those who want to convey their gratitude to those close to them. Yellow rose tattoos can also be used to signify platonic love between friends or siblings.
1. Arm Yellow Rose Tattoo
There are many ways that you can design your arm yellow rose tattoo. You can choose to have your yellow rose tattoo design be a large single yellow rose or you can go with a smaller tattoo design featuring multiple small yellow roses. You can even add other images such as stars or butterflies to make your tattoo design unique.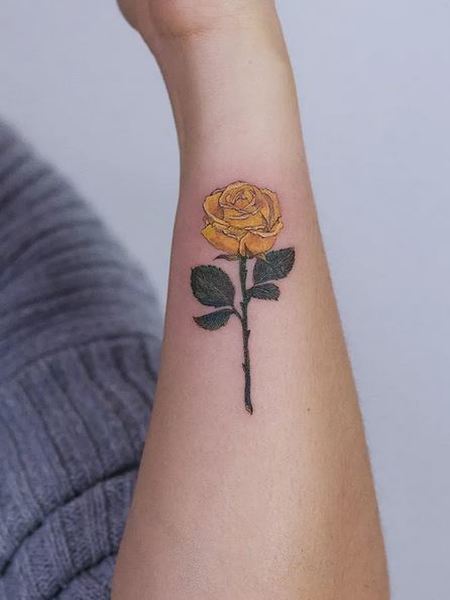 2. Neck Yellow Rose Tattoo
Neck tattoos are becoming more and more popular among both women and men. A neck yellow rose tattoo is a fantastic choice for those looking to get their first neck tattoo. A single small yellow rose tattoo is often recommended when it comes to neck tattoos since the area is very visible and you want to make sure that your first neck tattoo is subtle yet beautiful.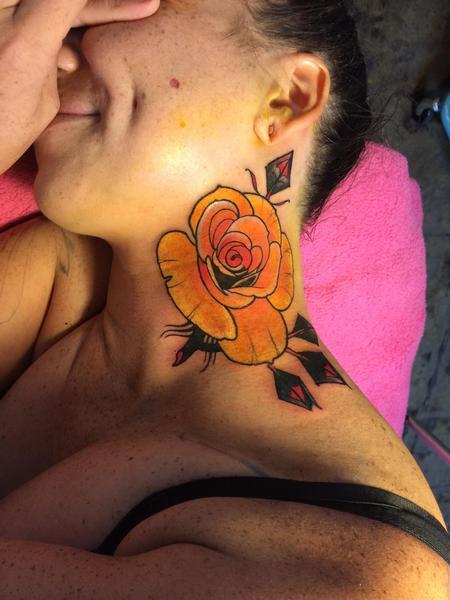 3. Leg Yellow Rose Tattoo
The leg is a popular area for rose tattoos. This is because roses are often drawn in full bloom and take up quite a bit of space on the body, which makes them perfect for large areas like the leg. Leg rose tattoos can be covered up with pants or shorts when wearing formal clothes, but they can be shown off when wearing bikinis, short shorts or skirts.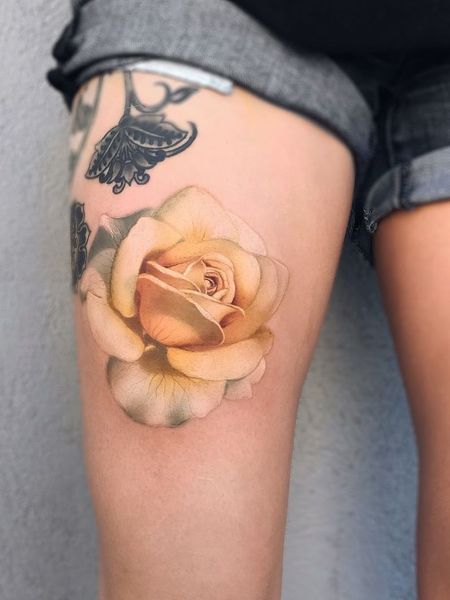 4. Thigh Yellow Rose Tattoo
Yellow rose tattoos on the thigh are another great way to show off this tattoo design. The yellow rose can be placed on one side of the thigh, or it can be spread out over both sides of the thighs. These tattoos can also be shown off by simply wearing a bikini bottom or a short skirt. If you want your tattoo to be more discreet, wearing jeans and long skirts will cover up this tattoo.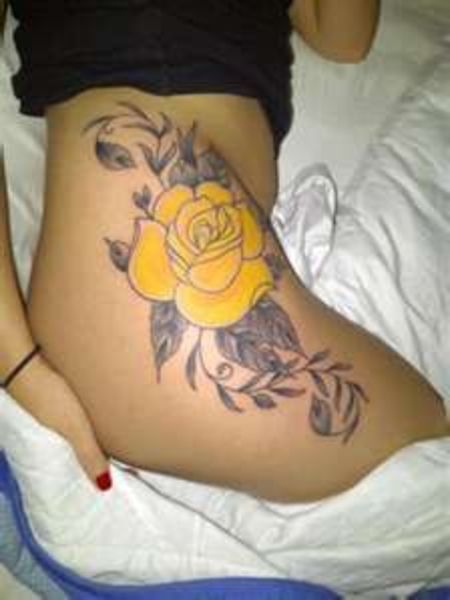 5. Ankle Yellow Rose Tattoo
The ankle is one of the most popular places to get a tattoo on your body. This is because it is such an easy place to cover up if needed, yet it is still visible when you want it to be seen. A single yellow rose can look awesome on its own and it can also be incorporated into larger designs as well that may include other flowers, vines and so on.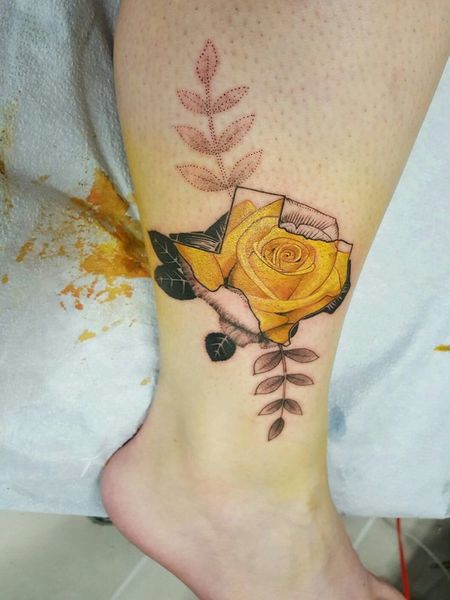 6. Chest Yellow Rose Tattoo
The chest is one of the best body parts to put a rose tattoo, because it has a large flat surface. This allows the artist to create a large and detailed work of art. You can choose to get a solid colored yellow rose tattoo or you can go with a multi-colored design that features roses, vines and thorns.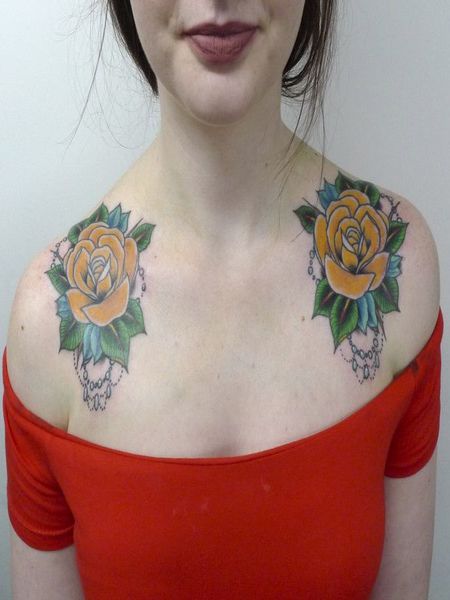 7. Shoulder Yellow Rose Tattoo
Shoulder tattoos are very popular among women, and the yellow rose design is no exception. This area of the body is perfect for shading and dimension, which makes it a great option for floral designs of all kinds. You can also place smaller tattoos around the shoulder or collarbone for a more subtle effect.
8. Collarbone Yellow Rose Tattoo
Collarbone tattoos have been trending for quite some time, and rose designs are a perfect fit for this location. The collarbone area itself is very delicate, so a smaller tattoo is often a better choice than something larger that would cover more of the bone. If you want something that really pops, adding color to your design is a great way to make it stand out even more.
9. Hand Yellow Rose Tattoo
Getting a rose as a hand tattoo makes it even more noticeable than usual. You can get just one or several roses inked on, depending on your budget and pain threshold. Hand tattoos are very visible, so remember that when choosing what kind of design to get. A butterfly with a single yellow rose, for example, could look beautiful in this location.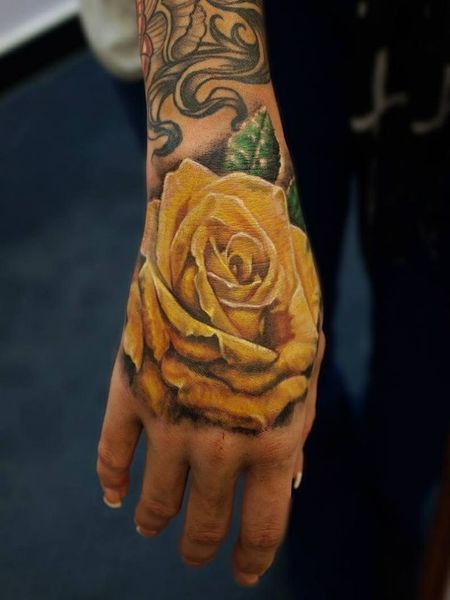 10. Wrist Yellow Rose Tattoo
Wrist yellow rose tattoos are beautiful because they are so visible to other people. Most people see their hands and wrists when they talk to others, so this type of tattoo can show off your design easily. Wrist yellow rose tattoos can be done with small designs that show off your style without being too ostentatious. Other designs may cover more skin with larger roses or other designs that incorporate letters or numbers into your tattoo.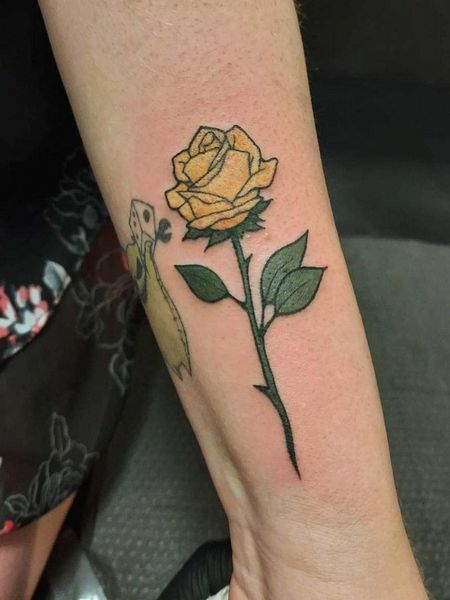 11. Small Yellow Rose Tattoo
If you love roses but don't want a big tattoo, consider a small yellow rose tattoo on your wrist or ankle. The delicate nature of the rose looks beautiful on a woman's body. You could also opt for a single yellow rose with a stem that travels slightly up the arm or leg.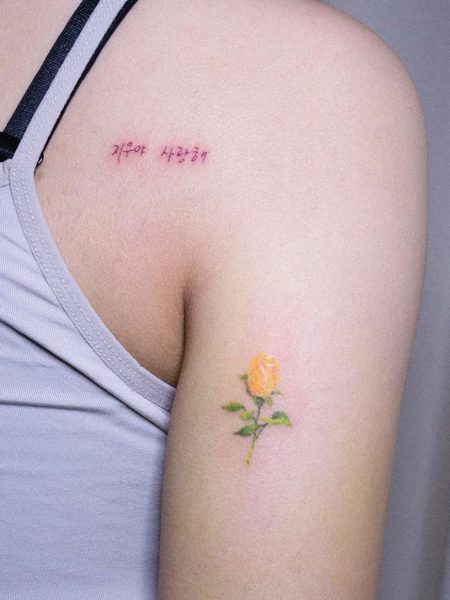 12. Forearm Yellow Rose Tattoo
Forearm tattoos are becoming increasingly popular among men and women because they allow you to display your artwork easily when you want to conceal it with long sleeves, but hide it quickly when needed. A forearm tattoo doesn't have to be large to stand out. You could choose a single yellow rose with thorns, or several small roses in a bouquet design.
13. Rib Yellow Rose Tattoo
The rib tattoos are usually the more painful part of the body to get tattooed due to the fact that there are a lot of bones and muscles in that area. However, many people still go for this placement as it is quite popular.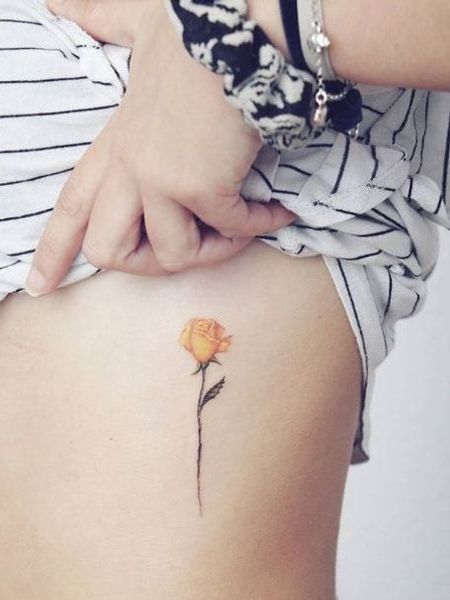 14. Foot Yellow Rose Tattoo
The foot is another popular area for yellow rose tattoos because it is one of the least painful areas to get a tattoo. Foot tattoos are also easy to hide so you can keep your tattoo private if you want to show it only to certain people. A single yellow rose tattoo on the foot or a small bouquet of them are both good choices because they will be small enough that they won't be too painful and large enough that they'll still look great.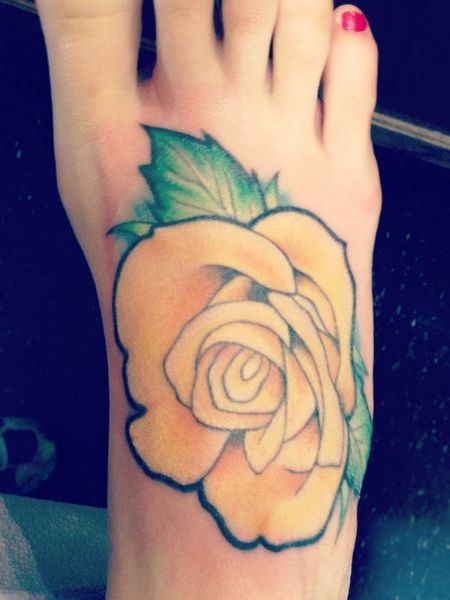 15. Back Yellow Rose Tattoo
Yellow roses are a gorgeous addition to back tattoos for women because they add an element of femininity to any design that is already very feminine. A single yellow rose looks beautiful resting on the shoulder blade or you can create an entire garden across your shoulders or down your spine.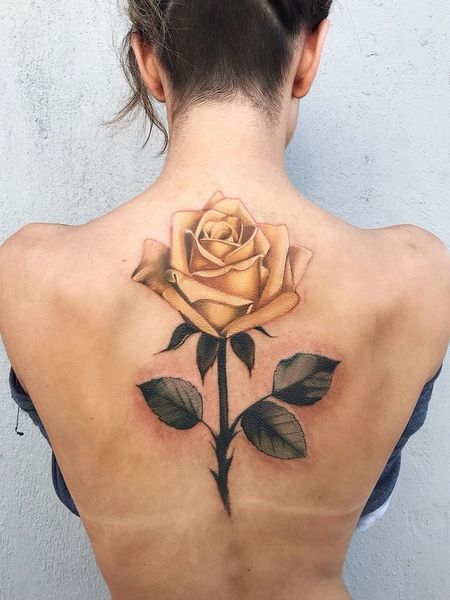 FAQ
What does a yellow rose tattoo mean?
Yellow roses are usually associated with friendship, platonic love and caring. Yellow roses can also be used to show respect for someone who's passed away or to express sympathy for their loss. A bouquet of yellow roses also makes a great gift for anyone who has suffered from depression or illness as it helps brighten their mood.
Do yellow tattoos fade quickly?
All colors fade over time, but certain colors can fade faster than others. Reds, yellows, oranges and greens often become muted or lose their saturation altogether over time. This is due to the fact that these colors are more easily broken down by external factors than the other colors.