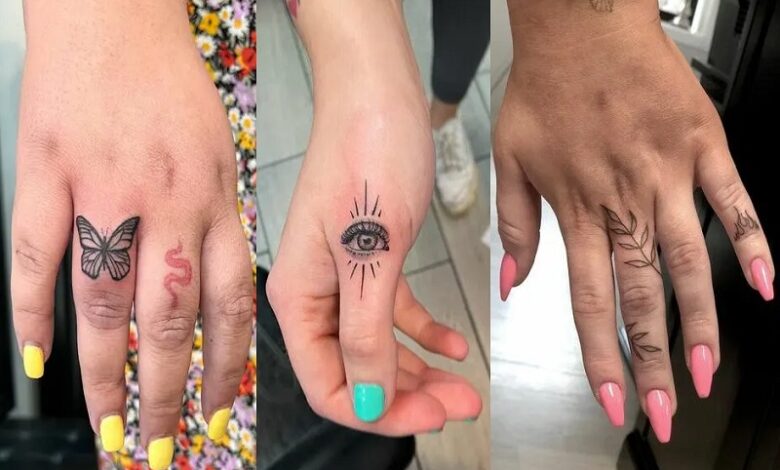 Finger tattoos are popular among men and women because they look very attractive, small, and meaningful. Finger tattoos can be in the form of a simple small design or a complex design that spreads along the whole finger.
Finger tattoos are one of the most popular types of body art that are in demand these days. Finger tattoos are chosen by people who want to get a small, but beautiful and meaningful tattoo on their body. Finger tattoos are very popular among women and young girls, but now men also prefer to get finger tattoos.
Finger tattoos are one of the most unique and bold tattoos you can choose. It is also one of the most painful parts of your body to tattoo. However, small and simple designs are the way to go to if you want something minimal and non-invasive. Below are some of our favorite finger tattoos that range from roses, hearts, anchors, stars, and more.
1. Black Heart Finger Tattoo
A black heart finger tattoo is a great idea for someone who wants to keep things simple. When you get this tattoo, it will be very easy to cover up with clothing or makeup. You can also have your artist make the heart as small as possible so that it is virtually unnoticeable. The black ink is also one of the most common types of ink to use for tattoos because it covers such a wide range of skin tones. If you want the tattoo to blend in with your skin tone and not stand out, then you should go with black ink.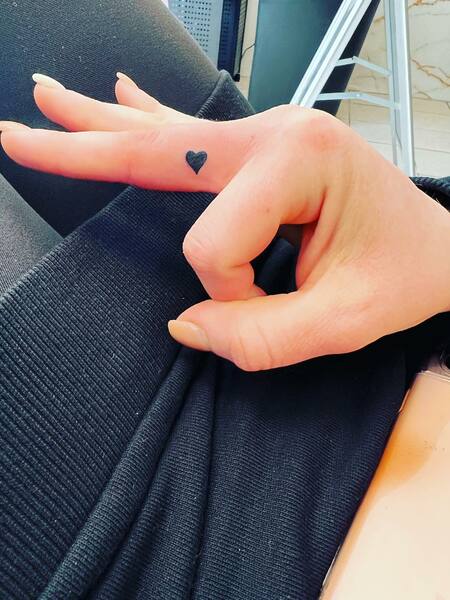 2. Black Rose Finger Tattoo
Rose tattoos are one of the most popular choices for both men and women because they look so feminine and beautiful. Roses are often associated with love, romance and beauty, which is why they are such a popular choice for tattoos on the body. If you want a rose tattoo but do not want it to look overly feminine, then you can get a black rose finger tattoo instead. A black rose finger tattoo will look stylish and elegant while still being discreet enough that most people will not notice it unless they are looking at your hands.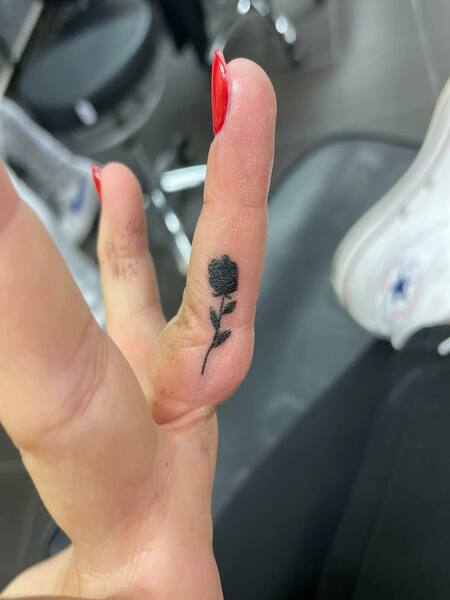 3. Blue Finger Tattoo
Before you go for finger tattoos, you should know that finger tattoos are not preferred by everybody as they are quite visible and obvious to other people. However, if you want to get a finger tattoo done, it is important to be aware of the downsides of finger tattoos.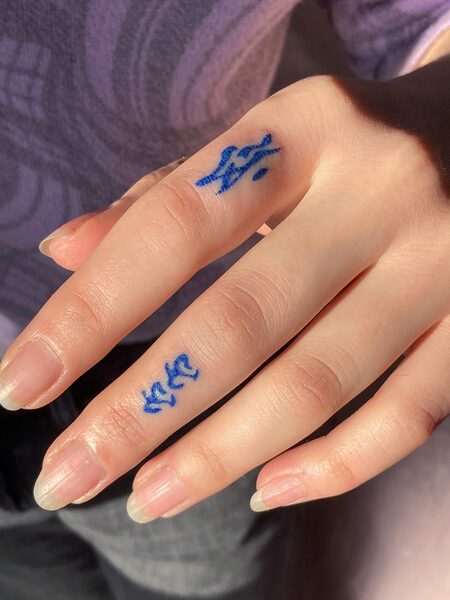 4. Butterfly And Snake Finger Tattoo
This is an unusual design to be placed on the fingers, especially when we look at the fact that there are two different images for this tattoo. The butterfly symbolizes transformation and freedom, while the snake is a symbol of wisdom, but also evil and danger.
5. Butterfly Finger Tattoo
The butterfly finger tattoo is one of the most common and popular designs. A butterfly is a symbol of freedom and beauty. The most preferred color for this design is pink because it is associated with elegance, femininity, and romance.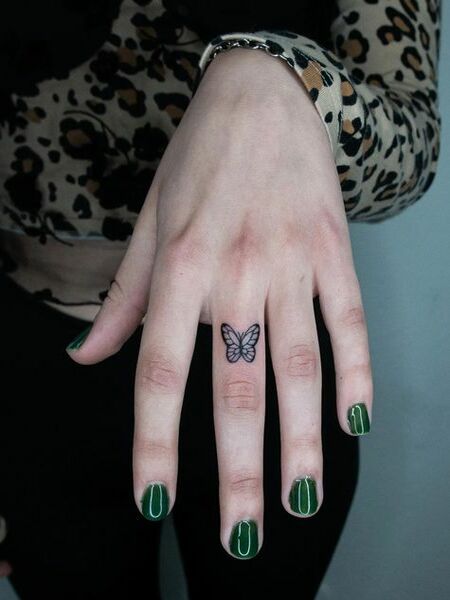 6. Cross Finger Tattoo
It is a common belief that cross tattoos represent hope for the future. They are also a sign of faith and spirituality. The main advantage of this tattoo is that it can be easily hidden by wearing gloves or jewelry whenever you want to.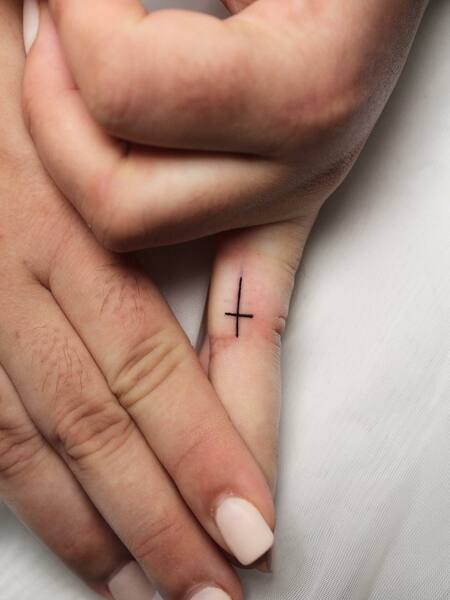 7. Dotwork Finger Tattoo
Dotwork tattoos are a very modern, highly detailed tattooing style that creates an excellent effect and can look amazing on fingers. They are usually done in black and grey inks, but they can also be done in color.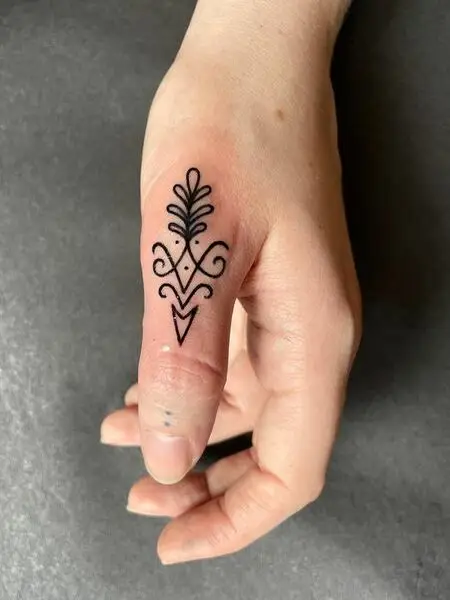 8. Eye Finger Tattoo
Eye finger tattoo designs are one of the popular choices among women. The design looks very pretty and is quite eye catching so make sure you choose a good color combination for the tattoo. You can have the eyes of someone close to you or your favorite celebrity tattooed so that it will always remind you about them whenever you look at your hands.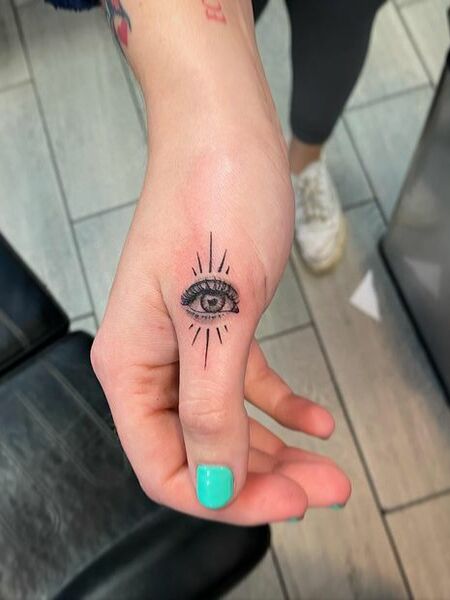 9. Fire Finger Tattoo
Fire finger tattoos look really cool and definitely add an edgy vibe to your personality. You can have flames tattooed on your fingers or even an entire fire dragon if you want to go big with it. You can even place tiny fireballs on the tips of your fingers to create a cool effect when you move them around.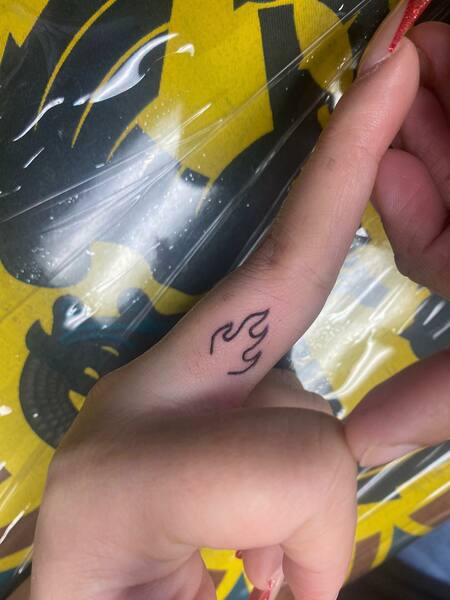 10. Floral Finger Tattoo
One of the most popular and trending finger tattoo designs is floral finger tattoos. These kinds of flower finger tattoos look beautiful and elegant at the same time. These types of floral finger tattoos are very much in demand nowadays because they look very beautiful and elegant on your fingers.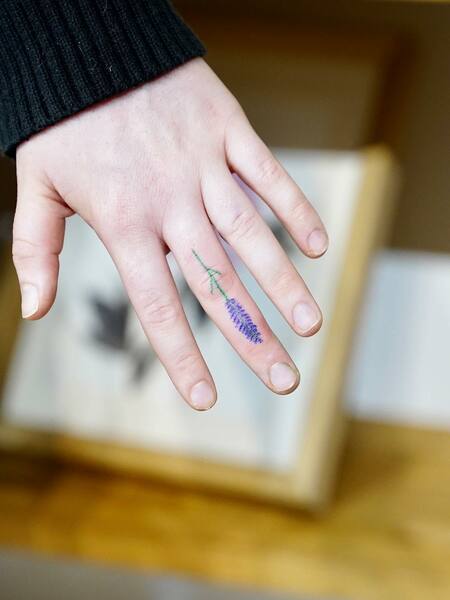 11. Flower Finger Tattoo
Flower tattoos are always pretty, but putting them on fingers only makes them more beautiful. The placement of this tattoo makes it perfect for anyone who wants to keep their art close and cover it when needed.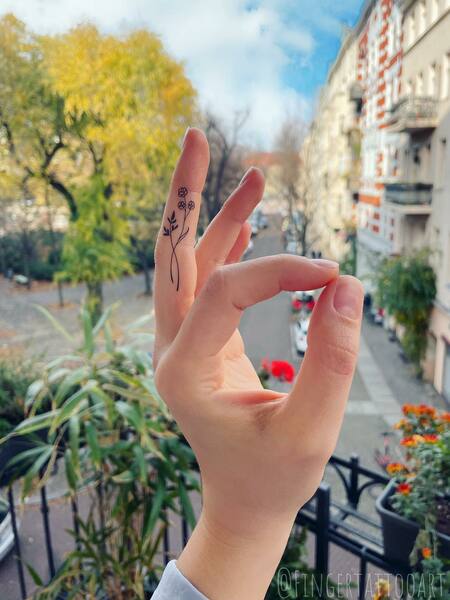 12. Heart Finger Tattoo
This heart finger tattoo is a symbol of love and faithfulness towards your partner. If you have recently entered into an engagement or into a marriage then this tattoo will serve as a great reminder of your relationship and your commitment to each other.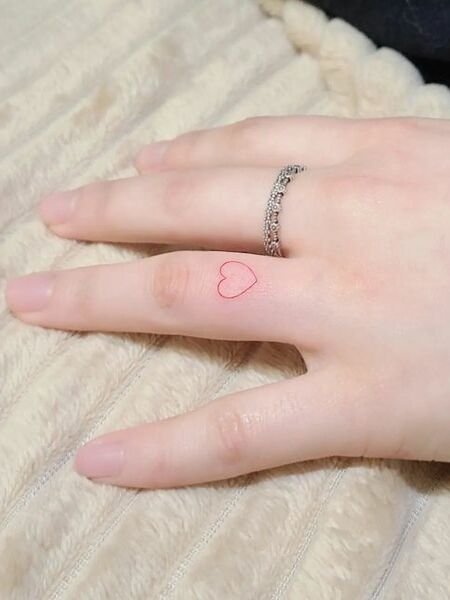 13. Henna Finger Tattoo
Henna finger tattoos have become extremely popular in recent years as they look beautiful and delicate on the fingers. If you want something that is small and simple but at the same time elegant then henna finger tattoos are just right for you.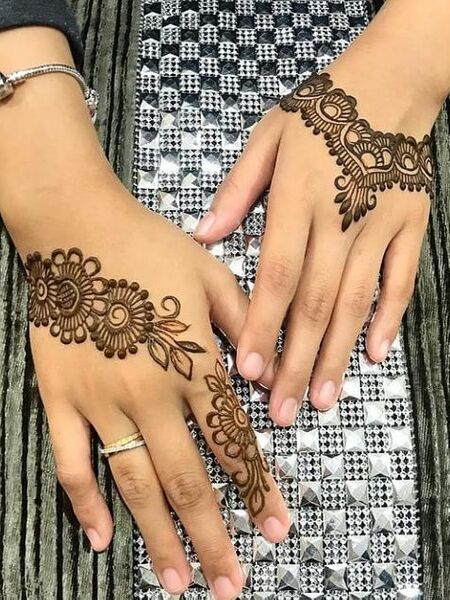 14. Infinity Finger Tattoo
If you want to show your long-lasting love or friendship, then consider getting an infinity finger tattoo. You can get the infinity symbol on your finger and add a heart at the bottom of the symbol to represent your love for someone. This is one of the most common finger tattoos for couples.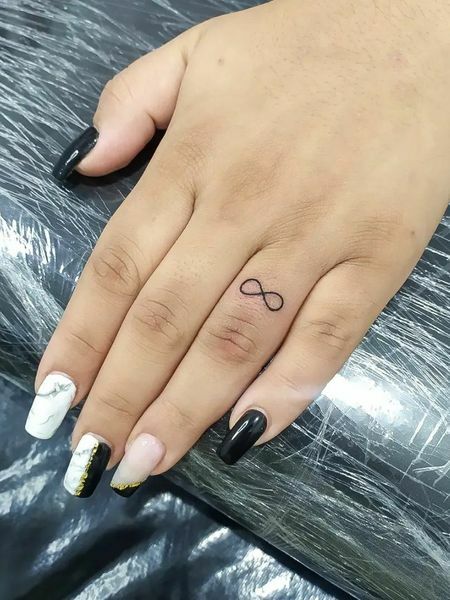 15. Leaves Finger Tattoo
Leaves are a great way to decorate your fingers with tattoos. You can get leaf tattoos in different designs and colors. The best part about leaf tattoos is that they look amazing on both men and women's fingers.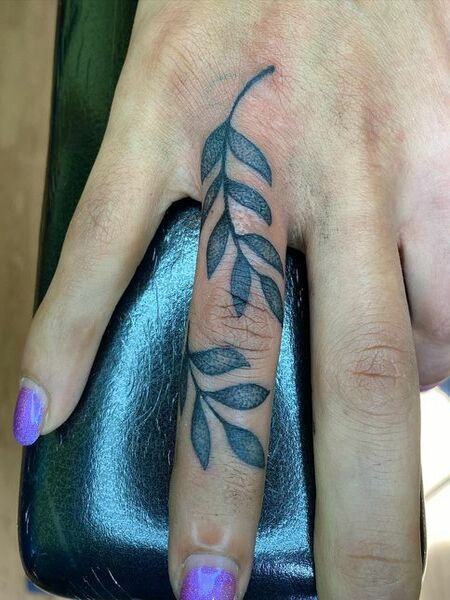 16. Lightning Bolt Finger Tattoo
Lightning bolt finger tattoos are a great way to express yourself. For some, this is more than just a tattoo. This represents the entire personality and is often used as a symbol of power and energy. In addition, these tattoos can be combined with a variety of other symbols, such as stars, suns, and flowers. As you can see in the image below, lightning bolt finger tattoos can be incorporated into many other designs and themes.
17. Line Finger Tattoo
Line finger tattoos are often used by people who are looking for something that is both simple, yet powerful. There are many variations of this tattoo design, including the following: lines that go around the entire finger or just a few inches long; straight lines or curved lines; and other things. A line tattoo is a great choice because it allows you to have something that is small enough to fit on your finger, yet still powerful enough to make an impact on those who see it.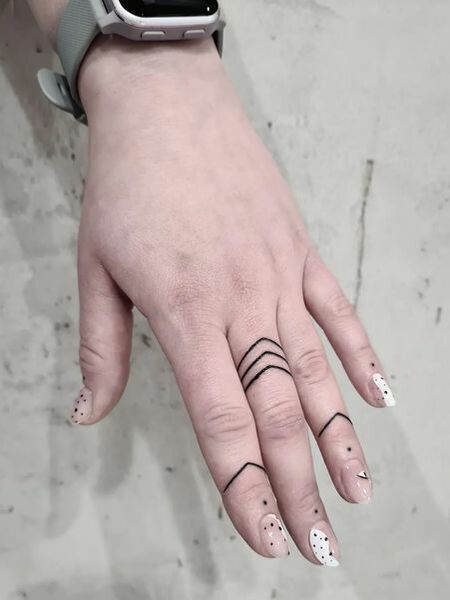 18. Lion Finger Tattoo
While finger tattoos are generally small and simple designs, this one is anything but. The lion head is bold and powerful-looking, and the detail is incredible. It fills up the entire finger in a way that's not too heavy looking, thanks to the shading used in the design.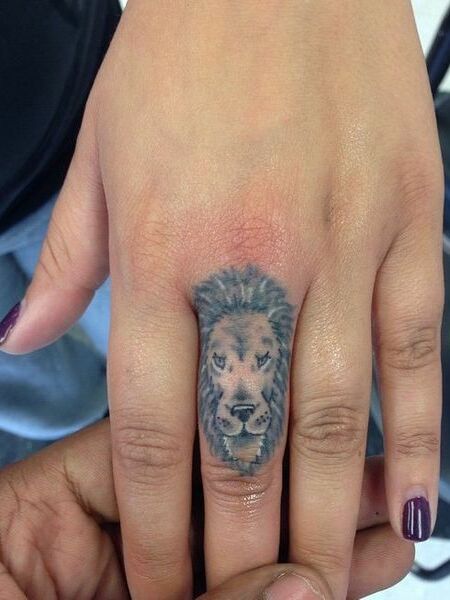 19. Moon Finger Tattoo
Moon finger tattoo is a great option for both men and women. According to many people, the moon represents mystery, magic as well as guidance. It also represents the feminine side of life. These tattoos can be done in either black or white ink and look great on fingers.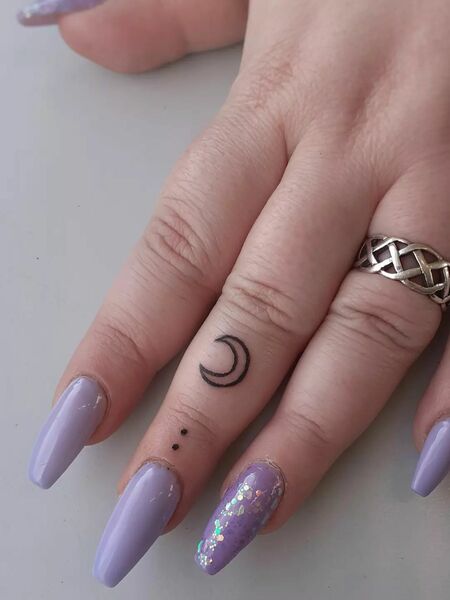 20. Music Note Finger Tattoo
Another popular option for finger tattoos is music note design. For example, you can have musical notes or symbols inked on your fingers permanently. For those who love music and want to express it through tattoos, this design is a good choice.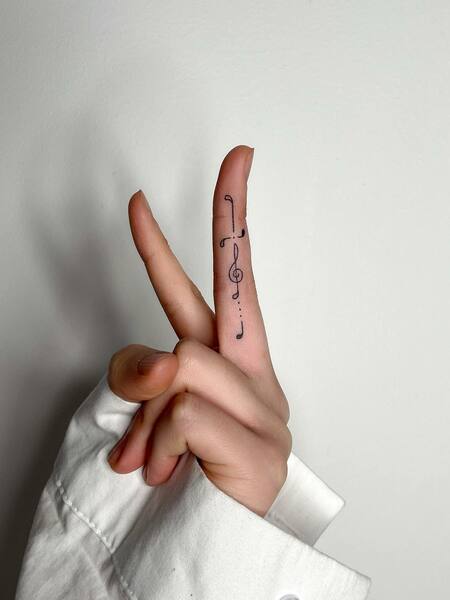 21. Ornament Finger Tattoo
This is another design idea that looks beautiful on fingers, especially if you like geometric patterns and intricate designs. The ornament tattoo looks great on the fingers and comes in different sizes so you can choose one according to your preference.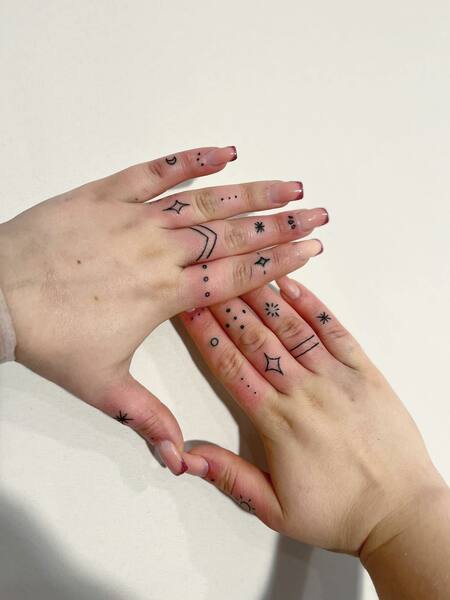 22. Planet Finger Tattoo
This kind of tattoos are becoming common among people. However, people who like tattoos will never be bored of them and keep getting newer ones for themselves to make themselves look pretty. You can choose from so many different planets to have tattooed on your finger. As long as you can find a design that you like, it will be perfect for you.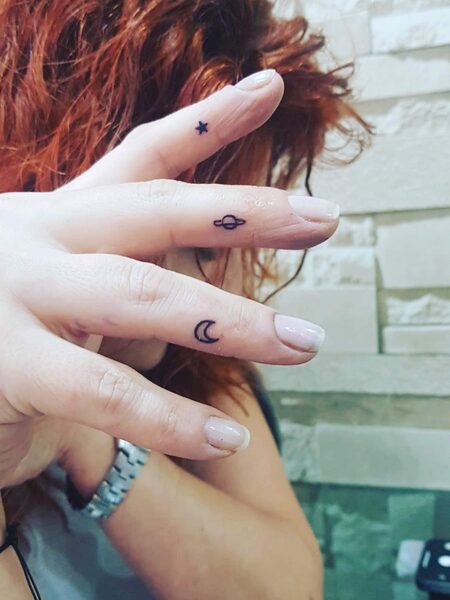 23. Pretty Finger Tattoo
This tattoo looks so pretty and feminine, which makes it a great choice for any woman wanting something that is beautiful and feminine looking. You don't have to settle for something plain and boring when you can get something as pretty as this one.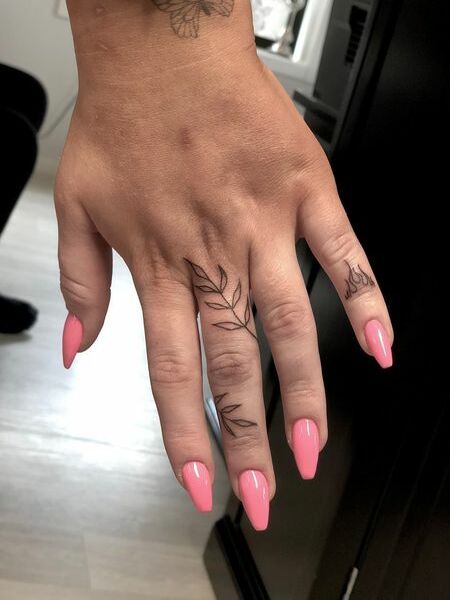 24. Red Finger Tattoo
Red is such a bold color that it can make a great choice for anyone wanting to stand out in a crowd. It doesn't matter if you are male or female, this tattoo will be sure to make an impression on anyone who sees it!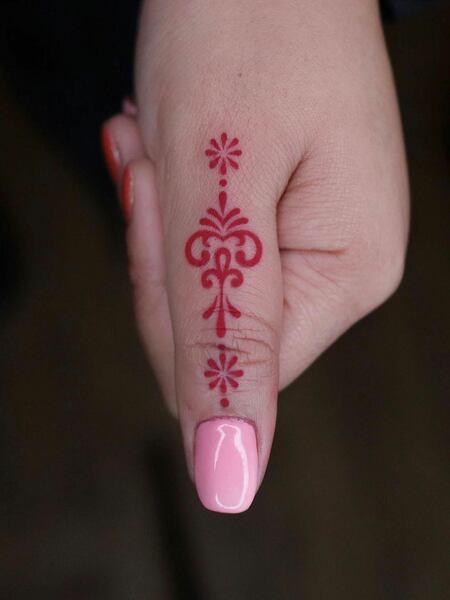 25. Ring Finger Tattoo
The most common finger tattoo is the ring finger tattoo. It's popular because it mimics an actual ring and can be used as wedding or engagement ink. The best part about this kind of finger tattoo is that you don't have to commit to a real ring!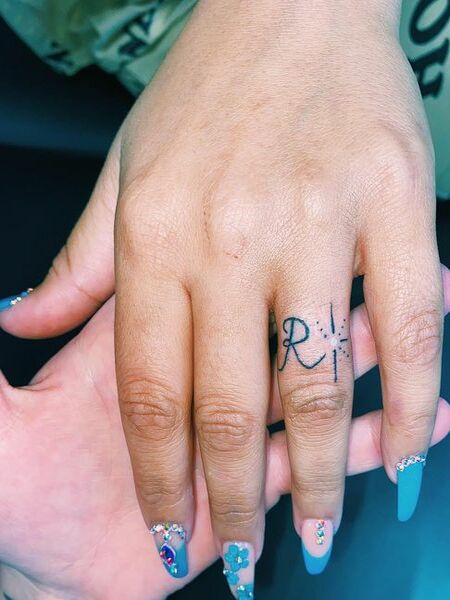 26. Ring Rose Finger Tattoo
The rose finger tattoo is a beautiful design that has been used for many centuries as a symbol of love and friendship. This tattoo can be done in any color, but black and red are by far the most popular choices. One rose has a stem and thorns while the other does not.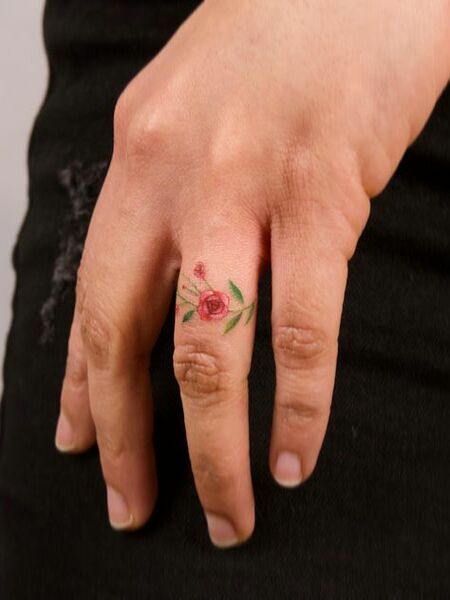 27. Rosary Finger Tattoo
This tiny rosary tattoo is the perfect choice for someone who wants a subtle religious tattoo. It's cute and elegant, but it also has meaning behind it. The rosary represents faith, hope, and love. This tattoo shows that you're proud of your beliefs and you want everyone to know it!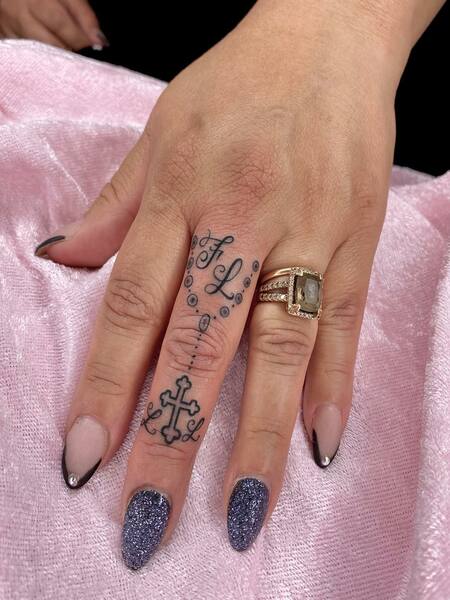 28. Semicolon Finger Tattoo
A semicolon tattoo represents suicide awareness. It shows that you're aware of the issue and want to help those who need it most in any way possible. This is a great way to show off a cause that means a lot to you in an elegant way!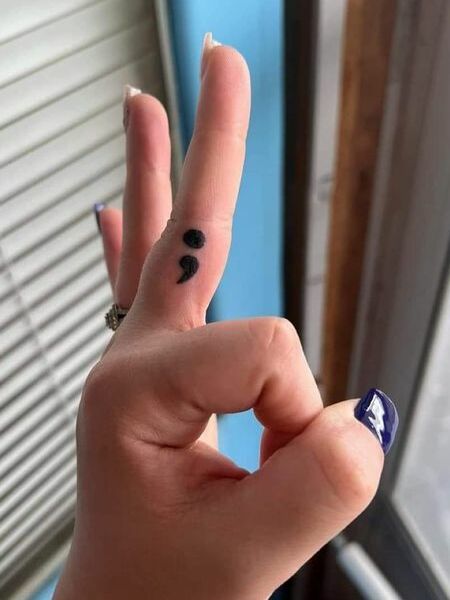 29. Small Finger Tattoo
Small finger tattoos are perfect for girls who don't like bold designs or people who have doubts about getting inked. The small size of tattoos fits the area perfectly and does not need any extra space for the design to fit in properly. With so many options available for small tattoo designs, one can easily pick a unique design that best suits their personality.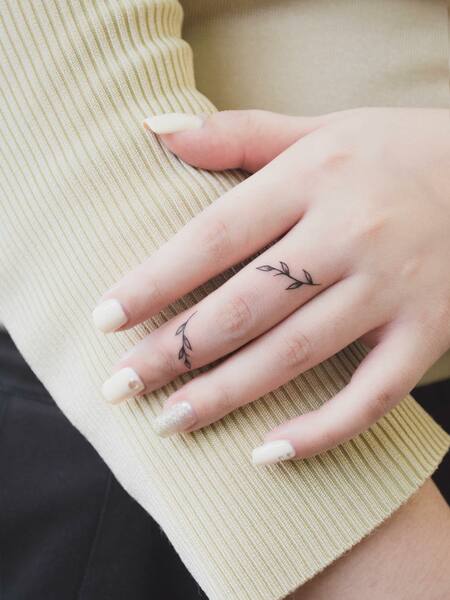 30. Snake Finger Tattoo
The snake finger tattoo can be positioned around your finger like a ring or as a bracelet around your wrist. The placement options and designs vary as much as the meaning of this mysterious reptile. Some cultures see snakes as symbols of wisdom and new beginnings, while others associate them with evil and temptation. Snakes are also associated with fertility, rebirth and healing because they shed their skin every year.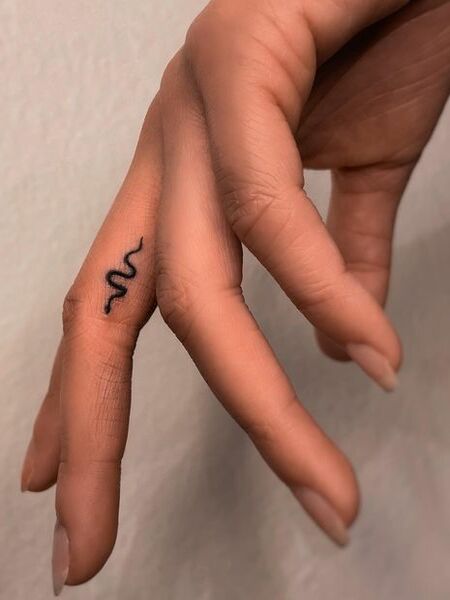 31. Star Finger Tattoo
Stars can be tattooed on any part of the body with plenty of options for design, size and positioning. They can be placed alone or in groups to create constellations, but their meaning remains universal. The star symbolizes guidance and hope, which makes it an ideal choice for tattoos.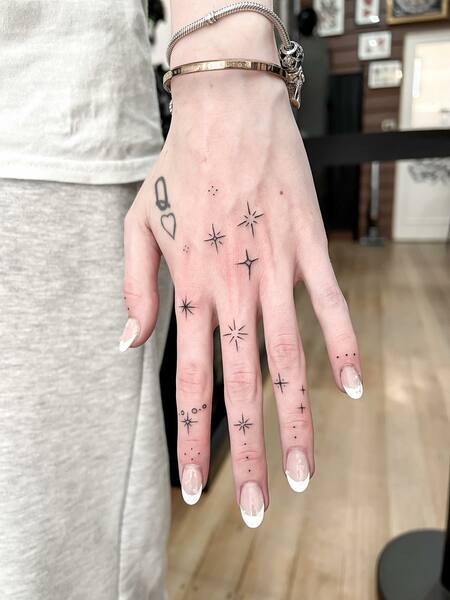 32. Unalome Lotus Flower Finger Tattoo
A small lotus flower tattoo with an unalome symbol is a simple and beautiful design for finger tattoos. The unalome symbol represents the path to spiritual enlightenment. It has a spiral at the beginning of the path, which represents confusion and chaos, and then a straight line that represents reaching your goal. At the end of this path is the dot, which represents reaching perfect enlightenment or nirvana.
33. Wave Finger Tattoo
The wave tattoo is another popular finger tattoo idea. Waves are often associated with water, making them symbolic of emotion, depth, and clarity. For that reason alone they can be seen as a meaningful and powerful tattoo design choice. You can also work towards building your own personal meaning behind your wave tattoo design by choosing an image that means something special to you or adding details like color or symbols to your waves.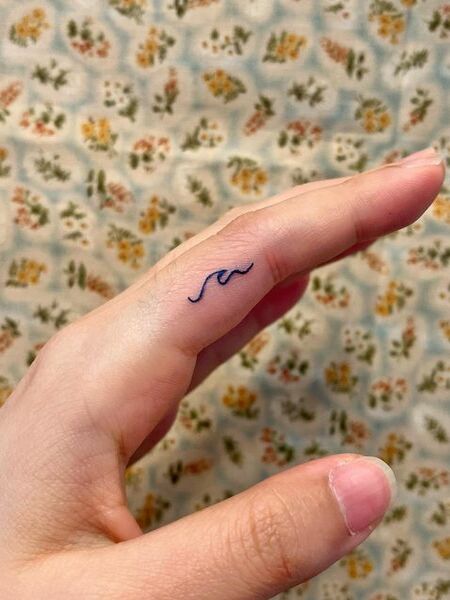 34. Anchor Finger Tattoo
Anchor finger tattoos are very popular. This tattoo is perfect for anyone who wants to give their fingers a new look. The anchor is a symbol that has been used by sailors for centuries to show stability and safety. While it has a wide range of meanings, the anchor is often used to show that you have both feet firmly planted on the ground. This small anchor tattoo is great for someone who wants something subtle but with a deep meaning behind it.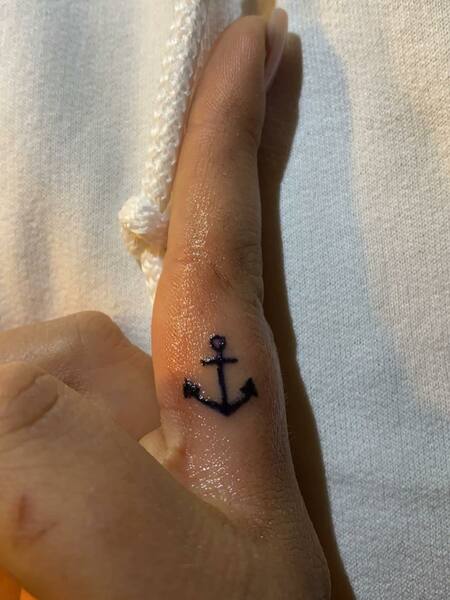 35. Black Finger Tattoo
A black finger tattoo, in most cases, will be a solid black circle or line. This is a great option for those who want to keep the tattoo hidden from view unless they choose to show it off. It can often be easily covered up with makeup if need be. A black finger tattoo looks amazing on the hand. It has a stunning design that is not only simple but also elegant. The best thing about this tattoo is that it can be worn just anywhere on the body.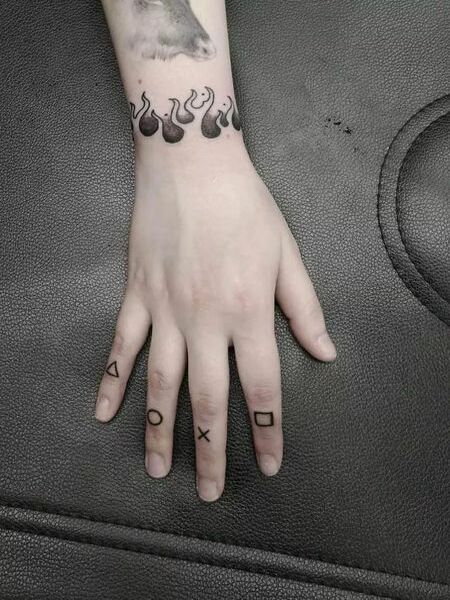 FAQ
How Do Finger Tattoos Fade?
Finger tattoos fade because the ink is so close to the surface of your skin. The sun and other environmental factors can have an impact on your finger tattoo. There are ways that you can protect your tattoo to help prevent it from fading quickly. This includes wearing gloves when washing dishes or doing any other activity that involves getting your hands dirty.
Do Finger Tattoos Hurt?
Finger tattoos do hurt more than other areas of the body because there is less fat on fingers and not much muscle either; however, if you have had other tattoos before then this should not be too bad for you in terms of pain levels since most people find that their tolerance increases with each.