30 Best Collarbone Tattoos For Women in 2023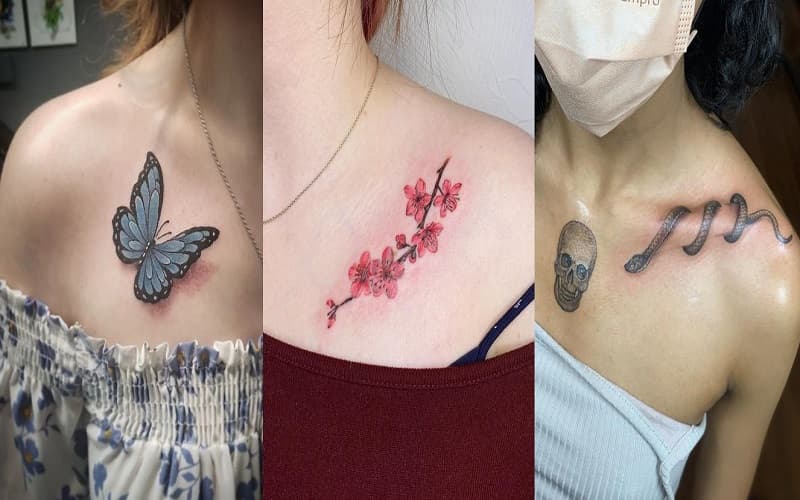 Collarbone tattoos are a unique and fun way to showcase your personality and style. The delicate collarbone area is a great place for flower tattoos, small writing, or other dainty designs.
The collarbone offers many creative opportunities for placement, and the area is easy to cover if needed. In addition, many women find that the collarbone is a less painful area for getting inked. Common collarbone designs include dragons, feathers, and flowers.
Collarbone tattoos are a beautiful way to accent the natural curve of your body. They can complement the body's natural contours and enhance its existing beauty, or provide an eye-catching focal point that draws attention in all the right places. Take a look at these best examples of collarbone tattoos for some inspiration on what design would work best for you.
1. Anchor Collarbone Tattoo
The anchor collarbone tattoo is a small symbol that can have a lot of meaning to the wearer. The anchor has been a symbol of strength, stability and safety for centuries, while at the same time it has been seen as a symbol of hope and steadfastness in the face of adversity. The anchor is also symbolic of being grounded and stable even in tumultuous situations. This collarbone tattoo design is perfect for women who want to portray their strength and resilience.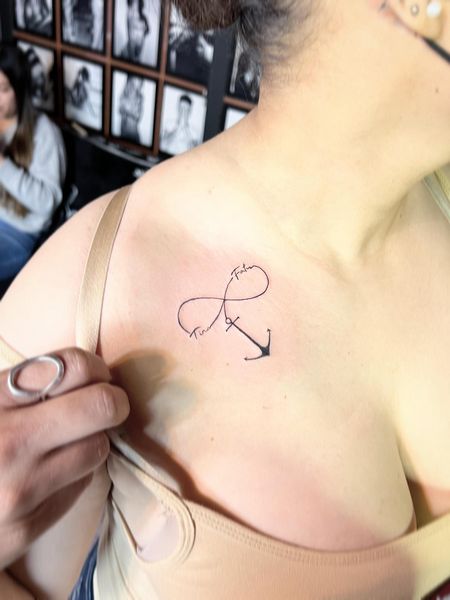 2. Angel Wing Collarbone Tattoo
An angel wing collarbone tattoo design is a very popular choice for women, especially those with a strong spiritual side or those who have recently gone though some major life changes such as getting married or surviving illness or an accident. An angel wing collarbone tattoo symbolizes protection from evil spirits and influences and will bring the wearer success in all aspects of her life.
3. Arrow Collarbone Tattoo
The arrow is a classic tattoo symbol, and it's easy to see why: its shape is simple, yet striking. It looks great in black and white, but it can also be incorporated into a more elaborate design that features other elements such as flowers or feathers.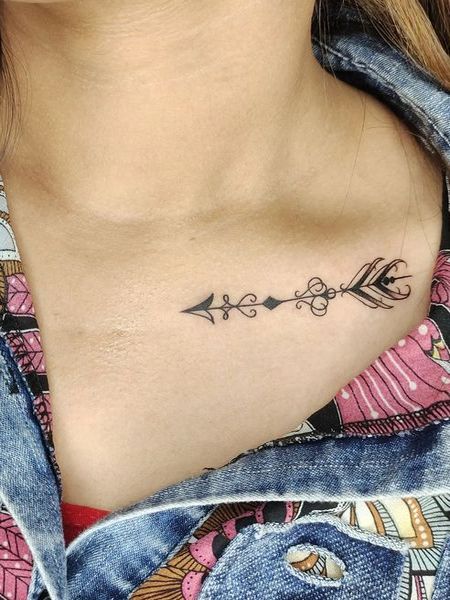 4. Bat Collarbone Tattoo
The bat is a symbol that can mean many things, from power to protection to good fortune. The darkness of the bat's wings against your skin can create a dramatic effect that will really show off your tattoo.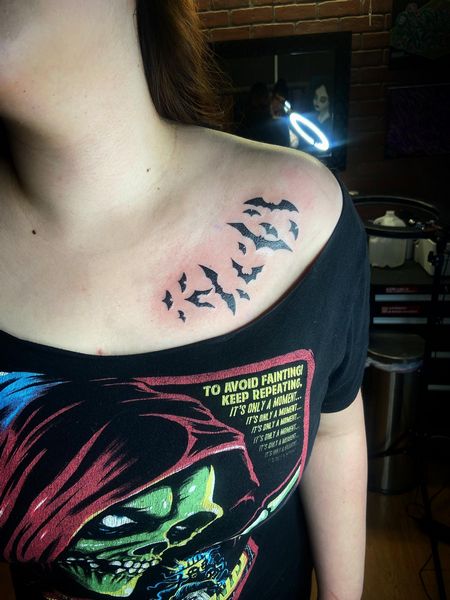 5. Bird Collarbone Tattoo
This beautiful bird collarbone tattoo is perfect for someone who loves nature and wants an elegant design. The colors of this piece are simple and not too bold, making it an ideal choice for those who want something subtle yet still meaningful.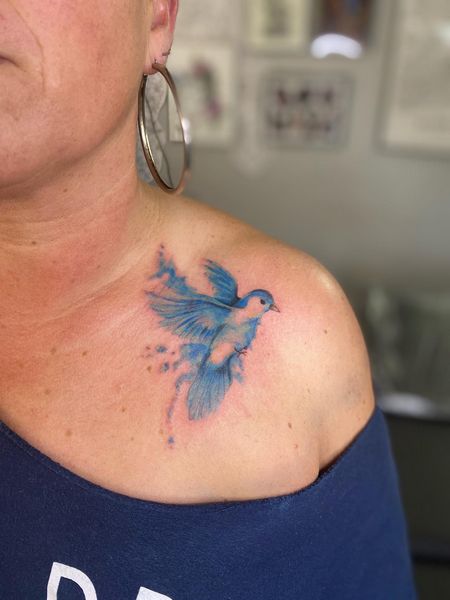 6. Butterfly Collarbone Tattoo
A butterfly collarbone tattoo is the perfect option for anyone who loves the insect and wants to add a bit of color to their ink collection. The vibrant colors of butterflies can really make your tattoo stand out, which is why this piece is perfect for those who want something that's both visible and unique.
7. Cherry Blossom Collarbone Tattoo
The cherry blossom is not only one of the most popular tattoo designs, it is also one of the most popular collarbone tattoos! The beautiful flowers make a really pretty tattoo design and using them to adorn the collarbone makes for a really feminine and sophisticated piece.
8. Cloud Collarbone Tattoo
As cloud tattoos are becoming more and more common, it is not surprising that they would also be used as collarbone tattoos. Clouds are a very unique design choice that can be done in many different ways, making them completely customizable to your needs and wants!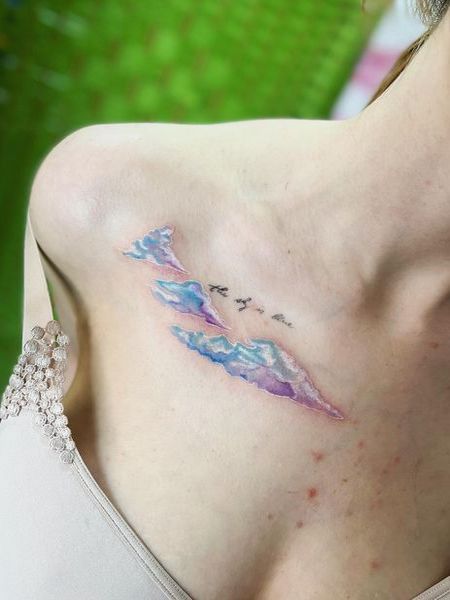 9. Colorful Collarbone Tattoo
The best thing about colorful tattoos is that they can be as vibrant or as muted as you want them to be. From bright pink cherry blossoms to light blue watercolor swirls, colorful tattoos can be worked into almost any design.
10. Constellation Collarbone Tattoo
Constellations have been popular in the tattoo world for a while now, and it doesn't look like their popularity is fading anytime soon! Constellations make great collarbone tattoos because the lines can wrap around the collarbone and still look great.
11. Dragon Collarbone Tattoo
Dragons are a popular tattoo choice for women, and the collarbone is an ideal spot for them to slither into. Some prefer to get their dragon tattoo across the top of their shoulder blades or down their arms. You could also place them on either side of your neck or on your upper back.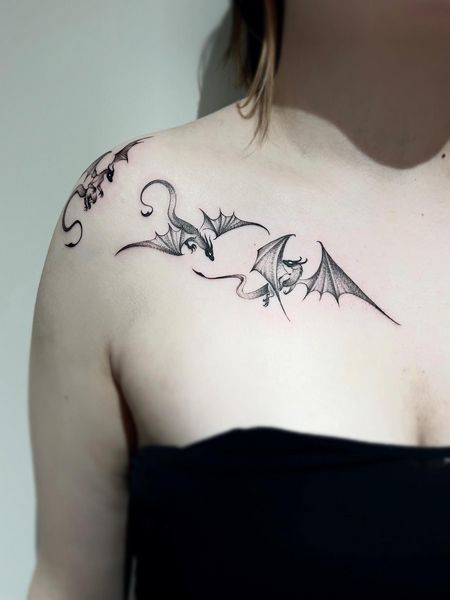 12. Fine Line Collarbone Tattoo
Fine line tattoos are another good option for the collarbone area. A fine line flower or feather design looks beautiful against a woman's clavicle. Some people like to keep it simple with a single flower or feather while others prefer to create a pattern of these elements along their neck and shoulders.
13. Floral Collarbone Tattoo
For those who want something dainty that will make a statement but isn't too showy, floral tattoos are the perfect solution. Flowers are well-known symbols of femininity, beauty and romance, making them an ideal choice for women who want to express their personality through their body art. A floral collarbone tattoo can be as small as a single flower or as large as a bouquet of blooms wrapped around the collarbone,the possibilities are endless.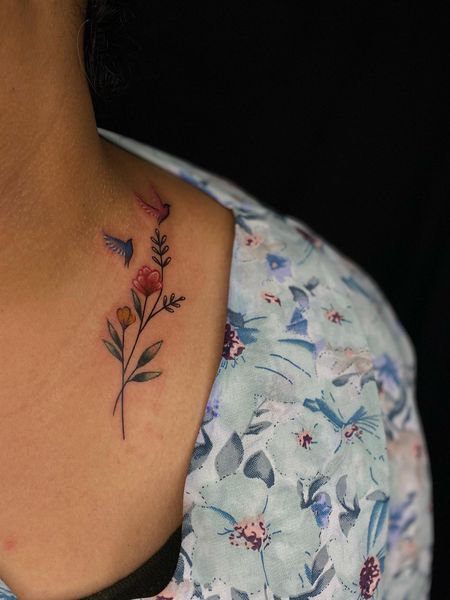 14. Flower Collarbone Tattoo
As mentioned above, flowers are a popular choice for tattoos because they are so versatile and meaningful. Certain flowers have symbolic significance,roses represent love, daisies symbolize innocence and lilies stand for purity,so you can choose blooms with special meaning to you or pick your favorite variety regardless of its meaning.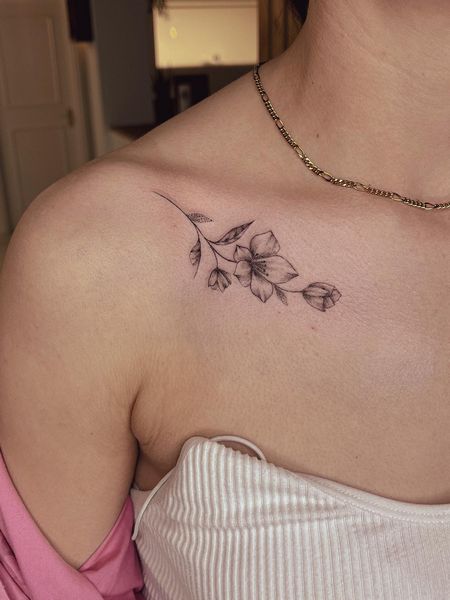 15. Heart Collarbone Tattoo
A heart collarbone tattoo is the perfect symbol of love. With its location so close to the chest, this tattoo can really highlight a woman's natural curves and bring out her sex appeal. If you are looking for a design that is simultaneously sweet and sexy, this may be the one for you!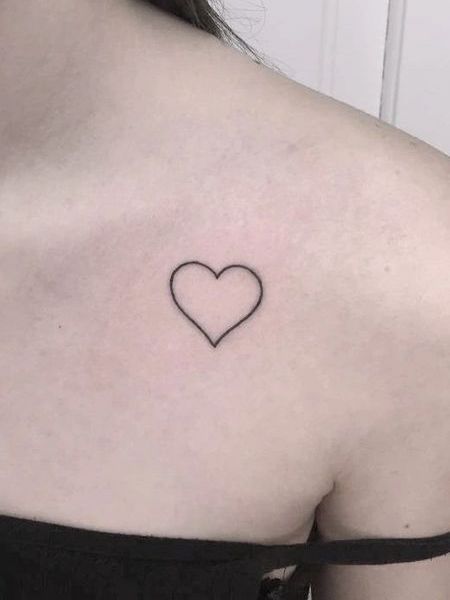 16. Leaf Collarbone Tattoo
The collarbone is an ideal spot for a leaf tattoo. Whether you want a single leaf or a whole branch of them, these designs will look amazing on your body. Leaves are an easy way to add some color and feminine decoration to your body. You may also want to pick leaves from flowers or trees that have meaning to you, such as roses or the tree under which you were married.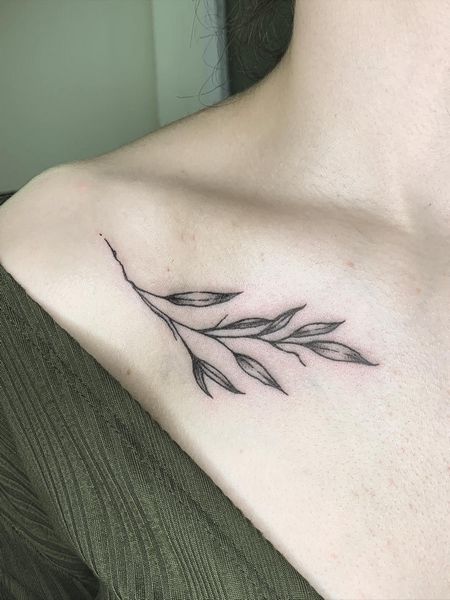 17. Mandala Collarbone Tattoo
Mandala tattoos are incredibly popular right now. They work well on the collarbone due to their intricate designs and use of negative space. The collarbone provides a natural frame for the tattoo that makes it look even more stunning. Mandala tattoos can also be extended into other areas, such as the sternum or shoulder. This tattoo can contain colors or be done in black ink only.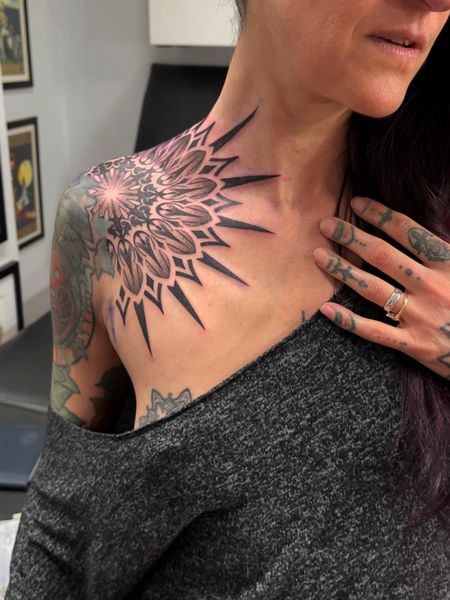 18. Moon Collarbone Tattoo
The moon is another popular option for a collarbone tattoo. The crescent shape flows naturally with the contours of this area, making it a stunning placement for this motif. Some people choose to fill the entire area with an image, while others may opt for something simpler, such as a single line or dot tattooed at each end of the crescent shape. These can also be combined with other simple symbols, such as stars, arrows or feathers.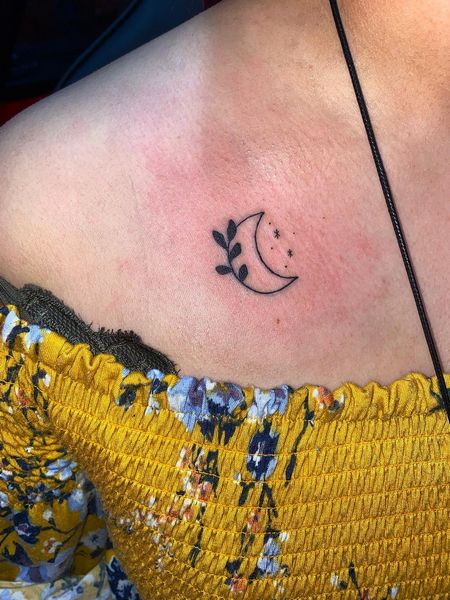 19. Plant Collarbone Tattoo
A botanical collarbone tattoo looks like a tendril of flowers or leaves climbing the side of your neck. This collabone tattoo idea is especially stunning on women with long hair that can cascade down their back, making the design pop even more.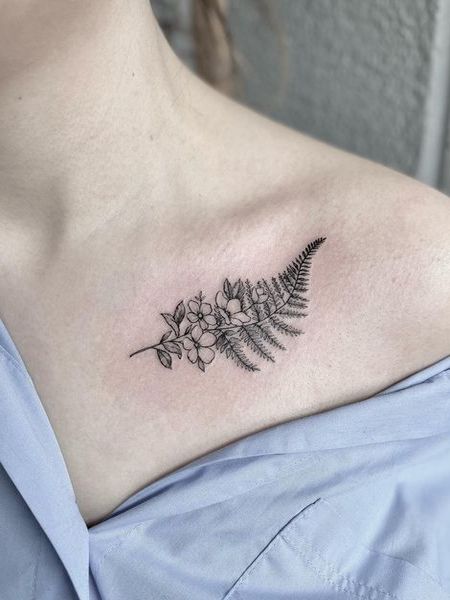 20. Roman Numeral Collarbone Tattoo
If you want something more minimalistic and subtle, consider getting a Roman numerals collarbone tattoo. This could be a special date or time in your life, such as the time you were finally done with school or the day you got married.
21. Rose Collarbone Tattoo
If you love roses tattoos, then we think that a rose collarbone tattoo is the one for you. Roses look so beautiful on the collarbone area as they follow the curves of the bone, and they look stunning in black and white or in colour. Roses are one of the most popular flowers when it comes to tattoos and we can see why!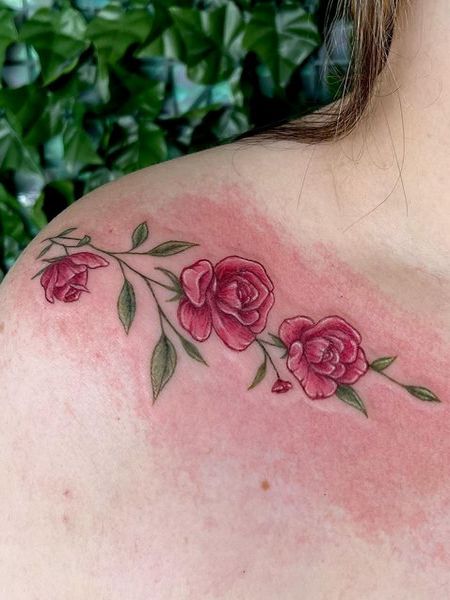 22. Small Collarbone Tattoo
If you don't want anything too big, then we think that small collarbone tattoos are for you. You can get a dainty design or quote on your collarbone area and we guarantee that it will look gorgeous. From small flowers like daisies to pretty birds, there are so many different designs that would look great on your collarbone area.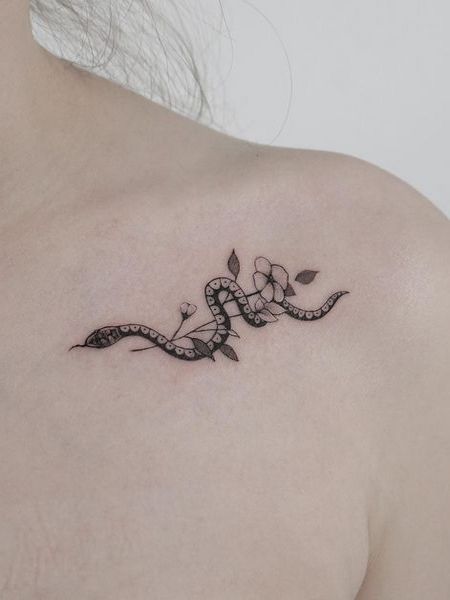 23. Snake Collarbone Tattoo
The collarbone may seem like a strange place to get a snake tattoo, but it's actually very common. A snake crawling down your collarbone can be a beautiful piece, as well as an unexpected one. You could even go for something more abstract if you'd like, even just a snake eye or the beginning of a snake's head it would still look amazing.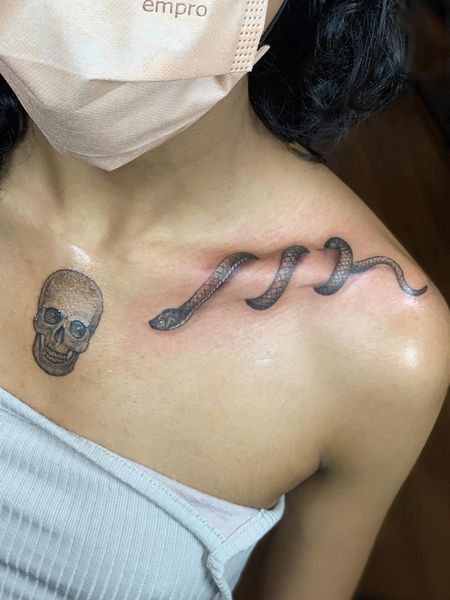 24. Snowflake Collarbone Tattoo
A snowflake might not seem like it would work on the collarbone, but if you think about it, it actually makes perfect sense. Because it's such a wintry symbol, choosing to get a snowflake tattooed on your collarbone gives you the opportunity to wear cute off-the-shoulder tops in the winter and show off your ink at the same time.
25. Space Collarbone Tattoo
If you want a small tattoo that is not too obvious but is still trendy, then look at these spacing collarbone tattoos. These tattoos are perfect for those who want to get a small tattoo but also don't want something too plain. A spacing tattoo is trendy because it looks great with any outfit and will never go out of style. These tattoos are truly beautiful and unique!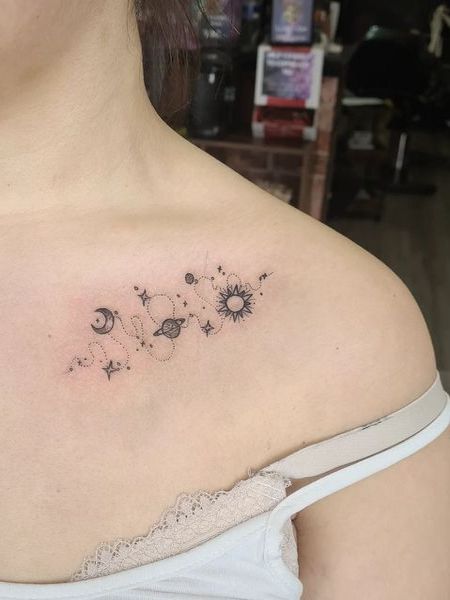 26. Star Collarbone Tattoo
When we think of stars, we usually think of constellations or zodiac signs. But the stars in these star collarbone tattoos aren't like any other star! These stars have different designs and shapes that make them stand out from the rest of the crowd. These star tattoos will make your collarbone look elegant and stylish!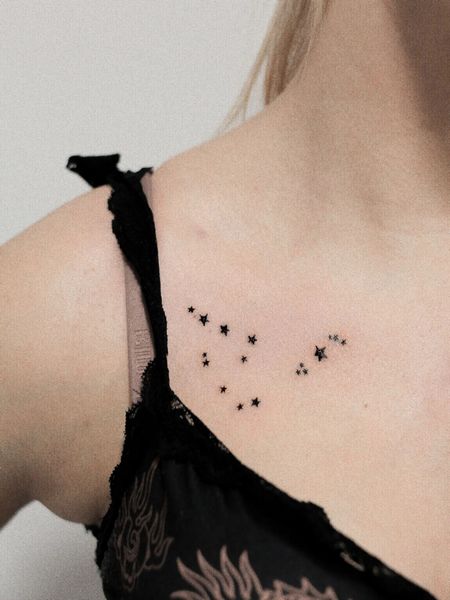 27. Sun And Moon Collarbone Tattoo
The sun and moon have always been considered as two contrasting but equally important parts of our universe. These two elements have been used together in many different cultures and religions to represent the duality of life and nature. This is why they make such excellent designs for a collarbone tattoo. The fact that they're right on your collarbones also makes them highly visible and gives them an awesome look. If you want something unique to show off, this is definitely worth considering.
28. Sword Collarbone Tattoo
The sword was often used in past times as a symbol of honor and bravery among soldiers, so getting a collarbone tattoo of a sword will definitely make you stand out among other people. It's also quite easy to create a stunning sword design from scratch or from existing templates.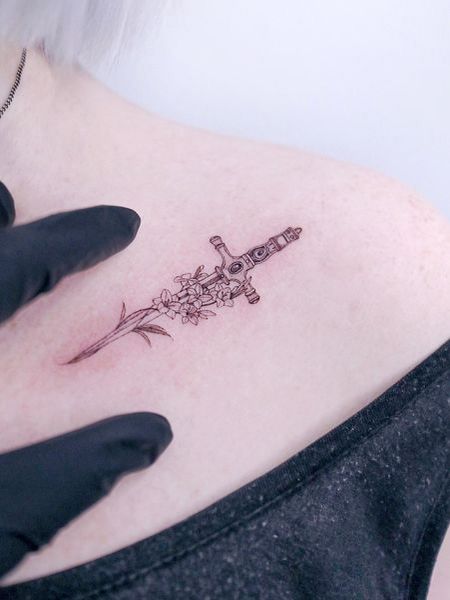 29. Tiny Collarbone Tattoo
Collarbone tattoos are a beautiful, delicate way to show your personality. While the entire collarbone doesn't necessarily make for the best canvas, a tiny tattoo in this area can be a great accent. You can choose something that speaks to your interests or something that will remind you of a special time in your life. Smaller tattoos in this area also tend to work better with more subtle designs, so the focus is on the words or symbols rather than the artwork itself.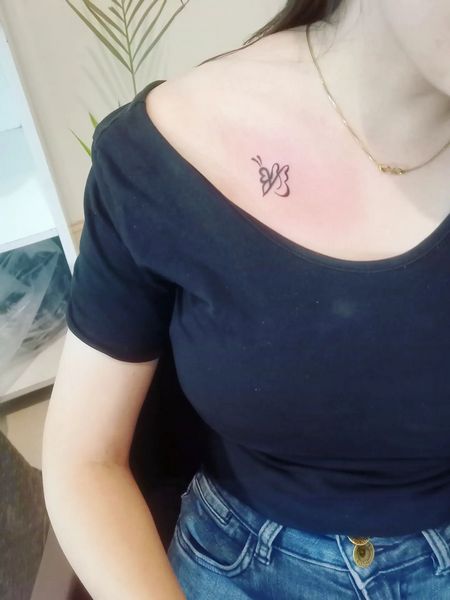 30. Watercolor Collarbone Tattoo
Watercolor tattoos have become increasingly popular over the past few years. Because they're usually a little less precise and defined than traditional tattoos, they tend to look more like actual paintings on the skin. This style is quite effective when placed on the collarbone, making for a unique piece of art that's still feminine and subtle, especially when it's small enough to easily conceal.
FAQ
Do collarbone tattoos hurt?
The skin on the collarbone is very thin, but also really stretchy. The stretchiness can be another painful element when you're getting a tattoo because when you're inked, the skin stretches and then pulls back together along with the ink, which causes pain.
Are collarbone tattoos attractive?
It's not a surprise that the collarbone area is an incredibly popular spot for a sexy tattoo. No matter the size, shape, or color, the ink comes across so beautifully on such a delicate area. A person's collarbones are graceful yet strong, making them the perfect place for a sexy tattoo.