35 Beautiful Shoulder Tattoos For Women in 2023
Shoulder tattoos for women are a great choice. Shoulder tattoos can be hidden easily and, when revealed, are incredibly striking. They're also incredibly versatile, as you can put them on your upper arm too. If you want to stand out with a beautiful tattoo design, then a shoulder tattoo is the perfect option for you.
Shoulder tattoos for women can be both feminine and bold depending on the style of the tattoo. Shoulder tattoos are a great choice because they can extend to the back, neck, or side of the body. However, shoulder tattoos can also be painful to get due to the thin skin in this area.
A tattoo on your shoulder is an opportunity to show off your creativity and express who you are. It may take time to find the perfect design, but the wait will be worth it. Shoulder tattoos can be complex or simple,the choice is yours. Some women like to show their personality through a tattoo, while others prefer a more abstract design. Whatever style you prefer, there's a tattoo for you.
1. Blackwork Shoulder Tattoo
This type of tattoo is very popular among women looking for something artistic and unique. Blackwork uses only black ink and negative space, which creates a dramatic effect that stands out against the skin. This style works well with any shape or size of shoulder, because it can be adapted to fit almost any part of the body.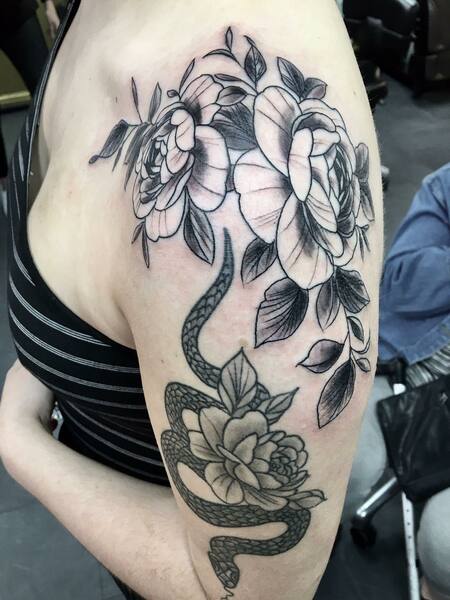 2. Butterfly Shoulder Tattoo
One of the most common shoulder tattoos for women is the butterfly tattoo. Butterfly tattoos come in all sizes, colors, and styles. Some are as simple as your favorite insect, while others include flowers or other details. Larger butterfly tattoos may spread across the whole shoulder or part of your back or chest. You can have just one butterfly on your shoulder or create an entire scene with flowers and other insects surrounding.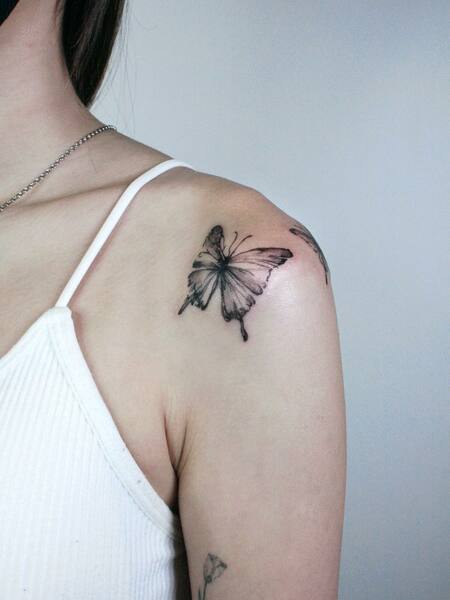 3. Cherry Blossom Shoulder Tattoo
Cherry blossoms are very popular in Asian culture, and the cherry blossom tattoo has many different meanings in different cultures. It's a reminder that life is almost overwhelmingly beautiful but that it is also tragically short. In Chinese culture, cherry blossoms are associated with female beauty and dominance. If you want your tattoo to represent feminine power or your own personal strength as a woman, then you might consider getting a cherry blossom tattoo on your shoulder. You'll be able to show off your feminine side while also making it clear that you're not afraid of being strong.
4. Colorful Shoulder Tattoo
If you're looking to make a bold statement with your next tattoo, consider this colorful design! This large-scale piece features beautiful colors and intricate details that are sure to turn heads wherever you go. It's also perfect if you don't have much room on other parts of your body; this design works well on both men and women because it can be placed anywhere from the top of your back down to just.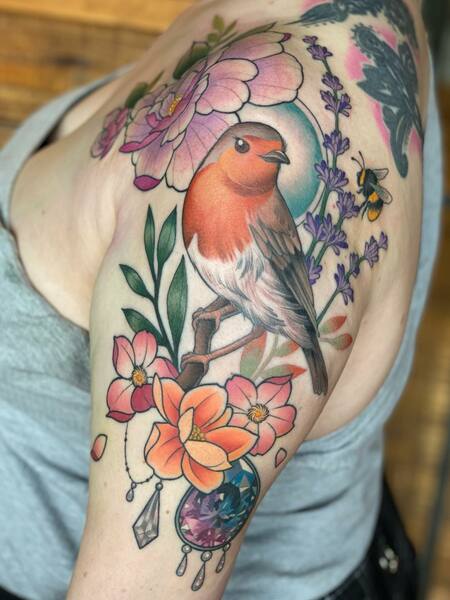 5. Dandelion Shoulder Tattoo
A dandelion tattoo is an excellent way to express your femininity. Dandelions are associated with luck and wishes coming true. This type of tattoo is ideal for someone who wants a large tattoo but does not want it to be too detailed. The dandelion can be drawn in black ink or have vibrant colors added to it. In addition, some people add other objects, like stars or birds, to the design to make it more unique.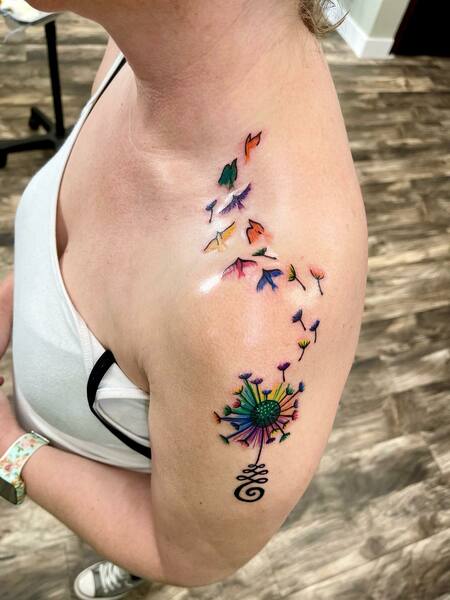 6. Dragon Shoulder Tattoo
Another popular choice for women is a dragon tattoo. Dragon tattoos can come in all different sizes and shapes and can be very colorful as well as simple black ink designs. A dragon can be drawn on its own or with other elements such as flames and tribal accents.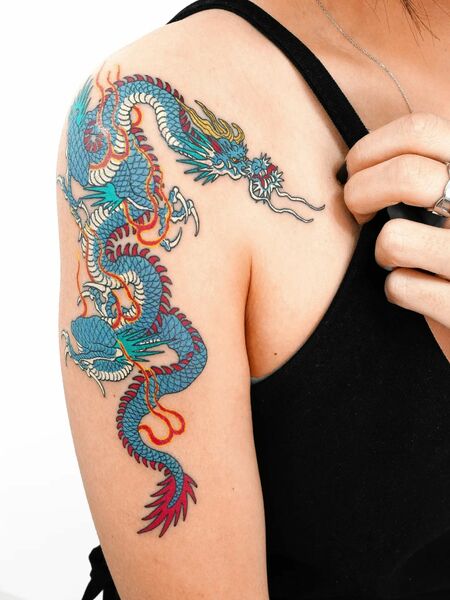 7. Fine Line Shoulder Tattoo
The fine line shoulder tattoo is a tattoo that uses thin lines and minimal shading to create a beautiful image. To get the best fine line tattoo, it's important to choose an artist who specializes in this type of tattoo. If you're looking for a unique design that you can show off all year long, consider getting a tattoo on your shoulder.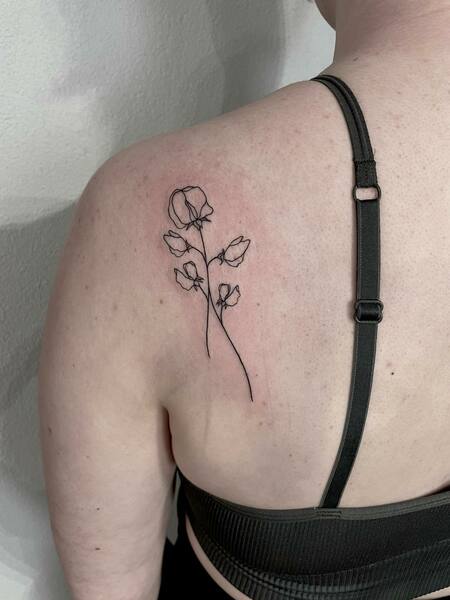 8. Fish Shoulder Tattoo
The fish shoulder tattoo is a large, intricate piece that typically covers most of the upper back and shoulders. The fish is often done in black ink with some color added throughout. A common design element of this type of tattoo is waves crashing around the fish, but other elements can include flowers or other natural elements.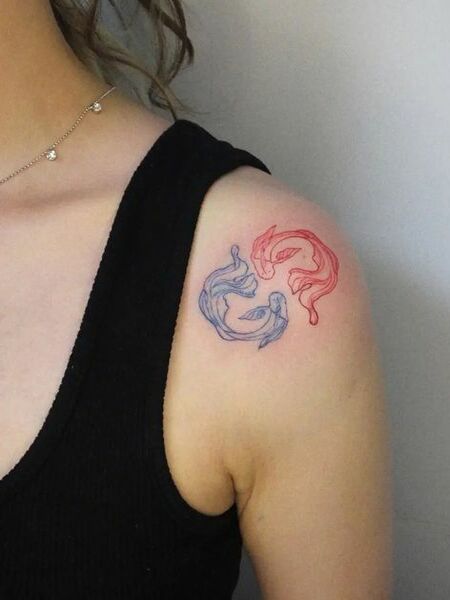 9. Floral Shoulder Tattoo
Flower shoulder tattoos are beautiful and popular designs for women. Flowers are a great design because they come in a variety of shapes and colors which makes it easy to create a unique design. For instance, you could choose a delicate flower that is small in size or go with a large colorful flower design like those shown here.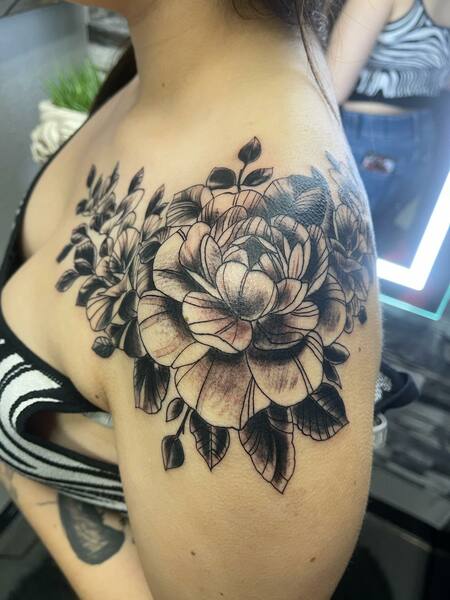 10. Flower Shoulder Tattoo
The floral tattoo is also very versatile because it can be placed anywhere on your shoulder such as the front or back part of your shoulder, upper or lower arm, or around your shoulder blade. A floral tattoo is a great choice because it gives you plenty of options when designing your tattoo.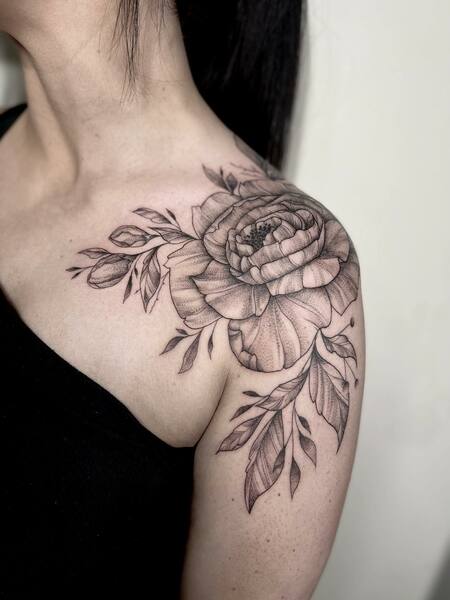 11. Galaxy Shoulder Tattoo
This beautiful galaxy shoulder tattoo is the perfect tattoo for women who want to show off their ink without having a huge, overwhelming tattoo. The shading and coloring of this particular piece are spot on!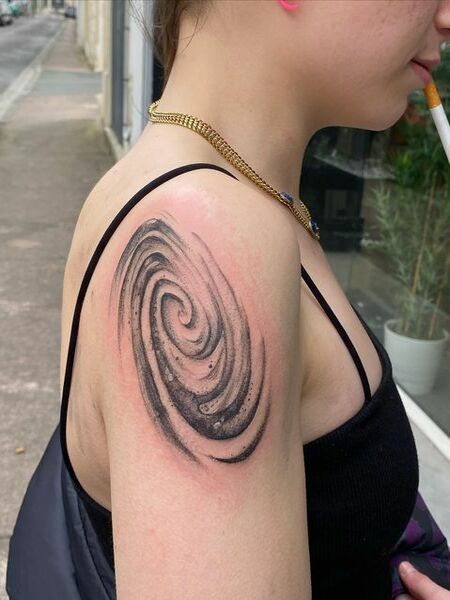 12. Half Sleeve and Shoulder Tattoo
This half sleeve and shoulder tattoo is the perfect tattoo for women who want something unique. The style of this piece is much more modern than traditional tattooing, but it looks so good! It's also a great option for women who want to cover up an existing tattoo.
13. Heart Shoulder Tattoo
The heart is a common symbol that is often used in tattoos. It can represent a variety of meanings including love and passion or a memorial to a loved one who has passed away. A heart tattoo on the shoulder can be bold or subtle depending on your personal preference. You can choose from many styles ranging from intricate Celtic designs to simple watercolor splashes.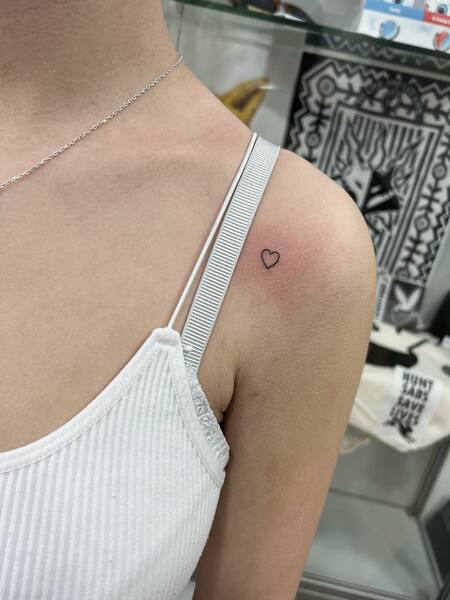 14. Leaf Shoulder Tattoo
Floral themes are also popular for shoulder tattoos for women. They offer great versatility in terms of color and size because you can choose to fill in the entire space with flowers or stick to one or two blooms if you prefer something less prominent. You also have options when it comes to style: you could get realistic-looking flowers or go for something more abstract such as geometric shapes that mimic leaves.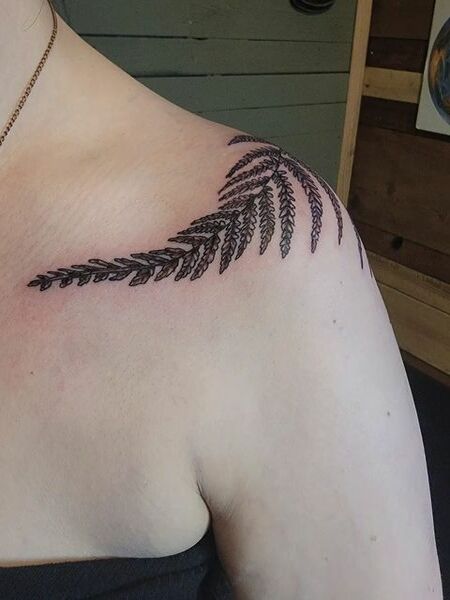 15. Mandala Shoulder Tattoo
The mandala is a circular design that has been used in various cultures for centuries. Historically, it was made as a form of meditation and given religious significance. Today, the mandala is often chosen as a symbol of balance and harmony. This tattoo would be best done with bright colors and intricate patterns, and looks amazing in symmetrical designs. It's an eye-catching way to add a pop of color and style to your wardrobe! The mandala is also one of the few designs that works well on both the top and bottom half of the shoulder blade.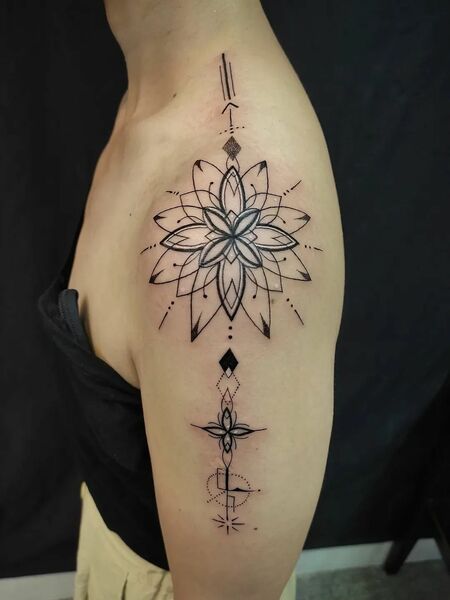 16. Minimalist Shoulder Tattoo
A minimalist tattoo is one that uses simple lines and designs without any shading or color. These tattoos are often small enough to fit on the upper arm or wrist, making them an ideal choice for those who want something discreet but still noticeable.
17. Mushroom Shoulder Tattoo
A mushroom tattoo is a great way to express your love for nature without having to get inked up with an earthy color scheme. This design features an intricate illustration of mushrooms in black and white ink. The design is simple but has plenty of details that make it stand out from other shoulder tattoos.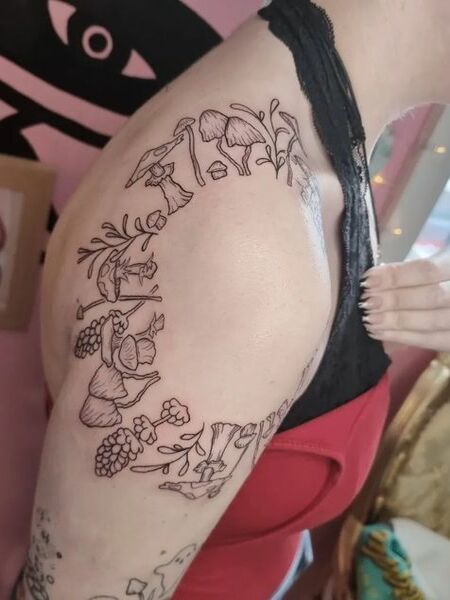 18. Octapus Shoulder Tattoo
This is a really cool octopus shoulder tattoo. It features an octopus with tentacles stretching all over the place and what appears to be an anchor at the bottom. This is a colorful, detailed design that would look great on anyone who loves sea life!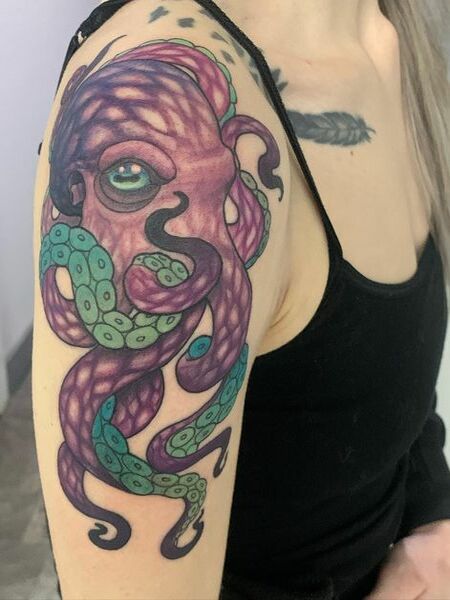 19. Ornament Shoulder Tattoo
This is a fun tattoo that can easily be hidden with a shirt if you need it to be. The tattoo has a lot of movement, which makes it perfect for the shoulder area. It also looks like something that would be found on a floor in one of the famous Italian buildings. The colors are bright and vibrant, which makes this tattoo stand out beautifully.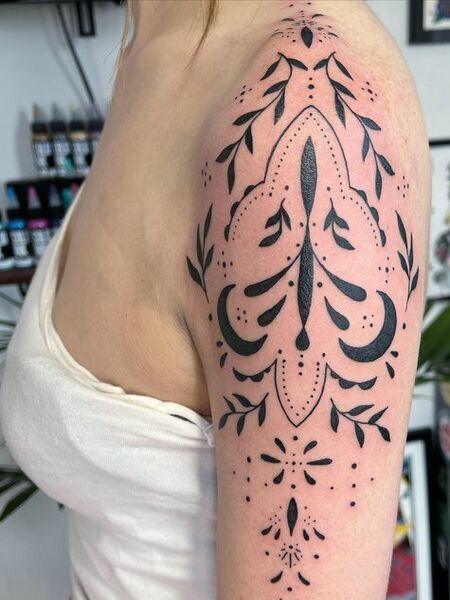 20. Palm Tree Shoulder Tattoo
The palm tree shoulder tattoo is popular for women who see the beach as their happy place. The tattoo shows a palm tree with the sun setting behind it. The image has nice shading and looks realistic enough to pass for a photograph of a real scene. This is one of those tattoos that you might get for yourself or for someone else who loves the beach or has a special memory attached to that place.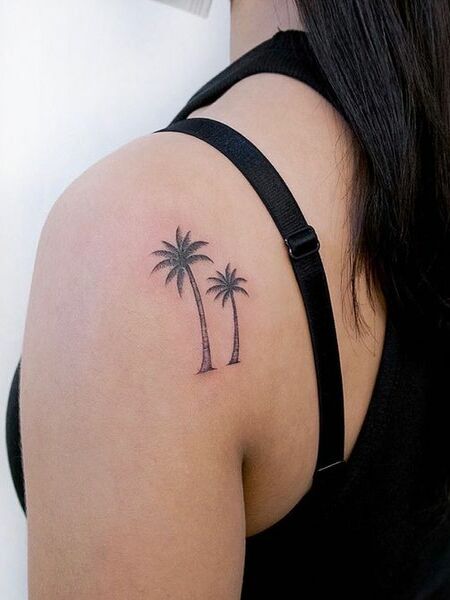 21. Quote Shoulder Tattoo
One of the most classic shoulder tattoos for women is the quote. Because this space is flat and open, you can use a lot of lettering without making it messy or crowded. If you have a favorite quote or mantra, this could be the perfect place to immortalize it on your body.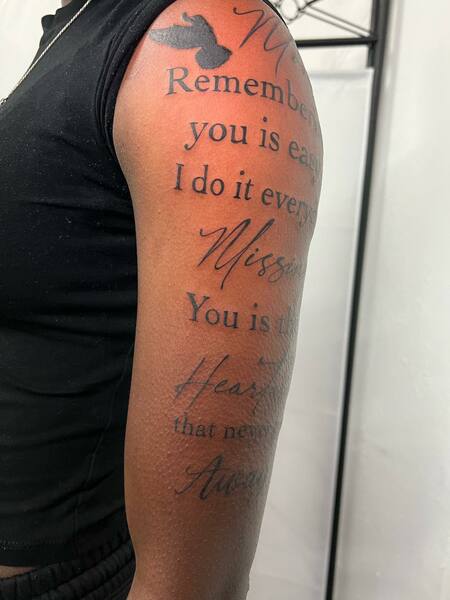 22. Rose Shoulder Tattoo
Another beautiful option is a rose shoulder tattoo. This variation on the traditional flower tattoo has endless possibilities depending on how realistic or abstract you want it to look. It's common to see roses used in larger designs that cover more than just the shoulder area for instance, wrapping around.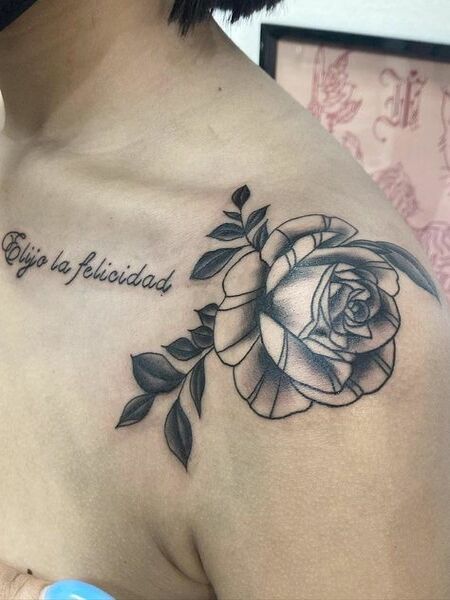 23. Shoulder and Arm Tattoo
This kind of tattoo usually starts at the shoulder and wraps around the arm to give more coverage area. This works especially well if you want to create a sleeve effect but don't want so much ink that it takes up your entire arm or leg. You can also cover up a bad tattoo by going for this style or maybe just have something interesting for people to look at when you wear a tank top.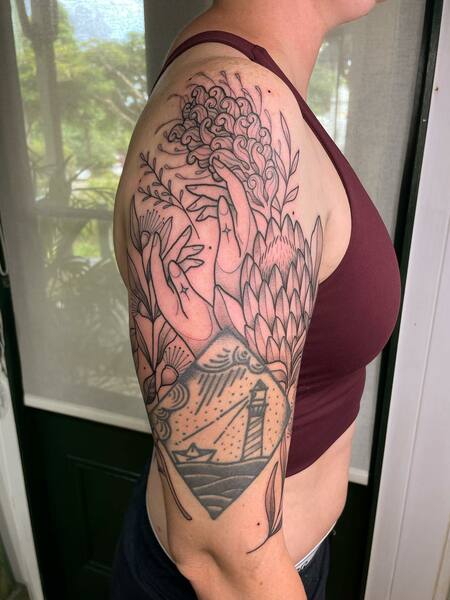 24. Shoulder and Chest Tattoo
The second part of this tattoo is on the chest and chest tattoos have been popular for quite some time now. One reason for this is that they provide an excellent opportunity for women to express their femininity in ways that are not usually possible with other types of body art. This particular design incorporates a heart shape into its design which makes it very feminine and romantic, while still being somewhat bold and edgy at times.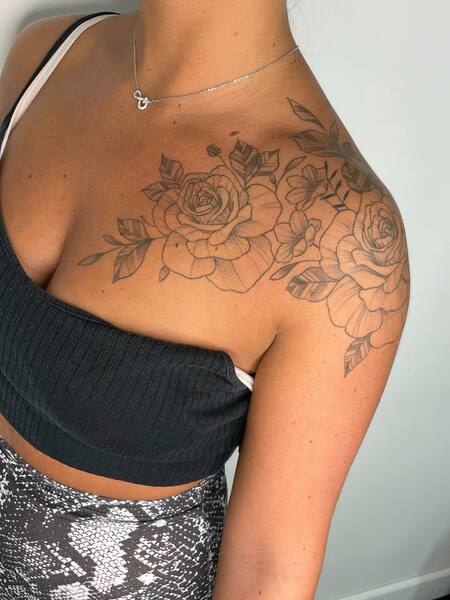 25. Shoulder Blade Tattoo
The shoulder blade is a great place for getting a small, discrete tattoo. It's also an attractive spot on a woman's body, so this type of tattoo will look great even with a low neckline or strapless top. Some popular designs for shoulder blade tattoos include flowers, birds and butterflies.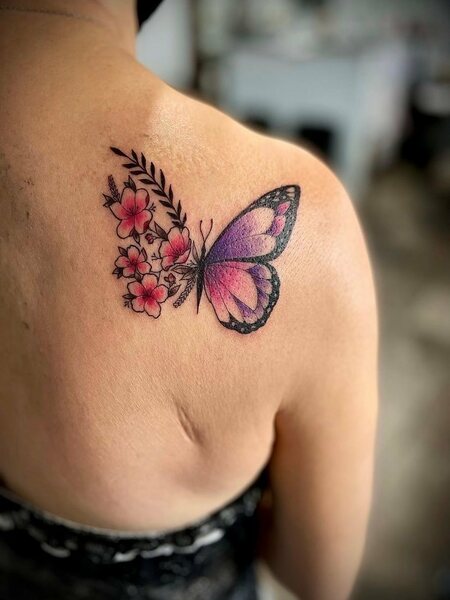 26. Shoulder Sleeve Tattoo
The other option for getting a shoulder tattoo is to get a full-on sleeve that covers the upper arm from the shoulder to the elbow or wrist. This type of tattoo can look amazing when done well but it's also a huge commitment. You'll be sporting this tattoo every day for the rest of your life, so think carefully before going ahead with it!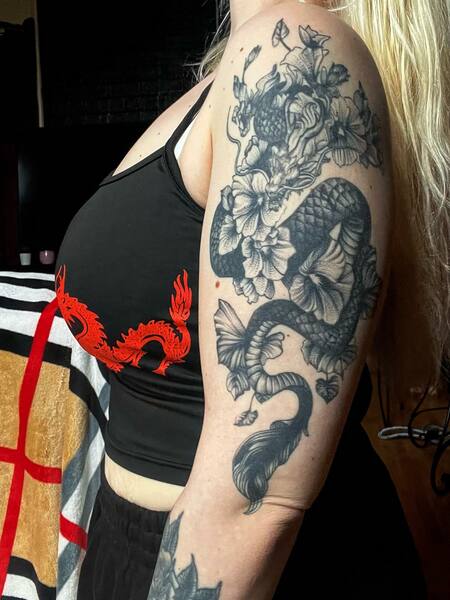 27. Skull Shoulder Tattoo
The skull shoulder tattoo adds a touch of mystery to the image, with an almost Gothic appearance. A skull shoulder tattoo is often big and bold, but not always; they can also be small, delicate and pretty. A skull shoulder tattoo is usually a popular choice for women because the design can fit well in this area, and can be designed to look very feminine. Skulls are often associated with death, but some people see them as symbols of rebirth.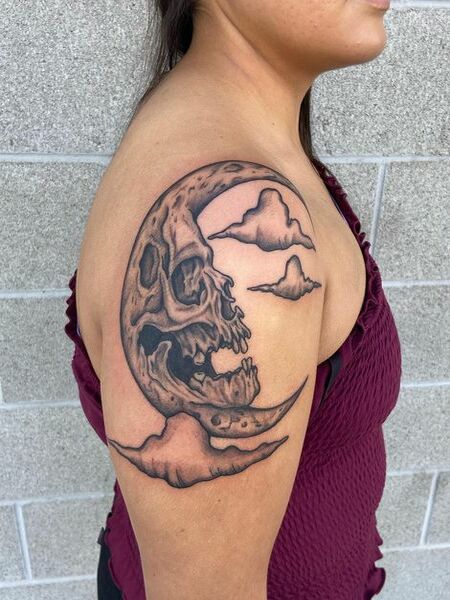 28. Small Shoulder Tattoo
The small shoulder tattoo can be used to make a statement or just show off your artistic talents. Small shoulder tattoos are often created on both shoulders and can also be used to create a larger design that runs along your upper back. They are often very feminine in appearance, as they allow you to show off the curves of your body and the graceful lines of your shoulders.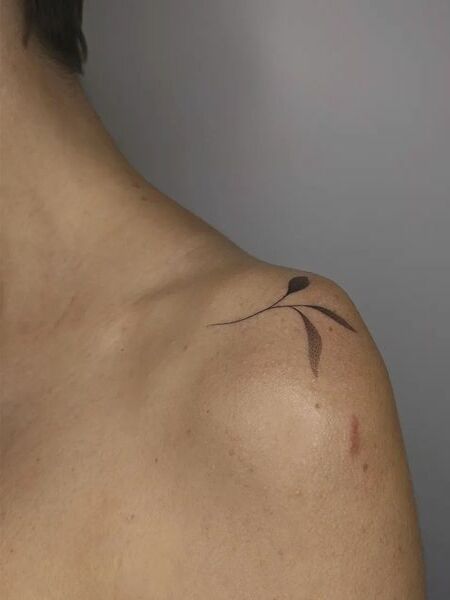 29. Snake Shoulder Tattoo
A snake is an iconic design element and one of the most popular choices for shoulder tattoos. It can be portrayed in many ways,some snakes are traditional and realistic, while others are more abstract and stylized. If you want something with a pop of color, try adding some scales in reds or blues around the head or tail.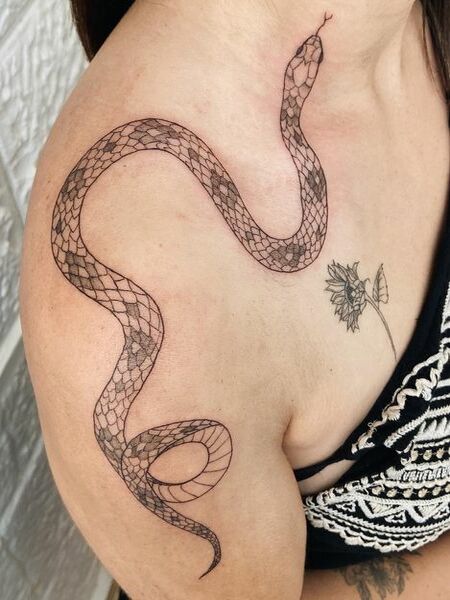 30. Spider Web Shoulder Tattoo
If you're looking for something with a vintage feel, then a spider web tattoo might just be the one for you! Spider webs are often associated with bad luck or negative things happening because they're where spiders live and spiders themselves aren't very well liked by humans.
31. Moon Shoulder Tattoo
The moon is a symbol of feminine energy and also represents fertility. When combined with the feminine beauty of flowers, it makes for an excellent tattoo choice for women. This blackwork moon tattoo features a beautiful bouquet within its lunar shape, creating an overall design that's both elegant and subtle.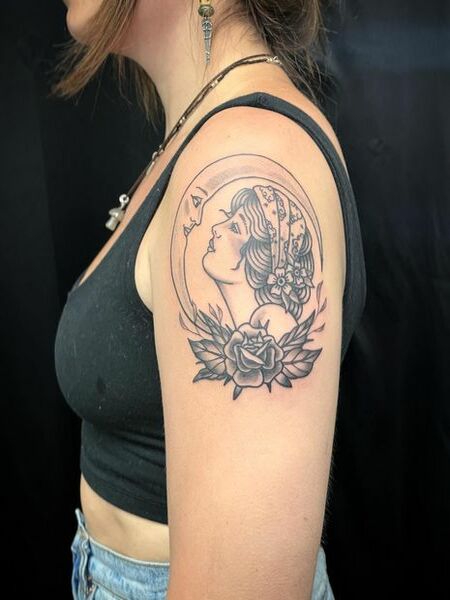 32. Sun Shoulder Tattoo
The sun is one of the most important symbols in Chinese culture. It represents fire, light, and energy. It is a symbol of life and death. The sun is also associated with masculinity, strength, courage, protection, power, wisdom, intelligence and success. A sun shoulder tattoo is a great choice for women who want to express their individuality by having something unique on their body that will reflect their inner beauty as well as outer beauty.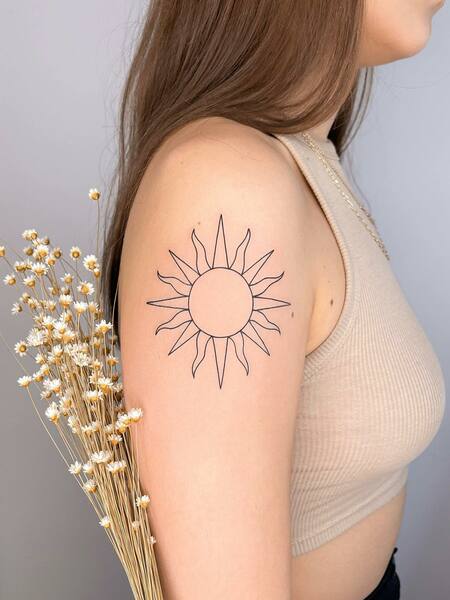 33. Sunflower Shoulder Tattoo
The flower is traditionally associated with feminine attributes like beauty and grace, but sunflowers in particular have been linked to adoration, loyalty, and longevity. This colorful shoulder tattoo depicts a fierce-looking sunflower with bright yellow petals surrounding a dark brown center.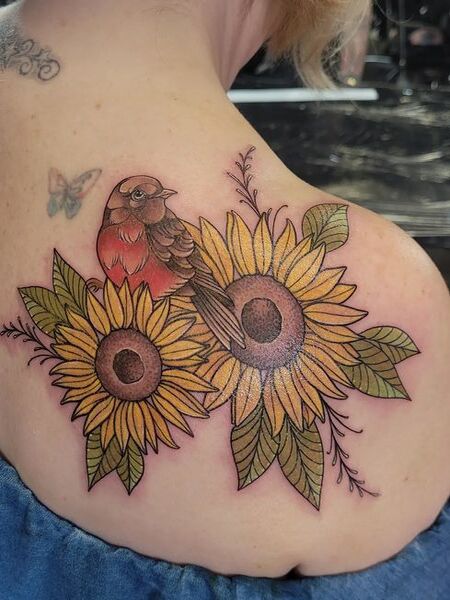 34. Traditional Shoulder Tattoo
Traditional shoulder tattoos can include black and grey ink that has a lot of detail. These tattoos typically have many different symbols, such as skulls, nautical themes, or banners that have lettering. These tattoos usually take up most of the upper part of the arm and can extend onto the chest and back.
35. Vine Shoulder Tattoo
A vine shoulder tattoo can be feminine or masculine. It can be used to create heart shapes with flowers or leaves, or it can be used to create more intricate designs. Depending on what type of vine you use, it could look like ivy growing around your shoulder or it could look more like a flowering vine with roses. The vines do not need to connect in any way; they could just go in one direction along your arm to create a unique design.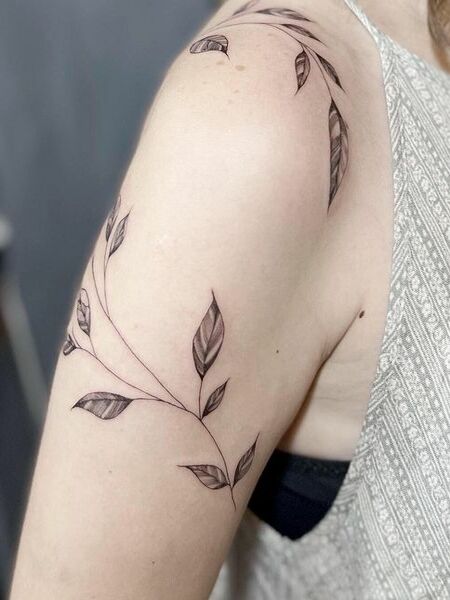 FAQ
Do shoulder tattoos hurt?
Shoulder tattoos are usually very painful to get, as most of the skin on the shoulder is very thin and close to the bone. In fact, the pain can be so bad that some people have to stop getting their tattoo before their artist has even finished.
How long does a shoulder tattoo take?
A shoulder tattoo will take at least a couple of hours to complete, and may take up to eight hours. The size of the tattoo is the deciding factor when estimating the amount of time it will take. In addition, complex designs require more time than simpler ones.