35 Best Sunflower Tattoo ideas for Women in 2023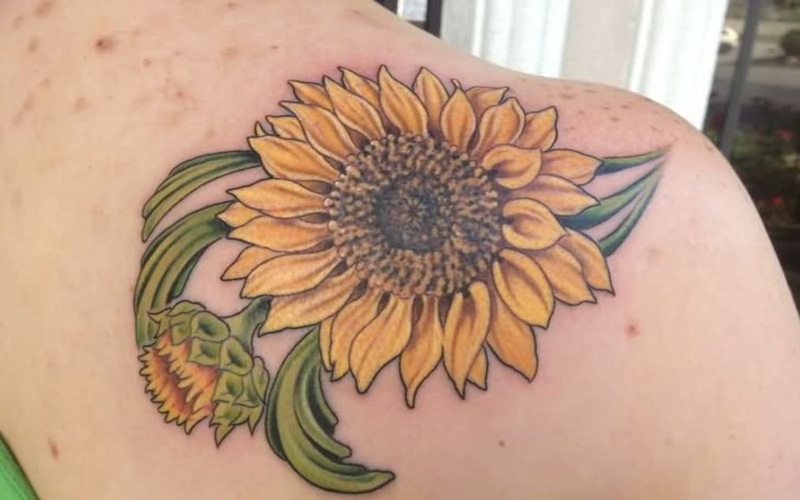 Sunflower tattoos are available in a wide variety of sizes and colors. They can be depicted with a person's name or other tattoo symbols to make them more meaningful. For example, some women may opt to have a sunflower tattoo to symbolize their devotion to their children. Others may choose the flower for its simplicity and beauty.
Sunflowers are always oriented toward the sun. This makes them a great symbol for the love and loyalty you feel for your romantic partner or family members. Once you've decided to get a sunflower tattoo, you'll want to spend some time deciding where on your body it would look best. You might also want to consider whether you'd like it to be black and white or colorful, how large you'd like it to be, and what style of art would best suit your personality.
Sunflowers are one of the most common tattoo ideas for women, and for good reason. They can be designed in a variety of different ways, and they're very versatile because they can be worn almost anywhere on the body. Sunflowers also come in a variety of different colors, which makes them even more popular. Some sunflowers are yellow, while others can be purple, red, or orange. The color often depends on the design of the tattoo.
1. Arm Sunflower Tattoo
The arm is a great place to get a tattoo, but it's one of the most painful spots to get inked. If you're looking for a tattoo that isn't too big but not too small, getting a sunflower arm tattoo might be the right choice for you.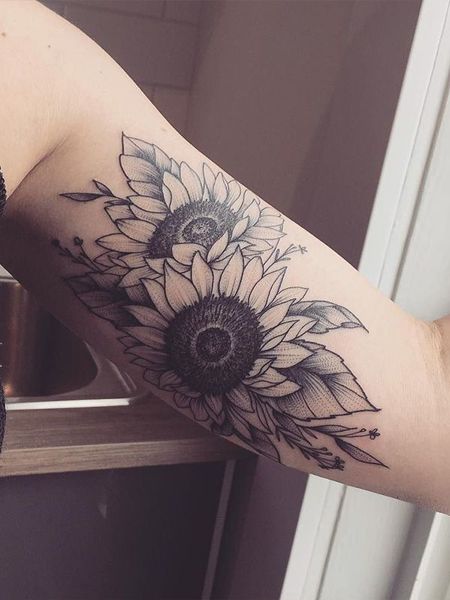 2. Neck Sunflower Tattoo
Neck tattoos are for the bold and brave. The neck is one of the most sensitive areas to get a tattoo because it is close to bones and nerves. A sunflower tattoo on your neck is sure to turn some heads.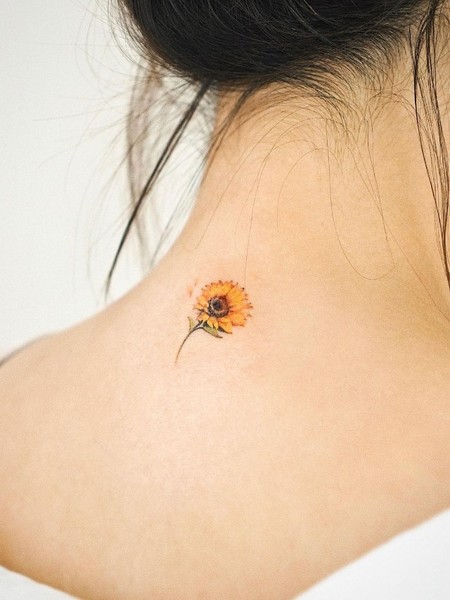 3. Finger Sunflower Tattoo
Finger tattoos are very popular tattoos. If you are looking for small tattoo ideas, then this is one of the best options for you. You can get this tattoo on your wrist or ankle. This tattoo is also one of the best matching tattoos for couples.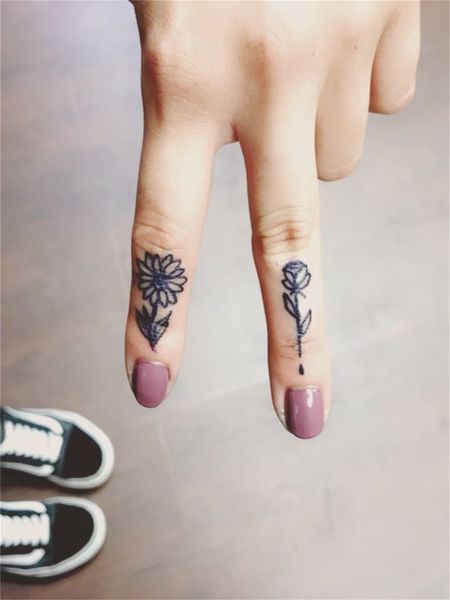 4. Back Sunflower Tattoo
Sunflower back tattoos are very popular among women. If you want to get a large sunflower tattoo, then you can try this design. You can also add a butterfly or quote to this design to make it look more beautiful.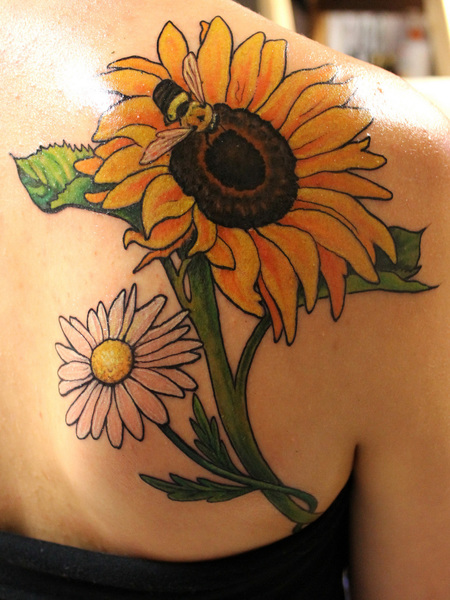 5. Leg Sunflower Tattoo
One of the hottest trends in tattoos right now is a leg tattoo! The leg is a great place for your sunflower tattoo because it offers plenty of space for a big design and can be easily covered up if necessary by wearing pants or long skirts. Not only that, but there are so many different styles available, from simple black outlines to more detailed color work with shading and highlights.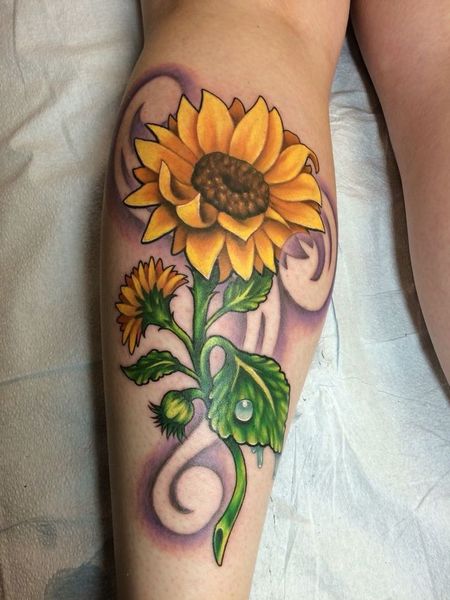 6. Sleeve Sunflower Tattoo
Sleeve tattoos have been around for centuries and have always been popular among women. These tattoos look great on both men and women, but are especially popular with women who want something unique and different from what everyone else has. They also look great when paired with other flower tattoos such as roses, daisies, lilies, or any other kind of tattoo that has some kind of meaning behind it.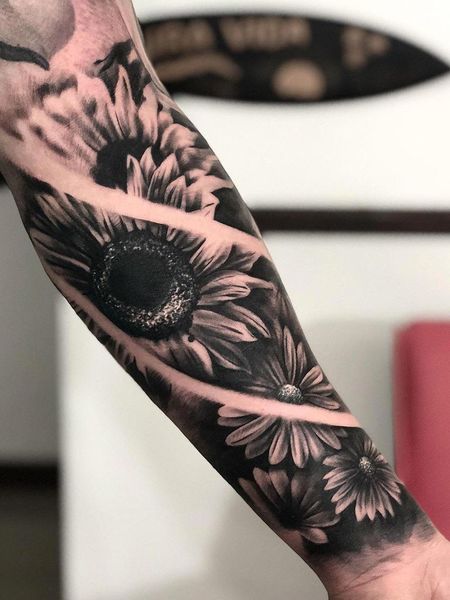 7. Thigh Sunflower Tattoo
Thigh tattoos have been around for centuries and have always been popular among women. These tattoos look great on both men and women, but are especially popular with women who want something unique and different from what everyone else has. They also look great when paired with other flower tattoos such as roses, daisies, and lilies.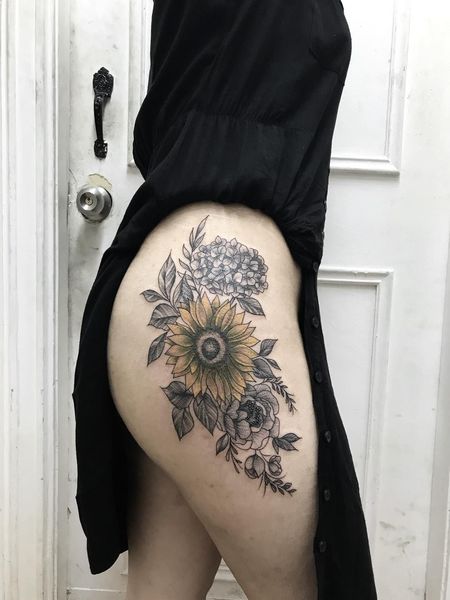 8. Ankle Sunflower Tattoo
Sunflower tattoos can be placed anywhere on the body, but they look especially good on ankle tattoos. Due to the shape of an ankle, it's easy to work a sunflower into another tattoo design or to create an ankle bracelet. Because there is such a large area available on the ankle, many women choose to have an entire bouquet of sunflowers placed around it. This can be done in color or black and gray ink, and many women choose to place other flowers around the sunflowers to make them stand out more.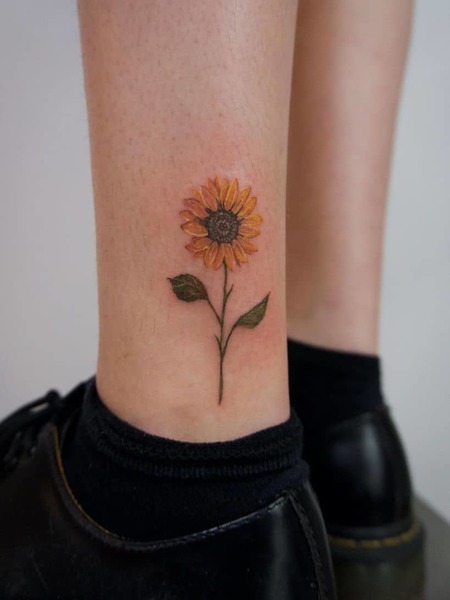 9. Chest Sunflower Tattoo
A sunflower on your chest is always an eye-catching design. This part of your body is very noticeable to other people, so it's important to have a high-quality design that you love. Small flowers look best on your chest tattoo, as they are such a small part of your body. A smaller flower will make it look more delicate and feminine, especially if you get a colorful or detailed design.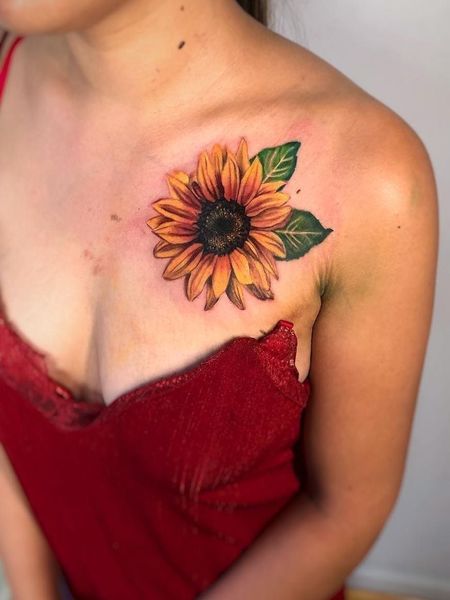 10. Belly Sunflower Tattoo
A sunflower belly tattoo may be small or large, but it will always look beautiful. This tattoo can be combined with other images or words to create a unique design.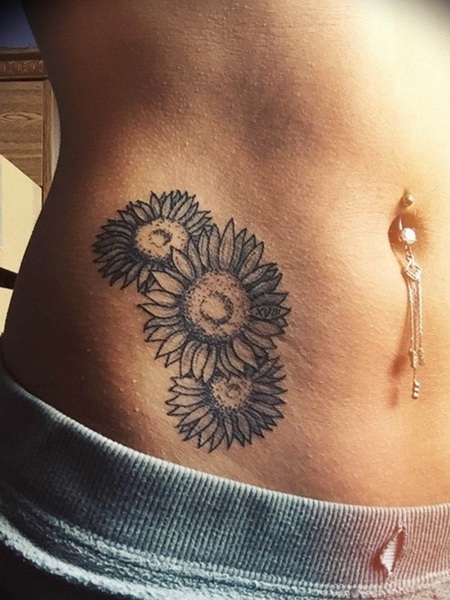 11. Shoulder Sunflower Tattoo
One of the best places for a sunflower tattoo is on the shoulder. This area of the body is ideal because it offers a large surface area that can be used to showcase an intricate design. Shoulder tattoos can be gotten in a variety of different designs and shapes. Some people choose to have their sunflowers inked in black ink, while others prefer color, which allows them to stand out more than if they were done in black ink.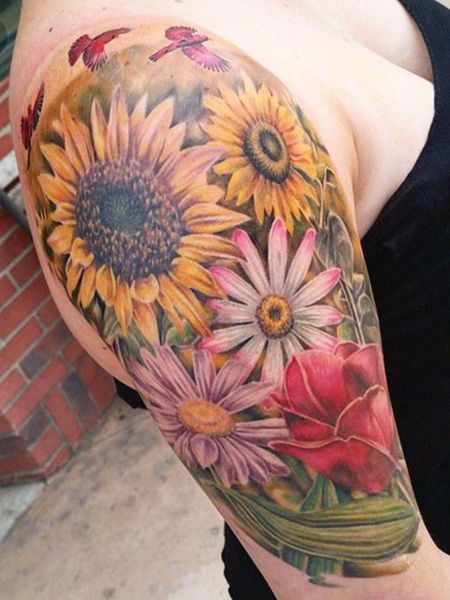 12. Collarbone Sunflower Tattoo
Another great place for sunflowers is on the collarbone tattoo. This area is also an ideal choice because it can also allow room for a larger design as well as one that is simpler. Since the collarbone has such a unique shape, there are a number of different ways that you can utilize this area when creating your tattoo design. For example, you could place your flower in between.
13. Hand Sunflower Tattoo
The location of a tattoo can have just as much symbolic meaning as the image or design itself. There is a common place for a hand tattoo, and it symbolizes how you want your life to focus on this flower. With their long stems and lovely faces, it's no surprise that sunflowers make excellent tattoo subjects!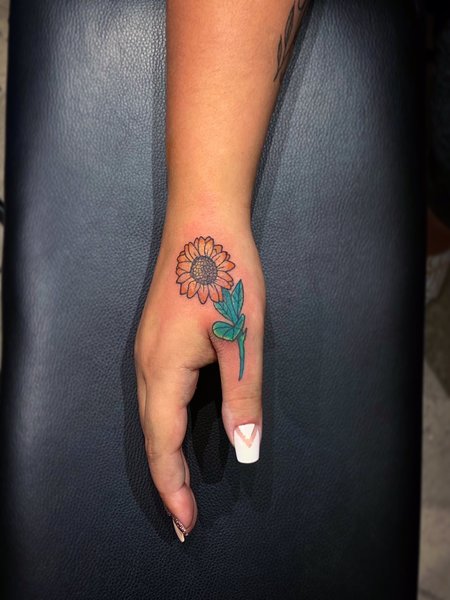 14. 3D Sunflower Tattoo
Another popular choice for this type of tattoo is having it done in 3D. This means that the artist will use shading techniques to give the image more depth and make it appear more realistic. The result is a tattoo that looks like it's actually growing from your skin!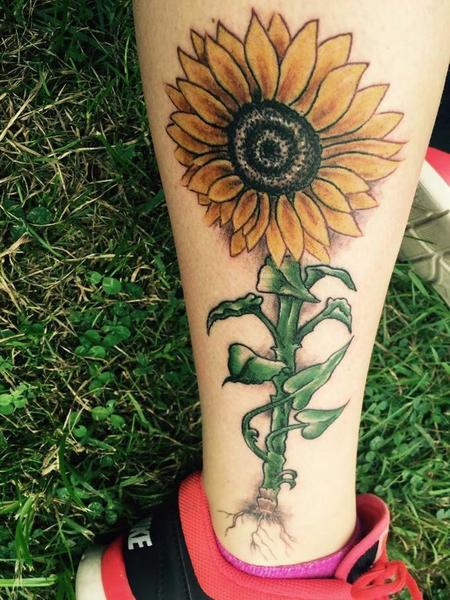 15. Wrist Sunflower Tattoo
Small sunflowers would be great on your wrist tattoo because they can look like a bracelet when worn with other bracelets. They also look awesome with watches, so you can add this tattoo to your accessories too!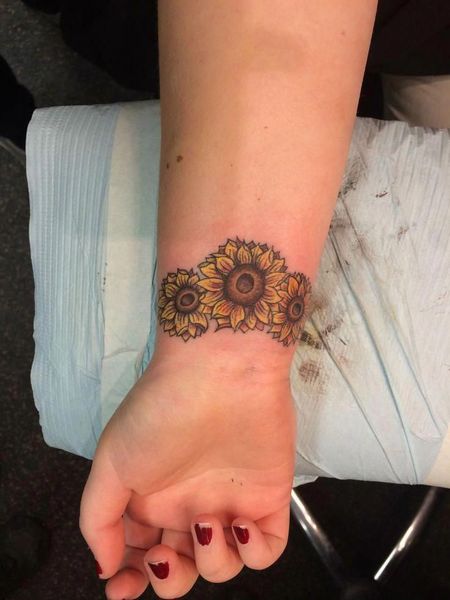 16. Small Sunflower Tattoo
If you are looking for something that is less noticeable, then small tattoos would be perfect for you. You can choose from small designs, and if you want, you could add other details or symbols to make it more personal.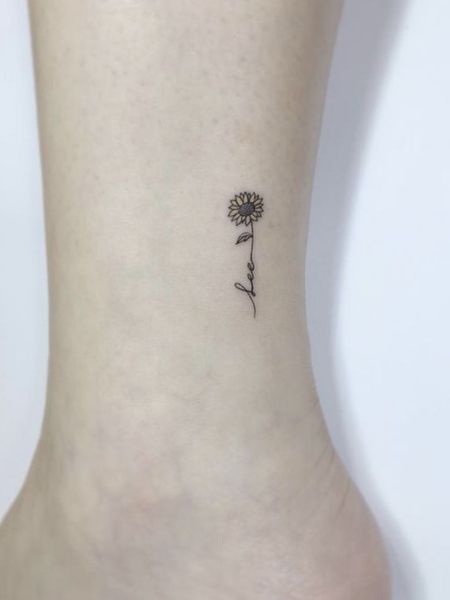 17. Forearm Sunflower Tattoo
The forearm tattoo is one of the most popular placements on women, and the size of the sunflower makes it a great choice. This placement lets you get creative with the stem, wrapping it around your arm or even making it into a vine.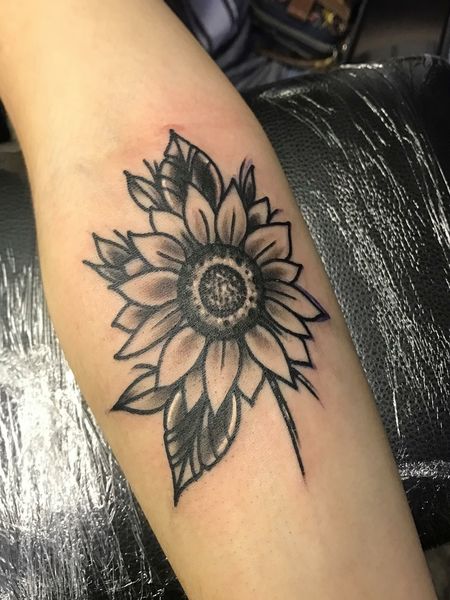 18. Rib Sunflower Tattoo
If you like the idea of a big sunflower but don't want it to be quite as bold as an arm or leg tattoo, consider getting one done somewhere on your back or ribs. This placement will also allow you to be creative with the stem and make it into a vine that wraps around your body.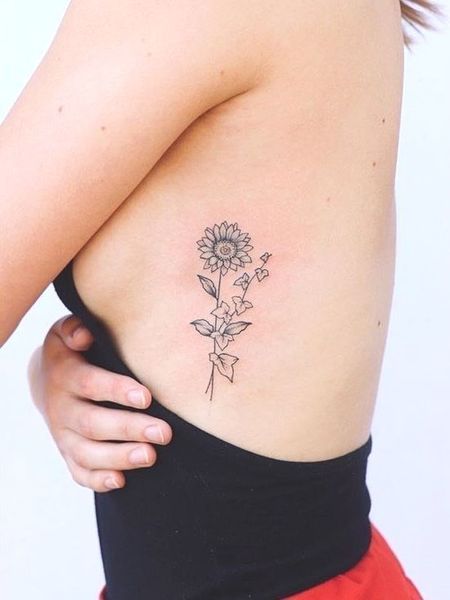 19. Geometric Sunflower Tattoo
While this is technically a flower tattoo, its geometric shape makes it more feminine. Bold lines and black ink are what make it feminine. Geometric tattoos also give you many options for placement: choose something small if you want to hide it under your shirt or something bigger for a bolder look.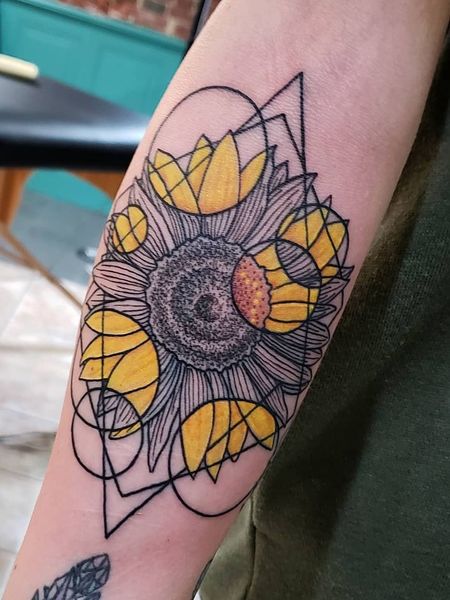 20. Underboob Sunflower Tattoo
The underboob tattoo has become one of the most popular places to get a tattoo in recent years; it's also perfect for small tattoos like sunflowers. Sunflowers are a great choice because they're bright and colorful without being too big or overwhelming. You can also add other elements to your design, such as leaves or vines, which will really make them stand out!
21. Elbow Sunflower Tattoo
Sunflower tattoos are beautiful, but sometimes they can be a little tricky to place. When your skin is close to the bone, it can make the tattoo hurt a lot more than it would otherwise. It can also lead to a less-clear tattoo. The elbow tattoo is one of those places where you have to be particularly careful about what you are looking for and how it is placed.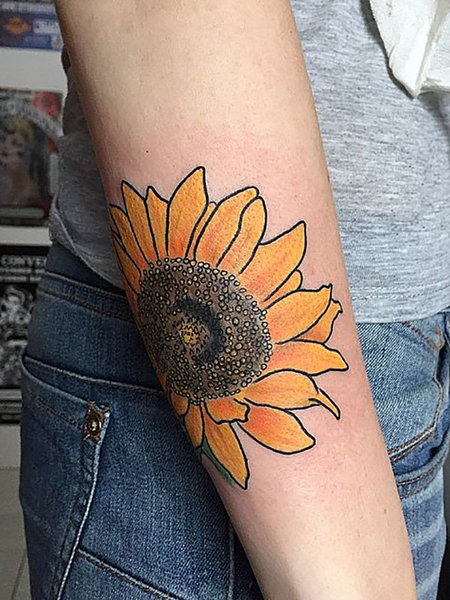 22. Knee Sunflower Tattoo
Knee tattoos are another place where you have to be careful with sizing and placement. If there's too much blank space around the flower, the whole piece will look disjointed and out of place.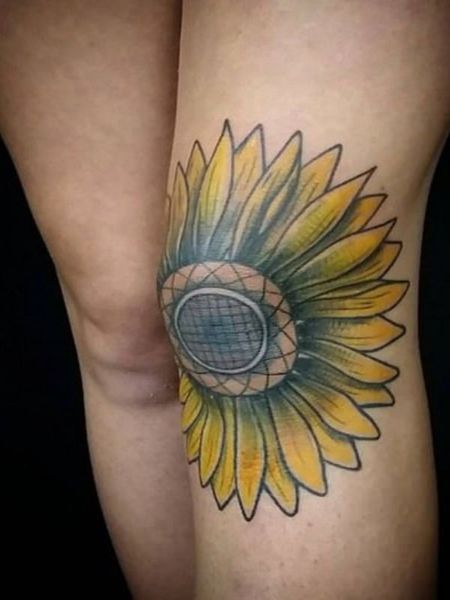 23. Foot Sunflower Tattoo
A foot tattoo is the perfect place to get a sunflower because it will be visible all year. Even if you have to wear socks during the colder months, you can still show off your tattoo with an ankle boot or sandal.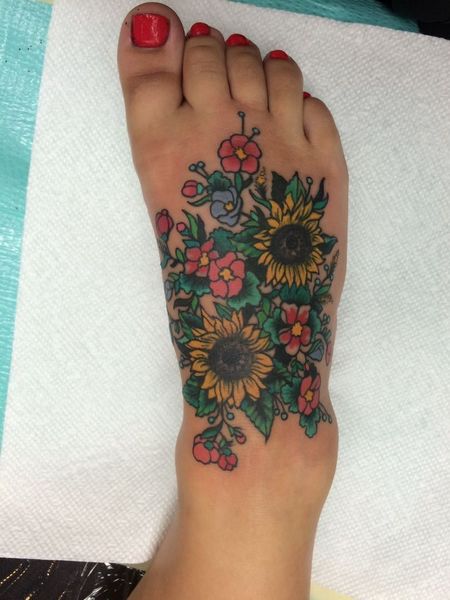 24. Sunflower Behind The Ear Tattoo
One of the best places for small tattoos is behind the ear. They are both cute and discreet, so you don't have to worry about showing off your tattoo unless you want to.
25. Mandala Sunflower Tattoo
Mandala tattoos look gorgeous on any body part, but they especially look good on the arm or leg. Sunflowers make great mandala tattoos because their petals provide a circular shape, which looks amazing when incorporated with other mandala designs.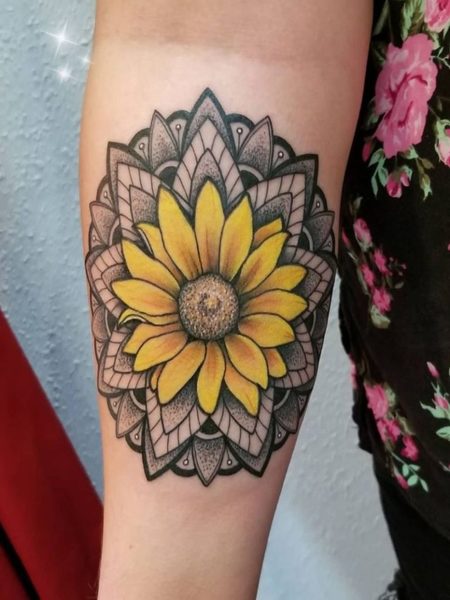 26. Tradional Sunflower Tattoo
For those who love the classic tattoo look, consider a traditional-style sunflower design. These designs generally have heavier lines, a bolder look, and tend to be bigger in size. Traditional sunflowers typically have yellows and greens as the main colors, with bright red accents in the middle of the flower.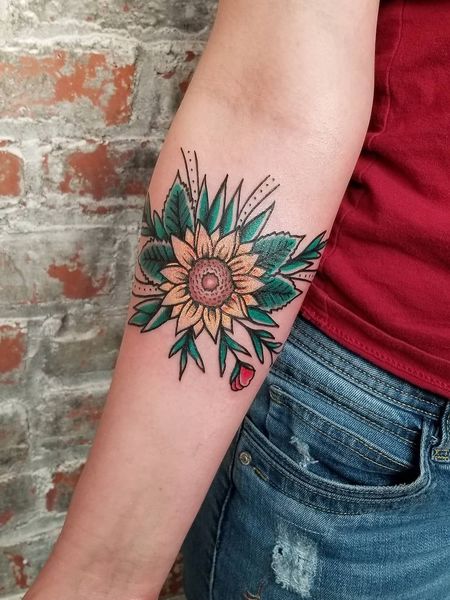 27. Black and White Sunflower Tattoo
Black and white tattoos can be beautiful and bold or elegant and delicate. Because of their versatility, they look great on any part of the body. Black and white sunflower tattoos are often drawn with heavy lines that create shading within the tattoo itself. This gives it the same bold look as a colored one without all the color. You can leave your black-and-white design either large or small, depending on your personal preferences for tattoo locations.
28. Simple Sunflower Tattoo
If you want a subtle tattoo of the sunflower, you can go for a simpler design. Be creative with it and make sure that you add bold lines or use thick ink so that your tattoo will not fade easily over time.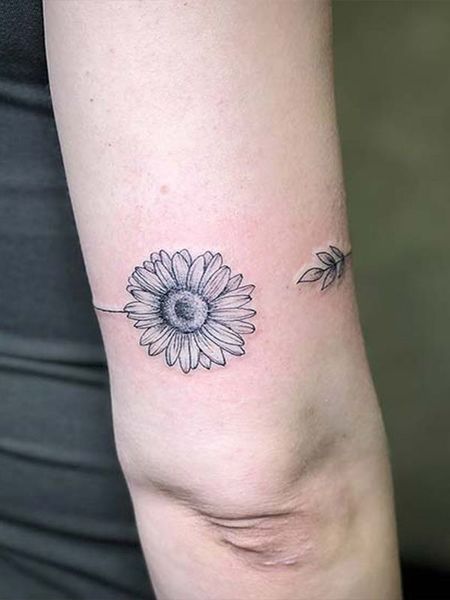 29. Watercolor Sunflower Tattoo
Watercolor tattoos are taking the world by storm. This style of tattoo is known for its vivid yet delicate appearance, and it is an excellent way to get a really striking tattoo. Watercolor sunflower tattoos are a great choice for those who want something a little different, and the watercolor gives the tattoo a sense of lightness that is hard to achieve with other techniques.
30. Realistic Sunflower Tattoo
Realistic tattoos have been becoming more popular over the years. Their hyper-realistic style allows you to wear your favorite flower on your skin in all of its glory, and this can lead to some truly beautiful tattoos. Realistic sunflower tattoos are sure to be conversation starters, but they also make stunning pieces of body art that you can wear with pride.
31. Butterfly With Sunflower Tattoo
While butterflies tend to be symbolic of rebirth and new life, they can also symbolize the vitality of youth. However, these meanings are not always constant, as the butterfly itself is symbolic of many things, including grace and beauty. Pairing this delicate creation with a sunflower can create a truly stunning butterfly tattoo design that will look amazing on anyone's skin.
32. Sunflower Tattoo With Name
Sunflowers are cheerful and bright flowers that can instantly fill a person with a sense of happiness. Their vibrant yellow color and smiling faces make them the perfect flower to get tattooed. It is not surprising, then, that they are one of the most popular flowers to get tattooed. Alone, as a couple, or even as a meaningful memory like a name tattoo, it can stay in your body for years.
33. Black and Grey Sunflower Tattoo
Black and gray sunflower tattoos are often the most popular options for getting inked. A black and gray sunflower tattoo can be a bit on the edgier side compared to a full-color tattoo. It can also help to accentuate the form of the flower. If you're wanting to show off the beautiful form of a flower, a black and gray sunflower tattoo is a great choice.
34. Tiny Sunflower Tattoo
Tiny sunflower tattoos are often chosen for their cuteness and overall simplicity. Tiny tattoos work well as an accent or addition to your other ink, like a sleeve or back piece. Tiny sunflower tattoos also make great matching tattoo ideas for couples who want to get matching tattoos of something more nature-inspired than, say, an infinity symbol or even arrows.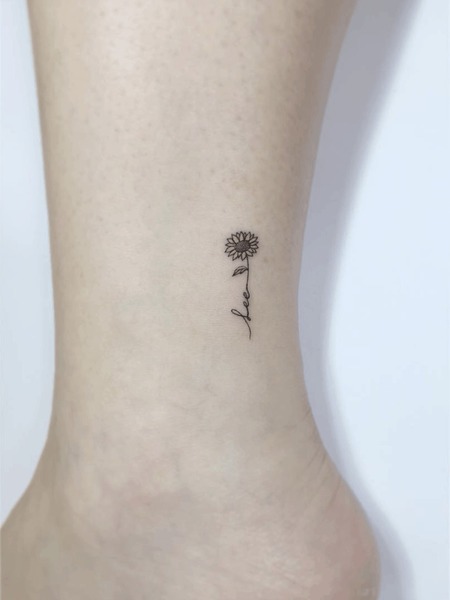 35. Hip Sunflower Tattoo
Hip sunflower tattoos are often chosen by girls looking to accentuate their natural curves. Hip tattoos can be colorful, adding a pop of color to your hips. Many hip sunflower tattoos also contain other nature-inspired images or symbols, like birds or animals.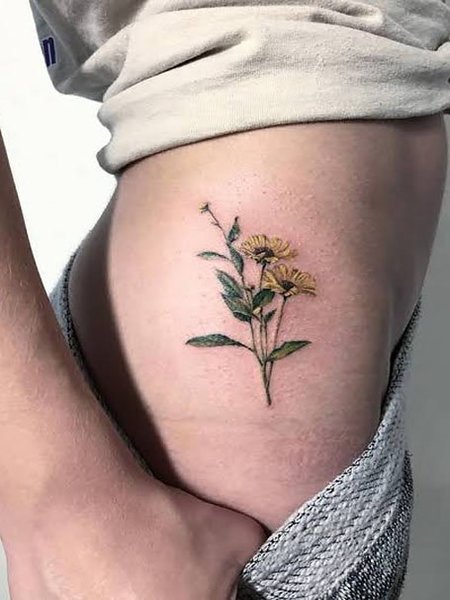 Sunflower Tattoo for Girls / Trending Sunflower Tattoos 2023
Sunflower Tattoo for Girls / Trending Sunflower Tattoos 2023
FAQ
Sunflower Tattoo Meaning
Sunflower tattoos are associated with many positive things. Most prominently, they symbolize adoration and loyalty to the sun and the warmth it provides all living beings. Sunflowers, after all, turn their heads to follow the path of the sun throughout the day, thus associating them with both loyalty and constancy. In human terms, this means that a person who sports a sunflower tattoo may be showing their devotion to a lover or spouse, but it can also mean a friend who will always be there for you in good times and bad.
History of Sunflower Tattoos
Sunflower tattoos originated in French culture, where they are often paired with other images such as butterflies or roses. The French also gave birth to another type of sunflower tattoo design, which is a small outline of the flower placed on the wrist. This style was popularized by celebrities such as Paris Hilton and Britney Spears. In fact, this design is still popular today but has been modified to include names or initials instead of just a plain outline.
What does a sunflower tattoo symbolize?
The meaning of this type of tattoo depends on where you get it done, how big it is, and what colors you choose. Some people choose to get them as a sign of friendship or love because they think that their partner will never leave their side no matter what happens in life. Others might want to get one because they want others to know how much they care about them by showing off their skin with beautiful ink designs. The possibilities are endless when it comes to what these tattoos mean!