25 Beautiful Henna Tattoos for Women in 2023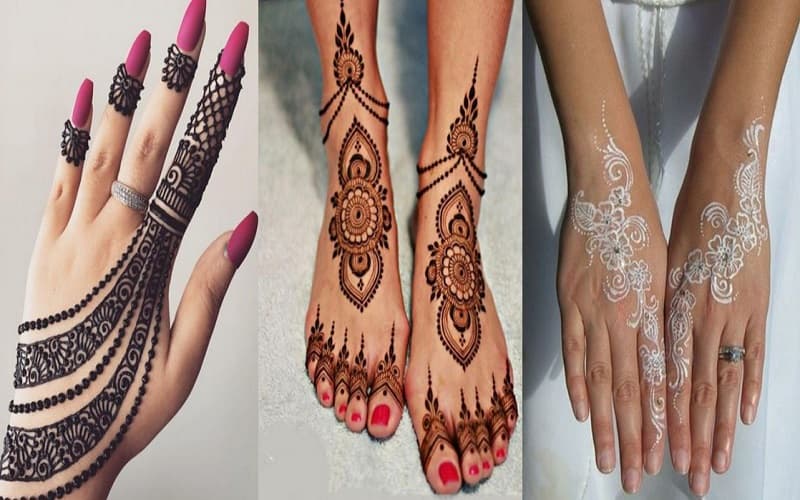 Henna tattoos are becoming more and more popular. As a matter of fact, millions of people are trying to incorporate Henna tattoos into their looks. The main reason behind this is the fact that Henna tattoo designs give you an opportunity to have a tattoo with many different designs without having to worry about its permanence. You can have temporary tattoos for as long as you want.
Henna tattooing is the art of decorating the skin with henna, a paste made from the leaves and stem of the henna plant. The henna tattoo is a temporary decoration that can last for weeks or months. Henna tattoos are often used for special occasions, such as weddings or holidays.
Henna tattoo designs can be anything you want them to be: flowers, vines, animals and words. Some people prefer simple, small designs that can easily be hidden; others like intricate and detailed designs that take up most of their arm or leg.
1. Sun Henna Tattoo
This is a nice and simple henna tattoo that you can put on any part of your body. It's got a sun-like pattern in the middle and it's all done in black. You could combine this with other tattoos or just get it alone for a simple look.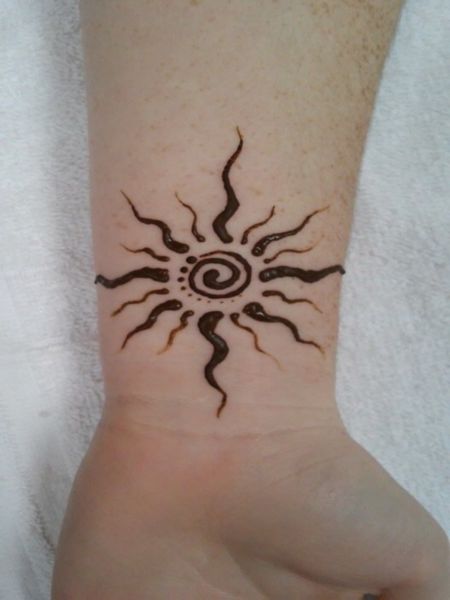 2. White Henna Tattoo
White henna is more of a trend than an actual tattoo style since it's not made of pure henna, but rather body paint that's similar to temporary ink. It has become popular recently because it looks stunning in photos, and many people get it as an accessory on their wedding day or during special events like proms and parties.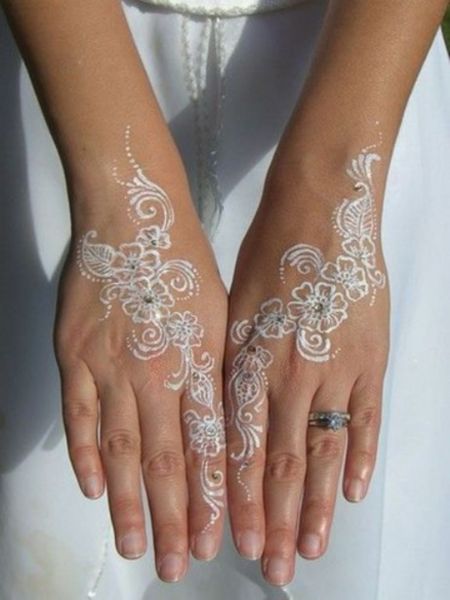 3. Snake Henna Tattoo
A tattoo that is very popular among the women is snake henna tattoo. This design looks badass and it shows your love for snakes and wildlife. It is also known to represent the spirit and courage of a warrior.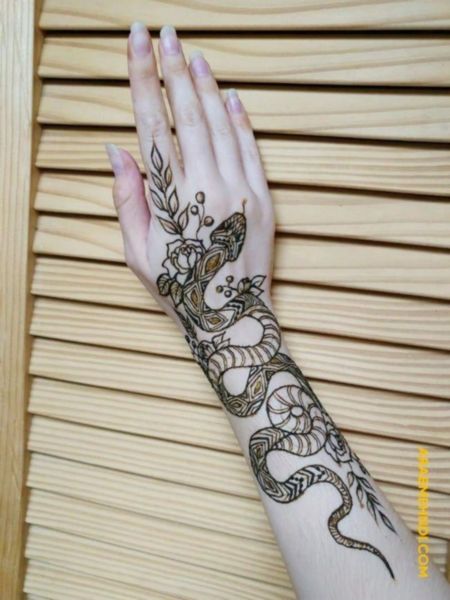 4. Small Henna Tattoo
This henna tattoo is perfect for someone who doesn't want something too flashy because it's very small and subtle. You could put it on your shoulder or any other part of your body and it will look very stylish without drawing too much attention to itself.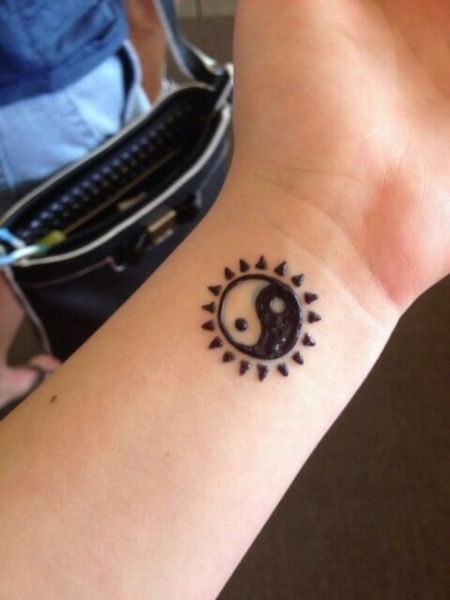 5. Simple Henna Tattoo
Simple henna tattoos can be found anywhere on your body and generally take less time to create compared to other tattoo designs. These types of simple henna tattoos include heart shapes, flowers, stars and dot patterns.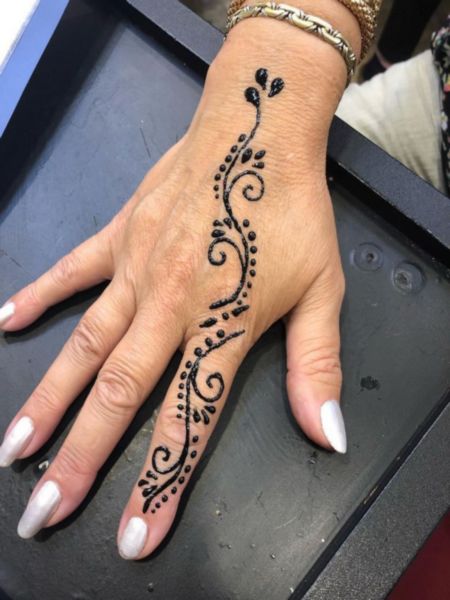 6. Red Henna Tattoo
Another popular henna tattoo design is the red henna tattoo. This kind of tattoo has become very popular with people who want to go for a more traditional and ethnic look. It can be used both on men and women. However, it looks better on women because of their more delicate features.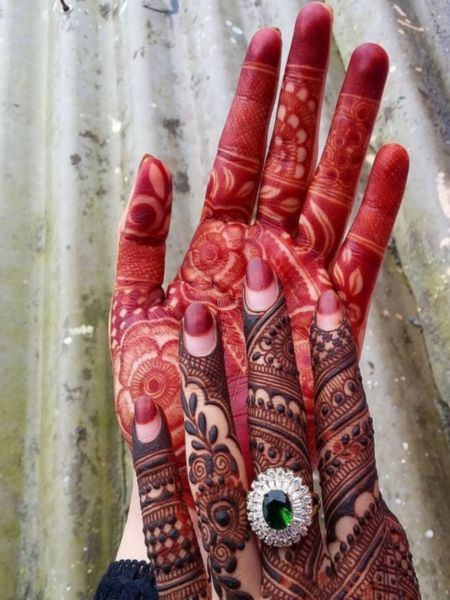 7. Henna Wrist Tattoo
Wrist is one of the most popular places to get a tattoo. Henna wrist tattoo looks really cool and trendy. With just a few simple strokes, you can get yourself some cool henna wrist tattoo. Get it done in your favorite color and style!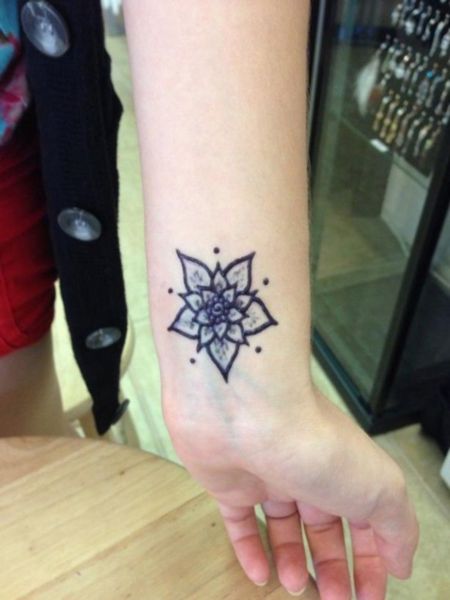 8. Henna Finger Tattoo
Finger tattoos are a great option to try out henna tattoos for those who are a little apprehensive about the whole concept. They are unique and easy to flaunt. If you want minimal tattoos, try finger tattoos.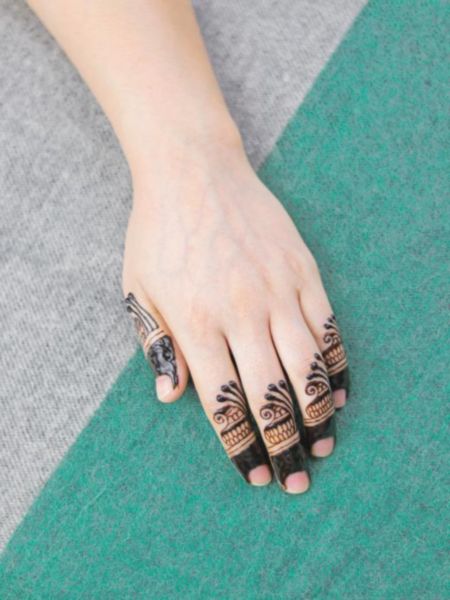 9. Henna Flower Tattoo
Flower henna tattoos look good on any part of your body, but they're especially popular on hands and feet because they can complement beautiful sandals or nails nicely. There are many different types of flower designs to choose from.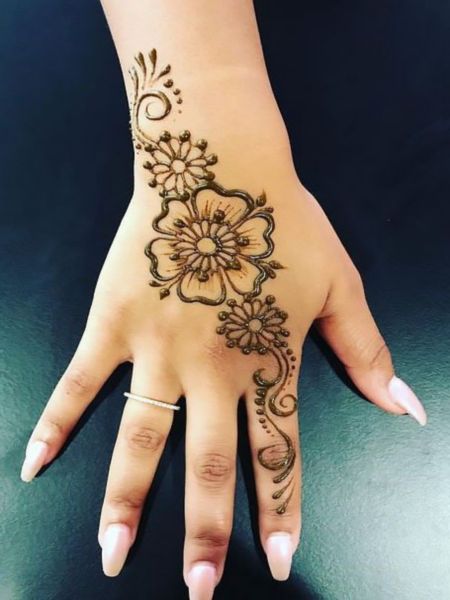 10. Henna Leg Tattoo
Henna leg tattoos are some of the most popular henna styles, especially for women. They can range from simple designs to intricate patterns that cover the entire leg area.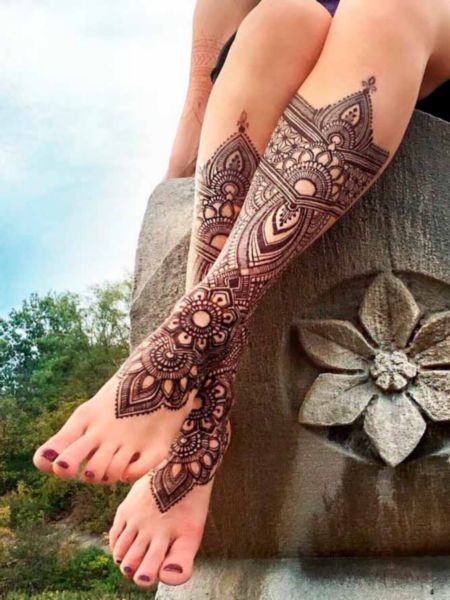 11. Henna Shoulder Tattoo
Although temporary, henna shoulder tattoos look like the real deal. You can get any design or image you want on your shoulders, or you can create your own using henna cones.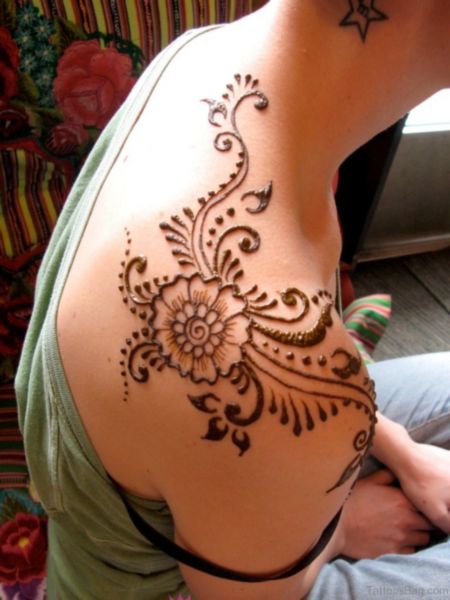 12. Henna Sleeve Tattoo
Sleeve henna tattoos are for those who want more detailed and intricate designs on their body with henna tattoos. You can get full sleeves or half sleeves done with henna tattoos, whatever suits you!
13. Henna Tattoo Eyebrows
Henna can be used to create realistic eyebrows that look great! Henna eyebrows are also known as brow henna and they last up to two weeks on your face. This tattoo is done by placing the henna paste on your skin and letting it dry for a few hours before gently rubbing it off.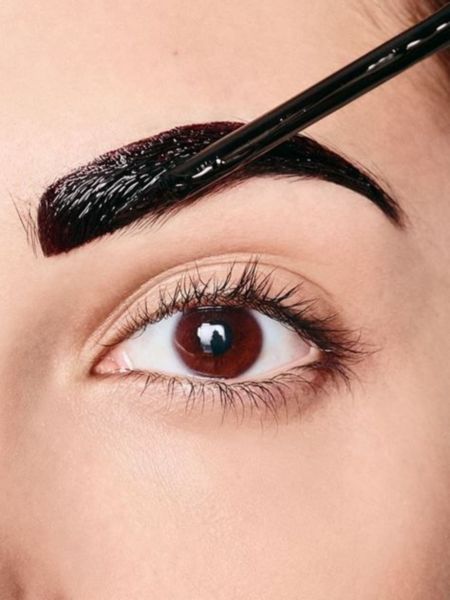 14. Henna Thigh Tattoo
Thighs are the perfect place to show off some fun henna tattoos during the summer when you can wear shorts and skirts all day long. Choose a design that is fun and tropical, or make up your own if you're crafty with the henna cones!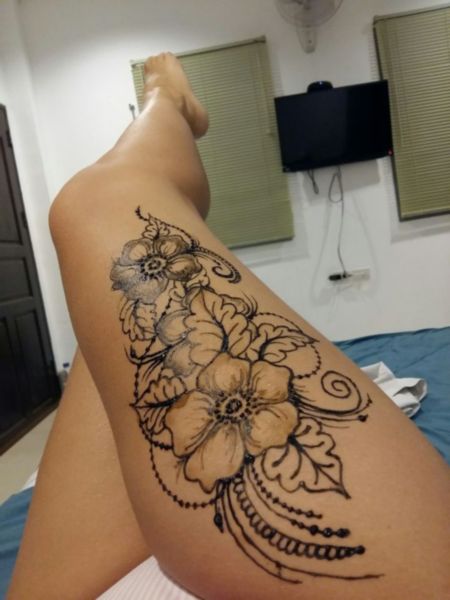 15 .Ankle Henna Tattoo
This type of henna design is perfect for women who want to wear an anklet any time of the year. It's also ideal if you're planning a beach vacation because it goes well with your swimsuit.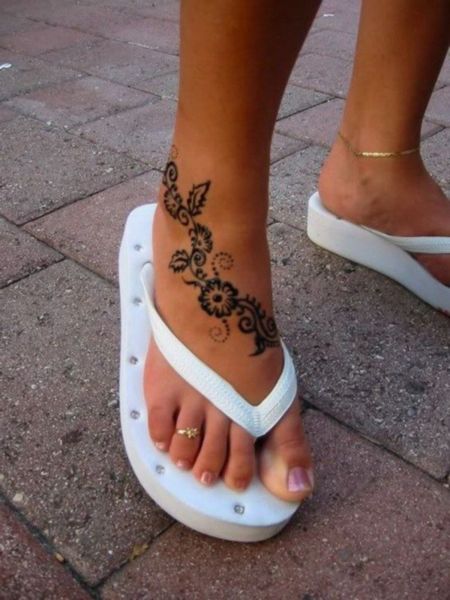 16. Hand Henna Tattoo
They are made from natural ingredients, and will wash off in a few weeks. Hand henna tattoos are especially pretty, because you can use the fingers, palm and back of the hand as part of the design.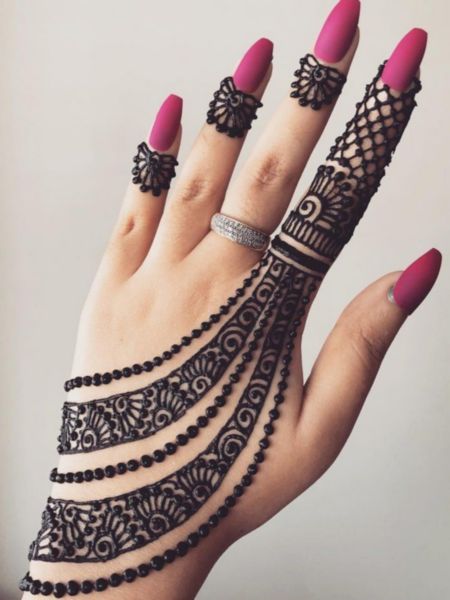 17. Gold Henna Tattoo
Another great option that you can go for if you want to get henna tattoo designs is gold henna tattoos. These designs look really cool and they also come in different shapes and sizes depending on what you want to get.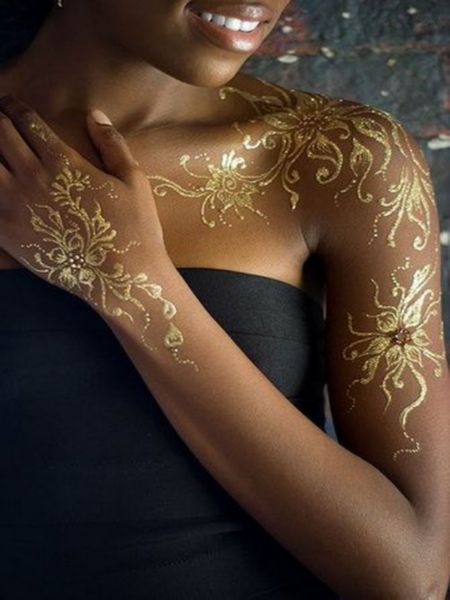 18. Forearm Henna Tattoo
Forearm tattoos are mainstream and very common. You can get a henna forearm tattoo as well in case you are skeptical about getting a permanent one.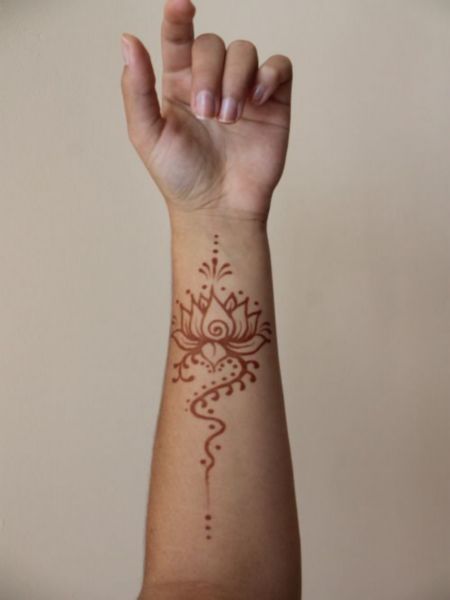 19. Foot Henna Tattoo
The feet are one of the most common places to get a henna tattoo done. Your feet will not be missed when sporting a new tattoo — whether you're wearing sandals, flip-flops or just going barefoot. You can go with a simple design or go big with intricate details that run from your toes to your ankle.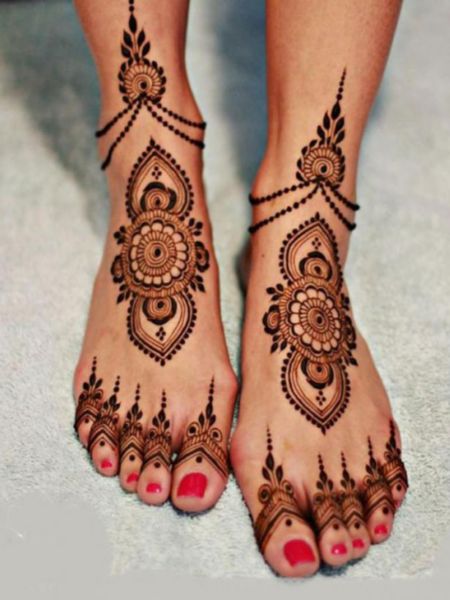 20. Dragon Henna Tattoo
The most commonly used henna tattoo design is the dragon. This is because of its significance in the Chinese culture. In many cultures around the world, including China and Japan, the dragon has been portrayed as a mythical creature that brings wealth to people.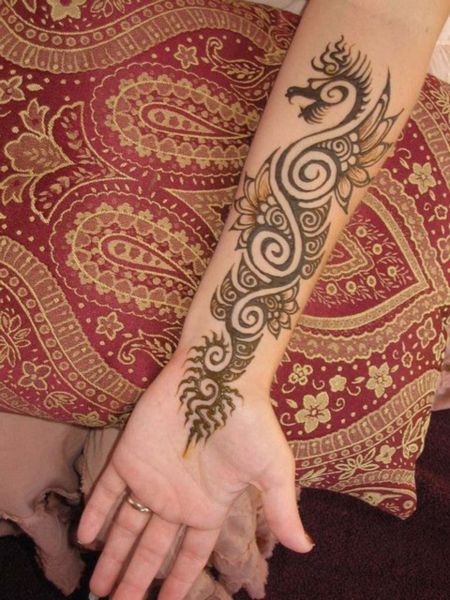 21. Cute Henna Tattoo
Cute henna tattoos can be found anywhere on the body, but they are most popularly placed on the wrists, fingers, hands and feet. These designs usually only remain on the skin for a couple weeks.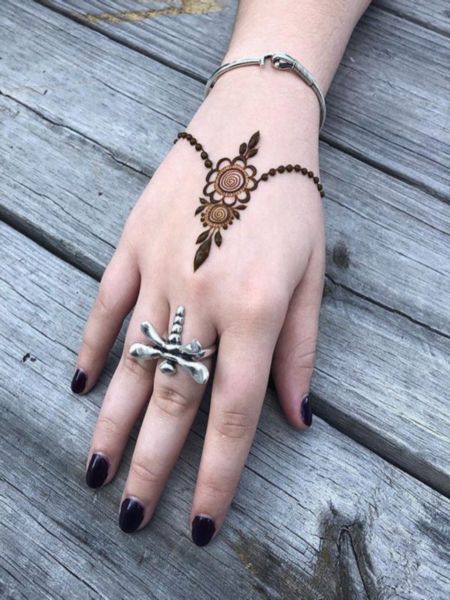 22. Butterfly Henna Tattoo
A butterfly henna tattoo is one of the most popular designs for women since butterflies symbolize beauty and freedom. It's also common among both men and women because butterflies are often associated with happiness, love, and joy as well.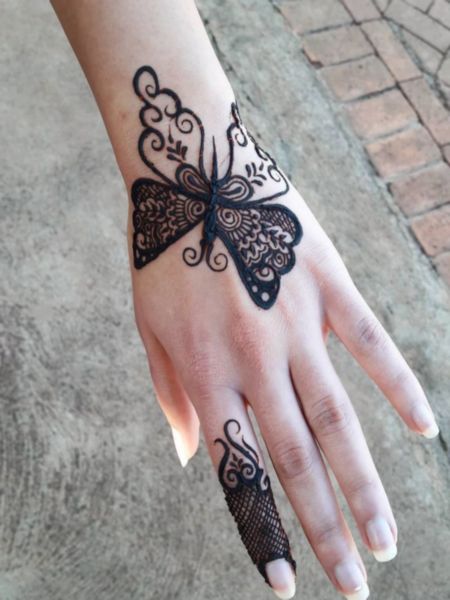 23. Brown Henna Tattoo
If you want to go for something simple yet elegant, then a brown henna tattoo is what you should go for. These tattoos are done on hands or legs and are very stylish. They come in a variety of shapes like flowers, leaves, stars, etc., so choose whatever you like and get it inked on your body.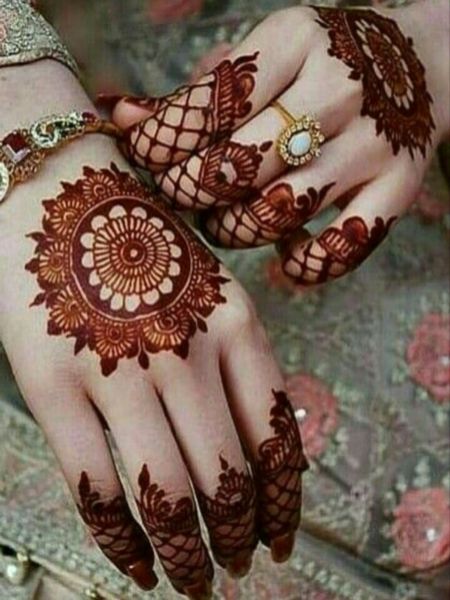 24. Black Henna Tattoo
This small henna tattoo is something you can get on your hands, arms or even legs. It's got a very tribal design that consists of abstract lines and shapes. You could get this done in different colors but black seems to be the most popular option.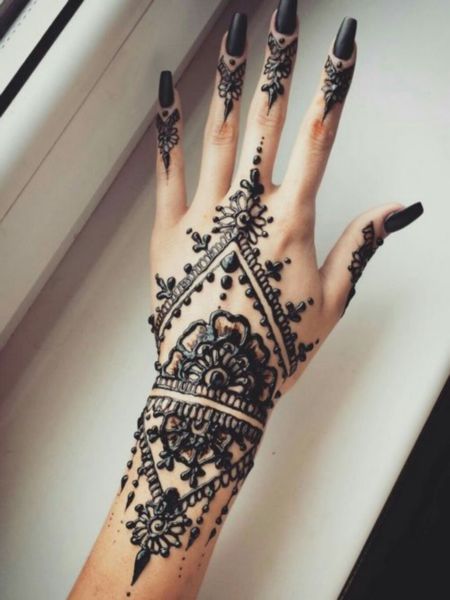 25. Back Henna Tattoo
These types of henna tattoos are seen on the back, shoulders and lower back regions of the body. Often times these tattoos are in the shape of a peacock or other tribal design patterns.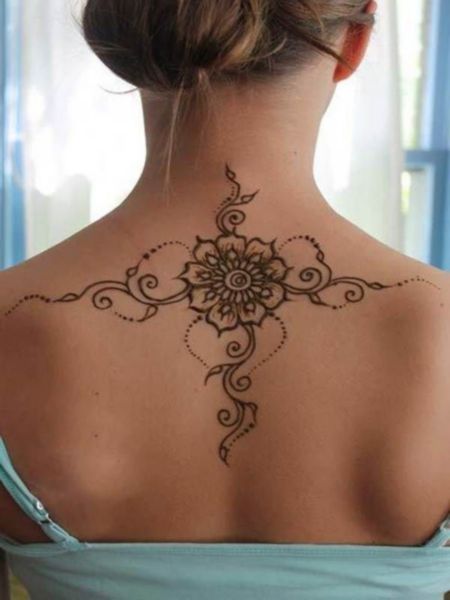 FAQ
What is henna tattoo?
A henna tattoo is a type of body art from Ancient India, in which a paste is made from the powdered dry leaves of the henna plant. It is then applied to the skin in decorative designs. Traditionally, henna was only applied to the hands and feet where it stained the skin. Today, it can also be used for designs on other parts of the body including the arms, shoulder and back.
How Long Do Henna Tattoos Last?
Henna tattoos last anywhere from one to three weeks, depending on the quality of the paste and how well you take care of them.Henna tattoos are not really permanent because they are only on the surface of your skin. They will eventually fade away as your skin naturally exfoliates itself. If you want your henna tattoo to last longer, you can do a few things to help preserve it.