Tattoos
30 Awesome Feather Tattoos With Meanings
Feather tattoos can have many different meanings such as freedom, travel, friendship, courage and bravery. Some cultures often adorned themselves with feathers and the type of feather varied from culture to culture. Now let's adorn ourselves with feather tattoos. In this post throwLet's take a look at some of the best feather tattoos and some of the worst.
Add endless elegance to your look with Feather Tattoos. These dreamy designs are perfect for mixing and matching or stacking with other jewelry. Wear them from day to night on wrists, hands, fingers – anywhere you love to wear temporary tattoos!
Feather tattoos are stylish and easy to apply. They create an elegant look no matter where they are placed, making them a fashion must-have! Get your feather tattoo today.
Best Feather Tattoo Designs
Feather Tattoo on Arm
A feather tattoo looks great anywhere, including on the arm. The lady above has a great job on her arm.The feather designs look simple but are quite intricate due to the line work.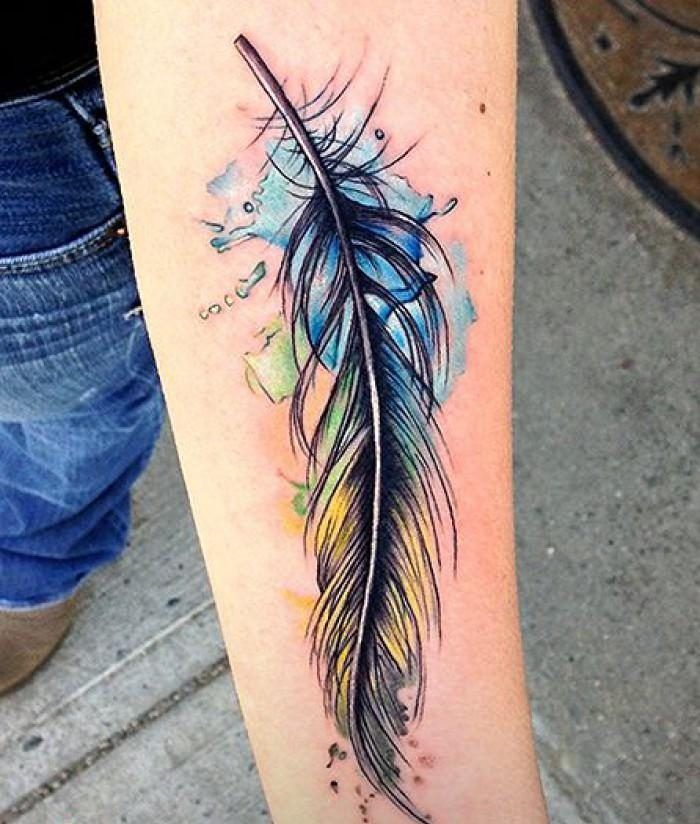 Colorful Feather Tattoo
The best thing about tattoos is that you can get them in any color you want and you don't have to stick with traditional colors.If you want pink purple feather tattoo, you can get pink purple feather tattoo.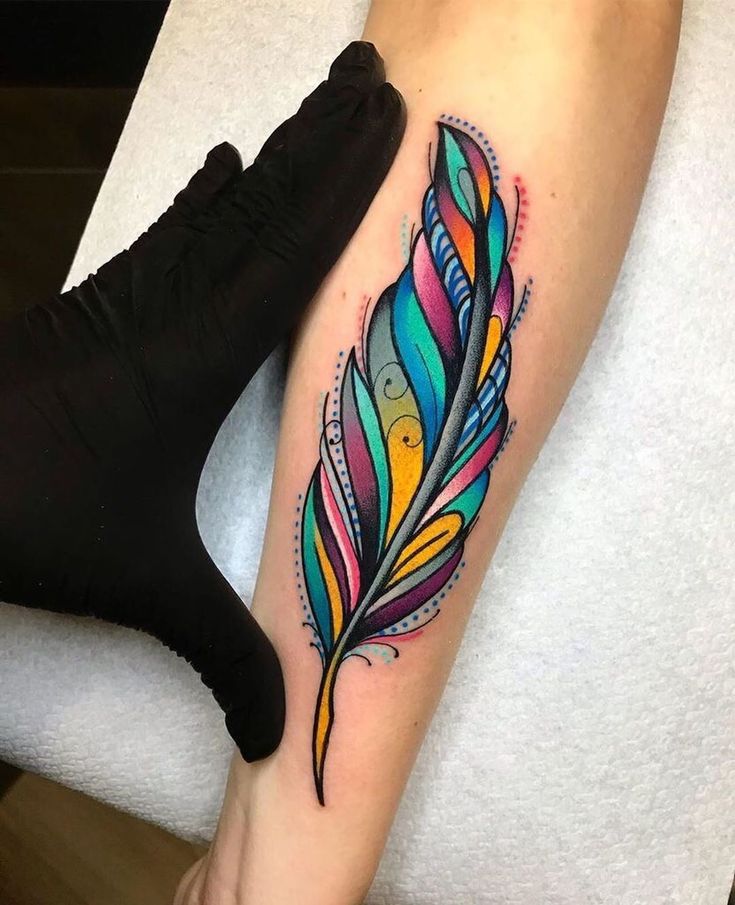 Feather Tattoo on Forearm
This feather tattoo is a nice addition to the list.The artist did a great job of capturing the flowing Replicating the state of a feather.It looks like it's being blown about in the wind.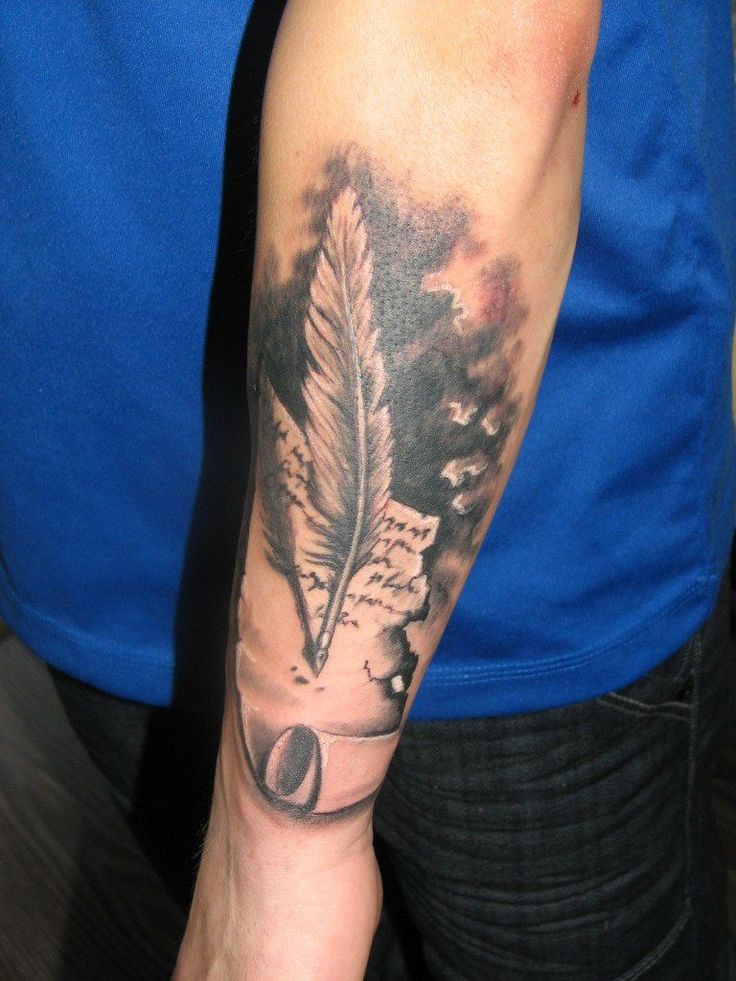 Thigh Feather Tattoo
The feather tattoo can be worn by both men and women, and they can be placed pretty much anywhere on the body. They're particularly popular as part of a sleeve tattoo or as a thigh tattoo for women, but there are endless possibilities when it comes to placement!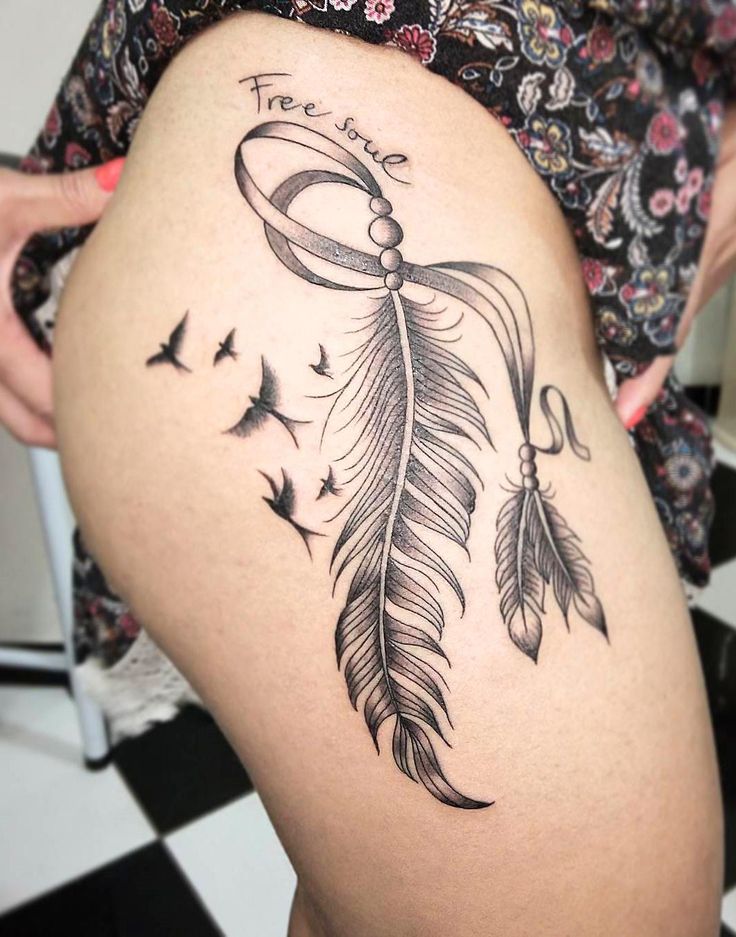 Biceps Feather Tattoo
The biceps is a great spot for a feather tattoo.It's long andslim unless you're a beefcake, of course. The above tattoo depicts a beautiful red feather with black highlights and is a very neat job indeed.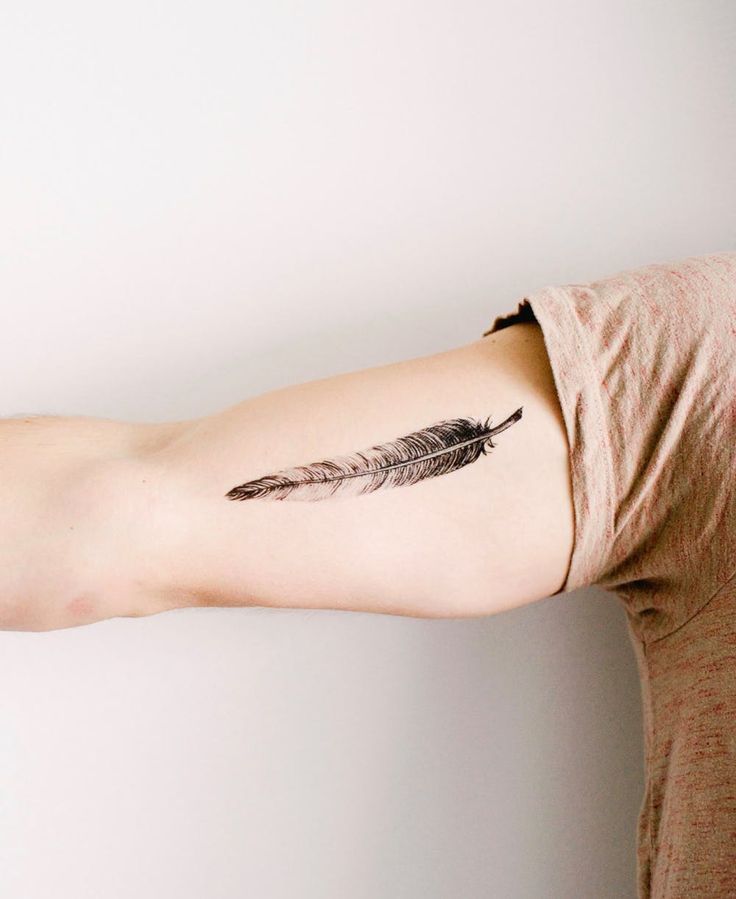 Chest Feather Tattoo
The peacock feather is one of the most beautiful feathers of all and it makes for a great tattoo. This lady has aen beautiful right on her chest.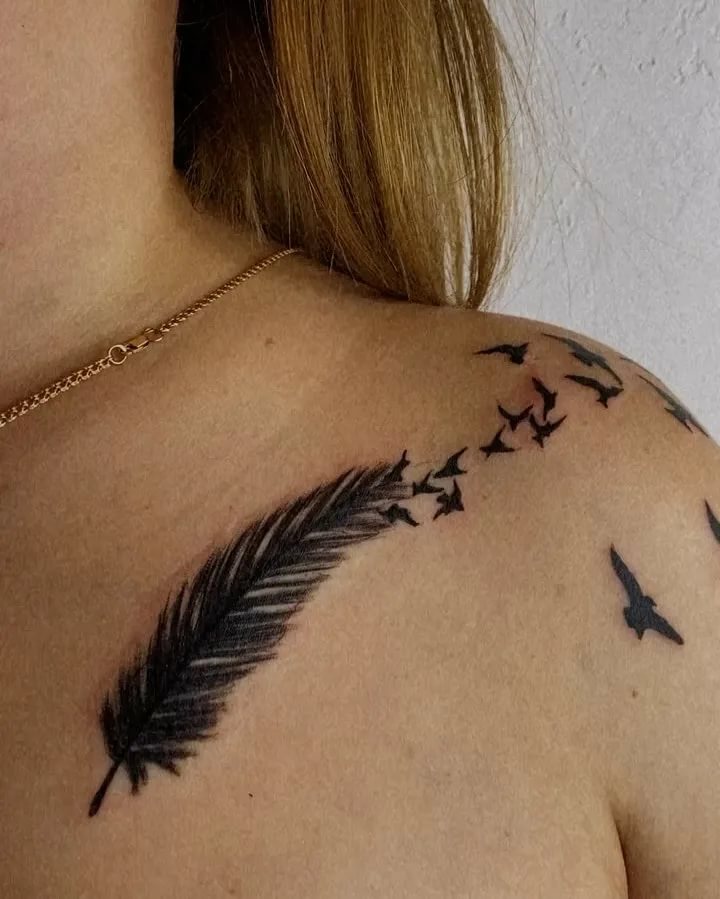 Dreamcatcher Feather Tattoo
This is an absolutely stunning leg tattoo with some gorgeous colors and linework.Here hasthe artist really surpassed himself.I love the bold outlines and vibrant colors.
Peacock Feather Tattoo
The peacock feather is an integral part of Hindu culture.The god of war, LordKartikeya, ride uparound.Imagine that! Riding a peacock to work every day instead of driving a car.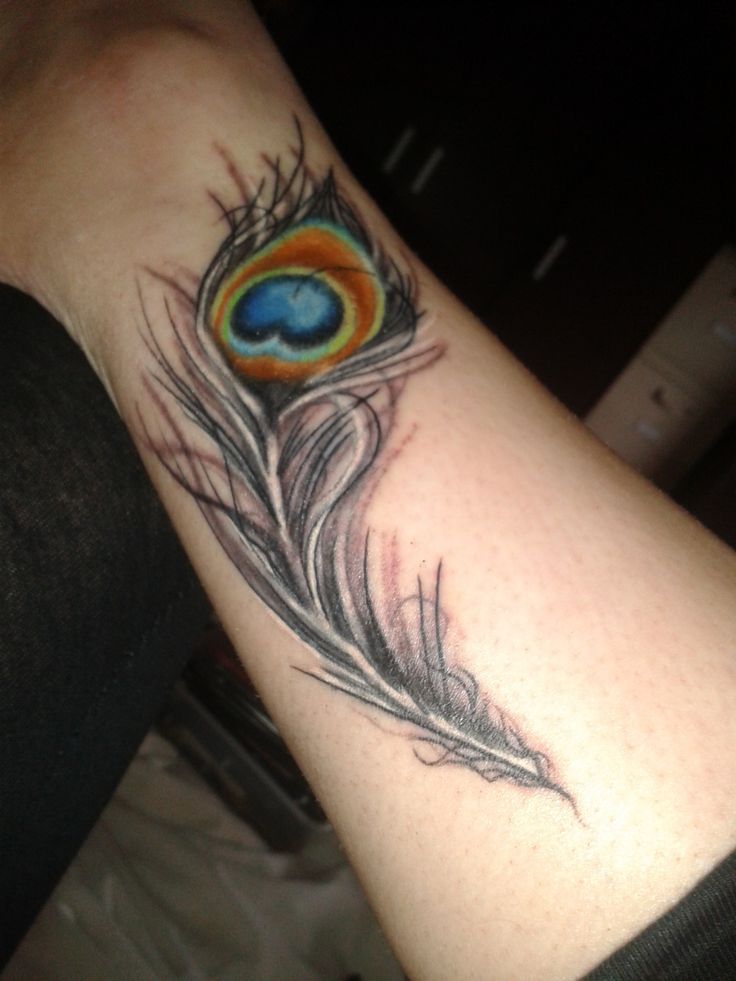 Leg Feather Tattoo
Here is a nice version of a leg tattoo featuring a dream catcher and a feather.The Artist used shading to make the tattoo pop off the skin. The shading looks particularly cool on the dream catcher and would have needed a steady hand.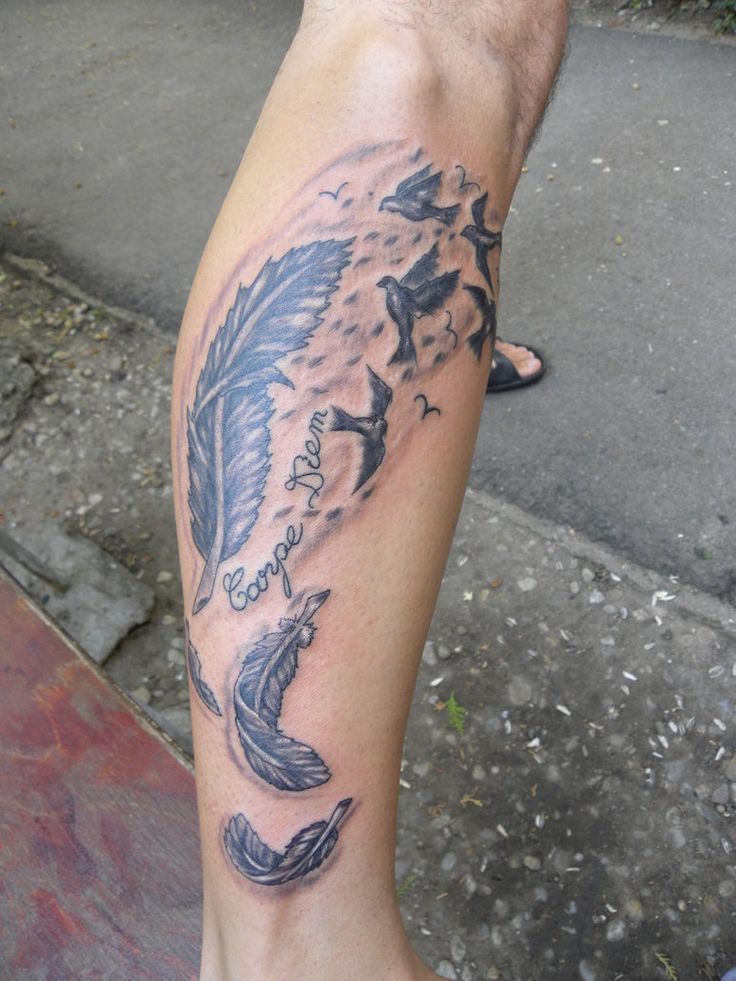 Finger Feather Tattoo
Feather tattoos look great on fingers. Finger is also among the best places for small feathers which can be easily covered up when necessary.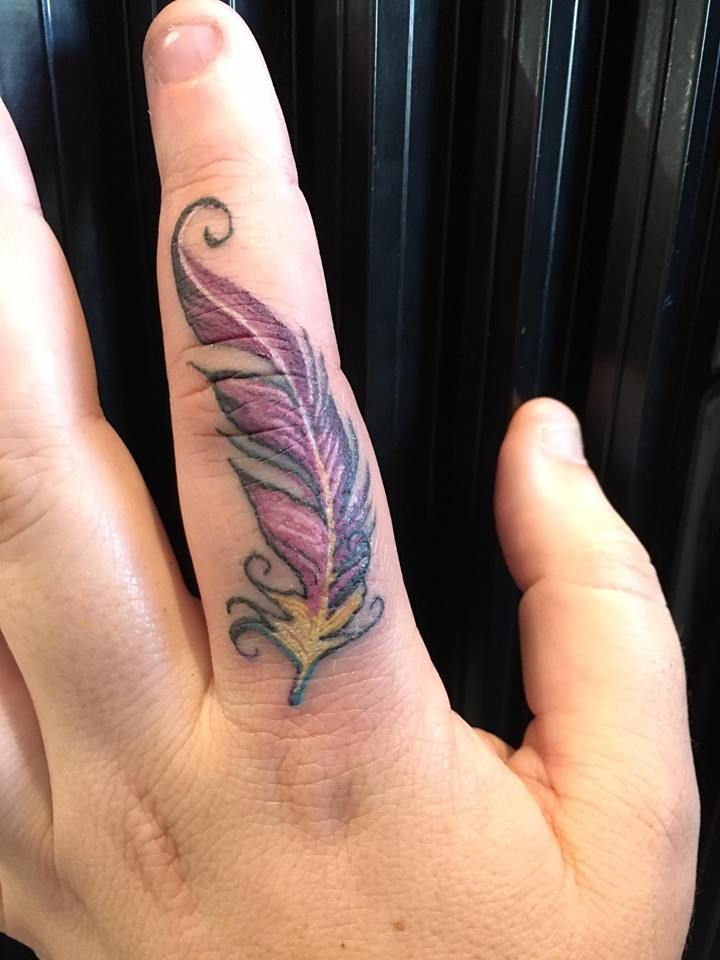 Feather Tattoo on Back
Here is an excellent example of a back tattoo.The feather was done in three different colors.If you look closely you can see some pieces of the puzzle.I wonder what that means?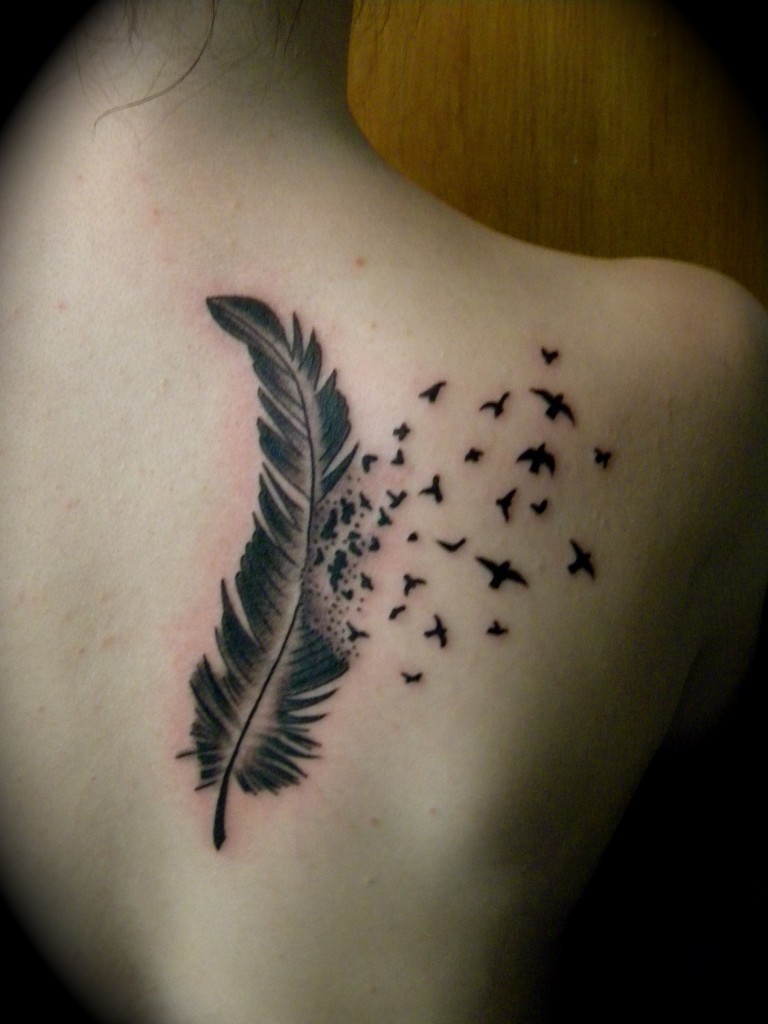 Neck Feather Tattoo
A behind the Ear tattoo on the top of the neck is a great place for something fairly small.A feather looks great there. I've also seen some sheet music and even a smiley face. The possibilities are endless.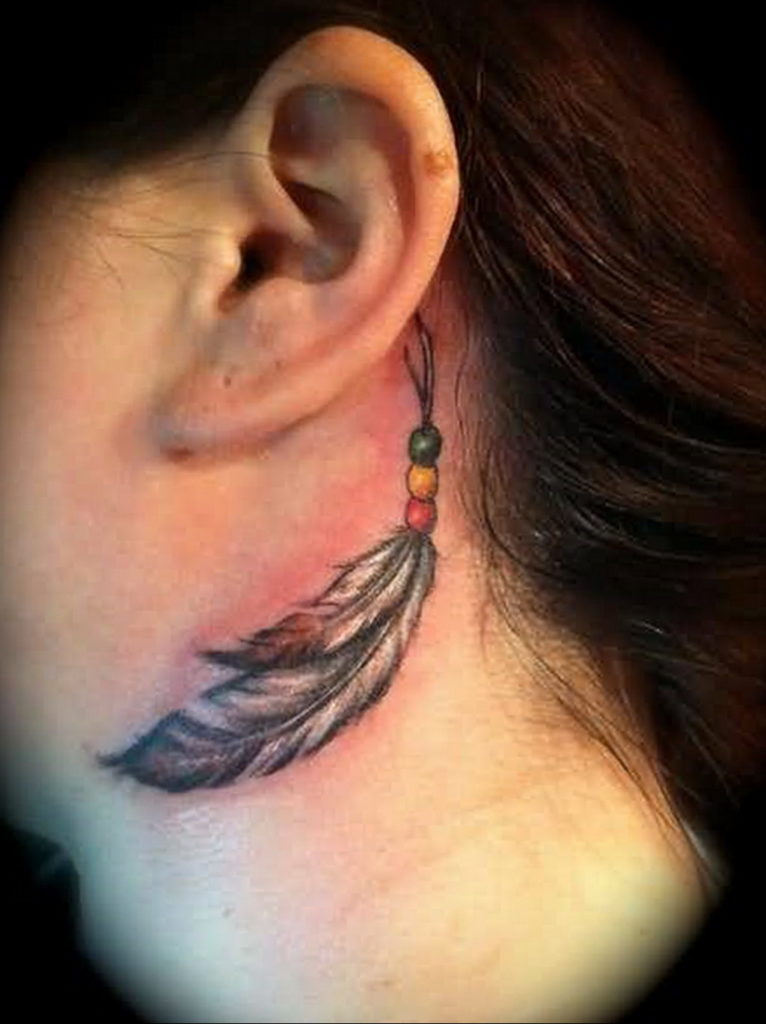 Behind The Ear Feather Tattoo
There are many different types of ear tattoos you can choose. Tattooing the inner or outer conch of your ear is very trendy right now. You can also choose to get a tattoo behind your ear or on the lobe if you're not ready to go full throttle.
Side Body Feather Tattoo
There is a common theme here.Lots of Native American inspired artwork. The tattoo above shows a dream catcher with some colorful feathers attached. Native Americans believe that an eagle has a connection to the sky because it flies so high.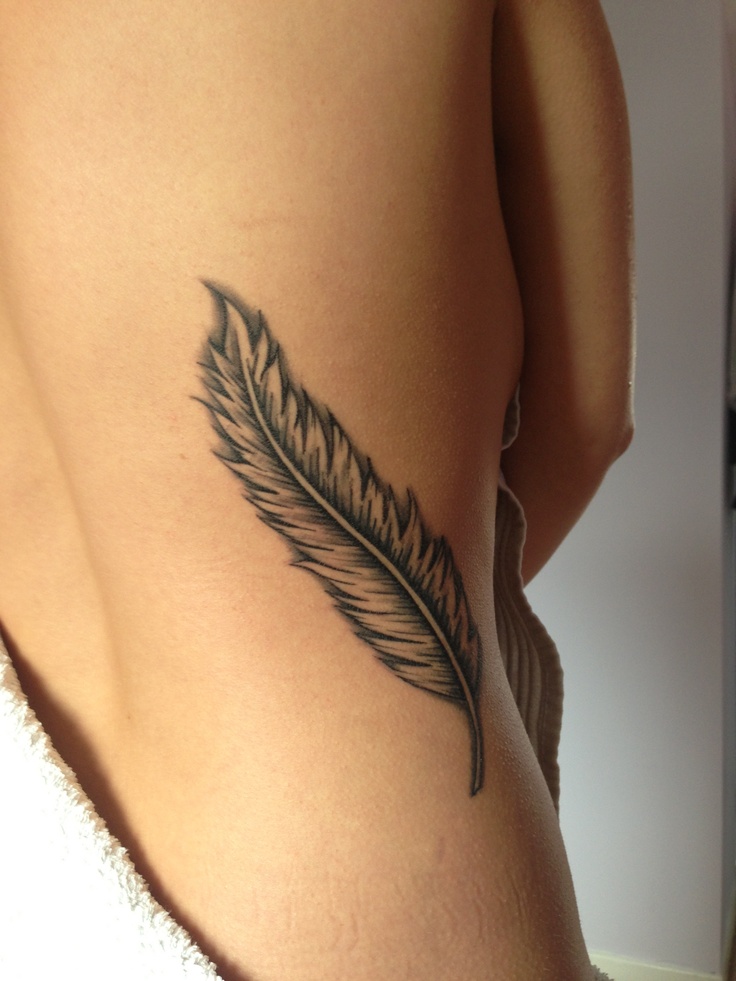 Wrist Feather Tattoo
Wrist tattoos are popular for those who want to show some discretion. They can be easily hiddenor covered up with a long-sleeved shirt if you work in a circumspect facility that still finds visible tattoos repugnant. In a perfect world, we could get tattooed anywhere.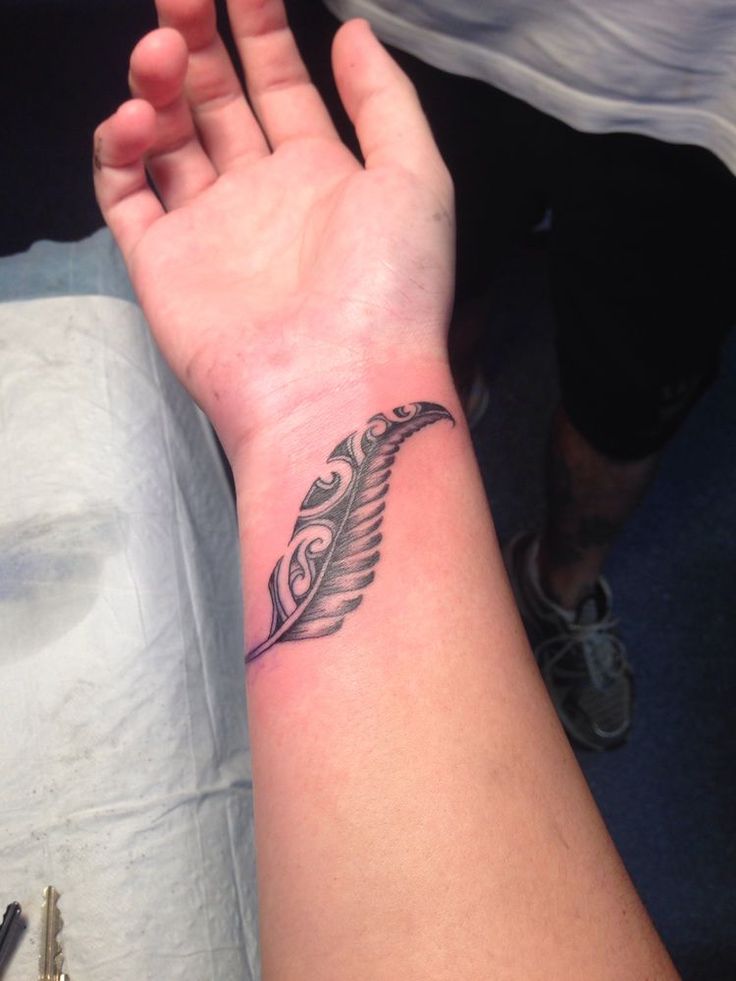 Lower Leg Feather Tattoo
This is a pretty cool lower leg piece done all black. If you have man boobs and want a chest tattoo, this might just be the incentive you need to hit the gym and get fit. Last thingWhat you want to see is a man with breasts and a chest tattoo that flaps all over the place as you walk.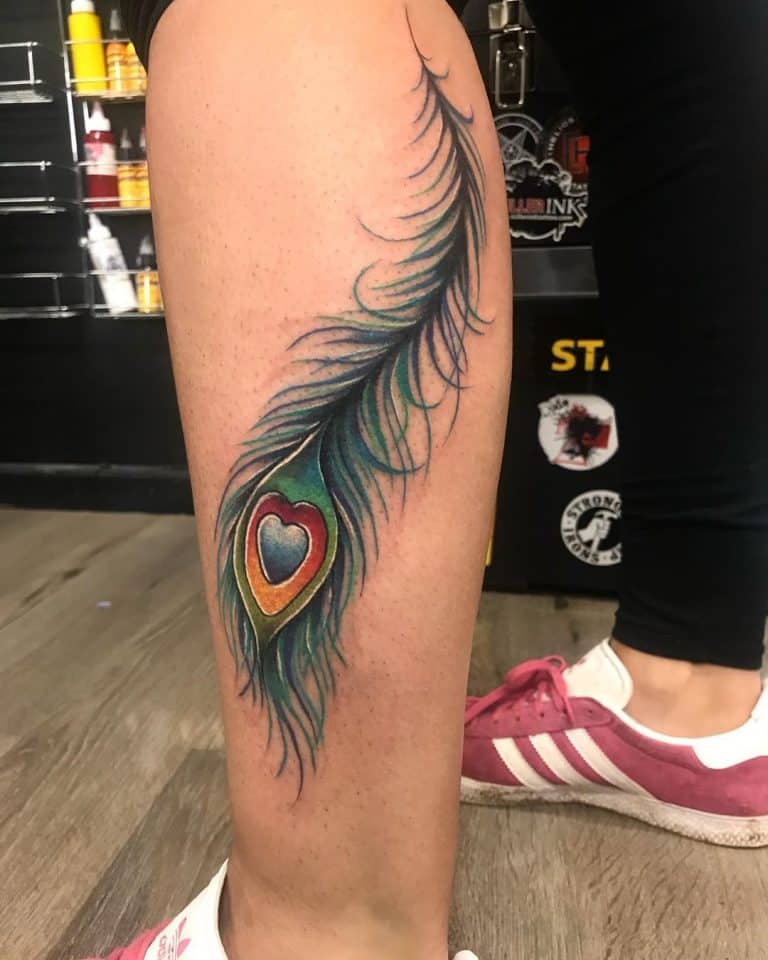 3D Feather Tattoo
3D tattoos are becoming more and more popular these days because of how awesome they look. A 3D feather inked on your body will give you an edgy look that will definitely stand out from the crowd. Plus, it's something that you can appreciate every time you take a glance at it.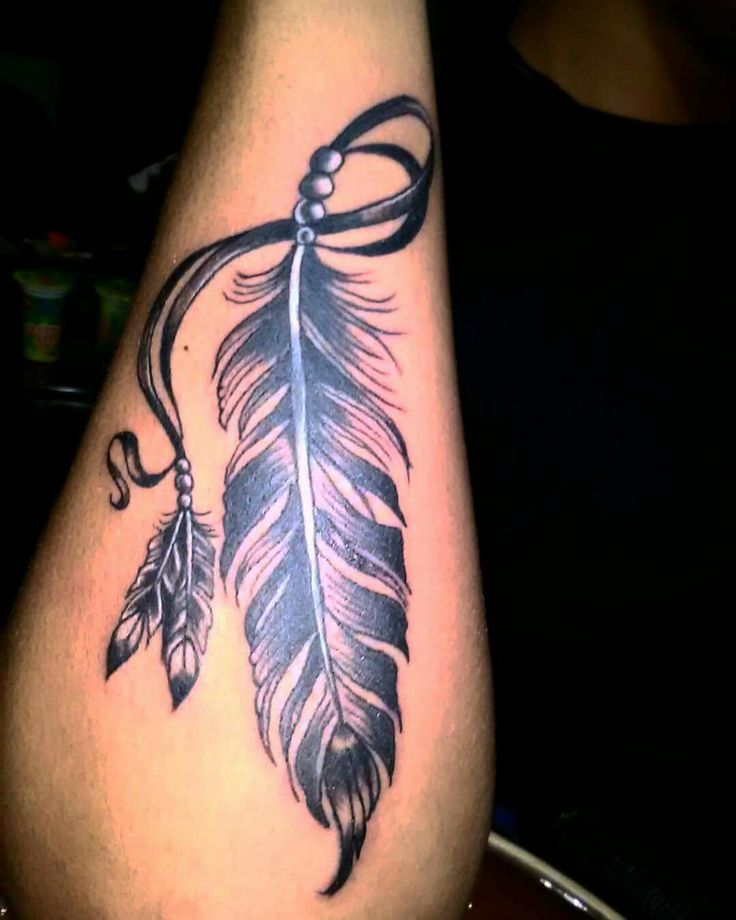 Geometric Feather Tattoo
If you add geometric patterns or shapes to your tattoo,something conventional can be changed into something a little more skewed.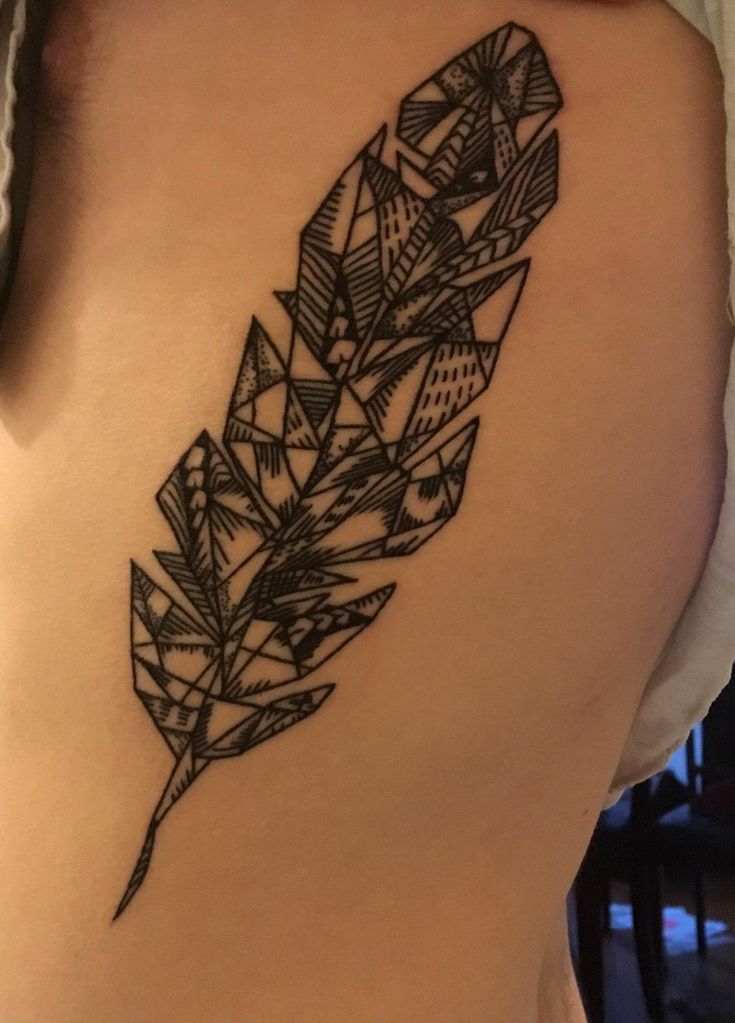 Eagle Feather Tattoo
The eagle is one of the most majestic birds to have ever flown the skies. Native Americans worshiped eagles in one of the oldest religions.Animism appliesas one of the oldest religions in which animals are worshiped. Many signs of animism are found in Native American art and culture.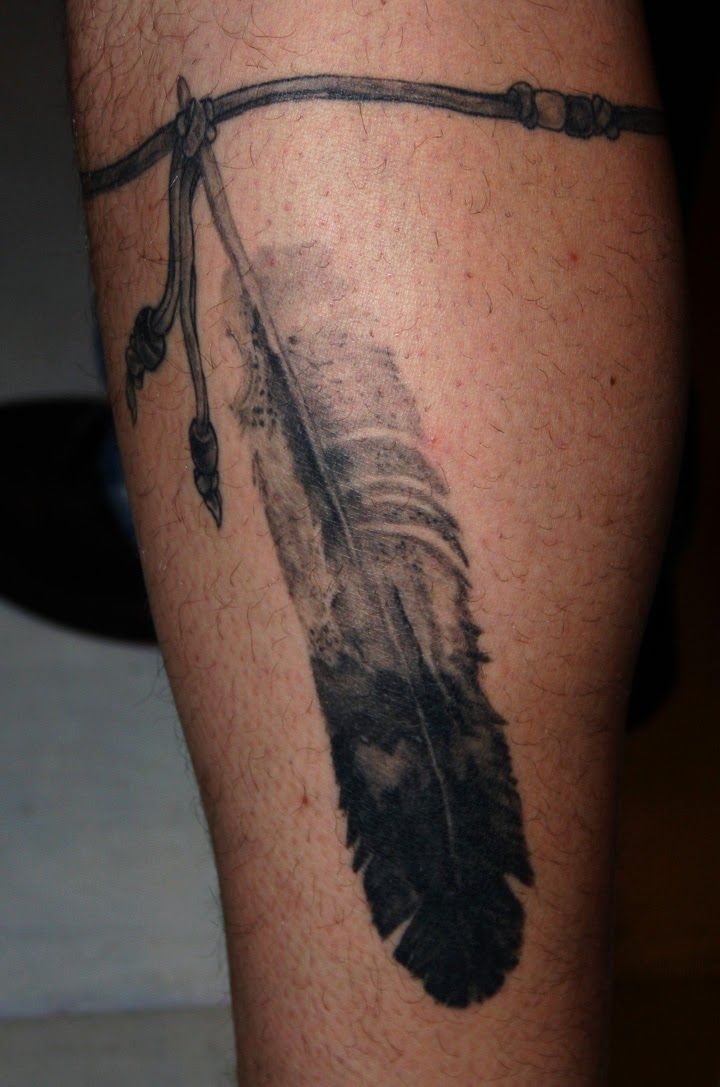 Full Leg Feather Tattoo
Woah! This is a giant leg piece, which looks fantastic. It is indeed a very fine tattoo and the artwork is amazing. This would have taken quite a long time in the studio.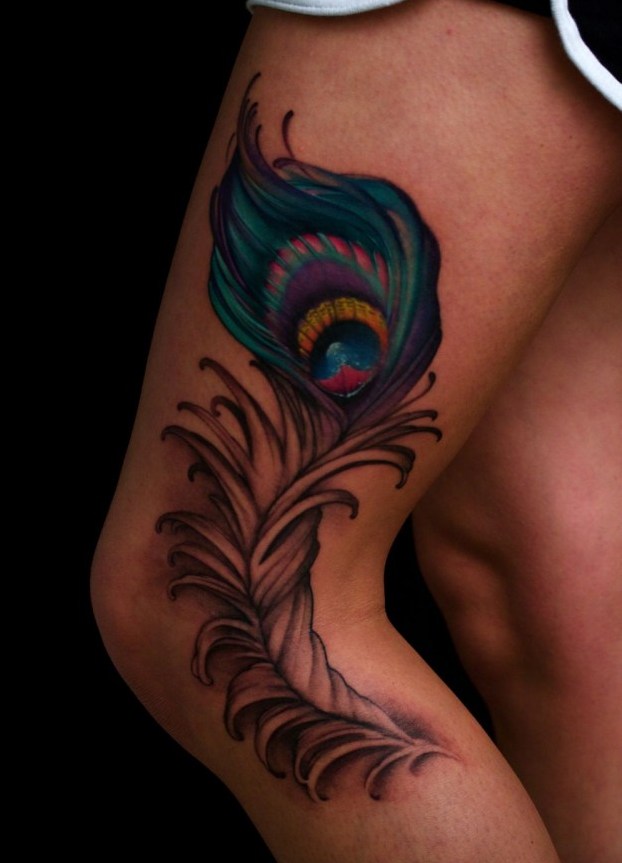 Tricolor Feather Tattoo
This simple tricolor tattoo is perfectly executed and the colorsgo well together.The bold outline makes the tattoo pop off the skin.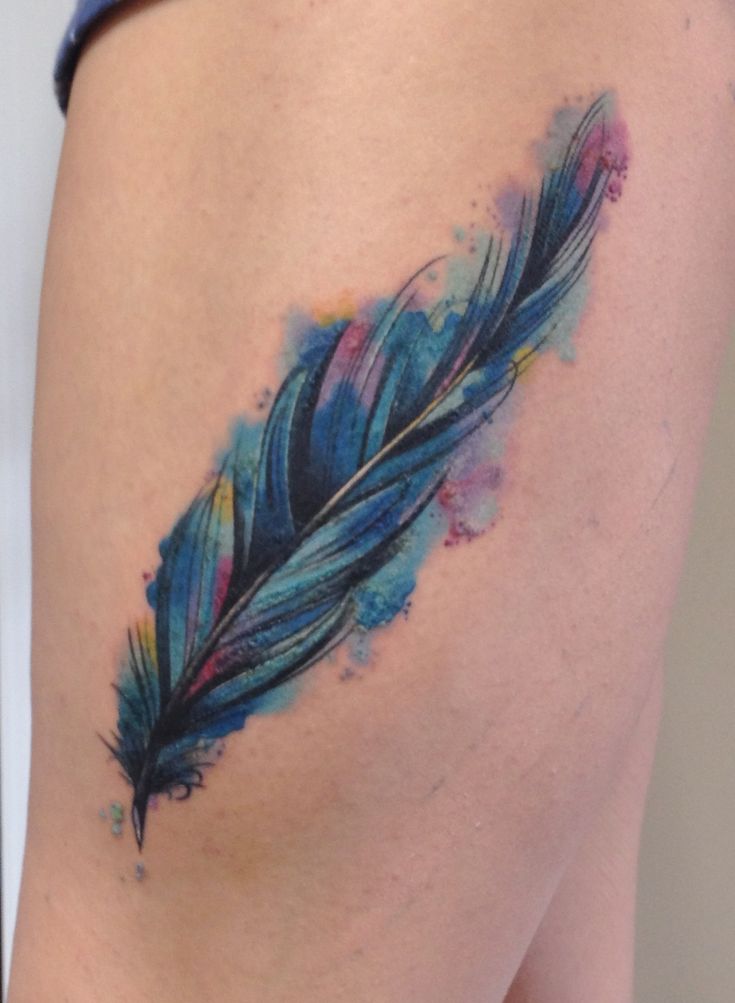 Small Feather Tattoo
Feather tattoos can be very small and simple or large and complex. The size of the tattoo will depend on where you want to get it done. The most common area for a feather tattoo is on the wrist or forearm.
Jewelry Feather Tattoo
Are you always losing your jewelry? That's the way it isalmost impossible to lose.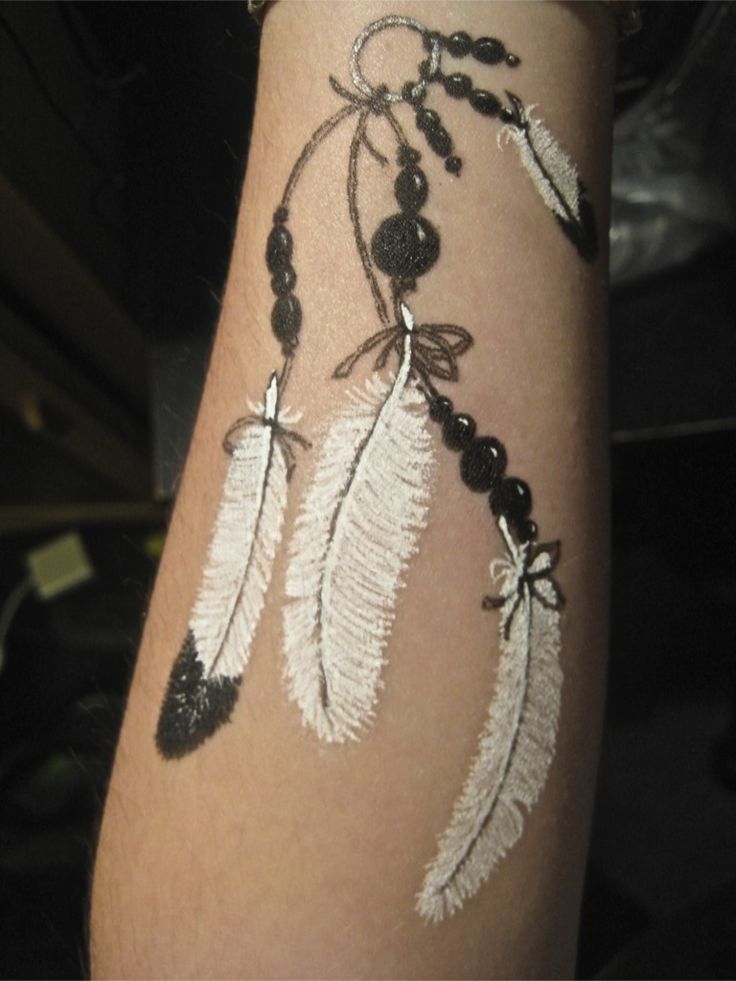 Ankle Feather Tattoo
Ankle tattoos would look great on anyone. They're easily visible and at the same time, can be easily covered up with pants or socks if needed. An ankle tattoo is perfect for someone who wants to make their tattoos visible wherever they go without being too obvious about it. It's a great place to put your feather-themed tattoo!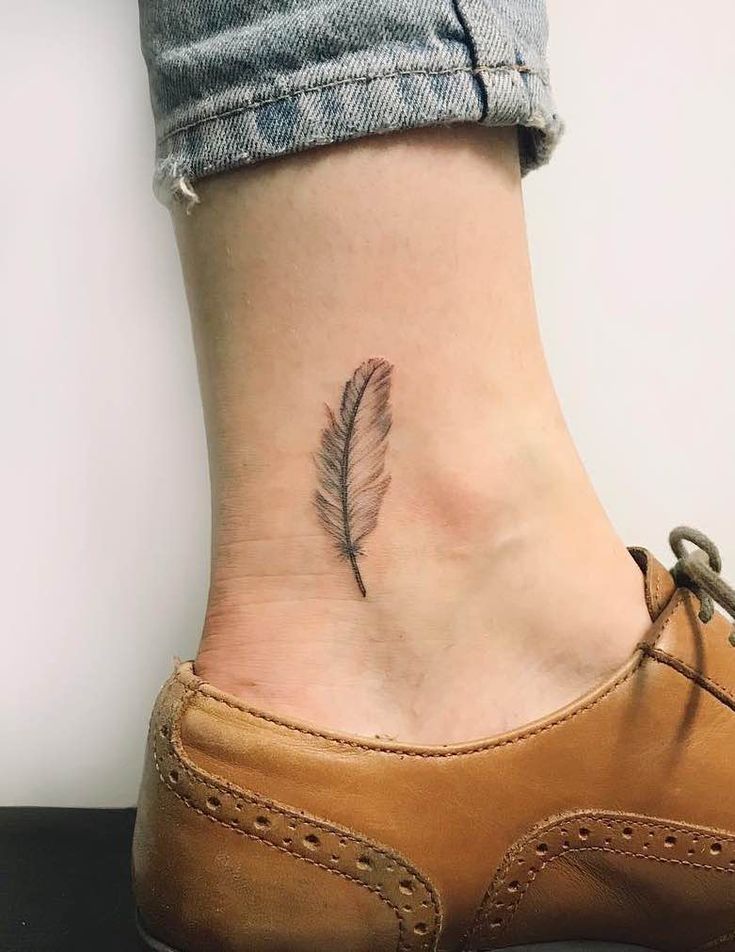 Spine Feather Tattoo
A spine tattoo adds definition and tone to the area. It also follows the natural contours of the body, what a good tattoo.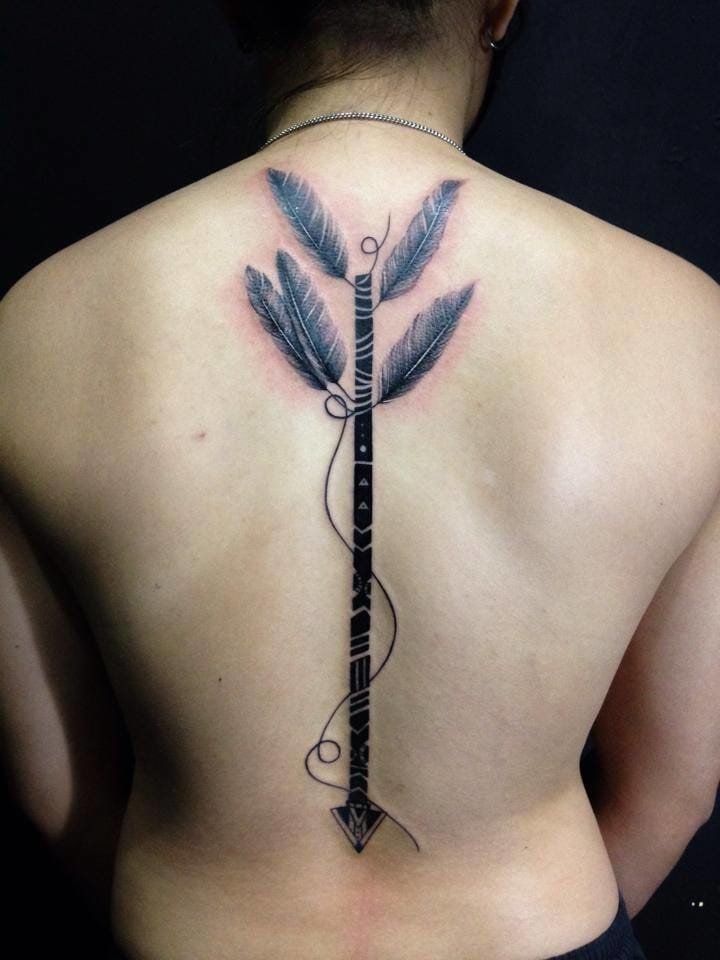 Watercolor Feather Tattoo
This is a cool and unique take on the feather tattoo.It uses a watercolor effect mixed with a solid line and looks stunning.The birds crown itnice to create a masterpiece.
Tribal Feather Tattoo
Tribal designs usually feature thick lines and are a bit blocky.Justbecause they lack detail, they aren't as pretty as more intricate designs.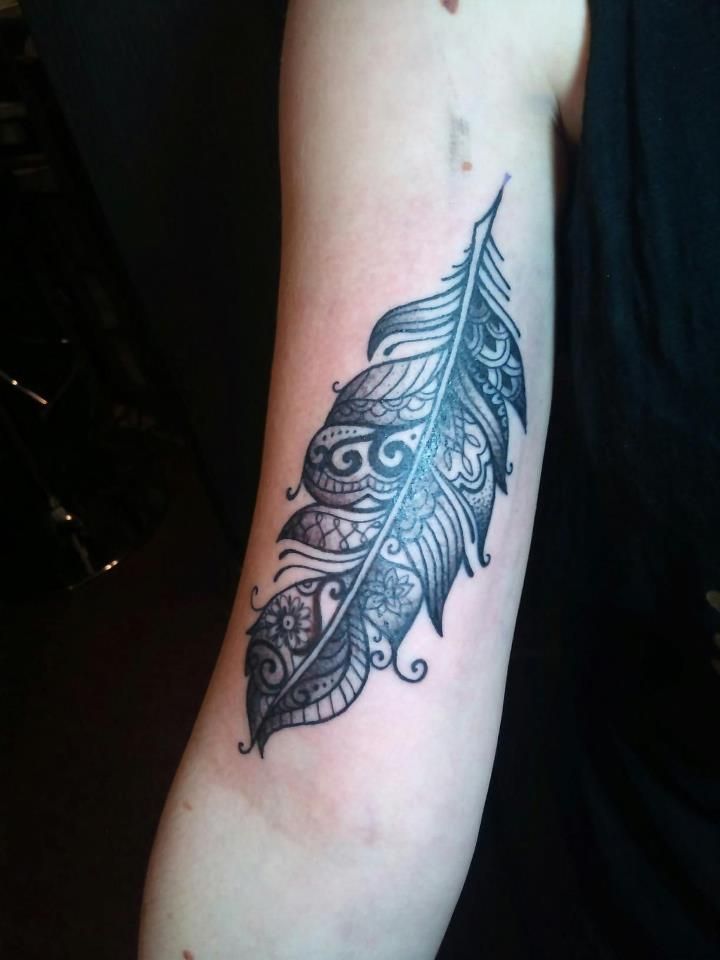 FAQ
Feather Tattoo Meaning
Feather Tattoos Meaning can be different for every person. Feather Tattoos are symbolic of a new beginning, freedom and liberation, spirituality, guidance and inspiration.A Feather Tattoo Meaning is a very unique and beautiful design featured with a feather combined with various shapes, quotes, geometric patterns, which makes it so special. There are many Feather Tattoos Meanings that you can choose from. You can get one that is meaningful to you or one that symbolizes your personality.
What Does a Feather Tattoo Symbolize
The meaning of feathers in general is spiritual evolution. A feather tattoo on your body symbolizes freedom and protection. Feathers are also the symbol of truth, speed, lightness, flight and many more things.