20 Gorgeous Sun and Moon Tattoo ideas in 2023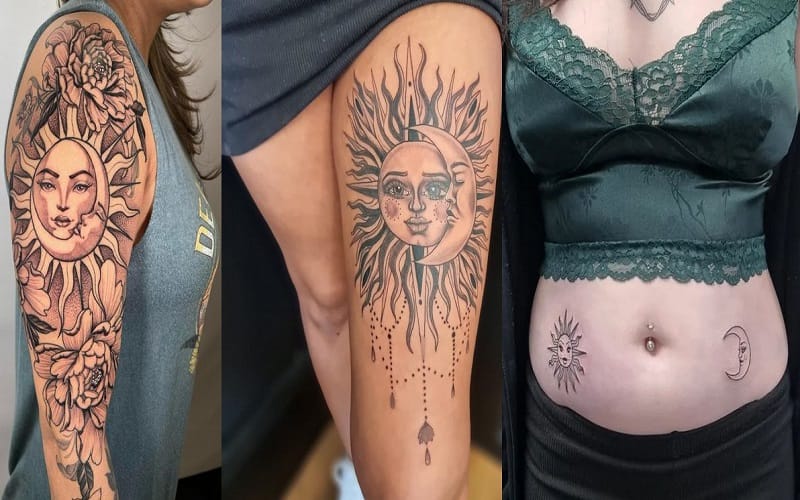 Sun and Moon tattoos are a beautiful design that looks great on arms, backs, legs, and other parts of the body. The imagery of the sun and moon is often combined with flowers, vines, animals and other popular tattoo features. However, many sun and moon tattoos are left in their basic state. Sun and Moon tattoos are available in a variety of styles, shapes, sizes and colors. These tattoos can be small or large. They can be simple or detailed. Sun and Moon tattoos will look good anywhere they are placed on the body.
Sun and Moon tattoos are a fairly popular choice among those seeking to express their spiritual connection with the celestial bodies that control the earth's tides. Since ancient times, people have been fascinated with the sun and its ability to give life, as well as the moon's mystical power to influence our emotions, so it's no surprise that each has been depicted by countless cultures in art and folklore.
The sun and moon are two of the oldest symbols in tattooing. From tribal markings to new age designs, these symbols have been used to symbolize a variety of meanings. To some, the sun is a source of life and power, while others see the moon as a guiding light in their lives. Tattoos combining the sun and moon have become more popular over time as people begin to embrace the duality that exists within them.
1. Half Sleeve Sun and Moon Tattoo
These are usually done in tribal art, but they can have other symbols surrounding them or even within them. The sun and moon designs are usually big enough so that they cover the entire area of the upper arm. Other popular sleeve tattoo designs include tribal, dragon, Japanese, flower, wolf and eagle.
2. Meaningful Sun and Moon Tattoo
The most common sun and moon tattoos are those that are combined with other images such as stars. Some people choose to have a half sun and half moon design on their back, shoulders or arms. It is also more common for women to get these tattoos because they tend to be smaller than those for men, although this is changing more and more these days too.
3. Sun and Moon Ankle Tattoo
Sun ankle tattoos can be small or large depending on your preference. A tiny image of the sun can be on the top of your foot or ankle, while a full-blown sun tattoo might cover your entire calf. Ankle tattoos are often portrayed as feminine designs because they are usually small enough to fit in this location and because their placement is on an area of the body with delicate curves and lines.
4. Sun and Moon Arm Tattoo
Arm tattoos are some of the most popular tattoo choices for both men and women. They're easy to cover up when you need to but are visible enough to make a statement when you want them to be seen. Sun and moon arm tattoos can be quite simple, such as a small black sun on one side of your neck and a moon on the other, or they can be more elaborate designs that wrap around your entire arm.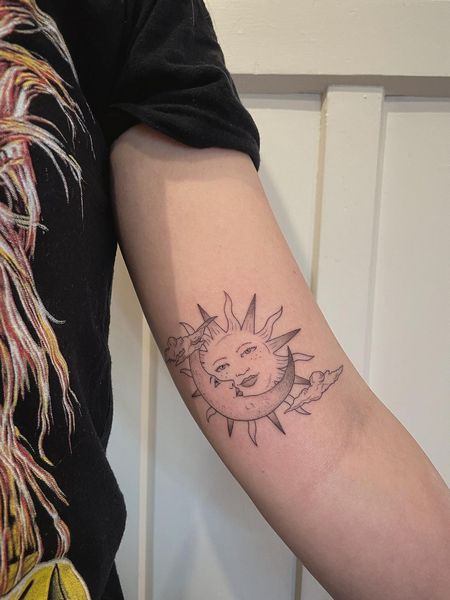 5. Sun and Moon Back Tattoo
Back tattoos are incredibly eye catching, and a sun and moon tattoo is no exception. Below are two examples of back tattoos. The first is of a belly tattoo designed with a crescent moon that is accompanied by a star design. The second design is of a beautiful flower arragement on the back with the sun and moon peeking through the center.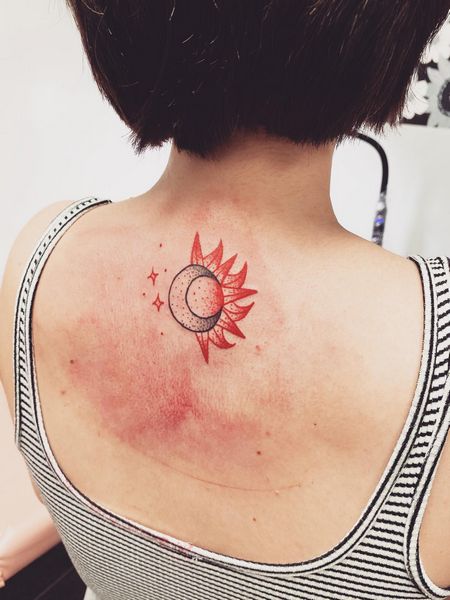 6. Sun and Moon Belly Tattoo
With the belly button being a very prominent area to get a tattoo, it's no surprise that there are many people who get sun and moon tattoos placed on their belly. The sun tattoo is usually placed on the left side of your belly button whereas the moon tattoo is usually placed on the right side of your belly button.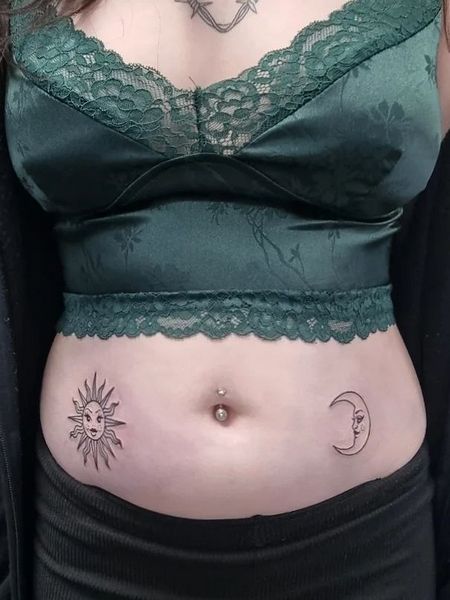 7. Sun and Moon Bicep Tattoo
Sun and moon bicep tattoos are a great choice for those who want a full-arm tattoo design that still has aspects of symmetry. The bicep is an ideal location because it is easy to incorporate the sun and moon tattoo design into a larger sleeve piece or full-arm tattoo.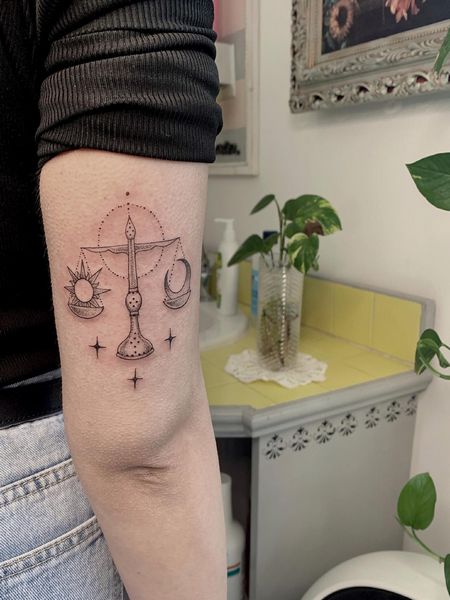 8. Sun and Moon Chest Tattoo
Many people also like to have their sun and moon tattoos placed on their chests. Because chest tattoos tend to be larger, they can be used to show off the amazing detail that you can have with a sun and moon tattoo design.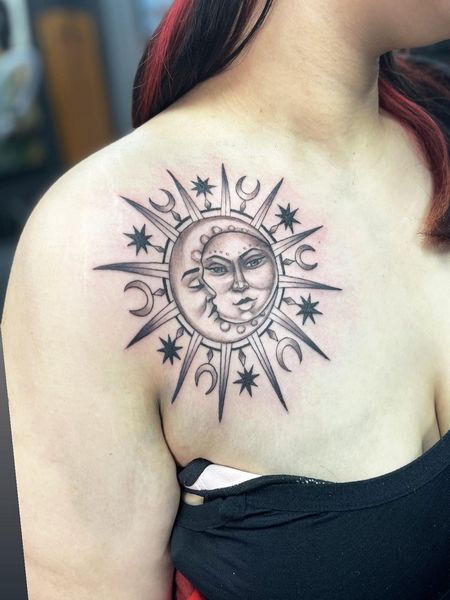 9. Sun and Moon Finger Tattoo
Finger tattoos are the perfect way to express yourself discreetly. If you want a tattoo that can be hidden when you're at work or school, this is a great spot for that. Finger tattoos can also be a fun way to mix up your look without committing to larger pieces. The sun and moon design is a popular choice because it is small enough to fit on most fingers with room to spare.
10. Sun and Moon Foot Tattoo
For those who don't mind showing off their ink, getting a finger tattoo on your foot can be a fun choice. You can show off the design while wearing sandals or flip flops, or surprise those you meet by letting them see it when you go barefoot. Either way, you'll have something fun looking down at your feet!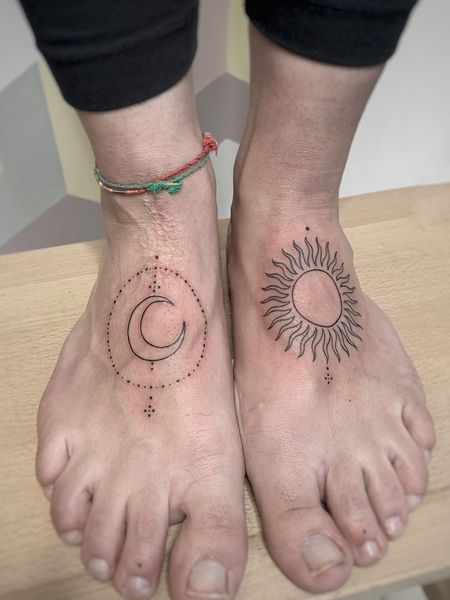 11. Sun and Moon Forearm Tattoo
Sun and Moon forearm tattoos are a great place to get the tattoo, because the forearm allows a large canvas for the tattoo. The skin is flat and smooth, so the designs look great when they are done. Some people also use their forearms as inspiration for other tattoos that they want to get on other parts of their body.
12. Sun and Moon Hand Tattoo
Hand tattoos are among the most popular tattoo choices out there. They're artful, they're beautiful, they're bold, and they show off your personality. They can also be a little painful to get, but the end result is definitely worth it! If you're interested in getting a tattoo on your hand, consider these sun and moon options.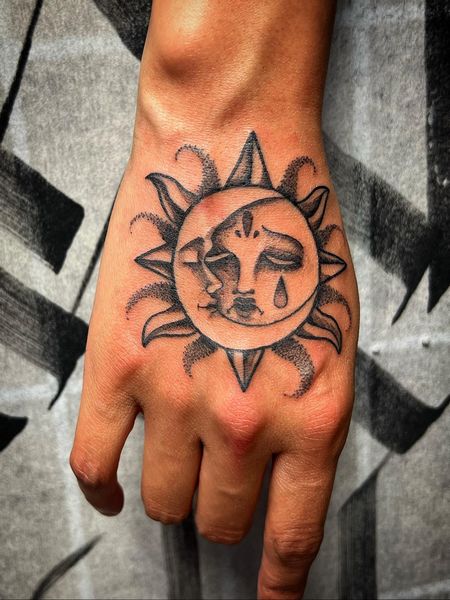 13. Sun and Moon Leg Tattoo
Another popular choice is Leg tattoos, which are typically larger in size than other types of designs. They're usually done on both sides of your legs at once so they wrap around nicely without leaving any gaps between them (and thus looking like one long piece). You may also want to consider having these done on your forearms or upper bicep – either way will work just fine!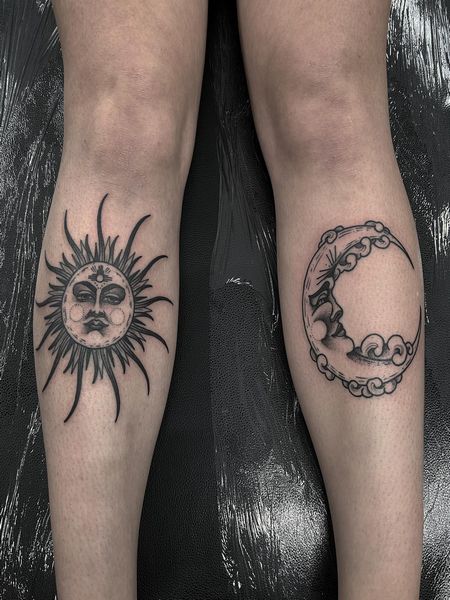 14. Sun and Moon Linework Tattoo
These sun and moon tattoos emphasize the importance of being able to move back and forth between sides of your personality without any problem. The fact that they use minimal shading makes them seem more like a symbol of this balance than a tattoo depicting the actual sun and moon themselves.
15. Sun and Moon Quote Tattoo
A lot of people who get sun and moon tattoos like to include words or quotes along with their designs. This adds another element of symbolism,you'll be able to choose the color, font and size of the text based on what it is, which will make your tattoo look even cooler.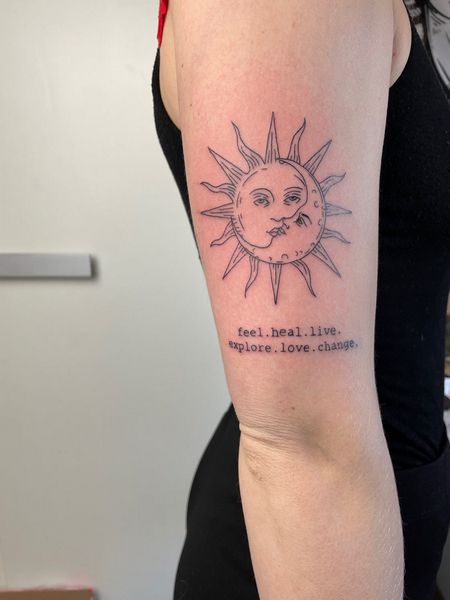 16. Sun and Moon Rib Tattoo
The rib cage is a popular placement for sun and moon tattoos. This area can be seen when wearing low-cut tops, but it's still covered up easily by clothing. The rib cage is a great canvas because there's plenty of space to work with. The skin on this part of the body is also relatively thin, meaning the sun and moon tattoo will have vibrant detail.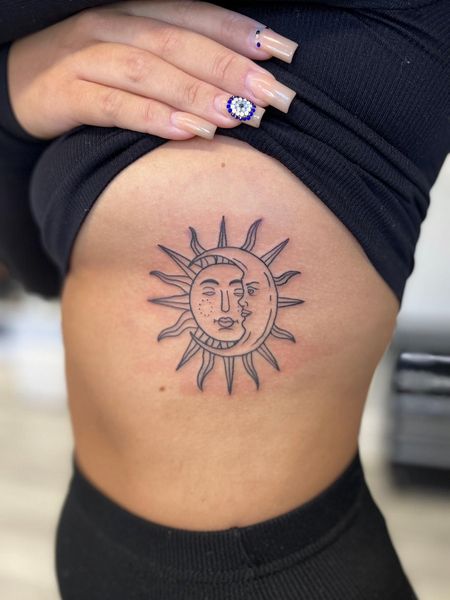 17. Sun and Moon Shoulder Tattoo
Another popular spot for sun and moon tattoos is the shoulder area. Shoulder tattoos are easy to cover up if necessary with clothing and they won't interfere with work attire like neck or hand tattoos might. Even though it may seem like a small area, there's still plenty of room to add intricate details in your tattoo.
18. Sun and Moon Thigh Tattoo
Sun and moon thigh tattoos are a popular option because you can showcase the design without showing it off to everybody who sees you. This allows for a larger image to be used without being too obvious. The thigh area provides room for intricate designs that don't need to be small enough to fit in a more easily visible spot such as the wrist or lower back.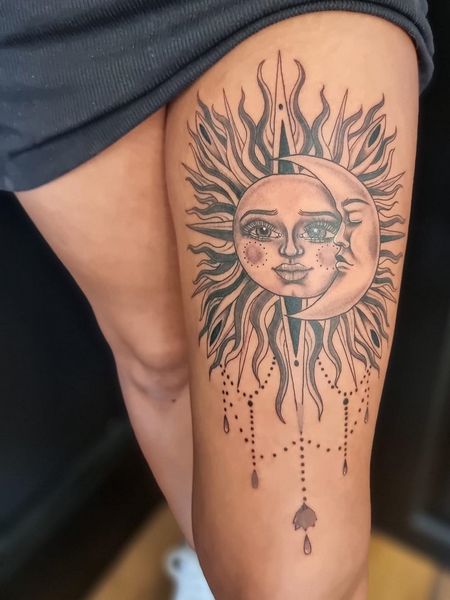 19. Sun Moon and Star Tattoo
Sun, moon and star tattoos are also common choices because these celestial bodies work well together as a unit. They allow for variations on the theme as well since stars can symbolize many different ideas, from hope to guidance to even religious feeling. And they're pretty,starry night skies are beautiful sights to behold and make wonderful designs for your skin.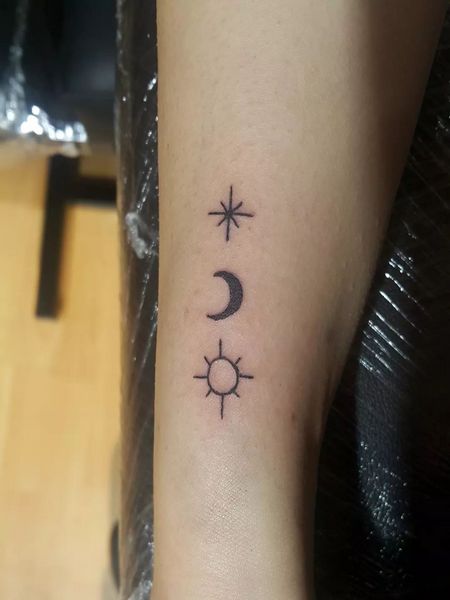 20. Colorful Sun and Moon Tattoo
Colorful sun and moon tattoos are one of the most popular themes for body art. They can be designed in a variety of different ways, from realistic to cartoonish. The sun and moon are often portrayed together in one tattoo design, but they can also be designed alone. Both the sun and moon represent powerful forces.
FAQ
Sun and Moon Tattoo Meanings
The sun represents light, passion, power, enlightenment, loyalty, intellect, energy, brilliance and creativity. The moon represents the subconscious mind, emotion and intuition.
What do the sun and moon symbolize together?
The sun and moon are among the oldest symbols in history, and have been symbols for many cultures. Together the sun and moon represents the balance of nature, balance of masculine and feminine energy, balance of yin and yang and the balance between light and dark.