25 Best Sleeve Tattoos for Men in 2023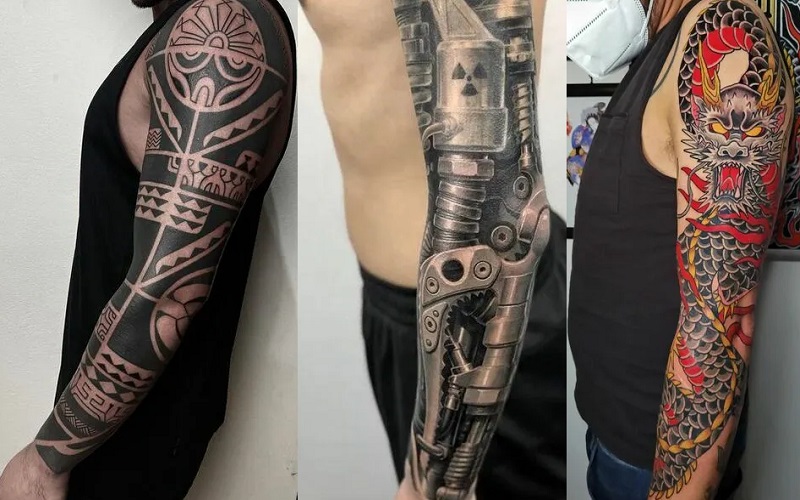 Sleeve tattoos for men are very popular, but it's not always an easy decision to make. The pain, the number of sessions needed, and the cost are all things that need to be considered. But if you're certain you want a sleeve, then there's nothing to hold you back.
Sleeve tattoos are typically designed in an intricate pattern that flows over the entire arm, though some people prefer to start with a small design and gradually build up the full sleeve over time. Sleeve tattoo ideas for men can include geometric patterns, religious symbols, nature-inspired motifs like flowers or animals, portraits of loved ones, or whatever else you can imagine.
Sleeve tattoos are one of a number of tattoo types that have helped increase the popularity of tattoos. They sport a unique look that stands out from other tattoos and make you look like a cool dude or chick. Tattoo lovers can get sleeve tattoos in a variety of designs, including geometric, tribal, floral etc. A lot goes into designing these tattoos, which is why they should be thought through carefully before getting them done.
Best Sleeve Tattoos For Men
1. Cross Sleeve Tattoo
For those who want to get a religious tattoo without being too blatant about it, this is one of the best options. Cross sleeve tattoos typically take on a very simple design and are often done in black ink only, which makes them easy to pair with other tattoos if you choose to do so. This style is versatile enough that it can be worn by nearly anyone and still look good.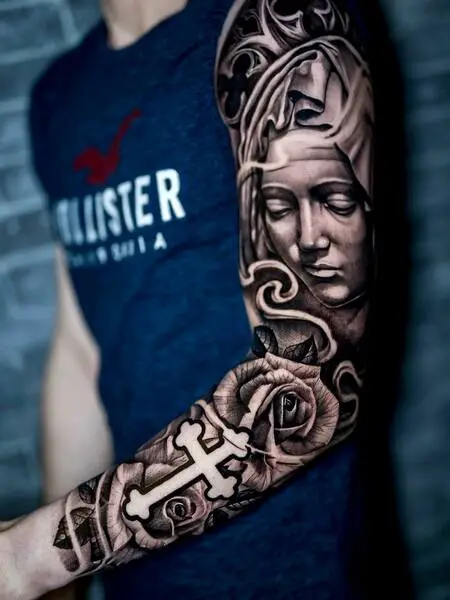 2. Full Sleeve Tattoo
A full sleeve is a popular style of tattoo since it offers a large area that is perfect for intricate designs and large, bold art. You may choose to go with a full-color design such as a colorful koi fish or a peaceful scene with waves and mountains. Or maybe you want something more abstract and black-and-white—a beautiful pattern that circles your arm from wrist to shoulder or an elaborate mechanical piece that stretches from elbow to wrist.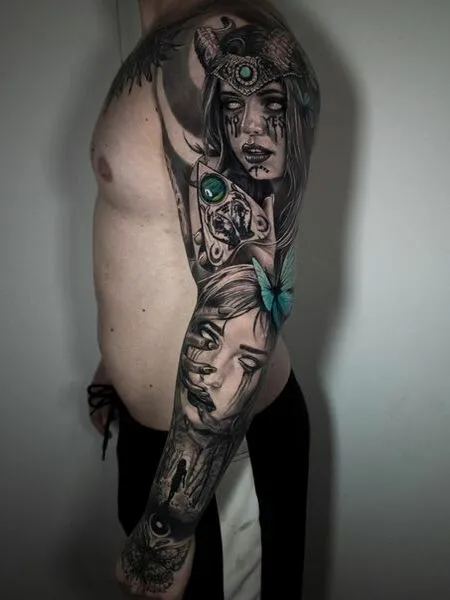 3. Angel Sleeve Tattoo
An angel sleeve is perfect for arm tattoos that have religious or spiritual meaning. This style of sleeve uses an angel as the focal point and then covers the rest of the arm in smaller, meaningful images like crosses, birds, hearts and flowers. Because this style of sleeve is religious in nature, it's important that you choose images that are meaningful to you personally or spiritually meaningful in general.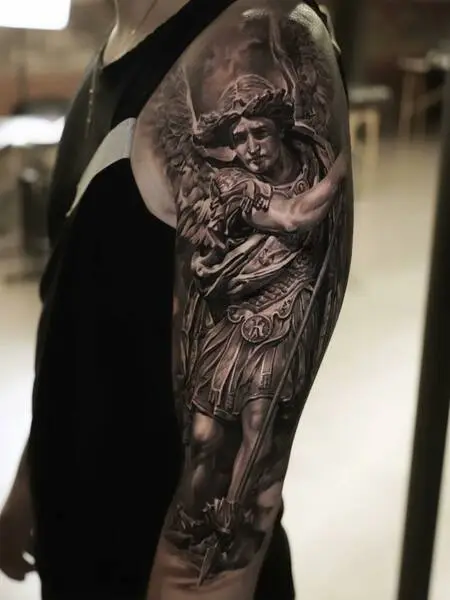 4. Celtic Sleeve Tattoo
Celtic designs are popular not just because they look so amazing, but because they have a lot of meaning behind them as well. These designs are usually used to symbolize important moments or people in the wearer's life. Celtic tattoos are said to bring luck to their bearers and were often used for protection in battle as well.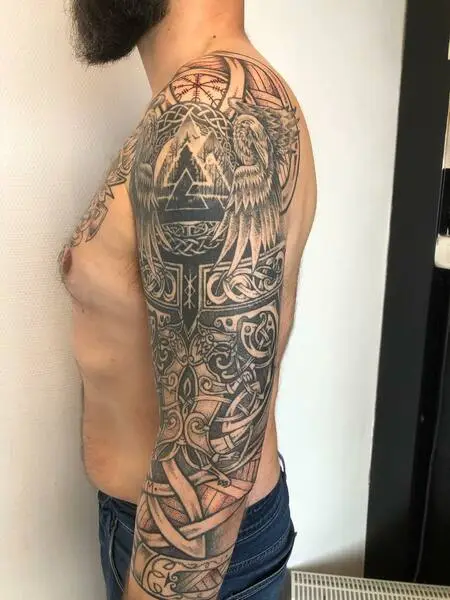 5. Watercolour Sleeve Tattoo
The watercolour style is popular among tattoo enthusiasts because of its beautiful design and vibrant colours. Although this style is distinct, it's not easy to achieve a flawless look as there isn't much room for error when creating them. Ideally, the artist should use different shades of colours such as yellow, blue, green, purple and red to achieve the desired outcome.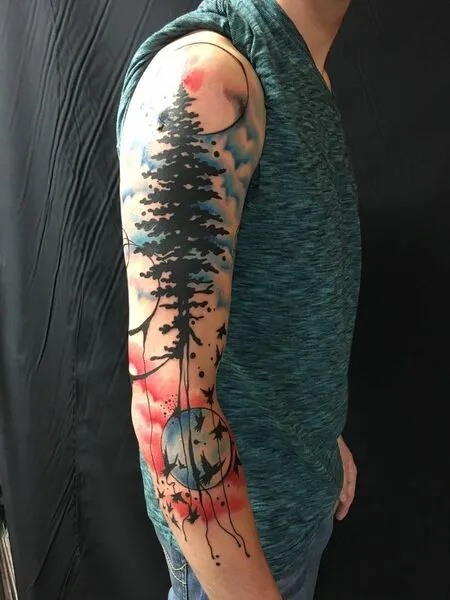 6. Wolf Sleeve Tattoo
This style is quite versatile as it can be enhanced by adding multiple elements in different dimensions. In essence, a wolf sleeve tattoo is an image of a wolf with various components incorporated into one massive piece. It's not uncommon to find some people who combine their wolf designs with other elements like flowers or even wolves with wings. For example, you can include symbols of power such as crowns or swords in your sleeve if you're going for something more creative.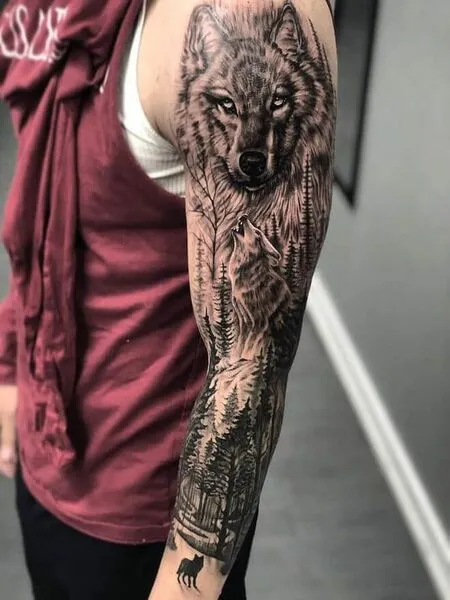 7. Nature Sleeve Tattoo
One of the most popular looks for sleeve tattoos is nature-inspired designs. From flowers to trees to birds and other animals, nature gives us so many different ways to express ourselves through body art. Roses are one of the most popular flower choices for a rose sleeve tattoo because they symbolize love and passion—and who doesn't want that?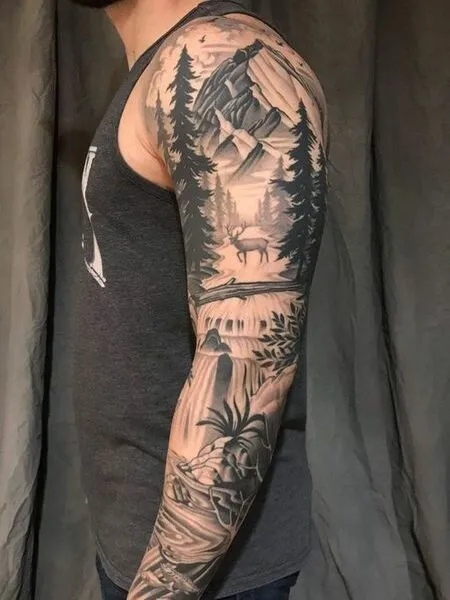 8. Rose Sleeve Tattoo
This design includes roses, which are a very popular design for sleeve tattoos on men. Roses are very artistic and have a lot of meaning. The rose is a symbol of love, strength, passion, beauty, and courage.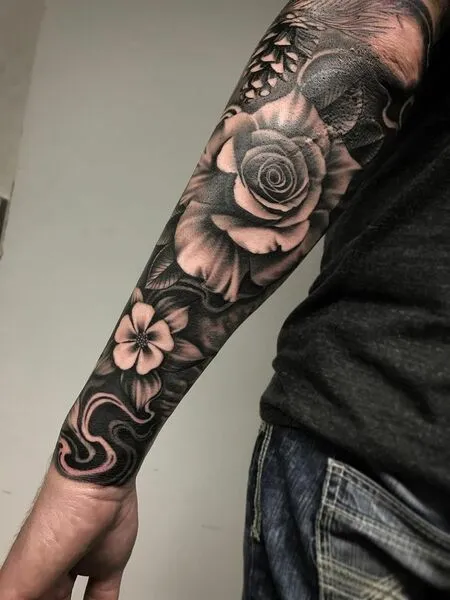 9. Music Sleeve Tattoo
Another popular arm tattoo design that many men choose is music notes. There are plenty of musical note designs that men will enjoy having on their arms. You will find that there are several different designs to choose from that you can use if you want to get this type of tattoo on your arm.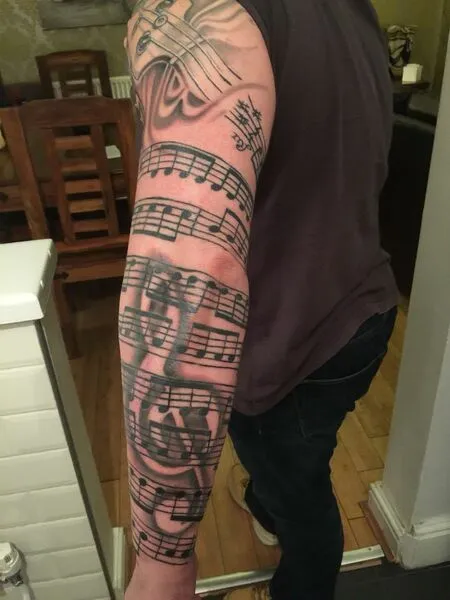 10. Viking Sleeve Tattoo
The Viking tattoo is one of the most popular designs out there. This design has been around since the 8th century, and it was originally used as a symbol of masculinity. Nowadays, this design is used by both men and women as a way to express their love for Norse mythology.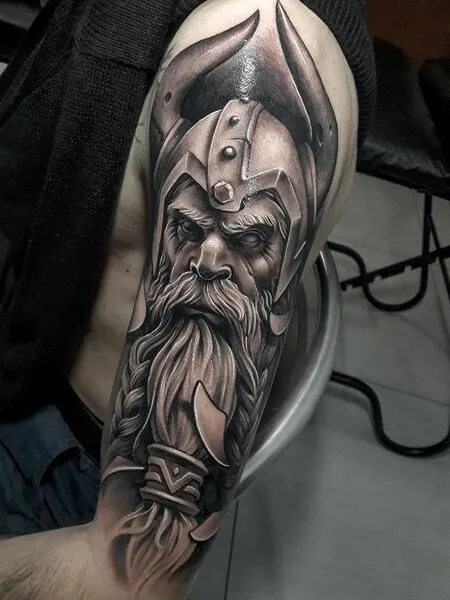 11. Clock Sleeve Tattoo
The clock sleeve tattoo is another very popular design among both men and women. This design can be done in a number of different ways, but one of the most popular ways to get this tattoo is to have it done on your arm or leg. It can also be done on your back if you want something more subtle. The clock sleeve tattoo is a great way to show off your love for timekeeping while also being able to show off your uniqueness in style!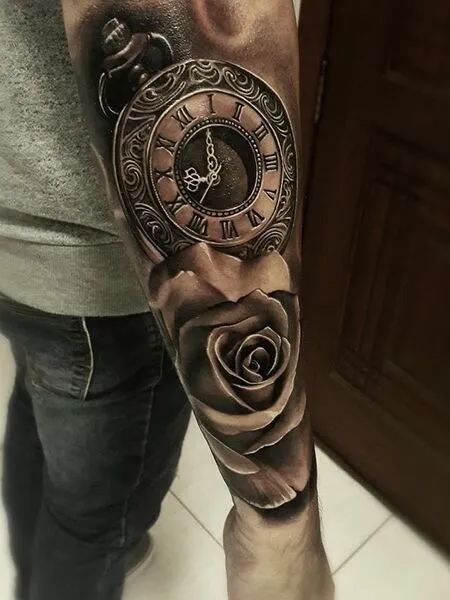 12. Family Sleeve Tattoo
If your family is important to you, then a family-themed sleeve tattoo might be just what you want. You can include images of loved ones, or even family trees—you can also add phrases that mean something to you in a beautiful font. If you're not sure what images to include, then think about your favorite photos and memories of your family—and if there's anything they like to do together as a group.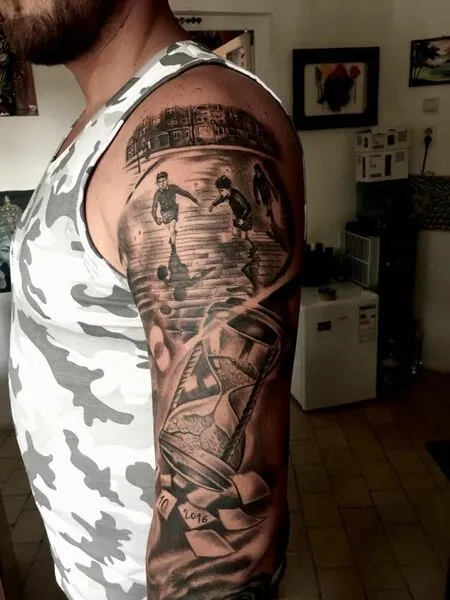 13. Mechanical Sleeve Tattoo
Another popular design for men is mechanical sleeve tattoos. These typically feature gears and cogs, with the idea being that they represent the inner workings of life. The reason this design is so popular is because it looks great—and it also means that no two designs need to look the same. You have complete freedom when it comes to colors, shapes and sizes—which means that you can really get creative with this type of design!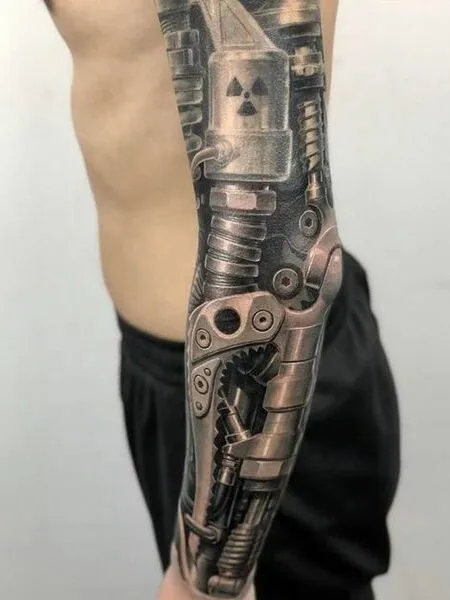 14. Half Sleeve Tattoo
A half sleeve tattoo is an ideal way to make a statement without being overbearing. For guys who want to ink up their arms but aren't sure they want to commit to a full sleeve, these types of tattoos are the way to go. Often extending from the shoulder nearly all the way down to the elbow, these tattoos can be hidden by clothing if necessary or shown off with pride.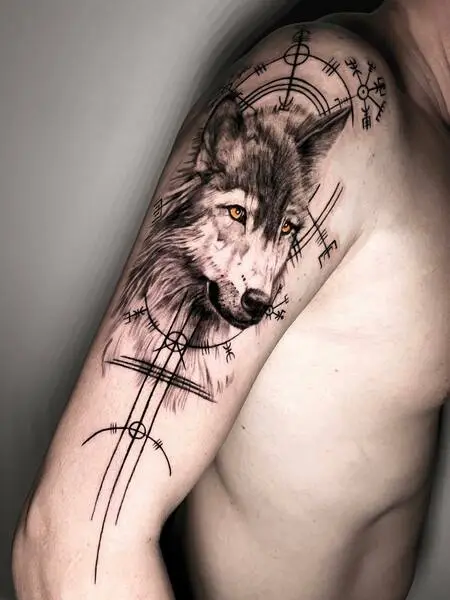 15. Jesus Sleeve Tattoo
Many men find that Jesus sleeve tattoos are a good choice when it comes to showing off their faith in God. Many people who have had these types of tattoos done say that they feel closer to God after having these tattoos done on their arms. Some men may feel that this is an odd choice for them, but for those who strongly believe in God and want to show it off to everyone around them, this is a great option.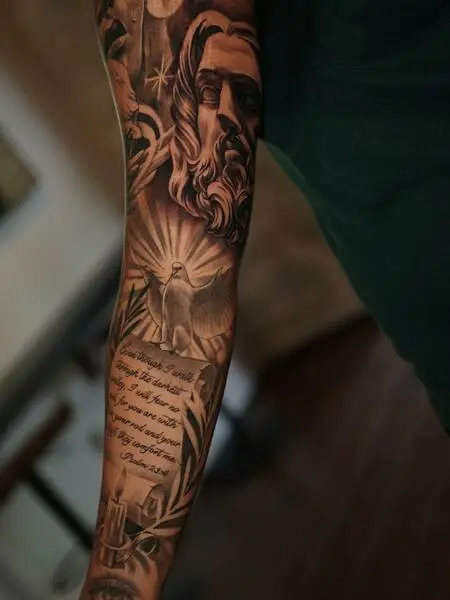 16. Arrow Sleeve Tattoo
An arrow tattoo on the arm can be fairly discreet, as most of the design can be hidden under a long sleeve shirt. It's also one of the easiest designs to incorporate into other tattoos, so if you have existing ink that you want to enhance, this could be the ideal option for you.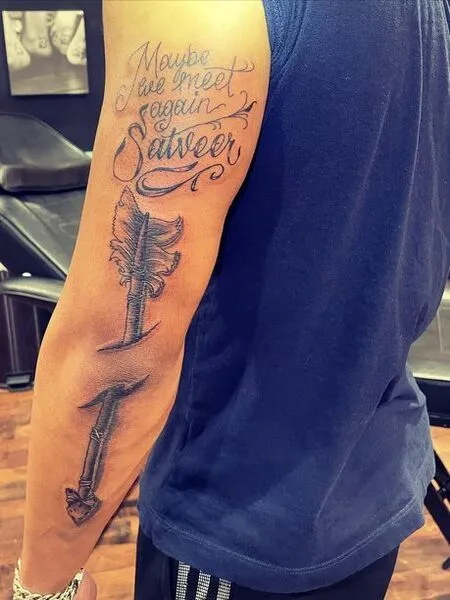 17. Dragon Sleeve Tattoo
A dragon sleeve tattoo is definitely an eye catching tattoo choice. This type of design is perfect for those who love fantasy art and want to sport some unique ink on their body. A dragon sleeve tattoo will definitely draw attention and make people take notice of your awesome new ink!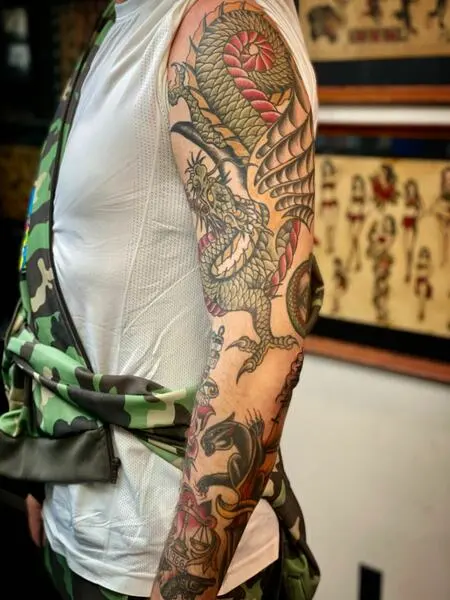 18. Japenese Sleeve Tattoo
A Japanese sleeve tattoo is a fantastic choice if you're looking for something beautiful and unique. Many men choose this style because they admire Japanese art and culture. The design possibilities are endless when it comes to choosing a Japanese inspired design for your new ink!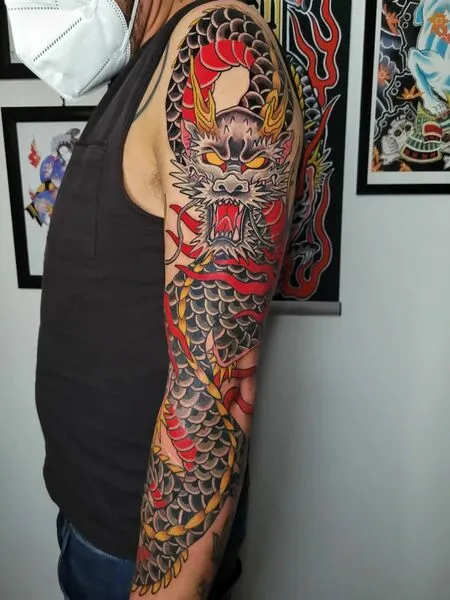 19. Tribal Sleeve Tattoo
A tribal tattoo on the sleeve is a common choice for men looking to make an impression with their body art. The most popular tribal choices include Polynesian and Maori designs, which feature spirals and other distinctive patterns. Tribal sleeves can be done in one color or multiple colors, depending on the wearer's preferences.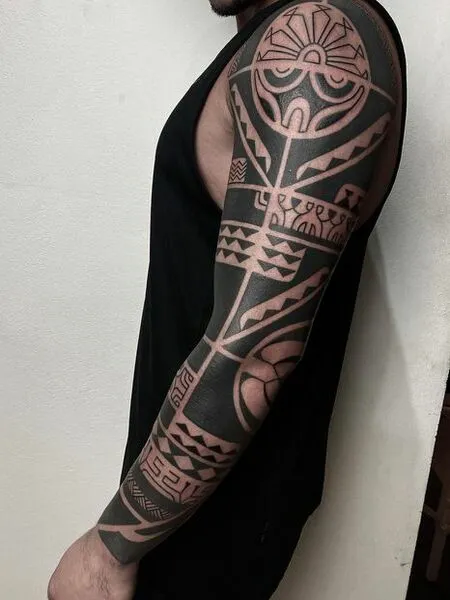 20. 3D Sleeve Tattoo
For an edgier look, some men are choosing to get their sleeves done in 3D ink. This type of artwork uses shading to give the appearance of depth and texture, creating realistic images that pop off the skin. Instead of applying one solid layer of ink as in traditional tattoos, 3D work involves varying shades of black that give the illusion that the subject is popping out from under your skin when viewed from different angles—as if you could reach out and touch it!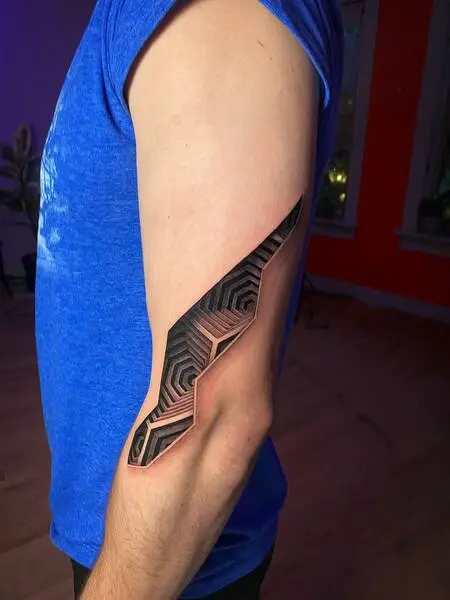 21. Abstract Sleeve Tattoo
Abstract sleeve tattoos are quite popular and given their artistic appeal, they can be a great choice for the wearer. However, if you're not sure what you want when you choose this design, then it could end up looking like a bit of a mess. To avoid this, make sure that you get some inspiration first and have an idea of what you want your finished piece to look like.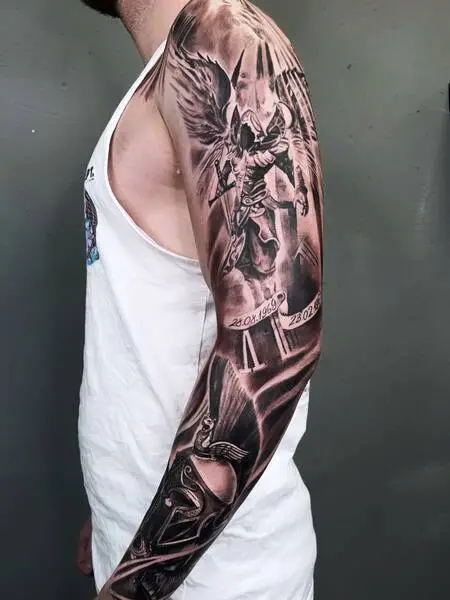 22. Skull Sleeve Tattoo
Skull sleeve tattoo designs are also very popular at the moment, especially with people who have a macabre sense of style. This type of design is usually very detailed and often incorporates other elements into the skull, such as flowers or ribbons.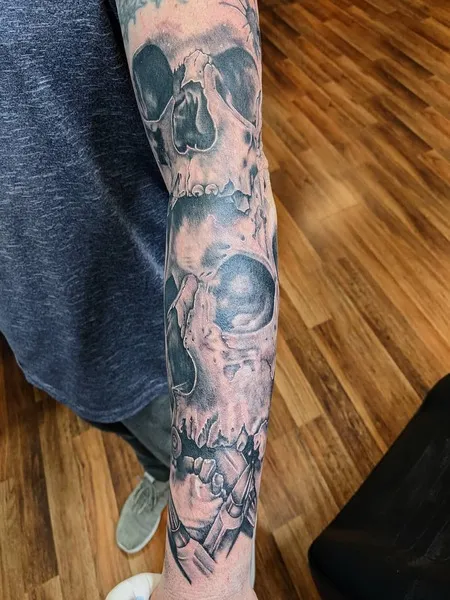 23. Religious Sleeve Tattoo
If you have strong religious beliefs, then you may want to consider getting a religious sleeve tattoo. Many men do this because it lets them show off their beliefs while also having a stylish design that covers their entire arm. You can do your favorite religion or do something that means something special to you such as an angel or cross.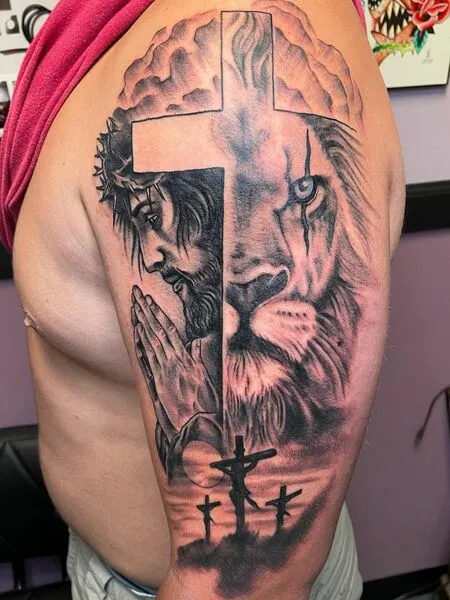 24. Lion Sleeve Tattoo
The lion is seen as the king of the jungle which is why so many men want to get a lion tattoo on their arm. This is a great option if you want an animal tattoo but don't want anything too small or hidden away. You can choose from various different poses and sizes so that you end up with an amazing looking lion tattoo that shows off your personality.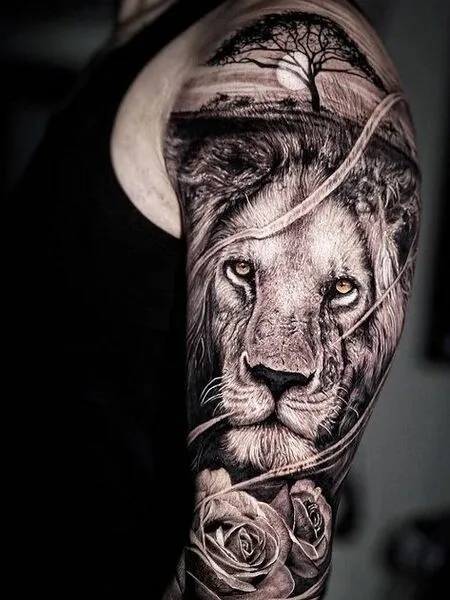 25. Elephant Sleeve Tattoo
An elephant sleeve tattoo is one that covers the arm, usually in an artistic fashion. These designs can be quite beautiful, but are extremely popular as well. If you want to do something a little different and get a sleeve tattoo that is truly unique, then you should consider getting an elephant. It is one of the most popular animal designs available today.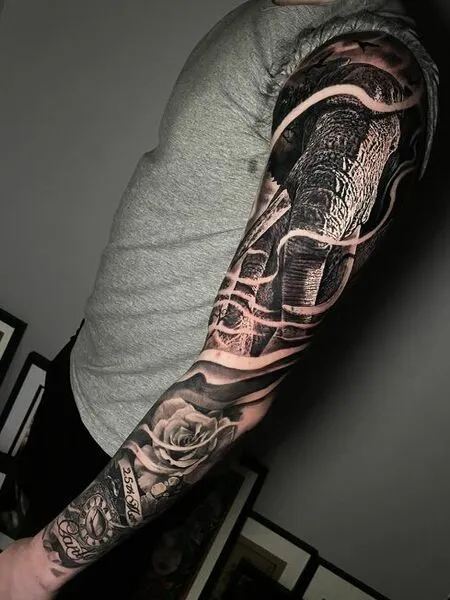 FAQ
Why do guys get sleeve tattoos?
Sleeve tattoos allow men to showcase their emotions and feelings in a more dynamic way than short phrases or quotes often express. These works of art often reflect the wearer's deepest feelings and beliefs on social issues, people, and life in general.
Do sleeve tattoos hurt?
Sleeves are made up of multiple pieces, so you'll have to be under the needle for hours per session, and then come back for several sessions over the course of a few weeks. If you've ever gotten a tattoo on any other part of your body—a small one on your ankle, for example—then you can expect that same level of pain during each session. Some people report feeling the most pain around the elbow, inner elbow, wrist, and armpit area.