20 Beautiful Sleeve Tattoos For Women in 2023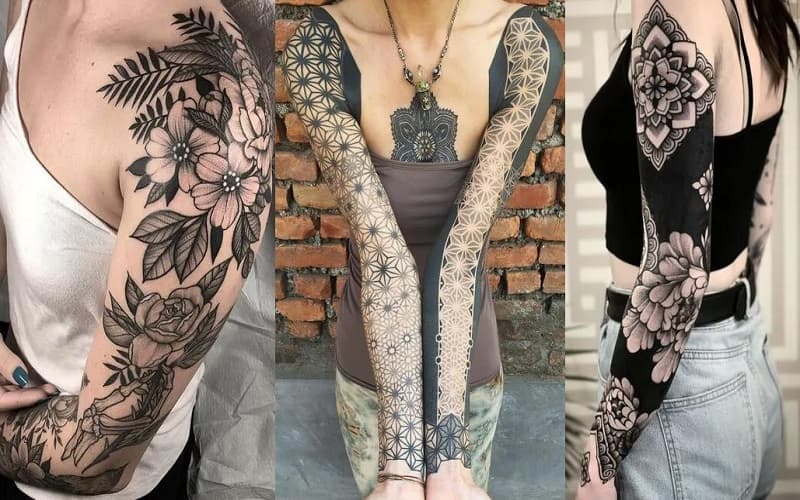 Sleeve tattoos for women are a great choice for any woman who wants to add a meaningful tattoo to her body. The best sleeve tattoos for women are those that will fit the arm in an attractive way and be an expression of something that the woman believes in or represents her personality. The most popular types of sleeve tattoos for women include roses, hearts, and flowers. These designs can be very detailed or simple depending on the preference of the woman.
Sleeve tattoos for women are getting popular nowadays since it can be a great way to express one's own identity. These tattoos are usually large so that it can cover the whole arm. The designs that are usually used for these tattoos are tribal art, flowers, and others.
When it comes to tattoos, women have just as much of a right to get inked as men. There are many tattoos designed for women so that they can get the same sense of self-expression and personal connection through body art. Sleeve tattoos are no different than any other type of tattoo, however there are some types of sleeve tattoos that are more common among women.
Best Sleeve Tattoos For Women
1. Flower Sleeve Tattoo
Flowers have always been a popular design choice for tattoos, and full sleeves are no exception. You can choose just one or two flowers, or an entire bouquet of them. This is the perfect design choice for spring and summertime,but if you decide on this tattoo style, make sure you know exactly what kind of flower you want and where it will be placed on your arm before going under the needle!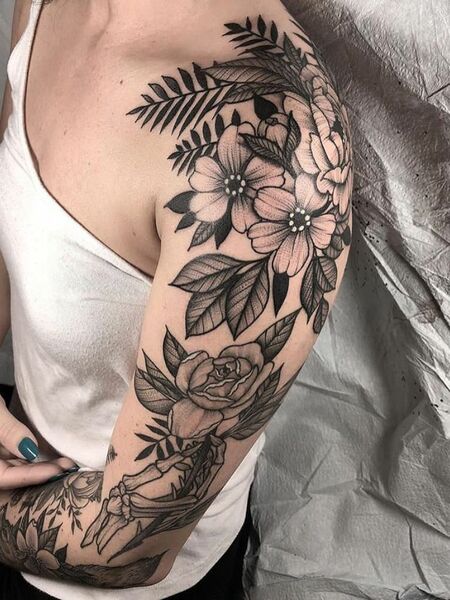 2. Full Sleeve Tattoo
Full sleeve tattoos are not for the faint of heart. They provide lots of opportunity for creativity and artistic expression, but they also mean that you'll be in pain for much longer than if you were getting a smaller tattoo. Make sure that you're ready for commitment before choosing this design option!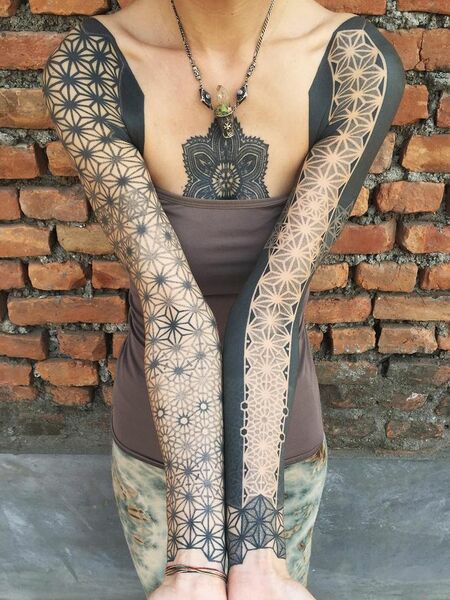 3. Angel Sleeve Tattoo
Angel sleeve tattoos are another type of sleeve ink that women love because it gives them an angelic appearance. These angels often have wings on their backs, making them appear as though they're floating in midair. They're also often depicted holding weapons like swords or spears to represent a warrior spirit within oneself!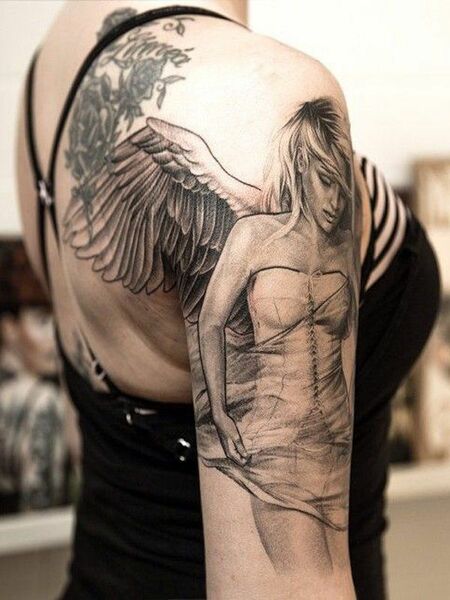 4. Mandala Sleeve Tattoo
Mandala tattoos are often used as a symbol of balance, wholeness and unity with the universe. They help in finding one's self and place in the universe. It is considered to be a sacred symbol in many cultures due to its geometric perfection. A mandala sleeve tattoo is a design that covers either the full or half sleeve on the arm.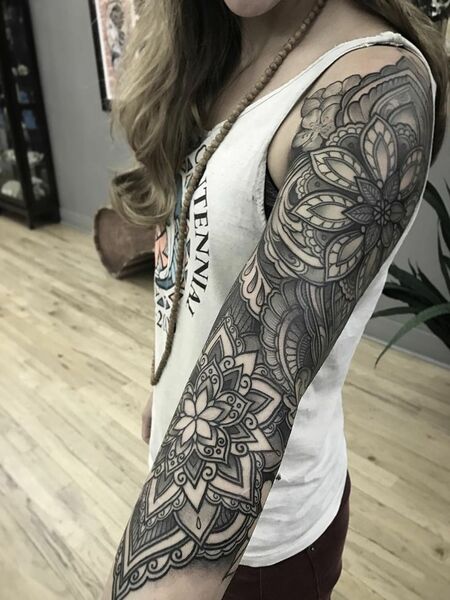 5. Watercolour Sleeve Tattoo
There are a lot of people who are into getting sleeve tattoos because they want to showcase their artistry in tattooing, and watercolour sleeve tattoos are perfect for that purpose. The use of watercolours gives it a look that makes it seem like it was hand-painted on your skin instead of being drawn by a tattoo artist through his machine.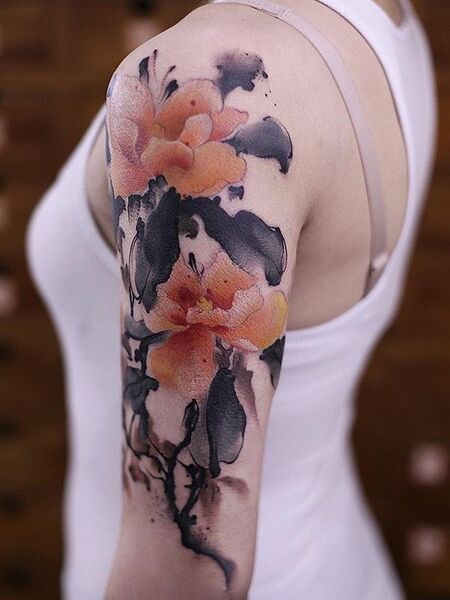 6. Dreamcatcher Sleeve Tattoo
Dreamcatchers are believed to protect you from nightmares, so this kind of sleeve tattoo is ideal for those who have trouble sleeping at night because of bad dreams or nightmares that haunt them even after waking up from bed.
7. Nature Sleeve Tattoo
A nature sleeve tattoo is a great choice for women who love nature and wish to have it inked on their skin as a work of art. The most common nature tattoo designs include flowers, trees, butterflies and birds. Some women decide to have the entire tattoo designed around a specific animal such as a dragonfly or hummingbird.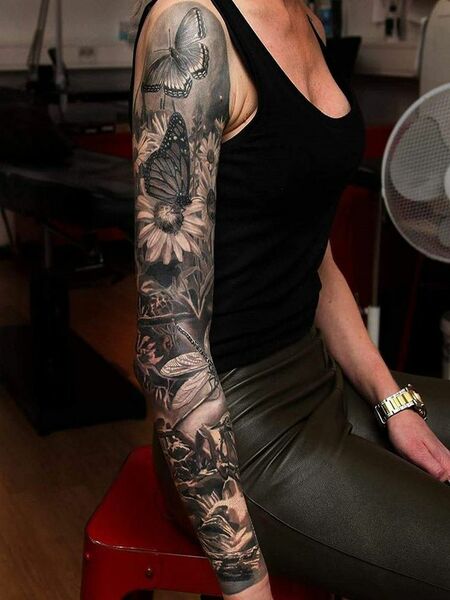 8. Rose Sleeve Tattoo
A rose sleeve tattoo is another popular choice for women because roses are known to symbolize love and romance. Since roses are considered an important part of many relationships, it is no wonder that they have become very popular when it comes to tattoos. Roses can either be created by using different shades of red or by combining them with other colors such as pink and blue to create a more colorful design.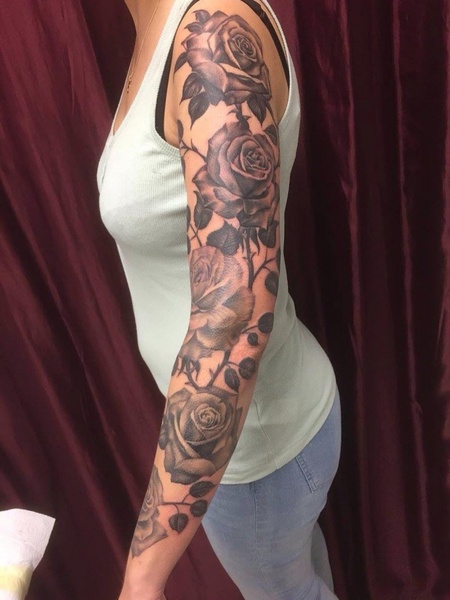 9. Music Sleeve Tattoo
Music is the language of the heart. It speaks to our soul and it gives us that sense of release. Music is a universal language understood by everyone. When you listen to music, you will be able to feel the rhythm and let your body move with it. A music sleeve tattoo can be an expression of this love for music.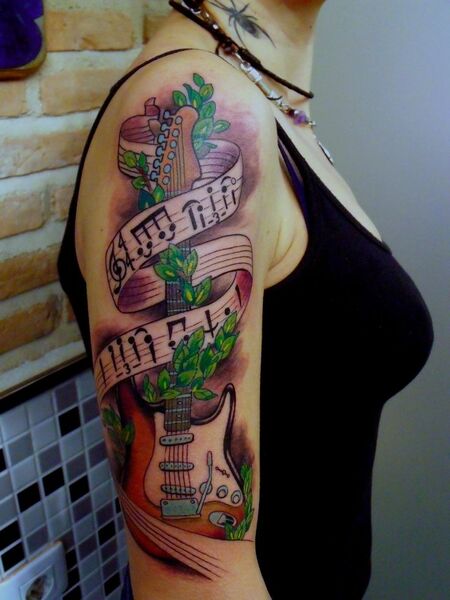 10. Vine Sleeve Tattoo
Vine tattoos are a beautiful way to show your love for nature. Vines represent growth and renewal as well as a connection to the earth. They have long been used as symbols of fertility and rebirth, and they are often used in religious ceremonies because they represent life.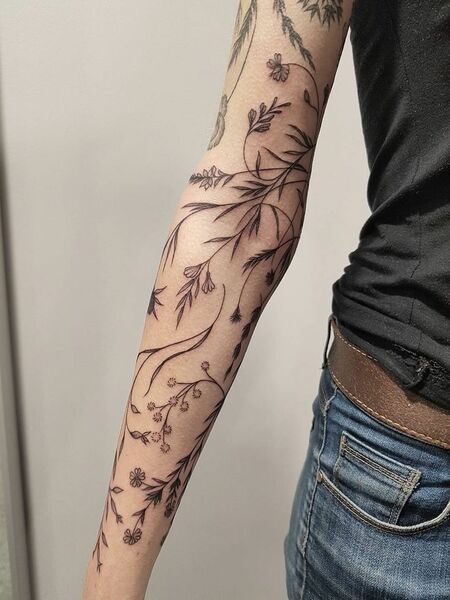 11. Clock Sleeve Tattoo
There is nothing quite as beautiful as the passage of time. With a clock sleeve tattoo, you can show the world a piece of your past. Whether it's a memory of something important or just a random design that you love, time moves on and never stops for anyone.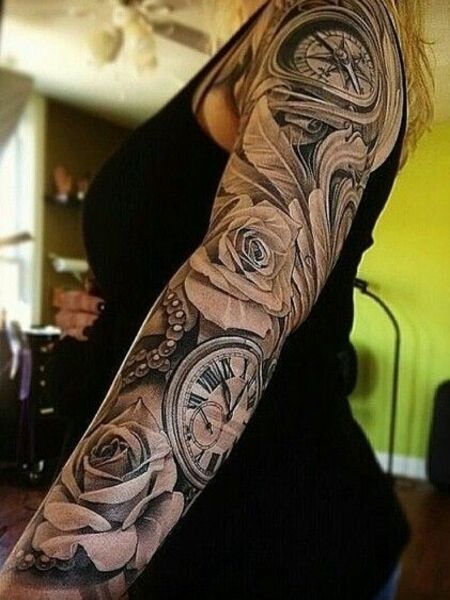 12. Colorful Sleeve Tattoo
If you're looking for a tattoo that will stand out, colorful sleeve tattoos are the way to go. This type of tattoo uses many different colors to create your design. You can choose from flowers, animals, or anything else you want! This style usually takes longer than a traditional sleeve tattoo.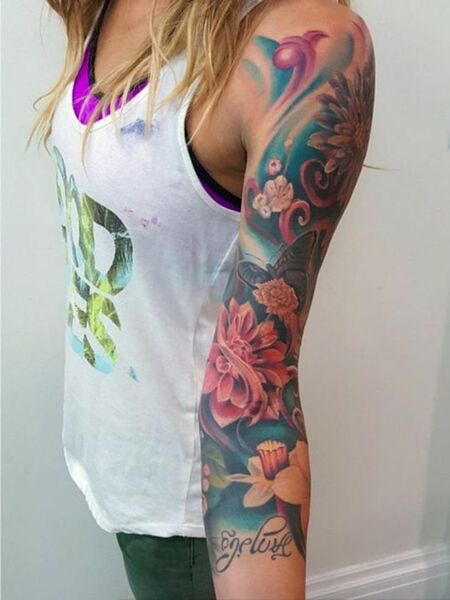 13. Traditional Sleeve Tattoo
A traditional sleeve tattoo is less common than its colorful counterpart, but it's still worth considering if you're looking for something simple yet stylish. It uses only black ink with no color added in order to create your design.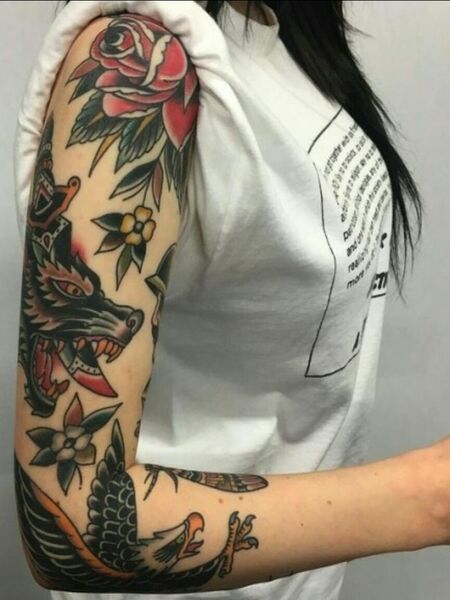 14. Half Sleeve Tattoo
If you're looking for a way to express your femininity, look no further than the half-sleeve tattoo. A half-sleeve tattoo is the perfect way to show off your feminine side. The design options for a half-sleeve tattoo are endless. You can choose from a simple flower or a full-on butterfly, and there are many different styles of tattoos that you can get to fit your personality.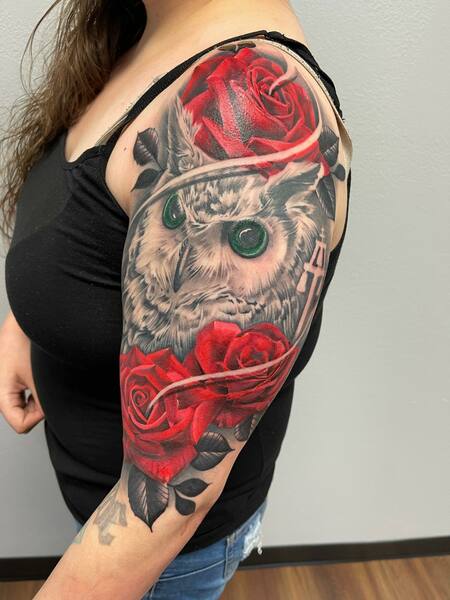 15. Floral Sleeve Tattoo
Women are known for their love of flowers, so it's no surprise that floral sleeve tattoo is a popular choice among women. There are many different styles and designs to choose from, so you'll be able to find the perfect look that suits your style and personality.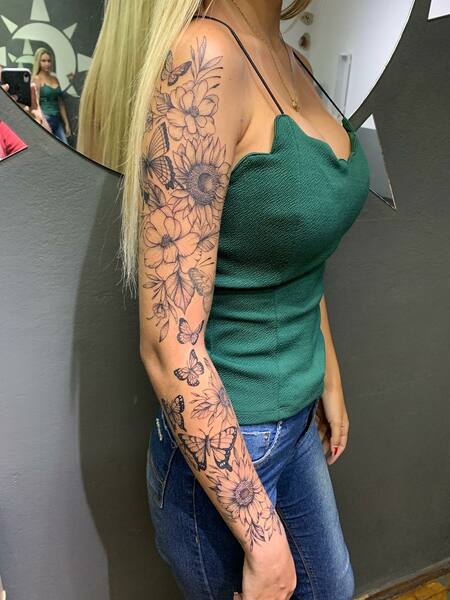 16. Butterfly Sleeve Tattoo
A butterfly sleeve tattoo is another popular design among women. These tattoos are very feminine and can be designed with various colors and patterns. This type of tattoo is great because it's easy to cover up if you want to hide it during certain times of the year.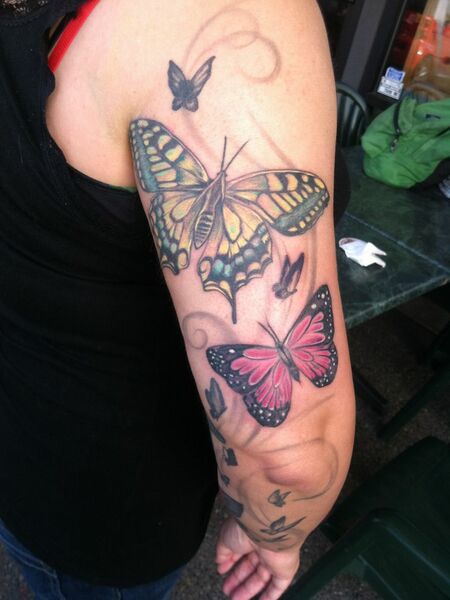 17. Dragon Sleeve Tattoo
The dragon is a universal symbol of power and strength—a perfect choice for a sleeve tattoo design. The dragon is also known as a bringer of good luck and prosperity, so if you're in need of some extra motivation to take on the world and make your dreams come true, this could be the sleeve tattoo for you.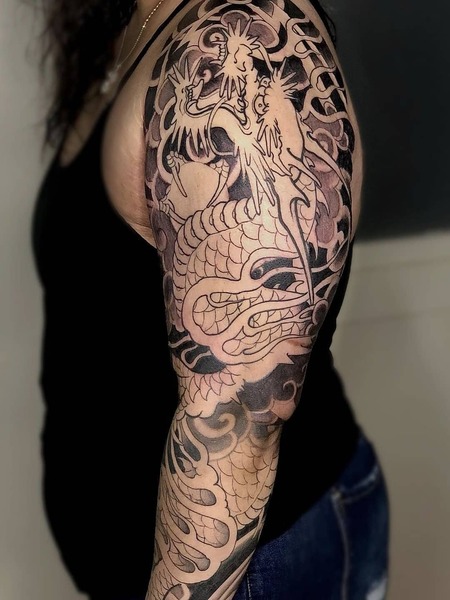 18. Japenese Sleeve Tattoo
Women, who tend to get sleeve tattoos, often choose the Japanese tattoo sleeve. These are long-lasting designs that cover not just your upper arm but also your shoulder and sometimes even your chest. They are bold, eye-catching, and they can tell a story. Japanese tattoos have been around for centuries, and they often incorporate elements of nature, such as flowers, trees, waterfalls, and more. As a result, you will find many nature-themed sleeve tattoo designs that are very beautiful. You can take inspiration from these existing designs or create something unique inspired by nature.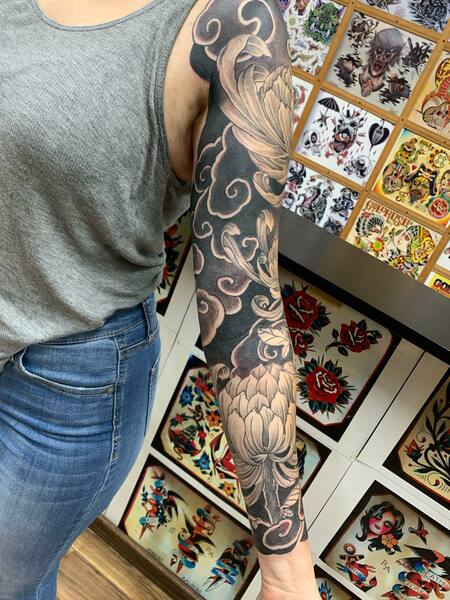 19. Blackwork Sleeve Tattoo
A blackwork sleeve tattoo is a bold choice that emphasizes the contours of your muscles, making them look even more impressive than they already are. Not only does it look cool, but this style also uses negative space to give your body an athletic look with sharp angles.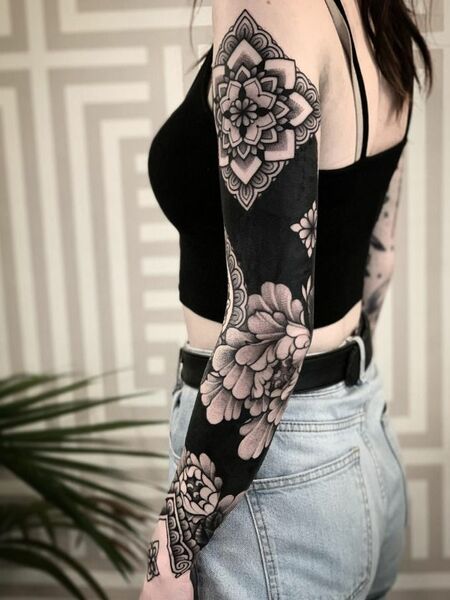 20. Tribal Sleeve Tattoo
A tribal tattoo is a symbol of strength, bravery, and honor. For millennia, many tribes would paint their bodies before going into battle as a way to protect themselves from the enemy. Nowadays, tribal tattoos are a great way for women to express themselves without having to spend hours in the mirror. The designs are beautiful and can be customized to fit any woman's personal taste. It's also an easy way to find out what kind of woman you are!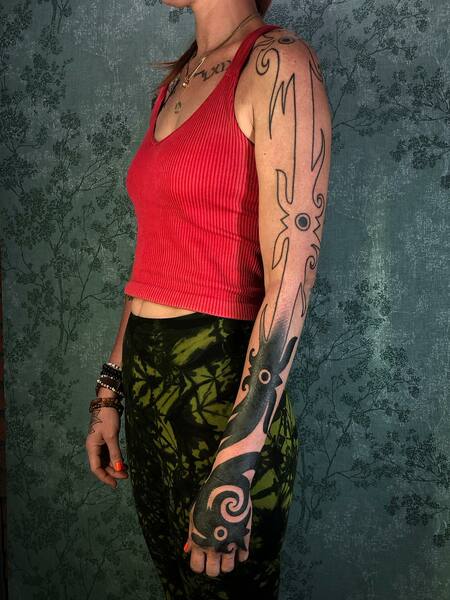 Conclusion
Another reason why sleeve tattoos for women are becoming so popular is that they can be very sensual. Many people enjoy getting their bodies decorated with these types of tattoos because they are sexy and can make them feel good about themselves. There is no doubt that getting a tattoo will make you feel good about yourself, but with this kind of tattoo, you will also be able to show off your femininity in a way that other people will not be able to ignore.
FAQ
Do women get tattoo sleeves?
With the popularity of sleeve tattoos, it is not surprising that many women have begun to opt for this style. Sleeve tattoos are a popular choice of body art among strong women who are not afraid to be in the spotlight and want to stand out from the crowd. Your sleeve tattoo can include flowers, hearts, whatever you want or find meaningful to you.
Which arm should I get tattooed?
The answer actually comes down to preference. Some people say that tattoos on the left arm symbolize creativity, while those on the right represent logic. Others believe that getting a tattoo on your dominant hand is more meaningful, because it shows that you were able to withstand pain for something meaningful to you.