21 Awesome Family Tattoo Designs ideas in 2023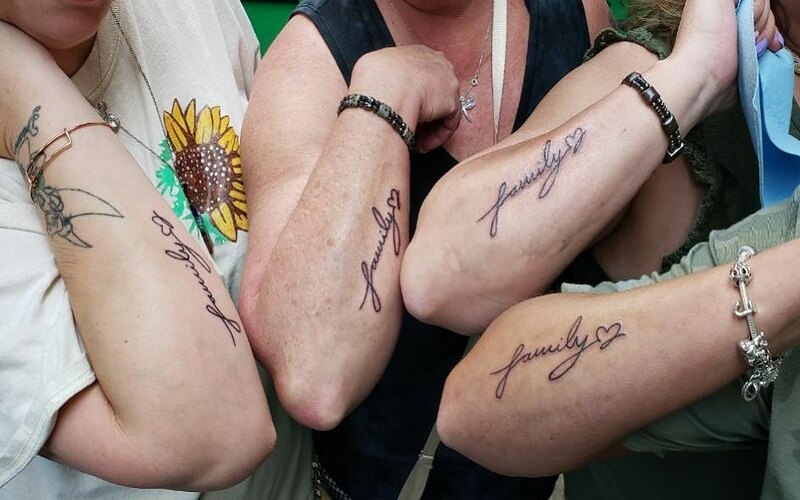 Family tattoos are a wonderful way of showing how much you love your family. They come in all shapes and sizes, and the subject is usually the family portrait. The best thing about family tattoos is that they are very personal. Not everyone has them, so when you see one, it is a great conversation starter.
Family tattoos are a great way to show off the love between parents and their children. A popular trend today is getting a tattoo of the names of your children or getting a wrist tattoo of their birthdates. Children's names are also common as well as cartoon characters drawn like your children.
Family tattoos are not just a symbol of love and affection, but it says a lot about your personality. Family tattoos reflect the bond that you share with your family. It reflects the values that you believe in. Have a look at some of the best family tattoos we have handpicked for you:
1. Bird Family Tattoo
These bird tattoos vary from simple and elegant to elaborate. There is the flying bird with a circle of feathers around the head, which is very popular. This design is great for those who want something simple but still represent their family's traits. In this style, the bird is often surrounded by small birds that symbolize the relationship between parents and children.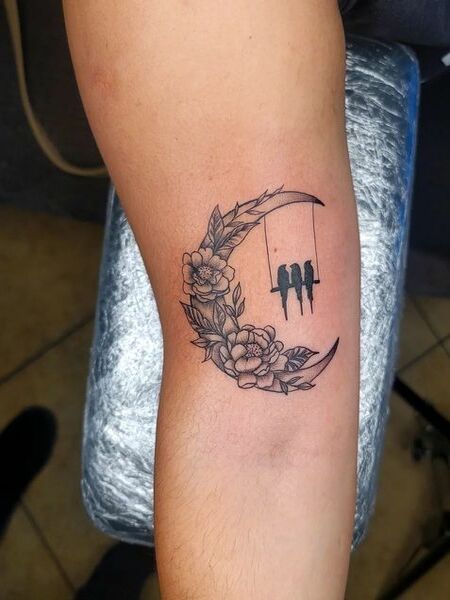 2. Clock And Family Tattoo
These clock tattoos are often designed in such a way that they look like they're moving or dancing in time with each other. Some people use these as an expression of their love for their children and others use them as an expression of their love for their spouses or partners. They can be designed with different colors or even colors that match the colors of your favorite clothing.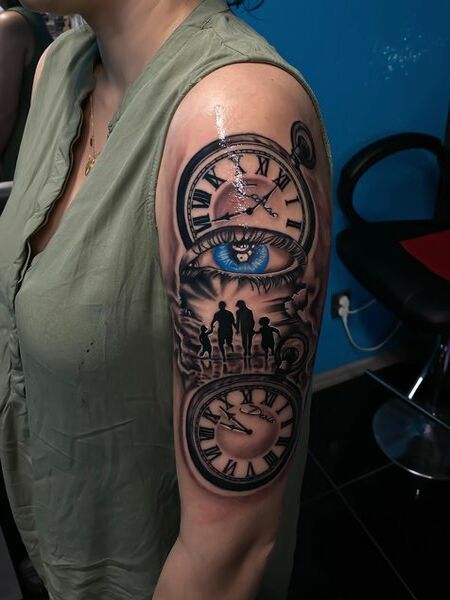 3. Elephant Family Tattoo
The elephant family tattoo design is a good design for those who wish to have a tattoo that represents their family. The elephant family tattoo design can be used to symbolize the strength of one's family bond, or to represent the love one has for his/her family members. It can also be used to represent the relationship between a person and his/her spouse.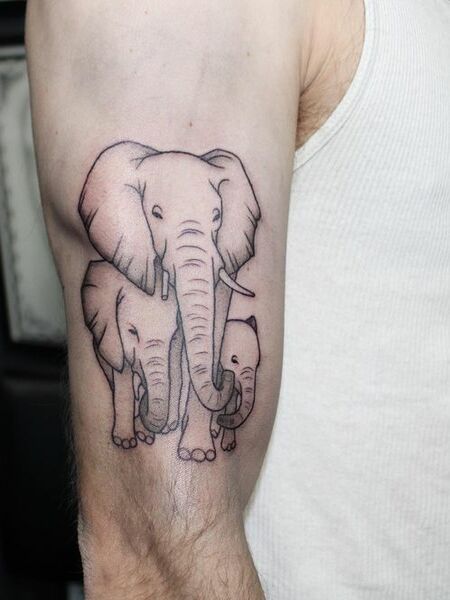 4. Family Back Tattoo
A family back tattoo is a great way to show your commitment and dedication to your family. The tattoo can include the names of all your loved ones, or you might want to just have their birthdates tattooed in a special font so that you can look back on the day that each member of your family was born.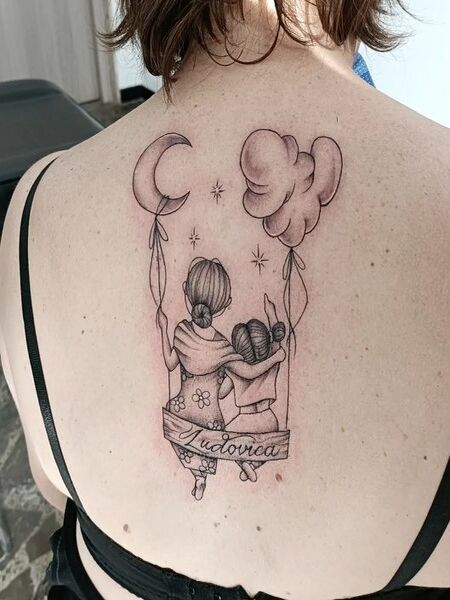 5. Family Bicep Tattoo
These kinds of tattoos are often done on the biceps, but they can also be done on other parts of the body such as the forearm. They can be quite large and detailed, or they can be small and simple depending on how much room you want to use for your tattoo. One great idea for these is to get a family tree with names in the leaves, or to get a picture that represents the entire family.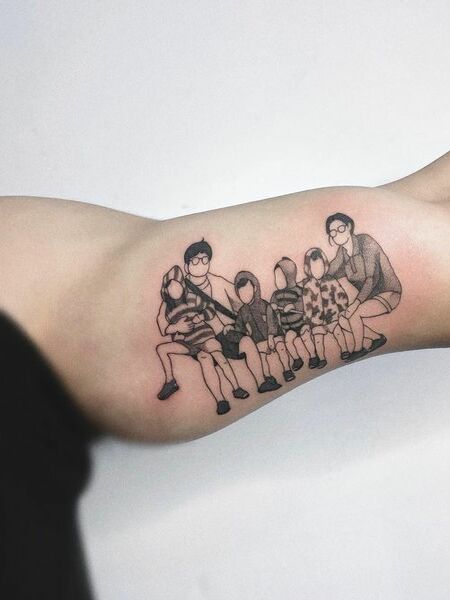 6. Family Finger Tattoo
Finger tattoos are a great way to show off your love and appreciation for your family members. One of the most popular family finger tattoos designs is the silhouette of all of the family members holding hands in black ink on one finger. This tattoo shows off your commitment to your family and also represents how close you are with each other.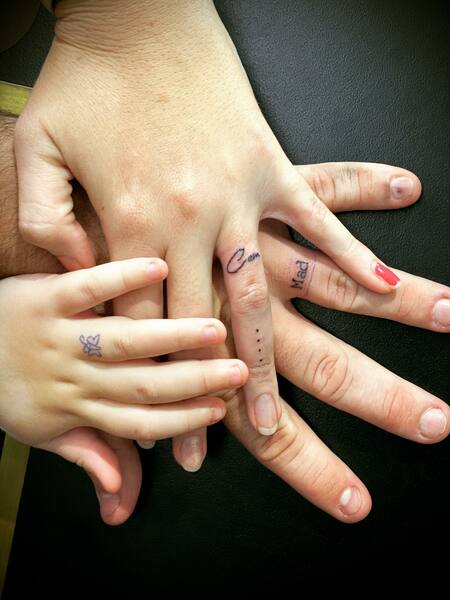 7. Family Forearm Tattoo
Forearm tattoos are a great choice for people who want very visible family tattoos. These tattoos can be placed on both sides of the arm. The forearm is also a great place for bands or other designs. These designs are usually large and intricate, so they make an impactful statement. Think long, sweeping scripts or highly detailed drawings.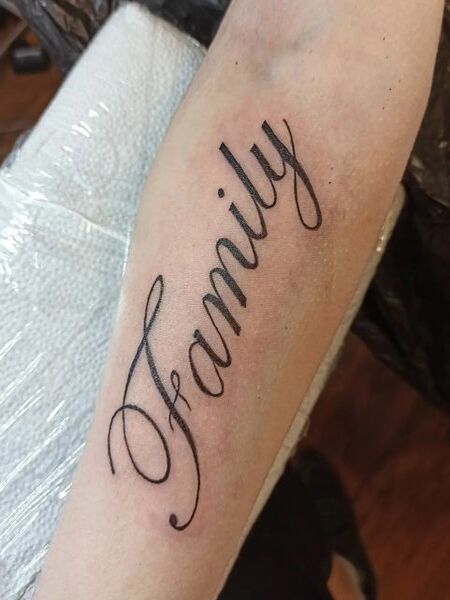 8. Family Hand Tattoo
If you want your family tattoo to be with you wherever you go, consider getting it on your hand. The hand is a great place for small, simple designs. Think about getting matching small tattoos on the back of each hand to show your connection to one another. These could include letters, symbols, or numbers that have meaning to your family.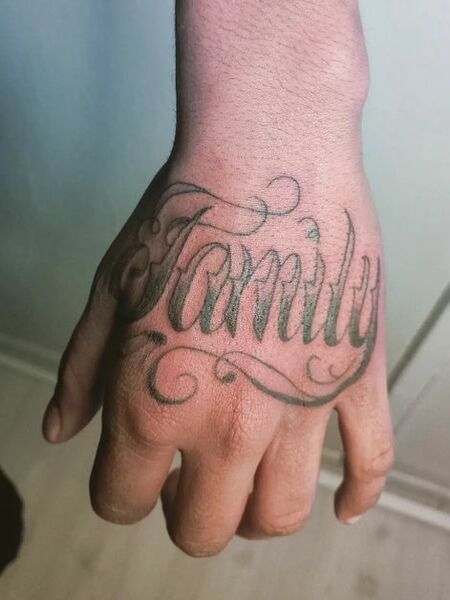 9. Family Heart Tattoo
The heart is an obvious symbol for love, so it is no surprise that family heart tattoos are one of the most common family tattoo designs out there. However, instead of just a heart, many people opt to get their own names written inside of the heart shape. This is a great idea if you want to "mark" each member of your family. The best part about this kind of tattoo design is that you can easily add more names to it as your family grows and changes over the years.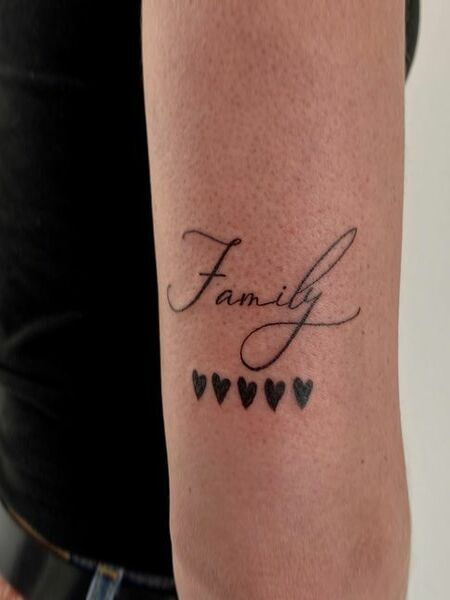 10. Family Name Tattoo
Some families put their last name in a certain font or style that they like, while others put the first letter of each family member's name around a certain symbol that represents their family. If you have a cool family crest or symbol, this would be a great way to show off your heritage. If you don't have an official crest or symbol, you can always try drawing something yourself or finding an image online that represents your family in some way.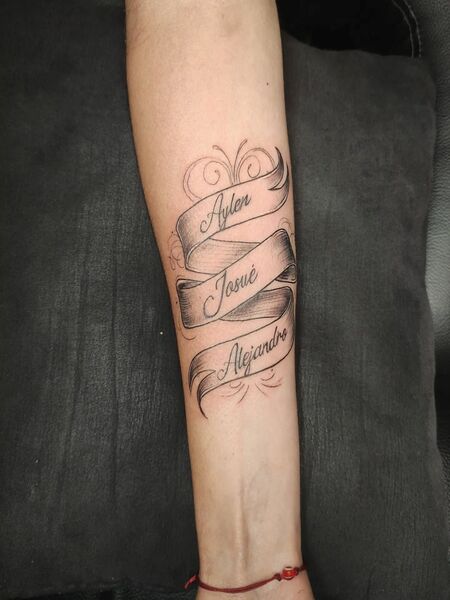 11. Family Portrait Illustration Tattoo
This family portrait illustration tattoo is a wonderful way of depicting your close knit family. The choice of color used gives it a very vibrant look that really brings out the details in the illustration. It also covers a large area on the back which makes it quite visible and attractive.
12. Family Portrait Tattoo
This stunning family portrait tattoo uses black ink which gives it a very bold look while still maintaining the details in everyone's faces. The idea of placing all the portraits together on one canvas makes it seem like they are all in one room together having fun.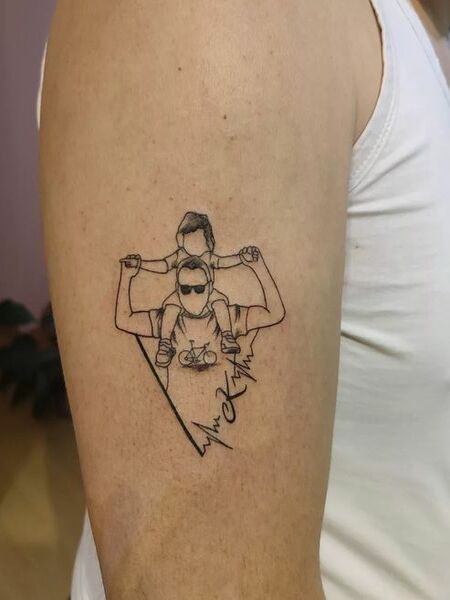 13. Family Shoulder Tattoo
The shoulder is one of the most common places for a tattoo, and there are many different designs you can choose from. A simple quote or name is always a great option on this area of the body. It's also large enough to get an intricate design such as flowers or trees if that's what you have in mind.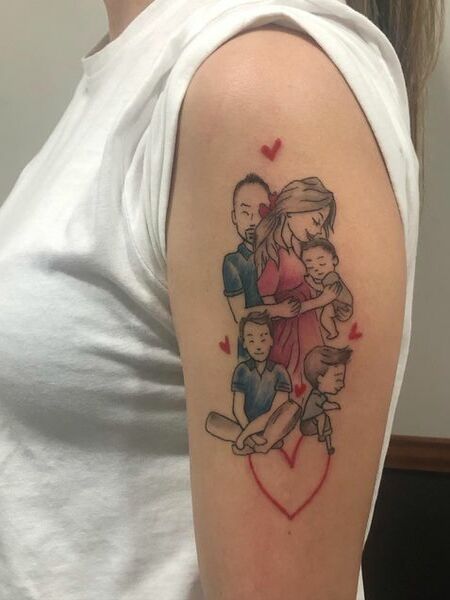 14. Lion Family Tattoo
Lions are one of the most common animals used in tattoo designs, and they're often associated with strength and family values. Many people will get portraits of their families drawn up in lion form. You can also get a simple outline or face if you're looking for something less detailed.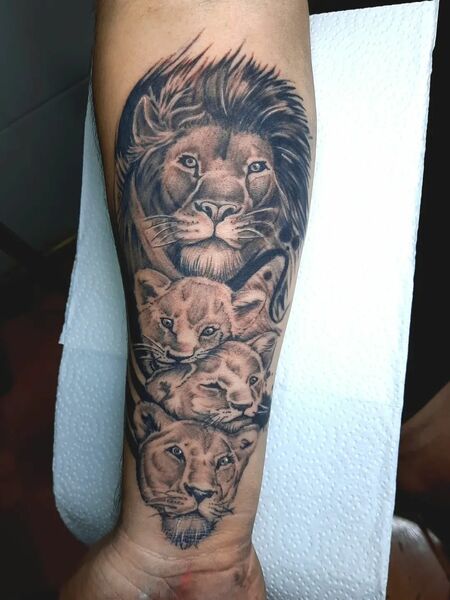 15. Matching Family Tattoo
If you want to get a family tattoo, then this is one of the best options available. You can get matching designs inked on your body with your partner and children. You can have similar designs or have variations of the same design to make it unique.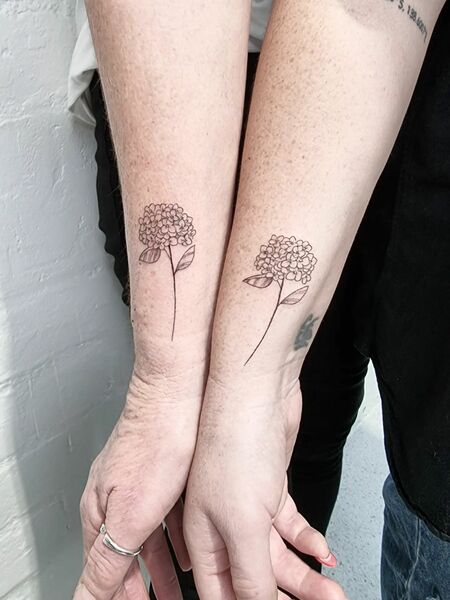 16. Minimalist Family Tattoo
Minimalist tattoos are simple but very beautiful designs that tell a story without using too many symbols or colors. A minimalist family tattoo can be anything from just names to initials of your loved ones on your body and this makes it easier for you to decide what you want on your body because there aren't too many options out there!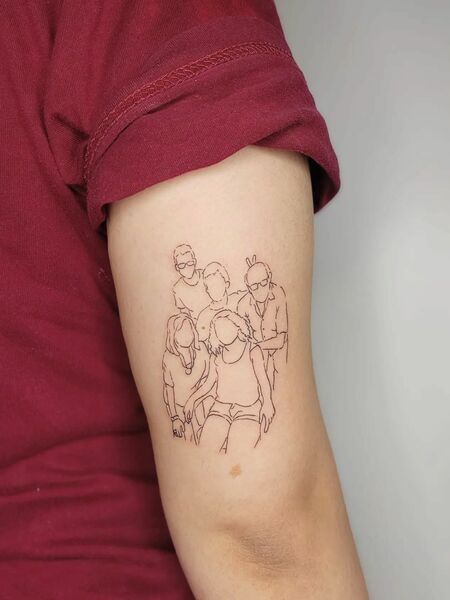 17. Ohana Family Tattoo
If you want something a little more creative, consider getting an Ohana tattoo. An Ohana tattoo is one of the most popular family tattoos because it symbolizes family unity and love. The word 'Ohana' means 'family' in Hawaiian. You can get this type of design along with a heart or other symbols such as flowers, stars or even birds.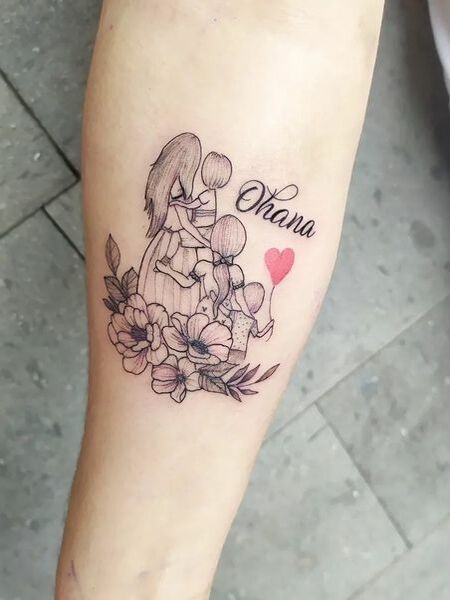 18. Small Family Tattoo
If you don't have much space on your body, consider getting a small family tattoo instead. These types of designs are perfect for those who have kids but don't want to cover up their entire back or chest with ink. You can get designs such as hearts or flowers inked on the inside of your wrist or just above your elbow.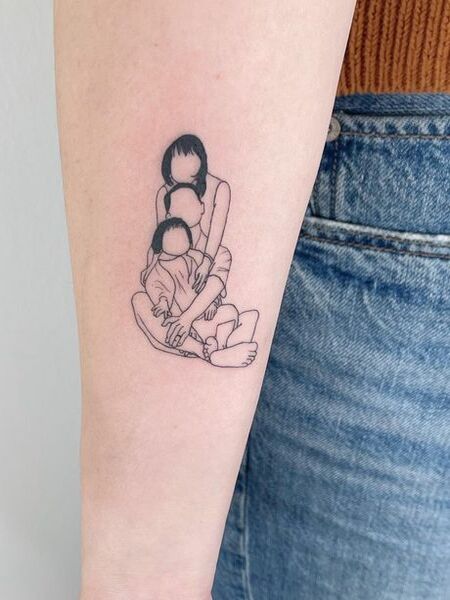 19. Wolf Family Tattoo
The wolf is not only an animal that symbolizes family ties but it also represents loyalty and strength. In other words, these are all qualities that you associate with your family members. A simple yet effective design idea involves having each member of the family represented by a wolf head inked on your arm or back. And if you want to take things to the next level, you can have their names also added to the design.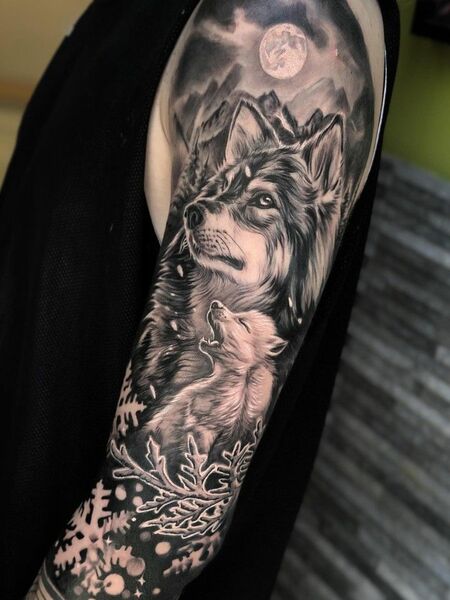 20. Year Of Birth Family Tattoo
This is a great way to represent your family members without having to include any imagery at all. If you want something more discreet then this is definitely one of the best ideas for a tattoo because it requires nothing too fancy and can be easily hidden from view if need be.
21. Family Tree Tattoo
The family tree tattoo is a symbol of life, family and love. It shows the many generations of a family who have come before you and will come after you. Many people use this symbol as a way to honor the past and to remember their ancestors, while also looking forward to the future.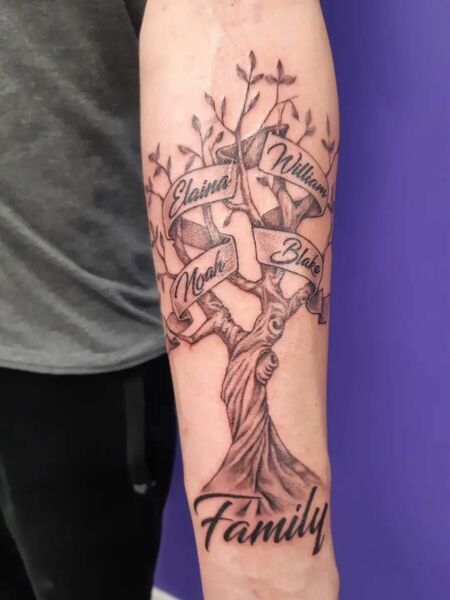 FAQ
What tattoo Symbolises family?
Family tattoos are a great way to show your love for your family. They can be anything from a small, simple design up to large elaborate works of art. Sometimes they are done as a way of honoring someone who has passed away. In some cultures, tattoos symbolise something specific about that person and can be used as a way of remembering them.
What is a good symbol for family?
The most common way to symbolize the family is with a tree. The tree is strong and sturdy, but flexible. It grows tall, but it also has roots that dig deep into the earth. The tree stands on its own, but it also provides shelter and shade.