30 Awesome Stick and Poke Tattoos Ideas in 2023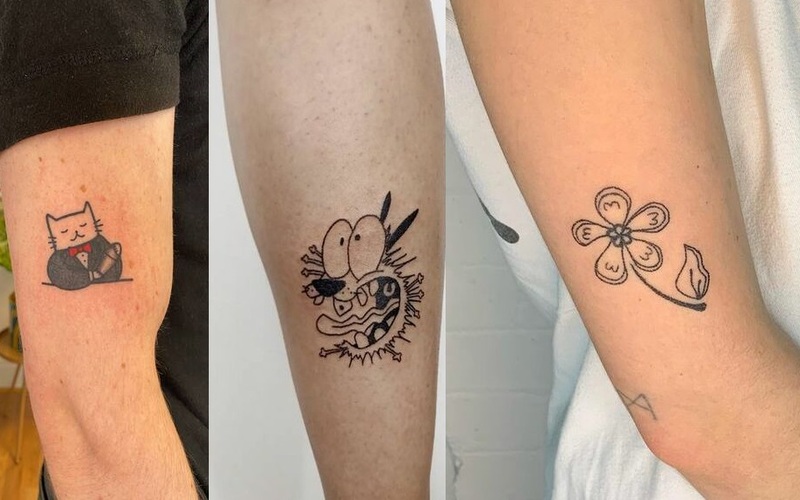 Stick and poke tattoos can be made with traditional ink or even homemade ink, which makes them more susceptible to infection. Even though this style of tattooing is frowned upon by many experienced artists, stick and poke tattoos have become very popular in recent years due to their DIY nature, affordability and cute designs.
A stick and poke tattoo is different from machine tattoos because it does not use an electric needle or ink cartridges to inject the ink into the skin. Instead, this type of tattoo uses a needle or a pin to puncture the skin then insert the ink.
Stick and poke tattoos are hand-poked with ink by an artist or, more often, by the person getting the tattoo themselves. The process is simple: A needle is dipped into ink then poked into the skin over and over again until an image is created. The result is similar to that of a traditional tattoo but much more personal because it's done by hand rather than machine.
1. Cute Stick And Poke Tattoo
There are tons of cute stick and poke tattoos out there that would look great on any part of your body. These minimalist designs are perfect for anyone looking for something small and subtle.
2. Edgy Stick And Poke Tattoo
Stick and poke tattoos aren't just for sweethearts — they can also be quite edgy! Many people choose to get stick and pokes on their knuckles or other areas where it can be seen easily. These tiny tattoos can be very empowering when done correctly with careful attention paid to the font style used in order to give them an extra punch.
3. Finger Stick And Poke Tattoo
The finger is one of the most popular places to get stick and poke tattoos because they are small and easy to hide. Some people like to get two-finger tattoos while others like to get single-finger tattoos. These types of finger tattoos are usually made up of simple shapes such as hearts or stars.
4. Floral Stick and Poke Tattoo
Floral stick and poke tattoos can be done anywhere on the body, but they're most often found on wrists and ankles because they're easy to cover up with clothing if needed.
5. Foot Stick And Poke Tattoo
Foot tattoos are considered the most painful tattoos to get, and these are the least preferred by tattoo artists. This is because foot tattoos can easily fade and blur with time. However, if you want a tattoo on your foot, you should know that the pain does not last for long and you will get used to it after a few minutes.
6. Funny Stick And Poke Tattoo
f you're a fan of tattoos and have a few already, then you've probably thought about getting your own stick and poke tattoo. They're a great and easy way to look cool without having to spend too much money.
7. Hand Stick And Poke Tattoo
Hand stick and poke tattoo is the most common type of stick and poke tattoo. The design of this tattoo is a hand, thus the name. These tattoos are trendy among men and women. A simple hand tattoo can be a perfect choice for your first experience with the poke and stick tattoo. The design of the hand tattoo will provide you with plenty of room to be creative. You can add some other elements in it to make it look more special and unique.
8. Linework Stick And Poke Tattoo
A linework stick and poke tattoo is one that uses line shading rather than dotwork shading. Line shading refers to using only lines to create shading, while dotwork uses dots to create shading instead. Linework can help you create smooth transitions in shading without having to worry about getting them perfect as you would with dotwork.
9. Meaningful Stick And Poke Tattoo
These types of hand poked tattoos can hold a lot of meaning to the wearer. This type of tattoo will usually feature a symbol or text that has special meaning to the person getting it.
10. Minimalist Stick And Poke Tattoo
Minimalist tattoos are all about providing a very simple design that is meant to express a lot. These may be very small in size but make a huge impact on the viewer. They usually have an abstract or dotwork design and can be placed anywhere on the body.
11. Moon Stick And Poke Tattoo
The moon is an important symbol in many cultures across the world. It represents feminine energy, fertility, creativity, and everything you can't see with your eyes. It is also a powerful symbol in astrology — it rules over our emotions, moods, and instincts. Getting a moon tattoo represents your connection to yourself on an emotional level.
12. Mountain Stick And Poke Tattoo
Mountains represent stability, strength, endurance, determination and willpower. They are also a good reminder for us to keep climbing towards our goals in life whenever we feel like giving up. To some people mountains are also a spiritual symbol that represents knowledge and wisdom because they reach towards the heavens.
13. Quote Stick And Poke Tattoo
The quote tattoo has become one of the most popular tattoo designs in recent years. The quote tattoo is perfect for anyone who wants to express their feelings in a permanent way. The quote tattoo can be as simple or as complex as you want it to be. You can choose from a wide variety of quotes including inspirational quotes or funny quotes…
14. Shoulder Stick And Poke Tattoo
Shoulder tattoos are probably one of the most popular placements, especially for men. This placement is easy to cover up if needed and still visible enough to be enjoyed by the person wearing it and their friends.
15. Simple Stick And Poke Tattoo
The most popular designs for simple stick and poke tattoos include tiny dots, lines, triangles, circles and squares. These symbols have deep meaning when they are combined together so they make excellent designs for small stick and poke tattoos.
16. Snake Stick And Poke Tattoo
One of my favorite animal themes for small stick and poke tattoos are snakes. They come in many forms such as serpents, cobras, rattlesnakes, mambas and anacondas.
17. Stick And Poke Flower Tattoo
Stick and poke flower tattoos are a great way for beginners to experiment with do-it-yourself tattooing. Unlike professional tattoos, which are applied by a machine, stick and poke tattoos are made by hand with a needle and ink.
18. Stick And Poke Leg Tattoo
Give your legs a little more edge with a tattoo that makes you feel confident in shorts and dresses. With thousands of designs to choose from, you can get inspired by something as simple as the unique pattern on a butterfly or turn your favorite quote into an eye-catching piece of art.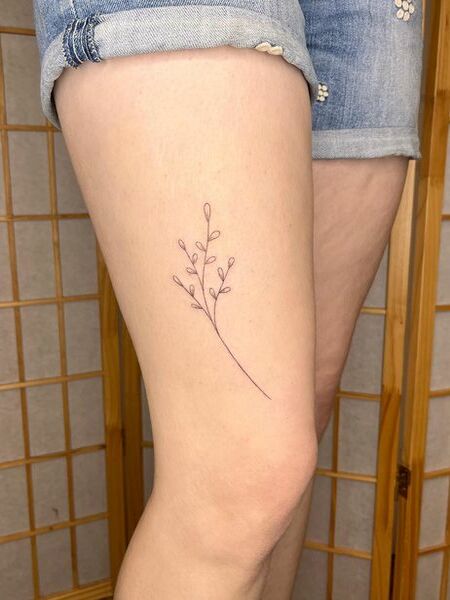 19. Stick And Poke Pisces Tattoo
Pisces is the twelfth astrological sign in the Zodiac and is known for being compassionate, wise and adaptable. If this sounds like you, check out our Pisces tattoo ideas for inspiration.
20. Thigh Stick And Poke Tattoo
For women who love showing off their legs but want to keep things classy, check out our thigh tattoo ideas. Whether you're getting a tribal design of your favorite animal or finding an elegant quote to represent your beliefs and style, our collection of thigh tattoo ideas will inspire you to get some ink today!
21. Tiny Stick And Poke Tattoo
Tiny tattoo is very small in size but the meaning behind it is very big, people want to get these kinds of tattoos because they want to keep their tattoo private and sometimes they want to hide their tattoo and this type of tattoo helps them a lot. So you can also get these kind of tattoos if you need privacy and don't want people to know about your tattoos or maybe you just want a little piece of art on your body, you can go for this one.
22. Trippy Stick And Poke Tattoo
Trippy tattoos are the most popular ones. Everyone loves trippy tattoos because they look amazing and different from other ordinary tattoos. The designs that comes under trippy tattoo category are mind blowing and if you want something that will grab everyone's attention then this is the right choice for you.
23. Aesthetic Stick And Poke Tattoo
Often small and simple, aesthetic tattoo designs are all about being pretty, rather than being meaningful. This gorgeous little flower tattoo is a perfect example. What makes it special is the placement on the back of the neck and the beautiful colors that make this design stand out.
24. Ankle Stick And Poke Tattoo
If you're searching for tattoo ideas that won't be too obvious, ankle tattoos are a great place to start. This subtle ankle design incorporates a few different styles of geometric shapes in black ink only, which makes it really cool and unusual.
25. Arm Stick And Poke Tattoo
The arm is one of the most popular body parts for tattooing. There are so many options for placement, size and design that it can be a bit overwhelming. Whether you want something small and simple or large and complex, arm tattoos are a great way to express yourself.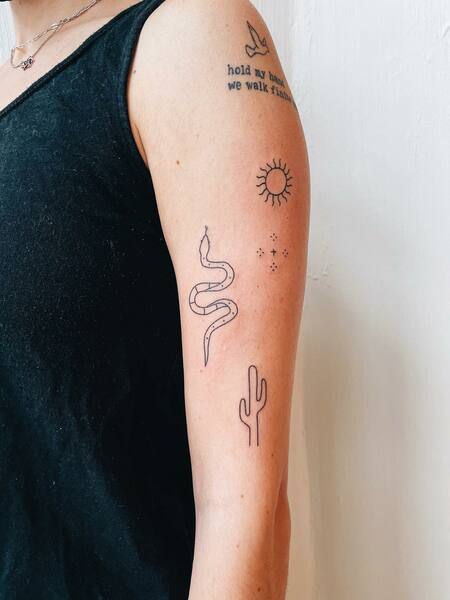 26. Back Stick And Poke Tattoo
When you think of back tattoos, intricate designs come to mind. The back is the largest canvas on the body and allows for some truly amazing designs. From small pieces that fit perfectly in one spot to massive murals that cover your entire back, there's no limit to what you can do with a back tattoo.
27. Best Friend Stick And Poke Tattoo
Best friend tattoos are a great way to show off your friendship. Whether you choose matching tattoos or something unique for each person, best friend tattoos are a fun way to celebrate your bond.
28. Big Stick And Poke Tattoo
A huge back piece is a big commitment, both in terms of money and time, but you can't deny the impact that it makes. You can choose a design with a religious or spiritual theme or just something that you think looks cool.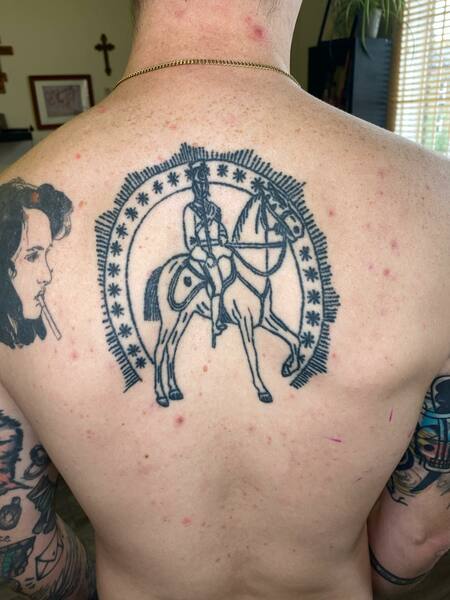 29. Butterfly Stick And Poke Tattoo
Butterfly tattoos come in many styles from simple to wonderfully intricate designs. Butterfly tattoos have been popular for decades and are some of the most popular tattoo designs around, especially with women.
30. Cool Stick And Poke Tattoo
You can get a tattoo that wraps around your leg or ankle, but some people want to keep it simple. If you want something small and easy to cover up when need be, then an ankle tattoo is probably the best option for you.
FAQ
What is Stick and Poke Tattoo?
Stick and poke tattoos are hand-poked using a needle instead of using a tattoo gun. It is a form of tattooing which is done by hand without using any machinery. In the olden days, it was considered as DIY form of tattooing but now it has become an alternative way of body art.
Do stick and poke tattoos go away?
The reason for this is most likely due to the difference in quality of ink used for each type of tattoo. Professional tattoos use ink that is designed to stay where it's applied for an extended period of time, whereas the ink used for stick and pokes is simply India ink, which is designed to be used in pens and other writing instruments.