45 Best Mother Daughter Tattoos in 2023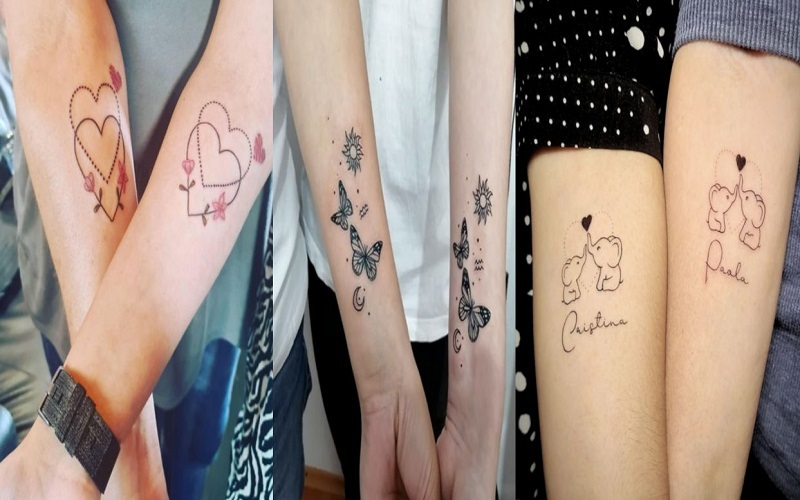 Mother daughter tattoos are a special way of celebrating the bond between the two. Traditionally these tattoos were meant to be inked on people that have been together through thick and thin but recently they have become a popular choice for many people. The mother-daughter duo is one of the most important relationships in a person's life. From your mother you learn how to survive, how to live, how to make right choices, how to be happy and so much more.
Every mother wants her daughter to grow up being independent, confident and being able to take care of herself. This is why mothers instill values in their daughters from a young age so that once they grow up they can make decisions for themselves. Every value that you learn from your mother will stay with you throughout your life, no matter what you go through or where you end up. It is especially important for women to have strong support system as they go through different phases of life like being single, in a relationship or married.
Mother Daughter tattoos are a great way to express the love that you have for one another. Whether you are a mother or a daughter, the bond between you is special and unique, so it makes sense that you would want to display this in your art. If you're looking for some inspiration, here are 45 of our favourites:
1. Mother Daughter Daisy Tattoo
This tattoo is one of the small mother daughter matching tattoos. In this tattoo, a daisy flower is inked on the arm of both the women. The daisy flower signifies innocence and purity. This tattoo would look really cute and sweet if you are looking for something subtle.
2. Mother Daughter Geometric Tattoo
A black and white geometric tattoo is a perfect choice for a mother and daughter who want a small design. It can be discreetly placed on your wrist or ankle if you want to keep it hidden most of the time. You can also go for a colored geometric design if you feel like going bolder.
3. Botanical Mother Daughter Tattoo
This tattoo is the perfect way to represent a mother and daughter bond. It features flowers, which are known to symbolize femininity and beauty. They can also symbolize growth, which is fitting for a mother and child bond. This tattoo is perfect for someone who loves nature. The flower on the mom's arm represents her daughter, while the flower on her daughter's arm represents her mother.
4. Mother Daughter Bee Tattoo
If you've ever thought about getting a bee tattooed on your body, this is the perfect opportunity to do so. In fact, many mothers and daughters choose to get bee tattoos because bees represent community and hard work. By choosing this type of tattoo design, you'll be able to express your love for each other through body art.
5. Mother Daughter Arm Tattoo
This tattoo is the perfect example of a mother or daughter looking for something small, but meaningful. While it is not as extravagant as some other tattoos, it could be the perfect way to symbolize your relationship with your mom. It is also beautiful in that it can mean whatever you want it to—it could be in memory of your mother, or a beautiful way to show how much you love your daughter.
6. Mother Daughter Wrist Tattoo
These wrist tattoos are another popular mother and daughter tattoo design. They are small, and easily hidden if you prefer them to remain private; however, they can also serve as a beautiful reminder of the person you love most when showing them off.
7. Mother Daughter Sayings Tattoo
Mother daughter tattoos are a beautiful way to show the special bond between mother and daughter. These tattoos are often inked with matching or complementing designs that symbolize that they're two halves of a whole. But the design choices are limitless, so you can choose any motif that expresses your relationship in a meaningful way.
8. Three Mother Daughter Tattoo
There are lots of ways you can express your love for your daughter with a matching tattoo. If you want something more subtle, consider getting a small design like a simple heart or a tiny image on the wrist or ankle. For something more creative, try incorporating her name into the tattoo or getting an image that represents her personality.
9. Mother Daughter Celtic Tattoo
Celtic knots are popular for their intricate patterns and beautiful designs. This is a great tattoo idea for mothers and daughters who want something that looks intricately detailed. You can get a small version of the Celtic knot as a matching tattoo idea with your mother. This way, you will always have a part of each other in your lives.
10. Mother Daughter Name Tattoo
You can also choose to get matching tattoos that show the affectionate bond between you and your mother. For example, you can get matching hearts on your wrists. This is a cute tattoo idea that emphasizes the love between you and your mother. If you want something simpler, then you can just get an outline of a heart tattooed on your wrist or ankle as well.
11. Small Mother and Daughter Tattoo
This is a meaningful design because it shows how much your mom cares about you. Another option would be to get a picture of your mom with her name or initials on it as well as your own name or initials on it. This would be especially meaningful if you want to honor your mom by getting her name on your body.
12. Colorful Mother Daughter Tattoo
You can have a colorful mother daughter tattoo. The tattoo would be of a flower, an anchor and a heart. The flower signifies the relationship between a mother and her daughter. The anchor symbolizes strength and the heart stands for love.
13. Mother Daughter Pinky Swear Tattoo
A pinky swear is made between two people when they are promising something to each other. The two people hold their little fingers together while making the promise. You can have a mother daughter pinky swear tattoo on your wrists or ankles. You can also place the tattoo on your chest or arms if you want it to be visible to everyone.
14. Matching Mother Daughter Tattoo
If you want to get a tattoo that is exactly the same, you can consider getting it in the same place as your daughter, such as on your wrist, ankle or upper arm. You could also get it in a location where you both want to cover up scarring or birthmarks. Mother-daughter tattoos can be as similar or different as you want them to be, so you have plenty of options that allow you to customize your tattoo design and make it personal.
15. Tiny Mother Daughter Tattoo
A small, simple design is ideal if you don't want to make a big statement with your mother-daughter tattoo. It's also ideal if you don't have much room on your body for a large piece of ink. A tiny design is also less noticeable and less likely to become outdated over time than larger designs, so they may be more timeless than other styles of ink.
16. Mother And Daughter Tattoo
The relationship between a mother and daughter is something truly special, and getting matching tattoos is one way to celebrate that. A symbolic design can be the perfect way to show how close you are and how much you mean to each other.
17. Mother Daughter Leg Tattoo
When you think of leg tattoos, you probably imagine something large and colorful. These types of tattoos are usually done on either thigh or calf muscles for maximum visibility. If you and your daughter both want something big but subtle enough to hide under clothing when necessary, consider getting matching leg tattoos!
18. Mother Daughter Sun Tattoo
The sun tattoo has been around forever and it's no wonder — the sun is a powerful symbol in many cultures across the world. Sun tattoos can be very masculine or very feminine depending on how you style them, so they're perfect for women who want to share matching tattoos with their daughters.
19. Mother Daughter Flower Tattoo
A cool way to show you care about your mother is a flower tattoo. You can choose one meaning or combine several flowers. If you want to be more original, it's recommended that you draw flowers on your fingers or wrists. A cool idea is to add colors to the tattoo that have different meanings for you and your mom.
20. Mother Daughter Crow Tattoo
Crow tattoos are awesome because they look stylish and unusual, but they also have many meanings: rebirth, life cycles and so on. This mother-daughter tattoo idea is a symbol of an unbreakable link between two women: a mother and her daughter!
21. Mother Daughter Butterfly Tattoo
A butterfly is a symbol of beauty and grace, which makes it an excellent choice for a tattoo for mothers and daughters. Like the butterfly, the mother and daughter are changing and growing throughout their lives. The bond between them is strong, just like the wings of a butterfly.
22. Mother Daughter Ladybug Tattoo
The ladybug is a symbol of good luck and renewal. Having this tattoo will represent that both the mother and daughter are lucky because they have each other.
23. Mother Daughter Rose Tattoo
Roses are one of the most popular choices when it comes to getting a mother daughter tattoo. Roses are associated with love and affection, so they make the perfect choice for a tattoo between you and your mom. This mother daughter rose tattoo is inked in black and white, but if you're looking to add some color, consider adding pink roses to represent love or red roses to represent passion.
24. Mother Daughter Watercolor Tattoo
A watercolor tattoo is a popular choice for those looking for bright, unique body art. If you and your mom share similar tastes in art, this type of tattoo may be the perfect option for both of you.
25. Mother Daughter Arrow Tattoo
A popular tattoo choice for mothers and daughters is an arrow design. This particular design can be used in many different ways to suit your own personal meaning. For example, you could each get an arrow done on your wrist that comes together in the middle of your hand when you're holding hands. Another option is getting two arrows pointing in opposite directions as a symbol of how your paths were destined to cross.
26. Mother Daughter Line Tattoo
Another common idea for mother-daughter tattoos is using a simple line design to create one larger picture when put together. For example, one person could get a half of the sun and the other could get the other half so when their arms are touching, the sun is complete.
27. Mother Daughter Bird Tattoo
Bird tattoos represent freedom, as well as honor and respect for someone who has passed on. This mother-daughter tattoo is perfect if you want to honor your mother or grandmother.
28. Mother Daughter Shoulder Tattoo
This mother-daughter tattoo is perfect if you want something simple but beautiful at the same time. It's also perfect if you want something that can be hidden easily when you're at work or in school.
29. Mother Daughter Back Tattoo
This mother daughter tattoo is a beautiful way to show the love between a mother and daughter. The combination of the moon and sun creates a unique look. A great choice for mothers who don't want anything too large or busy.
30. Mother Daughter Forearm Tattoo
These mother daughter tattoo ideas are one of the most beautiful ways to show your love for each other. The butterfly create a beautiful design along with the sun and moon. This is a great arm tattoo for two women who want something different.
31. Mother Daughter Mandala Tattoo
Mandala tattoos are very popular lately among people who love to get inked. These tattoos are available in different styles and designs and they look amazing when they are inked on body parts like arm and shoulder. You can also get this kind of tattoo with your mom and it will look beautiful on both of you. There are different types of mandala designs available so make sure that you choose the one that suits your and your mom's taste.
32. Cute Mother Daughter Tattoo
A cute mother daughter tattoo is an adorable way to show your love for your little girl. This design is perfect for a young daughter, but will grow with her into adulthood. It looks like she's wearing her mother's heart around her neck or on her arm for all the world to see!
33. Mother Daughter Thigh Tattoo
If you want to get a tattoo that is somewhere where it can easily be covered up when you need to, then you might want to consider getting a mother daughter thigh tattoo. This is a great place to get a small tattoo and it is also very easy to cover it up when needed.
34. Mother Daughter Love Tattoo
Another great place to get a small mother daughter tattoo is on your wrist. This would be a great place because it would be easy to cover up when needed and also easy to show off when wanted as well. It will also make any outfit look better if you have something cute on your wrist that you can show off whenever you want.
35. Mother Daughter Star Tattoo
The first tattoo is a simple star tattoo. This is a great small tattoo for both the mother and daughter to get. The reason why this is such a great choice for mother daughter tattoo is because it shows how close the two of them are to each other. It also shows how much they love each other.
36. Mother Daughter infinity Tattoo
The infinity symbol is used in this design to show how infinite the love a daughter has for her mother is. In addition, it can also be used to show that the two will be together forever regardless of where they both are located.
37. Mother Daughter Writing Tattoo
If you want to go with text instead of images, you can use cursive writing to spell out mother, daughter or both. This type of tattoo works well as part of a larger design or as standalone text. You can even write out your names or initials if you want to get a little bit more specific than just saying mother or daughter.
38. Mother Daughter Holding Hands Tattoo
The mother daughter holding hands tattoo is one of the sweetest tattoos for a mother and daughter duo. The bond between a mother and daughter is unlike any other, so it's no wonder that so many women choose to commemorate their relationship with matching tattoos.
39. Mother Daughter Dandelion Tattoo
The dandelion tattoo is a unique design that can bring out the beauty of a mother-daughter relationship. The dandelion seeds show how far they have come together and can even show their hopes for the future.Dandelions symbolize dreams, memories and wishes. This beautiful mother daughter dandelion tattoo will look amazing on you and your mom!
40. Mother Daughter Clover Tattoo
Clover tattoos are popular tattoo designs among women. They are often worn as a symbol of luck and hope. As you know, clovers have four leaves which is considered as a lucky number. In addition, clovers have a beautiful shape so they are also very popular among girls. You can choose to go with a clover tattoo design to represent your love with your mother or daughter.
41. Mother Daughter Heart Tattoo
A heart is another popular design that mothers and daughters share in ink. A shared heart tattoo usually has the initial of the mother or daughter or both inside it or at least on one side of the heart. The heart can be designed in various ways as well as placed in various places on the body.
42. Mother Daughter Elephant Tattoo
The elephant can symbolize many different meanings, such as strength, memories, protection and good luck. This is why these adorable elephant tattoos are so perfect for mother and daughter tattoos! The tattoo design can be inked in black ink or colored. Some people choose to incorporate birthstones into their tattoos as well.
43. Mother Daughter Leaf Tattoo
These minimalist leaf tattoos are sweet, simple and subtle. They are perfect for mothers and daughters who want to show their love without wearing it on their sleeves. There is an option to have them tattooed on the wrist or ankle, but they also look great when placed on other parts of the body as well!
44. Mother Daughter Puzzle Tattoo
The puzzle piece is an incredibly cute mother daughter tattoo idea because each piece is unique and only fits perfectly with its counterpart. This design symbolizes that even though every family has their own set of issues, each member is an important part of the family.
45. Mother Daughter Sunflower Tattoo
Sunflowers are known for their vitality, energy, and long life. This mother daughter sunflower tattoo shows that daughters can draw strength from their mothers. The yellow color of this flower also represents happiness and loyalty.
FAQ
What symbolizes a mother daughter bond?
A mother daughter tattoo is a special type of body art that symbolizes the unique relationship between a parent and child. It is generally worn by women, but men can also wear these tattoos with equal pride. The designs vary from simple outlines to complex works of art that cover the entire arm or back. Just as each person is different and unique, there are many possibilities for mother daughter tattoos.
What is a mother daughter tattoo?
Mother-daughter tattoos are a sweet way of honoring that special bond between a mother and daughter. When you get a mother-daughter tattoo, it means that you want to express your love towards another person, who happens to be your daughter or mother. While there are many ways to show someone how much they mean to you, getting inked together is a beautiful thing as it symbolizes the love and connection between you and your loved one.