40 Meaningful Best Friend Tattoos in 2023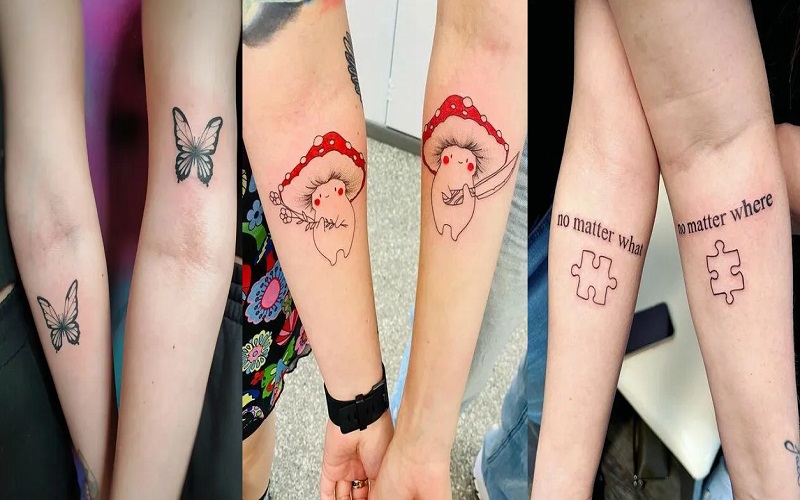 Best friend tattoos are a great way to show your friendship. There are many different types of tattoos you can choose from, but these best friend tattoo designs are especially meaningful.
Best Friend Tattoos, matching tattoos or friendship tattoos are a great way to show your appreciation for the special people in your life. These designs are best done with friends and can be good choices for sisters or other relatives. These kinds of tattoo designs are very popular with girls and women who are looking for something pretty and easy to get on the front, back or side of their bodies.
Friend tattoos are a great way to show off your friendship with someone. Whether it is a permanent tattoo or an ephemeral one, friend tattoos are a great way to show how much you love someone. The two of you could get matching tattoos or ones that compliment each other. If you have a friend who is very special to you, getting a tattoo done in his or her honor can be a great idea. There are many different types of tattoos that you can choose from and some of them are permanent while others are temporary.
Best Friend Tattoo Designs ideas
1. Best Friend Arm Tattoos
If you have been thinking about getting a tattoo for awhile, but have not decided on what type you want, consider getting a friend arm tattoo. This is a very unique way to display your friendship with someone and it shows that you both care enough about the person to make sure they are always there for each other.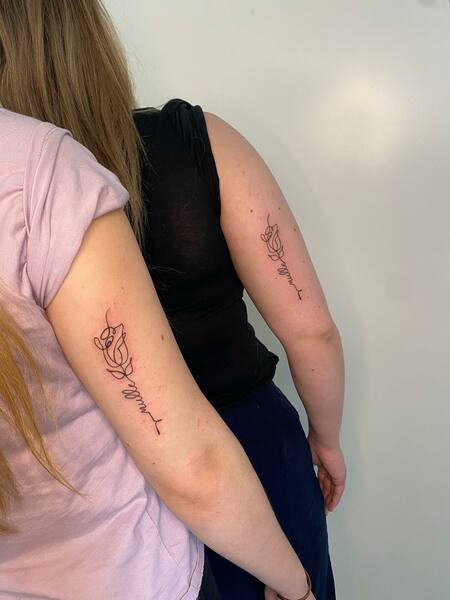 2. Best Friend Back Tattoos
The best friend back tattoo is a great way to represent your love and loyalty to your best friend. This type of tattoo design is often seen as a symbol of love, but it can also mean a lot more than that if you choose the right design. If you want to get a unique tattoo design then this might be the one for you.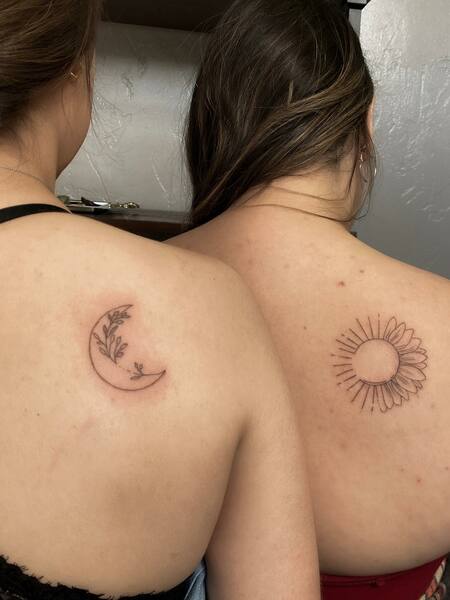 3. Best Friend Belly Tattoos
Best friend belly tattoos are another option that many girls choose to have inked onto their bodies. This is because they are often seen as being more feminine than other types of tattoo designs, which means that there's less chance of anyone else noticing it when you're out and about.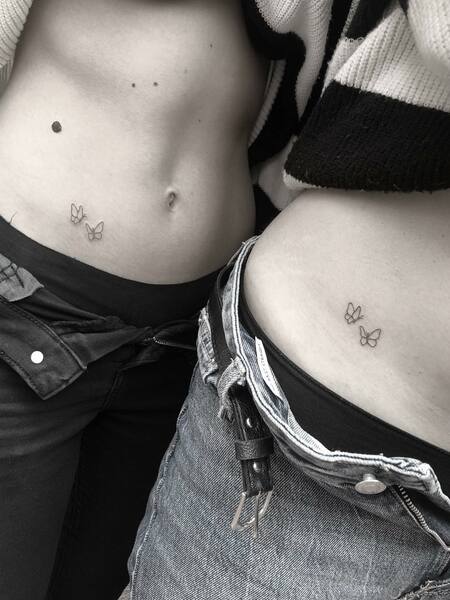 4. Best Friend Butterfly Tattoos
One of the most popular symbols of friendship is a butterfly. This beautiful creature is used to denote eternal love, beauty, freedom and change in life. Butterflies can also be designed in different styles and colors to symbolize various things. For instance, black and white butterflies are used to show mourning or death of a loved one or friend. You can use your creativity by changing the size or shape of these creatures.
5. Best Friend Cat Tattoos
Cats have been popular symbols of friendship since ancient times. They are considered guardians of homes, sacred places and families. Cat tattoos represent independence, intelligence, affection and loyalty. These creatures are also associated with magical powers and protection against evil spirits – making them perfect symbols for best friend tattoos.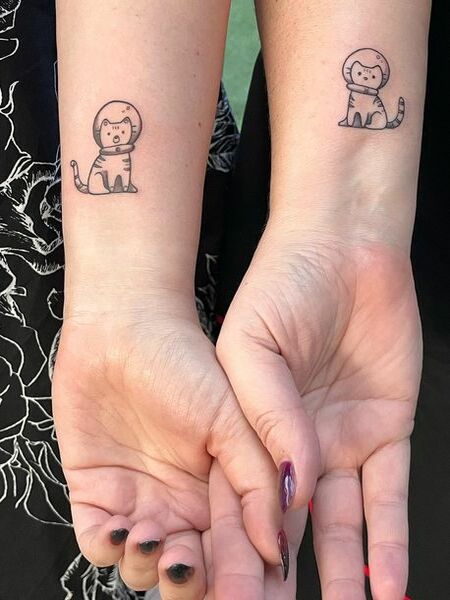 6. Best Friend Clover Tattoos
This best friend tattoo is for four friends. These four friends can get inked with this clover tattoo design, on their wrist or ankle. This tattoo is so pretty because of the colors and the design, plus it is a symbol that they will always be together.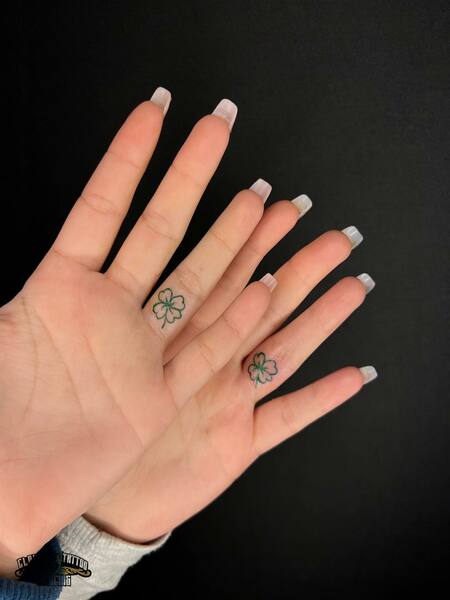 7. Best Friend Colorful Tattoos
A colorful flower tattoo is a pretty design that can be shared by two girlfriends. The flowers can be different colors but they will go together as a complete set of tattoos. A flower tattoo is delicate and feminine, making it the perfect option for women who have a close bond with one another.
8. Best Friend Cute Tattoos
A cute tattoo is one that is small and simple. A simple heart or star design can work well as a best friend tattoo. You can get a heart on each wrist or ankle, or one person can have a heart on her arm and the other one gets the other half of the heart on her arm or leg. This kind of matching friendship tattoo is cute and easy to do.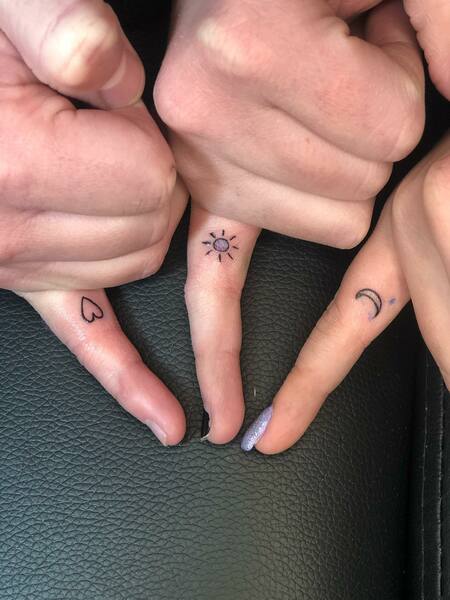 9. Best Friend Daisy Tattoos
This delicate daisy looks gorgeous on anyone's wrist or arm. The two daisies represent your two souls blooming together like flowers in springtime. This simple tattoo can be drawn on anyone, no matter their gender or age. Plus, it's subtle enough to hide under clothing if needed.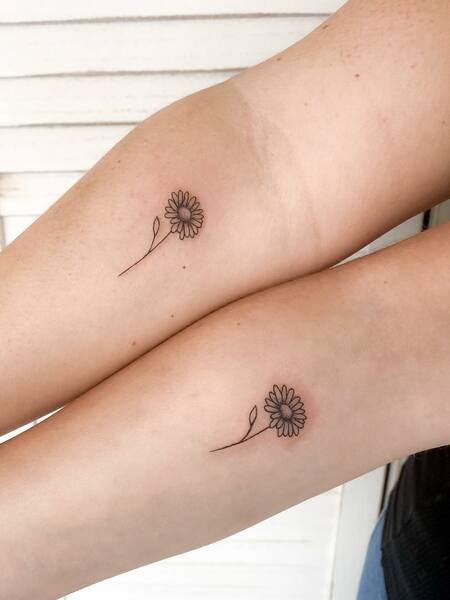 10. Best Friend Dotwork Tattoos
Dotwork tattoos are extremely popular and a great way to memorialize your friendship. This tattoo uses dots of varying sizes for shading and a unique look. Plus, it's small enough that you can easily hide it when needed. If you're worried about the pain level, it's worth noting that although this seems like a lot of dots, they would be placed quickly so the pain would be minimal.
11. Best Friend Fine Line Tattoos
If you want something minimalist, there's no better than simple line work like this best friend tattoo. You can use this as inspiration or add your own twist on it with your friend! Just make sure to choose an experienced artist for this one, as fine line tattoos require a steady hand and careful technique.
12. Best Friend Finger Tattoos
The best friend tattoos are of a small size and takes up very little space. It is simple and easy to draw. The finger daisy tattoo is made up of two rings that are joined together with a daisy flower in the centre. This is an ideal best friend tattoo design for girls as it depicts their love for each other and also the beauty that they feel by being in each other's friendship.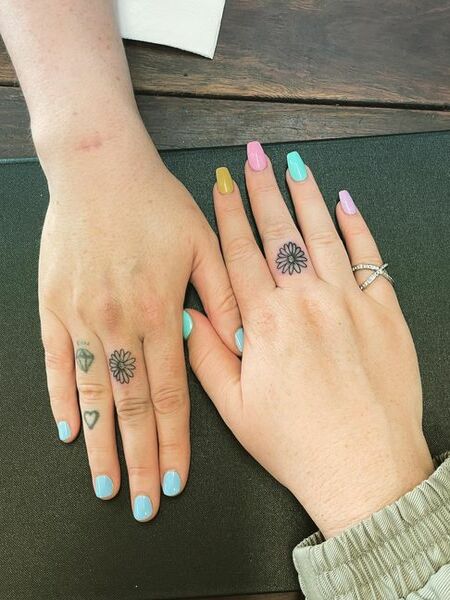 13. Best Friend Fire Tattoos
If you want a tattoo that is more obvious, consider getting the fire tattoo with your best friend. This tattoo design looks great together and makes it clear that the wearer has a special connection with their friend.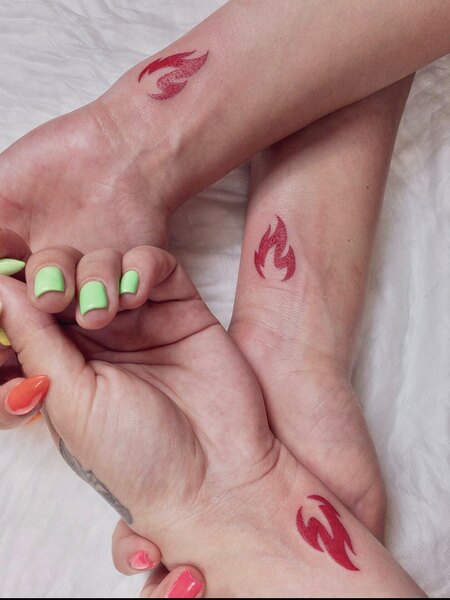 14. Best Friend Flower Tattoos
If you and your best friend want a tattoo that is simply adorable, then this may be the one for you. A flower is a great design that has universal meaning. Flowers are often thought of as beautiful and feminine. You can get two flowers with your best friend and add little details like hearts or glitter to make it even more fun.
15. Best Friend Forearm Tattoos
If you don't want to get a permanent tattoo, there are plenty of temporary ones as well. If you and your best friend have decided to get a tattoo together, it doesn't matter what kind it is – there are plenty of options for you. You could go with a traditional tattoo or something more modern and contemporary like a Chinese lettering design or even a Celtic knot.
16. Best Friend Funny Tattoos
If anyone says that tattoos aren't funny anymore, they're nuts! The funniest tattoos out there are those that will make people laugh when they see them. It doesn't matter if your best friend gets a tattoo with you or even if he decides to get one by himself – as long as it's funny, everyone will be laughing at it!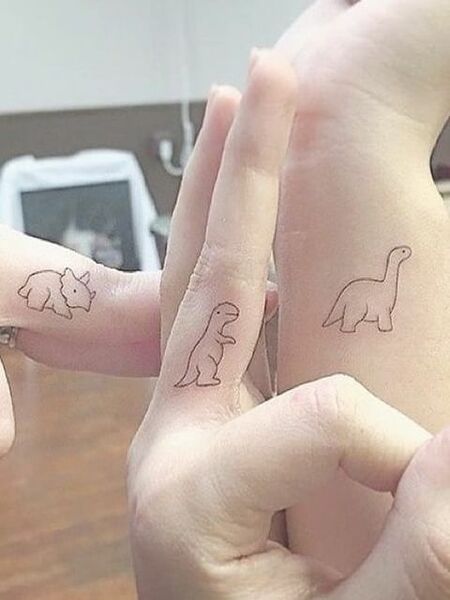 17. Best Friend Heart Tattoos
The heart is a symbol of love, affection, and friendship. Therefore, it is often the perfect choice for a best-friend tattoo. You can choose to get a tattoo of a heart in any size and color. One of the most popular ways to display this design is by getting it on your wrist. This way, you will be able to show off your best friend's name with ease!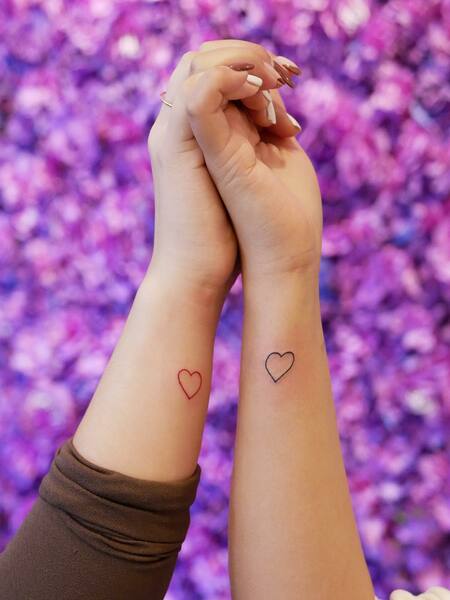 18. Best Friend Hip Tattoos
The hip is one of the sexiest places to get a tattoo on your body. Therefore, it makes sense that you would want to use this space for best-friend tattoos. If you are wanting to get a tattoo with your best friend, you may want to consider getting matching ones on your hips. In doing so, you will not only prove that you two are best friends, but also how in sync you are with one another!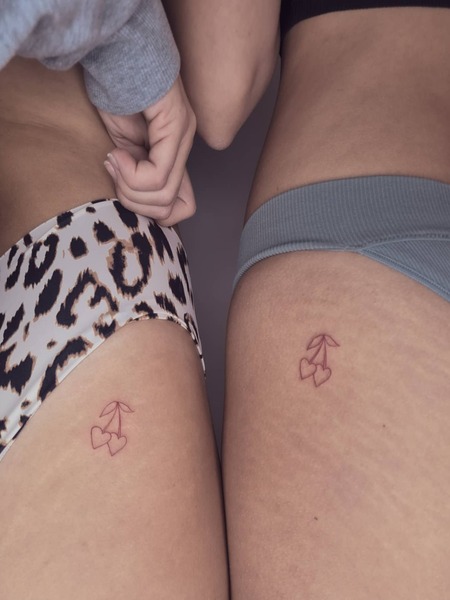 19. Best Friend Infinity Tattoos
When you want to show your best friend that you connected with her/him for life, get infinity tattoos. These can be inked on the inside of your wrists, so that every time you meet and shake hands, you feel connected.
20. Best Friend Lotus Flower Tattoos
This is another popular design for those who wish to show their friendship. The lotus flower is a sign of purity and it also represents the fact that your friendship will remain pure forever. If you want to make sure that no one will ever know about your best friend tattoo, then this is the perfect choice for you.
21. Best Friend Mouse Tattoos
This cute cartoon-like design features two mice in love. This style of art is very popular among artists and a great choice for anyone who likes their tats to be cute and colorful. The mouse is also a symbol of strength and endurance in Chinese culture. Getting this style of tattoo on your arm is a great way to add some extra color and character to your outfit.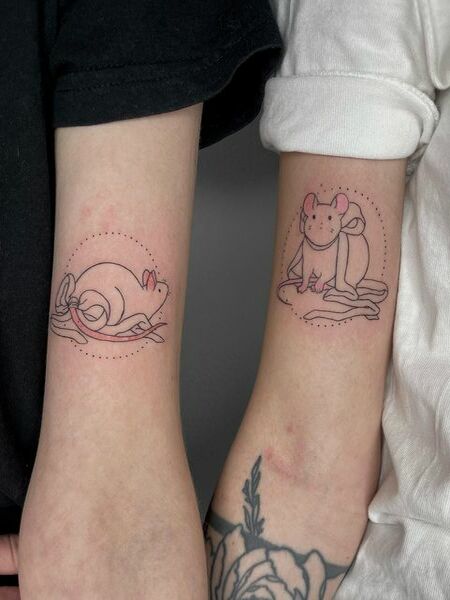 22. Best Friend Mushroom Tattoos
Mushrooms are a great choice for best friend tattoos because they grow in pairs. They also have a whimsical look to them, which is perfect for two friends who like to have fun! Mushrooms are one of the most iconic symbols of good luck and happiness. They are also considered to be symbols of abundance and prosperity in many cultures around the world.
23. Best Friend Pinky Promise Tattoos
A pinky promise is a classic best friend tattoo. It's simple, it's cute and it's easy to do. Plus, you can make it as simple or elaborate as you'd like. Try adding some sequins or rhinestones for extra sparkle! You can also add other tattoos around the pinky promises such as a heart or arrow. Just play around with ideas until you find something you love.
24. Best Friend Planet Tattoos
A best friend planet tattoo is a great way to show that your friendship is one of the most important things in your life. It will remind both of you of how much your friendship means to each other every time you look at it.
25. Best Friend Powerpuff Girls Tattoos
The Powerpuff Girls have been an iconic symbol of female empowerment for many years. The fact that they're best friends only makes their bond stronger, so what better way to express your friendship than with a Powerpuff girls tattoo?
26. Best Friend Puzzle Tattoos
Some best friends may choose to get matching puzzle piece tattoos. The tattoo design can be used to represent the person's other half or better half. Best friends who have matching puzzle piece tattoos are often considered soulmates. The tattoo can also be used to represent the inseparability between two people.
27. Best Friend Red Heart Tattoos
Best friend red heart tattoos are another popular choice for best friends. This tattoo is generally worn by females and is often used to represent love and friendship between two females. The red heart tattoo can also be used as a symbol of passion and deep love between two people.
28. Best Friend Shoulder Tattoos
This is one of the most common and popular designs for best friend tattoos because it has a very personal touch to it. You can get this tattoo on your shoulder or back, depending on what type of relationship you have with your best friend. If your friendship is based on mutual respect and admiration, then this is definitely one of the best designs for you.
29. Best Friend Small Tattoos
Another great design for best friend tattoos is the small tattoo. These are usually located on the fingers or on the wrist, and they are very easy to do yourself. They are very cute designs because they don't take up much space at all, but they still have a lot of meaning behind.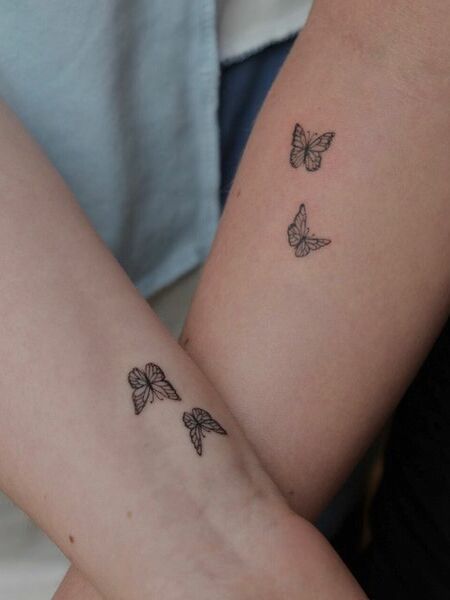 30. Best Friend Snake Tattoos
The snake tattoo is actually quite a unique and strong tattoo which says a lot about a person. It's easy to see why the snake has become popular as a best friend tattoo; it represents transformation, protection, healing, rebirth and renewal. It's a very powerful image and so is perfect for representing your friendship.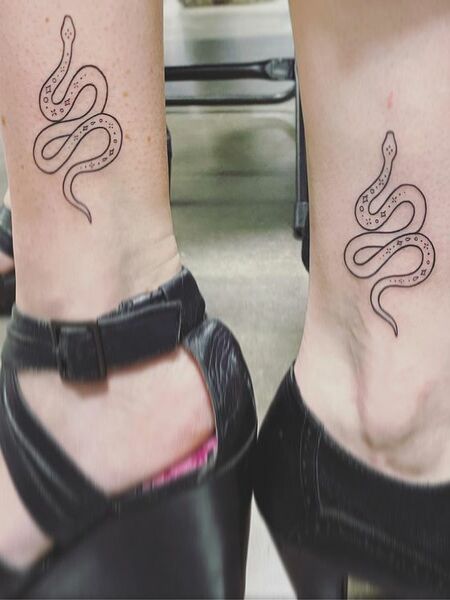 31. Best Friend Star Tattoos
A star tattoo represents truth and guidance, and so is often used as a symbol of hope. It's also commonly associated with good luck, so what could be better than that for your best friend? You can each have a small star or one large one between you.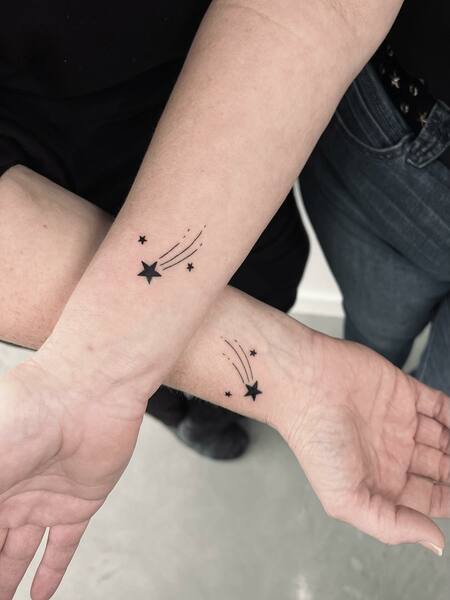 32. Best Friend Sun And Moon Tattoos
The sun and moon are often used to symbolize opposites in tattoo designs. This is why the sun and moon are often paired together. If you and your best friend are always at odds with each other, get this tattoo design. The cool thing about this design is that the sun and moon can be divided into two separate tattoos, or you can both get a full piece that combines the two.
33. Best Friend Sun Moon And Star Tattoos
If you want to include even more celestial bodies in your best friend tattoo, consider getting a star added to the mix. You can place the star between the sun and moon, or if you want to keep things simple, get a singular star tattooed on each of your hands.
34. Best Friend Sun Moon And Wave Tattoos
This type of best friend tattoo is usually worn by two friends who are inseparable. The sun and the moon represent day and night-time, while the waves symbolize their friendship that is going to last forever.
35. Best Friend Tiny Tattoos
There are a lot of different designs for this type of best friend tattoo. Some of them are the infinity sign, a clover with four leaves, a heart symbol or even a small star.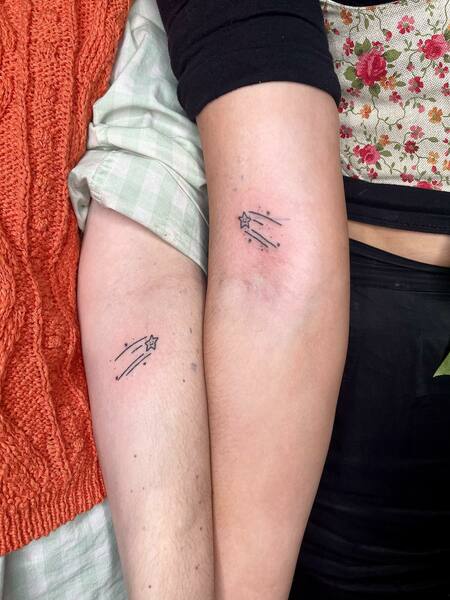 36. Best Friend Wave Tattoos
The wave is a powerful symbol and it will always be. It signifies change, strength and power that you can only observe in the ocean. The wave tattoo is more beautiful when it is designed as a best friend tattoo. These types of tattoos are identical on both friends and they can be placed on any part of the body.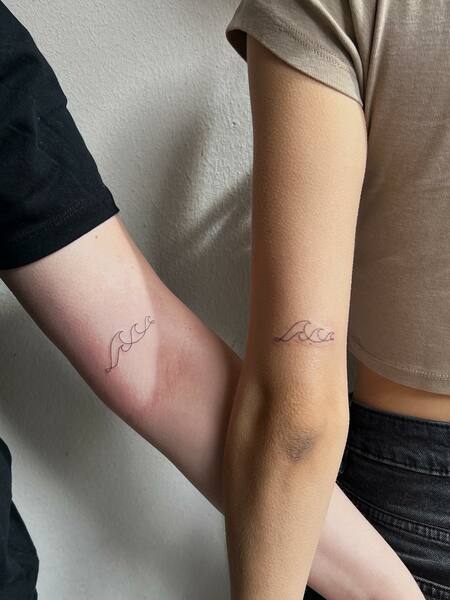 37. Best Friend Wrist Tattoos
Wrist tattoos are very popular among men and women because they appear simple but they have great symbolic meaning. When you want to ink such a tattoo with your friend, you should ensure that it has some meaning in your life. A simple word or even a flower can appear beautiful on any wrist.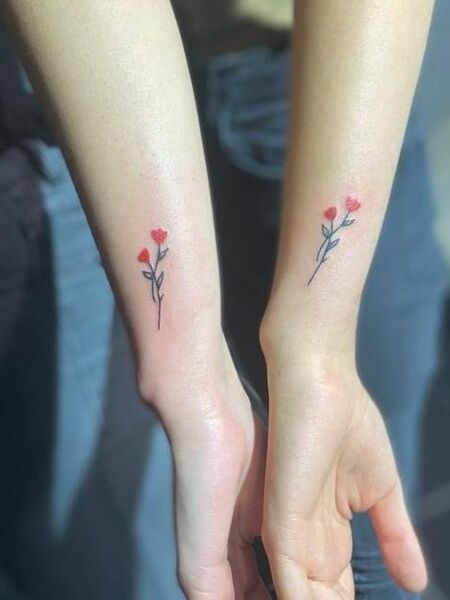 38. Best Friend Zodiac Tattoos
Best friend zodiac tattoo is one of the best choice for those friends who want to get the sign of their zodiac. This can be designed on your hand or any other part of your body where you want to show it off. It is also a good idea to get the tattoo of your friends zodiac sign on your arm as it will remind you of them each time you look at it and also it will make them feel special that they are important to you.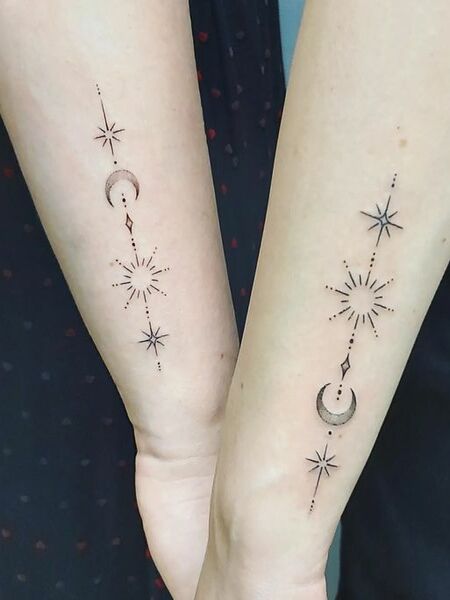 39. Best Friend 444 Tattoos
Do you ever think about someone and they call you right after? It seems like there's some sort of magic connection between the two of you! If this happens a lot, then get a 444 tattoo with your BFF. This angel number is all about a strong bond between two people. You will always be there for each other, even if it seems impossible at times.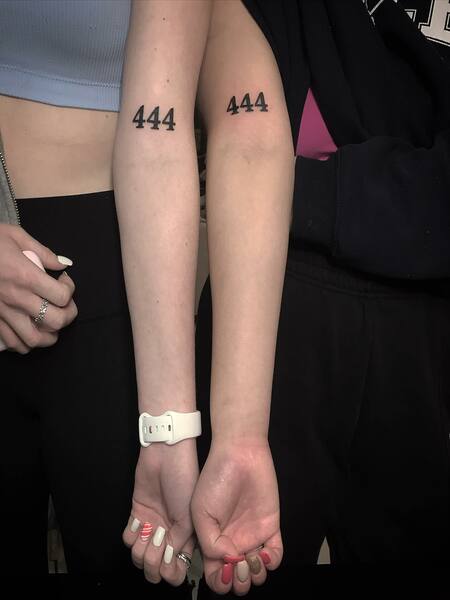 40. Best Friend Ankle Tattoos
This best friend ankle tattoo is an excellent choice for those who want to show their love and friendship. The flower is outlined in black, giving it a beautiful look. You can add other colors or even give them the same design if you want to make it more personal.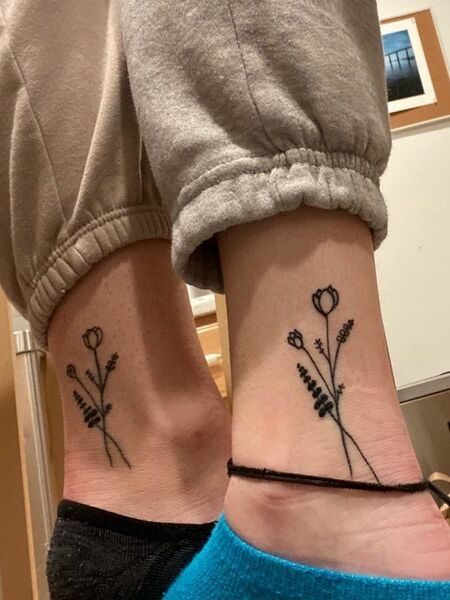 FAQ
What Symbol Means Best Friend?
Tattoos of the same design are a great way to show off your best friend. You could choose a simple design, such as a heart or a star, or get something more complicated. If you don't want to get matching tattoos, there are also designs that symbolize friendship like a lock and key.
Who Should Get Best Friend Tattoos?
Best friend tattoos are an excellent option for anyone who has a close relationship with another person. You may want to get a best friend tattoo with your sister or brother, your boyfriend or girlfriend or someone that you met later in life. These tattoos can also be a fun way of bringing together people who have different personalities but have shared interests in common.