25 Best Betty Boop Tattoo Designs ideas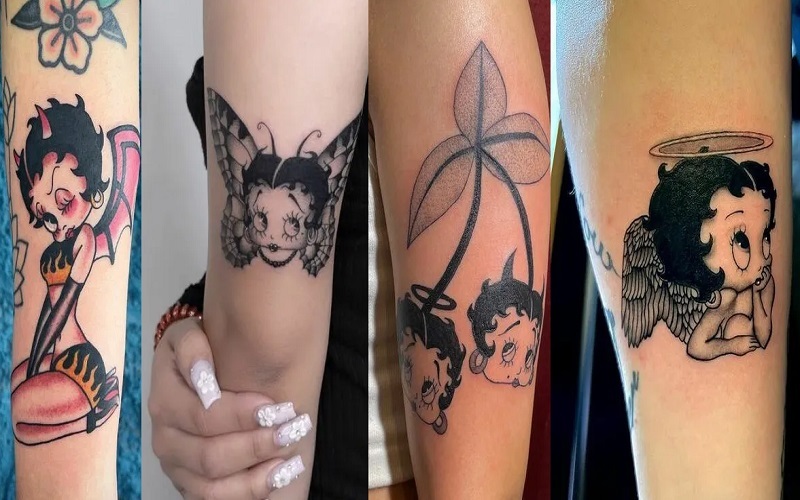 Betty Boop Tattoos are considered to be a popular choice for women who want to get tattoos. These tattoo designs were originally inspired by the cartoon character Betty Boop. The original character was drawn as a sexy female with distinctive features and an attitude that showed her to be a strong woman.
Betty Boop has been around since the 1930's and was created by Max Fleischer. She is best known for her signature look which included long eyelashes, big eyes and a red pouty mouth. She first originated in the "Talkartoon" series and then moved on to become one of the most popular cartoon characters in history. Since then, Betty Boop has been featured in several movies, television shows, print ads and comics.
Betty Boop is one of the most popular cartoon characters in the world today. Many women love to get Betty Boop tattoos because they are just too cute. We have compiled a list of our top ten Betty Boop tattoo ideas that can be used for inspiration. If you have any tattoo ideas that you think should be added to this list, please feel free to leave them in the comments section below.
1. Betty Boop Nurse Tattoo
Nurse Betty Boop tattoos are perfect for the girls who have a soft spot for those who are in need of medical attention. This tattoo is absolutely beautiful and the fact that it comes with a cartoon character makes it look even more cute.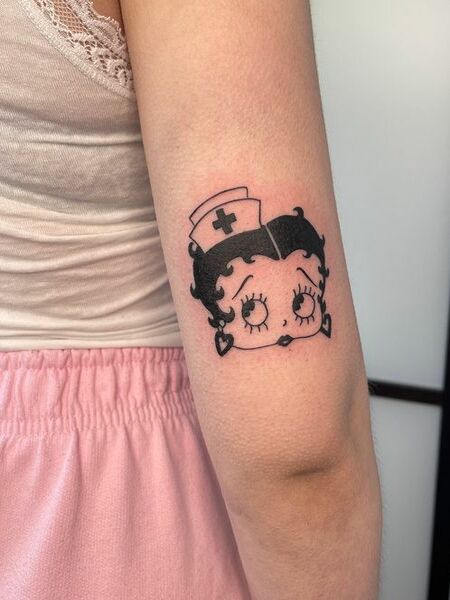 2. Betty Boop Bat Tattoo
Everyone loves Betty Boop, especially when she's wearing her Halloween costume. A lot of women are getting this tattoo because of its unique design and also because of how cute it looks. The bat costume is definitely up there with the other Halloween costumes that you can find in stores and online.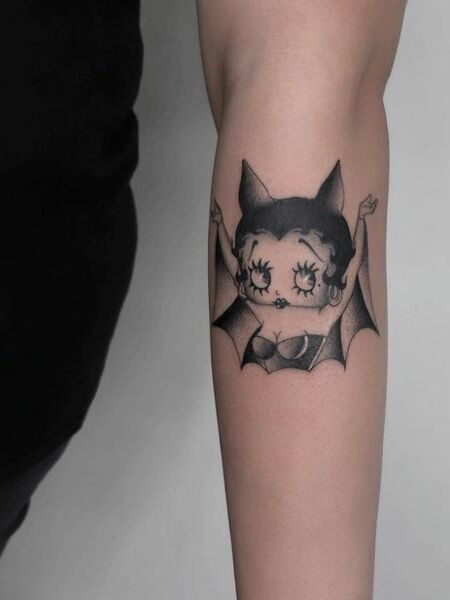 3. Betty Boop Chest Tattoo
Betty doesn't shy away from showing off her body and if you want a sexy tattoo then this one is the perfect choice for you. It's simple, elegant, and it just looks great on any part of your body.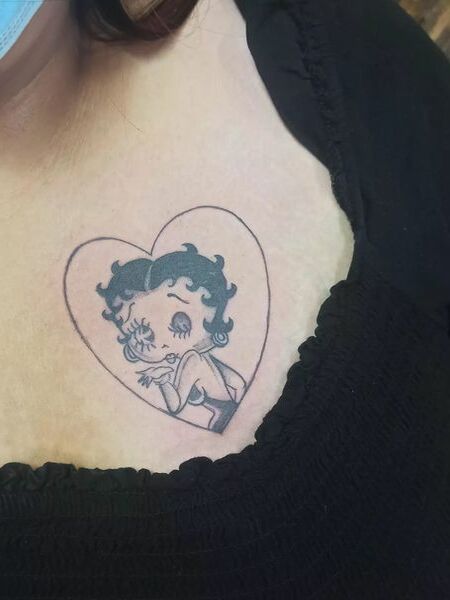 4. Betty Boop Gun Tattoo
This design features Betty Boop holding onto a gun. This is another example of a design that you can turn into anything that you want. If you want to change the gun into something else, you can do so easily enough.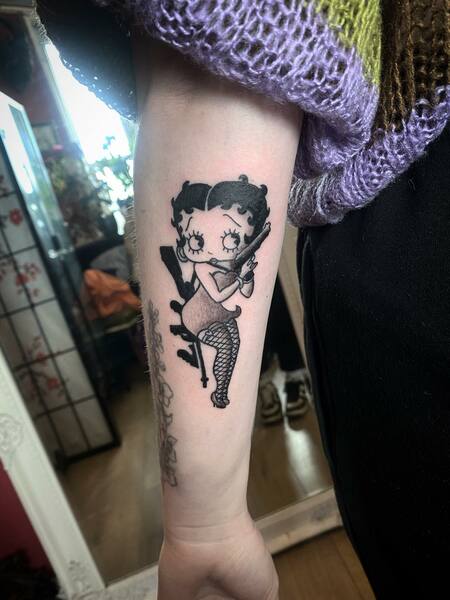 5. Betty Boop Love Tattoo
Some people love Betty Boop so much that they get her tattooed on their bodies. It's a great way to show your love for the cartoon character. You can have Betty in any pose or design you like, and she looks fantastic in color or black and white.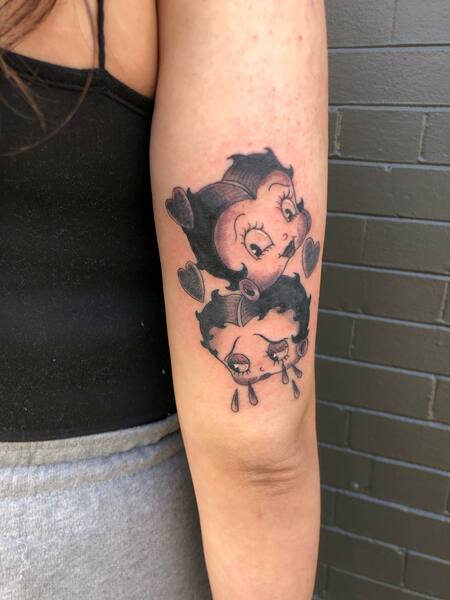 6. Betty Boop Ankle Tattoo
This is an adorable design that would be perfect on your ankle. It's small, yet noticeable enough for people to see it without even trying. This is just one of many designs that you can get as a Betty Boop tattoo.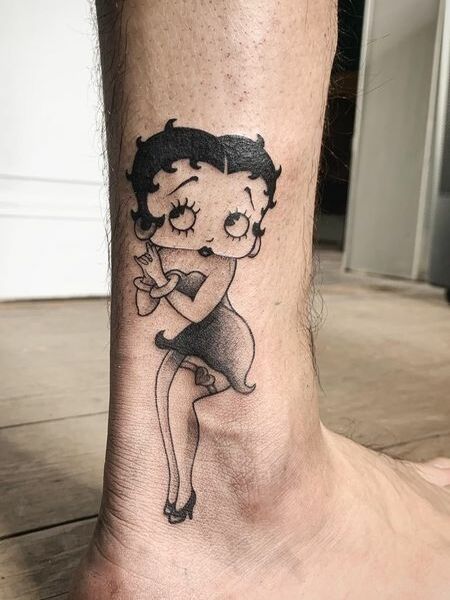 7. Betty Boop Rib Tattoo
Rib tattoos are painful, but they are beautiful. A Betty Boop tattoo on the rib cage is sexy and stunning. In this particular design, she is wearing a black and white dress. She has red lips and red eye makeup. She looks like she is in for adventure, which is what makes it so perfect for Betty Boop who loves adventures.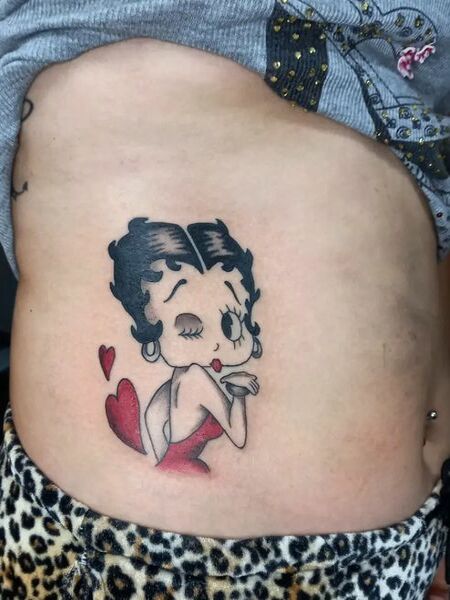 8. School Girl Betty Boop Tattoo
Betty Boop School Girl Tattoo is an ideal choice for those who love the small cute tattoos. The tattoo has a hot chick with some school girl uniform. The tattoo looks very good and is filled with bright colors.
9. Black Betty Boop Tattoo
A different look for Betty Boop is black ink. This design shows her face with a bow on the side of her head. She has a big smile on her face with red lips, which adds color to the design. There are stars around her face, which gives it more detail and makes it unique to her character.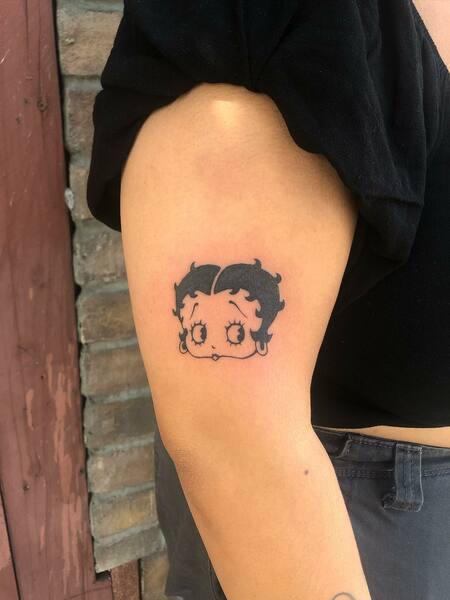 10. Betty Boop Thigh Tattoo
One of the best places for a tattoo is on the thigh. It usually doesn't hurt as much as other areas, especially if you get a small design like this one of Betty Boop in black and white with roses around her head.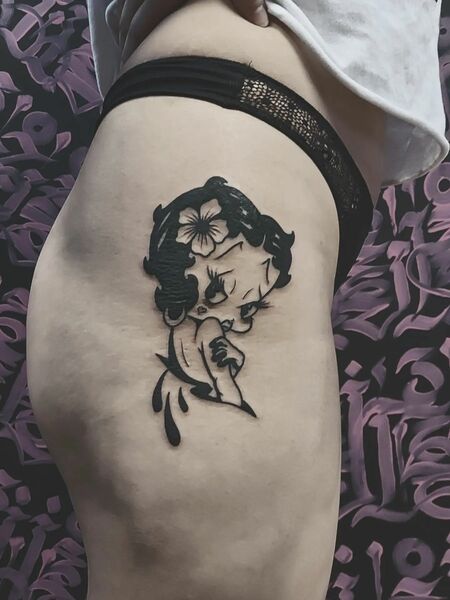 11. Broken Heart Betty Boop Tattoo
This Broken Heart Betty Boop Tattoo is a great choice for those who like to have a broken heart tattoo design. The red color of the heart makes it more attractive. This tattoo design will look good on any part of your body.
12. Butterfly And Betty Boop Tattoo
If you want to get a butterfly tattoo design on your body, then this Butterfly And Betty Boop Tattoo would be a perfect choice for you. These two tattoos will look great together, and they will help you show off your love for butterflies as well as your love for your favorite cartoon character.
13. Cartoon Betty Boop Tattoo
One of the most common types of tattoos that people choose is the cartoon image of Betty Boop. This may include just her head or it could include her entire body as well. You can also have her wearing clothes or with no clothes at all depending on what you want.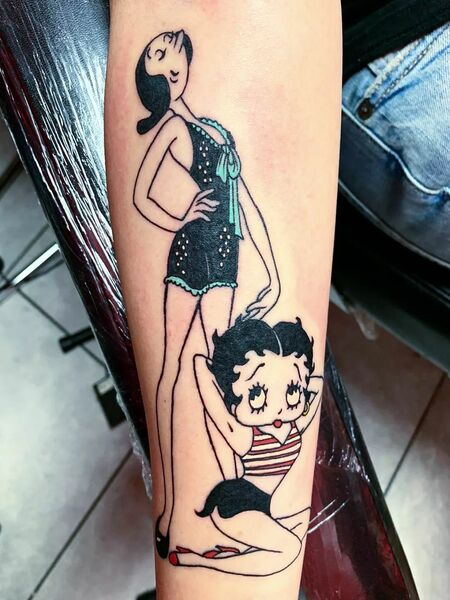 14. Cowboy Betty Boop Tattoo
Cowboy Betty Boop tattoos are what you will get when you combine this classic cartoon character with the cowboy theme. These tattoos are very popular among the men and women who want to showcase their love for both these themes. You will love to have one of these designs inked on your body parts like the arms, shoulders, thighs, back, and chest. You can choose from a wide range of designs such as black-and-white or color tattoo designs.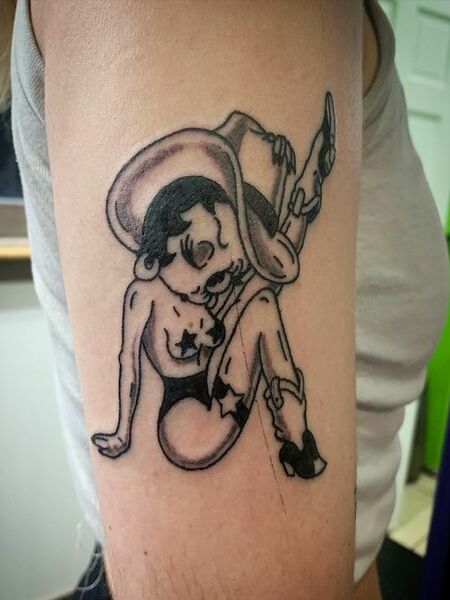 15. Crying Betty Boop Tattoo
Crying Betty Boop is another variant of this classic cartoon character. You will be able to see her crying in some of the cartoons and even in the tattoo designs. Some people love to have crying Betty Boop tattoos inked on their body parts to showcase their sorrow or sadness. You can either get a design that shows her crying while embracing her pet dog or another that shows her weeping while playing musical instruments like flute or guitar.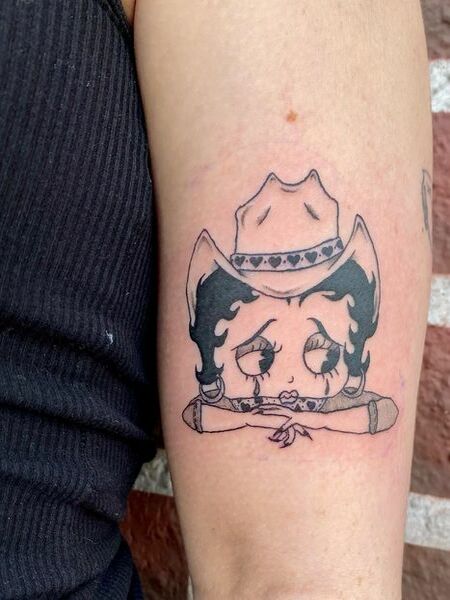 16. Devil Betty Boop Tattoo
This tattoo features a cartoon version of the well-known starlet, but with devil horns and tail to illustrate her fiery personality. If you're looking for a tattoo that will grab people's attention and make them think twice about messing with you, then this could be the right choice for you.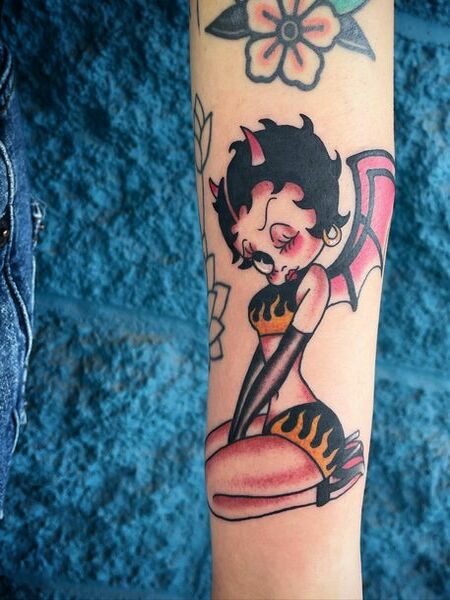 17. Feminine Betty Boop Tattoo
Betty Boop is a very feminine character, which is why you should consider getting her tattooed on your body. The tattoo designs of this sexy female cartoon character can be varied from the very soft and beautiful to the hardcore one. You can choose from the feminine design to the hardcore design of this beautiful lady with ease.
18. Forearm Betty Boop Tattoo
The forearm is a popular area for body art as it is obvious and easy to see, even when you are wearing long sleeved shirts or blouses. It gives you enough space for drawing a tattoo that has detail and significance. Forearm tattoos aren't as trendy as they used to be, but there are still some people who like them, especially if they're hidden by sleeves during work hours.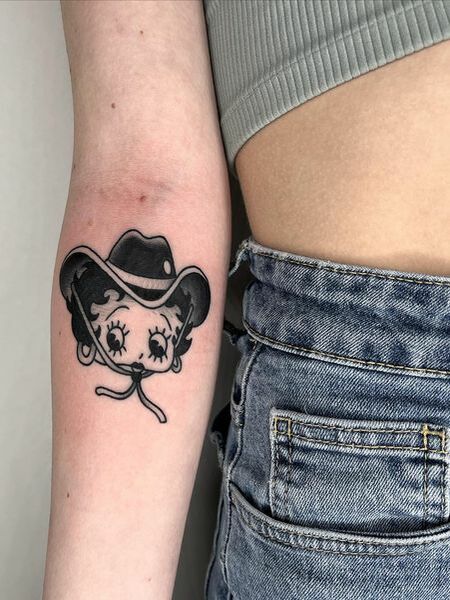 19. Fun Betty Boop Tattoo
Betty Boop has also been known to appear with other cartoon characters such as Popeye and Bimbo, which makes for an interesting tattoo design. This guy has got the traditional black and white version of the character, but she is also surrounded by color, which gives her a lot more impact.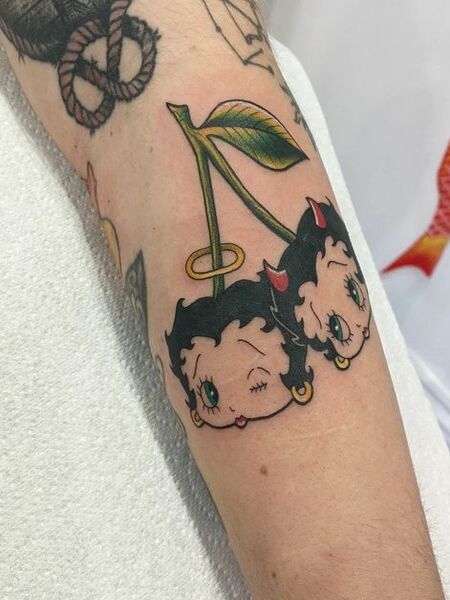 20. Quirky Betty Boop Tattoo
Betty Boop tattoos are popular amongst both men and women who love classic cartoons. These tattoos often show her in her iconic outfit with her black dress, high heels, and garter belt with stockings. Her skirt is often short, showing off her long legs.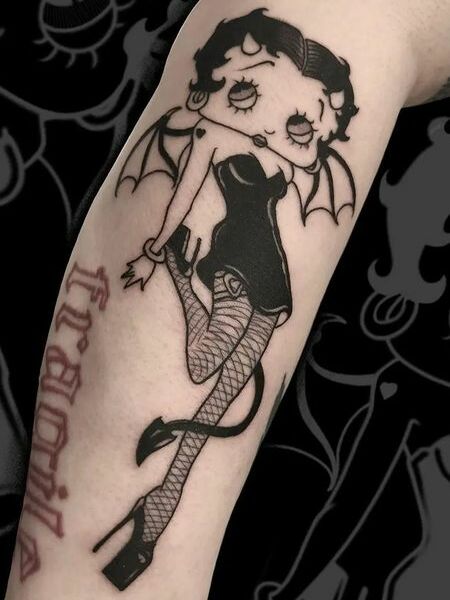 21. Sexy Betty Boop Pin-Up Tattoo
Betty Boop tattoos look great when they're designed with red lips and big eyes. They look even better when they have her trademark black dress with a bow on one side. Many people prefer getting these tattoos in black and white or pink, but color ink looks great as well.
22. Traditional Betty Boop Tattoo
This type of Betty Boop tattoo is more common among men. It is characterized by bold, dark colors and black inks that make the tattoo stand out. It is also one of the most common types of tattoos for a first timer. This type of tattoo is ideal for people who are not afraid to show off the tattoo in public.
23. Watercolor Betty Boop Tattoo
This type of Betty Boop tattoo is usually done by women. It is characterized by bright colors and elaborate designs that give the tattoo a feminine touch. The watercolor effect gives it a unique look that makes it stand out from other types of tattoos.
24. Angel And Devil Betty Boop Tattoo
Some people get Betty Boop tattoos because they remind them of their childhood or because they want something cute on their body. Others choose this design because they like how it looks or because they want something that is sexy without being too revealing. Some people also like Betty Boop because she can be designed in various ways to represent different things in their life.
25. Angel Betty Boop Tattoo
An angel is a creature with wings who represent goodness, purity, protection and faithfulness. For many people, they represent an inner strength that helps guide them through the difficult times in life. This is why angel tattoos are so popular.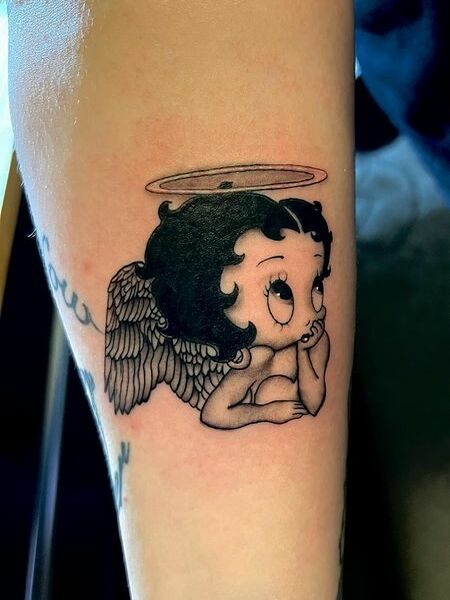 FAQ
What is the meaning of Betty Boop tattoos?
Betty Boop is a popular cartoon character who went through several different phases of popularity. She has been used in many ways and is typically considered a sex symbol that represents free spirited women with large breasts, small waist, and long legs.
What is the meaning of Betty Boop tattoos?
The meanings behind the Betty Boop tattoo can vary depending on the wearer, but there are some traditional meanings as well. The main meaning that comes from this design is one of being wild and free just like the cartoon character represented. In general, when she is portrayed in any way she is shown as a happy go lucky character who lives life with no worries. This is a meaning that many women want to portray with their own personality, which is why they may choose to get this type of tattoo done.