40 Creative Hummingbird Tattoos With Meanings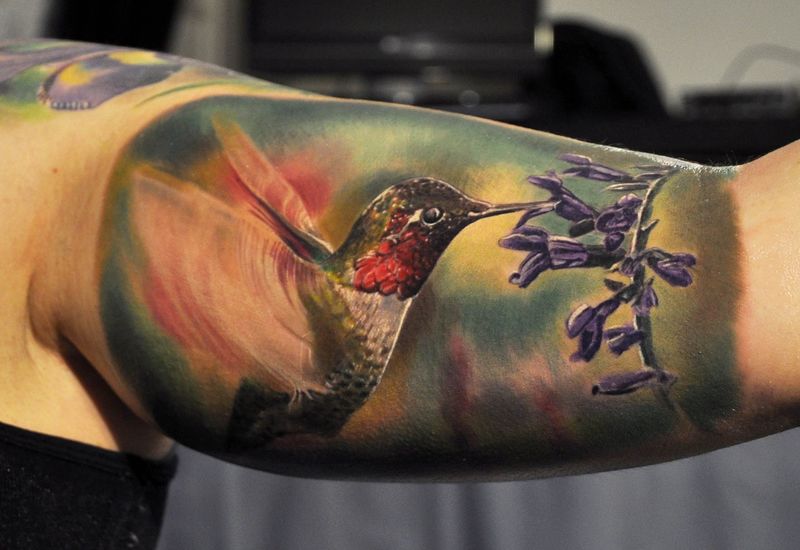 Hummingbird tattoos can be created in a variety of different ways. Hummingbird tattoos can hold symbolic value, and the varying designs of the hummingbird can symbolize different things. Hummingbirds are very small birds and have the ability to fly backwards. The hummingbird is a wonderful symbol for life, beauty and love.
A hummingbird tattoo design is one way of expressing a love for nature and all its beauty. The delicate bird, with its tiny size and rapid wings, appeals to many people because it symbolizes vitality, joy and the ability to heal. This is a great choice for anyone trying to recover from a difficult time in their life.
Hummingbird tattoos are growing in popularity due to their delicate and unique beauty. The colorful birds are available in a variety of designs and sizes, making them an ideal choice for almost any area of the body. With a little imagination, you can find the perfect hummingbird tattoo to meet your needs.
3D Hummingbird Tattoos
One type of design that is becoming more popular are three-dimensional tattoos. These are images that look like they are popping out of your skin. Hummingbirds make great 3D tattoos, especially if you are looking for something intricate and delicate. The bird's feathers can be shaded to give them depth, while the wings can have a metallic quality. If you want to go all out with this style, have the image appear as though it's bursting out of your skin.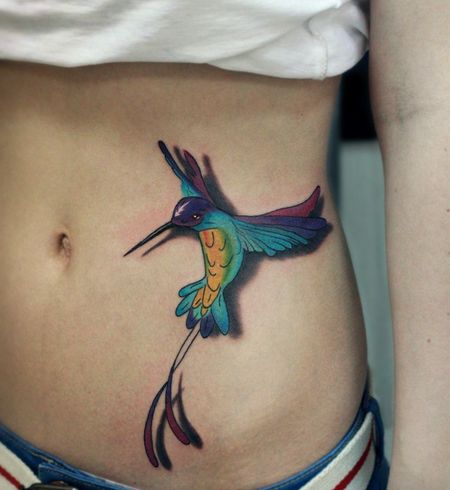 Hummingbird Ankle Tattoos
If you want a tattoo that is small and subtle, consider having a hummingbird etched on your ankle. This is one of the most common areas for these birds to be placed because it does not require too much space or color. You can even get creative and use the tiny bones in your ankle as part of the design by adding in some vines or flowers that climb up your leg.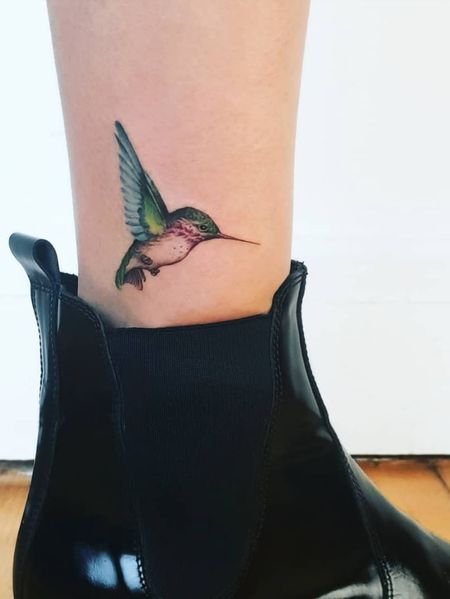 Hummingbird Arm Tattoos
Hummingbird tattoos on the arm are unique. The arm is a great place to showcase a tattoo because you can show it off or hide it at any given time. Because they are so small and simple, hummingbird tattoos work perfectly on the wrist or forearm. You can also choose to have a tribal hummingbird, which is black and white with no color.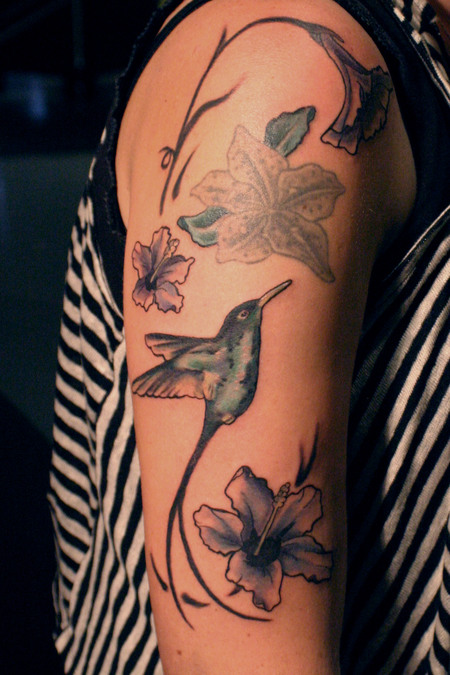 Hummingbird Back Tattoos
The back is an excellent place for large hummingbird tattoos. Many women love this placement because the wingspan of these birds works so well with the natural curve of the back. A larger bird will look wonderful in this area, especially if you choose to have it done in bold colors with intricate detail. A detailed hummingbird takes skill and precision; make sure you ask to see past work of your artist if you're interested in this type of tattoo.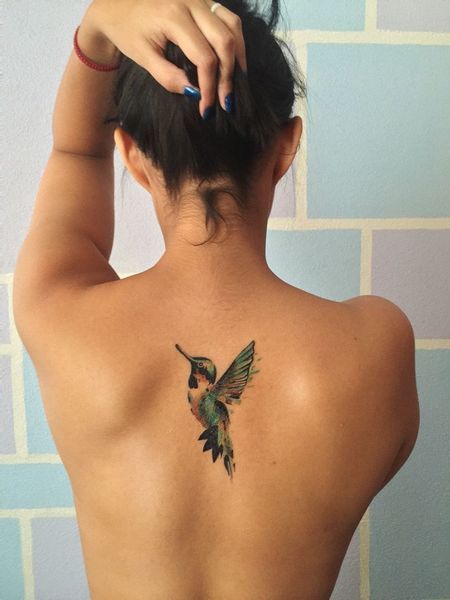 Hummingbird Belly Tattoos
If you want a hummingbird tattoo that can be covered up easily, consider getting it inked on your belly. A small, delicate hummingbird can be hidden with clothing, but displayed proudly during warmer months when you don't need to wear many layers of clothes.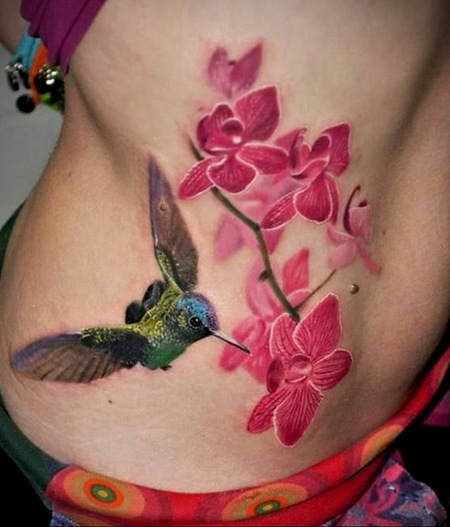 Hummingbird Chest Tattoos
A hummingbird tattoo on the chest is a beautiful and meaningful way to pay tribute to someone you love. The best placement for a hummingbird chest tattoo is just below the collarbone, where it will almost look as if the bird is resting upon your shoulder.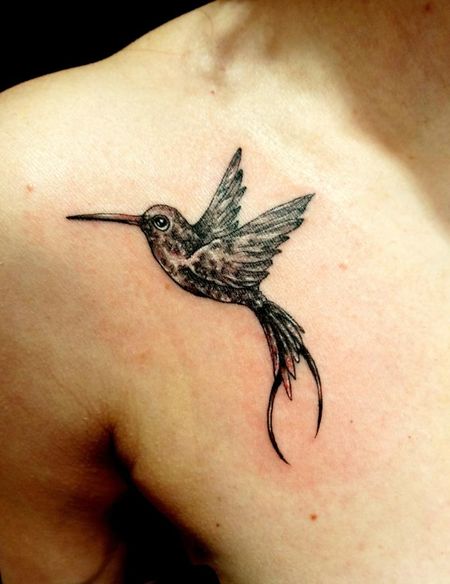 Hummingbird Collarbone Tattoos
The collarbone tattoo is fairly popular, especially in women. The next time you head out to the beach, look around. You are likely to see multiple tattoos on the collarbones of women relaxing on their towels. Hummingbirds are popular collarbone tattoos, because they are small and dainty enough to fit in this spot. They can be quite beautiful when done correctly, as seen in this example.
Hummingbird Behind The Ear Tattoos
The behind the ear hummingbird tattoo is a little less popular than some of the others, but it is still very common. This is such a great place for these small birds because you can't see them right away, but they are there if you look closely.
Hummingbird Elbow Tattoos
There's no better way to show off a hummingbird tattoo than with a sleeveless top, and elbow tattoos are ideal for this. While these tattoos can be small, they're often larger and more intricate, as they span the entire elbow, as if it were one giant canvas.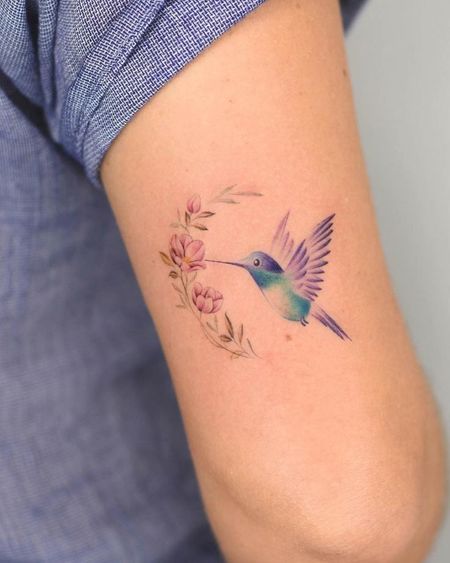 Hummingbird Finger Tattoos
One of the most popular places for a hummingbird tattoo is on the finger. These tiny tattoos are super cute, but pack a big punch. You can put your hummingbird tattoo on any finger you choose and it will look amazing. The best part about these tiny tattoos is that you can easily cover them up if you need to!
Hummingbird Foot Tattoos
A hummingbird foot tattoo will always be in style. Whether you want it as an ankle tattoo or a toe tattoo, it will be stunning every time. If you like small and simple tattoos, then this might just be the perfect tattoo for you.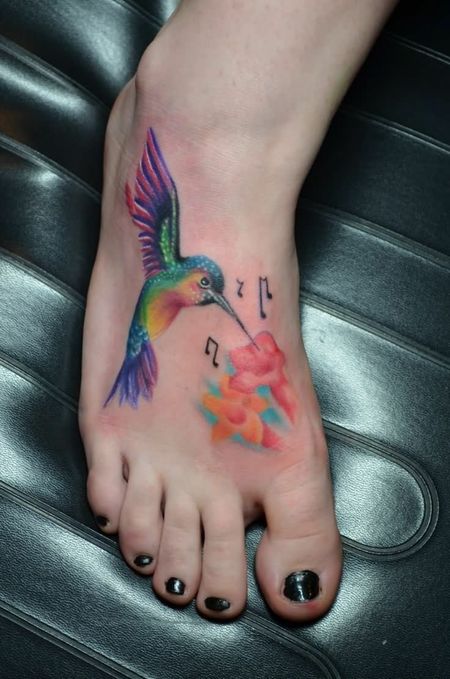 Hummingbird Forearm Tattoos
Having a neck tattoo that includes a hummingbird can be a moving way to keep a loved one close to your heart. It's also common to include flowers or other symbols in the design that represent special memories or traits of the person being remembered.
Hummingbird Hand Tattoos
A colorful design with lots of detail will look great on your hand or foot. Choose a small hummingbird or a larger one to fit the shape you want. You can also choose from a variety of other animals to use as your main subject matter including butterflies, birds, fish, or even deer. The possibilities are endless when it comes to your hummingbird tattoo design!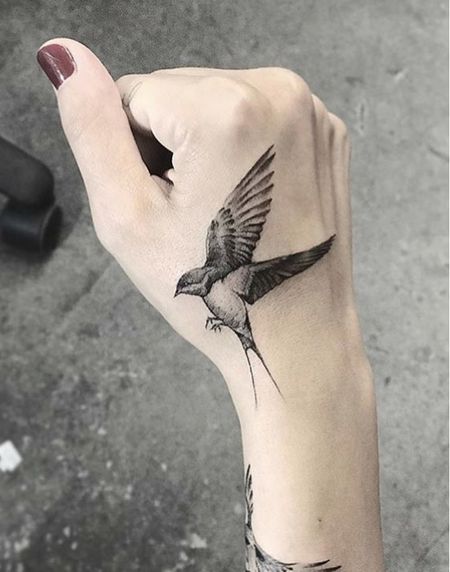 Hummingbird Knee Tattoos
A hummingbird knee tattoo can speak to the inner thoughts and feelings of the wearer as well as allowing others to see what it is that makes this bird so special. This small but mighty bird has been used for centuries to symbolize love and friendship. Because it is such a beautiful animal many people choose to have one tattooed on their bodies as a symbol of love and friendship.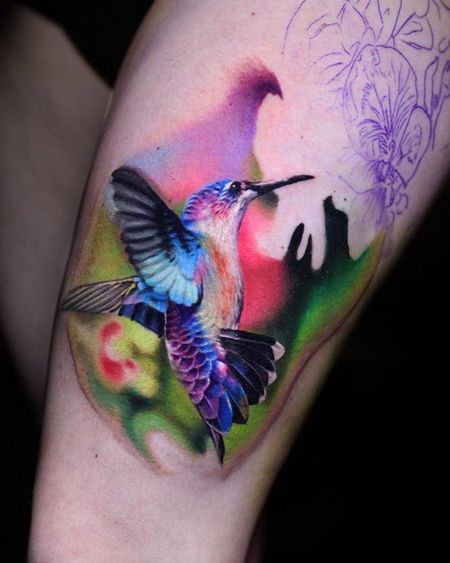 Hummingbird Leg Tattoos
A great place for a hummingbird tattoo is on the leg. It can look really nice if you have it done on your calf, or even your ankle. This is also an area of your body that you do not have to cover up very often if you do not want to show off your new ink. If you do want to show off your new tattoo then you can easily do that by wearing shorts.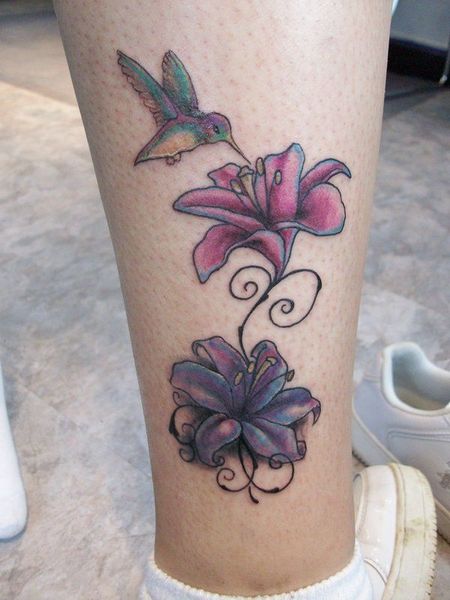 Hummingbird Lower Back Tattoos
Another great place for a hummingbird tattoo is on the lower back. This allows you to show off your tattoo when you wear low-cut pants or skirts but keep it hidden from view when you wear work attire.
Hummingbird Neck Tattoos
Neck is another great place to sport a hummingbird tattoo. It shows that you care about nature and love its beauty. A colorful hummingbird tattoo on the side of your neck would definitely look.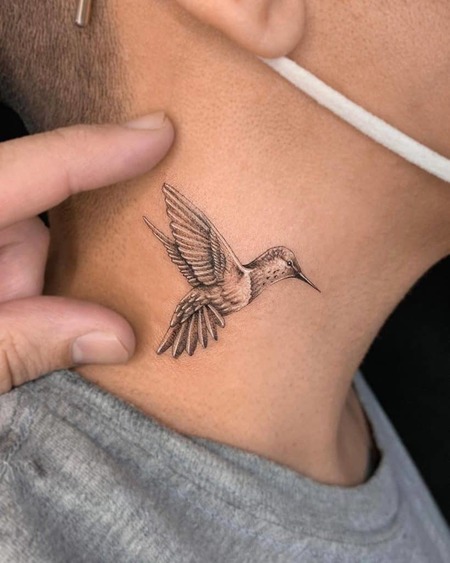 Hummingbird Rib Tattoos
Many women choose to get tattoos on their ribs because it is a relatively flat surface and they can easily hide it with clothing. Hummingbird rib tattoos are very popular among women because they can design it to look elegant or whimsical. They also have plenty of space for the artist to work with. If you want to get a tattoo on your rib cage, then consider getting a small hummingbird design that looks very realistic and colorful. You can also opt for a large tattoo that covers half of your side if you want to make a big statement.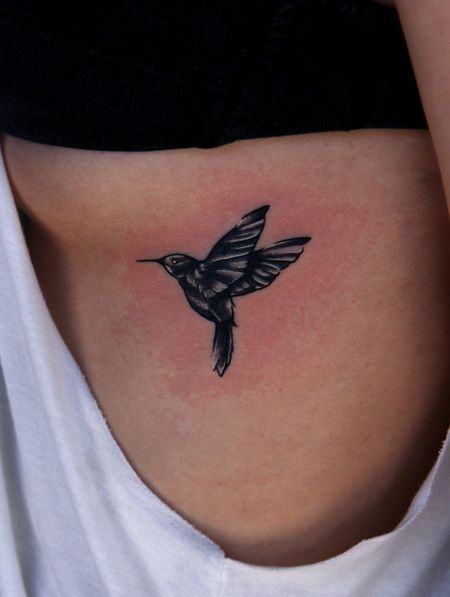 Hummingbird Shoulder Tattoos
The hummingbird shoulder tattoo is a perfect choice for the female body. It has a compact shape and does not require a large canvas. Hummingbird tattoos are often worn by women who are ready to move on in their lives and start over again. They also make a beautiful tribute to someone who has died or is no longer with you.
Hummingbird Sleeve Tattoos
Hummingbird sleeve tattoos are more accepted today than ever before. That's because these small but mighty birds have become more popular in recent years as people have realized that they are more than just pretty faces. These unique creatures represent many things such as new beginnings, freedom, love and passion and are often associated with women who have recently suffered from loss or grief as they symbolize hope and renewal after difficult times in life.
Hummingbird Stomach Tattoos
Hummingbird tattoos on the stomach can be a beautiful addition to any woman's body art portfolio. They often incorporate flowers or other images into the design for a very feminine look that is sure to catch the eye. Some women like to accentuate their tattoo with rhinestones or other adornments that really make it stand out from the crowd.
Hummingbird Thigh Tattoos
A hummingbird thigh tattoo can be a wonderful way to express your beautiful nature and femininity. They are usually incorporated into large scenes that include flowers or other elements such as fairies or butterflies to create a truly magical look.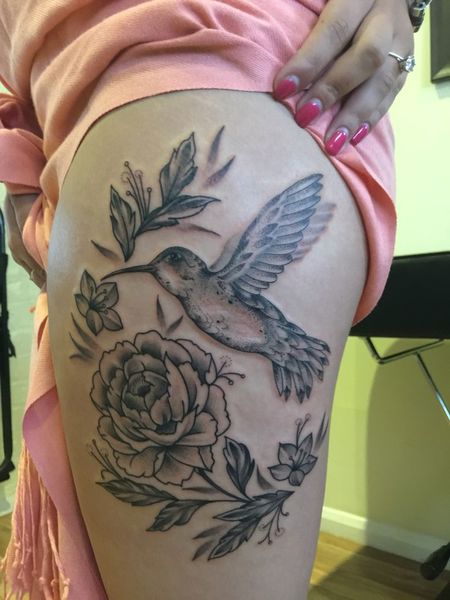 Hummingbird Underboob Tattoos
The underboob is one of the most popular body parts to get a tattoo nowadays. There is something that feels so sexy about having a tattoo peeking out of your top. If you are looking for an underboob tattoo design, then you should consider the hummingbird tattoo. Not only does it look beautiful, but the hummingbird is also a symbol of love. This makes for an awesome tattoo design for couples.
Hummingbird Wrist Tattoos
The wrist is another very popular area for women to get a tattoo as it can easily be shown off when wearing short sleeves or with no sleeves at all. A hummingbird wrist tattoo looks especially good when paired with flowers or leaves.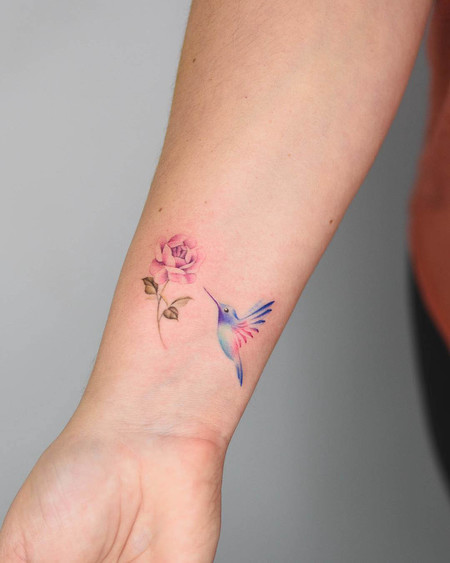 Hummingbird Biceps Tattoos
You can place a hummingbird tattoo anywhere on your body, but some areas are more popular than others. For example one popular area to get hummingbird tattoos is on the bicep. This area is great because it allows the artist to be detailed and the design will still look good when the arm is flexed.
Hummingbird Calf Tattoos
The hummingbird calf tattoo is an awesome tattoo for those who love nature. This tattoo is a calf-length tattoo, and it's done in a cute way. The style of the hummingbird is very colorful and bright, which makes it very attractive.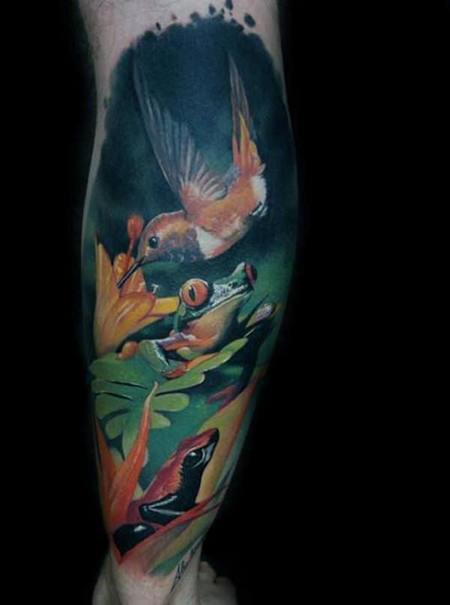 Cute Hummingbird Tattoos
This cute little hummingbird calf tattoo is a great way to show off your love for nature. It's one of the most popular tattoos for women, but it's also popular among men as well. This type of tattoo has many different meanings, including the idea that you love animals, or that you like to travel and be free. With this type of tattoo, you can express yourself in a variety of ways with your body art.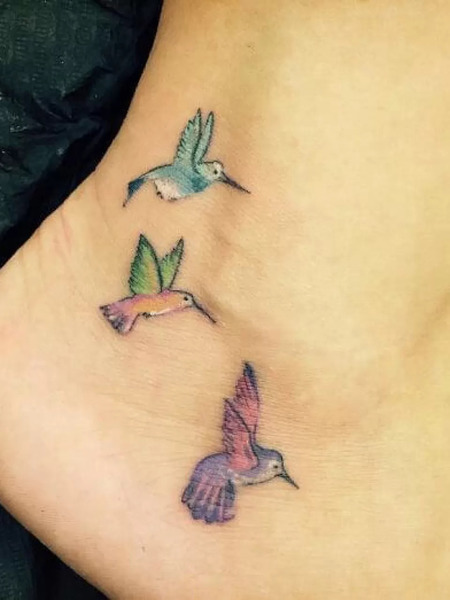 Geometric Hummingbird Tattoos
Geometric hummingbird tattoos are a great choice for men who want to have a tattoo that is traditional and has a lot of detail. You can even add some color to the hummingbird tattoo. Depending on the size of the hummingbird, you can have it placed in various places on your body.
Side Hummingbird Tattoos
Side hummingbird tattoos are great because you can add various other designs to the tattoo with the hummingbird. The side is a great place to put a hummingbird tattoo because it allows you to be able to cover it up if you need to for work or other reasons.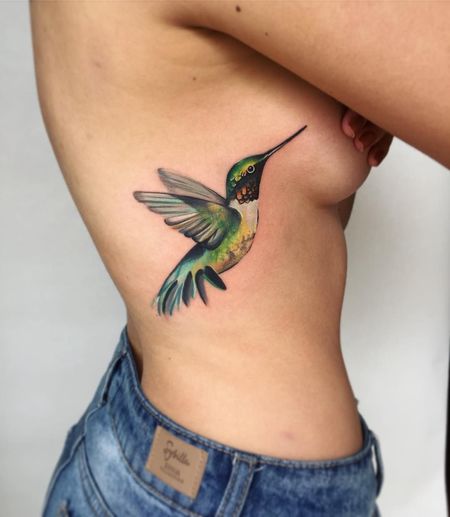 Simple Hummingbird Tattoos
While most hummingbird tattoos are elaborate and detailed, some people prefer to get a simple tattoo that is just a silhouette of the bird. These small, black and white tattoos can be worn on many parts of the body, including the wrists, ankles or behind the ear. They are popular because they're beautiful while still being understated.
Small Hummingbird Tattoos
Small hummingbird tattoos look great on the hand, foot, neck or wrist. You might also see them on the breast or shoulder of a woman who wants to show off her tattoo in the summer months. Some people get hummingbird tattoos because they want to express their love of nature, whereas others just think that they look really good.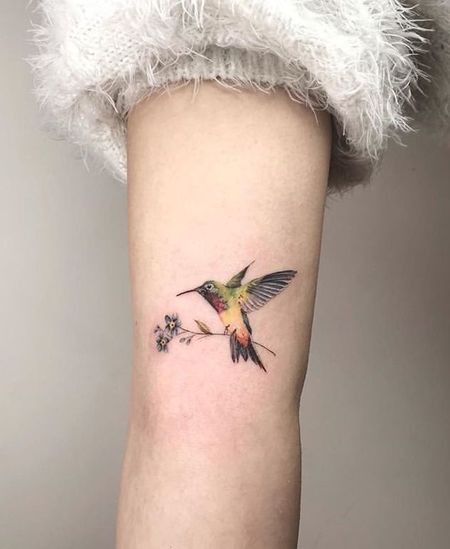 Tradional Hummingbird Tattoos
Traditional hummingbird tattoos are made up of bold outlines filled with solid color. While most hummingbirds are brightly colored, blue and green tend to be the most common hues used in traditional hummingbird tattoos. These pieces often feature an attention-getting splatter of blood red on the bird's chest or throat.
Tribal Hummingbird Tattoos
Tribal hummingbird tattoos often feature traditional tribal elements like spirals, sharp black lines and abstract shapes. The image needs to be bold enough to stand out on its own. Tribal hummingbird tattoos are usually big enough to take up most of the chest or upper back. Tribal designs can also be embellished with bright colors like purple or turquoise. These types of tattoos are great for people who want a unique tattoo design that stands out from the crowd.
Floral Hummingbird Tattoos
Floral hummingbird tattoos are great for women who love flowers and birds. These types of designs look great when done on the back or side of the body.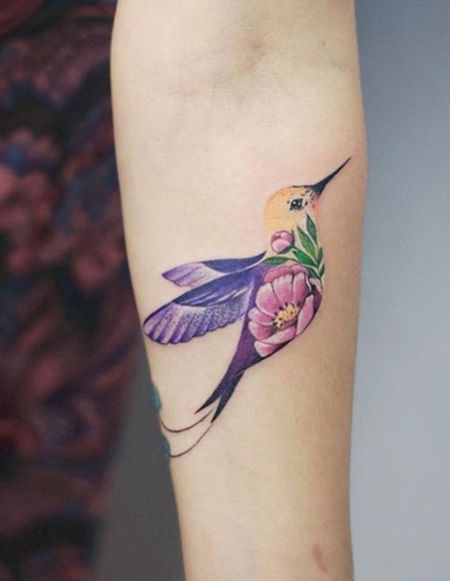 Watercolor Hummingbird Tattoos
In recent years, watercolor tattooing has exploded in popularity. This is partially because the watercolor style looks beautiful on any part of the body. The style is also ideal for animal-inspired designs, including hummingbirds.
Colorful Hummingbird Tattoos
If you want something even more colorful than a watercolor tattoo, consider getting a colorful hummingbird tattooed on you! This type of design uses vibrant hues like reds, yellows and greens to create an eye-catching effect when paired together with other elements like flowers or leaves in vibrant hues as well.
Realistic Hummingbird Tattoos
For a more natural look, many people choose to have realistic hummingbird tattoos. This style often features the bird with its wings outstretched like it's flying through the air. These work well on any part of the body but are especially good for areas where there is plenty of space to show off all details properly.
Hummingbird Tattoos for Men
While hummingbird tattoos are popular with both men and women, men tend to favor slightly different designs when it comes to these tattoos. Often times men will choose larger sizes than women in order to show off the amazing detail of their tattoo. This may be done by including flowers or other objects in their design or by choosing a simple outline that can be incorporated into a larger piece. Hummingbird tattoos can also be placed on the upper arm or back as part of a sleeve tattoo.
Hummingbird Tattoos for Women
Hummingbird tattoos are a popular choice for women, as they are small and dainty, but there are also many men who choose to get them. There is a wide variety of styles and designs that work well with hummingbirds, and they can be placed nearly anywhere on the body. Hummingbird tattoos can be very colorful or just black, but most people choose to add in some color.
FAQ
Hummingbird Tattoo Meaning
The hummingbird symbolizes many positive traits including intelligence, beauty, and resourcefulness. These small birds are also known for their ability to adapt to new environments, which is why they have become a popular tattoo choice for people who have overcome great obstacles in life. Additionally, the hummingbird's incredible ability to hover in place, and fly backwards and forwards has led to its association with agility, grace and tenacity.
What Do Hummingbird Tattoo Symbolize?
The hummingbird is a symbol of love and joy. The hummingbird's spectacular flying ability is a metaphor for a joyful life. With its unique ability to hover in mid-air and fly backwards, the hummingbird is also a symbol of lightness of being, playfulness and resiliency. In addition, its long beak can pierce the hardest shell to get at the nectar within, which is symbolic of reaching deep within one's self to discover the sweet nectar that resides there.