20 Cute Charlie Brown And Snoopy Tattoo ideas
Snoopy tattoos are popular not only with Peanuts fans but also with people who love animals. The popularity of Snoopy when it comes to tattoos is due to the character's cuteness, quirkiness and sensitive nature.
Because of these traits, some people have decided to get a tattoo of Snoopy on their body to show their personal preferences or evoke a positive feeling within themselves. The good thing about it is that there are many ways you can design your tattoo based on your personality and preferences.
Snoopy tattoos are not as common as Charlie Brown tattoos but still many people want to get them inked on their body. Snoopy tattoos are very eye catching because they have bright colors and vivid themes around them. If you want to get a tattoo of Snoopy then you have come to the right place because we have collected snoopy tattoos for you to choose from.
1. Aesthetic Snoopy Tattoo
The Aesthetic Snoopy Tattoo features the face of Snoopy with an intricate design above him that represents a sunset. This tattoo is for those who are interested in designs that are both cute and unique at the same time.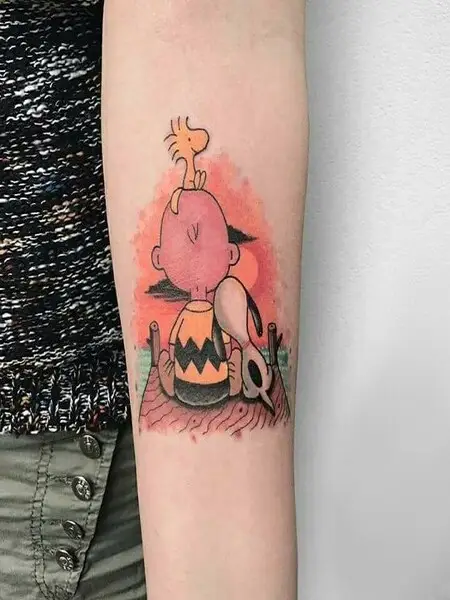 2. Charlie Brown And Snoopy Tattoo
Charlie Brown And Snoopy Tattoos are very popular among tattoo lovers. There are many people who love the cartoon version of Charlie Brown and Snoopy. They love the characters so much that they have them tattooed on their bodies.
3. Cute Snoopy Tattoo
Cute snoopy tattoo for women is usually made in small sizes to fit different areas on the body including the arm, leg and wrist. These designs can be made in black or colored ink and feature the character wearing sunglasses, holding a mug or with other characters from the Peanuts comic strip like Charlie Brown and Woodstock.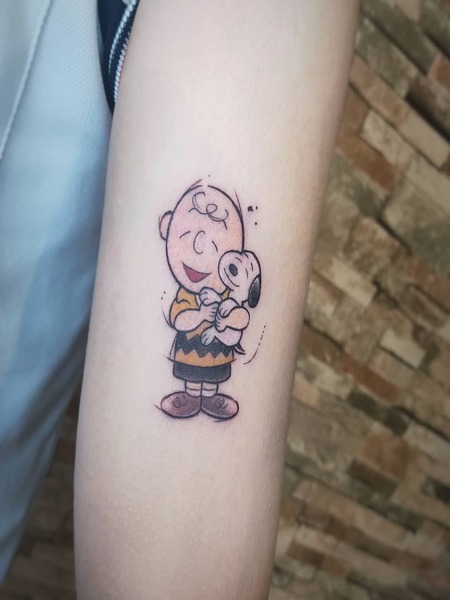 4. Funny Charlie Brown Tattoo
Charlie Brown and Snoopy tattoos are popular with children and adults alike. The duo is a classic, much loved series of characters that have made their way into comics, television shows and films.
5. Love Snoopy Tattoo
There are lots of cute ways to include Charlie Brown and Snoopy into your love story. It could be as simple as adding your partner's name onto Charlie Brown's shirt or getting Charlie Brown's famous football with the word "love" written on it in place of kick me.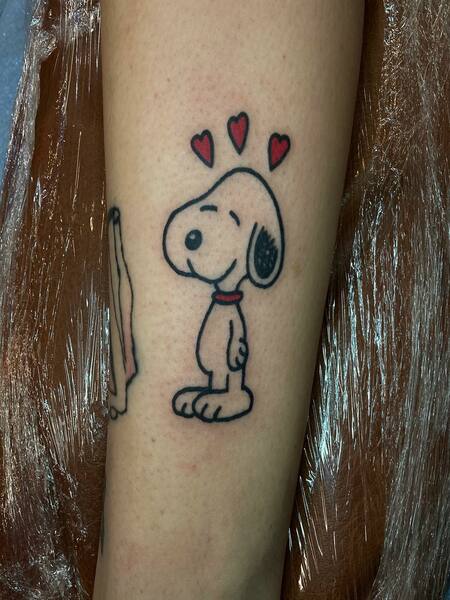 6. Minimalist Snoopy Tattoo
Snoopy is one of the most popular cartoon characters and he is loved by many people around the world. If you want something simple, try this minimal idea. The artist has used the outline of Snoopy's face to create an adorable tattoo that you will love! This design will suit anyone and it is worth trying if you want something small and cute.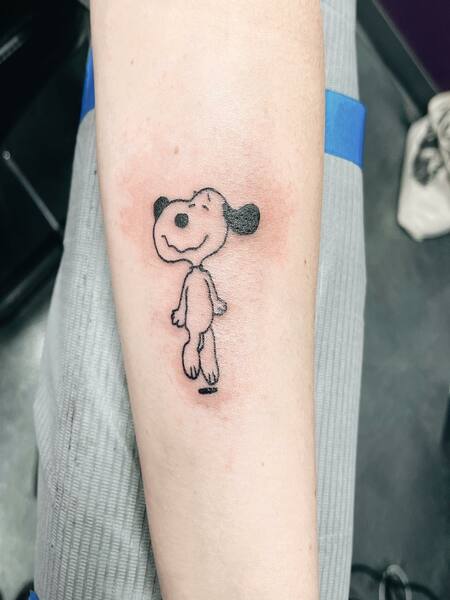 7. Musical Snoopy Tattoo
If you are someone who enjoys music, then this is definitely a great choice for you to consider getting. Music is something that everyone enjoys listening to and having a tattoo of your favorite musician or band will definitely make you feel like a part of something bigger than yourself. This type of tattoo also has an added bonus because it has the ability to bring out your inner child and make you feel like you are part of something much larger than yourself.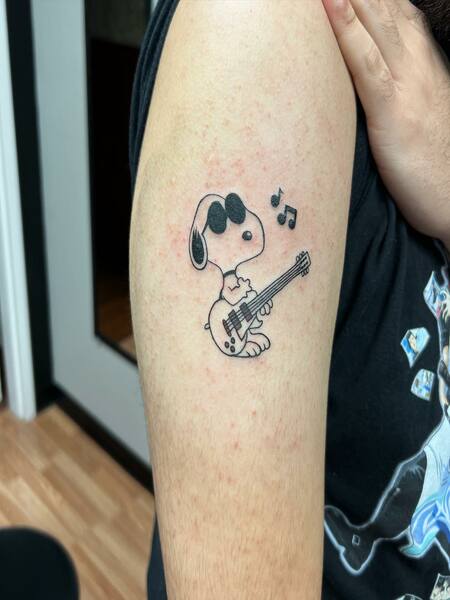 8. Outline Snoopy Tattoo
This is a simple and very classic tattoo done on your body. The tattoo is done in black ink and has a minimal style to it. It can be used as a temporary tattoo for fun or as a permanent one for people who like their cartoon characters with them all the time.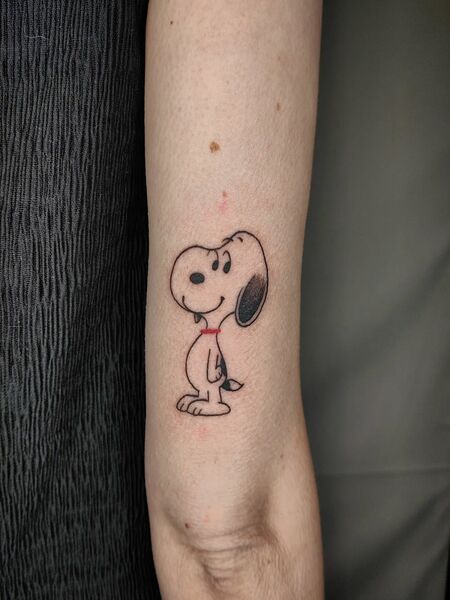 9. Snoopy Tattoo On Shoulder
This is those who want to get their favorite cartoon character on their body. The tattoo is done in black ink and has the cartoon character snoopy drawn on the shoulder in a minimal style. It looks good on both men and women.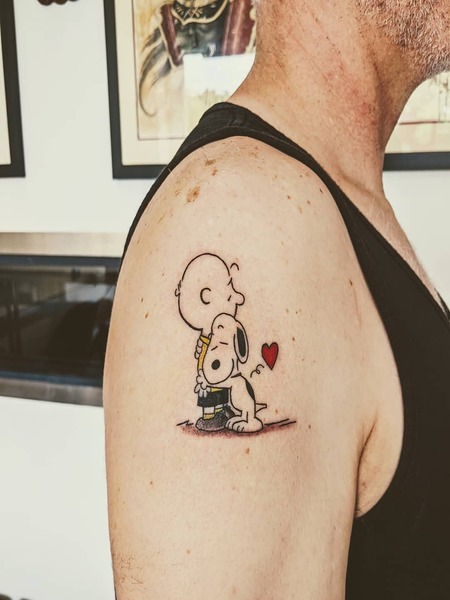 10. Simple Snoopy Tattoo
Many people are looking for a simple tattoo design that won't take up too much space on the body, but can still represent something meaningful to them. If you are someone who likes simplistic designs and enjoys Snoopy cartoons or comics, then this is definitely an option for you. You could get just Snoopy's face, or have him standing next to a tree with his best friend Woodstock.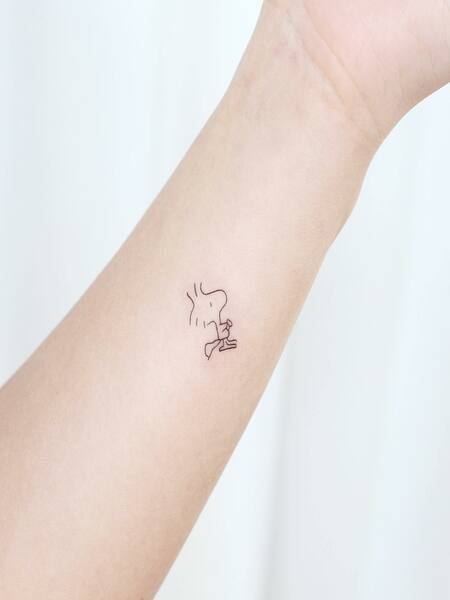 11. Small Snoopy Tattoo
Many people choose to get small Snoopy tattoos in unobtrusive places. They might be on the ankle or wrist, for example. Some people choose to get them on their sides or backs because these areas allow for more detail than smaller parts of the body do.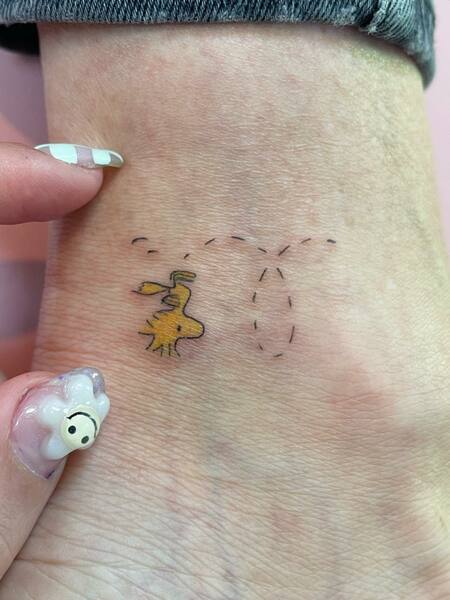 12. Snoopy And Flower Tattoo
You can have Snoopy and flower tattoo designs. Snoopy and flower tattoos will look great on your skin. You will feel excited because of it. Snoopy and flower tattoos look great in any size, but I think large sizes are better for this tattoo design.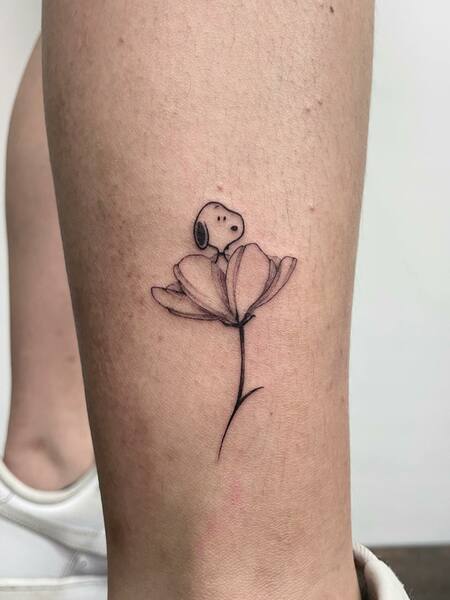 13. Snoopy Tattoo On Ankle
You can have a nice looking Snoopy tattoo on your ankle. It is possible to find many different tattoo designs for the ankle. This is one of the most popular choices for those who want to get a new tattoo.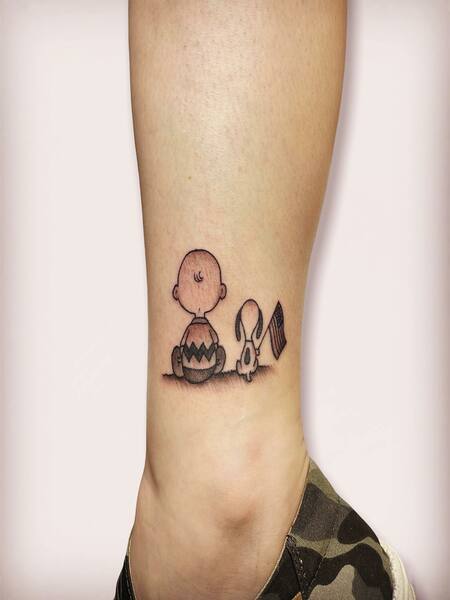 14. Snoopy Tattoo On Chest
A Snoopy tattoo on the chest is a great choice if you want something that will stand out. It can be done small or large, depending on your preference. The best thing about chest tattoos is that they're not visible unless you want them to be; if it's cold outside, just cover up!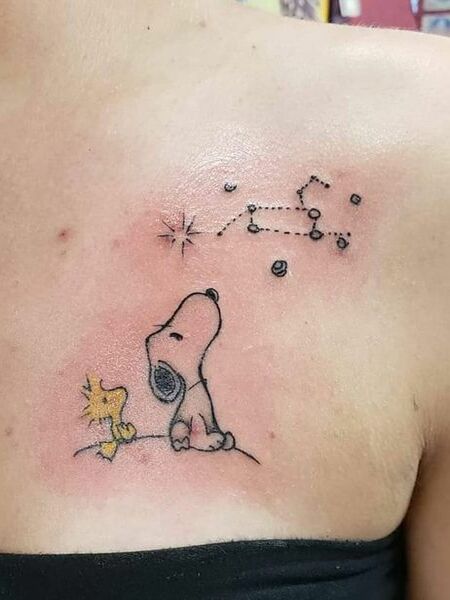 15. Snoopy Tattoo On Forearm
Forearm tattoos are popular because they're so easy to hide. You can cover them up when you need to with long sleeves or a jacket, but if you want to show them off, it's as simple as rolling up your sleeves. A forearm tattoo is also ideal if you want something more subtle than an arm or leg tattoo but still want people to notice it when they look at you.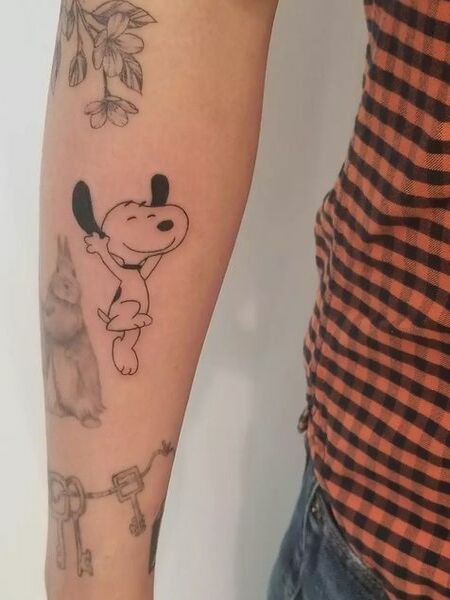 16. Snoopy Tattoo On Hand
The hand snoopy tattoo is one of the most popular tattoo designs among fans of Peanuts because it represents how much Snoopy loves Charlie Brown and wants him to be happy. You could also get this tattooed on your wrist or arm so that people know who your favorite character is!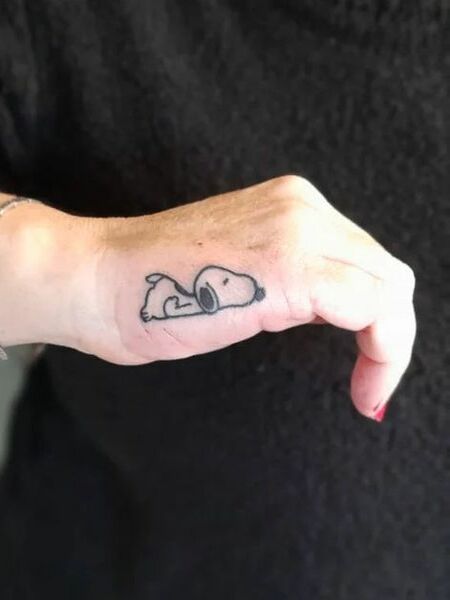 17. Tiny Charlie Tattoo
This tiny Charlie Brown tattoo is so cute! It's easy to see how this design would make a great children's tattoo, but it's also an awesome tribute to your favorite cartoon character. The simple style of the cartoon makes it easy to transfer into a tiny little tattoo you can hide if you want to keep it discreet.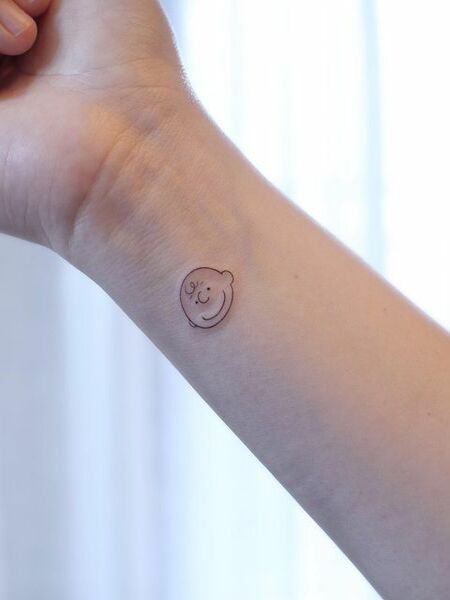 18. Traditional Snoopy Tattoo
These tattoos have bold and sharp lines, which are classic characteristics of traditional tattoos. With the help of vibrant colors and beaming red scarf, this tattoo of Snoopy looks extremely attractive. The best part about this tattoo is that it suits both men and women alike.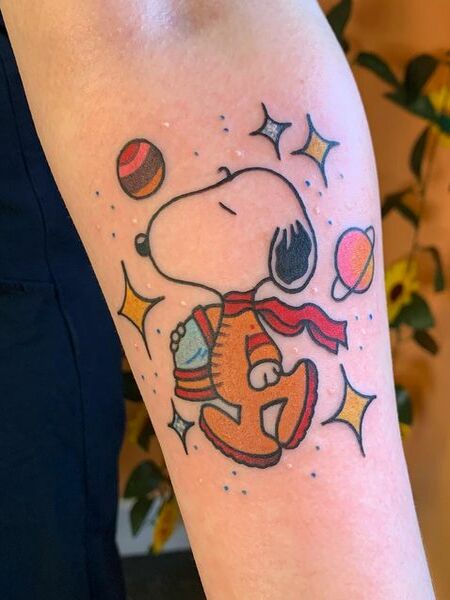 19. Watercolor Snoopy Tattoo
Watercolor tattoos are in vogue, and you can get them in different styles and designs. When you opt for a watercolor tattoo of Snoopy, make sure to use bright hues so that it looks lovely and different from other tattoos. You can get a watercolor tattoo on your arm, back or shoulder.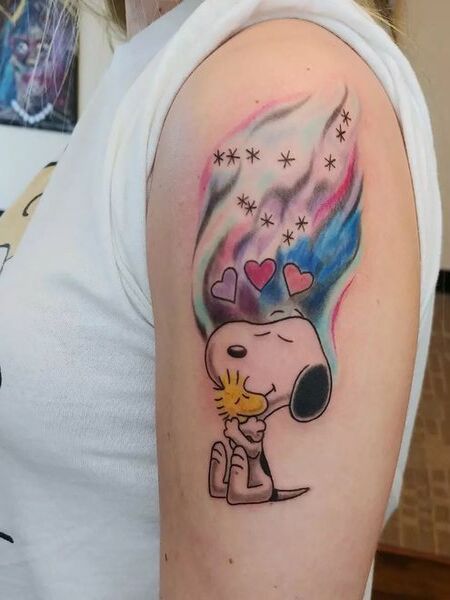 20. Snoopy Tattoo On Arm
If you want to get a small tattoo of Snoopy on your arm, then why not consider getting one with a beautiful quote? To make it look different, you can choose an artistic calligraphy font for the quote.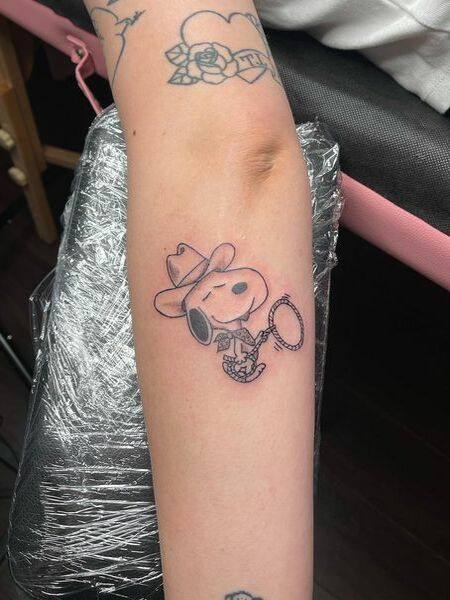 FAQ
Snoopy Tattoo Meanings
Snoopy tattoos aren't just for Peanuts fans. Because of their wide range of meanings, they can be designed in any style and to represent several different themes. Snoopy is one of the most recognized characters in the world, so it's a popular tattoo among people of all ages and walks of life.
Charlie Brown Tattoo Meanings
Charlie Brown tattoos are not as popular as other cartoon characters like Betty Boop, but there is no doubt that Charlie Brown is one of the most well-known cartoon characters in the world. Adults and children alike have been watching this series since it first came out in the early 1950s. Charlie Brown has a lot of meaning behind him which makes him a great choice for a tattoo.