30 Best Book Tattoos Designs And With Meanings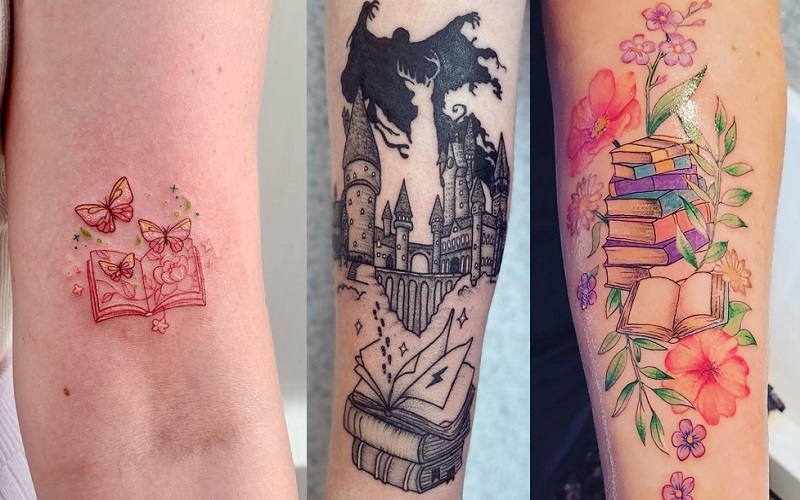 A book tattoos is a great way to show your love for books, reading, or learning. A book makes for an excellent tattoo design idea, and can be done in many different ways. Book tattoos can be designed to represent ideas that you believe in or things you value. You can also add some other elements and symbols to your book tattoo design to make it unique.
Book lovers who have a penchant for reading might find the book tattoo very appealing. You can get a book tattoo with different themes and designs. You can get it done in various colors or your favorite black ink with beautiful designs or texts. You can even get your favorite author's name or favorite line from a book tattooed.
The book tattoo looks gorgeous on any body part, especially if you get it designed with intricate details, colorful illustrations, and other embellishments. However, some prefer to keep it simple with black ink writing too. Some people prefer to get an open book tattoo that shows the pages inside, while others prefer getting the cover of their favorite novel tattooed on their bodies.
Book Tattoo Designs ideas
1. Simple Book Tattoos
This tattoo is perfect for people who love to read a lot and are book lovers. This tattoo is very simple yet cool. This tattoo can be done on the wrist or neck. You can even add a quote to it, or you can make it black and white or even colored by adding a ribbon around the book. This tattoo will look amazing with any outfit you wear.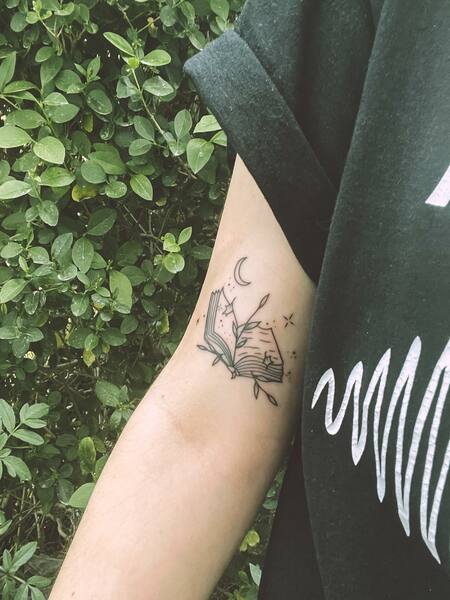 2. Book Tattoo on Thigh
If you want to get a big book tattoo on your thigh, then this is an example of that. This is a simple yet pretty looking tattoo which looks beautiful with any outfit you want to wear at parties. If you want to get a tattoo which looks different, then this one will be perfect for you!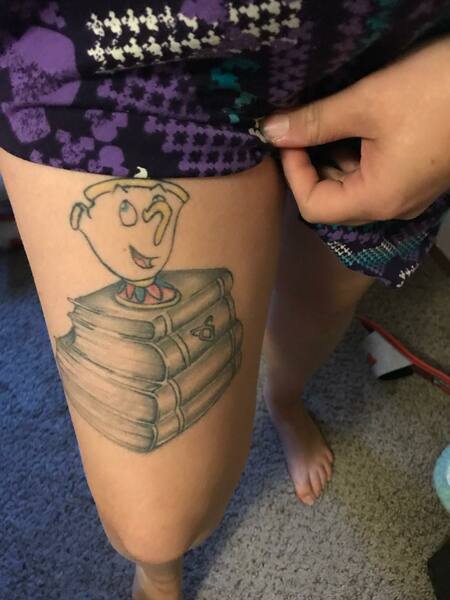 3. Moon And Star Book Tattoo
If you love reading and are also fascinated by the moon and stars, then this one will be perfect for you! This will look really cool on your body, especially if you wear a low waist jeans so that people can see it when you go out!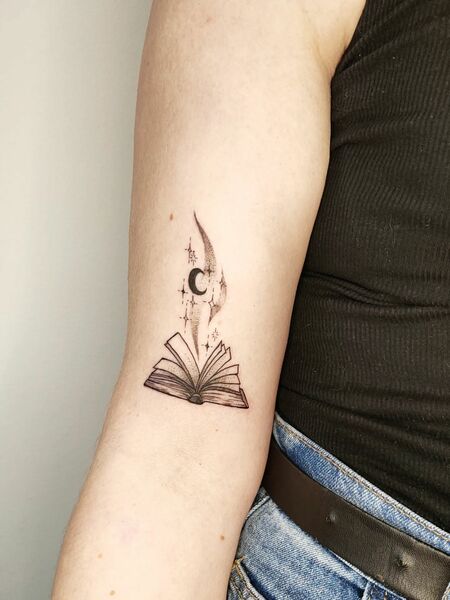 4. Book Tattoo on Tricep
Old book tattoo can be placed anywhere you want but the tricep is the perfect spot for such tattoo. It looks great on men and women both especially when they show their arms.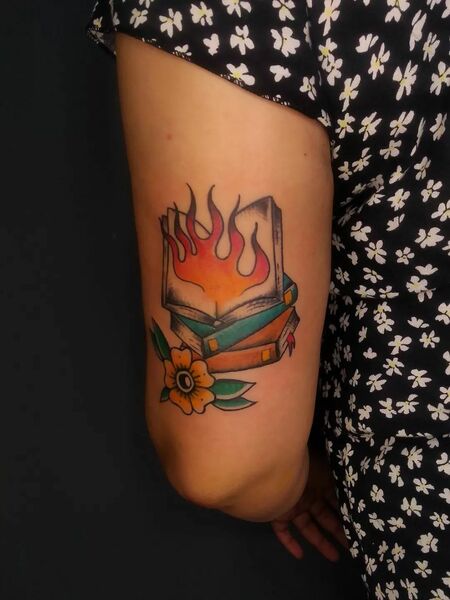 5. Traditional Book Tattoos
A traditional book tattoo is something that anyone who loves books will get. It shows a great interest in literature and it also represents knowledge and wisdom. Usually, this type of tattoo is accompanied by some other things like a rose or skull.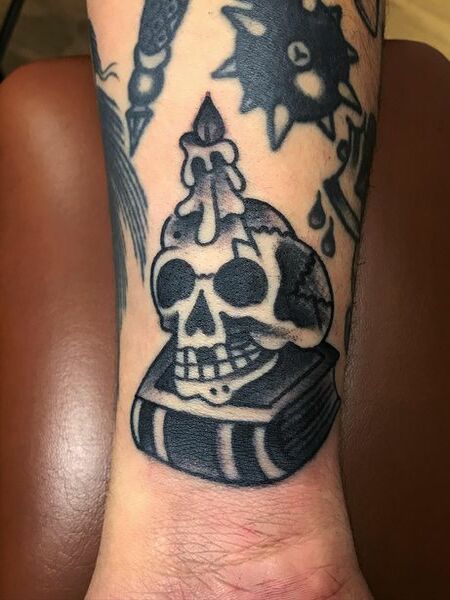 6. Skeleton And Book Tattoo
This type of book tattoo is loved by people who have a very twisted sense of humor. It can be seen as something disturbing but if you look at it from the right angle, it represents death and rebirth.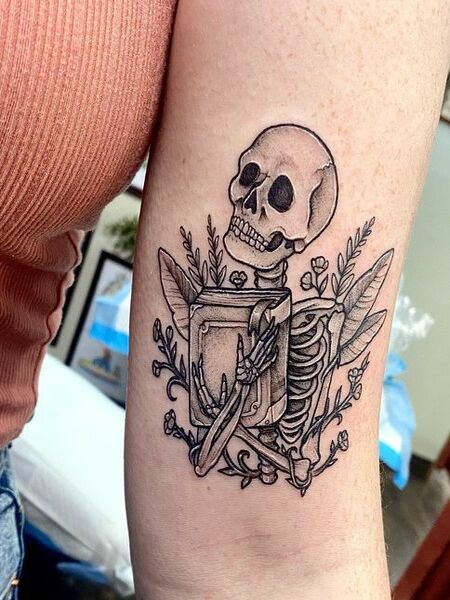 7. Book Tattoo on Back
At the first sight of this tattoo, one can clearly tell that the person who wore it is a book lover or maybe a writer. The tattoo is designed in watercolor style that makes it look very attractive. The wearer has inked a book and a feather quill on her left back.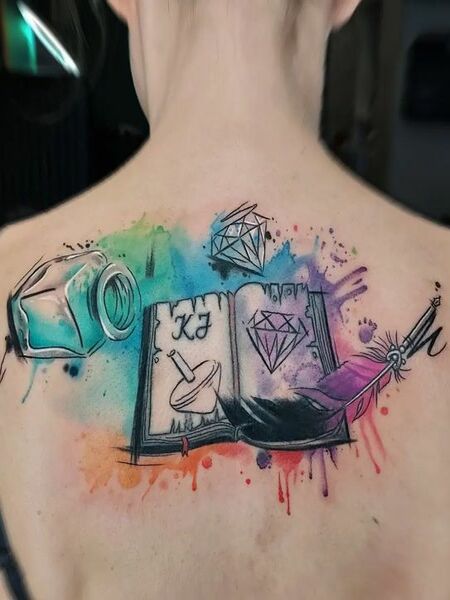 8. Rose And Book Tattoos
The wearer has inked a book with colorful rose flowers and leaves on her left side arm. This tattoo symbolizes that books are gifts from god and they give us knowledge, wisdom and spiritual enlightenment. The tattoo looks very creative with the use of bright and vibrant colors. Moreover, it also looks very attractive because of its placement.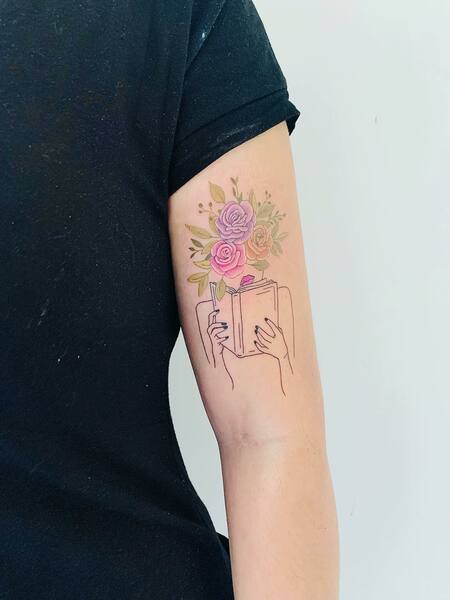 9. Dark Book Tattoos
It is quite evident from this tattoo that the wearer is a true lover of dark books like 'Harry Potter' or 'Twilight'. This tattoo is designed in such a way that it looks like an clos book with darkness inside it which makes it look really cool and unique.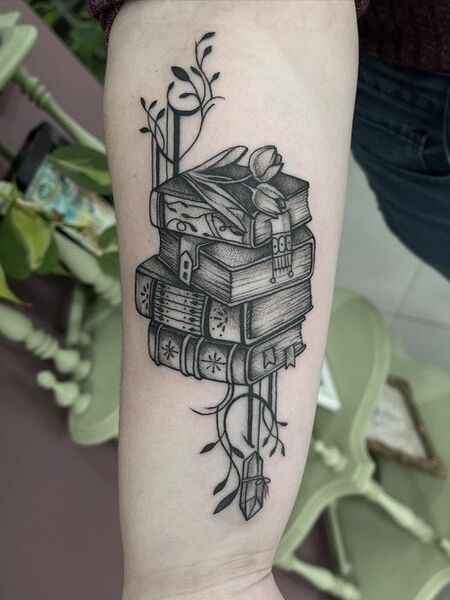 10. Minimalist Book Tattoos
An intricate book tattoo design that can be easily covered. This minimalist book tattoo is a perfect choice if you want to hide your inked design. It's discreet enough and can be easily covered with clothing.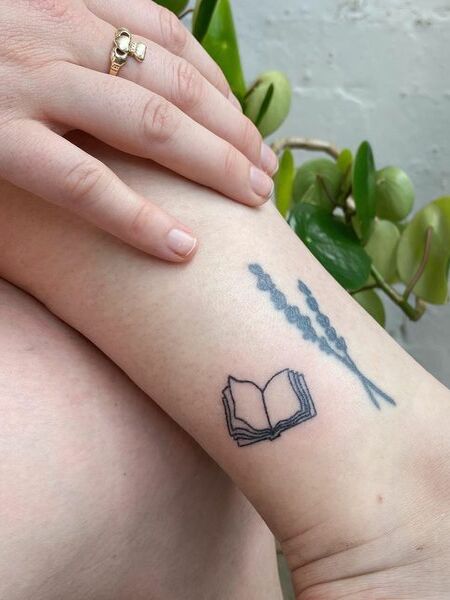 11. Floral Book Tattoos
This pretty floral book tattoo has an clos book that's filled with roses and leaves. The roses are colored black and gray and add a feminine touch to the design. The old-fashioned book gives the tattoo a literary feel, making it perfect for book lovers.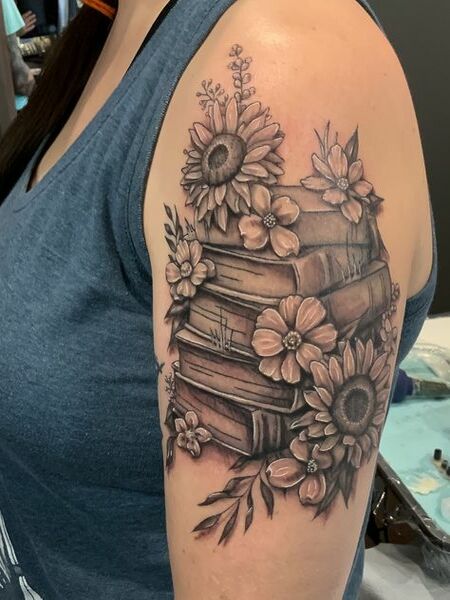 12. Book Tattoo on Ankle
This gorgeous book tattoo features two open books with floral designs on top of each other. The design has a realistic look thanks to the detail work on both books and the stunning shading on the flowers. The large tattoo would be ideal for anyone who wants something that can get noticed easily.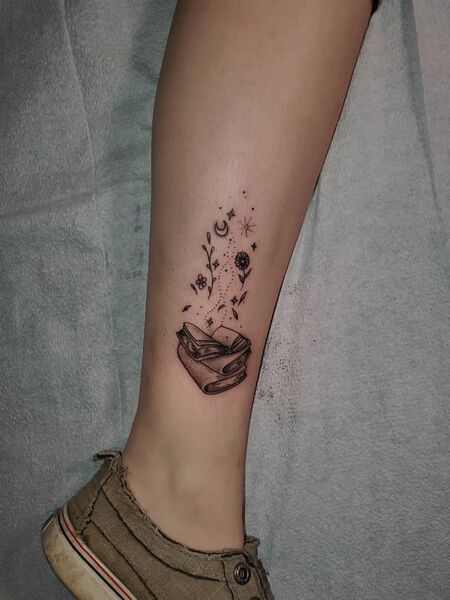 13. Book Tattoo on Wrist
Book tattoo on wrist is one of the most prevalent tattoos. It is a symbol of reading and knowledge. This design can be made on any part of the body, however, it is more common among women because they want to show their love for books.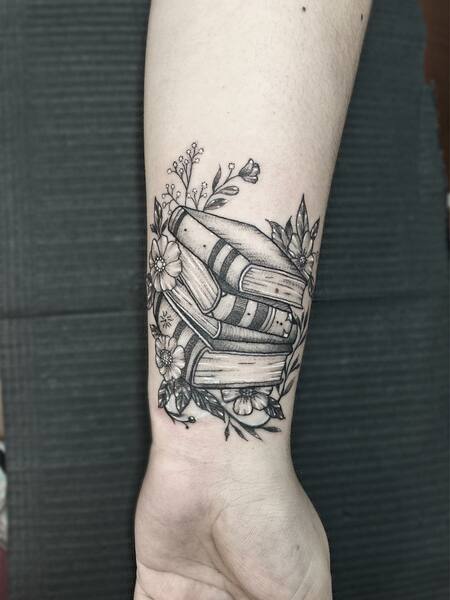 14. Book Tattoo on Leg
This is a simple and sleek black and grey tattoo of an clos book with a line from a book tattooed on the side. The shadowing effect gives it a more three-dimensional feel, while still keeping it looking like a flat image.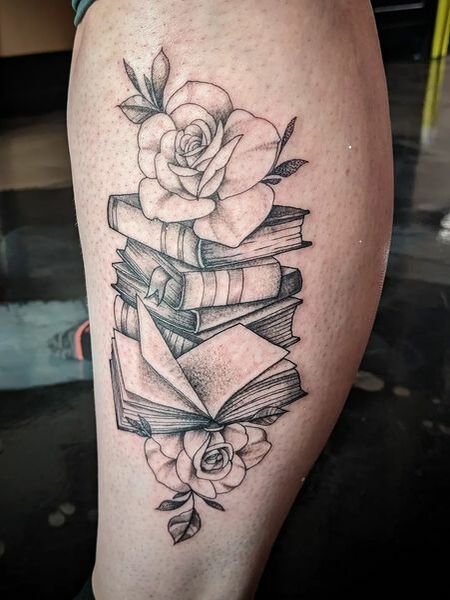 15. Cat And Book Tattoos
Cat and book tattoo is also very popular lately. It is a symbol of calmness. This tattoo can be made in various designs, full sleeve design is most popular among men, while women prefer making it in small but cute designs.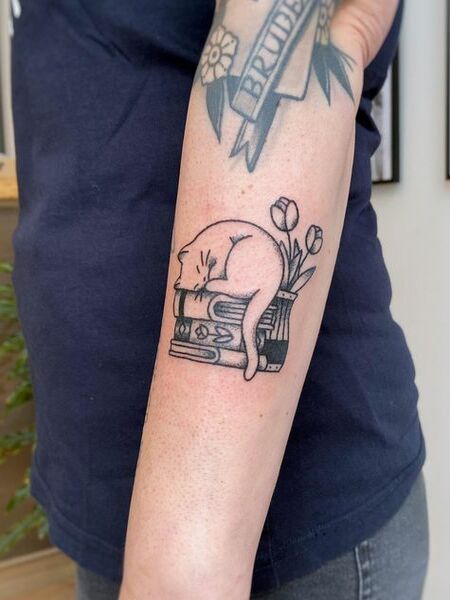 16. Book Tattoo on Rib
This is a small tattoo on the wearer's rib cage. It features an open book, with pages flying out of it, as though they were being blown by the wind. The book itself is curled around the wearer's side, looking almost like an image of an internal organ. This is a rather painful place to get a tattoo done, but this one is definitely worth the effort!
17. Snoopy Book Tattoos
This is a cute idea for both men and women. Snoopy is reading a book, so if you are a fan of Snoopy or if this cartoon character simply reminds you of your childhood, then this tattoo may be perfect for your needs. The tattoo can be made in different colors as well; however, black ink seems to look better most of the time.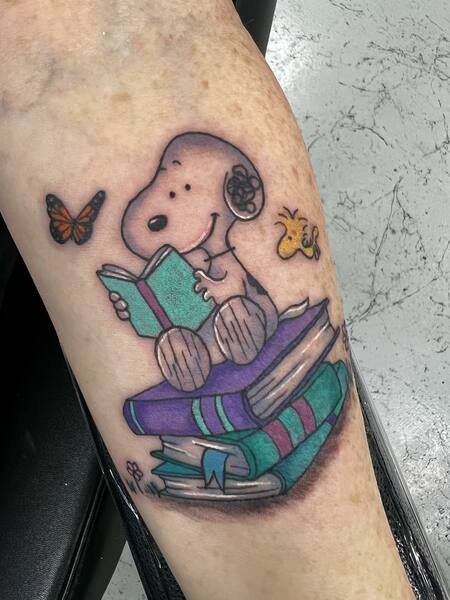 18. Red Butterfly And Book Tattoo
Butterfly tattoos are very popular nowadays among women. They look cute and they have a lot of meanings. Some of them believe that butterfly represents freedom, beauty and rebirth. This is a delicate tattoo that is placed on one arm. This beautiful butterfly tattoo with an open book is very attractive.
19. Book Tattoo on Arm
One of the most popular places for a tattoo is on the arm. This is because arms are visible to everyone and are easy to show off. Books have long been a symbol of knowledge and education. As such, many people choose to get books tattooed on their arms as a way to show that they are educated and knowledgeable about various topics.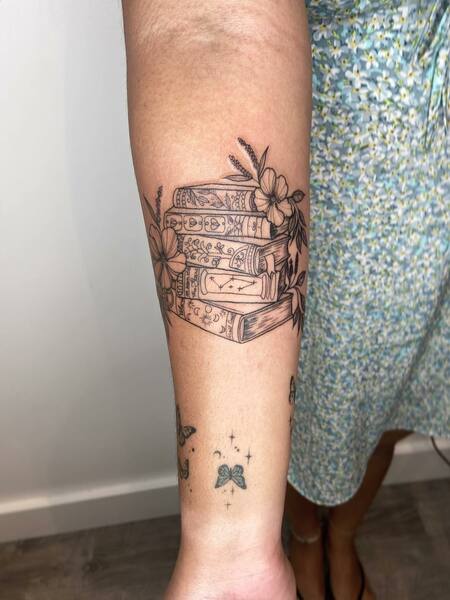 20. Small Book Tattoos
A small book tattoo is often used as a way to show that reading is important or that someone likes to read in their spare time. A small book tattoo can also be used as an accent piece for other tattoos such as those of flowers or animals.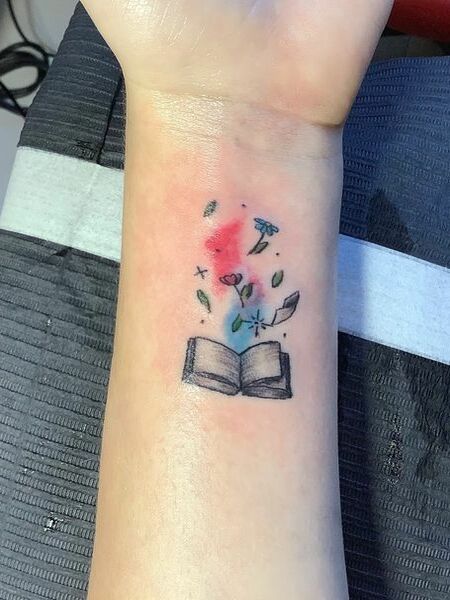 21. Quote Book Tattoos
A book tattoo is not just a cool design, but it's also one of the most meaningful designs. The quote tattoo below looks artistic and the color used blends well with the skin tone of the wearer. You can have your favorite book tattooed on your body, for instance a novel that you really like.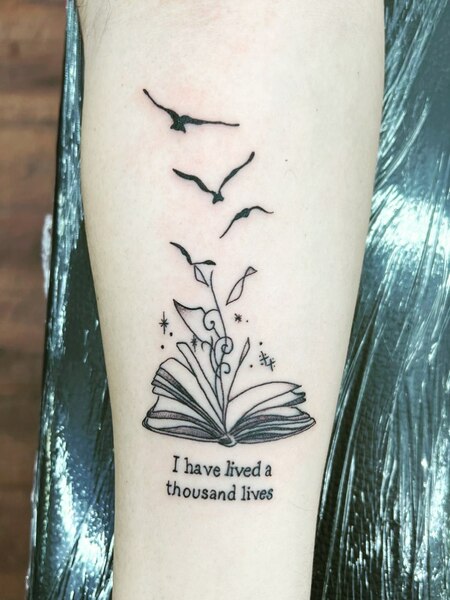 22. Flying Book Tattoos
Book tattoos will definitely look lovely on any part of the body, but most people choose to have them done on their back, sleeves or arms. The tattoo design below is a cool design that looks great on the back where it is worn, with the image of a bird flying away with a book. The brilliant colors used in creating the tattoo also make it more appealing.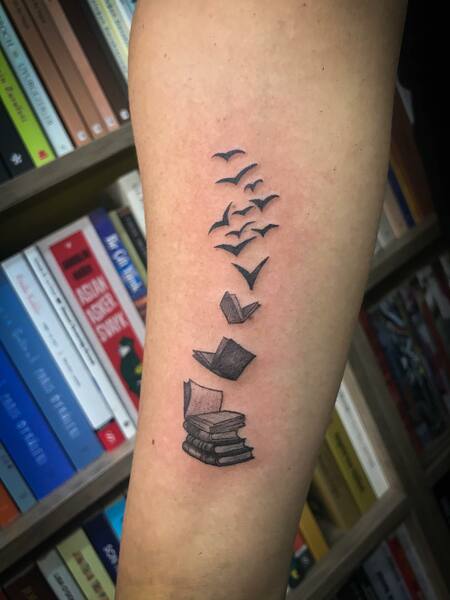 23. Book Tattoo on Biceps
Book tattoos are a great way to celebrate your love of reading. If you want to get a book tattoo, you should seek out an artist who specializes in realistic black and grey tattoos. You may also want to consider getting a tattoo inspired by your favorite book. Some people get the title of their favorite book inked on them, while others get images from the books themselves.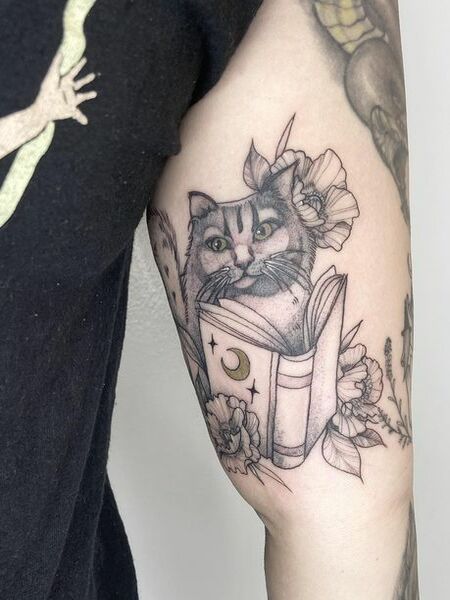 24. Harry Potter Book Tattoo
The Harry Potter series is perhaps the most popular book series in recent history, so it's no surprise that there are many Harry Potter fans who get Harry Potter tattoos. Tattoos related to this fictional world often feature imagery from the books, such as The Sorcerer's Stone, The Deathly Hallows symbol and Quidditch players. Some fans even get the Hogwarts School of Witchcraft and Wizardry logo tattooed on them as well.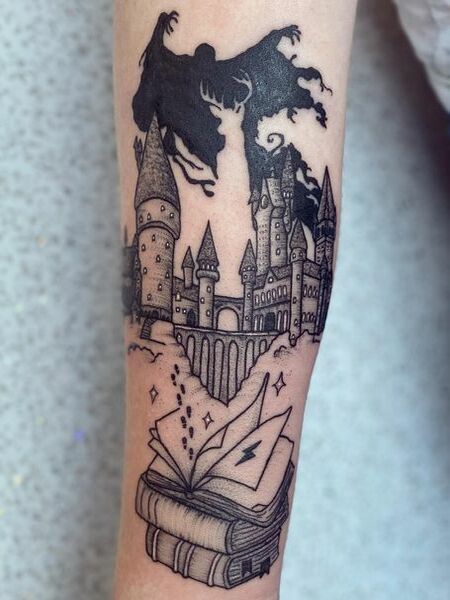 25. Book Tattoo on Shoulder
This tattoo is a great tattoo because it looks so realistic. The shading on the pages gives you the illusion of being able to turn them yourself. It is also quite large which makes it stand out more than other book tattoos might do.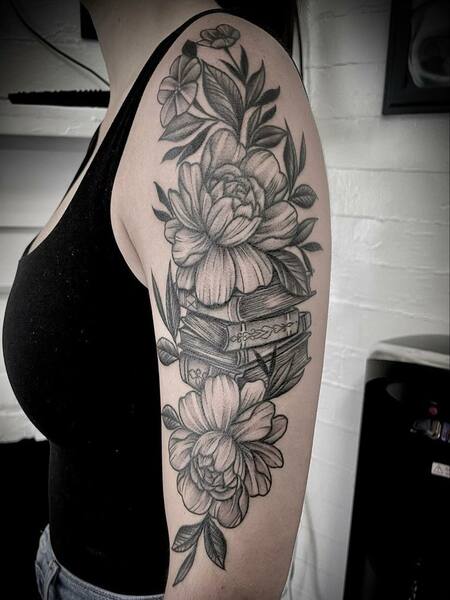 26. Watercolor Book Tattoos
This watercolor tattoo looks more like art rather than a tattoo but that is what makes it unique! The colors in this tattoo are bright and bold, which makes them stand out against the skin nicely. If you're looking for something different then this might be an option worth considering!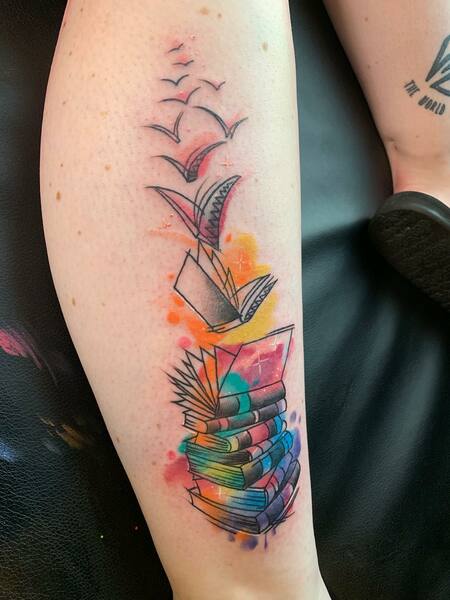 27. Colorful Book Tattoos
A colorful book tattoo looks like an illuminated manuscript from the Middle Ages. A skilled tattoo artist can draw flowers, animals and other objects from classic literature, such as Alice in Wonderland or Peter Pan. Artistic license allows the artist to include images that have no literary connection, such as a dragon.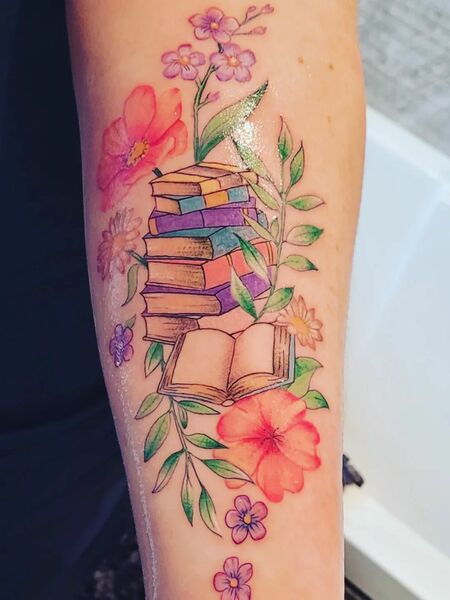 28. Black Book Tattoos
A black book tattoo can be designed in different ways: colorless or monochromatic with shades of gray and black; or black ink with color highlights for contrast. A monochromatic design is usually black ink with shading to create shadows and textures that give the image three-dimensionality. A portrait of Sherlock Holmes has remarkable detail in monochrome ink.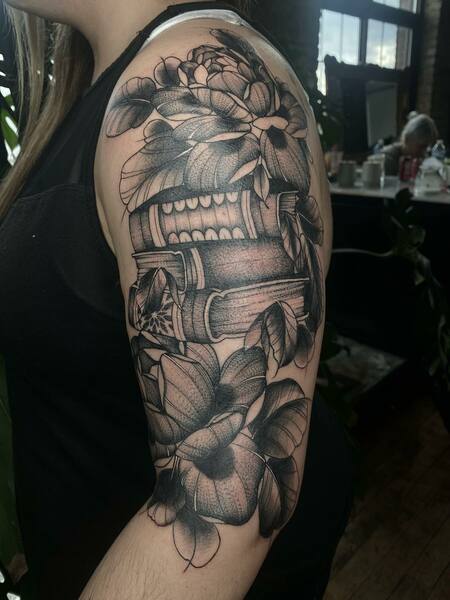 29. Book Tattoo on Forearm
This book tattoo is designed in the classic style with a touch of modernity. The thick black outlines look amazing with the red flower and the splash of watercolor hues. Besides, this design is amazing to look at due to the excellent shading and detailing.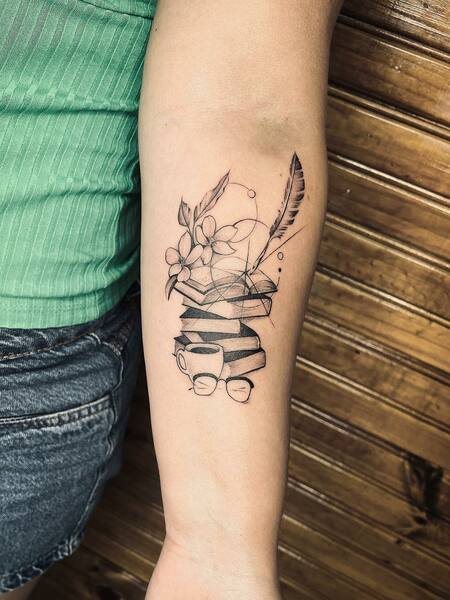 30. Tiny Book Tattoos
The tiny book tattoo is ideal for a person who loves reading books. It looks unique on the arm, and it looks great on a lady's arm as well. The design can be combined with other tattoos, such as names or flowers.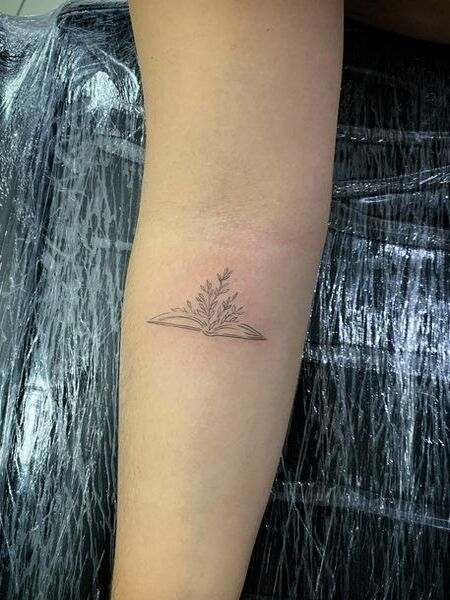 Book Tattoos For Men
In the same way that people from all walks of life love to read books, men from all walks of life get book tattoos. There are many reasons why a man might choose to get a book tattoo. It could be because he loves to read, he has a favorite novel that he wants to immortalize forever or just because the written word has meaning for him that only he can understand.
Book Tattoos For Women
Book tattoos for women are often designed in black ink on a small scale. Some designs feature classic novels, while others focus on fictional characters that have become household names. Whether your favorite book was written by Jane Austen or Dr Seuss, there's a tattoo design that will be perfect for you.
FAQ
What does a book tattoo mean?
A book is normally associated with knowledge and learning. So the meaning of your tattoo will depend on what the book represents to you. For example, if it is your favorite novel from when you were growing up then it could mean childhood innocence. On the other hand, if it is your favorite educational book then it would symbolize knowledge and intelligence.
What is the Best Book Tattoo?
There are many options when it comes to choosing a design for your book tattoo. You can choose from various designs such as a tattoo with pages of a novel or a poem, a single line from the book which has been written in your own handwriting style or different characters from the story can also be used as design ideas for your tattoo artwork.