32 Best Mullet Haircuts for Men in 2023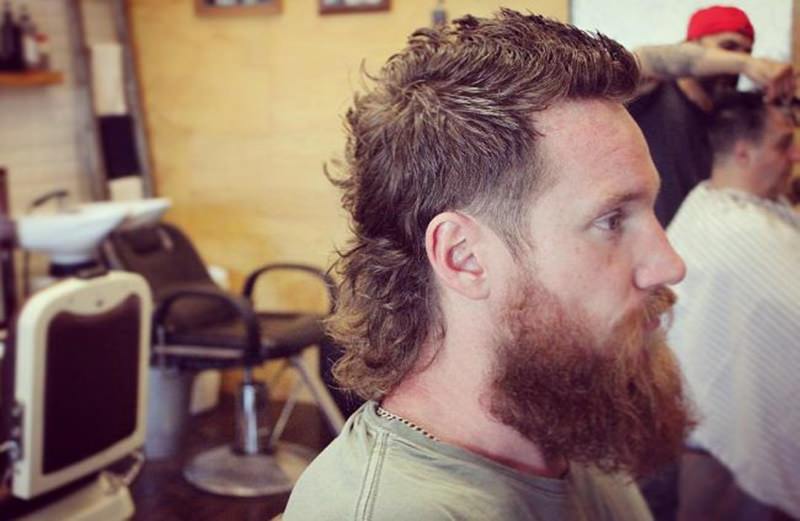 A mullet haircut is a hairstyle that is short at the front and sides and long at the back. It is usually worn by men. The hair style originated in the United States and became popular again in the late 1990s and early 2000s.
In the late 1970s and early 1980s, some members of British punk rock bands adopted the mullet hairstyle. In the mid to late 1980s, male tennis players sometimes used mullet hairstyles.
Mullet hairstyles are very versatile because you can add other hairstyles to them like the mohawk or faux hawk. Even though this hairstyle might seem strange, it has its own charm and uniqueness. This haircut will make you stand out from the crowd of boring styles. You can easily find your favorite glamorous look in the list of mullet haircuts below:
Faux Hawk Mullet Haircut
This hairstyle is a combination of two different styles: the mullet and faux hawk. The hair on the crown is styled upwards to create a faux hawk while the sides and back are trimmed short. These two styles together create an interesting look that you should try out at least once in your life.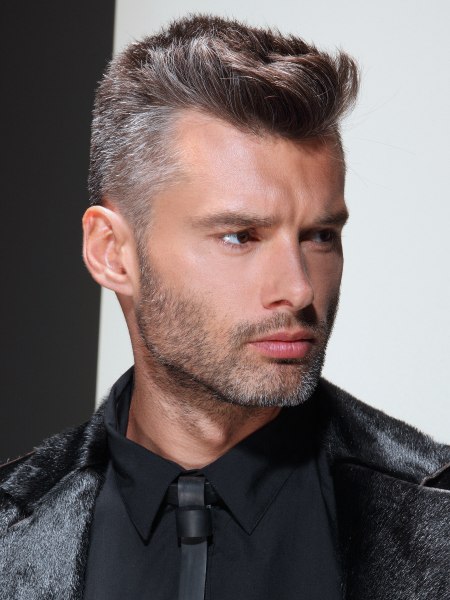 Flat Top Mullet Haircut
The flat top mullet haircut creates a unique shape thanks to its unique cut and color combination. If you have dark hair, dyeing it platinum blonde will give you more volume and height to this style. Have your stylist add some cool hair designs to complete the look!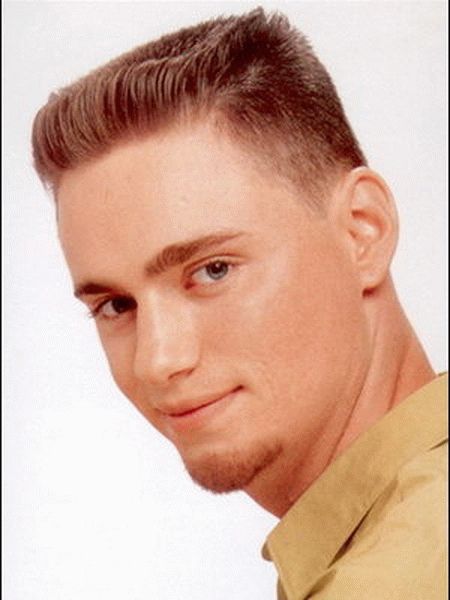 Blow Out Mullet Haircut
The blow out mullet haircut is most popular among young men who love attention and always want to be the center of attraction. This haircut is nothing like a classic or a business mullet, it's much more rebellious and eye-catching. The top part of the hair is styled in an upward manner and the back is cut short for a clean look.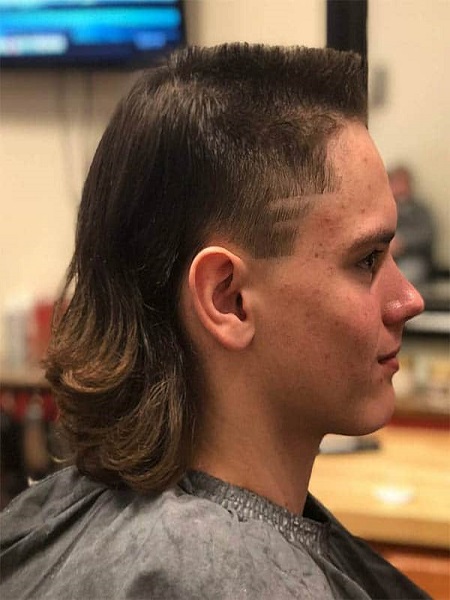 Fade And Mullet Haircut
The fade and mullet haircut is one of the most popular variations on this hairstyle nowadays. The contrast between the long top hair and the shaved sides looks extremely attractive, especially when combined with a beard. It's a super stylish choice for men who want to stand out from the crowd while looking fashionable at the same time.
Drop Fade Mullet Haircut
The drop fade mullet is one of the most popular versions of the hairstyle. It is also one of the most unique looks, since it involves the fade being cut lower than usual. The sides are shaved to the skin, while the hair on top is left long and styled into spikes.
Curly Mullet Haircut
This is a curly mullet with a line up and shaved sides. This cut is perfect for men with thick, wavy or curly hair who want short sides and long hair on top. The low fade looks cool and keeps the focus on the longer locks.
Dyed Hair Mullet Haircut
This unique hair color adds interest to this fun style with long, wavy locks on top and shaved sides.
Long Mullet With Hair Design
If you want to add some extra flair to your haircut, consider adding a hair design. This is a cool way to make your mullet more exciting, and this style works best when hair is left long.
Long Straight Mullet Haircut
The long straight mullet haircut is one of the most popular types. It has been around since ancient times, but it became famous during World War II when soldiers used to wear their hair in this style as part of their uniform.
Half Up Half Down Mullet Haircut
If your hair is rather long and you dream about getting a mullet, but don't want to cut it off completely, why not to try this half up half down idea? It looks especially cool with bangs.
Modern Mullet Haircut
If you don't want to look too extravagant with a mullet, you can always give it a more modern twist. This time the top part will be longer than the back and the sides. Such an option is very convenient especially when considering everyday maintenance as well as styling opportunities.
Mohawk Mullet Haircut
While we talk about modern twists on this classic haircut, why not to combine two contrasting styles like mohawk and mullet? This way, you will get an edgy look that won't go unnoticed by anyone.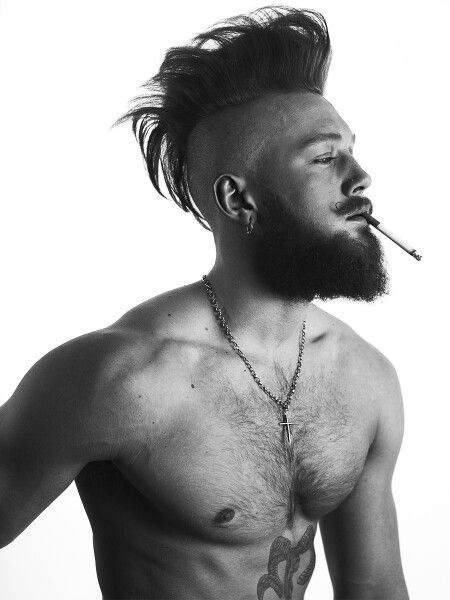 Mullet Fade Haircut
This is just the classic version of this haircut and you can easily add some other styles to it. It's best if you have a barber who is experienced in cutting this kind of hairstyle because it can be difficult to pull off if you don't have the right skillset.
Mullet Shag Haircut
If you want a more edgy style, then you can go for the mullet shag haircut which features some layers that are longer than others. This will allow you to get a lot more volume without having too much weight on your head which is what usually happens when you go for shorter styles like this one.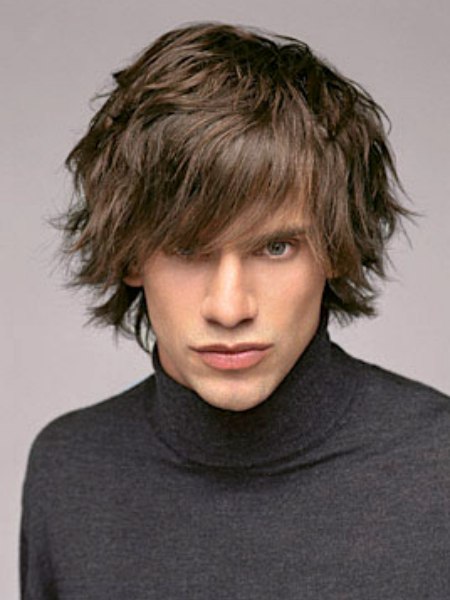 Mullet with Fringe
The Mullet with Fringe is one of the most popular variations of this retro style. This cut works best for guys with medium-length hair. The hair on top is styled into a fringe by combing it forward and styling it with some paste or wax.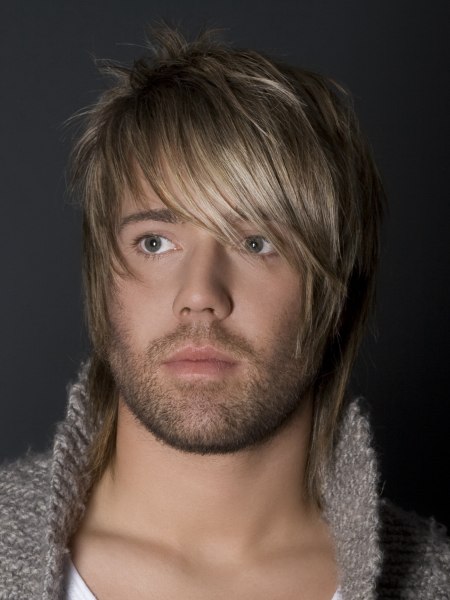 Mullet With Bowl Cut
Another variation that has recently returned to popularity is the bowl cut mullet. This cut works well for guys with short hair all over. The traditional bowl cut features a deep fringe, but many men are opting for shorter bangs and longer hair in the back.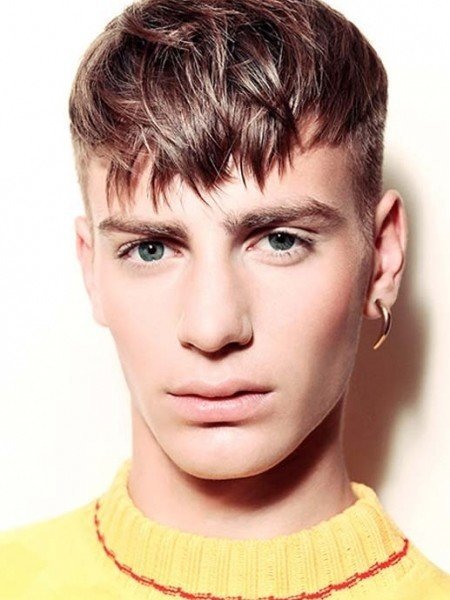 Mullet With Line Up
Tight Top, Big Bottom. This Mullet gives a modern spin on the classic haircut with a clean line up!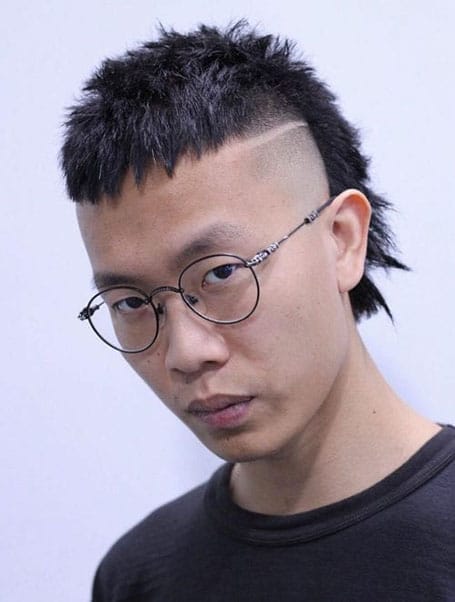 Mullet With Platinum Blond Hair
If you're looking for an androgynous style, this is it! The platinum blond hair and clean cut sides give this mullet a feminine touch.
Mullet With Textured Hair
This particular style is great for those who want to keep the length of their hair but still want something more than a traditional cut. The mullet allows for greater variety in terms of styling and is ideal for those who like to experiment with their looks from time to time.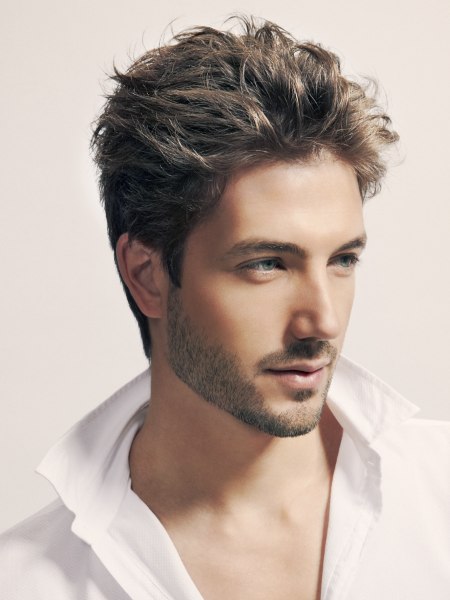 Mullet With Taper Fade And Fringe
This haircut is a combination of the best of both worlds. The front part is trimmed and tapered to a nice fade while the back portion remains long.
Permed Mullet Haircut
The permed mullet is an iconic look from the 1980s. This look was popular because it made people's hair appear thicker, and also allowed them to style their own bangs. The permed mullet will add some volume and texture to your hairstyle without making it look too messy.
Punk Mullet Haircut
If you're looking for something edgier, there's no better option than the punk mullet haircut. This style is full of attitude and gives you a unique look that will turn heads everywhere you go! It's also very versatile – you can wear this style with jeans and a t-shirt for casual occasions or dress it up with a suit jacket when going out on the town!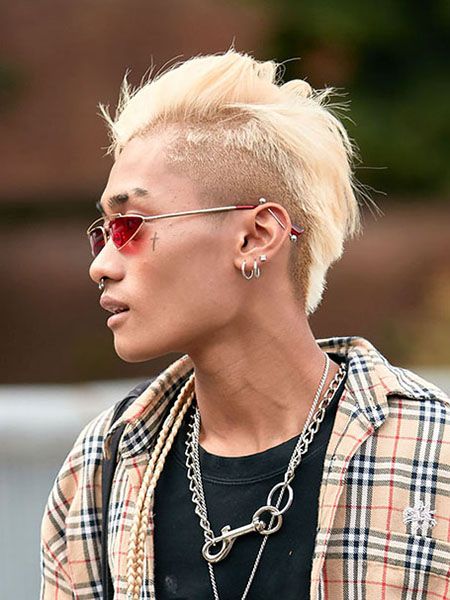 Skin Fade Mullet Haircut
The first mullet hairdo in our list is the skin fade with a mullet. It is a modern take on the typical classic mullet haircut. To get this look, you need to keep your hair short at the top and long in the back. The sides are buzzed down to skin leaving you enough room for creativity with the design.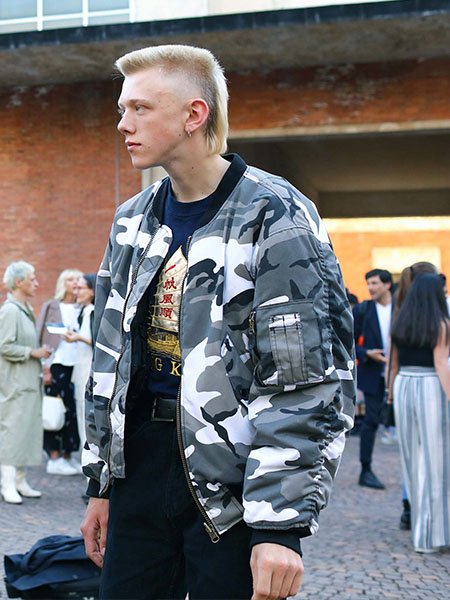 Short Mullet Haircut
The short mullet haircut is ideal for men who have big foreheads and want to grow out their hair but don't want to look balding. This is because it gives you a full head of hair while also keeping your locks short and easy to manage. The cool thing about this haircut is that it can be customized to suit any face shape and hair type as well.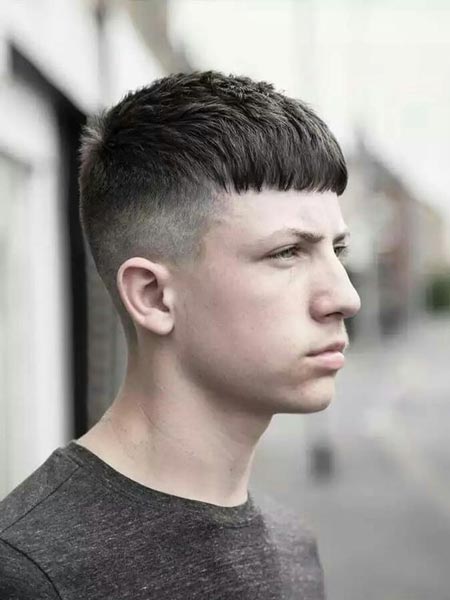 Slick Back Mullet Haircut
The slick back mullet hairstyle is basically a regular classic mullet haircut with a side part and some gel added for styling. This allows you to minimize the amount of time that you spend on your hair each day because instead of having to style it, you only need to add some gel and comb it into place. You will love this hairstyle if you want something that looks professional but.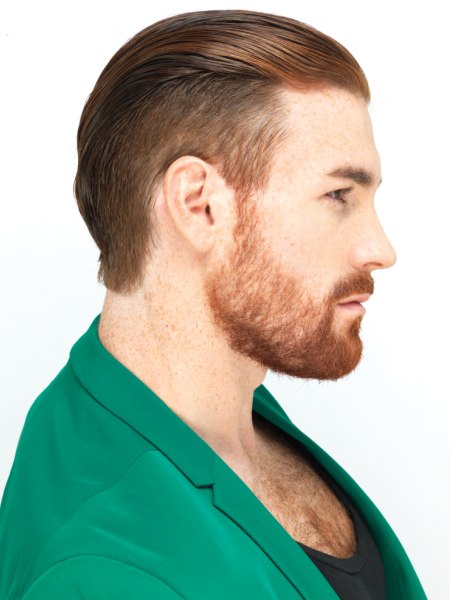 Slick Back With Temple Fade Mullet Haircut
This slick-backed mullet has a temple fade that starts high and is blended into the hair on top of the head. This cut can be parted or worn loose as desired. The faded temples make it look less like a mullet and more like a modern hairstyle with a touch of 80s flair.
Sophisticated Mullet Haircut
The sophisticated mullet uses the same cut as a traditional mullet but chooses to keep it shorter, without the long tail in back. It's a masculine style that works well with any length beard or mustache.
Spiky Mullet Haircut
The spiky mullet haircut is for guys who want to add texture to their 'do. This look uses gel and hair spray to keep the spikes intact throughout the day, but it also looks great if you choose to let your natural waves take over.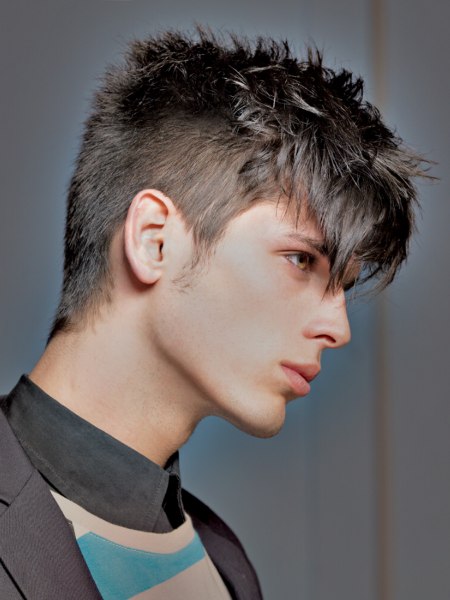 Two-Toned Tossed Mullet Haircut
This two-toned tossed mullet haircut gets its name from the way the hair on the top is tossed back and forth across the head while being combed. The darker shade on top contrasts nicely with the lighter color underneath, creating.
Natural Wavy Mullet Haircut
If you have naturally wavy hair then this style will allow you to make the most out of it by using the shorter sides as a contrast against the longer hair on top. This mullet haircut can be styled in various ways including flat or.
Undercut Mullet Haircut
The classic mullet haircut has a long top and shorn sides, but the modern variation is shorter with a longer fringe at the front. Cut your hair short at the back and leave it longer towards the front. Style it to give your hair volume and add some texture.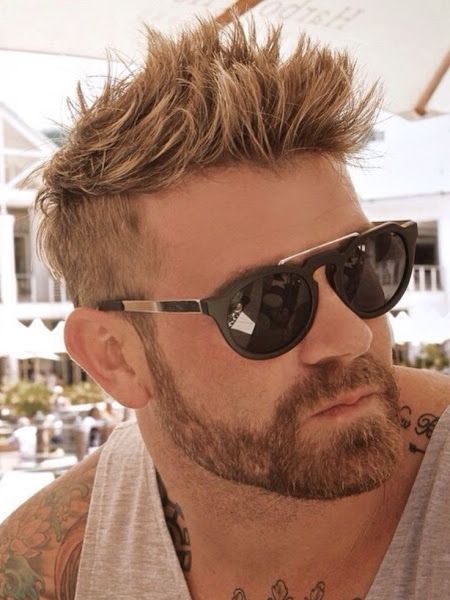 FAQ
Types of Mullet Haircuts
Types of Mullet Haircuts
Mullet haircuts have been around for centuries and have seen a revival in the last decade. There are several variations of the classic hairstyle including the mullet fade, shag, and bowl cut.
The mullet haircut is short on the top and sides while growing out long in the back. The main difference between modern mullets and other men's hairstyles is that there are no rules. You can get a mullet and leave it as is or create different looks like mixing in a fade or adding layers.
What Is A Mullet Haircut?
The mullet haircut has been around for years and is considered to be a traditional style. It has been worn by celebrities like David Bowie and Mick Jagger. Some people may say that it went out of style in the 80s and 90s but there is no denying its popularity today. In fact, more than 80% of millennials have had one at least once during their lifetime.