35 Best Green Nail Design ideas in 2023
Green nails are a perfect choice if you want to keep things simple but still be on trend. They look great on any skin tone and will complement any outfit that you're wearing. It's a good idea to keep your green nail polish subtle so that it doesn't clash with anything else in your outfit or make your hands look too busy. You can also go bolder with neon shades if you like.
Green nails can be done in many different ways. You can have green polish on all of your nails, or just one nail with the rest of your nails being a different color. Another option is to have green tips on your nails and then have a clear base coat on the rest of them. The most popular way to get green nails is by using an actual nail polish that is green in color, but you can also use other items such as food coloring or even neon paint if you want more of an ombre look.
Green is a shade that can be worn all year long, and it's very easy to match with other colors. This color looks great on both short and long nails, but I would advise against wearing it on your toe nails, as it might look too childish. If you want to wear green nail polish without going overboard, try wearing it with a neutral tone on the rest of your body, such as white or beige. The best way to wear green nail polish is to pair it with a soft shade of pink or peach for the lips and cheeks.
1. Army Green Nails
The army green nail look is very popular because it looks great on all skin tones. The army green nail polish is a dark green color that looks like it has been applied with a paintbrush rather than a brush. This gives the nails an artistic feel and makes them look like they were done by hand rather than in a salon. When wearing this type of nail design you should pair it with an outfit that has earth tones so that they match well together.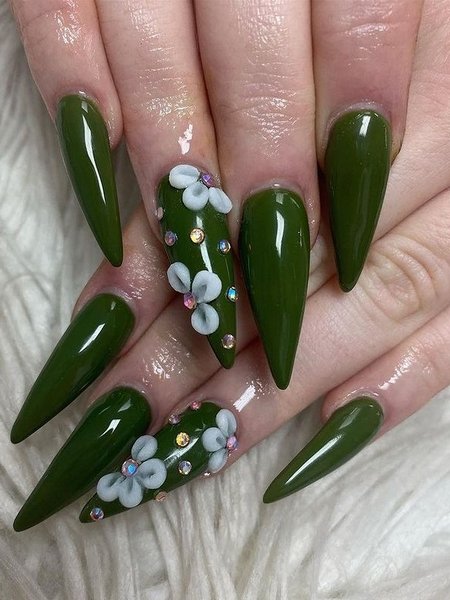 2. Black And Green Nails
Black and green nails are another popular combination that looks great on any skin tone as long as they are not too dark or too light. The black part of these nails will have to be painted first because this color takes longer to dry than other colors do, so it is best if you start with this color first before continuing onto the next step which is applying the green part of the design onto each nail after it has dried completely so that. Black nails give any nail design an edgy look, so if you want to try something different, black nails may be the right choice for you.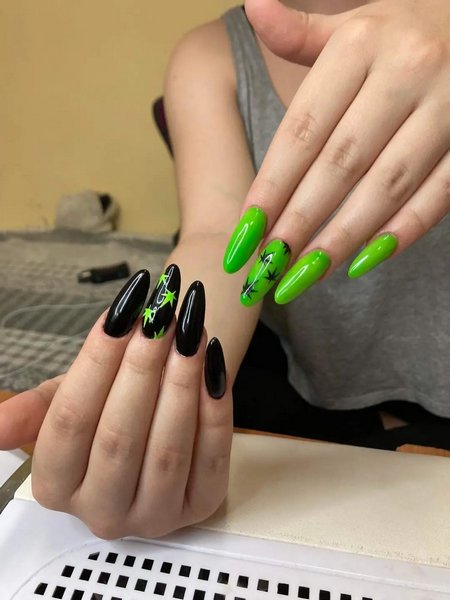 3. Blue And Green Nails
Blue and green are complementary colors, so they work well together when used in nail art designs like ombre effects or half-and-half styles where one color fades into another halfway up your nails. You can also use them together as an accent color on top of other nail designs like stripes, flowers and other patterns depending on how detailed you want the design to be. Blue nails are perfect for spring and summer, but they look great all year round!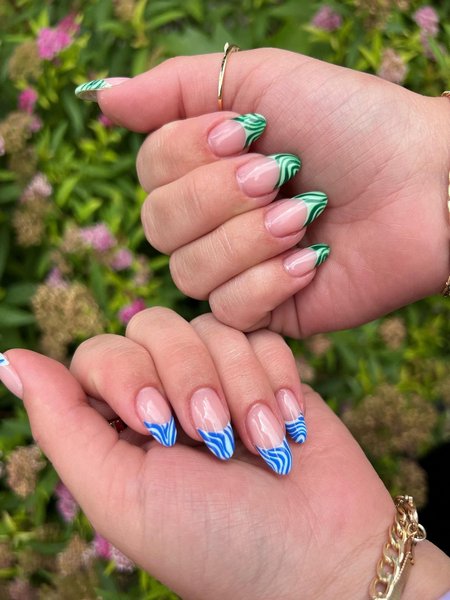 4. Dark Green Nails
Dark green nails are an awesome alternative if you want something different than your average bright green nail design. Darker greens work really well with dark skin tones, but they can look great on anyone! Dark green is a great color for summer because it's easy to keep clean. You can get your nails done at the salon or do them at home yourself! If you choose to do them yourself, make sure you use a quality base coat, top coat and polish remover. This will ensure that your manicure lasts as long as possible.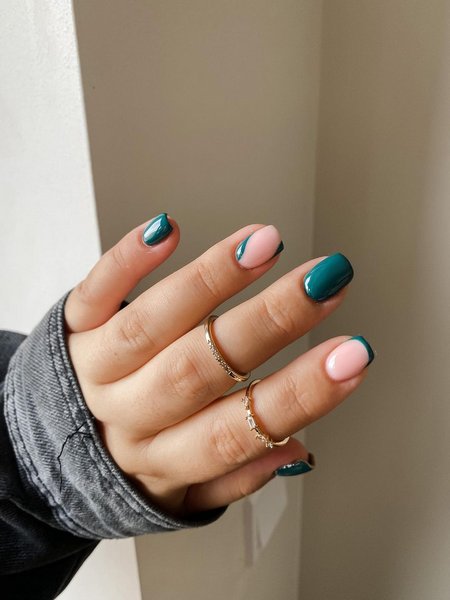 5. Emerald Green Nails
Emerald green is a gorgeous color that is perfect for summer. It looks great with any skin tone, and can be used on your nails, toes or even your hair. This color works especially well on darker skin tones, which can sometimes make lighter colors look washed out. If you want your nails to look like they're made of precious stones, then emerald green nails are the right choice for you! This shade of green works well with both dark and light skin tones, so don't worry about looking too washed out or pale while wearing this color.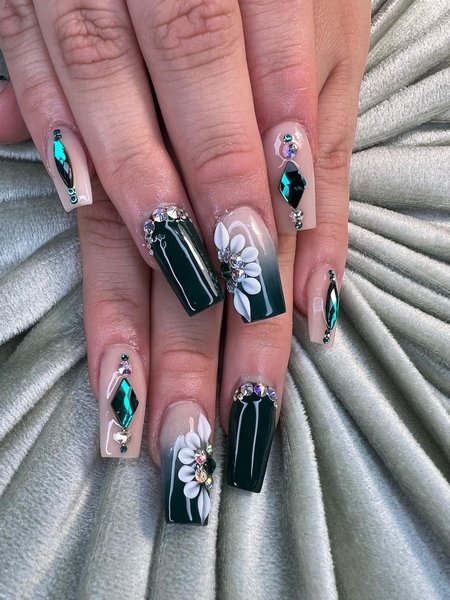 6. Forest Green Nails
Forest green is a beautiful shade that is perfect for fall and winter. It's a rich color that will compliment any outfit in your closet! Forest green has been popular for years and will continue to be for many more to come! Forest green is a muted shade of green that is found in nature. It can be used to create nail art designs that look like grass or leaves on trees. The color can also be used as an accent nail to create a unique look in your manicure design.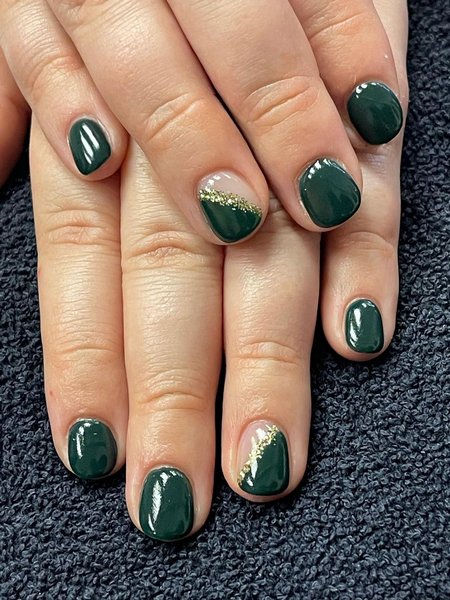 7. Gold And Green Nails
Gold and green are two colors that go well together because they contrast each other so much. For example, if you combine gold with any other color, it will immediately stand out because it is so different from the others on your nails. This makes it perfect for creating nail art designs that use both colors at once.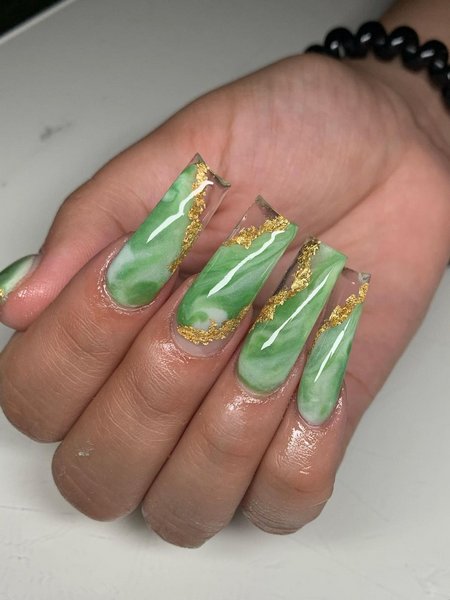 8. Green Acrylic Nails
Green acrylic nails are the easiest kind to do. All you need is one coat of green nail polish and an hour or two for it to dry. Then you can apply the second coat, if desired, and allow that one to dry as well. Afterward, you'll want to apply a topcoat of clear nail polish to keep the color from chipping off your nails during everyday activities.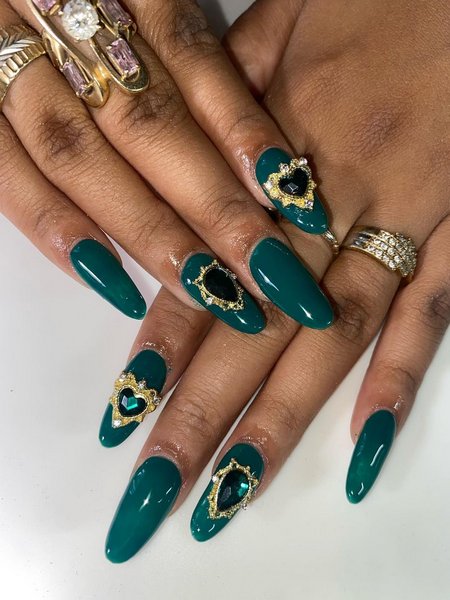 9. Green Almond Nails
If you want something with more depth in color than just plain green, try almond-shaped nails instead of square ones. These almond nails look great with pink or yellow nail polish colors, but they also work well with light brown shades too. They make it easier for your fingers and toes to look longer than they really are by making them appear thinner than they actually are.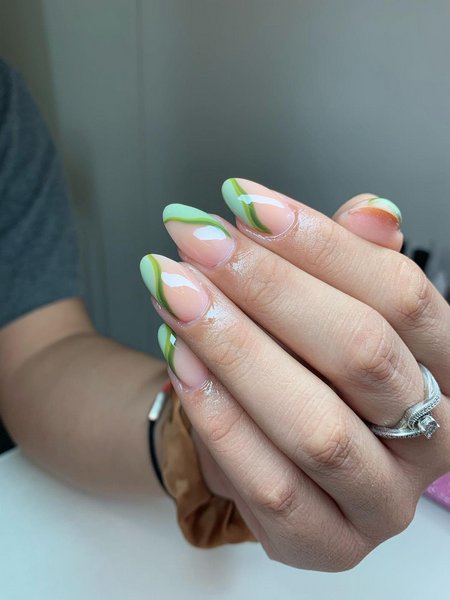 10. Green And White Nails
White and green nail art designs are very popular right now. They look great with a tan or skin tone, because they will complement it nicely. You can also wear them with other colors if you want to add some variety. The white and green combination is also very popular in fashion, so wearing this type of design on your nails is a great way to add some fashion flair to your look. White nails are a great way to make your hands look whiter, and it can be done in a variety of ways.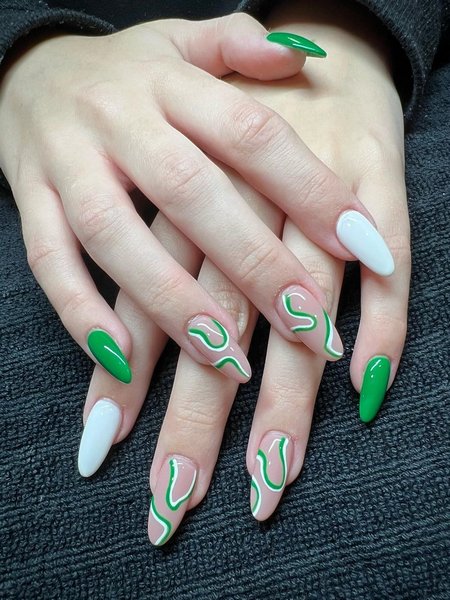 11. Green Christmas Nails
There are many green Christmas nail art designs available today, so if you want to get festive for the holidays then consider wearing one of these designs during December. Green Christmas nails are perfect for any time of year though, not just during Christmas! If you like the idea of wearing something festive but don't want to go overboard with red and gold then this is a great way to go about it.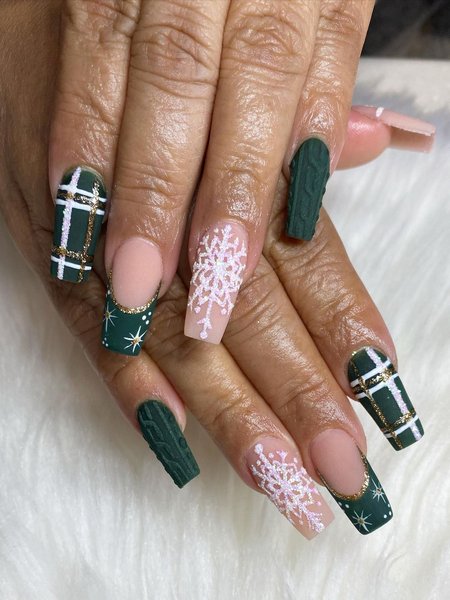 12. Green Coffin Nails
Coffin nails are a very popular design for spring and summer, particularly in the pastel shades of green. The nail shape is long and narrow, with a rounded edge at the tip. Coffin nails can be painted with any color or pattern you like. The coffin nails are the perfect choice for this summer season. They can be worn on both short and long nails. If you want to wear them on short nails, then you will need to apply two coats of nail polish, but if you want to wear them on long nails then you will need to apply three coats of nail polish.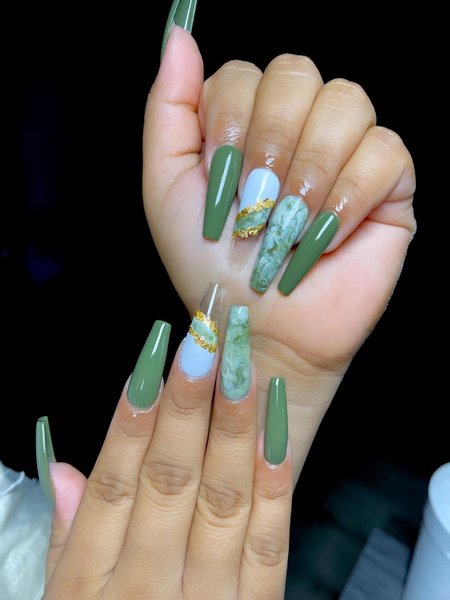 13. Green Fall Nails
If you love the color green, but don't want to go for full-on neon colors in the autumn season, then why not try green fall nails? Paint your nails a light shade of green, then add some subtle glitter or shimmer to give it a bit of sparkle. These fall nails are perfect for the upcoming autumn season. You can wear these nails with any outfit be it formal or casual because they look amazing on all occasions. You can also try experimenting with different colors like red or burgundy to add more style to your nails.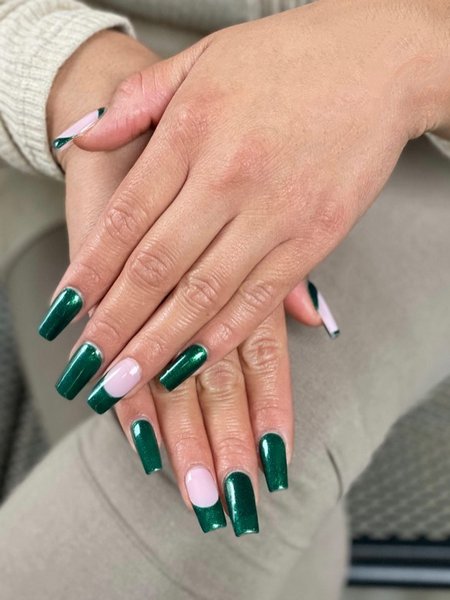 14. Green French Tip Nails
A simple way to add green to your nails is with a French tip manicure. Use green nail polish as the base coat and then apply a thin line of white polish along the tips of your nails. This will create an elegant look that will complement any outfit or occasion. If you want something a bit more subtle, try using darker shades of green instead of lighter ones.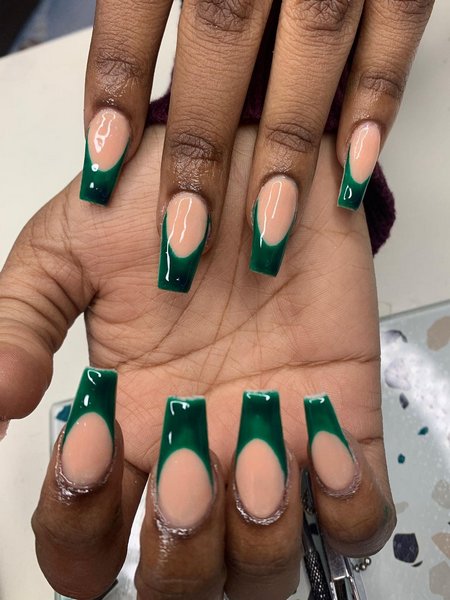 15. Green Long Nails
For long nails, you need to choose a darker shade of green. You can also use a lighter shade, but you'll need to apply two coats of polish to get the right effect. You may want to add some glitter or shimmer in order to give your nails some extra sparkle. You can also add gold or silver glitter if you prefer a more edgy look.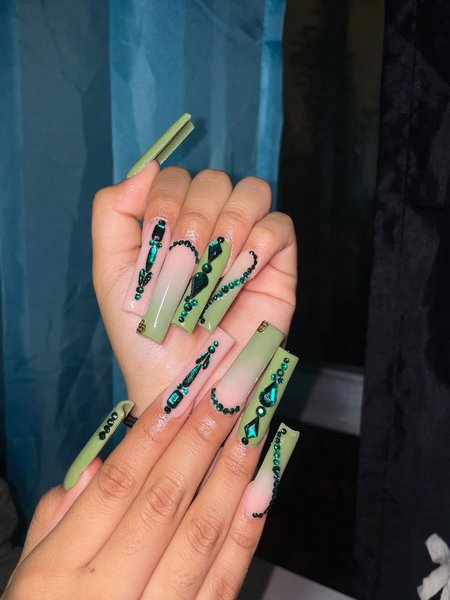 16. Green Marble Nails
Marble nails have been popular for years now, but it seems like there is always something new and exciting coming out from this trend. The marble nail art style has been around for years, but recently there have been some interesting new styles that have come about as well. One of these new styles is known as "green marble nails" which involves using green nail polish with other colors mixed in to create an interesting pattern on your fingernails.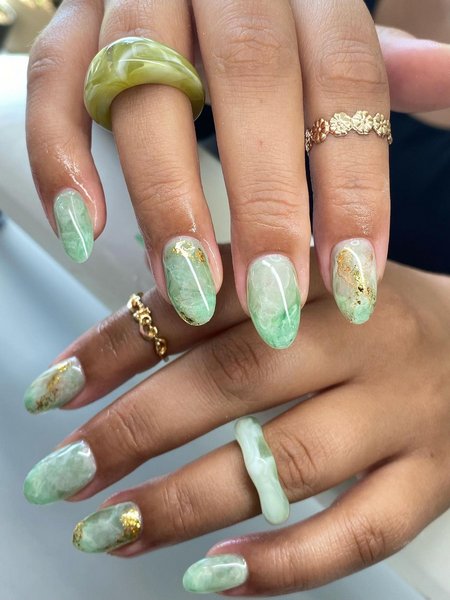 17. Green Nail Designs
Green is such a natural color. It's not just a color, but it's also associated with nature and freshness. The green nail designs we have below will help you embrace this color and bring some freshness and fun to your nails. The best thing about these designs is that they don't require any special tools or skills to create them.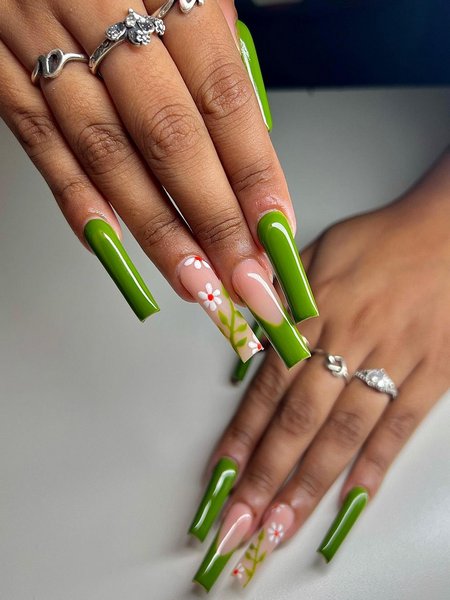 18. Green Nail Ideas
Just because green is such a common color doesn't mean there aren't plenty of ways to make it stand out on your nails. From subtle pastels to bold neon shades, there are so many options available for you to choose from! We love this collection of green nail designs because they offer something for everyone!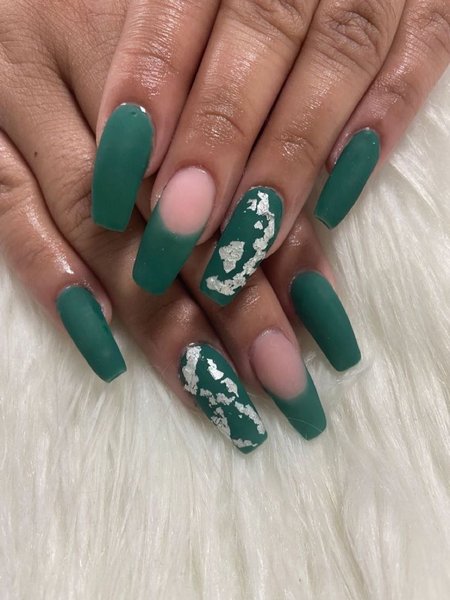 19. Green Ombre Nails
Ombre nails are a great way to experiment with different shades of green without committing to one particular hue. If you like the look of an ombre manicure but want something more subtle, try starting off with a soft green and gradually transitioning into darker shades at the tips. This will give your nails a natural look that's still interesting enough to stand out from other nail designs.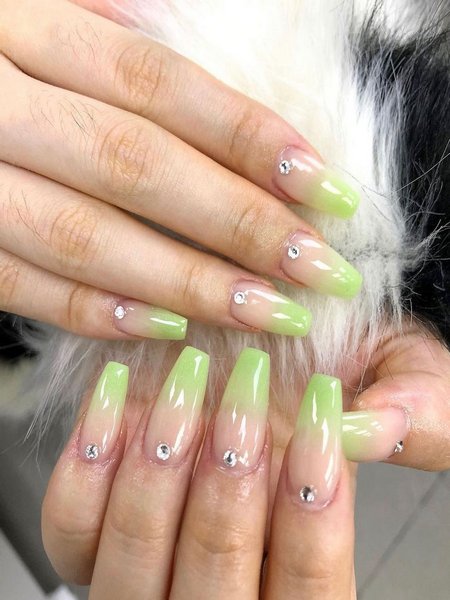 20. Green Short Nails
Green short nails are a simple way to add some color to your look without going overboard. You can choose from any number of greens, but we recommend going with something that's slightly darker than your natural nail color. A green polish that's too light will make it look like you have white tips on your nails. If you're looking for a more professional look, it's best to go with a dark green rather than an intensely bright one.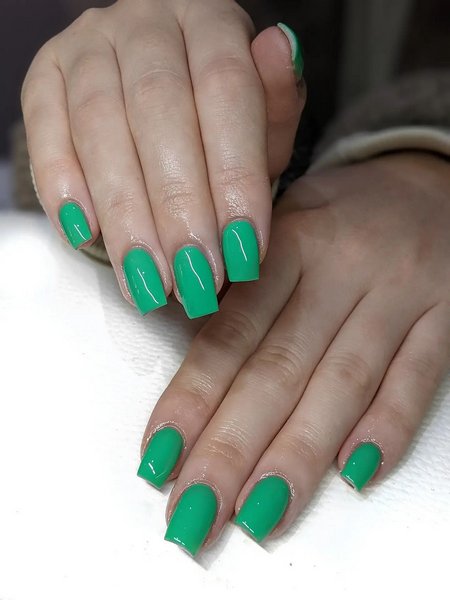 21. Green Swirl Nails
If you want something that stands out even more than short green nails, consider trying swirls! Swirls allow you to create intricate designs that can take hours or days to complete depending on how elaborate you want them to be. It's best if you start off with shorter nails because the longer ones will make it harder for you to get the swirls even and smooth enough for everyone else's liking.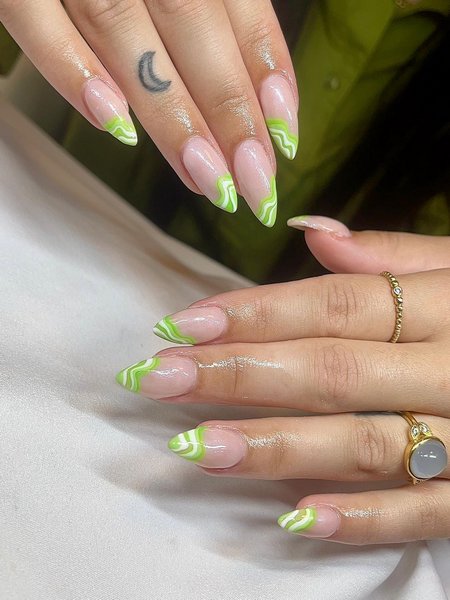 22. Hunter Green Nails
The hunter green is a color that's both deep and rich. You can find this color in the forest, in the leaves of trees and even in the eyes of animals. It's a very warm color that is perfect for fall and winter. The hunter green is also a great choice for those who want to add some color without going overboard.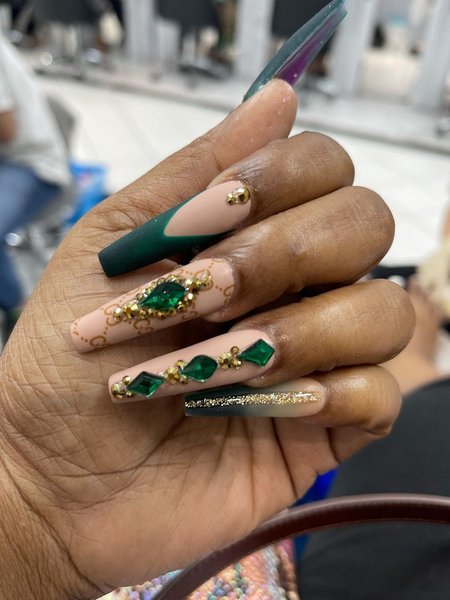 23. Jade Green Nails
You can also go with jade green nails if you want something that is more subtle than hunter green. This shade of green has a lot of depth to it, making it even more interesting than other colors. Jade green nails are perfect for those who want something different but don't want to go too far outside their comfort zone when it comes to nail colors.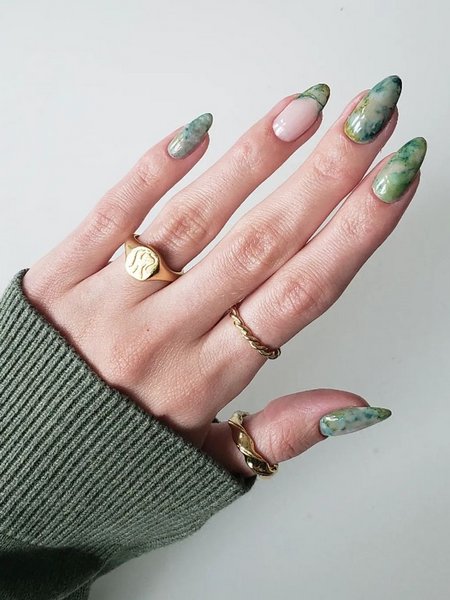 24. Light Green Nails
Light green nails are perfect for spring and summer. The color is very fresh and looks great on both short and long nails. It can be applied as a sheer layer for an elegant look or as an opaque coat for a more vivid effect. Light green nails are perfect for those who want something simple and classy without going overboard on color. You can wear them with any outfit, from work clothes to evening wear.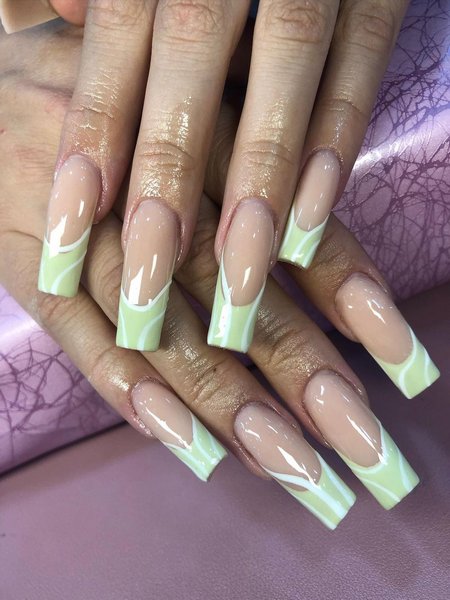 25. Lime Green Nails
Lime green nails are a great choice if you want something that's not too bright but still stands out from the crowd. This shade of green looks great on tanned skin and will go well with any outfit you wear. If you're planning on wearing dark colors like black or navy blue, lime green nail polish is also a good choice.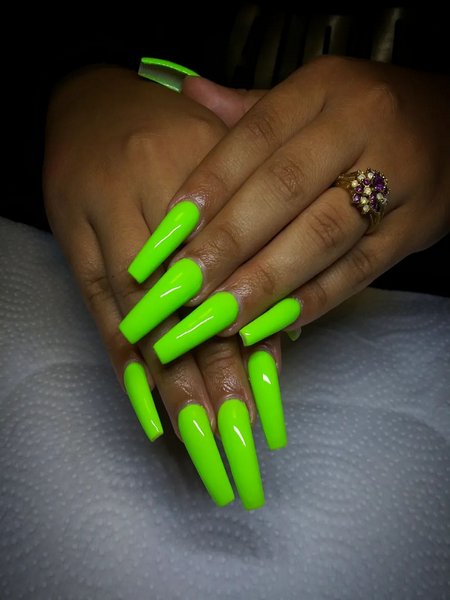 26. Matte Green Nails
Matte nails are all the rage right now, and they're an especially great choice when you want a more subtle look than glossy nails provide. Matte green nails are perfect for day or night whether you're headed out on a date or staying in with friends, these nails will complement whatever you're wearing!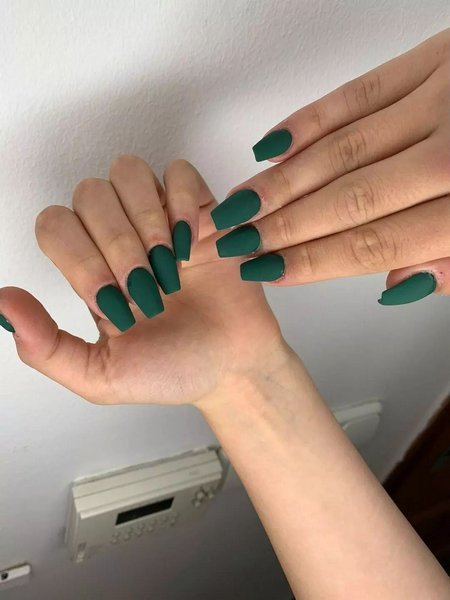 27. Mint Green Nails
Mint green nails are a great way to add a little bit of vibrant color to your look, especially if you're going for an office job or somewhere where you can't show too much skin. The idea behind this design is to create a mint green base with splashes of white on top. It's a great way to make sure that your nails look natural and beautiful at the same time.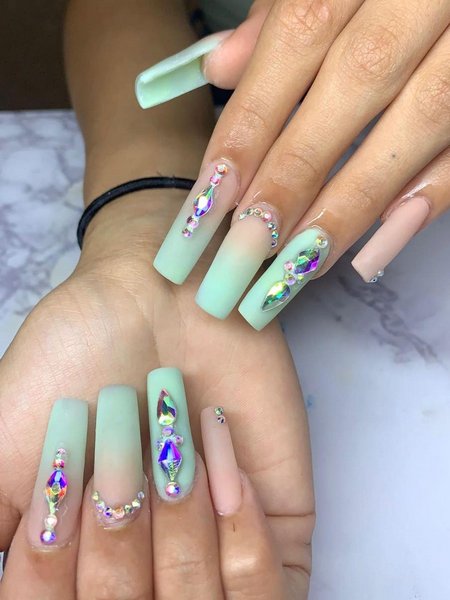 28. Neon Green Nails
If you're looking for something more vibrant, neon green nails might be the answer. You can make this look work for any occasion by adding some silver glitter or even mixing in some white tips. Neon green is super fun and really eye-catching, so if you want to stand out then this is definitely the way to go!
29. Olive Green Nails
Olive green nails are a popular choice for spring and summer. They look great with a tan, so if you're planning on hitting the beach this season, this could be the perfect nail colour for you. Green nails are one of the most popular nail designs. It is easy to achieve and has a lot of variations. You can have a green manicure with different shades of green or you can opt for something more subtle and delicate like this olive color.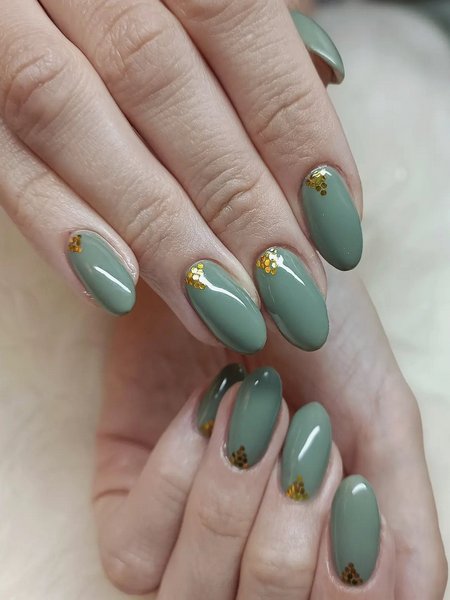 30. Pastel Green Nails
Pastel green is another favorite shade among women. It is a very soft, feminine and delicate color that gives your nails a natural look. Pastel green nails are another great choice for summer, especially if you're going on vacation in the Caribbean or Mexico. You can wear them with any color outfit, so they're extremely versatile.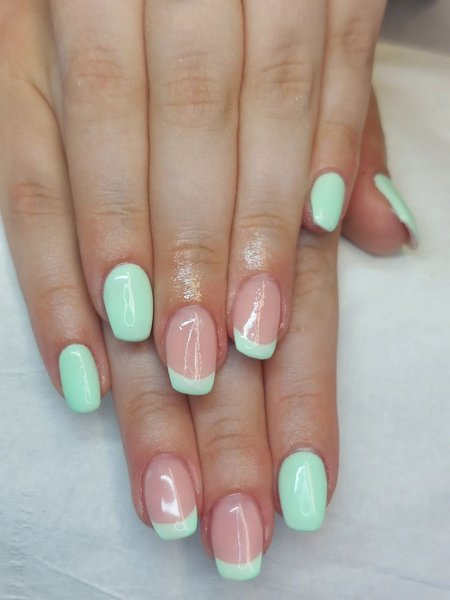 31. Pink And Green Nails
Pink and green is an easy combination that works well for day or night. The best thing about this combo is that it's so versatile. You can wear it with just about any outfit and get away with it! For example, if you're wearing all black, try pairing pink and green nails with the rest of your look. If you're wearing all white, go for a different shade of green that contrasts nicely with the white. Pink nails are a fun and feminine way to express your style.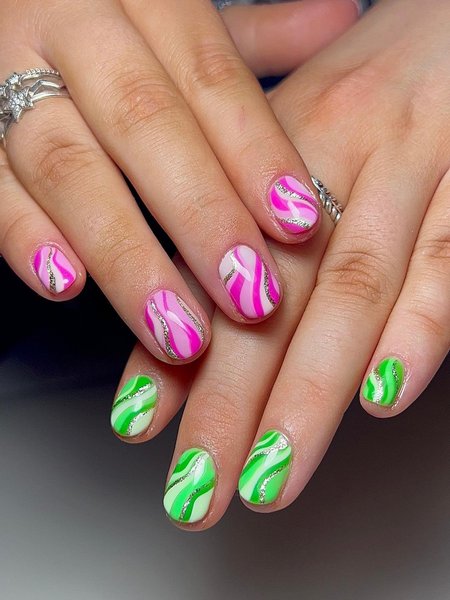 32. Purple And Green Nails
Purple and green are both colors associated with nature so they make an ideal pair! This combo is also very versatile; if you're going out at night, try pairing purple and green nails with black outfits or dark shades like navy blue or grey. If you want to wear this color during the day, try pairing it with other pastels such as light blue or yellow for a more feminine look.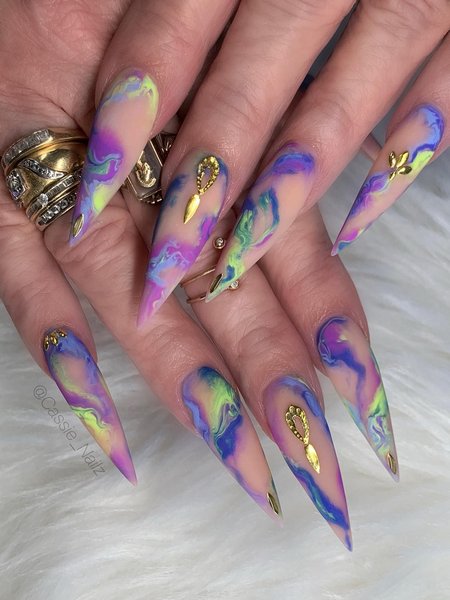 33. Red And Green Nails
This is one of the most popular colors when it comes to green nails because it looks so great in combination with other colors. This is a great way to bring out the beauty of your hands and feet, as well as making them look even better than ever before. The bright red color will make your hands look amazing, and you'll love the way that it looks on your nails as well! Red nails are a classic combination that never goes out of style.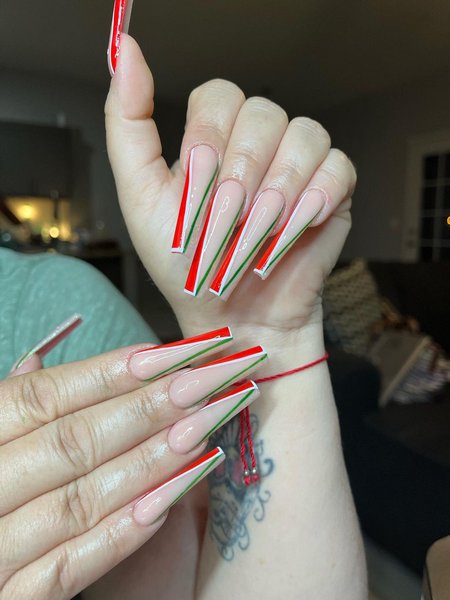 34. Sage Green Nails
A sage green nail polish is another great choice when it comes to choosing a green color for your nails. This has been around for quite some time now, and there are many people who still choose this color when they want to change things up just a bit. It's easy enough for anyone to use, but there are also other colors that you can use in combination with this one if you want something different than the normal sage green color that you see so often these days!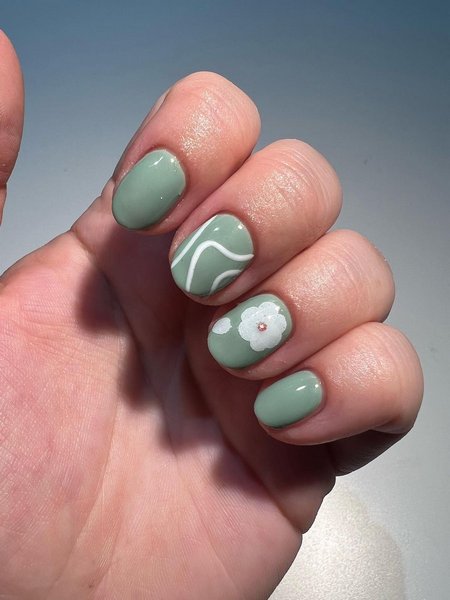 35. Summer Green Nails
Summer is the time to express your individuality. You can choose a variety of colors to paint your nails, but one of the most refreshing choices is green. The color of nature, it has an astonishing effect on the eyes and gives a feeling of peace and tranquility. This is why many people love to paint their nails with this color during summer. Green nail polish looks great on both short and long nails. Summer nails are perfect for the sunny season.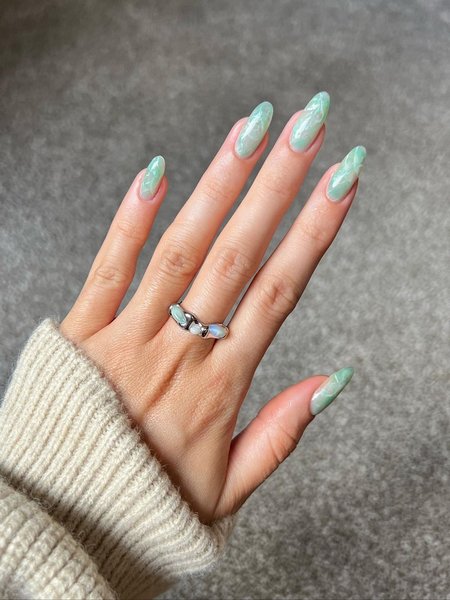 FAQ
Are green nails in style?
Green is one of the most popular colors right now, especially when it comes to fashion trends like leggings and shoes that match perfectly with this shade of green! If you want to try something different but still keep it classy, then consider wearing this color on your toes or fingers next time you go out for dinner or drinks with friends!
Does green nail polish look good?
Green nail polish can be worn as an accent on other colors or as a full-on manicure by itself. It's a great way to add some fun and flair to your look. Not only will it look great, but it will also keep your nails strong and healthy. Green nail polish contains ingredients that help strengthen brittle nails and can even prevent fungus from growing underneath them.