12 Best Light Blue Nails Ideas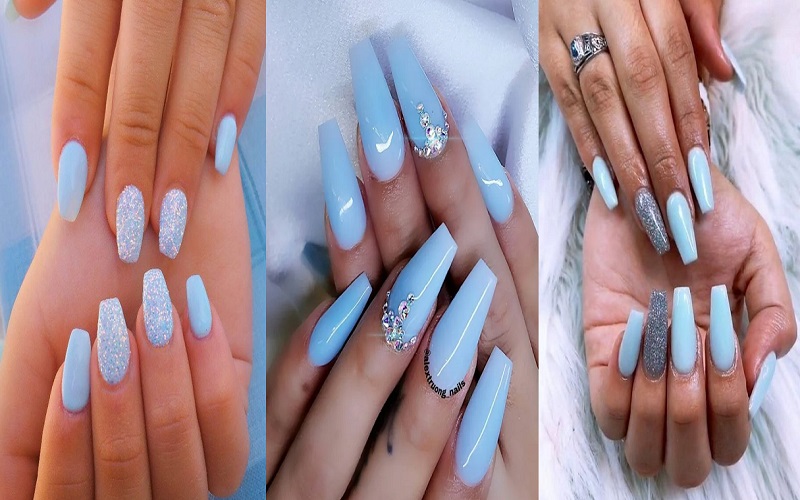 Light blue nails are a cool tone of blue, and they look great on most skin tones. Light blue nails can be worn alone or as part of a manicure with other colors. It's easy to find light blue nail polish at any drugstore or beauty supply store, and it can also be done at home with the right tools.
There are lots of eye-catching and stunning nail polishes out there, and it's so hard to choose the best one for you. The rule here is to pick the color that best suits your skin tone. However, you can also make a choice depending on your preferences, because it is entirely up to you.
A popular color for nails is light blue. Let's take a look at these stunning light blue nails for inspiration for our next manicure. Blue can help you relieve pressure and stress. It also evens out a heavy shade of nail polish. If you want your nails to look great and attractive, then blue-sky nails are your best bet. It's a safe choice for girls and can be worn with almost any outfit or occasion. Here are some of the cutest light blue nail designs.
1. Blue Sky Nails With Glitter
Mix and match things and add to the routine with this amazing blue-sky nail style. The light blue manicure is really refreshing to the eye, and the splashes of gold, silver, and yellow add an artistic touch. This is a great opportunity for everyone to try new styles and let their creativity run wild.
2. Matte Light Blue Nails with Ombre Leaf Nail Art
Add a sense of indulgence to your manicure with this gold-blue nail design. This duck egg color is a beautiful and subtle color for all seasons. The three-dimensional artwork makes for a perfect feature nail. Choose the length and shape that suit you best; it all works with this amazing design. And if you are a big fan of the blue ombre nail style, this design is your best bet!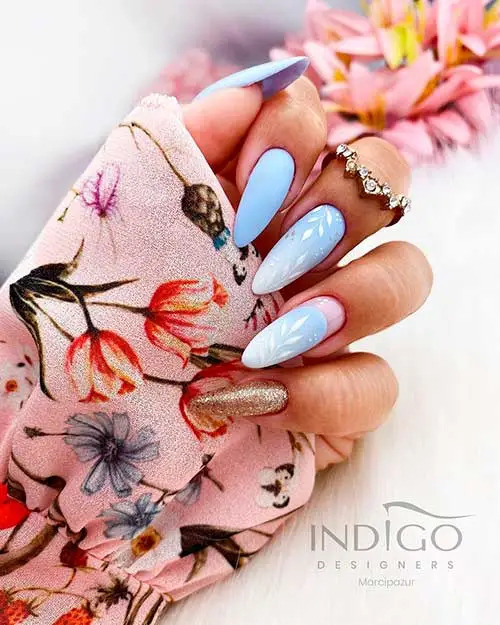 3. Pink and Light Blue Nails with Black Lines
These light blue nails combined with light pink are one of the best designs on this list. Pink is still an essential nail color that every lady will love, especially when mixed with a light blue color. This is a bold, stylish, and stunning nail idea. To upgrade the look and make it more dramatic, we accented it with black lines. simple but elegant, and you will look gorgeous when you pair it with white long sleeve and pants pieces. Try this nail design now, and you are sure to catch the eye of your loved one.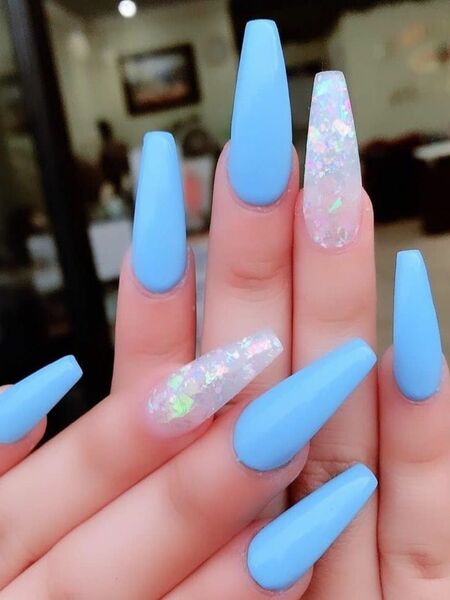 4. Light blue nails with sparkles
We call these light blue stiletto nails. Some nails are glossy blue, while the rest are shimmering blue. The stiletto-shaped nails and glitter are an amazing and stunning combination. Anyone can recreate this design or wear a sparkling light blue shade on any nail shape and length. Nail designs like this one are great for any type of event or occasion.
5. Light Blue Short Square Nails With Gold Accents
If you like nails that stand out, then try this nail trend. If you have fair skin, this model is for you.
6. Matte light pink and blue nails with leaf nail art
Leaf nail art is popular, and with a style like this, you can see why. The leaf pattern is black and completely complements the light blue hue. This summery and cute look will please everyone. You can buy sheet nail stickers if you want to make the same set of nails.
7. Light Blue Nails With Pink And Butterfly Nail Art
Light blue nail polish, along with butterfly nail art stickers, is one of the amazing nail designs that you can try. Related to serenity and calm, this hue is likely a flattering color for your fingernails of different lengths and shapes, and even for skin tones. Plus, it looks great paired with a little glitter nail polish as well as pink and yellow butterflies. To get this amazing look, you can go to your favorite salon and use your skilled nail artist or choose a nail art sticker and create the designs you have dreamed of in the comfort of your own home.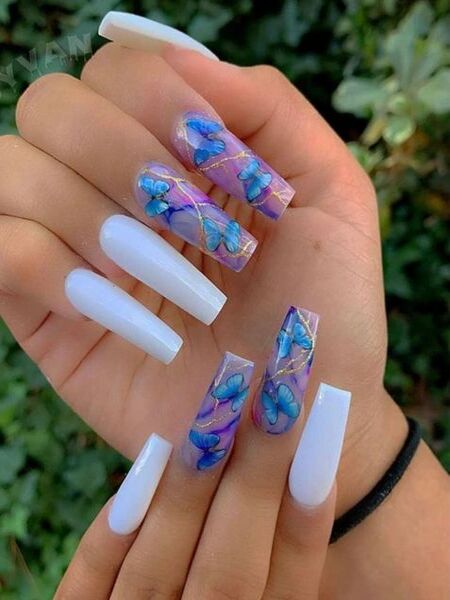 8. Matte light blue nails with Butterfly Nail Art and Bling Nails
Express yourself artistically with these elaborate and luxurious nails. The matte blue base exudes the essence of nobility, while the added jewels make you feel regal and majestic. Scatter the silver accessories over the nails up to the tips. The dark blue butterflies make this design more elaborate. It's a remarkable manicure for a shoot on Instagram or an evening with loved ones and friends. You will surely look stunning while wearing this manicure.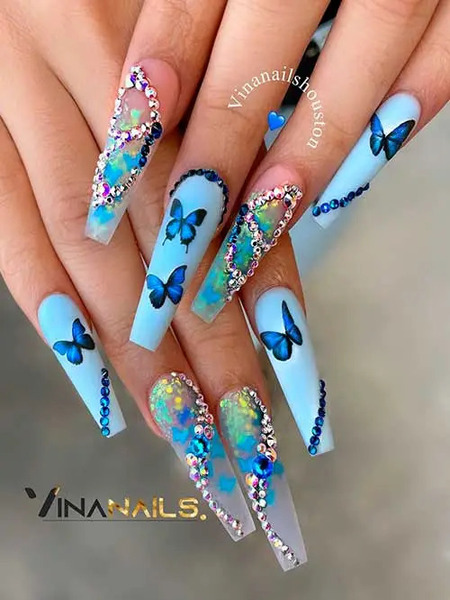 9. Gorgeous light blue nails with ombre, glitter and rhinestones
Another stunning light blue nail art adorned with glitter and rhinestones. In addition, the two accent matte ombre nails make the design so elegant.
10. Glossy Light Blue Nail Art
This nail color is especially fantastic on summer days, and the accent bling nail really highlights the design.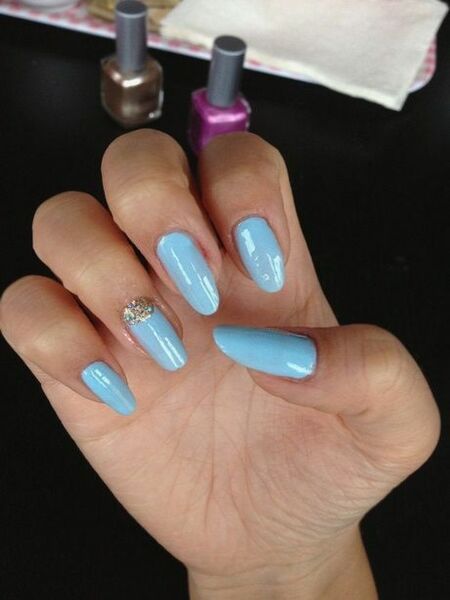 11. Classy Light Blue Nails with Rainbows and Floral Nail Art
Of course, this dashing nail art can give you the perfect look on summer days. On top of that, these mixed rainbow and flower nail art accents are so gorgeous and full of attractive spring and summer vibes.
12. Coffin Light Blue Nails with Dark Blue Flowers
For fans of floral nail art, these light blue nails with dark flowers are just the thing for you.So you can recreate those gorgeous nails with the help of stickers or nail stamps to attach the flowers to.