25 Best Back Tattoos For Men in 2023
Back tattoos for men can be designed using a number of different tattoo symbols, styles and variations. The back is one of the best places to get large tattoo designs or just to fill in some space if you already have a full sleeve tattoo or half sleeve tattoo.
Back tattoos for men are great whether you are considering your first tattoo or your fifth. Your back is the perfect place for your new ink because the area is so big. No matter how big or small your new design is, it will fit on your back. And if you are looking to cover up an old tattoo, a full back piece tattoo is the best way to do it.
Back tattoos can be designed in any way that you want. You can get a full back piece or just a small design at the top of your back. You can have black and grey work done or go with something colorful. Whatever you decide, these ideas will help you choose the perfect tattoo for you!
1. Full Back Tattoo
Full back tattoos are pretty self explanatory. These are usually very large tattoos that cover the entire back from top to bottom and side to side. They are normally designed in the traditional Japanese style, but they can really be any style that you want.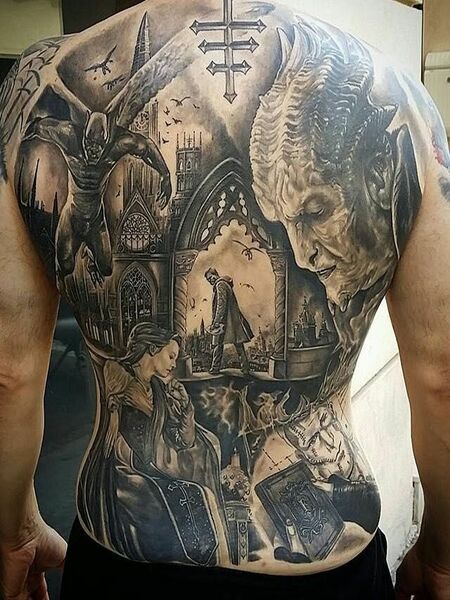 2. Quote Back Tattoo
Quote back tattoos are becoming very popular for men. This is your opportunity to display a favorite quote that means something special to you and your life. You will find that quotes are normally featured on the upper or lower back, but they can also be placed on either side of the spine.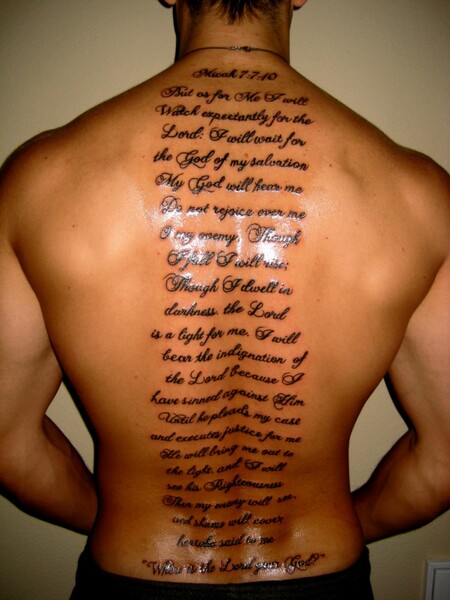 3. Badass Back Tattoo
Badass back tattoos for men can be designed around any symbol that could represent you as an individual or as a group. Badass designs can be portrayed with lions, tigers, eagles and other bold creatures.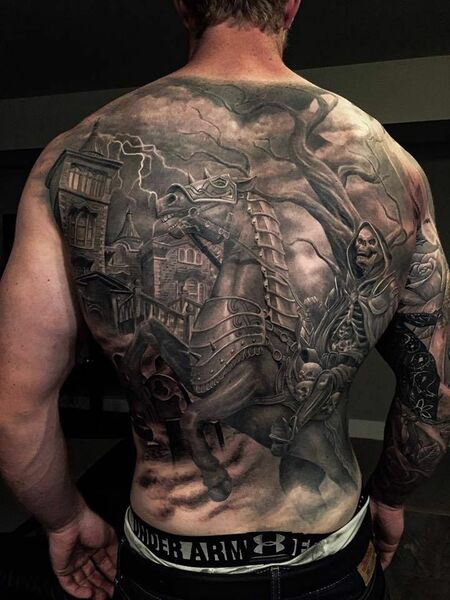 4. Eagle Back Tattoo
Eagle tattoos are a common tattoo design among men. They were even more popular in the past when they were considered symbols of power and leadership. Eagle tattoos can look great on both the upper and lower back, depending on how big you want your tattoo to be.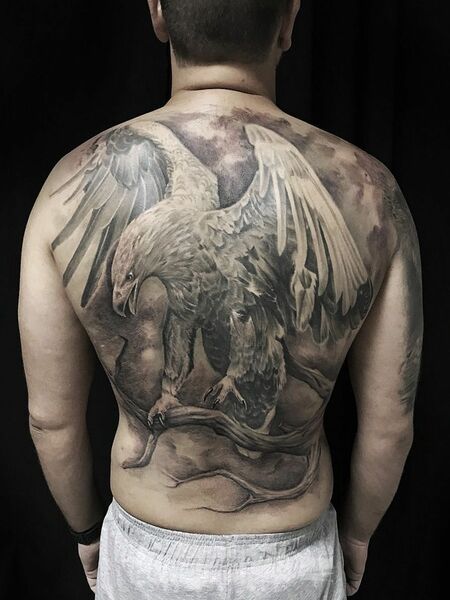 5. Wolf Back Tattoo
Wolf tattoos are a very popular choice for men and there are many different variations of this tattoo design. Wolf tattoos can be done in various sizes and styles, such as tribal or realistic. This can also be a good option for guys who want something subtle on their lower back.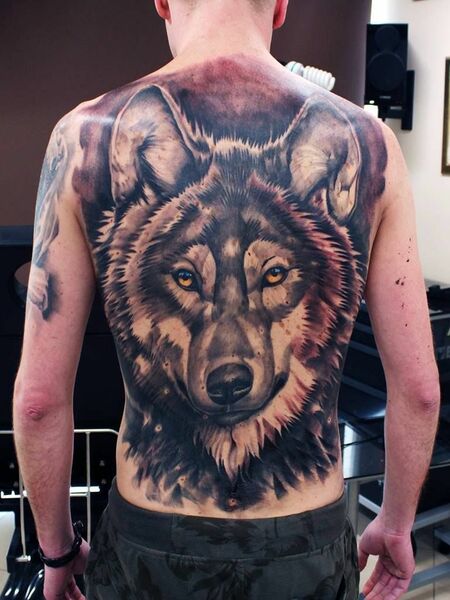 6. Lion Back Tattoo
Lion tattoos are another popular design for men and they can look really great on the back as well, especially since lions are larger animals. As with wolf tattoos, lion tattoos can also be done in tribal style or realistic art style.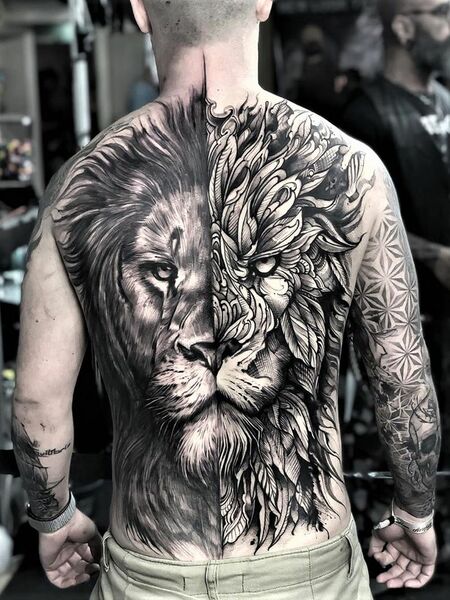 7. Upper Back Tattoo
Upper back tattoos are among the most popular tattoo designs for men. These body art pieces will look good on any guy who wants to show off his ink at the beach or pool party. A lot of guys choose this area because it's easy to conceal if you need to cover it up while at work but still easy enough to show off when you're out having fun with friends.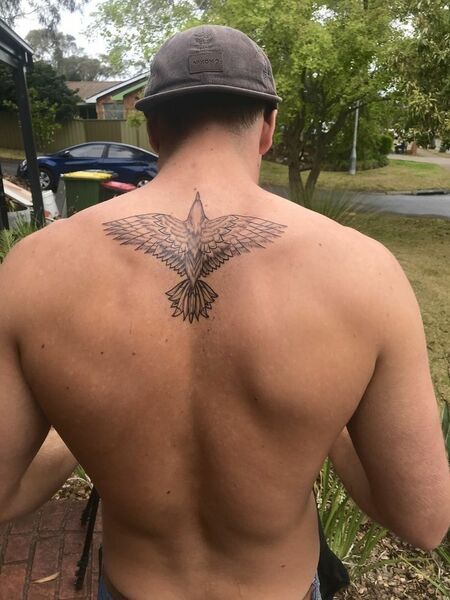 8. Tribal Back Tattoo
The tribal back tattoo is perhaps one of the most popular choices of back tattoo designs today. The tribal tattoo is usually done in black ink and occurs in many forms including Maori tribal tattoos, Celtic tattoos and Polynesian tribal tattoos.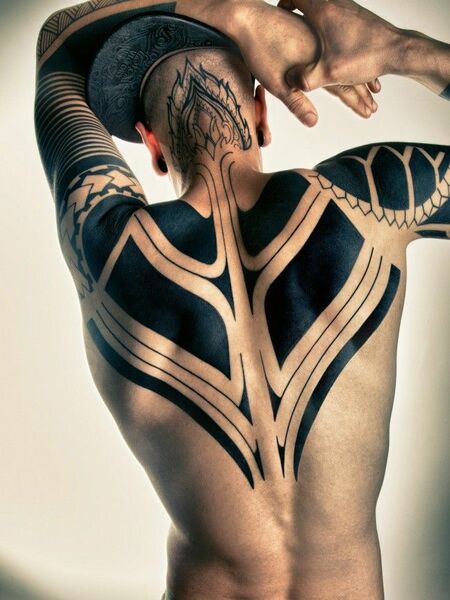 9. Simple Back Tattoo
If you want something that stands out but isn't too intense, consider a simple tattoo on your back. These are usually small and often have intricate details that make them unique and original.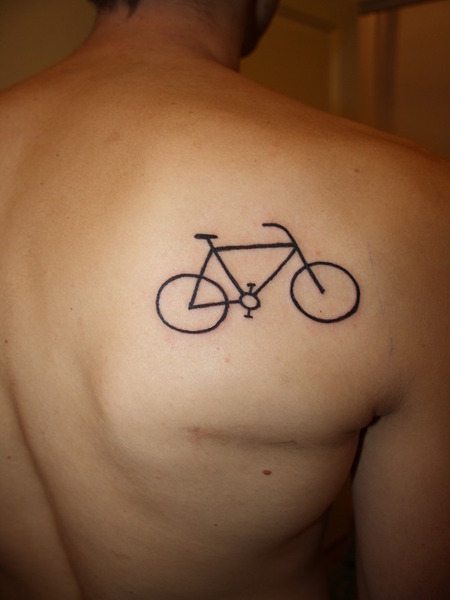 10. Wings Back Tattoo
The wings back tattoo is a classic men's tattoo, as it can represent your free spirit or inner strength. Plus, wings are pretty manly, right? Guys who get wings tattoos on their back often have them spread across the upper shoulder blades. If you're looking to get a wings back tattoo, take the time to find the perfect design to fit your style!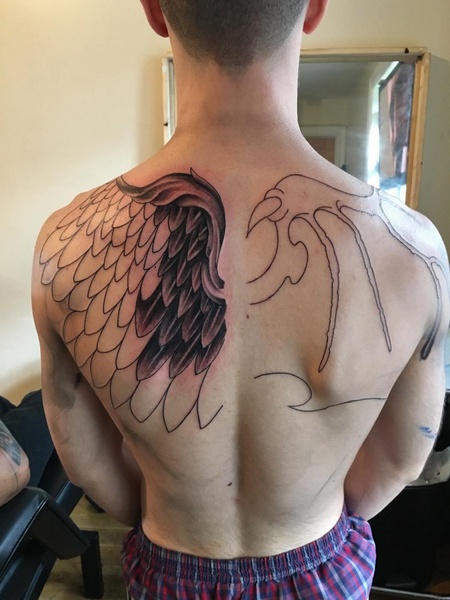 11. Dragon Back Tattoo
A dragon back tattoo can be just as fearsome as it looks; this bold design can be intimidating and powerful. Some guys choose to get their dragon tattoos in black and gray ink, while others opt for realistic color designs. Many dragon tattoos cover nearly the entire upper or lower back, so they make a big impact!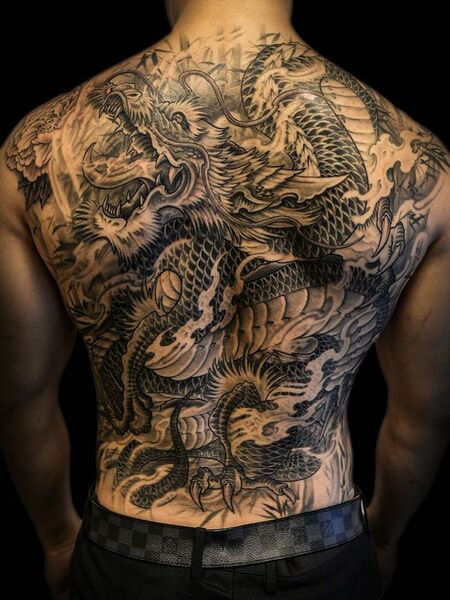 12. Tiger Back Tattoo
Tiger tattoos are one of the most popular styles of animal tattoos. Guys who get tiger tattoos often have large designs that cover most of their backs, but smaller designs are also common.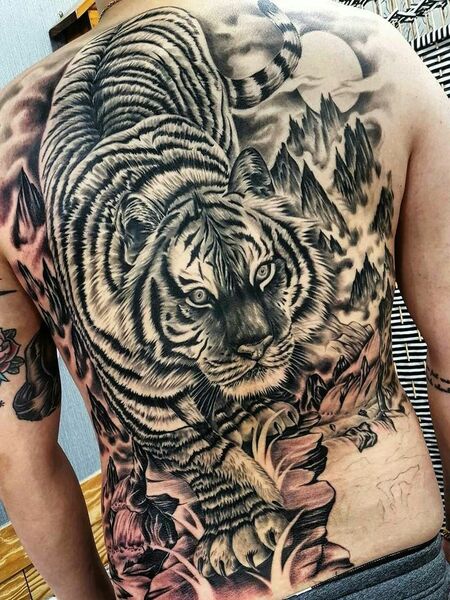 13. Traditional Back Tattoo
Many men prefer the classic look associated with traditional tattoos, and nothing says traditional like a large tattoo on the back. The most popular of these is a large eagle tattoo, but there are other designs that look as good or better. Others include classic skulls, full bodied birds or mythical creatures.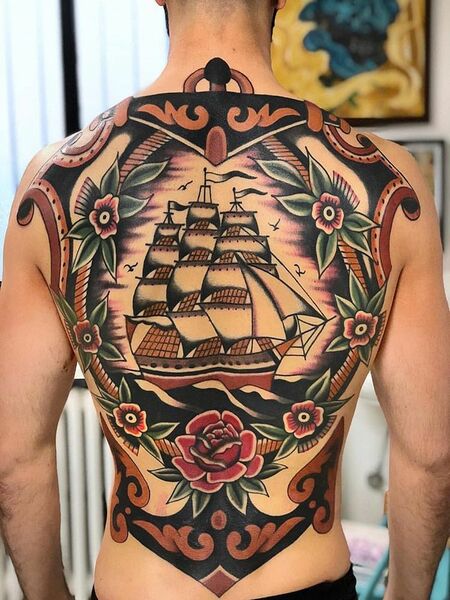 14. Owl Back Tattoo
If you like animals then owl back tattoos will definitely suit your liking. Owls symbolize wisdom, silence, beauty and magic so if this is the kind of image that you want to portray then you should definitely consider getting this kind of tattoo design on your back.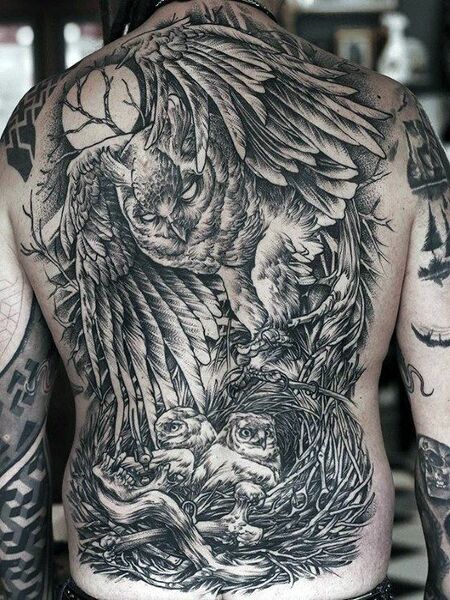 15. Japanese Back Tattoo
Another great option that you can consider when looking for back tattoos for men is Japanese tattoo designs. The Japanese culture has a lot of beautiful artworks that you can use as inspiration especially when it comes to your tattoo design.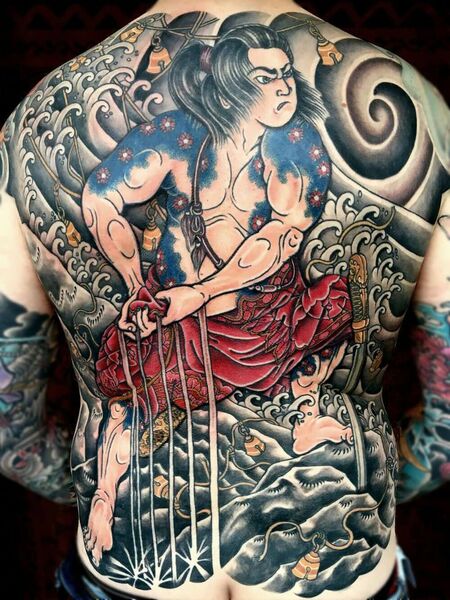 16. Skull Back Tattoo
Skulls are another classic design that can be paired with other elements to create a unique tattoo. One of my personal favorites is the skull and rose design, which can be embellished with vines and thorns to create a truly stunning piece of art. There are also a number of variations on the skull theme that you can use to create your own unique style.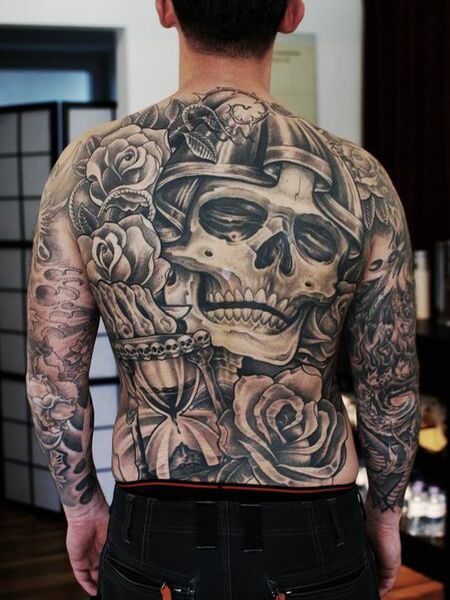 17. Angel Back Tattoo
Angels might not seem like an obvious choice for men's back tattoos, but there are actually a number of excellent designs from which to choose. The most popular angel tattoo is a pair of wings across the back, with some men adding feathers to form hands as well. Of course, you can also choose an angelic face or other features if you wish.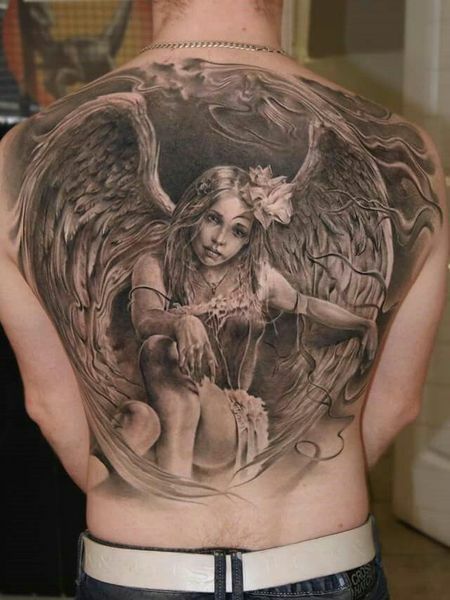 18. Back and Neck tattoo
If you want to go all out and really get noticed then getting a full back tattoo that extends down your neck is definitely the way to go. These types of tattoos are usually worn by people who are very passionate about a certain topic or who simply prefer large pieces of artwork on their bodies.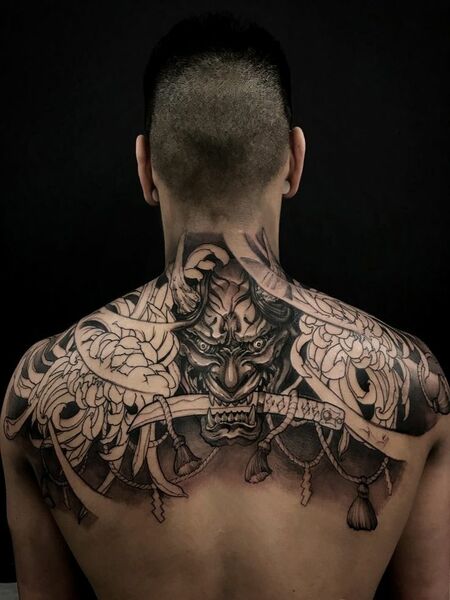 19. Geometric Back Tattoo
Geometric tattoos make use of shapes like circles, squares, triangles, polygons and such other geometric patterns to design back tattoos. These kinds of tattoo designs are also used with some other tattoo designs to enhance the look of them. A lot of guys get geometric tattoo designs because they can be applied to any part of the body.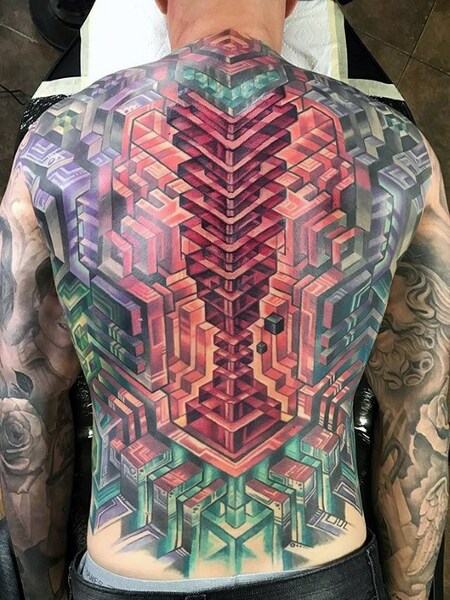 20. Phoenix Back Tattoo
Phoenix back tattoos are famous among men because phoenix is a symbol of rebirth and strength. Phoenix represents rising from the ashes and living a new life with greater strength and vigor. There are many people who choose this kind of tattoo design because it has a deep meaning attached to it. These Phoenix tattoos can be designed in different ways depending on your personal preferences.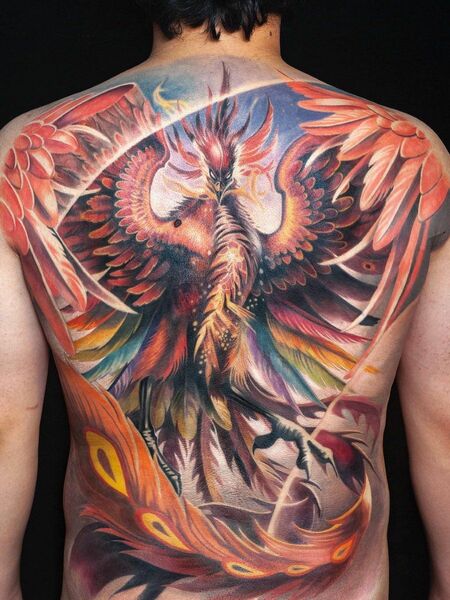 21. Small Back Tattoo
If you want something that is not so obvious, but still visible enough to show off to your friends, then small back tattoos are the best option for you. These tattoos are usually floral designs or maybe tribal patterns that run down your spine. They can be colorful or not depending on your preference.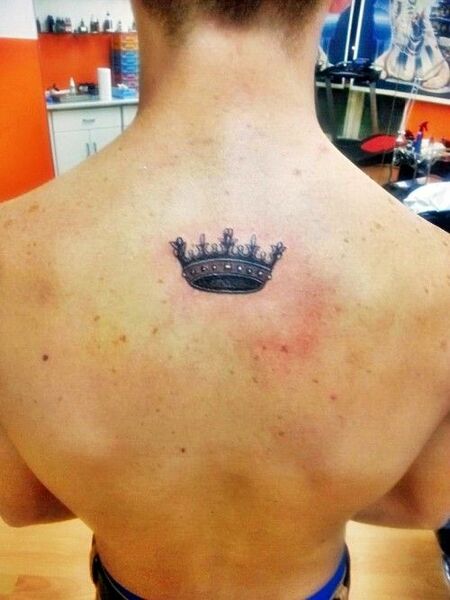 22. Jesus Back Tattoo
The most common tattoo design that you can find on a man's back is the cross or Jesus Christ tattoo. This symbolizes Christianity which many men practice as their religion. There are also other religious symbols that can be used as tattoo designs such as rosary beads, praying hands, angels, and more.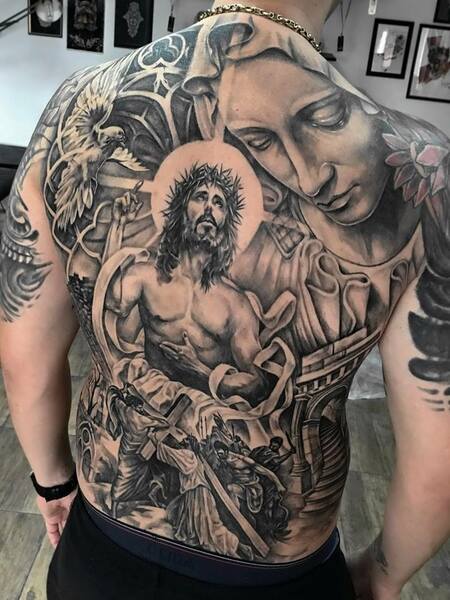 23. Spine Back Tattoo
Some of the most popular back tattoos for men include spine tattoos. These cool designs are great for guys who want a large tattoo that covers their entire upper or lower back. Spine tattoo designs can be as colorful or simple as you want them to be. If you want an elaborate design, you can create a colorful tribal pattern that extends down your entire back and ends with a wide arrowhead at the bottom.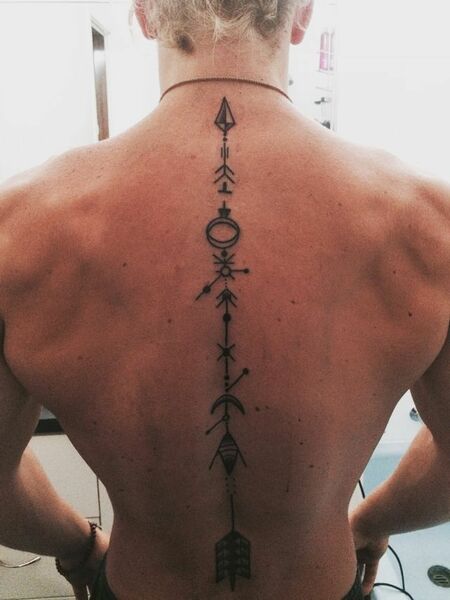 24. Cross Back Tattoo
You may want to consider a cross back tattoo if you are looking for a large tattoo that is sure to turn heads. These tattoos can be designed in various sizes and styles. There are several designs available when it comes to cross tattoos. You can choose a Celtic cross, tribal cross, or even a gothic cross. Cross back tattoos will look great no matter what size you choose to get.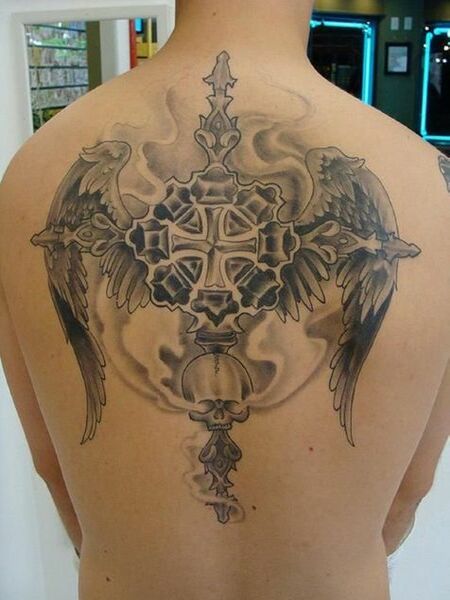 25. Back and Half Sleeve Tattoo
A half sleeve tattoo is one that covers half of an arm, usually from the shoulder to the elbow. If you want an epic full-back piece, a half-sleeve tattoo is a great way to start. This arm tattoo can also be a stepping stone toward getting a full sleeve tattoo in the future.
FAQ
What does a back tattoo mean?
A back tattoo usually represents the strength of a person. It is also believed to be a way of showing how much a person has suffered in life. For instance, when someone gets released from prison, he gets a large tattoo on his back. It is not only meant to show that he suffered in prison and survived, but also it acts as a reminder of his past life so that he never goes back there again.
Are back tattoos good?
Yes, they are good. They are not only good because they can be hidden easily whenever you want them to be, but also they have a very flexible area which gives you enough space to design your own tattoo. You can have any size and any design you want on your back.