30 Best Matching Sister Tattoos in 2023
Matching Sister tattoos are a great way to celebrate that indescribable bond between siblings. From symbols of love and peace to geometric designs, the possibilities are endless.
There's a special bond between sisters that only they can understand. They know each other better than anybody, and they love and support each other unconditionally. When you are looking for a symbol to represent this special bond, one of these sister tattoo ideas is a great way to show the world that you are sisters forever.
Matching Sister Tattoo Ideas
Sister tattoos can be quite simple or they can be a little more intricate, but the most important thing is that they signify your relationship with your sister. A good idea is to get matching tattoos that are simple and straight to the point, such as two arrows facing each other or a small heart with the word "sisters" underneath it. You can also opt for something a little more complex like Celtic knots or butterflies. It all depends on what you want and what you both decide on.
If you're ready to get matching sister tattoos with your sis, we've rounded up some of our favorite ideas for sister tattoos – and their unique meaning – to get you inspired.
1. Matching Paper Airplane Tattoo
You can get any design you want as long as it represents your relationship with your sister in some way. The most common designs are flowers, birds, hearts, Celtic knots and stars just to name a few. It doesn't matter what design you choose so long as it has meaning to both of you. You're going to have these tattoos for
2.Matching Sister Tattoos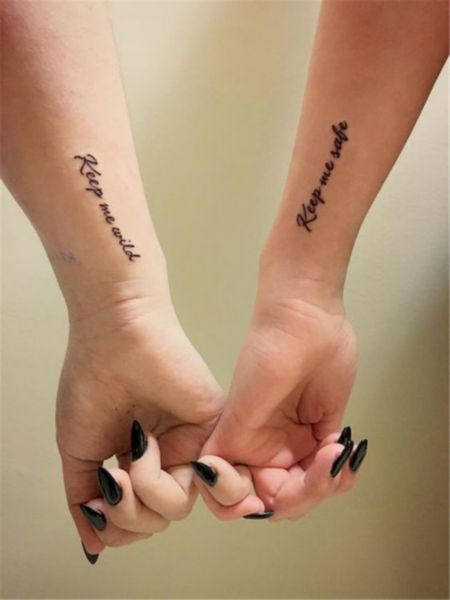 3. Matching Sister Heart Tattoo
Matching sister tattoos can be inspired by anything that's meaningful to you both – from finding inspiration in your favorite photos of you together, or in memories from your childhood, to using sentimental symbols like birds or flowers that represent the bond between your relationship.
4. Tattoo for Siblings
A sister tattoo is a very special gesture that can be made by two or more sisters.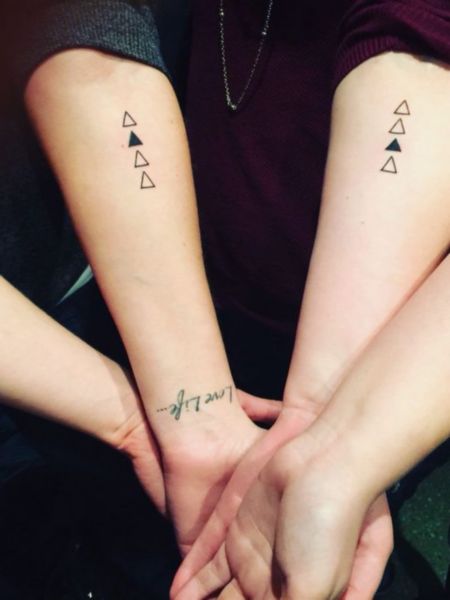 5. Small Matching Sister Tattoo
6. Matching Sister Quote Tattoo
It doesn't matter if you are just getting a tattoo for fun or it has a deeper meaning, sister tattoos are a wonderful way to express your love for each other.
Big Sister and Little Sister Tattoo
7.
8. Sister Sun and Moon Tattoo
She is someone who will never leave you in times of trouble. For those sisters who are very close to each other, they would like to have matching tattoos. It is a symbol that they are sisters no matter what happens.
Big Sister and Little Sister Tattoos
9.
Matching sister tattoos are a great way to show your bond and the love you share with each other. Having a tattoo is a commitment, which means your sister tattoo should be meaningful.
10. Heartbeat Sister Tattoo
Matching sister tattoos can be as simple or detailed as you and your sis would like. And when it comes to picking tattoos for you and your sister, the possibilities are endless.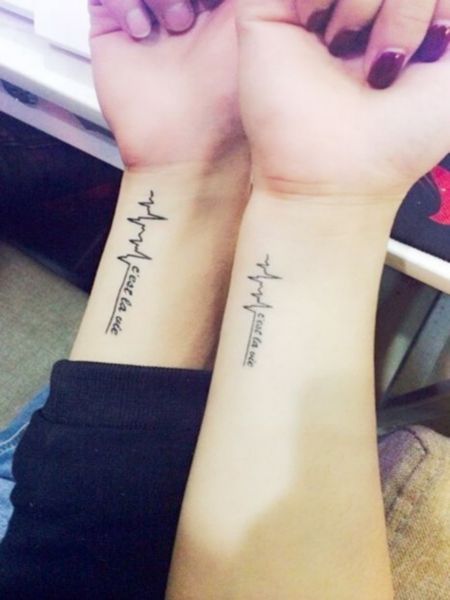 11. Matching Sister Big And Little Tattoo
You can get matching tattoos with your sister or if you want to be more creative, you can get something that symbolizes your relationship with your sister.
12. Sister Roman Numerals Tattoo
It's one of the most beautiful things in the world when sisters get matching tattoos because of how close they are to each other. These tattoos will show the world how much you care about each other and what an impact that person has had on your life.
13. Tattoo for 4 Sister
The bond between sisters is special. It is a relationship that lasts forever. Siblings share a unique bond and they understand each other in a way that no one else can. Many sisters consider each other as best friends or soul mates. Some of them believe that they are a part of each other and they are incomplete without each other.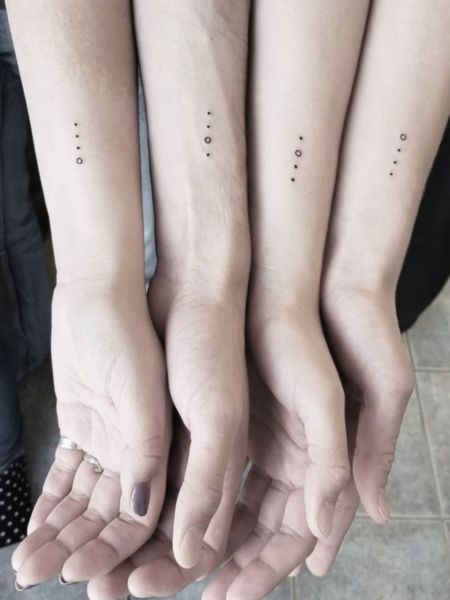 14. Disney Sister Tattoos
A tattoo is a great way to commemorate this special relationship. Tattoos connected to sisters do not need to be identical, but some people choose to get similar designs because they symbolize their connection and their love for each other.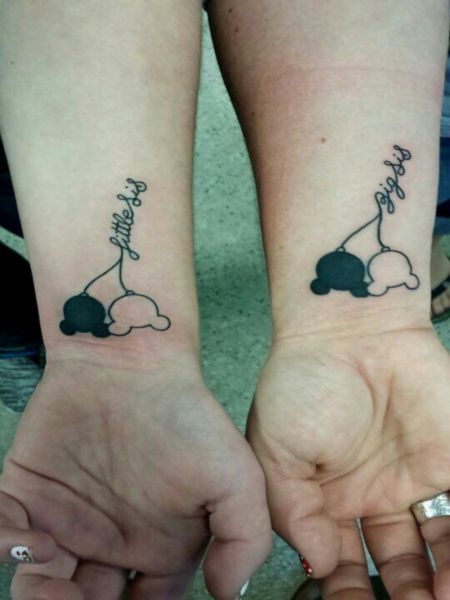 15. Matching Sister Foot Tattoo
16. Matching Sister Anchor Tattoo
The best thing about having a sister is that you always have someone to go through life with. You shared both good and bad memories with each other. And no matter what happens, you always have each other's back. Getting matching sister tattoos can be a perfect way to show off your unbreakable bond in the form of permanent ink!
17. Matching Sister Tattoo ideas
18. Matching Tattoos For 3 Sister
19. Matching Sister Love Tattoo
Sister tattoos are a beautiful way for siblings to remind each other of their everlasting bond. Whether you are best friends, arch enemies, or in-between, you will have a special relationship with your siblings that is like no other. So it only makes sense that sisters would want a tattoo to symbolize the importance of their brother or sister in their life.
20. Matching Sister Tiny Tattoo
21. Symbolic Meaningful Sister Tattoo
If you're looking for something beautiful, this sister tattoo design is perfect for you. This flowery design features pink flowers with hearts in the middle, symbolizing the love between siblings. If you're looking for something more subtle than a heart, this is a great option!
22. Matching Sister Rose Tattoo
23. Mountain Tattoo For Sister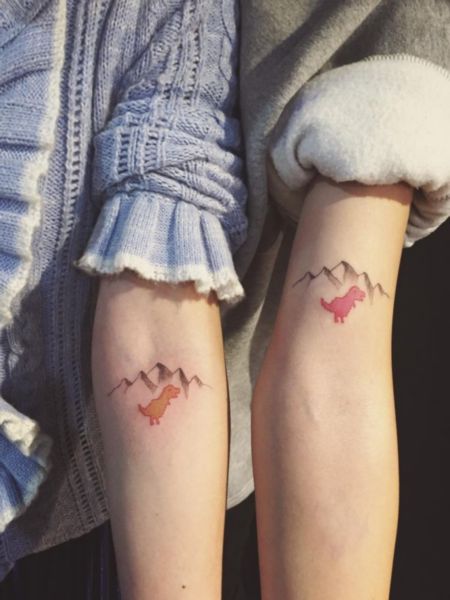 24. Tattoos For Twins Sisters
Symbol Tattoo
25. Matching Sister
26. Meaningful Sister Tattoo
There is no specific sister tattoo design. The concept of sister tattoos is to get the same design or symbol, which represents the love between sisters.
27. Matching Sister Tattoos for 3
28. Simple Matching Sister Tattoo
29. Pinky Promise Tattoos
For sisters, a tattoo is a beautiful way to celebrate your love and the deep connection you share. It's a special, permanent symbol of the unique bond between siblings.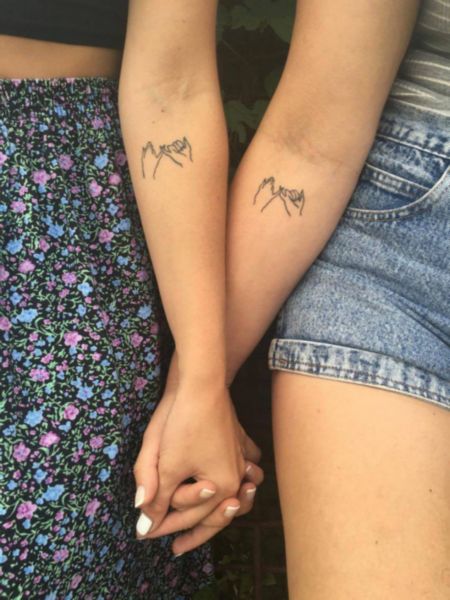 30. Matching Sister Triangles Tattoo
FAQ
What is the symbol for sisterhood?
One way to show your love for your sister is with a tattoo that displays that bond. There are many symbols that can be used to represent the relationship between sisters. For example, if you and your sister were born in different years, the Chinese symbol for year or the zodiac symbols for your birth signs could be used. If you and your sister have birthdays near each other, then you might consider using astrological symbols to represent sisterly bonds.